The Obvious Presidential Candidate
.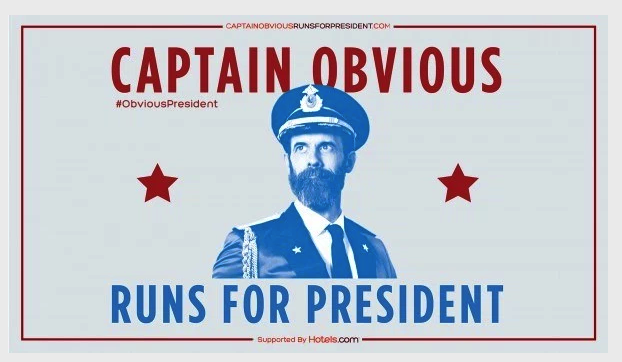 It is Primary season for those wanting to change their address to 1600 Pennsylvania Avenue. I have found the obvious choice for President for all you travelers out there! His name is Captain Obvious, have you heard of him?! He is one of the candidates that is running for President of the United States that you may not have heard about! He has been traveling the world, just like me, but his next big adventure will keep him stateside for a while.
Are you familiar with Captain Obvious? He is literally RUNNING for president, as in physically running across the nation to every state.  He's actually "running" across America in the hopes of being elected the next President of The United States!  (And you thought this presidential campaign couldn't get any more bizarre!)
He uses Hotels.com along the way because it's simple to book a room. And because he really needs a place to sleep at night.
As he runs, he'll be providing satirical, (obvious) and culturally relevant commentary. Throughout 2016, he urges you to follow him on Twitter as @CaptainObvious. He will be commenting on the pageantry of the race through daily updates, remarks on big presidential moments as they happen and live-tweets during upcoming presidential debates.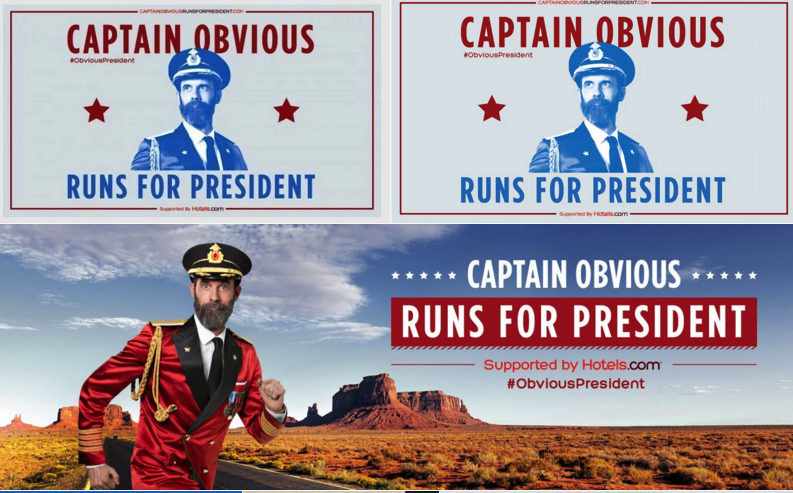 The Obvious Presidential Candidate
Hotels.com is supporting Captain Obvious during his race because they believe in simplicity as much as he does – and they will provide him a place to sleep at night, as well as running shoes, socks, shorts and everything else he needs for his run. Hotels.com sees the presidential race as a creative opportunity to utilize Captain Obvious as a way to be a part of this race and to share in the broader cultural experience. He is here to engage you.
You have heard what the other candidates have to say, so now listen to the obvious choice:

Edit