By Cacinda Maloney
The Best Travel App
It is not very often that I write about a travel app that makes your life easier and it a lot of fun.  In fact, this is the very first time I have ever written about an application used for travel. I am so excited to be a part of the new, best travel app launch this week known as Findery on Windows! It allows you to discover places around the world or in your own backyard that you didn't even know existed (on your phone!).  And the best part is that you do it while you are there, and not weeks later when you read about it and think, "Darn, I wish I would have known about that when I was in (insert city) …" People in every country in the world have left a Findery Note, which can now be discovered on the free Findery Windows App. Members are leaving amazing notes about hidden secrets, personal stories, and places to eat to museums, arts and culture, and history. I love it!
It is a social network for travelers that allows you to share your favorite places and discover the world through the stories of others.  The platform makes it easy to discover treasures in countless places – from where they've been to where they dream of going. At the tap of the screen on your phone, Findery users have discovered local knowledge about their current location through personal travel stories, hidden histories, and local tips left by Findery's community. I am just one of their many active users. Findery contributors have left notes to share travel stories in all 196 countries across the globe. It is also available in 10 languages. Findery for Windows is available for free from the Windows App Store.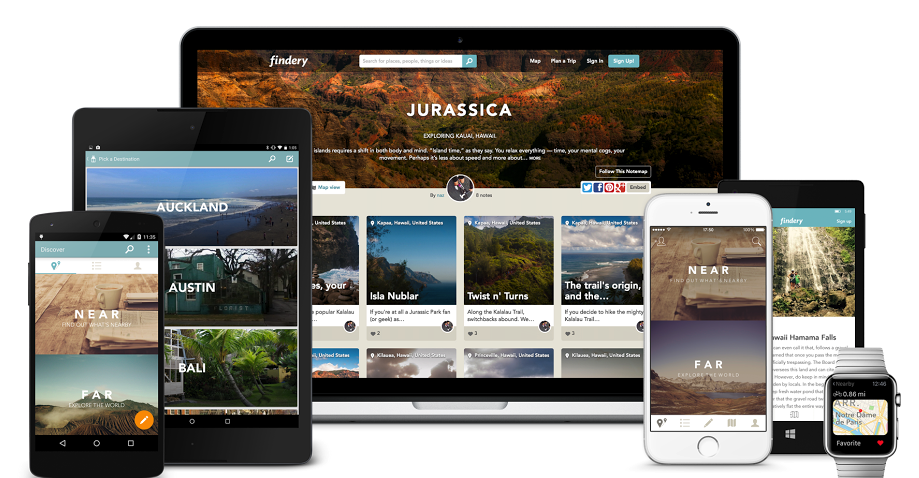 The Best Travel App – How does Findery work?
Findery users share their experiences and leave notes and photos about amazing places that they've found and love, both where they live or where they travel. It uses GPS, so when you place your great find on Findery, it allows you to pinpoint a specific location.  For instance, I was driving out of my neighborhood the other day in Phoenix, when I was wondering if there was something cool around here in my own hometown (I don't know them all!) that I didn't know about. I came across this:  The Place Where Stevie Nicks Saw the White Winged Dove! (How cool is that?) But, honestly, it could be anything.
Once the app is downloaded, Findery for Windows uses your current location to bring to life interesting local notes. If  you are not actually traveling, you can wander the world on the travel app, follow other members and discover the world by putting in the name of places you want to visit.  Findery will do the rest! Notes can be about local history, folklore, point out interesting factoids, or be a way to share a little anecdote about a location.
Notemaps are a curated collection of notes about a particular topic, theme, or location. Above you can see my notemap on the Champagne Houses in France. Members can add their own notes and notes from others to the notemaps they create. Members follow each other and receive notifications when those new notes or comments are posted. Notes can all be shared to Facebook, Twitter, Messaging, OneNote, Mail, or NFC.
The Best Travel App – Launch of the new app
The new Windows application opens up a whole new world for Windows users, allowing them to connect with other travel-minded individuals, whether they're planning trips or just dreaming of exploration. The Findery team built the latest app to best utilize the Windows operating system, taking advantage of Cortana's capabilities and the ease of pinning interesting elements to the Start Menu.
According to the founder and CEO of Findery, Caterina Fake, "Findery is for adventurers, travelers and seekers, we welcome arm chair travelers, weekend wanderers and world explorers alike." Findery is about people living their dreams­­visiting the lamaseries in Kathmandu, or a beach in Costa Rica. "You open it up anywhere, and your app tells you stories about the place where you're standing and what's nearby," Fake said in an interview.
And the Findery founder is just not any developer, but also the founder of Flickr (acquired by Yahoo) and Hunch (acquired by eBay) from the Silicone Valley and named one of Time Magazine's 100 Most Influential People in the World, so you know it is going to be good!
Findery is the place for people passionate about discovering the world and living their dreams.
Disclosure:  I am an excited member of the Findery Writers Ambassador Program, where I put together notemaps from my travels. All opinions expressed here are my own.
Please follow and like us: