Some of my most vivid memories of Italy are those where the laundry is hanging on the line just outside the deep forest green window shutters.  Throughout Liguria (a region in Italy), I kept seeing these amazingly deep green shutters and then… there they were … lines of colored laundry.
so elegantly hung, as only the Italians can do.  Just this ordinary laundry makes Italy so charming to me!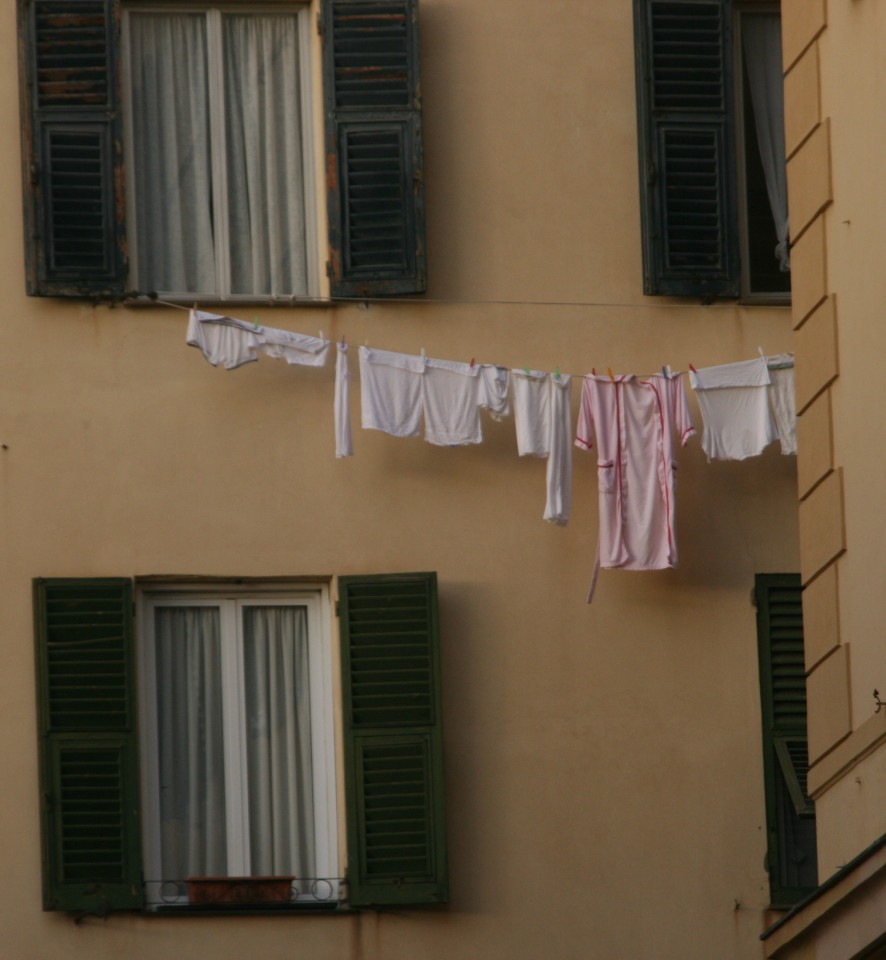 The photo above depicts an Italian Moms day was pink and white. I can almost picture her in my mind wearing that fuchsia trimmed pink robe and comfy slippers.

This is a way of life for most people in Italy and the visual really depicts the culture and lifestyle of the Italians.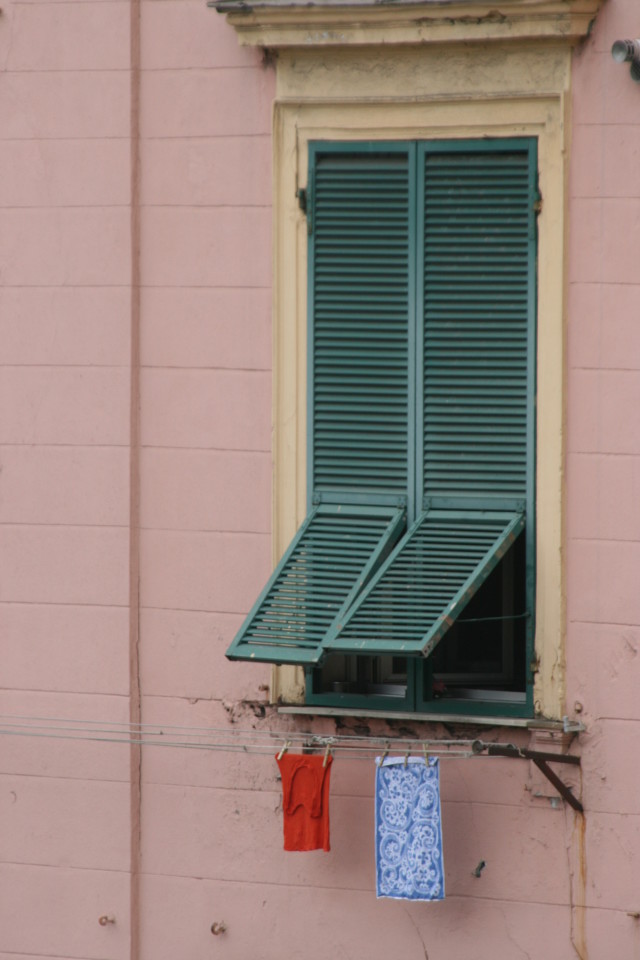 On some days, there are only a few pieces to be hung.
Very few homes in Italy have a clothes dryer,  only about 4% have tumble dryers, so hanging the laundry outside is common.  To me, there seems to be an art form about it.  I have often wondered if there was a decree that certain days must have certain colors hanging, especially in the big cities, as their laundry is hung so fashionably!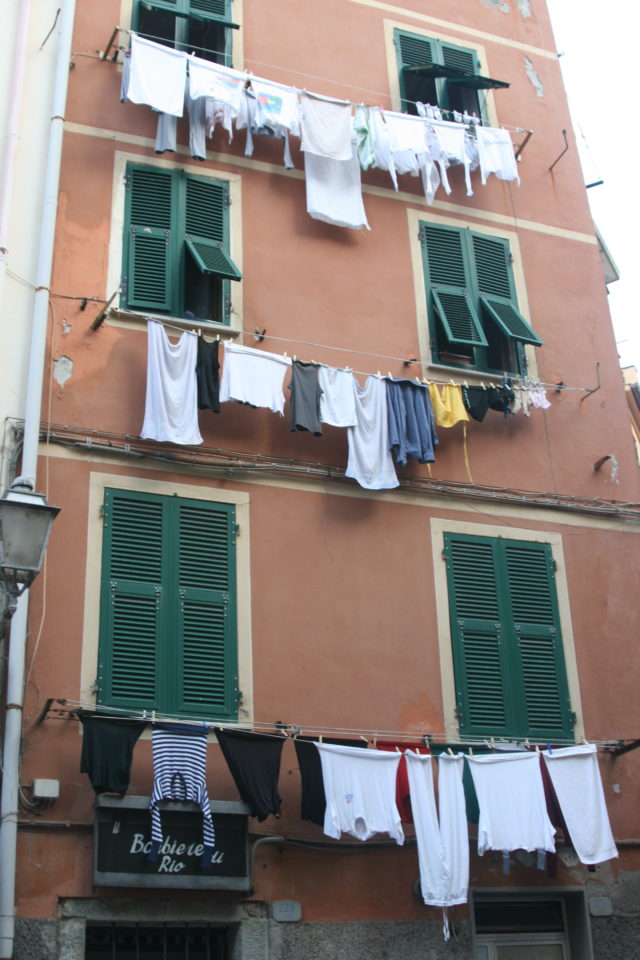 The photo above is a three tiered version, as hung in Riomaggiore (Liguria).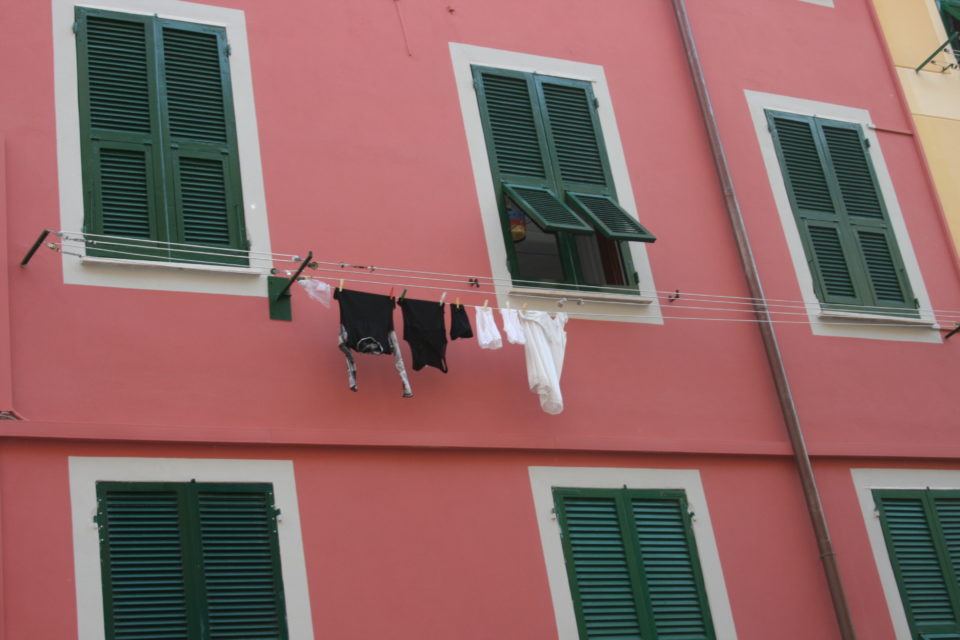 I love to capture the essence of an Italian city by just the drying laundry.  Each time I see the photos of the laundry it seems as if I am smelling the fresh air of the country.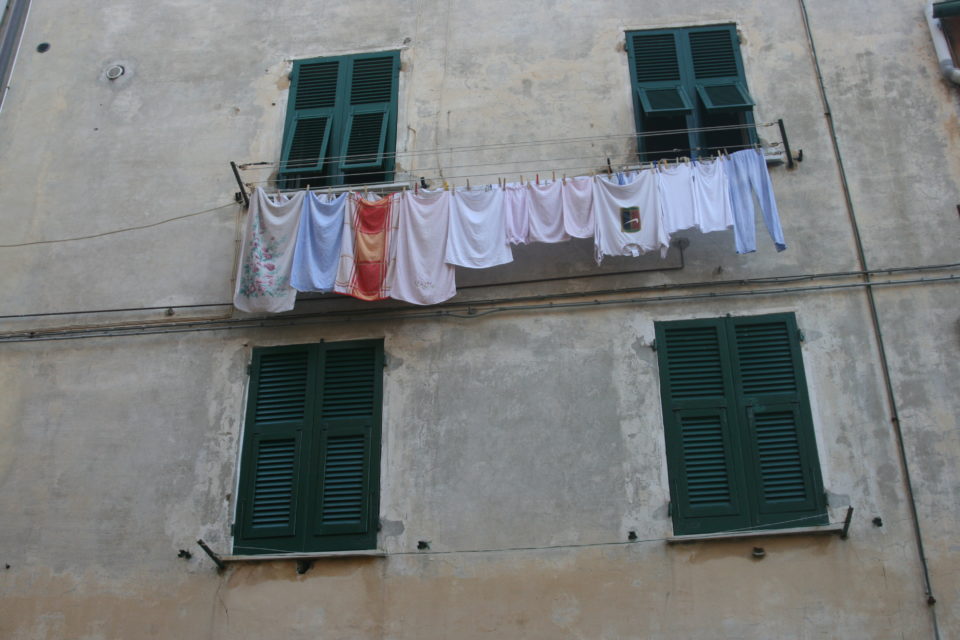 Interestingly,  the town of Pavia (which is in the Lombardia region of Italy), recently banned hanging laundry from clotheslines which can be viewed from the street!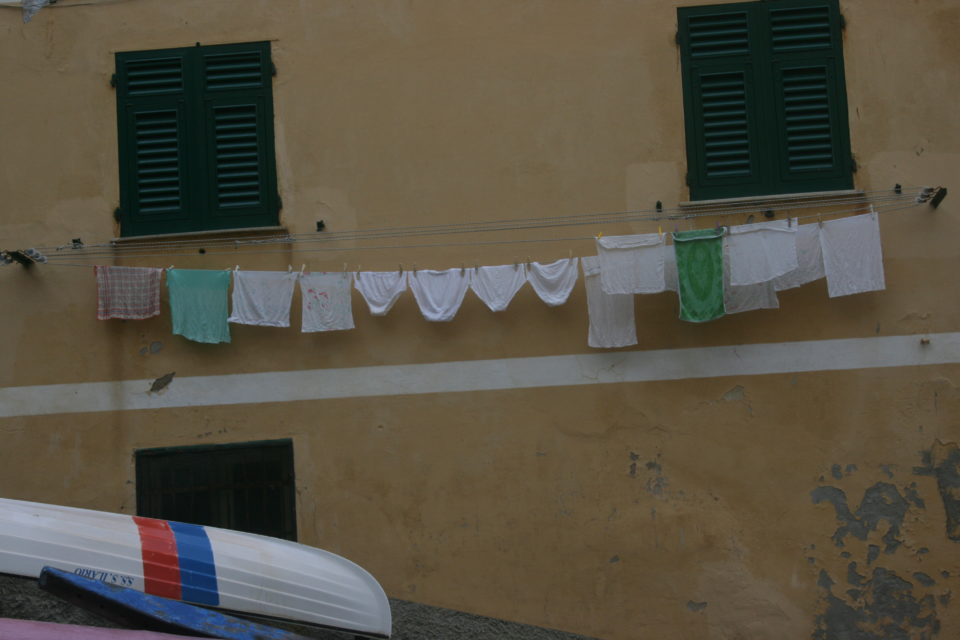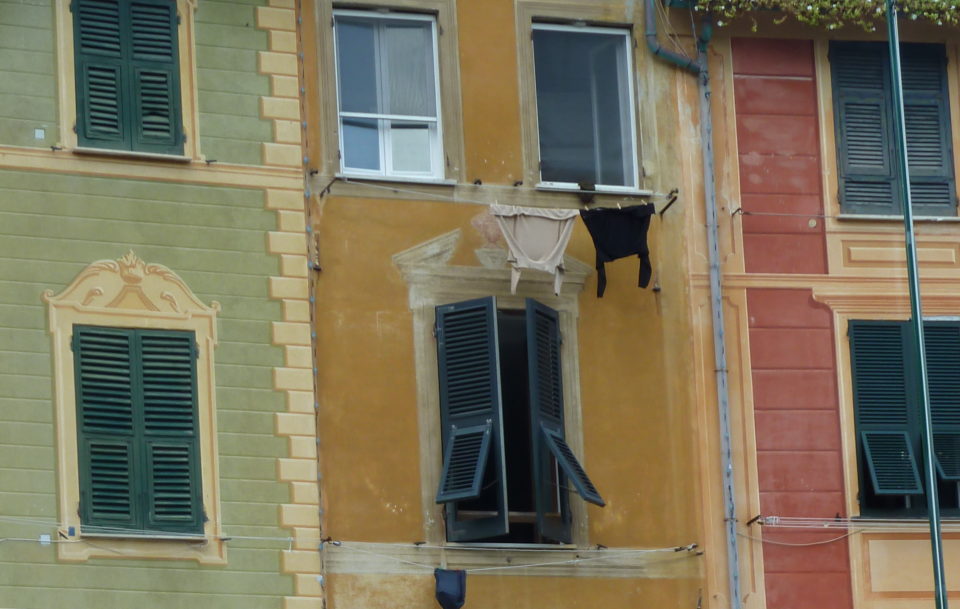 As I wonder about the laundry and those with whom it belongs, I've decided that… "The answer, my friend, is blowin' in the wind, the answer is blowin' in the wind."  just like Bob Dylan said in 1962!
But sometimes when I look at the deep green shutter windows, alas, I see other things.  I just hope he doesn't decide to do something else!
RECOMMENDED READING:
Authentic Italian Recipes for the Soul
Tuscany Region, Italy:
Luxury Italy: A Journey for the Soul
Lazio Region, Italy:
5 Reasons to Rent an Apartment in Rome
Get the Scoop on the Best Gelato in Rome
Tiber Island: A Tiny Island in the Middle of Rome
Campagna Region, Italy:
The Abbey of Montecasino and Herculaneum
Positano, Italy: Bellisimo Part 1
Positano, Italy Bites Deep: Part 2
Furore, Italy: The Most Beautiful Place on Earth
Emilia-Romagna Region, Italy:
La Bottega del Legno: The Woodshop in Forli, Italy
First Words: La Biblioteca Malaestina in Cesena, Italy
A weekend trip to Cesenatico, Italy
Altavita Winery: The High Life of Cesena
The Magnificient Masselina Estate and the Women of Faenza, Italy
Veneto Region, Italy:
A Voyage Thru Time: Things to do in Venice, Italy
Puglia Region, Italy:
The Power of Travel Seen Through the Eyes of a Travel Company
Liguria Region, Italy:
Portofino, Italy: At least Once in a Lifetime
Genoa, Italy and the BW City Hotel
Treat Yourself to the Suite Life: Hotel Splendido, Portofino, Italy
Hotel Splendido: Absolutely Splendid
The Poetry of an Old Fisherman's Village: Bocadasse, Italy
Italy Revealed: Camogli, Italy
LeMarche Region, Italy:
Food, Friendship, and Wine in Le Marche Region, Italy
The Lost Art of Print Blocking in Carpegna, Italy Regenerated
Calabria Region, Italy: