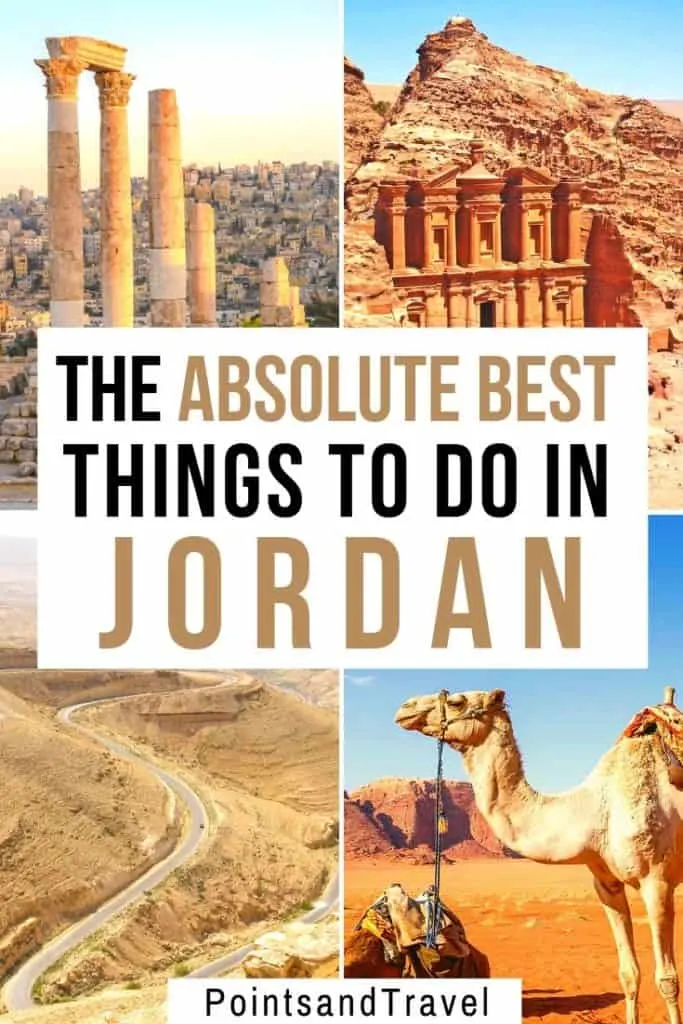 Surely you have heard of the country of Jordan? You know, Indiana Jones, right? Raiders of the Lost Ark? Indiana Jones and the Temple of Doom? Indiana Jones and the Last Crusade? Indiana Jones and the Kingdom of the Crystal Skull? I don't know about you, but I grew up watching this series of movies. And of course, I daydreamed about going to some of the places that he had been. And so this had me to do some research and guess what I found?
---
What's in this post:
hide
Top Things to do in Jordan!
---
I found out that one of the series' most iconic scenes was filmed at Al Khazneh (The Treasury) in Petra, Jordan. Once I found that out, I knew I had to go! Now while the interiors in the trilogy movie were filmed in a studio in England, the exterior was actually filmed in Petra! So that is what we (my husband and I) did, and this was way before all the flight issues surrounding 9.1.01! I am so glad we went back then. But I also got to go again when I started travel blogging and so I have now been all over the tiny country twice!
Today, so many travelers go to Jordan just to see the temples in Petra. With its carved-out rock, bedouins, and mythical sculptures, it is definitely an awesome place to visit. But Jordan IS MORE THAN JUST PETRA! It is so much more, so during your visit to Jordan, be sure to check out the other historical sites and wilderness that it has to offer! You won't be disappointed! So I have compiled my list of:
Absolute Best Things to See in Jordan

#1 Go see Petra
Of course, everyone already knows this already. But I will tell you again: "Go see Petra!" "Go experience Petra, go touch it, feel it, and bathe the vastness of it all!"
Petra is the rock-cut city and cave system that is famous for its architecture and water canal system. It is also famous today for being the location of the filming of the Indiana Jones movie series. Known as the Rose Red City due to the color of the stones, there is no limit as to what to see or to do, from the well-preserved Roman amphitheater to the stone caves, carved burial sites, and the many ancient columns.
Don't miss the main sites of the Treasury (al-Khazna) and the Monastery (Al Dayr) and Petra at Night. In fact, here is my Ultimate Guide to Everything You Need to Know about Petra by Night.
Where to Stay: There are two hotels that I have stayed at that are close to the entrance. The Movenpick Hotel, which is luxury and the other is the Petra Moon Hotel, which is "value luxury". I recommend both.
But before you visit Petra, most likely you will fly into Amman.
#2 Go visit the Citadel in the City Center of Amman
Amman is one of the most ancient cities in the Middle East with archeological finds dating back to 3200 BC. The Citadel is considered an important site because it has had a long history of occupation by many great civilizations. You will be astounded at its magnitude, as well as the preservation of this ancient city. Don't miss the Temple of Hercules.
Where to Stay: The Sheraton Amman Hotel was fabulous and I cannot say enough about their speedy check-in and hospitality. Of course, while you are in Amman, you also have to eat at a few of their amazing restaurants or even try some street food.
#3 Go visit Jerash, Jordan
Not far from Amman, about 30 minutes North of the city center. It was the capital of the Ottoman Empire and here since the 16th century. It is the site of the ruins of the Greco-Roman city of Gerasa, also referred to as Antioch on the Golden River.
#4 Float in the Dead Sea and Get a Spa Treatment
The Dead Sea is the lowest and saltiest spot on earth. There is nothing quite like floating in the salty waters of the Dead Sea. Afterward, they will slather you in mud from head to toe, allowed to dry and then you will go back in for a rinse.
Where to Stay: I stayed at the lovely Crowne Plaza Dead Sea Spa and Resort and it was stunningly pristine with a huge spa facility. I had a Dead Sea Mud Wrap treatment and massage.
#5 Spend a Day and Night in the Desert of Wadi Rum
Spend some time out in the desert, four-wheeling and looking at petroglyphs from the past. You can even follow the path of Lawrence of Arabia. Also, take a camel ride in the desert at sunset, as there is nothing quite like getting up at pitch-black 5 am in the Arabian Desert on a camel's back lead by a Beduion to watch the sunrise! (This was one of my top 3 favorite things to do, second to Petra #1, of course, and #2 of breaking bread with a Beduion in the Dana Biopreserve).
Where to Stay: I stayed at Rahayeb Desert Camp, located in a remote spot within Aldisi in the Wadi Rum Protected area. This will really make you appreciate getting water in the desert, as well as food and drink. They had an array of food for our entire group where they cooked the meat and vegetables in an underground stove.
#6 Breaking Bread and Chai Tea with a Bedouin
This was one of my top 3 things I did in Jordan on this last trip. I just loved being out in the middle of nowhere, watching bread being baked with coals in a fire pit inside of a rudimentary tent while sitting outside and watching the sunset. I sat on throw pillows and listened to the silence of the night and gazed at the stars in the sky. It was quite an out-of-body experience.
Where to Stay: I stayed at the Feynan Ecolodge, with its candlelit rooms (they only have electricity in the bathroom) and the peacefulness of the night with very little sound, other than the call to prayer at 4 am. It was the sound of a harp and came with some dogs howling! Magic!
#7 Take a Train Ride Into a Scene from "Lawrence of Arabia"
The Jordan Heritage Revival Company offers historical re-enactment tours from Jordan's past. We took an antique train ride into a scene from "Lawrence of Arabia," where they were celebrating their win of the "Arab Revolt" led by Sharif Hussein against the Ottoman Empire. Once our train was "attacked" by Arab horsemen, we were invited off the train to watch another re-enactment of negotiations in a Bedouin tent, where they served us more Chai Tea.
#8 Go Snorkeling or Scuba Diving in Aqaba
The drive down to Aqaba from Amman is about three hours. Upon arrival in this "beach town", you will want to take a day to go out on the Red Sea, either to scuba dive or snorkel. On a sunny day, the breeze is cool and the crystal clear water is just perfect for a dip. Standing on land, as you gaze out across the waters, where you can see Jordan, Israel, Syria, and Saudia Arabia if you scan the horizon.
Where to Stay: I stayed at the Radisson Blu Tala Bay Resort on both my visits to Aqaba. It is an all-inclusive and massive resort that has its own private beach opening onto the clear blue waters of the Red Sea.
#9 Stand Where Moses First Saw the Promised Land
Mount Nebu has been the site of Christian churches for centuries. And oh the glorious views! I couldn't take my eyes off of them. And, of course, on my visit, there was an Arab shepherd and his sheep right within my view.
The Top Things To Do In Jordan, Mount Nebo
An American in the Middle East
A final note on safety: – "Why would you go to Jordan again now?" "Are you sure this is the right time to be going there?" You can imagine all the questions I received when I made my decision and then subsequently made the announcement that I was going back to Jordan again in 2015.
With the Middle East being in the headlines daily in the American News, of course, I took it seriously. But remember, I had been there before, and one of the first things I remember is the people of Jordan. They were some of the most respectful and friendliest people I have ever met on my travels. Jordan and the USA have been close for over four decades and we support Jordan's commitment to peace and stability in the Middle East. And so even though I always have some hesitation when I travel to a foreign country, how on earth could I not go back when I had the opportunity? And I have to admit, it was one of the best trips I have ever taken.
Recommended Reading about Jordan:
Glamping Life At A Bedouin Camp
Khol Eyeliner and the Evil Eye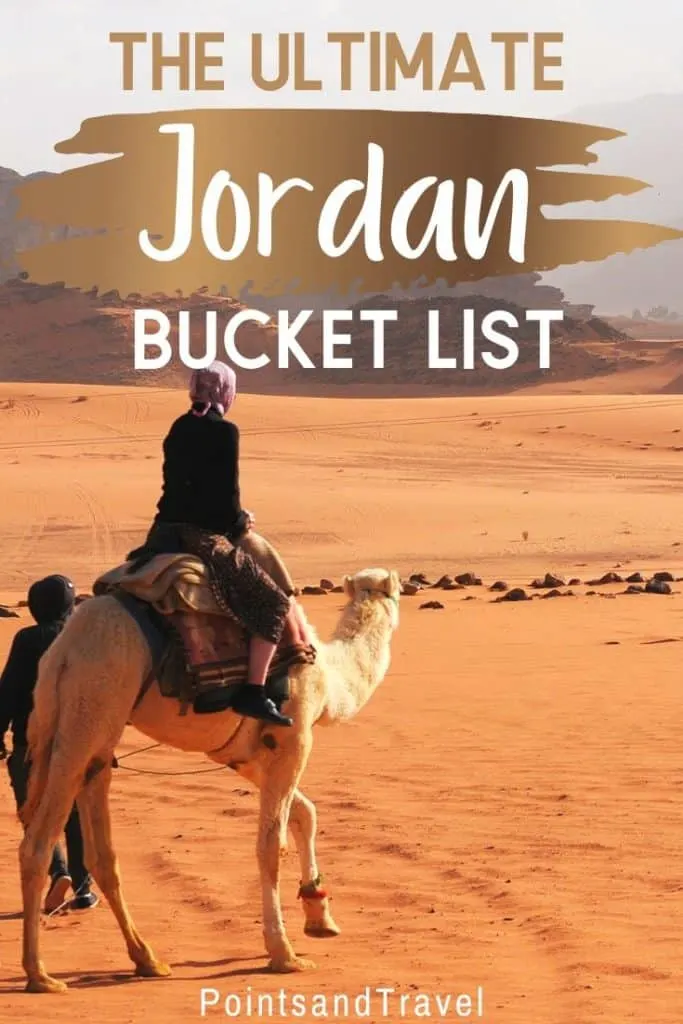 More Reading about Jordan:
Disclosure: My trip to Jordan was courtesy of the Jordan Tourism Board for the social media influencer campaign of #GoJordan, but the amazing adventures I went on while there were all my own.