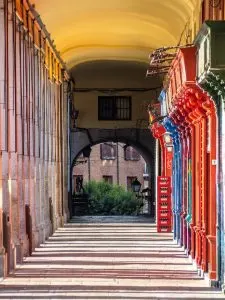 Loreto is a hidden gem that lies in the Baja Peninsula. Aside from having a peaceful atmosphere, it also boasts stunning landscapes too. There is much to see and do in Loreto that you will need to spend a few days here. Although this is not as popular as other beach towns like Cancun and Playa del Carmen, it is slowly gaining traction.
---
What's in this post:
hide
The 10 BEST Restaurants in Loreto Mexico
---
---
One of the reasons why you should plan to visit Loreto s that it is not there are no crowds of tourists here. Instead, the kinds of travelers drawn to this town are those who prefer a more laid-back atmosphere. In fact, all the shops, restaurants, and bars close down at 10. This gives tourists more opportunity to enjoy a more relaxed atmosphere to rejuvenate their bodies.
Why Visit Loreto?
Located in Baja California Sur, Loreto is popular for its crystal clear waters and jagged rock formations that rise up from the seas. Aside from that, the town is part of Mexico's well-known reserves which is the Loreto Marine National Park. Here you will find more than 800 species of fish and other marine life. The best way to explore this park is on a guided tour. In fact, you will be able to visit the different islands of Loreto. This way, you will experience more of what Loreto has to offer.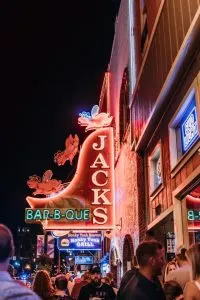 If you are wondering what activities you can do here, take a look below.
Visit Isla Coronado
As was mentioned before, each of the islands of Loreto has its own unique charm. It is possible to visit them by booking a tour. As you traverse the ocean, you will see plenty of sea creatures like sea lions, tropical fish, and dolphins. Aside from that, you will be taken to the most popular of these islands which is Isla Coronado.
Isla Coronado is the most famous of Loreto's islands thanks to its pristine white sand and natural bay. You will feel the pull of the waters after seeing them sparkling from the beach. Guests can bask under the sun or go swim in the clear waters.
Whale Watching Opportunities
Another activity here that you don't want to miss is going whale watching. These majestic whales make an appearance from January to March. It's because they are migrating to the Baja Peninsula for its warm waters where they give birth. There are plenty of boat tours that will take you close to these gigantic sea animals. This is the perfect opportunity to see the Blue Whales up close.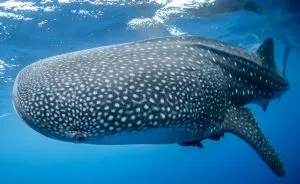 Have Fun in the Water
Since you are already in Loreto, it is only fair that you should indulge in water sports. For example, you can go kayaking or paddleboarding. The good news is that you won't have any difficulties renting a boat or boarding here. In fact, you can ask vendors where to rent one and they will point you in the right direction. You can even go further out to sea to go fishing or snorkeling.
Magic Towns in Mexico
One of the best reasons why you should visit Loreto is that it is a Magic Town. Here you can immerse yourself in the rich history and culture of the land. For those visiting the area for the first time, Loreto was the first Spanish colonial town in the Baja Peninsula. Aside from that, it was the home of many Franciscan and Jesuit missionaries.
Walk around its cobblestone streets as you admire the colonial architecture. One of the highlights here is the Mission Loreto which is an old church that has been standing since the late 1600s. In fact, you should include this in your itinerary, especially since its museum is a great place to learn more about its history.
Hospitality
Visiting Loreto is sure to be a pleasant experience. After all, the locals will greet you with warmth, making you feel at home right from the start. From their taxi drivers to hotel staff, you will feel welcome in Loreto.
Best Loreto Mexico Restaurants You Don't Want to Miss
One of the best things that you can do while you are in Loreto is to sample the local cuisine. Mexican cuisine is bursting with flavors. From tacos to burritos to salsas, your taste buds will be awash with flavors that you will not forget easily.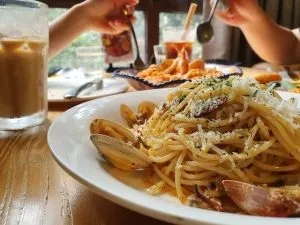 In Loreto, you will not be disappointed with the selection of dining options here. After all, they range from trendy breweries to elegant dining rooms to family-owned eateries to name a few. As you explore the dining options in Loreto, you will understand why many fall in love with authentic Mexican food.
That said, if you are looking for the best restaurants to eat from in Loreto, I got you covered. Here is a list of the best ones that you should try while you are in town.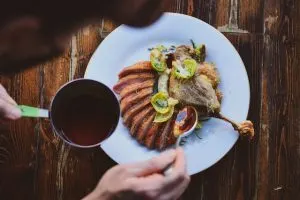 Orlando's Restaurant
When you ask the locals what restaurant they will recommend, they will most likely say Orlando's. This is not surprising since their breakfast is a blockbuster! Although it is true that they are open all day long, it is during breakfast when there is a long line in front of it. This restaurant is just a block away from the main square of downtown Loreto making it easily accessible.
Aside from that, this is where you can have a hearty breakfast of eggs with meats or vegetables depending on your preferences. Orlando has been in the heart of the town of Loreto for more than a decade already. During this time, it has already established itself as the go-to spot for locals and tourists alike for a good breakfast. After all, they serve strong coffee, fresh-squeezed orange juice, and plates laden with food too.
One of the dishes that you should try here is the Omelet Poblano. This unique dish consists of a cheese-filled omelet topped with a rich poblano-chile cream sauce. It also comes with your choice of fresh tortillas or bread to mop up the sauce with. Aside from that, you should also have their skirt steak.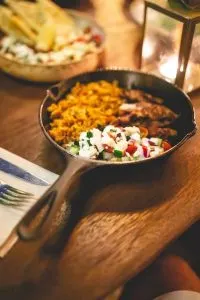 Orlando's may not be your idea for fine dining in Loreto, but their dishes are amazing. The restaurant comes with plastic furniture and colorful tablecloths for their guests to eat on. Other dishes that you should try are cilantro fish which is their signature dish. Another is the coconut shrimp with mango sauce if you are leaning towards something sweet. The best part is that their meals here come at low prices.
El Zopilote Brewery & Cocina
Another option to consider is El Zopilote. For starters, it is the only craft brewery that you will find in Loreto. There are six freshly brewed beers always on their tap. This means that it will not be long before you find the right craft beer for you. In fact, they cover everything in terms of beer. From light pilsners to hoppy IPAs, all the way to the rich and malty porters.
A Mexican-Irish couple operates El Zopilote and offers a wide range of fine-tasting dishes. Their cuisine includes chicken fajitas, fillet steak, and creamy pasta to name a few. Aside from that, their craft beers pair nicely with their wood oven pizzas. Even if you are not a fan of craft beer, the pizza here is to die for. In fact, you should order their thin-crust, saucy four seasons pizza. For sure, you will come back for more.
El Zopilote is perfect for casual dining or a romantic dinner. The atmosphere is laid-back and charming. Come sip and dine here with your significant other or with your friends. The beer is good, and the food is even better.
Do try their Rattlesnake IPA or their Blood Orange Pale Ale. You should also try their jalapeno poppers or their halves stuffed with bacon and cream cheese.
La Palapa Restaurante
If you are craving fresh seafood, La Palapa Restaurante is for you. This is a great place to have your lunch or dinner. Aside from that, you can also get your breakfast meal here for a good price. Among the dishes that you should try here are freshly shucked clams and a whole fresh fish fried to perfection. Also, you should try their seafood soup and shrimp cocktail while you are at it.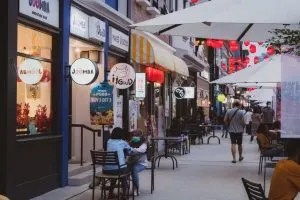 The seafood soup is a must-try for first-timers. Its rich tomato broth has been brewing for hours. You can squeeze a bit of lime or lime juice to help enhance the flavors. Afterward, dip your crackers for complete enjoyment. Aside from that, you should also try their chocolate clams. For sure, once you get a taste of this, you will be coming back for more.
Meanwhile, those who are not a fan of seafood dishes will be happy to know that there are non-seafood options too. They do serve chicken and beef here. Aside from that, they also have Mexican classics on their extensive menu like the famous stuffed poblano peppers. This seafood restaurant is an ideal place for families. After all, their wide range of dishes is suitable for all kinds of diners.
Asadero Super Burro
Asadero Super Burro is one of the best Loreto restaurants that you should visit. In fact, local families, as well as foreign tourists, often flock here each night. This is not surprising since this is where you will find the best tacos, grilled chicken, and loaded potatoes in town. Aside from that, they always have freshly pressed tortillas for their customers. Pair this with their best carne asada and you will soon be feeling full yourself.
In fact, those who have small appetites will enjoy the tacos here. Aside from that, you can also go for their papa rellena. This dish is basically baked potato finished on their barbecue complete with corn, cheese, mushrooms, and your choice of meat. In addition, they serve it with fresh tortillas so you can make your own tacos.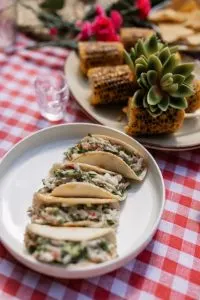 What makes Asadero Super Burro one of the best places to eat is its main room. Here you will find the cooks preparing your orders in the open kitchen. You will see the cooks busy tending the grills or preparing the tortillas. This restaurant may be a hole-in-the-wall kind of eatery, but you will be blown away by its food. You will not regret adding this to your list of restaurants to visit in Loreto. I sure didn't!
El Rey del Taco
Meanwhile, if you are looking for delicious tacos, you have come to the right place. El Rey del Taco may be one of those hole-in-the-wall types of restaurants, but their place is quite clean. What propelled this restaurant to the top is that it is here where you will find the best fish tacos. In fact, if you are looking for a good Baja-style fish taco, this is where you should be. Nothing beats the firm fish with fluffy texture served in this joint.
Aside from that, El Rey also serves Mexican tacos such as tripe (cow intestine) and Cabeza (cow head). If you are an adventurous foodie, you definitely need to try these two unique tacos of theirs. Locals often flock here to indulge in these two. But don't worry, they do serve regular tacos like Carne Asada. You can even opt for their corn tortillas if you want to have gluten-free food. What's more, they are not stingy when it comes to their choice of toppings for their tacos.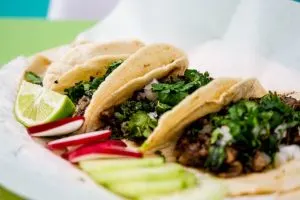 Just like any taco shop around Baja Peninsula, El Rey serves its tacos on flour or corn tortillas. You can then head to the salad bar where you can choose from sliced cabbages, tomatoes, coleslaw, and onions. Top your tacos with their wide range of salsas. A word of caution though. Make sure that you try the salsa out before adding a dollop to your tacos. You might find some quite spicy for your tastebuds.
As much as the locals and tourists alike love this spot, many are grumbling about one thing. That they wish that El Rey del Taco opens more often. Their grievance is understandable. After all, with the kind of tacos that they serve, you will want to have easy access to them at all times.
Jr's and George's
If you are looking for a pre-dinner spot in Loreto, I recommend that you head to Jr's and George's. It lies just a couple of blocks from the main plaza making it a convenient stop if you want to grab a bite to eat. Although some think that this bar is just for having a drink or two, you will not regret ordering their tacos too.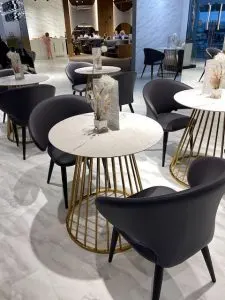 In fact, they do make a mean carne asada which you should pair with their drinks. They grill the meat fresh to order. Their tortillas, on the other hand, come from a local tortilleria. Combine them and their refreshing drink and you are sure to enjoy every bite. Aside from their cold beers, they also sell mid-shelf liquor to their clients which is not bad at all. What's more, they will serve you a bowl full of freshly fried chips and salsa. How cool is that?
With its great location near Malecon, it is not surprising why many drop by here at night. Their delicious tacos and skewers are definitely worth trying here. In addition, their prices are easy on the pockets too. You are sure to enjoy high-quality food at low prices here. Make your way to their garden where you can have your meal. Their overhead fans help make the space feel cool even on hot, humid nights.
Los Olivos Restaurant
If you are looking for fine dining in Loreto, then make your way to Los Olivos. This restaurant is part of La Mision Hotel where you will be treated to nouveau Baja cuisine. It combines traditional Mexican cuisine with fresh fish caught from the Sea of Cortez. Aside from that, if you are craving a taste of home, then you'll enjoy your stay here.
After all, they also serve American cuisine here. Think prime steaks and desserts that hit the spot. They serve breakfast, lunch, and dinner foods here. For breakfast, they have eggs benedict, chilaquiles, and Mexican breakfast but with a twist. You'll know that you are about to experience fine dining here with the way they prepare their dishes.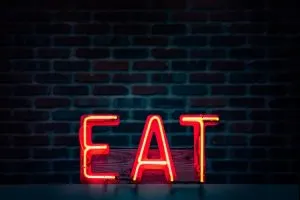 For lunch, try their interesting selection of pizzas. After all, they are made from fresh local ingredients. Aside from their delicious pizzas, you can also opt for their Catch of the Day. They serve fresh fish with their famous Los Olivos sauce paired with white wine. In addition, it comes with capers, mashed potatoes, and black olives sauteed vegetables.
Afterward, you can head to the Agave Cantina for their happy hour which runs from 4 to 6 pm. They serve the best tequilas and wines here. In addition, they have the best organic margaritas on hand plus exotic cocktails to choose from.
Mi Loreto
The first thing that you will notice about this restaurant is that there is a tree growing in the dining area. After getting over that fact, you will realize that it actually adds to the overall charm of the place. In terms of customers, you will notice that most of them are foreign tourists. Well, don't take it as a bad sign. After all, tourists love it because of its location in the center of the city.
If this is your first time trying Mexican food, this is not a bad place to start. After all, they serve authentic food here. This is a great way to learn about traditional Mexican dishes. Not only that, but their staff will give you a warm welcome as soon as you step inside their restaurant.
Among the dishes that you should try here are their chicken mole and their rich and delicious tortillas soup. Not only that, but you should also order their pork in spicy salsa verde too. Do not forget to order their chiles Rellenos too as they are quite good. They also make great margaritas. And if you still have space in your tummy after their generous portions, you should go for their homemade flan too.
That said, this picturesque outdoor eatery is a great place to stop while in Loreto. In fact, this is the perfect place to have a vegetarian feast. After all, the owners are more than happy to accommodate customers who prefer a vegan or vegetarian meal.
Pan Que Pan
Meanwhile, this quirky cafe and bakery are being run by young and hip locals. This is a favorite stop for locals and tourists alike who are looking for a big breakfast to start their day. In fact, they are best known for their omelets with beans, fresh bread, and local cheese. This fun and funky al fresco bakery also serves a continental-style breakfast to those who are looking for a hearty meal. Think of digging into a decadent French toast with pastries, granola, and bananas.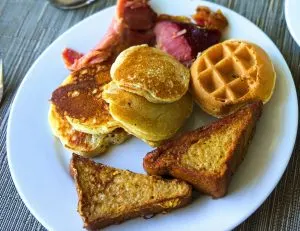 Aside from that, Pan Que Pan is also popular for its lunch meals. They have homemade pasta, pizza, and baguette sandwiches. You can sit in their garden while checking their extensive menu.
Casa Mia
For those who want to dine on international cuisine, you should visit Casa Mia. This restaurant lies in the Villa del Palmar Beach Resort. Casa Mia is an Italian restaurant that provides mouthwatering dishes to its customers. Not only that, but you'll love the ocean and mountain scenery here too. This quaint outdoor eatery provides everything from wood oven pizzas, sandwiches, tacos, and salads to name a few for lunch and dinner.
And since you are already in Villa del Palmar, why not visit La Esquina Mexicana? This is where you will find the Mexican Corner which is the new area of the Market Restaurant. In fact, this is where you can dig into traditional Mexican cuisine and even succulent flavors of seafood. The market dining experience is one you will not forget soon. After all, this casual buffet-style eatery blends together Mexican, American, and Mediterranean cuisines.
Just imagine dining on fresh seafood while enjoying the sea breeze. With the restaurant giving you an excellent view of the ocean and the majestic mountains, you will come back here a second time for sure.
More Dining Options in Loreto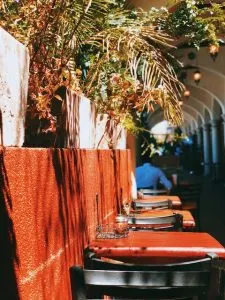 Loreto Bay is one of the popular beaches that you will find on the island. Its white-sand beaches are perfect for sunbathing or strolling. Aside from that, the waters are crystal clear so you can go kayaking and snorkeling here too. From here, you can also head to the Malecon that runs across the beach. This is where you will find shops and restaurants to spend your time in. \
In fact, aside from the ones mentioned above, Loreto has more to offer. And it is not just within the town but outside of it as well. Here are a few more options that you should try as well.
La Cocina de Doña Esthela
Although most Mexican restaurants today have a renowned chef at the helm, there are those that stick to tradition. In fact, La Cocina de Dona Esthela is best known for its homemade dishes. This is where you will enjoy authentic Mexican meals cooked the traditional way. In fact, if you are in Valle de Guadalupe on a road trip, this is where you should eat.
This restaurant is famous for its breakfast, but its lunch menu is impressive too. What you will love about their meals is that everything is homemade. From their chips, beef machaca, gorditas, and others, you know you have delicious food served to you. In fact, you should order her birria de Borrego. This is a wood-roasted lamb that comes with lime and coriander-loaded salsa and fresh-made tortillas.
The best part is that Dona Esthela goes around the tables and chats up customers. Since this is a small town, she knows most of the customers. Stay a bit longer, and soon she will get to know you too. The next time you are in the area, make sure that you drop by this restaurant. It is a hole-in-the-wall type of restaurant but expects to have great food from its kitchen. Also, they take pride in their great service which is a plus.
Black Bird
If you are looking for a breakfast place, then drop by Black Bird. This is a good choice for your morning meal because they serve good coffee. Not only that, their fluffy omelet is full of vegetables that will hit the spot. Their freshly-baked muffins are a plus too.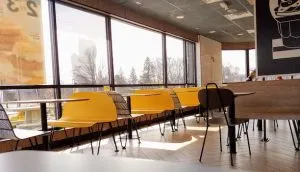 At night, this breakfast restaurant transforms into a bar. They have live music, cheese boards, and tapas dishes here. Aside from that, try their craft beers and blueberry margaritas to name a few. For sure, you will enjoy indulging in their delicious drinks and food at night.
The best part is that this is an outdoor eatery. In fact, you can sit in their garden while you have your breakfast. This way, you will get to enjoy the sunshine that Mexico is known for.
Visiting Loreto
Loreto is one of the central locations in Baja California Sur. This includes Todos Santos, La Paz, Cabo San Lucas, and San Jose del Cabo. If you are traveling from Los Angeles, the best way to get to Loreto is through the Cross Border Xpress. This bridge connects the city of San Diego to Tijuana. From here, you can board a plane to Loreto International Airport. Aside from that, there are direct flights from Alaska Airlines and Calafia Airlines to Loreto. You can check flight plans to see which one is ideal for you.
It is also possible to reach Loreto by driving. In fact, driving down the Baja Peninsula takes you to more scenic routes. The best part is that you can stop anytime you want to drink in the view. In addition, you can also get off the beaten path and visit coastal towns while you are here. Stop for a little bit to learn more about the place, sample local cuisine, then head off to Loreto.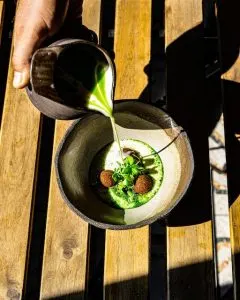 Although it will take you 16 hours to reach Loreto from the border, you can simply break down your trip. Who knows what you might find on a bumpy dirt road as you go on a road trip to Loreto In fact, you might be surprised to find a golf course along the way. There is nothing wrong with stopping for a while to enjoy the surroundings. Think of it as an extra adventure on your part.
Wrap Up 10 BEST Restaurants in Loreto Mexico
Loreto may not be as popular as that of Cancun, Tulum, and Playa del Carmen. But that's okay. After all, it is not saturated with tourists thus giving you a chance to actually enjoy the beach. I prefer to visit non-touristy spots for some rest and relaxation. This actually hits the spot because it has beautiful beaches, clear and calm waters, and plenty of restaurants to choose from.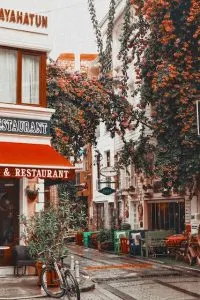 Aside from that, Loreto's rich history is evident in the colonial architecture that dots the town. Take a stroll along the cobblestone streets while admiring these ancient buildings at your own pace. Once you are done, you can have your breakfast or lunch at one of the restaurants mentioned above. Trust me when I say that you are going to enjoy every bit of the food here.
Of course, since you are in Mexico, you should try their local food! From tacos to burritos, to pizzas, and more, you will be spoiled for choices here. I for one will be coming back to explore this town further. I hope that you can also make time to see Loreto. For sure, you will love the laid-back atmosphere here and the friendly locals.
It doesn't matter whether you will be flying in or going the long route, you will love every bit of your trip here. Just make sure that when you plan your trip, add the restaurants above. Think of it as a food adventure in Loreto.