Cacinda Maloney's Articles in the Travel Press
Speaker: World Travel Writers Conference
Expedia Expo: Cabo, Mexico
Judge:
The Ultimate Travel Bucket List by Flight Network
Interviews:
Washington Post – Pack These 8 Things in Your Carry-on Bag for the Best Plane Sleep
Side Hustle School with Chris Guillebeau
Travel Tales Interview: Travel Ambassadors Give their Two Cents
Fierce Girl: Fierce Girl Feature
HMA Publications: Media Monday
Big Blend Radio and TV
Parade Magazine: 5 Ways To Bring Your Vacation Mindset Back To Work
Instagram Meet-Up:
Panama City Beach, Florida
Podcast Mentions:
Happier with Gretchen Ruben Podcast-Episode 237 mentioned at minute 31:00

What does it take to be successful in the world of Travel Writing?
Work!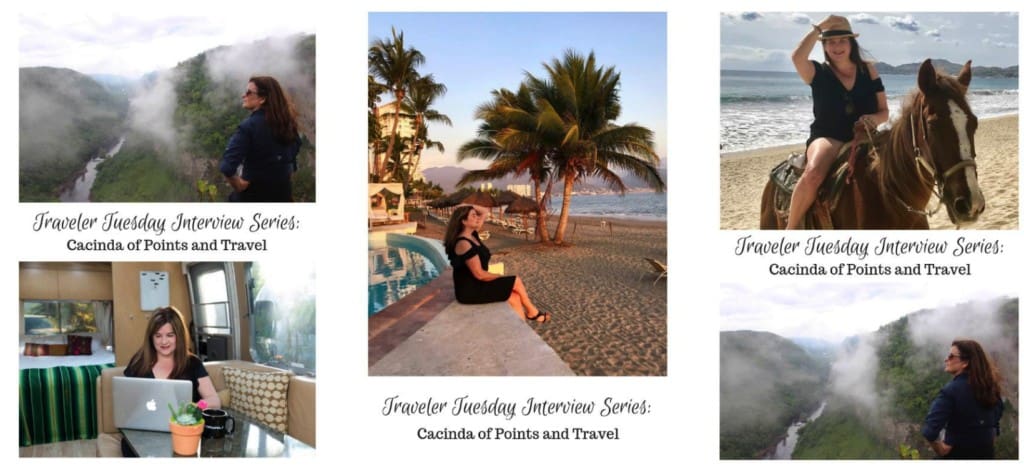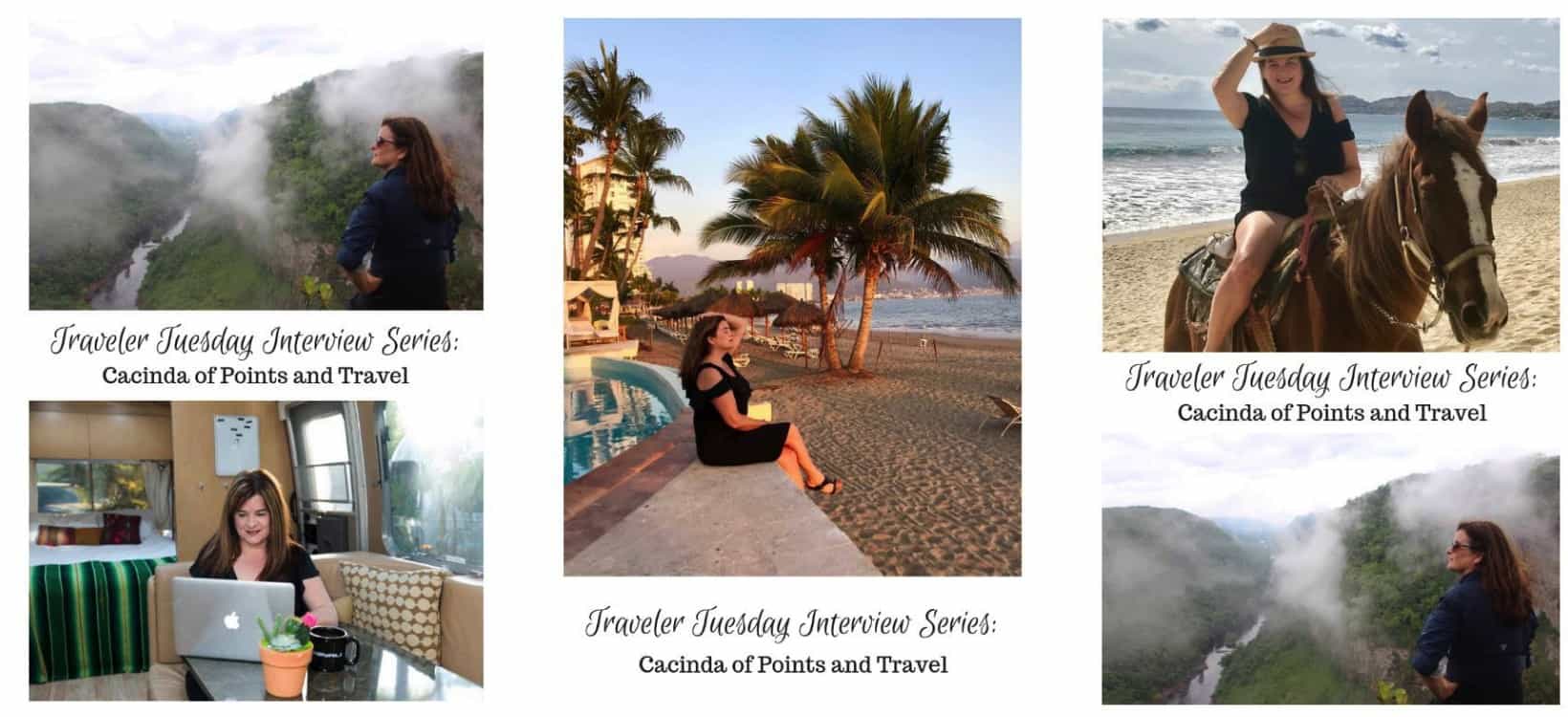 Articles Written by Dr. Maloney for other Publications:
EXP1: Dealey Plaza in Dallas: History, Landmarks, and Photo Spots
EXP1: Why the Fort Worth Stockyard Are Famous
EXP1: The Sixth Floor Museum in Dallas: What to See, Do, and Learn
Travelocity: 6 Amazing Destinations You Should Visit in Celebration of National Wildlife Day
Travelocity: This is Why Argentina's Iguazu Falls Rank Among the World's Most Beautiful
Travelocity: 6 Experiences Not to Miss in Buenos Aires
Travelocity: Adventurous Tours in the Cook Islands
Travelocity: Scuba Diving in French Polynesia
Travelocity: The Best Panama City Beach Hotels and Attractions
Travelocity: 10 Photos That Prove Quebec City is a Winter Wonderland
Travelocity: 4 Quick Tips to Book a Vacation Package with Value
Travelocity: Caravan Outpost: An Airstream Glamping Experience
Travelocity: There's a New Wheel in Town!
Travelocity: Where to Stay in Cabo for a Luxurious All-Inclusive Experience
Travelocity: The 11 Best Luxury Puerto Vallarta All-Inclusive Resorts
Travelocity: Ten Photos That Will Make You Fall in Love With the US
Travelocity: Experiencing the All-Inclusive Now Amber Puerto Vallarta Resort
Travelocity: 5 Surprising Things You'll Love About Santa Fe
Travelocity: 5 Most Magical Reasons to Visit Croatia
Travelocity: 6 Ultra-Indulgent Luxury Spa Getaways Not to Miss
Huffington Post: Barcelona Spain: Steals and Deals
Huffington Post: Golden Door Cooking School, All is Golden
Huffington Post: The Masterpiece that is Montestigilano in Tuscany, Italy
Travelocity: Unique Airports We Have Found Around The World
Travelocity: Get More Bang for Your Buck At This Los Cabos All-Inclusive
Travelocity: 7 Things to Do in Texas Other Than the Alamo!
Experience Scottsdale: Art Festivals in Scottsdale
Travelocity: Luxury Within Luxury: A New Concept in a Puerto Vallarta Resort
Travelocity: Three Flavors of Mexican Hotels in Puerto Vallarta Area
Two Monkeys Travel Group 7 Awesome Things to do in Santa Fe, New Mexico
Travelocity: Family Travel Magical History Tour
Travelocity: Santo Domingo, The First City of the New World
Travelocity: 7 Experts Reveal Their Dream Romantic Getaways in the USA
Travelocity: Family Travel Magical History Tour
Huffington Post: Snowshoeing Thru Glacier National Park
Travelocity: Best Places to Visit in the USA in 2017
Experience Scottsdale A Taste of the Good Life
Travelocity: Crazy Sports Fans Travel The World
Travelocity: Romance Blossoms in San Diego
Travelocity: Nevis, The Island that Time Forgot
Radisson Rewards Six Epic Trips of a Lifetime
Experience Scottsdale Spicy Spanish Music
Experience Scottsdale: Luxury Hotels of Scottsdale
Experience Scottsdale: The Best Kept Secrets in Scottsdale
Experience Scottsdale: Scottsdale Spa Experiences from a Medical Perspective
Travelocity: A Midsummer Night's Dream Through Western Sweden's Outer Banks
Travelocity: Utopia in Vaxholm, Sweden
TripAdvisor: Best Family Getaways in America
The Hotel Guide: Grand Cayman Islands, Enjoy on a Mid-Size Budget
The Clever Root (Print Magazine): In the Heart of Southern Italy
Travelocity: Things to do in Copenhagen, Denmark
Travelocity: Oslo's Hidden Secret Revealed: Europa 2
Travelocity: Phoenix Like A Local (Single or Otherwise)
Travelocity: Exploring His Roots: Chef Mark McDonald
Travelocity: A Taste of Santo Domingo – Dominican Republic's Culinary Capital
Travelocity: An American Life in Abu Dhabi and Dubai
Travelocity: 72 Hours in Oaxaca is not Enough
The Hotel Guide The Maldives: Paradise on Earth
Travelocity: The Classic American Road Trip: Miami to Key West
Travelocity: Ode to Barcelona's Street Violinist
iExplore: How to have the Ultimate Valentine's Day in Monaco
Yahoo Travel Tumblr – Travel the Rails in Luxury on the Rocky Mountaineer
TripAdvisor – Seven Best Family Getaways in America
Travelocity – New Orleans: Jazz, Weddings, and Funerals
Travelocity – Santa Fe: Where Cultures Collide
Expedia – Best Places to Visit in the World in 2016
Travelocity – Memories of Santorini Island
Yahoo Travel – Top European Cities for Christmas Markets
Ecoventura – The Truth About Traveling on a Galapagos Cruise
Yahoo Travel Lifestyle! A True Book Lover's Hotel in Zurich
Italy Magazine: Italy and Its' Liquid Gold
The Hotel Guide: Cayman Islands: Enjoy on a Mid-Sized Budget
Global Writes Pocono Mountains In The Fall: The Perfect Place To Be
MSN Travel 9 Reasons to Visit The Galapagos Islands Before It's Too Late
Findery: A Toast to the Champagne Houses of France
Findery; 9 (+1) Reasons to Visit The Galapagos
Flipboard: Dreaming of Travel
Huffington Post: Savannah, Love at First Sight
Huffington Post: A Toast to the Champagne Houses of France
Yahoo Travel: Two Things You Should Never Do in Key West and 10 Things You Should
Article Contributed To:
Travelocity Instagram Inspiration: Best Gnomads' Posts of 2018
Credit Cards 5 Cardholders Share How They Earn and Redeem Rewards Around the Holidays
Cathy Traveling Fictional Books to Inspire Travel
Your Parking Space UK The Top European Destinations Where You Should Drive This Summer
Wanna Be There How to Make Money Travel Blogging
Fashion Beans Airport Mistakes to Stop Making Before Your Next Flight
Catapult Cool Winter Destinations
Miami Curated Healthy Travel Snacks
Luggage and Lipstick Travel Trends
Traveling Mom 8 Best Things To Do in the Snow With Kids
Travelocity Smaller Cities in Europe That Need To Be On Your Travel Radar
Misadventures with Andi The Best Tamales of Phoenix
Travel the Globe 4 Less Discover 27 Awesome Places to Celebrate New Years' Eve
Readers Digest 10 of The Best New Years' Eve Celebrations Around The World
Misadventures with AndiParis for the Holidays
FWT 14 Best Long-haul Travel Tips
Flight Network World's 50 Best Beaches
Wanderer of the World What Are Travelers Searching For?
Catapult Brave the Freezing Weather Head-On at These Cool Winter Destinations
Travelocity 11 Ultimate Bucket List Activities From Around the World
Travel Tales with Mike Siegel Travel Ambassadors Give Their Reviews
The Contented Traveller The 60 Best Lighthouses in the World
Once in a Lifetime Journey 28 Ways to Make Money Travel Blogging
Wander With Jo 20 Travel Comfort Essentials Every Wanderer Must Pack
McCool Travel Great Burgers for National Burger Month
The Culture Trip Today's Top Travel Bloggers Share Their Best Vacation Advice
Flight Network 123 Of The World's Best Travel Hacks in 2017
Room 5 50 Bucket List Hotels That Will Take Your Breath Away
TourRadar Thailand VS. Indonesia
TripAdvisor Maximize your Weekend Getaways with these Expert Tips
Solitary Wanderer Women on the Train Kindness (Russia)
Adventure in You What do You Love the Most about Indonesia?
Travel with Bender Scary Travel Stories
Holiday Lettings from TripAdvisor Travel Treasures: 14 Top Bloggers Share The Story Behind the Souvenir
Anna Everywhere – Best Places to Visit in Mexico
KarolinaPatryk – The 15 Most Beautiful Places in the Philippines
Compare The Market – Aussies love Cruising!
Wanderlust Circle 80 Awesome Wanderlust Quotes That Make You Want to Travel the World
Mike's Road Trip – Best Restaurants in Scottsdale
Yahoo Travel – How to Get More Instagram Followers with Amazing Travel Photos
Yahoo Travel – Best Places We've Ever Spent New Year's Eve
Yahoo Travel Lifestyle! – The Best Travel Advice We Have Ever Been Given
TripAdvisor The 12 Biggest Travel Mistakes
Yahoo Travel Lifestyle! – Travel Experts Opinions: 16 Places Everyone Will be Talking About in 2016
Yahoo Travel- 50 Reasons to Love the World, From Very Seasoned Travelers
Yahoo Travel – Excessive Travelers on the Books That Changed Their Lives
Yahoo Travel – The Best Parks Around the World by Travel Pros
Yahoo Travel – Inside Pro Travelers First Aid Kits
Yahoo Travel – Photos of Paris That Will Put You on a Plane Stat!
Yahoo Travel – What's Your Weirdest Travel Habit?
Yahoo Travel – Travelers Share Their Memories and Love for Paris
More Time to Travel – Walking Cities: Where Travel Writers Walk
What People Are Saying/Quotes:
USA Today Special Edition: Travel Hacks
CreditCards: Turning a Hobby into a Career
Perlu Blog 7 Secrets to Starting a Travel Instagram and Building a Killer Following
Travel Awaits Interview with Adventure Travel Blogger Dr. Cacinda Maloney
Voyage Phoenix Magazine – Meet Cacinda Maloney
Roostergnn – How a Physician Became a Travel Influencer
VoyageMIA Magazine – Should be Filed under #GirlBoss – Influencer Series
Everything Everywhere The World's Top Travel Blogs 2018
Travels with Tam 14 Total Badass Adventurers on Instagram are MidLife Women
My Travel Affairs Friday Lens Affair 189
Manned Up 18 Travel Bloggers to View In Your Next Coffee Break
JohnnyJet Travel Style Cacinda Maloney
Getting on Travel Best Boomer Travel Blogs
Flipboard Spotlight Cacinda Maloney, Author of Points and Travel
Her World Magazine (Print, part of page 1 listed below) – Spark the Adventurer in You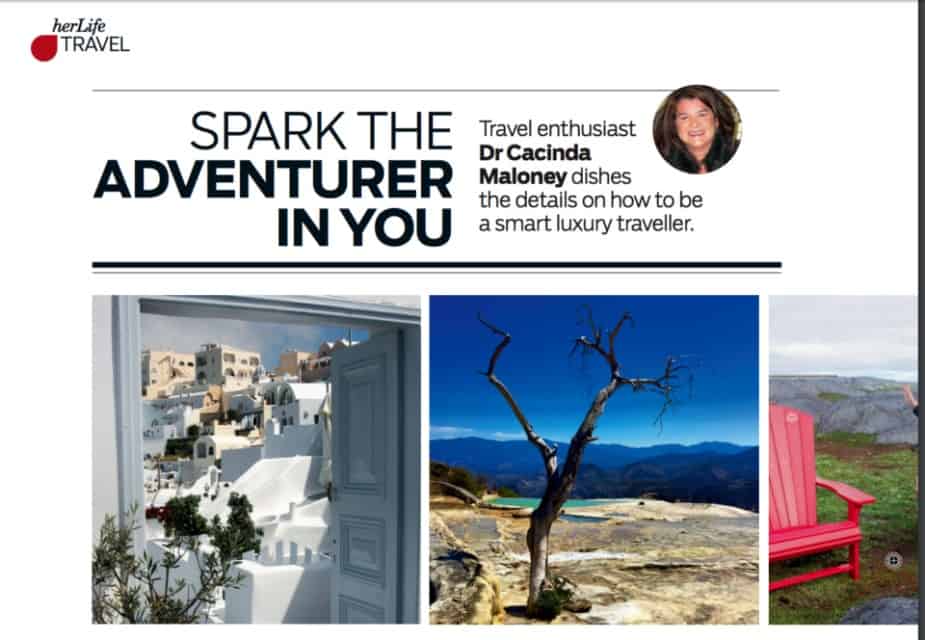 Flipboard: 5 Terrific Travel Bloggers You Should Follow on FlipBoard
McCool Travel: 5 Minutes with Cacinda Maloney of Points and Travel
FWT Magazine: 14 Best Long-Haul Travel Tips
Flight Network: 81 of the World's Best Travel Hackers in 2017
We Said Go Travel: Travel Influencer Series
Credit Donkey: Best Female Travel Blogs 2016: Top Influential Views
Business Insider: A woman who has traveled every 6 weeks of her professional life explains how she's made it possible
Business Insider: A woman who became a world traveler after 21 years working 9-5 shares her best advice for people who want to try something new
Business Insider: How one woman built herself a brand new career traveling the world after 21 years of working 9-5
Ethical Muse: Dr. Cacinda Maloney – Travel Crush
Sensei Project: Influencer Insights with Dr. Cacinda Maloney of Points and Travel
Flipboard: 6 Cool Travel Bloggers Enhance Traveler's Gift of Flipboard
TripAdvisor: 19 Travel Photography Bloggers Give a Daily Dose of Wanderlust (& Tips!)
More Time to Travel Windows Launches Travel APP
Travel Writing 2.0 – A Conversation With Cacinda Maloney
Johnny Jet Travel Style: Cacinda "Cindy" Maloney
Mighty Travels – Interview with Cacinda Maloney PointsandTravel.com
Million Mile Secrets – I Have Been Traveling Every Six Weeks of My Life For Over 19 Years
Misadventures with Andi Traveler Tuesday – Cacinda of Points and Travel
Open World Mag – What's on Your Bucket List?
Travel Gear Reviews: Travel Backpack and Luggage Picks from 15 Travel Experts
Meet the Gypsies – Cacinda of Points and Travel
Travel Mammas: Best Destinations in France for Families
Calculated Traveller: Travel Bloggers Share the Joys of Solo Travel
One Weird Globe: Travel Blogger Conferences and Why You Should Attend Them
Social Media Today: How to Growth Hack Instagram to grow in 48 Hours
The Hungry Partier: Why Do You Travel?
More Time to Travel- 50 Instagram Account You Should Follow Now – Are We There Yet?
Travel Babbo – Best Instagram Travel Accounts
CreateTrips – 5 Instagram Accounts to Follow for Wanderlust
Journalists on the Run – 1000 Instagram Followers Advice
JourneyWoman – Photo Essay, International Women's Day
Perceptive Travel – Carnival Cities for May 2014
Suitcase Stories – Travel Bloggers Tell All – Our Favorite Places
Saga Navigator: The Best Places To Try Traditional Spanish Food in the Costa Blanca
Keep Inspiring Me: Best Bucket List Ideas from PointsandTravel.com
Eye & Pen – 20 Weeks of Travel: Frequent Flier Travel with Cacinda
Club Carlson Blog: The Club Carlson Ambassador Journey Continues
Nomadic Elephant – Top Travelers on Instagram
True Nomads – Top 100 Travel Tweeters of 2015
Keep Inspiring Me – Best Bucket List Ideas
Darn Office – The Best and Most Popular Travel Blogs
Recognized by:
National Geographic Traveller – Blog of the month Dec 2014
Italy Magazine – Best Single Article About Arts and Culture 2013/14
Italy Magazine – Nominated for Best Single Article About Arts and Culture 2014/15
Italy Magazine – Blog of the Week 12/05/14
Professional Travel Bloggers Association (PTBA) – Chosen as one of the top 50 travel bloggers in the world
Yahoo Travel – Travel Blogger Explorers
First Site Guide – The 100+ Best Travel Blogs to Follow
Hello Travel – Top Luxury Travel Blogs of 2016
Darn Office – The Best and Most Popular of Travel Blogs
Ambassadorships
Rocky Mountaineer Digital Ambassador 2015 – 2016 – 2017 – 2018 – 2019 – 2020
Flipboard #SuperCurator and Travel Ambassador 2017 – 2018 – 2019 – 2020
Delsey Luggage Ambassador 2017 – 2018 – 2019
Travelocity National Gnomad 2015-2016-2017-2018 – 2019 I was a travel ambassador for Travelocity: National Gnomads is an exclusive group of high-profile travel and lifestyle experts who offer tips and inspiration on behalf of Travelocity.
Award Wallet 2018 – 2019
CycleLifeHQ 2019
VitaHydra8 2019
Club Carlson 2016 2017
Yahoo Travel Explorer 2015-2016
Accolades:
Known as the #3 Travel Expert in the world according to Klout, with 550,000 travel experts identified:
(This changes daily, so to see what I am today, go to the above link and under the Explore tab put in TRAVEL.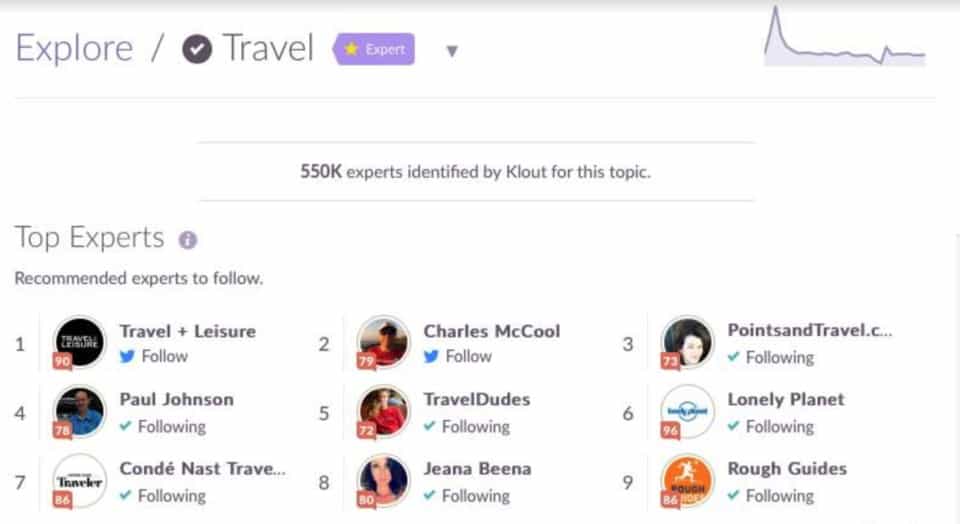 SouthWestDiscoveries – Top Senior Adventure Travel Blogs to Follow 2016
First Site Guide – The 100+ Best Travel Blogs to Follow
True Nomads: Top 100 Travel Tweeters
Leaderboard with Rise Global: #Travel1k Top 100+ Travel Blogs (This changes weekly, my range is 14 to 47 in the world out of Top 1000 Travel Bloggers).

RoamRight Travel Photo Contest Winner:
Photo here