Overall, 50 states make up the United States of America. Every single one has notable features and characteristics that make them loved by citizens and foreigners. The United States is always within the top 5 countries to visit for many foreign travel enthusiasts. It is probably why the US ranks 18th out of 167 countries worldwide on the prosperity index.
---
3 Great US States Worth Visiting
On Your Next Trip
---
---
Here is a selection of three states (in no order of importance) worth visiting on your next trip.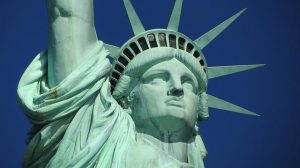 This state is located in the Northeastern part of the US. To avoid confusion with its largest vibrant city of the same name, people like to differentiate by adding the 'state.' History acknowledges New York state as one of 13 colonies that originally formed the United States.
It is the home of the Statue of Liberty, a piece of art that evokes sheer awe. The state of New York represents freedom and justice, and its city of the same name is affectionately described as 'the city that never sleeps.'
Indeed, the city's description is apt with a long list of entertainment outlets. You will find the best of them all in this state, from fashion to movies and fine dining. According to travel enthusiasts, the city of New York is the quintessential melting pot of the United States.
With a vibrant culture and over 800 languages spoken here, the state of New York is an ideal place for foreign tourists, and you are likely to hear your native tongue here. So, when you visit the state of New York, try to see the city as much as possible to experience this for yourself.
Also one of the 13 original colonies of America, Pennsylvania is a crucial service industrial center of the US. Nicknamed the Keystone State, it has maintained much of its vegetation. Data shows that Pennsylvania has retained as much as 60% of its forests in the suburban areas.
A notable thing about Pennsylvania is the abundance of historic features here. From the Liberty Bell to Gettysburg battle sites, there is so much to see and experience in Pennsylvania. Every year, one million travelers come to this state to have a firsthand experience. So, if you're planning a trip anytime soon, you may want to put Pennsylvania on the list.
Another fact you would like to know about is its food. In the Pennsylvanian city of Philadelphia, you will not miss the mouthwatering sight of cheesesteak. Indeed, several cheesesteak restaurants in Philly are worth trying on your trip. As a matter of fact, you will not be wrong to describe Philly cheesesteaks as a staple here.
On August 21, 1959, Hawaii became the 50th US state. If you've ever wondered why it always features one of the preferred holiday destinations, here is why. Its picturesque beaches, spotless coastlines, islands, and ancient culture make this place amazing.
The weather is amazing all year round, and there is never a shortage of diverse, fun activities in Hawaii. This fantastic island state is the perfect destination for a memorable vacation for revelers. In 2019, over 10 million tourists visited Hawaii, setting a record in 10 years.