Puerto Vallarta is a popular resort town located on Mexico's Pacific Coast. It boasts miles of beautiful beaches, a historic colonial center, and incredible nightlife. Aside from that, the beachfront promenade, or El Malecon, is a great place to hang out. After all, restaurants, bars, and shops line this beachfront area.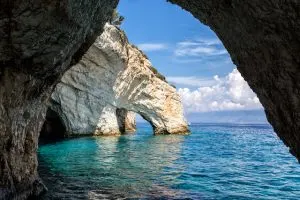 ---
Adults-Only Resorts in Puerto Vallarta (2023)
---
Tourists will have their fill of activities in this resort town. In fact, guests can go whale watching, ziplining, or going on day trips to Marietas Islands and Sayulita Islands. Of course, with all the sights to see and activities to do, you will need a place to rest. Fortunately, there are several all-inclusive resorts in the city that are perfect for adults only.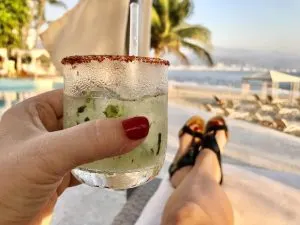 Best Adults-Only Resorts to Book In and Around Puerto Vallarta
Tourist-friendly Puerto Vallarta is home to several adults-only inclusive resorts. This means that you can come here for a romantic getaway, with your friends, or even when you are flying solo. I know you are already itching for the beach, so without further ado, here is my list of the best adults-only resorts in Puerto Vallarta.
Casa Velas
This exclusive adults-only resort lies on the Pacific Riviera. One of the things that I love about this place is that it highlights Mexico's culinary culture. Also, it offers its guests the serenity that is missing in many hotels, especially in resort towns.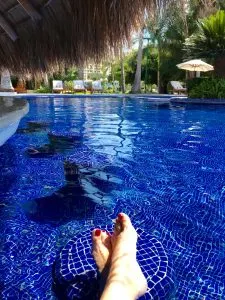 Casa Velas is known for its stunning landscape and lush gardens. Aside from that, it has an oversized koi pond and lush gardens that you can explore. Meanwhile, all the suites here are large and spacious, with traditional Mexican decorations. Some have jacuzzis while others have private plunge pools. Also, some suites come with a king-size bed that will make you feel like royalty.
In addition, there are two pools here. One of them has a swim-up bar. Also, there are two restaurants and a private beach club called Táu Beach Club. Have breakfast at their coffee shop or step outside to see what breakfast meals you can find. Guests can also take advantage of the Marina Vallarta Golf Club when they book an inclusive stay here. And if you are in need of some pampering, make use of the resort's full-service spa.
Villa Premiere Boutique Hotel
Meanwhile, Villa Premiere Boutique Hotel offers a world of luxury and refinement for its adult guests in Puerto Vallarta. For starters, you will enjoy beachfront views everywhere you look. Aside from that, you will have access to their three on-site restaurants where you can order a la carte meals.
Book their inclusive stay which comes with 24-hour in-room dining as well as an in-room minibar. Also, you have easy access to their open bar where premium brands are available. Not only that, but you'll receive the main menus of the a la carte restaurants on the property. Depending on the room that you booked, you may have a private pool to enjoy.
Aside from that, you can book a chef's table and a romantic dinner by the beach for an additional charge. This is a perfect opportunity to have an intimate dinner with your loved one. Meanwhile, the resort has several amenities open for guests. For starters, there are two swimming pools here as well as Bali beds by the beach. You can also stay fit and healthy by working up a sweat at the fitness center.
Hotel Mousai
This 72-room adults-only hotel treats its guests to a culinary all-inclusive adventure. Even if you don't book their inclusive package, you can still enjoy their a la carte dining options. Boasting white sand beaches and lush coastal rainforest, Hotel Mousai is the only AAA Five Diamond-rated hotel in the state of Jalisco. No wonder it is a favorite among travelers to Puerto Vallarta.
Hotel Mousai's guest rooms are not only spacious but also come with a contemporary design. Aside from that, you'll have panoramic views of Banderas Bay. Among the amenities that they have are designer bathroom amenities as well as a Nespresso coffeemaker. Some even have a steam room and a jetted plunge pool.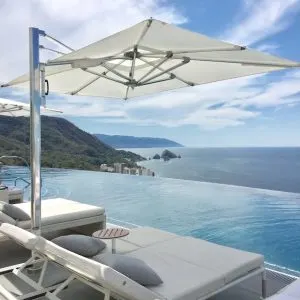 They also offer a deluxe refreshment center that contains premium brands too. As you explore the hotel, make sure that you head to the rooftop infinity pool. Here you can relax and unwind while enjoying the views. Also, there is a deluxe spa as well as a fitness center with ocean views. You can even use the tennis courts too or play some beach volleyball. Not only that but you can also access the Garza Blanca Preserve resort from here.
Secrets Vallarta Bay Resort
One of the best inclusive adults-only resorts in Puerto Vallarta is Secrets Vallarta Bay Resort. This is not surprising given that it is here where the sun and sand meet the sea. In fact, you will find this resort on the golden sand near the Pacific Ocean. Daily activities number in the dozen meaning that you will not get bored during your stay. This beach resort has large rooms with a hot tub and indoor amenities like flat-screen TVs, air conditioning, and others.
Among the fun activities here are wine tasting, wild-themed parties, and even movies by the beach. In addition, their in-house restaurant serves Pan-Asian and French cuisine that will satisfy your hunger. You can also visit their golf course if you want to play a round of golf. Regardless of whether you just want to relax by the swimming pool with the lazy river or want to explore outside the resort, you'll be glad to stay here. After all, it is just a short distance from downtown Puerto Vallarta and all its attractions.
5. Le Blanc Spa Resort Cancun
If you want to experience the hustle and bustle of Cancun from Puerto Vallarta, you can do so. One of the best adults-only resorts here is the Le Blanc Spa Resort Cancun. It lies within the Hotel Zone and boasts 260 rooms that are lavishly decorated. For those who book their inclusive package, you will enjoy their personal butler service. They are the ones who will help you get settled in and even handle your reservations and bookings.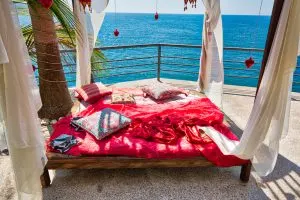 Aside from that, the hotel resort has several amenities including five restaurants and five bars. You can also enjoy 24-hour in-room dining if you prefer some privacy. On top of that, there are three swimming pools that you can relax in as well as nightly entertainment. If you want to sweat it out a little, try their exercise classes. Whatever it is that you are looking for in your beach vacation, you're sure to find them here.
El Dorado Casitas Royale
Meanwhile, if you are thinking of exploring Riviera Maya, this is a good hotel to stay in. It sits between Cancun and Playa del Carmen. Honeymooners love to stay here because of its luxury service and privacy. Let's not forget the delicious cuisine served by the onsite restaurants. You can choose from swim-up suites or deluxe rooms here. One thing is for sure, each room is beautifully decorated and you will feel right at home.
Aside from that, some suites come with private pools and outdoor showers. These added amenities make it easier for you to enjoy some privacy with your partner. As for activities, you can do Mezcal tastings or try their fitness activities. In addition, there are bars and swim-up bars here with some offering live music and an extensive selection of drinks. You can even attend dance lessons here if you want to try something new.
Breathless Cabo San Lucas Resort
This may be a bit far from Puerto Vallarta, but it can be a short stop if you are traveling from Cabo San Lucas. A good reason to stay here is that it offers amazing nightlife. Thanks to its location on Medano Beach, you'll have easy access to the white sandy beach. Since this is an adults-only inclusive resort, expect to find numerous activities.
Think DJ pool parties, fashion shows, themed nights, and live music. This is an ideal place for adults who are looking to socialize.
Aside from that, there are infinity pools and two eateries that come with communal tables. This gives you an opportunity to mingle with other guests. Karaoke, yoga, and spa services are also available. In addition, you can take advantage of their 24-hour room service too.
Excellence Playa Resort
If you plan on visiting Isla Mujeres, then Excellence Playa is a good option. In fact, this adults-only inclusive hotel is the perfect place for tourists wanting some privacy. Also, this beachfront hotel provides easy access to the white sand beaches of the island. Couples who are looking for a romantic getaway will fall in love with this place.
After all, each spacious room comes with its own jacuzzi, private terrace, and others. You can upgrade your room to a rooftop suite with your own private plunge pool. Aside from that, the hotel offers nine restaurants, seven pools, and a deluxe spa. Water sports are available as well such as kayaking, paddle boarding, and snorkeling. At night, expect there is live entertainment in the hotel.
Hyatt Ziva Puerto Vallarta
Meanwhile, if you are looking for a relaxing getaway in Puerto Vallarta, you should book a stay at Hyatt Ziva. Choose an inclusive stay here for unlimited access to their services and amenities. This includes having access to the resort's private beach called Las Estacas.
Aside from that, their rooms come with stunning ocean views seen from their private balconies and terraces. Guests can cool down in their outdoor pool or unwind at their spa and wellness center. They offer various spa treatments, such as a hydrotherapy circuit, that will leave you relaxed.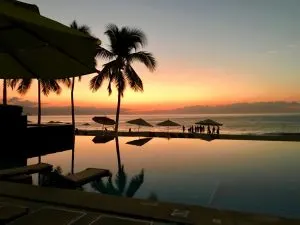 In addition, there are several gourmet restaurants and bars to enjoy. Depending on when you come for a visit, this is the perfect spot to go whale watching. The best part is that it is just half an hour away from Puerto Vallarta International Airport. This means that it is accessible from cities like Mexico City, Phoenix, Los Angeles, and Houston.
Now Amber Puerto Vallarta
This beautiful hotel is another option to consider for adults who prefer to be close to the beach. Aside from that, it is just 15 minutes away from the airport and downtown Puerto Vallarta. What I love about this place is that each of its 327 rooms comes fully equipped with amenities. There are gorgeous pools, restaurants, and bars on the property for those who want to relax and unwind.
You can find one of the best spas here where you'll get pampered from head to toe. The best part is that there won't be any hidden fees here. All-access to their services and amenities is part of the fee that you paid.
Puerto Vallarta has Great Tequila Tastings
Puerto Vallarta has much to offer aside from its gorgeous beaches. In fact, you can go to tequila tastings, art workshops, and others. Of course, no trip here will be complete without enjoying an adults-only all-inclusive stay in one of the hotels here. Aside from the ones mentioned above, you can also try Nuevo Vallarta if you are looking for a more tranquil getaway.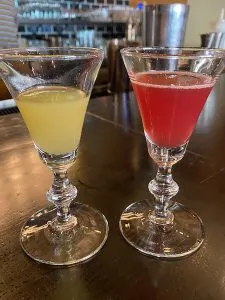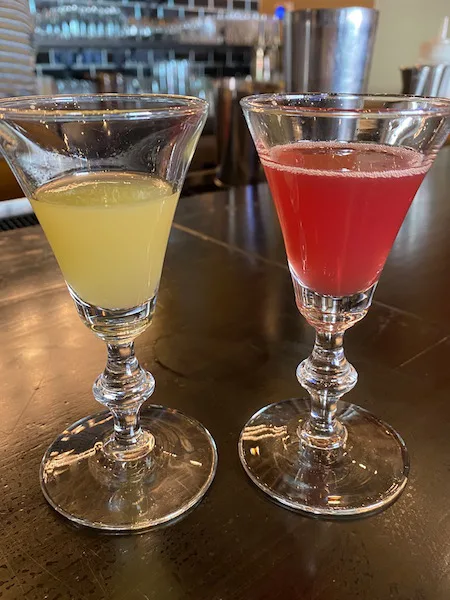 Meanwhile, if you are on a budget, you are in luck. Puerto Vallarta does have cheaper options such as V Azul Luxury Vacation Rentals at Los Muertos Beach. Another is Marival Residences. Both offer luxury accommodations but at reasonable prices. In fact, you'll feel like you have booked an inclusive stay because of their impeccable service.
It is always nice to imagine lounging by the beach under swaying palm trees and just soaking up the sun. If this is weighing on your mind lately, you should pack your bathing suit in your go bag and just book a trip to Puerto Vallarta. With its gorgeous beaches and turquoise waters, you will have a great time here. Of course, you should consider where to stay and I think I have provided enough options for you.
The best part is that Puerto Vallarta is also close to other beach resorts. This means that it is possible to find other adults-only all-inclusive hotels nearby!