Are you dreaming of a romantic getaway with your partner? Want to enjoy the sun, sand, and sparkling waters? How about a scenic ocean view from your accommodation with 24-hour room service at your disposal? If you said "yes" to all of these then time to start planning! A trip to the best adults-only all inclusive resorts in Riviera Maya Mexico should be in the works!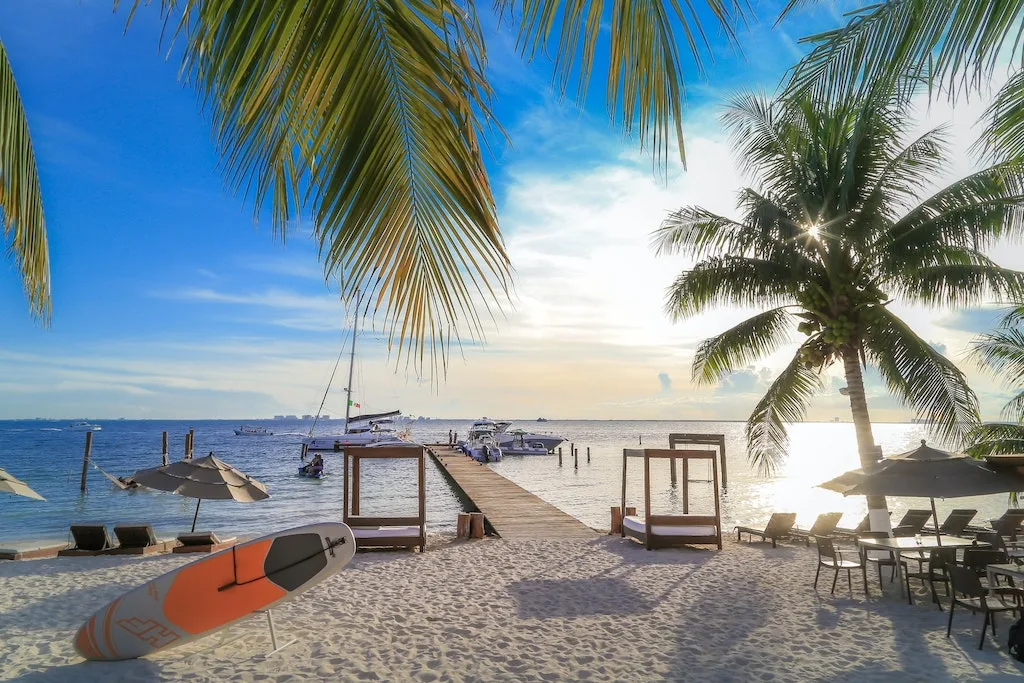 ---
What's in this post:
hide
Riviera Maya Adults-Only All-Inclusive Resorts
---
Why Go to An Adult Only Resort?
There are several reasons why booking a stay in an inclusive resort is a great idea. First, no screaming kids to disrupt your special week. Second, luxurious resorts take pride in delivering the best inclusive experience through their amenities and room service that runs around the clock. Third, the swaying palm trees, stunning white-sand beaches, and world-class amenities can help rejuvenate your mind and body.
The downside to this kind of adventure is the price. However, it will be well worth it once you see the best resorts in Riviera Maya. Additionally, there are adult resorts around the area that are worth adding to your list. The best part is that Mexico is not far from North America! Hence, you can easily travel here for your much-needed R and R.
Best Adults Only All Inclusive Resorts in Cancun
Cancun is one the most popular destinations in the country and with good reason. You can start in the Hotel Zone because of its close proximity to shopping, various dining options, as well as a vibrant nightlife.
#1 Le Blanc Spa Resort
One example of a luxury adults-only resort in Cancun is the Le Blanc Spa Resort. Its white-sand beach, world-class spa treatments, swim-up bar, and luxurious hotel accommodations are among its best features. Let's not forget that their butler service will leave you feeling pampered right from the start.
Additionally, their rooms have whirlpool tubs with a spectacular view of the ocean or lagoon. This inclusive hotel is the best of the best in the city making it a luxury destination for adults.
#2 Beloved Playa Mujeres
Another option is the Beloved Playa Mujeres. This boutique hotel is designed specifically for couples. Their goal is to provide discerning couples a secluded getaway where they enjoy rest and relaxation. Additionally, the resort boasts three outdoor pools with one swim-up bar and a whirlpool. There are five gourmet restaurants to choose from to satisfy your hunger with personalized service for a more intimate experience.
Additionally, their spacious suites are equipped with flat-screen TVs, fully stocked minibars, and more. Choose from their swim-up suites or those that have private pools that are accessible via their private terraces.
#3 Secrets Silversands Riviera Cancun, Puerto Morelos
Tourists can avoid the hustle and bustle of the Hotel Zone. One way to do this is to book a stay in Secrets Silversands. This private white sand beach resort has tons of amenities including several restaurants, eight pools, as well as daily activities that will fill your hours.
Meanwhile, make use of their full-service spa to treat yourself to a pampering time. Or stick to your healthy regimen through their yoga and aerobic sessions. Head back to their spacious rooms where there are flat-screen TVs and whirlpool tubs to enjoy. Additionally, they even have private balconies at your disposal.
#4 Zoetry Paraiso de la Bonita
Another option is Zoetry Paraiso. It is an upscale all-inclusive luxury resort that guarantees a unique experience for its guests. Choose from their one or two-bedroom suites that face the ocean. If you are willing to pay additional charges, go for a suite that has private plunge pools to enjoy.
Take advantage of their island-style pool bar for some beers and cocktails. If you are into health and wellness, they have a steam room, yoga center, and sauna to pamper yourself with. Also, enjoy the tranquil beach for some downtime or swim in the cool waters. You won't get bored with the various activities that you can do here.
#5 Isla Mujeres Palace
Another option to consider is the Isla Mujeres Palace. It has 62 rooms and signature amenities to enjoy. This inclusive adults boutique resort is located in Isla Mujeres' southern area where its quaint setting has charmed couples and singles who are in need of a place to rest and unwind. Among the amenities that you'll enjoy is our world-class spa and fitness center. Also, there are several activities to do like snorkeling, and non-water activities, plus live music, shows, and more.
---

---
#6 Excellence Playa Mujeres
This resort is considered to be one of the best all-inclusive resorts in northern Cancun. Excellence Playa Mujeres offers luxurious amenities and features for a comfortable stay. Their swim-up suite gives you direct access to the main pool. Or rent their two-story villa for your own private pool. In addition, there are plenty of activities to enjoy here. Among these are beach volleyball, bike rides, and even archery just to name a few.
You wouldn't mind being far away from the bustling city life in Cancun. Simply put, the amenities and services here are outstanding. From their sprawling suites with floor-to-ceiling windows, rain showers, and private jacuzzis, this is a dream vacation for couples.
#7 Excellence Riviera Cancun
Aside from Excellence Playa Mujeres, you should consider the Excellence Riviera too. To keep up with its brand, expect that there are world-class amenities for you to enjoy. Among these include extensive spa amenities, marble bathrooms, as well as several outdoor pools to take a dip in. Furthermore, their inclusive options include spacious suites with private balconies with scenic views.
Enjoy a romantic candlelit dinner by the beach or splurge on any of the ten restaurants that they have on-site. Your cravings will be satisfied here for sure. You can always come back for more once you sample their food.
Best Riviera Maya Inclusive Resorts to Book
Found in the stunning coastline in Quintana Roo, Riviera Maya has plenty of all-inclusive resorts to choose from. Additionally, you can also enjoy a day trip to Chichen Itza to see its famous ruins.
#1 Secrets Maroma Beach Riviera Cancun
Meanwhile, Secrets Maroma Beach has been voted as the Best Beach in the World! This is not surprising because of its luxurious hotel accommodations. Additionally, its tranquil surroundings will give you a unique experience right from the start.
Satisfy your hunger at their six a la carte restaurants or go for a romantic dinner date in your suite or by the beach. Afterward, lie down on their king-size bed after using their hydro tub for two and take advantage of their room service for your much-needed pampering. They have live entertainment in their open-air theater as an added treat.
#2 Valentin Imperial Maya
Aside from the Secrets Maroma Beach, check out Valentin Imperial. Just 25 minutes from Cancun International Airport, this all-inclusive adult resort boasts of tropical gardens that stretch on a half-a-mile long white sandy beach. You will find the largest swimming pools in the country here. Take advantage of their full-service spa, lazy river, and swim-up suites too.
There are 8 international restaurants to choose from such as French cuisine, Japanese cuisine, and Mexican cuisine to satisfy your cravings. Additionally, they have spacious rooms with private balconies to lounge at night, and various amenities to make your stay enjoyable.
#3 Paradisus La Perla Playa del Carmen
As the name suggests, this all-inclusive resort is a paradise for its guests. Their gorgeous guest rooms are perfect for honeymooners who want to splurge on their trip. They have 8 restaurants and 6 bars designated for adults only. However, there are other options if you will be visiting with the whole family. Take advantage of their pool areas with two heated infinity pools that give you a gorgeous view of the sunset.
Lounge at its pristine white sand beach to catch the sun or enjoy the numerous water sports available in the resort. Go swimming, kayaking, or snorkeling and see marine life under the sea.
#4 El Dorado Casitas Royale
Another option to consider is the El Dorado Casitas Royale. This adult-only all-inclusive boutique resort is best known for its thatched roofs, white hammocks, and lush gardens that give off that earthly feel to the space.
Additionally, this 76,000 square feet of land has its own lush vegetable garden. The produce is harvested and used for the dishes served here. Their large rooms have high ceilings and outdoor showers. What's more, they have a butler service to complete their amenities.
#5 Hilton Playa Del Carmen
This all-inclusive hotel is a rare sight in the heart of Playa Del Carmen making it a top choice for couples and adults seeking an upscale vacation spot in the area. Bring your significant other for that moonlit dinner or go shopping. You can also take part in the vibrant nightlife that 5th Avenue has. This spot is just a short walk from the resort so you can visit it anytime you want.
However, you won't mind spending your time in the resort. Hilton Playa has a wide selection of restaurants and recreational activities offered. Aside from that, their rooms are beautifully decorated with hot tubs, flat-screen TVs, and fully stocked mini bars to indulge in.
---

---
#6 Royal Hideaway Playacar
Another example of an all-inclusive resort is Royal Hideaway Playacar. This 13-acre land has attracted couples who are looking for an adults-only beach resort. One of its main features is its guest rooms with Spanish colonial features. Think headboards with lattice wood design and beamed ceilings.
Also, there are plenty of water and non-water activities to enjoy here from parasailing to doing a bit of shopping downtown.
#7 Grand Velas Riviera Maya
If you don't mind the additional cost of staying in an all-inclusive hotel resort, then this is a great option to consider too. Aside from its 491 impressive suites, you can explore its pristine beaches and mangroves as you please. There are three buildings to choose from. The first two are for guests of all ages. But the last one is for adults-only.
However, you will need a shuttle to take you around this expansive resort. Meanwhile, there are several amenities and activities to keep you entertained. Their spotless service ensures that you will have a wonderful stay here.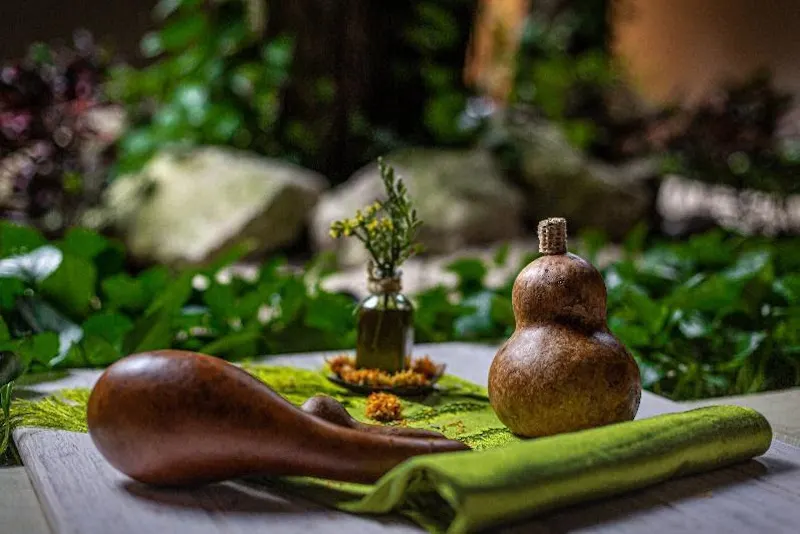 Plus, Grand Velas is now offering an Xkalim Mayan Gourd Massage in their spa area. The treatment begins with a traditional Mayan blessing. This honors the elements – earth, fire, water, and wind. Then, the spa therapist rolls different gourds on the body. This helps with massaging every muscle, applying increased pressure to reflexology points, and releasing all tension the person may have. This helps by renewing your energy called CHI. Before moving from the back, then the therapist performs a sweep of the body with alcohol. And then on to the front of the arms and legs before a massage of the face and head.
#8 Hard Rock Hotel Riviera Maya
Meanwhile, Hard Rock Hotel is perfect for the more discerning guests. This is the best spot for those who want to experience a luxurious stay in Riviera Maya. It boasts of a water park for guests who are bringing their children with them as well as unlimited access to food and beverage, room service, as well as nightly entertainment.
You can choose from their guest rooms or oceanview royal suites with spectacular views and modern amenities for a more relaxing and comfortable stay.
#9 Blue Diamond Luxury Boutique Resort
Another example is the Blue Diamond Luxury Resort. This all-inclusive resort combines exclusivity with luxury making it a favorite destination for adults. Explore their white sandy beaches lined with palm trees, lush gardens and forests, and sparkling waters at your own pace.
Satisfy your hunger with international flavors and, if you are willing to spend a little extra, hire a shuttle service to the nearest golf course or get a spa treatment. Choose from their 128 suites that come with private terraces or balconies with all the modern amenities that you will need. The combination of natural surroundings and modern features makes this the perfect getaway for adults.
Best Inclusive Resorts in Puerto Vallarta
This resort town is best known for its vibrant nightlife, stunning beaches that stretch miles long, and historic center. Golf lovers will fall in love with the place as each golf course offers a scenic view of the waters.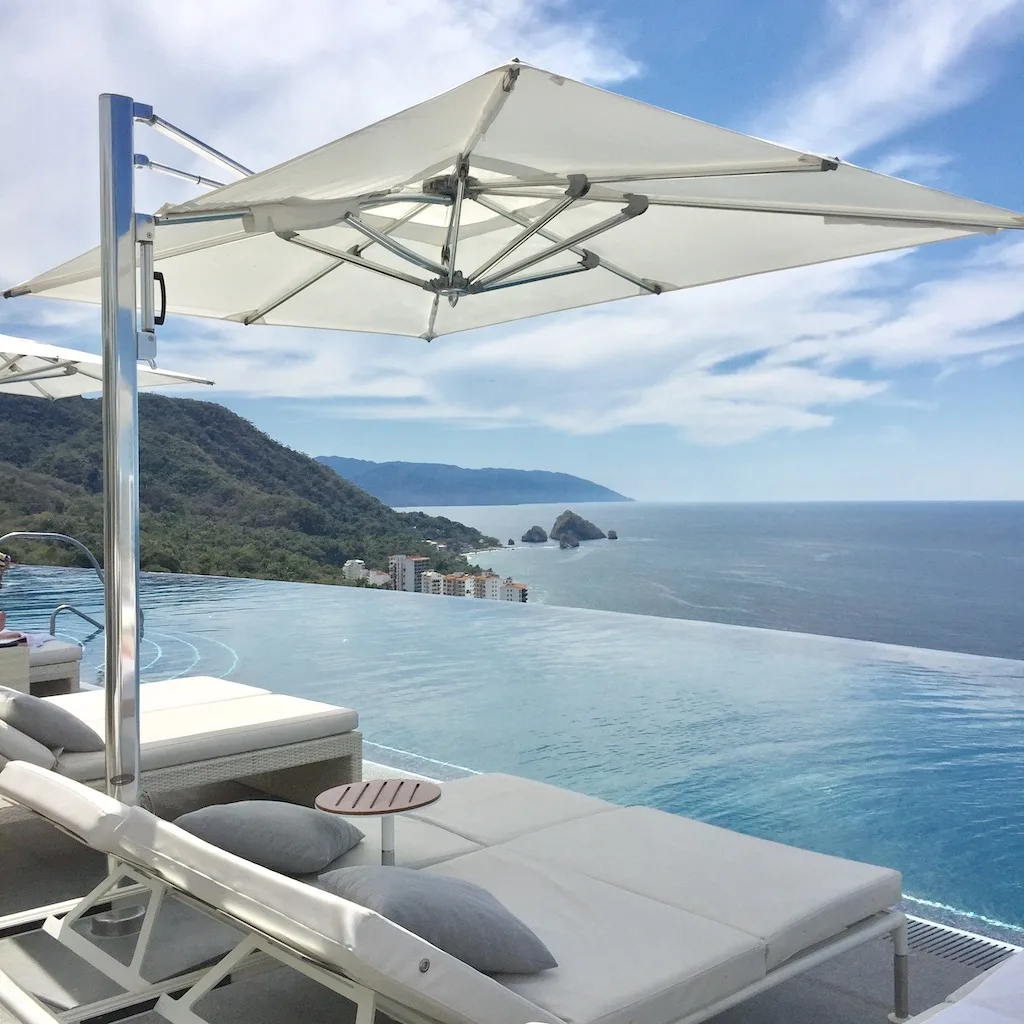 #1 Casa Velas
If you are after a Mexican culinary adventure, book a stay at Casa Velas. They have lush gardens, a koi pond, and guest rooms that are richly decorated in the traditional Mexican way. Also, some rooms have private plunge pools as well as jacuzzis. The personalized service is one of the highlights here as your every whim is catered to.
Additionally, they have a private beach club with plenty of perks. You can also use their golf amenities including renting a golf cart. Note that there are non-water sports to whittle away the hours.
#2 Hotel Mousai
The place to see and be seen, Hotel Mousai in Puerto Vallarta, Mexico, definitely sets the pace for a new generation of designer hotels. This is for guests aged over 18 (adult only) for sure. With offering exclusive experiences by the beach or on the rooftop pool, they pretty much have everything you need. They also serve delicious pampering in an unrivaled tropical surrounding with DJ music playing on the rooftop.
In fact, Hotel Mousai's fresh flirtatious aesthetics and cutting-edge comfort will inspire you to live. With their newest chic adults-only luxury resort that boasts 68 spacious suites and 4 lavish penthouses. Inside each has an eclectic mix of sensual elegance. They are set amidst the lush coastal rainforest and swimmable white sand shores,
Best Los Cabos All Inclusive Adults Only Resort
There are two popular tourist destinations in Baja California and these are Cabo San Lucas and San Jose del Cabo. The combination of majestic mountains, gorgeous sea, and stunning desert make your trip here one of the best there is.

#1 Marquis Los Cabos
This adults-only luxury resort provides a spectacular view of the Baja Peninsula. Guests have free access to world-class amenities, daytime land, and beach activities, as well as nighttime entertainment. Meanwhile, enjoy fine dining at their five restaurants or have your meal and drinks at their beach bar.
While you are here, take advantage of their recreational activities. Options like dance lessons, tequila tastings, and aerobics are worth trying out. Book a stay in one of their master suites with a plunge pool or opt for their Presidential Suite with its own private balcony.
#2 Pueblo Bonita Pacifica Golf & Spa Resort
Known for its opulence, Pueblo Bonita Pacifica is a luxury destination for adults only. Its beachfront property gives you a spectacular view of the Pacific Ocean. Furthermore, there are dozens of services available here that are geared toward your health and wellness. Take advantage of their outdoor recreational activities or spend some time in their wellness spa, you choose!
Aside from that, their guest rooms come with stylish decors and modern comforts. Additionally, their terraces give you a great view of the ocean. There are two outdoor pools that you can dip in. Afterward, have a romantic dinner by candlelight by the beach. This tranquil getaway promises a unique experience that will make you want to come back for more.
Wrap Up of Adult Only (a few Family) Resorts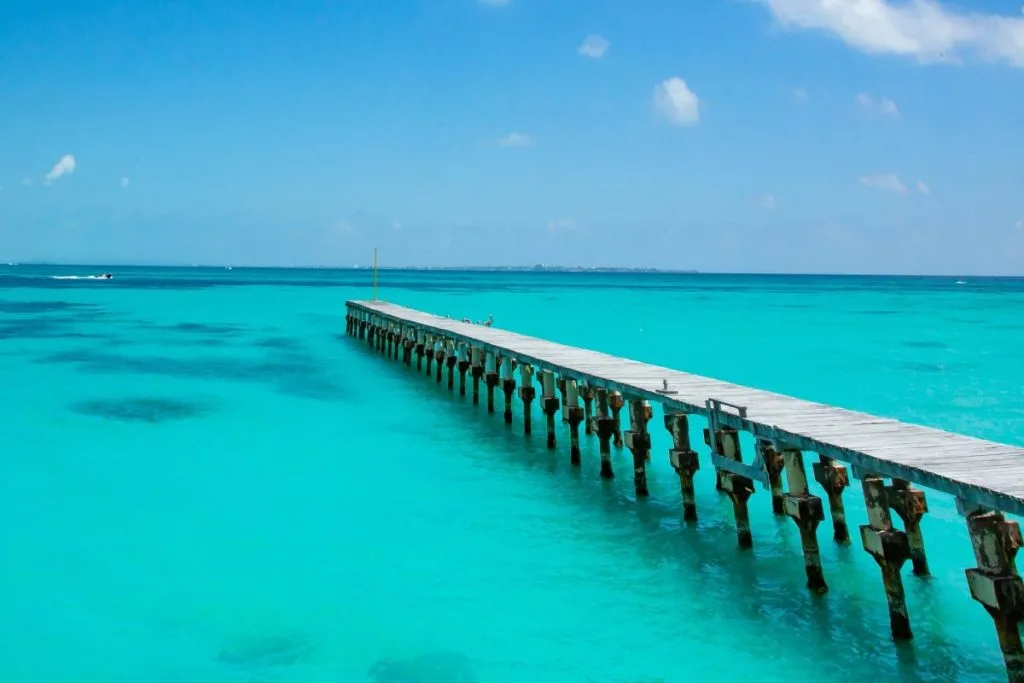 Mexico has various resorts that cater to tourists both young and old. For couples or adults who want to have an intimate getaway, there is a place for you here. There are all-inclusive adults-only resorts to book a stay in.
Settle in one of the hotel resorts in the Hotel Zone near Cancun so you will be close to the area's vibrant tourist scene. Choose a quiet private beach resort for some rest and relaxation if you want. You won't run out of options here. These hotel choices cater to all kinds of budgets making it a great destination on your next vacation.
With the coastline of Mexico giving you easy access to the beach, it is not surprising that there are several destinations to choose from. The best part is that these all-inclusive resorts will give you a chance to enjoy your time together minus the noise of children and families to have that intimate and luxurious experience that you deserve.