Are you considering going on a trip to Los Cabos? If you are eager to soak up the sun, this resort city is the perfect destination. You'll find Cabo in the Baja California Peninsula. This is where you will find some of the best beaches and warm blue waters. Not only that, but you will find a wide range of hotels here too. They range from beachy to luxurious hotels you don't want to miss. In fact, you can find an all-inclusive resort to stay in for your vacation.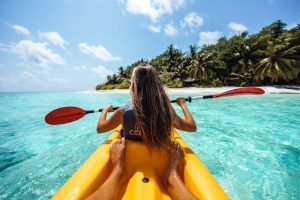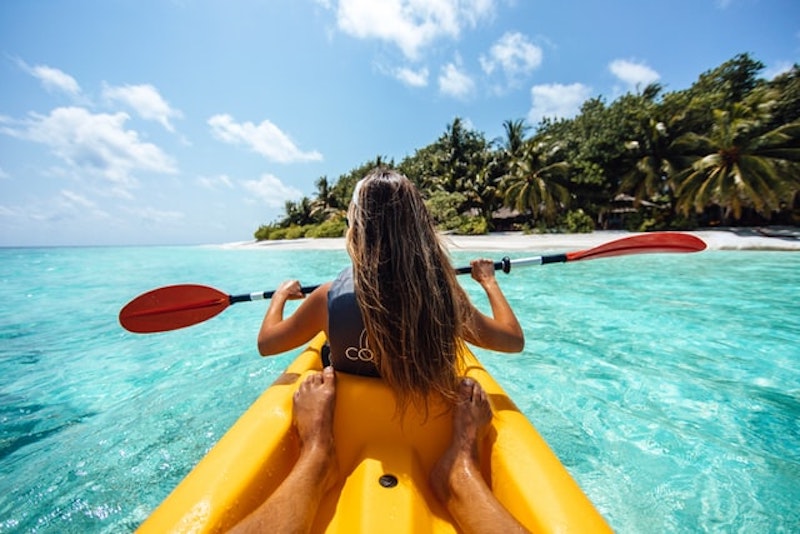 ---
Best Adults Only and Adult Friendly
Resorts Los Cabos
---
---
These all-inclusive hotels cater to different kinds of customers. For example, if you are traveling with the entire family, then you need to look for a family-friendly resort. On the other hand, if you are thinking of going out on a romantic getaway, then an adults-only resort is your best option. Fortunately, there is no shortage of such hotels in Los Cabos.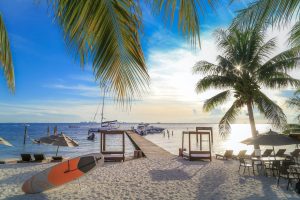 What are the Best Hotels in Los Cabos for Adults Only?
Los Cabos is a premier destination in Baja California Sur. Tourists flock to this location because of its gorgeous beaches. Not only that but there are plenty of activities to do here as well. So, which hotel should you stay in? Let's take a look.
Le Blanc Spa Resort Los Cabos
Le Blanc Spa Resort is an adults-only paradise that is waiting for you in Los Cabos. It lies between the Pacific Ocean and the Sea of Cortez and is known to provide guests with luxury and relaxation. You will feel like royalty here thanks to their 24-hour room service. In addition, Le Blanc offers its guests private beach access as well as an infinity pool to swim in.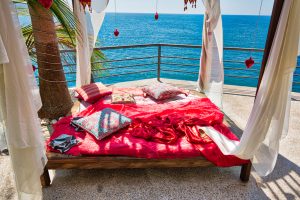 Aside from that, the hotel has several spacious rooms for its guests. You will get plenty of privacy here for sure. Also, how would you like to wake up to some of the most amazing ocean views? You can enjoy stunning views of the ocean from your hotel windows. That said, there is no doubt that you will have the best time in Le Blanc Spa.
Breathless Cabo San Lucas Resort & Spa
This is the only adults-only all-inclusive resort that you will find on Medano Beach. The latter is just one of the few swimmable beaches in Cabo San Lucas. Aside from that, this resort combines a chic vibe with modern amenities. In fact, this hotel is all about refinement and luxury so you'll not find a better place than this.
Indulge in a culinary experience in one of their on-site restaurants. Not only that, but their infinity pools are the best spots to make new friends too. It doesn't matter if you are here for a romantic trip or a fun-filled adventure, you'll not go wrong in staying here.
Secrets Puerto Los Cabos Golf & Spa Resort
Another adults-only option to consider is Secrets Puerto Los Cabos. This stunning resort lies on the fringes of a beach in San Jose del Cabo. Aside from that, it is a AAA Four Diamond Award hotel. This is why it is not surprising why it is quite popular with tourists across the globe. They even offer shuttle service for their guests!
Secrets Puerto Los Cabos offers luxurious accommodations with a hot tub, high-end amenities, and world-class dining among others. Enjoy a day dining at one of their restaurants. Their adults-only pool is the perfect place to lounge and even swim around. Thanks to it being an adults-only resort, you don't have to worry about children ruining your romantic getaway. Regardless of whether you just want to stay by the pool or explore San José del Cabo, this is the perfect spot for you.
Hyatt Ziva Los Cabos
Meanwhile, Hyatt Ziva is a luxurious all-inclusive resort suitable for all travelers. It lies on the Pacific Coast between ocean rock formations and the desert dunes. This is a beachfront hotel which means that you'll have great views of the Sea of Cortez. Their spacious suites have their own private balconies where you can sit and admire the views.
Each room has its own spa-like bathroom, free Wi-Fi, and even refreshment centers. Aside from that, guests have access to unlimited dining in any of their onsite restaurants, lounges, and bars. There is also a fitness center, amazing pools, and modern facilities too. Take advantage of their world-class spa for your much-needed pampering. The hotel takes pride in its professional room service. Aside from that, the daily activities available here are suitable for all everyone.
Hacienda Encantada Resort & Residences
If you are looking for a secluded luxury hotel, this is it. Hacienda Encantada is one of the best adults-only resorts that you will find in Cabo. Sitting on a secluded private property, this resort is a paradise for travelers. The guest rooms come with stunning ocean views and high-end amenities too. In fact, travelers stay here because this hotel specializes in luxury and relaxation.
Aside from that, the resort also has "Dine Out Privileges" too. This means that guests have unlimited food in hotel restaurants. The privilege also extends to restaurants located in the Golden Zone Marina in downtown Cabo San Lucas. Feel free to explore the culture in Los Cabos and sample the culinary delights in the town.
Grand Velas Los Cabos
Meanwhile, Grand Velas combines large suites with a luxurious spa and other amenities. Aside from that, this hotel provides gourmet restaurants as well as impressive service like no other. Their dining options include French cuisine and Mexican cuisine among others. Splurge on the haute cuisine offered by Cocina de Autor. From their gold-flecked tacos to their top-shelf liquor selection, this is one food experience you will not forget anytime soon. No wonder many consider this one of the best resorts in Cabo.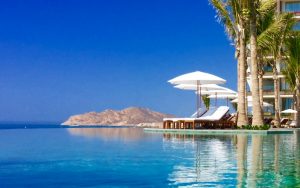 Although you can't swim in the ocean here, there are alternatives for you. The hotel boasts infinity pools that come with pool butlers who will cater to your needs. In fact, you will feel pampered here as you lounge by the pool with a drink on hand
Pueblo Bonito Sunset Beach Golf & Spa Resort
Pueblo Bonito Sunset Beach is one of those Inclusive hotels that cater to both families and adults-only. Situated on a secluded coastal bluff, this resort offers tranquility and convenience to its guests. After all, it has easy access to the lively downtown corridor of Cabo San Lucas.
Aside from the wide array of restaurants as well as The Market, you will also find a world-class spa at the hotel too. You can get up to $75 spa credits when you book a stay in this stunning resort. In addition, guests are given private beach access too. What's more, you will have exclusive access to a Jack Nicklaus Signature course too. You will find this challenging golf course at the Quivira Golf Club.
Nobu Hotel Los Cabos
Nobu Hotel is a mashup of Zen and Japanese minimalism. In short, it is a stunning contemporary hotel that lies outside of Cabo San Lucas. Renowned actor, Robert De Niro, and celebrity chef, Nobuyuki Matsuhisa, own this luxury resort. Their hotel has 200 luxury suites that have their own private plunge pools. In addition, they have spa-like bathrooms with soaking tubs and stone vanities. They even provide wet swimsuit bags and yoga mats too.
Aside from that, Nobu Hotel has four pools that have their own vibes. For example, the "party pool" comes with bubbles for added fun. Meanwhile, the infinity pool is where you should go if you want to relax and unwind. But the big reason why you should stay here? It's the food, of course!
Nobu Restaurant serves authentic Japanese cuisine. Meanwhile, Ardea Steakhouse is perfect for a night out. Guests who are looking for vegan options can head to Malibu Farm. Nobu Hotel is a haven for travelers who love to enjoy their food while on a relaxing trip.
Waldorf Astoria Los Cabos Pedregal
This impressive hotel sure knows how to make an entrance. Guests will be driving through the Dos Mares tunnel. This torch-lit private tunnel opens to impressive ocean views. In addition, modern amenities await guests. For starters, each room and suite in this hotel comes with its own plunge pool. You can even have your breakfast while in the pool. The staff will bring your breakfast basket and set it on the waters for your enjoyment. Their outdoor swimming pool is the perfect spot to soak up the sun.
As for their dining options, check out El Farallon. Not only is this a high-end seafood restaurant, but it also promises great views too. After all, it sits on a cliff overlooking the Pacific Ocean. Just imagine savoring fresh seafood while listening to the sound of the waves below. If you want a quiet place to stay in the morning, there are coffee shops on-site too. Have a cup of coffee while having breakfast in one of these cafes.
10. Pueblo Bonito Pacifica Golf & Spa Resort

Pueblo Bonito Pacifica is another secluded resort that you will want to consider. This adults-only inclusive luxury resort is home to the famous Armonia Spa. Here you will find a variety of spa treatments that will help you feel relaxed and rejuvenated. Aside from that, expect a world-class golf course here as well. Play a round of golf with your partner or play against your new friends.

Other amenities include a fitness center, bars, and several restaurants too. Of course, nothing beats relaxing on the pristine beach. Just imagine lounging at the beach while drinking your favorite cocktail. You are sure to fall in love with the stunning ocean views here. If you want to have an unforgettable adult getaway, then book a stay here.
Marquis Los Cabos Resort
The Marquis Los Cabos resort is basically a work of art. As soon as guests step into the open-air lobby, they will see a three-story high arc towering above them. And beyond that, is the turquoise waters of the Sea Cortez. From the winged sculptures done by Mexican sculptor, Jorge Marin, there are more than 400 artworks by Latin American artists seen on the property.
Aside from that, this adults-only offers an all-inclusive package to its guests. It includes access to four restaurants on the property. In addition, they have ocean-view rooms that come with modern amenities. They also have 26 beachfront casitas that cover 1, 400 square feet of space. These casitas also come with their private plunge pools. In addition, there are three swimming pools here. Two of which are infinity pools shaped like a serpent overlooking the ocean.
The ocean may not be ideal for swimming. However, you will not feel bad about it. After all, the pools at the resort are more than enough to give you that relaxing atmosphere.
Hotel El Ganzo
If you are looking for a boutique resort to stay in, then Hotel El Ganzo is a good choice. Why stay here, you ask? For starters, they invite artists to come and paint on their walls. In addition, musicians can take advantage of their underground recording studio. This is definitely a hub for creatives.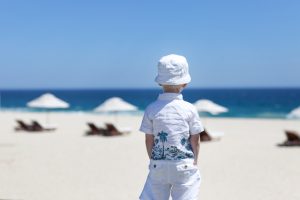 Aside from that, the rooms here come with views of San Jose del Cabo's marina. But if you want to witness the best scenes here, the rooftop bar and pool are where you should be. There is no doubt that this hotel is one of the trendiest hotels in Cabo.
Hard Rock Hotel Los Cabos
Hard Rock Hotel needs no introduction. This luxury hotel is known for its spacious rooms that come with exciting perks. Think luxury linens, robes, slippers, and coffee makers. Aside from that, there are several inclusive amenities available as well. Among these are six pools, live music, and a fitness center.
In addition, there are a few restaurants on-site as well. They offer Asian to Italian cuisines here that are sure to satisfy your cravings. Step inside one of the bars where you can choose from their extensive selection of wines and spirits. For guests who want to have fun, take part in their DJ pool parties! Get to meet like-minded guests who are out to enjoy themselves.
Paradisus Los Cabos
Another adult-friendly resort that you can stay in is the Paradisus Los Cabos. This beachfront resort boasts spacious rooms with a private balcony or terrace. In addition, each room comes with a fully-stocked minibar. On the grounds, you will find that there are three swimming pools to swim in. As for their dining options, there are seven restaurants on-site to choose from. You will have plenty of dishes to choose from here.
For those who want to indulge in a drink or two, there are seven bars here as well. This includes a swim-up bar and a beach bar. Meanwhile, guests have direct access to the swimmable beach in front. There are plenty of water activities here for you to enjoy. Once you are done, head back to your hotel for their nighttime entertainment. For guests who brought their kids with them, there is a Kids' Club that caters to their needs.
Playa Grande Resort & Grand Spa
Couples who are going on a honeymoon will enjoy the peace and luxury in this resort. Their inclusive rate includes a stay in their luxury suite and free drinks and meals too. Aside from that, rooms come with free WiFi, flat-screen TVs, and kitchenettes. On the other hand, if you upgrade your room to a suite, you will have a full kitchen. You can also order room service if you like.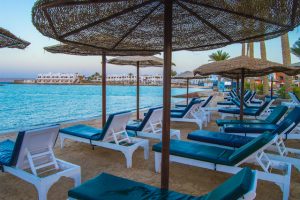 Playa Grande Resort comes with several amenities too. These are tennis courts, a mini-golf, and access to their full-service spa. Guests can also swim on the private beach where water sports are available. Think beach volleyball, kayaking, and more. This is just a short walk from the resort which is a plus.
Conclusion
Los Cabos is an interesting tourist destination in Mexico. After all, it sits between the Pacific Ocean and the Sea of Cortez. This is why it is not surprising that there are plenty of all-inclusive resorts here. In fact, some are within walking distance of famous tourist spots downtown. Others will require a short drive from Los Cabos to see some pretty sights.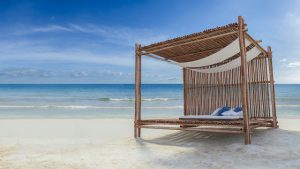 Aside from that, there are plenty of fun activities to do in this resort town. For example, if you arrive during the whale season, you can do whale watching. This can be done up close through tours, or you can spot them from your hotel room! In addition, there are private beaches that you can sunbathe and swim in if you like. What's left for you to do is to find the best resort to stay in.
Fortunately, Los Cabos has no shortage of hotels to stay in. In fact, you will find all-inclusive, adults-only resorts here. If you are planning on spending time with your significant other, then use this post as a guide.