There was a quiet stillness unlike anything I had experienced before. I knew that Maakalla Island of Western Finland was remote, but the eeriness I felt upon stepping off the boat gave me a bit of a shiver.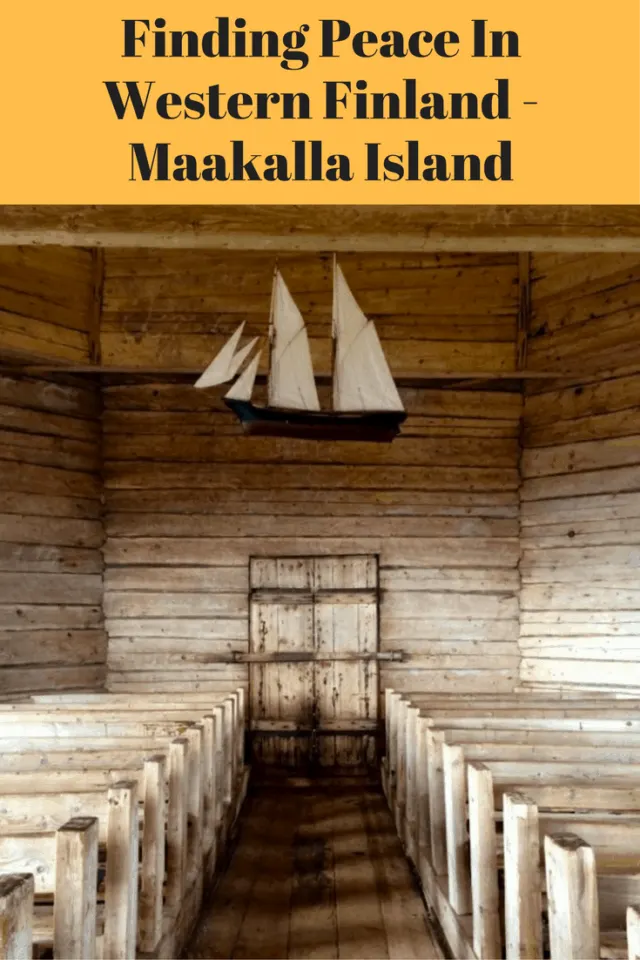 It was mid-August and so the weather was picture-perfect for today, as soon, no one will be here, since it is typically uninhabited because the ocean turns to ice during the winter months! Can you imagine? I did hear there was one old fisherman who lives here year-round and was curious about who he was and how he could sustain in such drastic weather.
Today, however, there were a few restless souls wandering around, who actually stay in their remote cabin on the island, as a way to enjoy pure silence in the wilderness of the sea. My guide tells me there are 40 such cabins on the island and that people can stay for weeks at a time in the summer.
Maakalla is located 17 k north-west of the Kalajaki dunes in Western Finland. If you are looking on Google Maps, you won't find it there, as Google is not advanced enough at this point to even have them show up as an island. However, it is an island that rose from the sea in the 1400's. This island has been a base for the fisherman in this area for centuries and is the most important fishing grounds in the Bothnian Bay.
Walking past the rocky, sandy beach thru the long brown grass, we find a path to get around the island. It is as if time has stood still here. One of the first things I spy is a rusted outdoor stove, then a piece of a huge twine rope overhanging a doorway and then the cut-off fins of a seal, dried and plastered on the side of a summer hut.
Then piles of old red bricks and debris with grass growing thru them. I venture on and see an ax stuck in the stump of an old tree and an upside down canoe.
Things are random as we pass through, but we are heading to the old parsonage or church built here on the island. It was built like the hull of a ship, and as I step inside, I cannot help but think of the people who have come here before or the ones that have lived this far remote from the world. It is not surprising it is built like the hull of a ship since these are hard-working fisherman, that come and live out here.
I spy a miniature sailboat against the back wall of the church and a hand painted piece of art at the front.
I ask what religion the church represents, and my guide replies "Lutheran". There are hundreds of hymnals stacked up on a pew. The pews are made from the wood of the island and even a few have symbols carved on them from the people who attended this church.
There is a nice-sized, faded. turquoise-blue and maroon red pulpit for the priest, who at one time lived here on the island as well. He was also given a tiny-one bedroom private home that I was able to visit later in the afternoon. There is also a fish museum and a tiny fishing village.
Life is rugged here: they chop their own wood and fish for food and have to bring all supplies in from the mainland. There is no running water or electricity, so it is quite the challenge to live here. But somehow, the payoff is the tranquillity that exists on the island.
My guide tells me of the first day she arrived on the island in the 1960's, that they had a ritual for visitors in that you had to pick up the first stone that you had stepped your foot on and carry it to the center of the island where the tiny lighthouse stood.
Over time, they were able to raise the height of the tiny lighthouse to over five feet, so that it could help the fisherman see the land and have a permanent spot for navigation.
Lunchtime comes eventually and we go inside the priest's cabin
Only to find our delicacy that will be lunch: fresh-caught fish that were smoked this morning. I reach in with a napkin to grab one with the head on, a bit unsure as to what to do next.
"Don't worry, all you have to do is grab the gill and pull the skin down" my guide says as I look at it quizzically. "Then basically pop it open and the meat will pull right off of the bones." So I take one and venture outside, looking for a flat rock to sit on and eat my freshly smoked white fish. Once I mastered the skill of pulling the skin off of a fish and getting to the juicy meat, I couldn't believe my taste buds! It was one of the best lunches I had on my entire trip to Finland and here I was in a remote area of the world. It was so good, I went back for a seconds!
My day visit to one of the most remote Finnish islands was extraordinary and I truly did enjoy my time here. Although remote, it is simple and peaceful, without the disturbance from the outside world. If you get a chance, it is worth a day visit for this unusual trip. There are boats for hire in Kalajoki so that you, yourself can enjoy a trip to Maakalla island. Although not my usual "value luxury", it is an amazing cultural experience and one that I cherish.
If you wish to visit Maakalla Island, contact Kaisa-Leena at this website.
Disclosure: My trip to Maakalla Island was in conjunction with a campaign known as #OutdoorsFinland, where I was able to experience many aspects of Finnish Life in Western Finland and was sponsored by VisitFinland.