Have you ever wanted to feel like being a part of a community while on vacation? That is one thing I loved about the community of Quivira Los Cabos in Los Cabos, Mexico. It is a luxury residential resort community that has a lot to offer including the Pueblo Bonito Pacifica Resort, The Towers at Pacifica, Pueblo Bonito Sunset Beach, Montecristo Estates Luxury Villas, and a pair of residential communities called Copala and Coronado. Soon, the new St. Regis Resort is slated to join them in 2019. I was invited for a stay by Pueblo Bonito Pacifica and had a chance to tour this unique community in Los Cabos and check out a Los Cabos golf resort.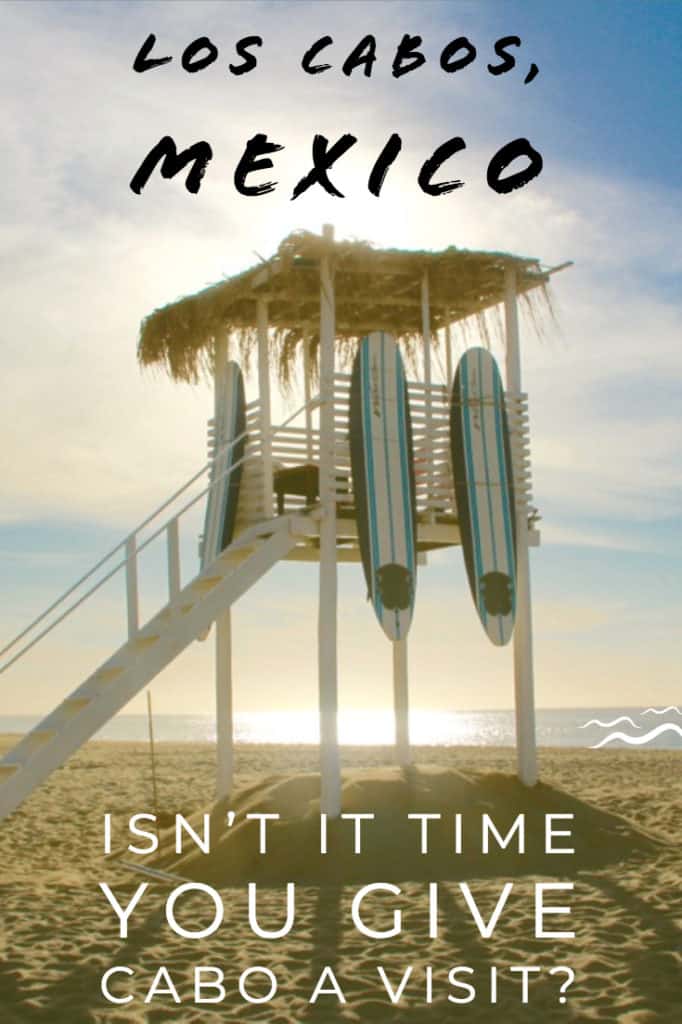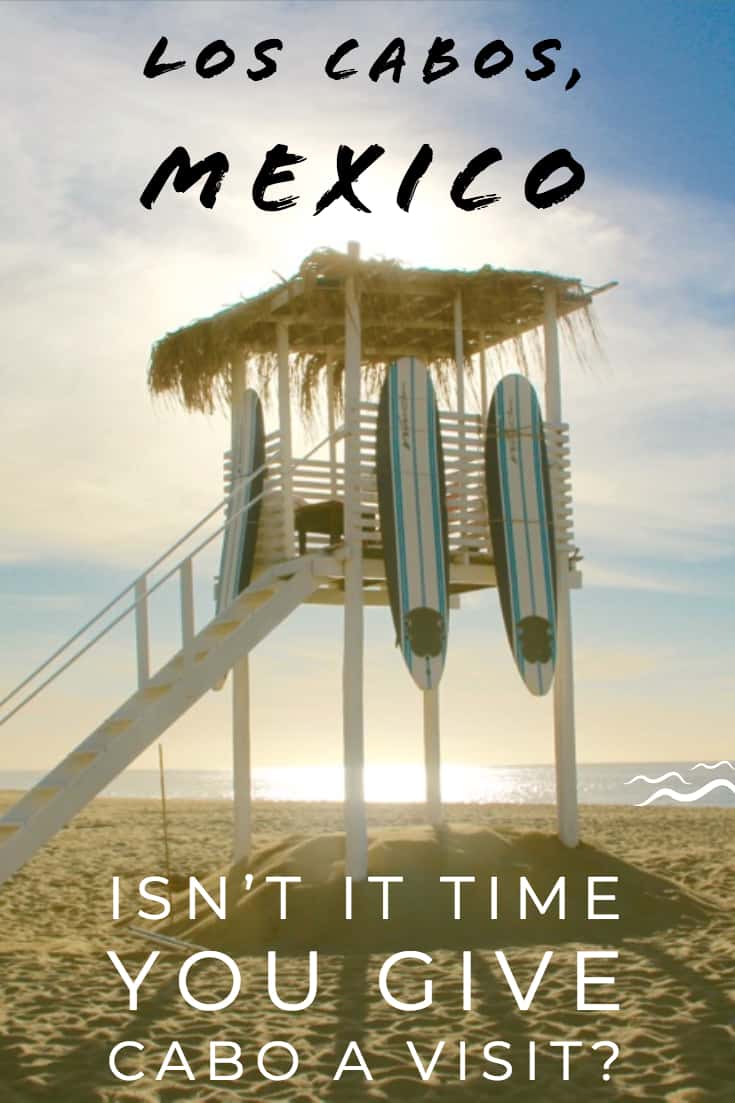 Los Cabos Golf Resort: Quivira Golf Club
Hopping on the champagne-colored gold golf cart at Quivira Golf Club in Los Cabos, I had no idea what was in store for me when I went on a tour of their world-class golf course. Winding up and up along the gorgeous mountainous terrain in Los Cabo's southern end, it truly felt like I was at the end of the world! The views went on for what seemed like forever with huge dunes, sheer cliffs, and rolling foothills. I gripped my fingers around the seat of the golf cart that was on the tiny paved pathway as it chugged its way up the winding path.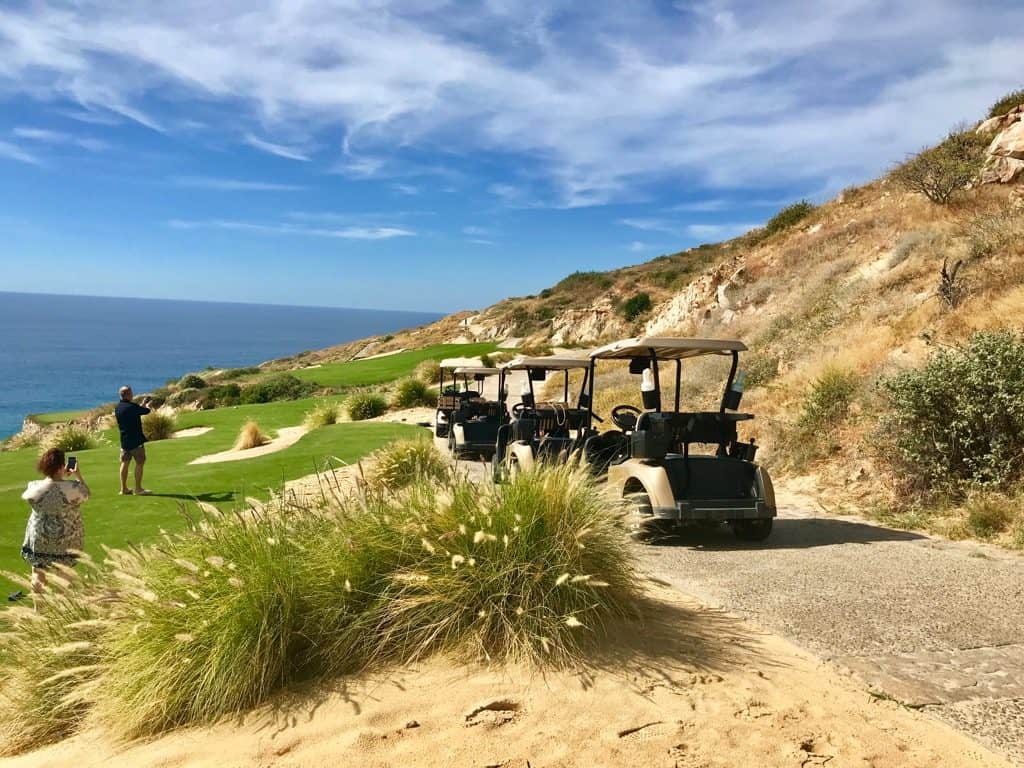 Los Cabos Golf Resort: Quivira Golf Club
Once we made it about half way up, the driver pulled over to ask if we would like to stop and take a photo from this viewpoint. At the stop, there was a sign that said "comfort station" and believe me, they will offer you all the comfort you need with the likes of Cuervo, McCallan, Glenlevit, and Johnny Walker (oh, water and sodas too!). Once we received our "comfort" and "ooh'd and ahh'd" at the view, we were off again in the golf cart.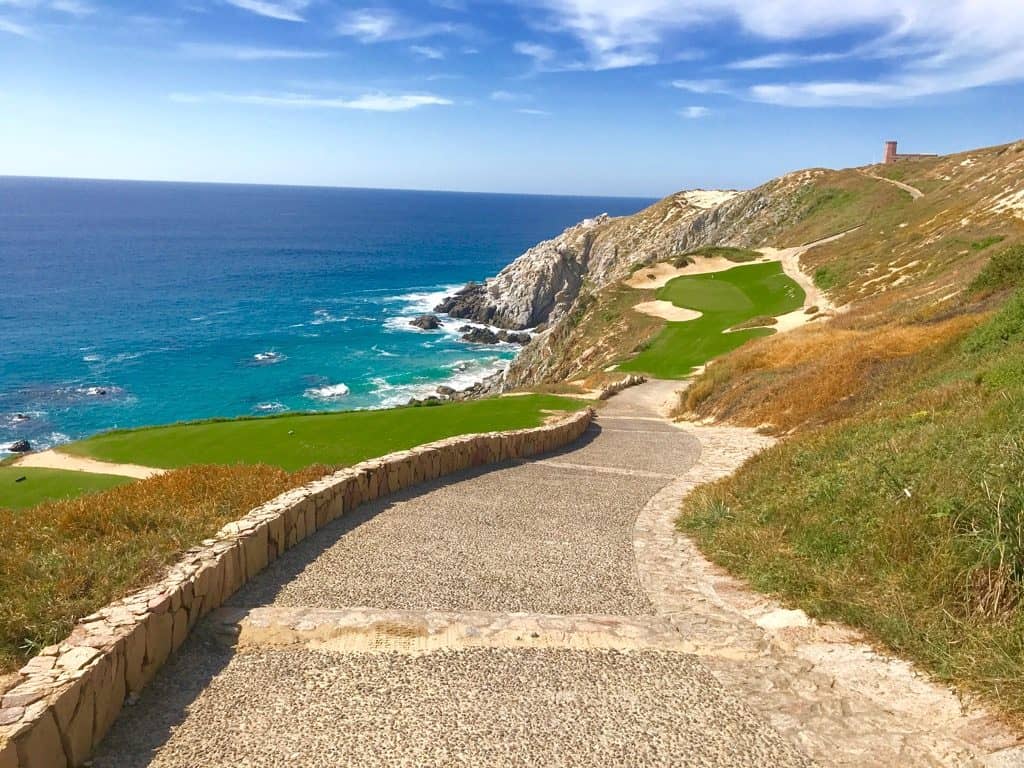 ---
Need to find something to do in this wonderful Mexico paradise?
Guide to Los Cabos for the Discerning Traveler
---
Quivira Golf Club
With the spirits oozing through our bodies by now, we were braver than before to go higher and higher into the sky until we reached the first hole. It was here where we stopped, parked the cart, and got out for a spectacular view "like no other golf course in the world"! In fact, it was voted as one of the world's 100 greatest golf courses by Golf Digest Magazine, so you can imagine how fantastic the golf course is. Designed by none other than one of the greatest golfers in the world, Jack Nicklaus, who it is said stated that you will either "love it or hate it", that there is no in between. I will go with "love it"- as it is certainly provided fantastic views from every hole that we stopped at along the way. It also has more oceanfront than any other golf course in Los Cabos.


You will certainly enjoy this course, as it has four comfort stations interspersed throughout the course. At the halfway point, the Oasis is there to serve ceviche, barbequed shrimp, and other classic Baja cuisines along with a deluxe tequila bar! There is also a thatched-roof clubhouse between the first tee and the 18th green with amazing views, food, bar and everything else you might need to make your golf game better.


Los Cabos Golf Resort: Not a Golfer, Not a problem!
There are so many options of things to see and do while in Los Cabos, that golf is merely one of the hundreds of other choices available to you via the community of Quivira Los Cabos. But if you want to get a stunning view and play a few rounds of golf, there are only two options: stay at the gorgeous Pueblo Bonito Los Cabos Golf & Spa Resort or become a real estate owner of one of Quivira Los Cabos' properties. In fact, I actually loved the location of this Los Cabos Golf Resort even though it is located on a non-swimmable beach, I was able to find plenty of other things to do besides swim in the ocean's waters, as they have it all!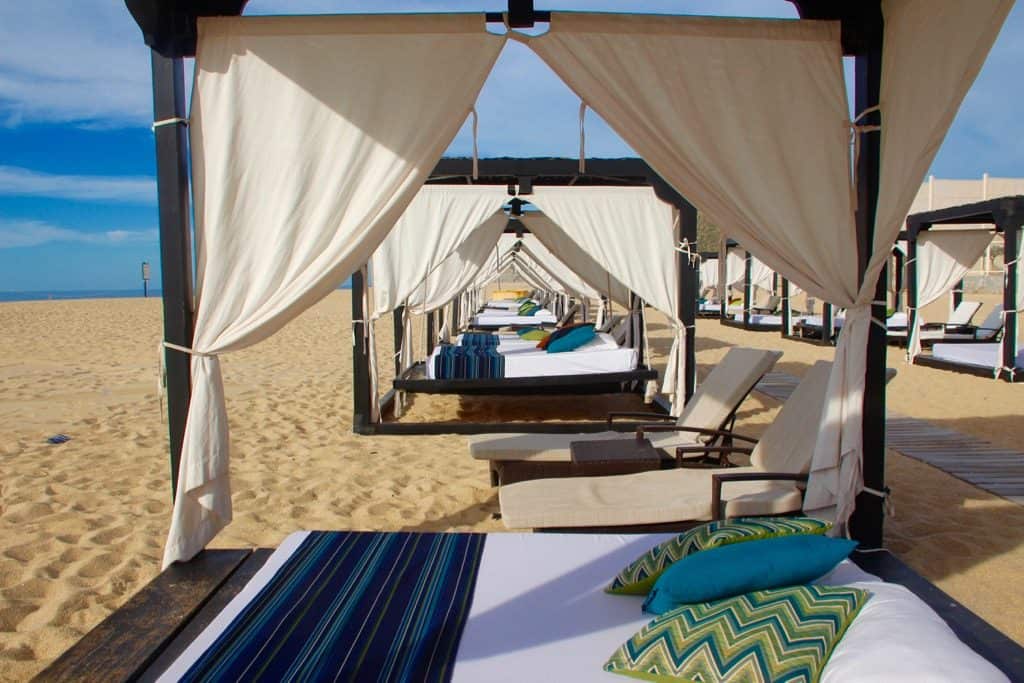 Hook & Cook Your Own Breakfast, or Not!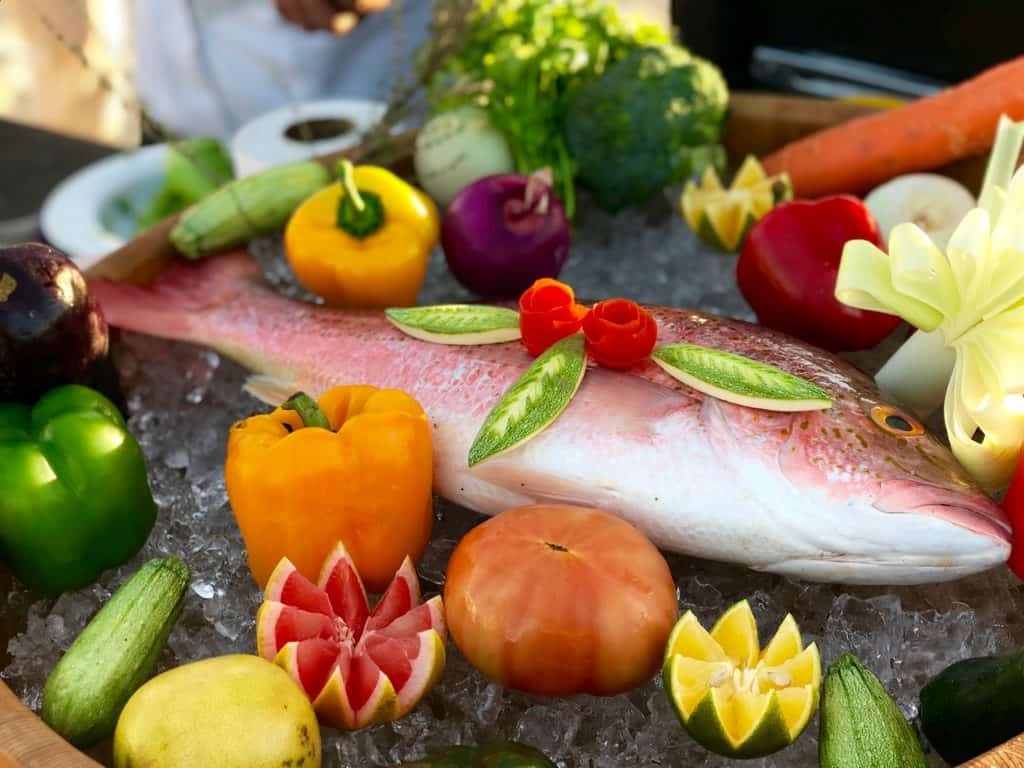 On my first morning at this Los Cabos Golf Resort, I was up early for the "Hook & Cook" breakfast, where my personal butler Ricardo, was waiting for me to do a little fishing and cast my pole out into the water. But don't worry, as you don't even have to catch anything, as they had an awesome breakfast spread right out on the beach just waiting for me. And by the way, if you are in the age category of a wedding, l wanted to share with you what a gorgeous venue this would be! There was a wedding going on the weekend I was there and this location was perfect!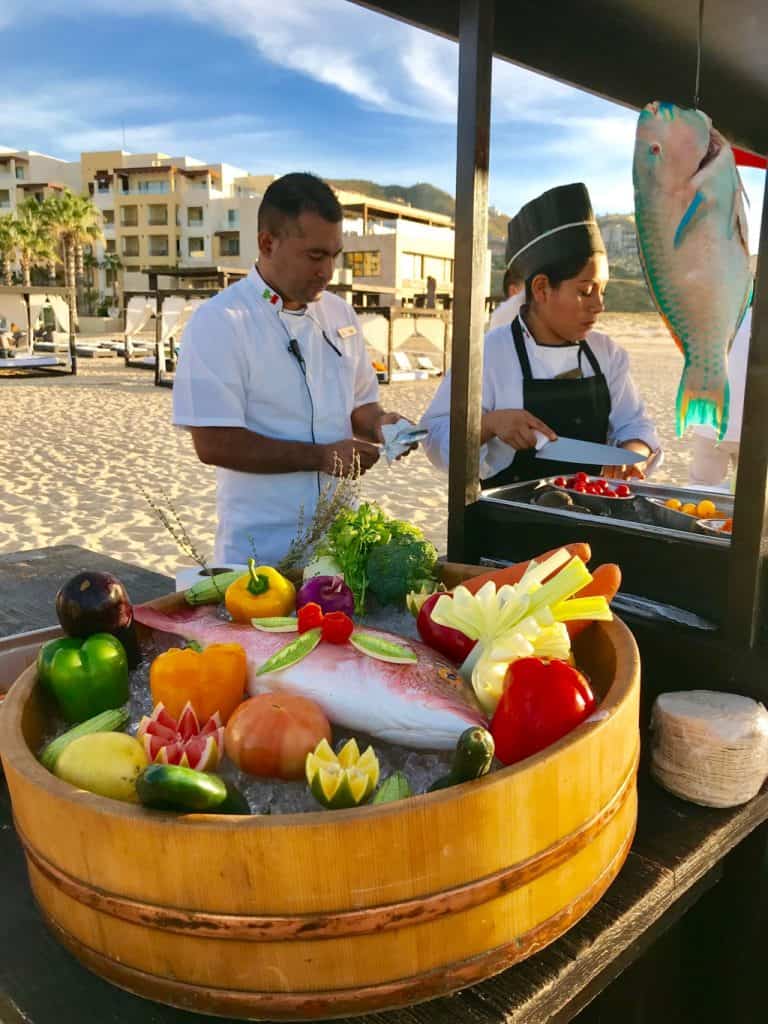 Luxury All-Inclusive Los Cabos Golf Resort: Pueblo Bonito Pacifica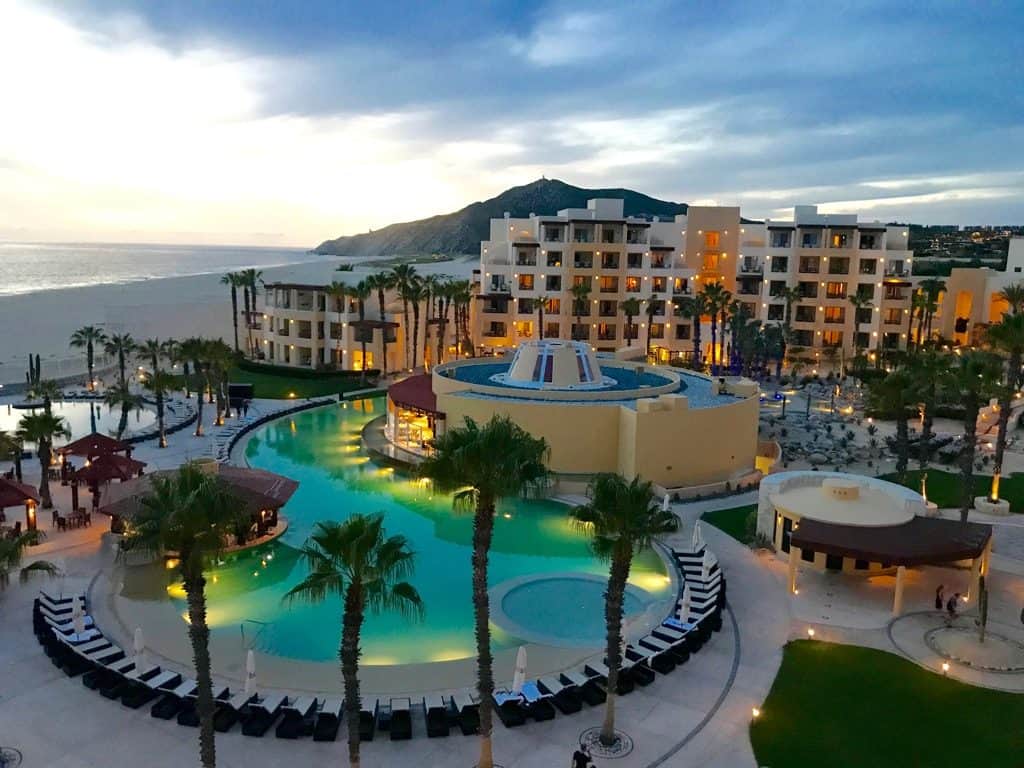 Pueblo Bonito Pacifica is known to be a luxury all-inclusive resort and when I say all-inclusive, I mean all-inclusive in every sense of the word, including service. Your personal butler will contact you via email and/or text you prior to your arrival. He will be waiting for you when you arrive to take you directly to your room while he takes your passport/credit card and lets you get settled in. He quickly returns with them, so there is no downtime waiting around for your room! I love this about the service at Pueblo Bonito Pacifica! Your vacation begins immediately!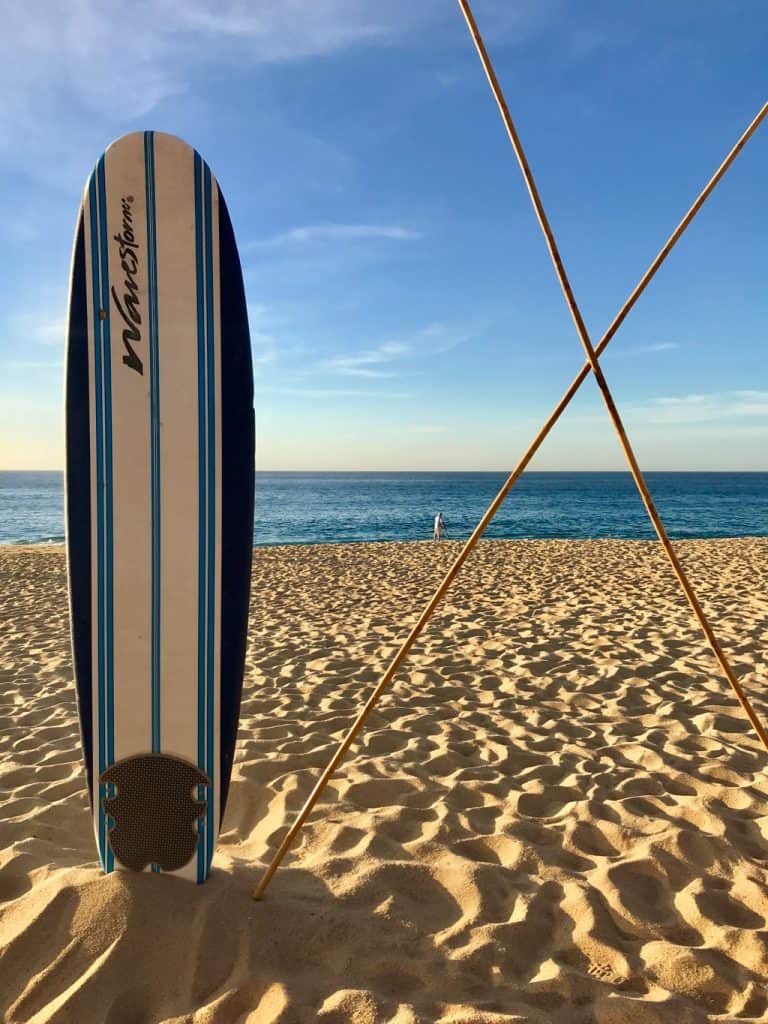 Los Cabos Golf Resort: So why stay at Pueblo Bonito Pacifica?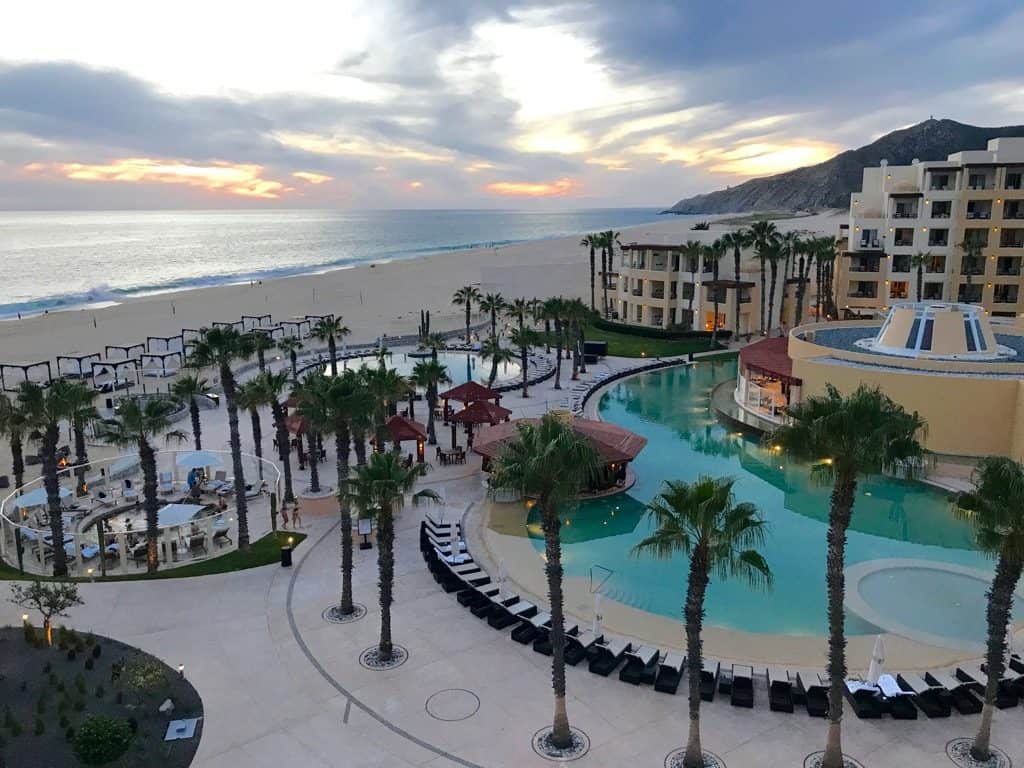 Not only because of everything I have mentioned above, but it is a lovely adults-only, Mediterranean-style resort that has all the bells and whistles to make your experience enjoyable. With its multi-property opportunities, there is always something to do, or, if you prefer, nothing at all! I loved the casual elegance of the property and how I felt at home in my suite. With its all-inclusive ease, yet options to pay for additional services that are well marked, it makes for the perfect luxury experience at Land's End. Oh, and did I mention that Pueblo Bonito Pacifica was recently named a Conde Nast Traveler's 2018 Reader's Choice Award recipient? It was!
Los Cabos Golf Resort & Spa: Armonia Spa at Sunset Beach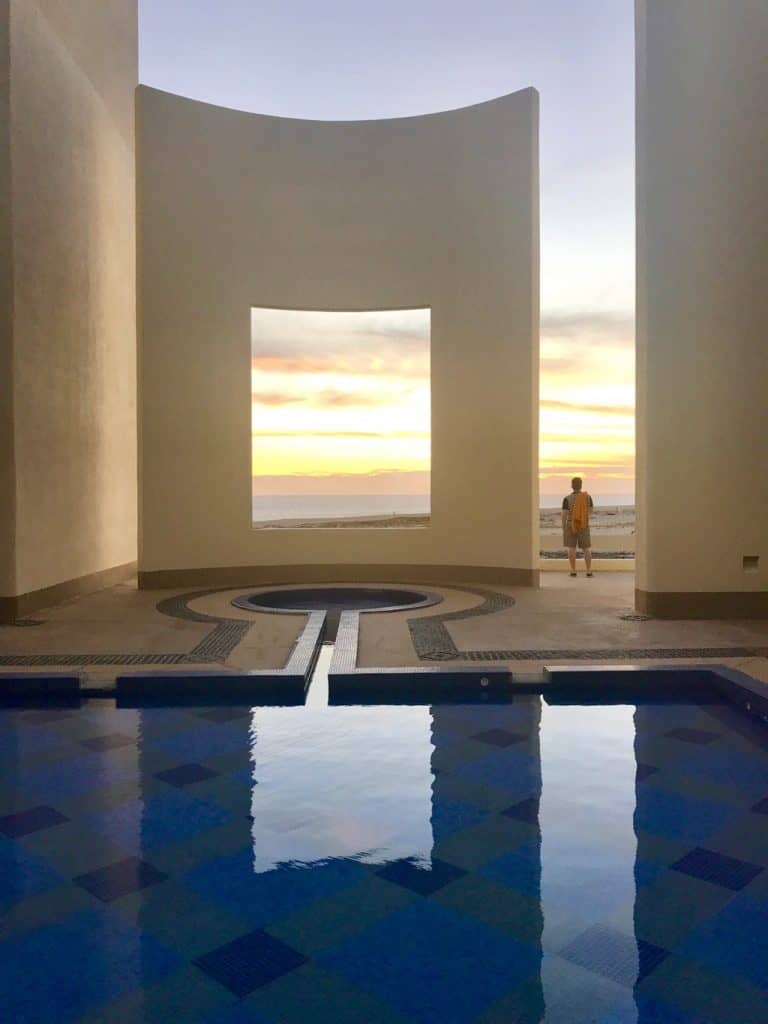 Of course, there is the journey of self-renewal waiting for you at Armonia Spa. With this center of well-being, you will immediately get into relaxation mode where all the body treatments you can imagine are available. Not only that, the Armonia Spa at Sunset Beach has been voted the #1 Top Hotel Spa in Mexico from the readers of Travel + Leisure. So this is a definite travel spa experience you can have to unwind.
Los Cabos Golf Resort Food: The Chefs at Quivira DO NOT Disappoint!
I counted well over 20 places to eat, drink, and be merry on the Pueblo Bonito Pacifica website, but honestly I never even had a chance to check out all of them. But I do want to mention a few of the amazing experiences I did have with food and drink! On my first night, I had a chance to meet the Golf Pro Antonio at the Quivira Steakhouse. Knowing this was an all-inclusive hotel, the food alone was certainly worth more than the surcharge of $35 per person (reservations must be made) for this delicious meal. What I like about Pueblo Bonito Pacifica is that they let you know where these special places are, what is required, and how much extra they may be.
I also had a chance to have lunch at the Quivira Clubhouse that is situated between the first tee and the 18th green when I was touring the golf course.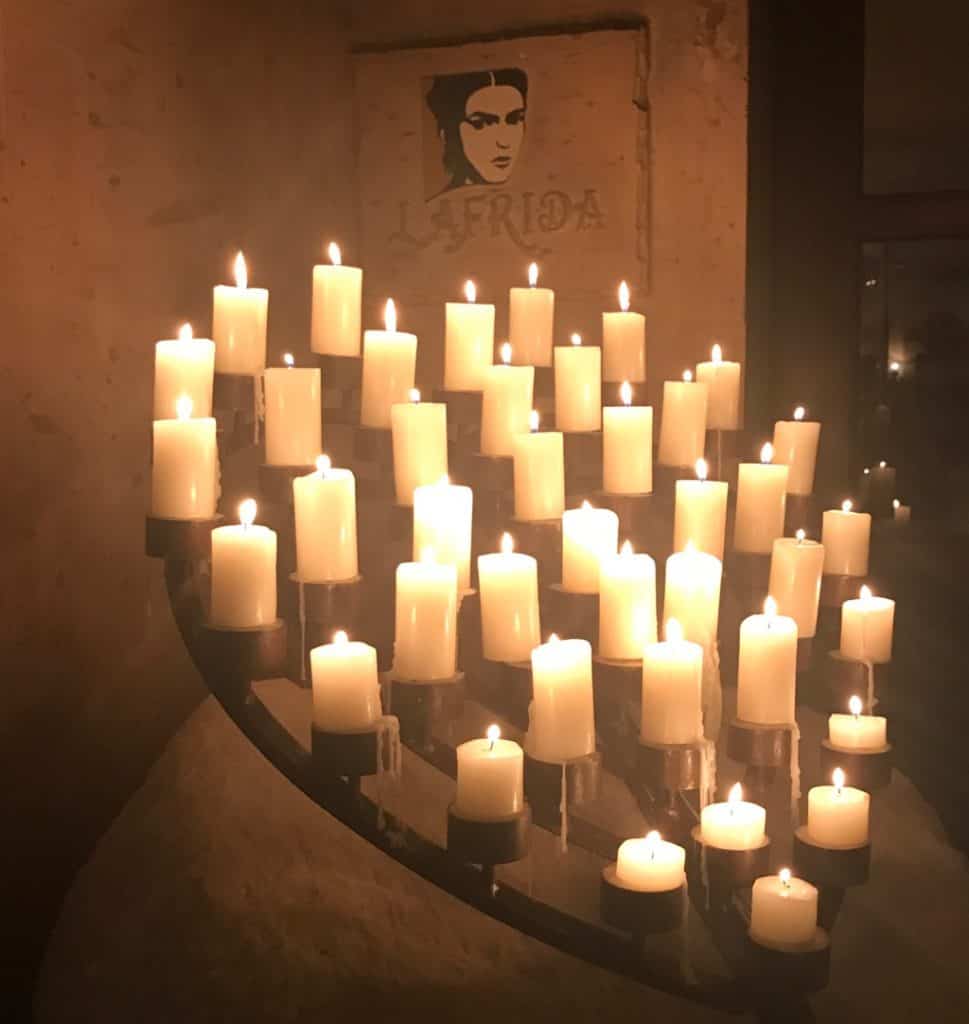 Los Cabos Golf Resort Food: La Frida Restaurant!
One of the other highlight dining experiences was La Frida restaurant! With colonial Mexican décor and art throughout, this is my kind of place about my favorite Mexican artist Friday Kahlo. La Frida restaurant is one of the few Los Cabos restaurants that has attained the AAA Four Diamond Award for excellence in cuisine and excellent it was! But not only that, I love the décor of this special restaurant located at the top of the hill near the Markets at Quivira. ($30 surcharge per person). And while visiting La Frida restaurant, be sure and stop and take a gander at the Markets at Quivira down below! I love the concept of the giant market center that has multiple choices of different types of food and bars for you to choose from. It is inspired by the great food halls of Europe and is like an urban marketplace and food lover's dream open early in the morning to late at night!
I did happen to have THE BEST DRINK of the week at the specialty cocktail bar Quivira set up for my group at the Marketplace: A Carrot Martini!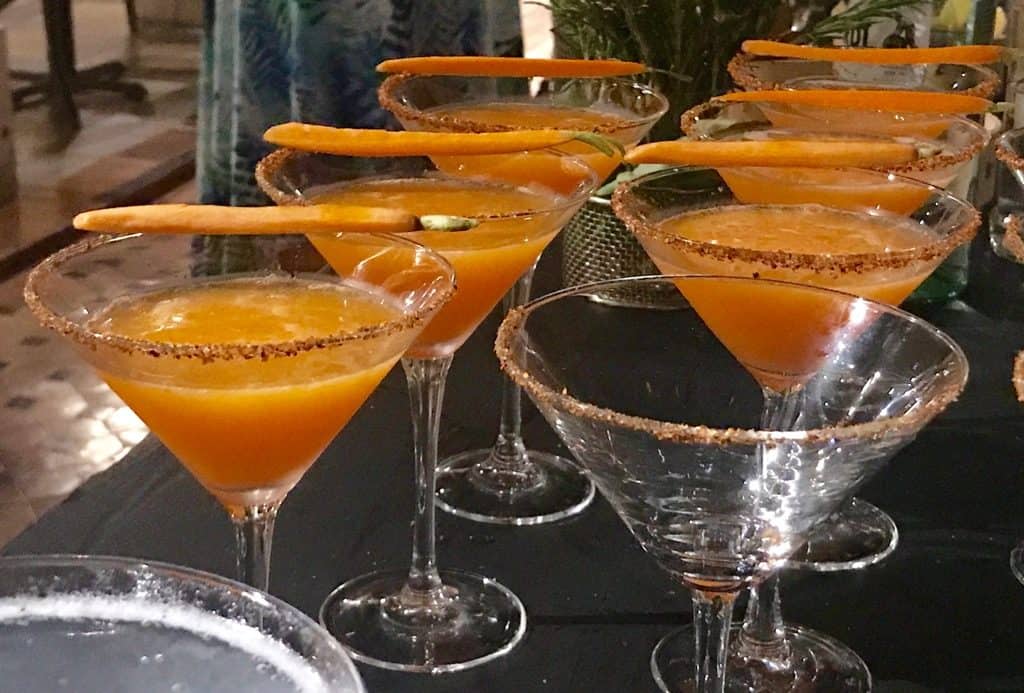 Los Cabos Golf Resort Activities:
There were so many other experiences that are included that I didn't even get a chance to participate in, everything from wine tasting classes to tequila tastings to water aerobics, a workout facility, dance lessons, and even yoga on the beach. I even went on a whale watching trip with Cabo Adventures while I was there. So, do I recommend Pueblo Bonito Pacifica? YES! I feel I must return again to experience it even more and stay a bit longer.
I also wanted you to know that two additional Pueblo Bonitos Resorts are located on Medano Beach which is within walking distance of downtown Cabo San Lucas, the Pueblo Bonito Rose Resort & Spa and Pueblo Bonito Los Cabos Beach Resort.
Los Cabos Golf Resort: Perfection!
Disclosure: As is common in the travel industry, I was provided with accommodations, meals and other compensation for the purposes of review by Pueblo Bonit0 Pacifica and its PR agency. While it has not influenced my review, PointsandTravel.com believes in full disclosure of all potential conflicts of interest. All Photos were taken by the author/or were given permission from the photographer. Affiliate links may be located in this article.