Arrival in the small city of Basel, Switzerland was fast and cheap from the train station in Zurich. Basel is located where the Swiss, French, and German borders meet. It is the third-largest city in Switzerland. It also has suburbs in France and in Germany. I had heard that the Basel Christmas Markets were Christmas markets NOT to miss, as the market at Barfüsserplatz and Münsterplatz is considered to be one of the prettiest and largest in all of Switzerland.
---
Basel Christmas Market
---
I was excited to see it as my very first Christmas market at the beginning of my tour. Since it was my first day of arrival in Switzerland, I could not wait to get my Basel Christmas Market tour started.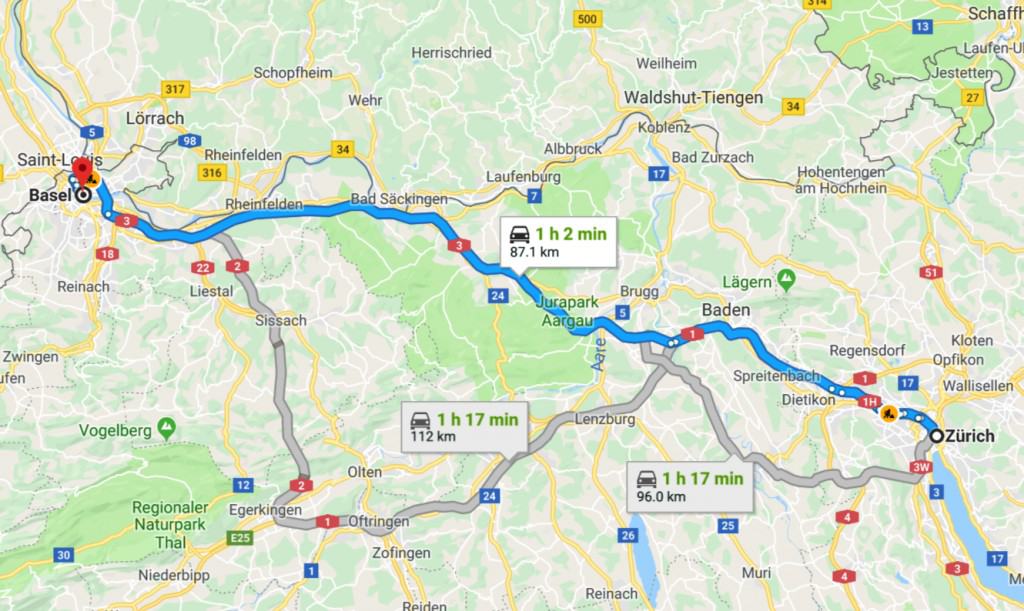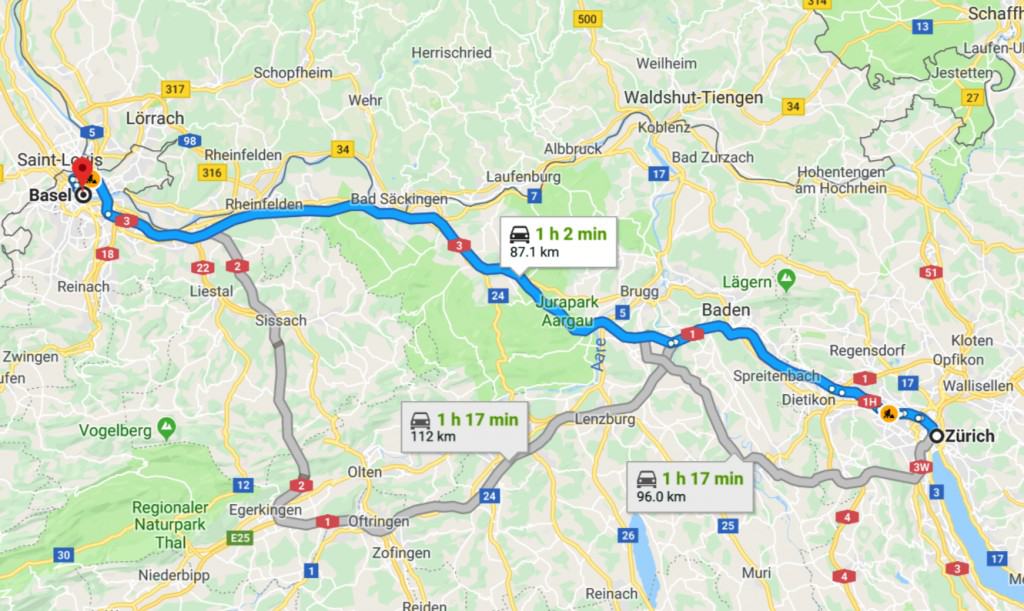 ---
BEWARE: THIS ARTICLE IS PHOTO HEAVY as I love photographing anything Christmas!
---
✦Arrival Day at the Basel, Switzerland Christmas Market
I made my way to the Rhine River via Tram #5 from the main train station and got on board the Viking River Cruise Ship TOR, which would be my home for the next 8 days. Check-in was a breeze and soon enough, I unpacked all my things and got everything settled into my new home away from home. That is a mega perk of cruising and one I truly enjoy whenever taking a river cruise, so keep that in mind when choosing how you want to see the Christmas Markets.
✦ Basel Christmas Markets Are Easy to Locate From The Tram
Word on the ship was that there was a great market in Basel, so I wanted to start things off right away and headed out the door to take the tram into town. Basically, I was told to get off "when you see the markets", as Viking had a tour scheduled later in the afternoon with the tour director, but I didn't want to wait and wanted to go right away. Basically, there are two markets, only a few blocks from each other. I chose to get off the tram on the furthest one away from the ship and then walk my way back to the other one. The Christmas Markets in Basel are called Basler Weinnacht and are located at Barfüsserplatz and Münsterplatz and are easily within walking distance.
✦ Here I come Basel Christmas Markets!
Little did I know, as a novice in European Christmas Markets, that this would be one of the best ones I experienced and I did it with barely any direction and found my way around quite easily. What I loved about this market was that is was quiet and easy to get around and yet had all the elements of the wonderful bigger markets, things like glühwein (mulled wine) and jus chaud (hot juice either orange or pomegranate), as well as chestnuts roasting on open fires.
✦Many Benefit to the Smaller Basel Christmas Market
It was also less crowded than some of the larger markets I eventually saw, but I had no idea how popular these markets had become over the years and how they have literally taken on a life of their own. My recommendation is not to miss this one if you are anywhere near this tri-country location. It could be that since I was there on a Friday afternoon instead of the weekend it was less crowded, but even so, I loved this market and it is a great market to go to. So don't miss the Basel Christmas Market!
✦ Basel Christmas Markets Have Everything!
As mentioned before, while there, I saw Christmas "cabins" or booths that had candle making, glass firing, jagertee (tea), glühwein (mulled wine) and jus chaud (hot juice in orange or pomegranate), as well as chestnuts roasting with all the smokiness that comes along with that. It really felt like Christmas, especially with the chill in the air.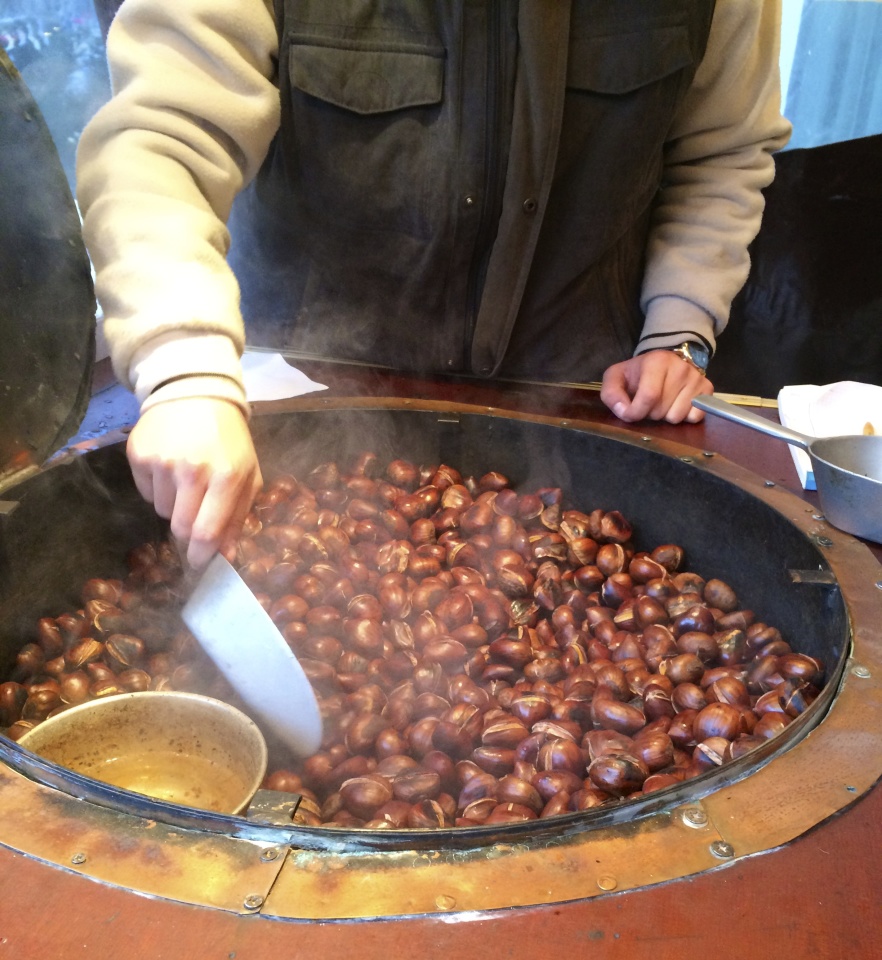 Basel Christmas market
---
I saw Christmas merry-go-rounds for the kiddos and paper star lights (one of my favorite things).
---
---
There were things that glowed, twirled, and attracted me with all their glittery lights.
---
✦ Christmas Markets in Basel
They were also playing Christmas music and had trees, garland, and full live manger scenes, with Mary, Joseph, and baby Jesus! I also saw snowmen, Santa Clause, and evergreen sprigs stapled to the sides of wooden buildings. As well as, wreaths, red-striped North poles, reindeer and Christmas ornaments, stars, strings of lights, bows, candy canes, and angels. I felt like I was in the middle of the North pole with Santa himself!
---
Plus trains, heart ornaments, and stockings, not a single Christmas thing was missing.
---
✦ The Spirit of Christmas Lives at The Basel Christmas Market:
Everything that is the Christmas spirit was here. Even the biting cold and gingerbread houses and cookies could be found here in this small market in Switzerland. If you can not get into the Christmas Spirit here, then nothing else will work other than to be struck by the holy one himself inside the cathedral!
✦ Basel, Switzerland Is A Quaint Little Town
And what about this cute little town of Basel, Switzerland? With its pastel-colored old town, medieval buildings, and churches, I was intrigued by its history. Apparently, Basel, Switzerland is known for having the largest museum of art in the whole of Switzerland! It is an art city! Basel is also the home to a large number of buildings by internationally renowned architects. These may be a few of the reasons that Basel, Switzerland calls itself the Cultural Capital of Switzerland!
✦ Where to Stay in Basel, Switzerland:
If you have arrived at this charming pastel-colored old town and you are not here for Viking River Cruises, you may need to find a great place to stay! Many come here for Art Basel, a massive art festival or for BaselWorld, a jewelry and watch show.
Located in the heart of Basel, Switzerland, this 4-star Hotel awaits your visit. It was built in 1867 by Abraham Euler and was last renovated in early 2015. It is located in a prime location due to its central area directly across from the Basel train station. It has 66 rooms and luxurious suites.
This hotel is at the very heart of the city of Basel, Switzerland. This tri-border area where itis located is the charm of the region.
A hotel made for art lover's dreams: this hotel is composed of two historic buildings where rooms are decorated in a distinct style
This hotel is considered a leisure business hotel but has direct access to the Aquabasilea water park with pools, slides, sauna, spa, and fitness area.
Disclosure: My time spent in Basel, Switzerland was courtesy of the Viking River Cruises, while I spent time on the Christmas Market tour on the Rhine Getaway. There are affiliate links in this article.