This past weekend, I boarded the Rocky Mountaineer train that goes from Denver, Colorado to Moab, Utah. From one mile above sea level to the heart of red rock country. This route is known as the "Rockies to the Red Rocks". The route is the first USA itinerary for the Canadian rail company. It typically runs from April through November and is meant to find trees with deep red and yellow leaves. And what a gorgeous ride it was on the slow train coming out of Denver.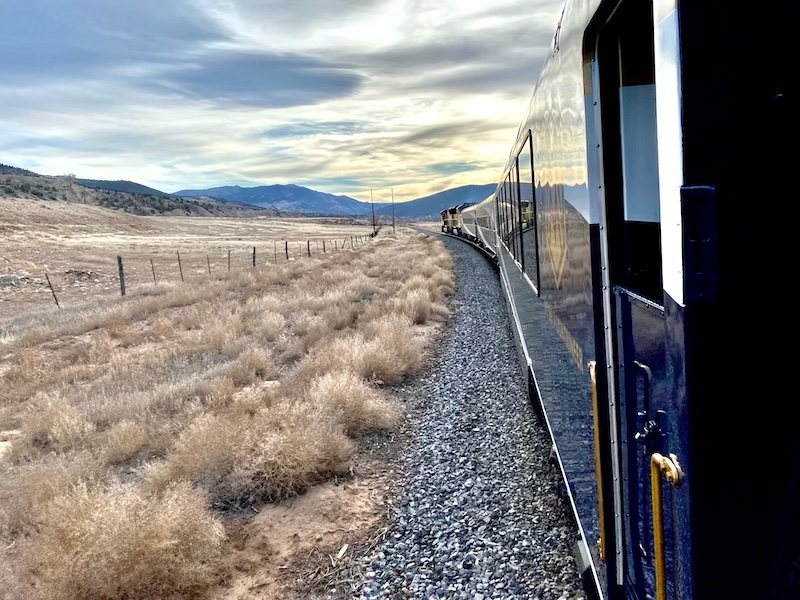 The Canada-based Rocky Mountaineer is known for its multi-day rail journeys with stops in places like Banff, Jasper, Vancouver, and Whistler. Where you can see the world, just outside your glass-enclosed domed coach. And here in the USA, it is no different. Inside the train, though, you have no idea what they are doing with their expert hosts who narrate the journey, the plush leather chairs, the cocktails, and the delightful food! Inside – it is a whole new world!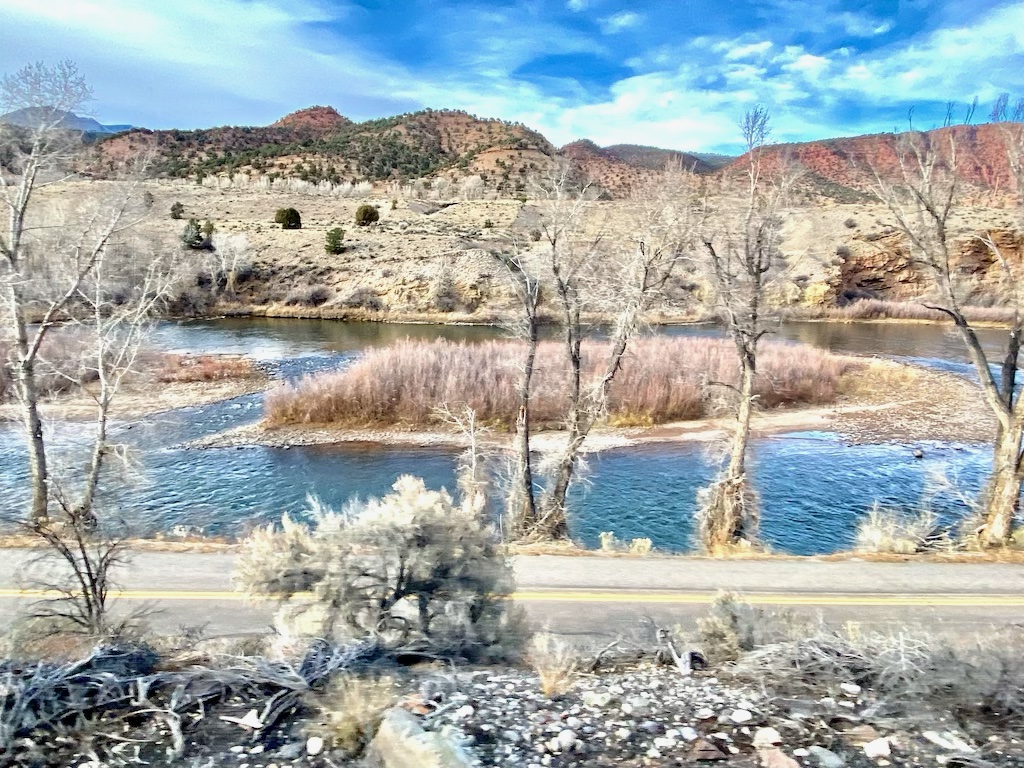 ---
What's in this post:
hide
Rocky Mountaineer: Adventure awaits in the American Southwest
---
And for two days (albeit I only did one), all I did was stare out those windows drinking cocktails at 9 am, as the train track curves along the Colorado River. We rode past the pine-covered hills, sandstone arches of Utah, and the gorgeous scenery every which way we looked.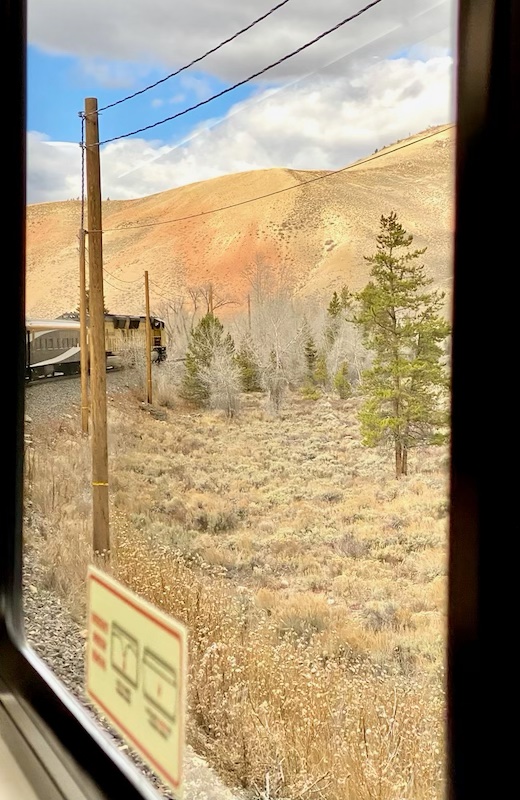 My favorite part was the design of the windows with plenty of legroom. The domed windows extended toward the top of the car which allowed for some great views with my camera pressed up against the glass. Eventually, I would get up to see the vestibule between train cars. Here they had an open window that allowed me to poke my head out safely to see the passing scenery. Then on to the "cocktail room" where I could have anything I wanted. I ordered a Bailey's and creme to get me started.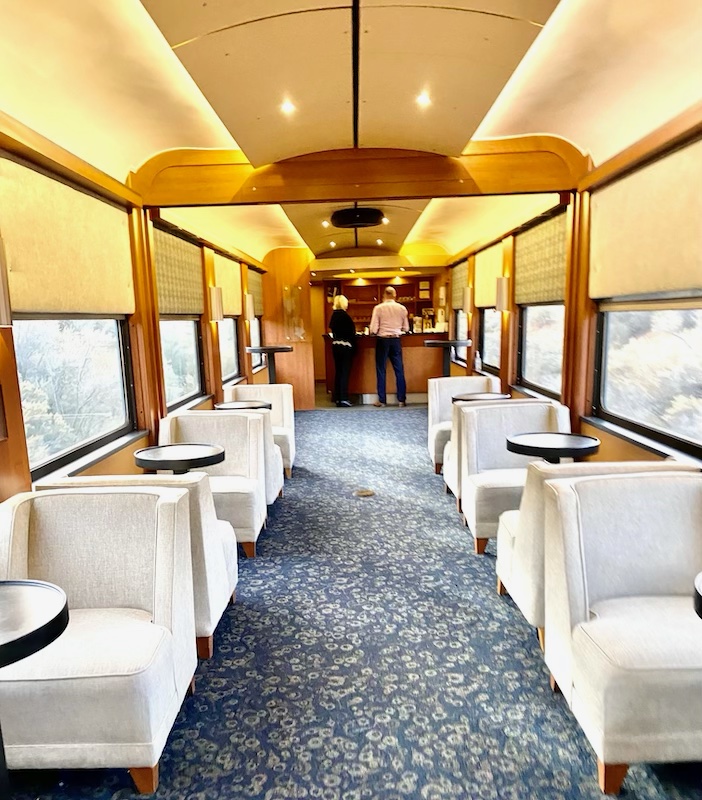 Just Relax!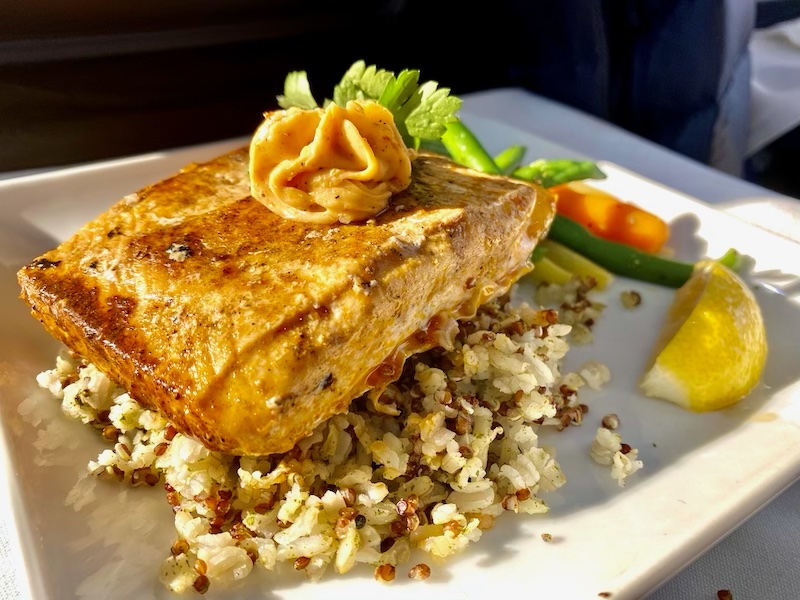 Basically, Canada's Rocky Mountaineer wants you to just relax – the train only travels during the day, at speeds of 35 miles per hour or slower, and no, there's no Wi-Fi onboard. Imagine that? We did a lot of backtracking on the tracts in the beginning but, of course, the conductor of the Rocky Mountaineer train knew exactly what to do. And he got us there, right on time!
Slow and Steady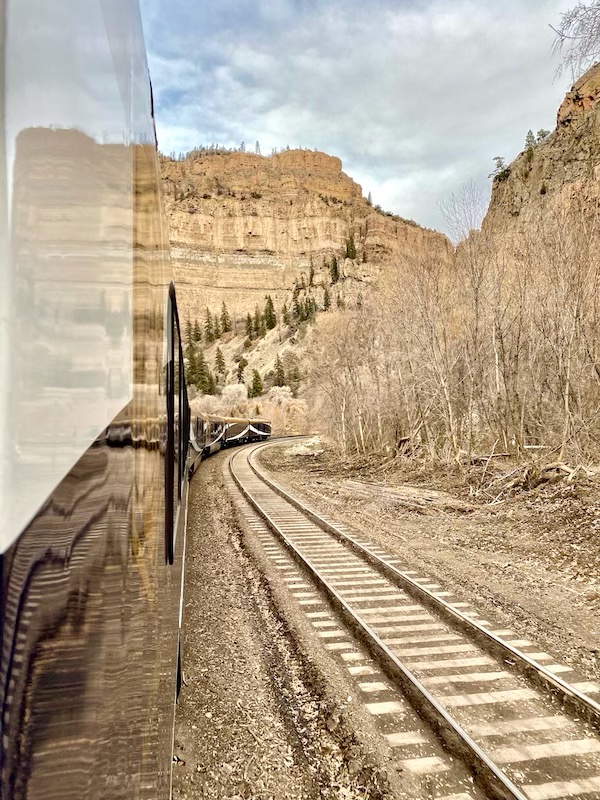 We saw things like the Purina Dog Chow company to Colorado's only refinery. As we were leaving we saw the nuclear facility that was there for 40 years! It had to be shut down due to contamination. It ended up costing the government 1.7 billion to clean it up. But today, it is a wildlife refuge that opened in 2007. So at least we have those animals taken care of!
Hotel Indigo in Glenwood Springs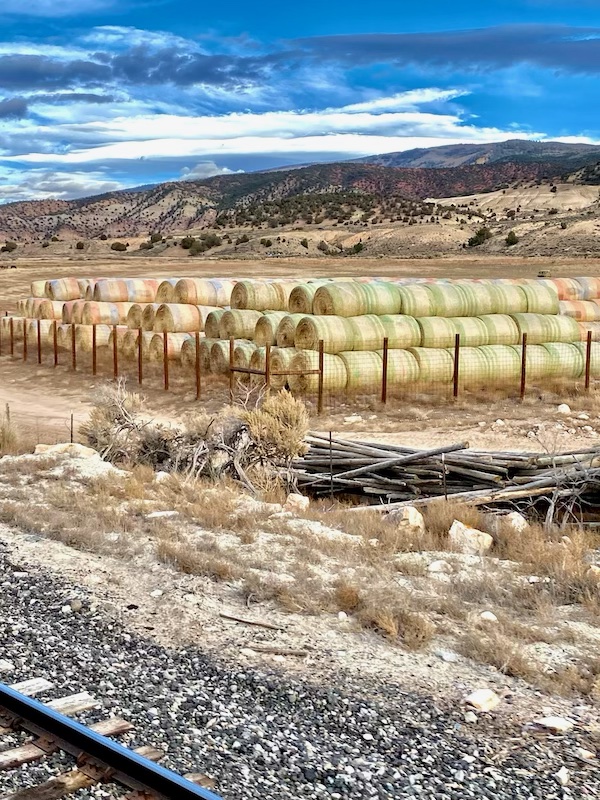 After 29 tunnels later, we made it to Glenwood Springs, Colorado. But way before that, we sat idle in our plush leather seats staring out the window in awe! Some of that scenery was more than I could have imagined! I feel like we were lucky that the Rocky Mountaineer picked us up at Hotel Indigo on a bus. We were the only ones on the bus, in the beginning, but then on the second stop, a lot of people got on. The bus driver drove us over to the station, which is where we got on. Getting on the train, I have never could have imagined seeing such beauty in my life.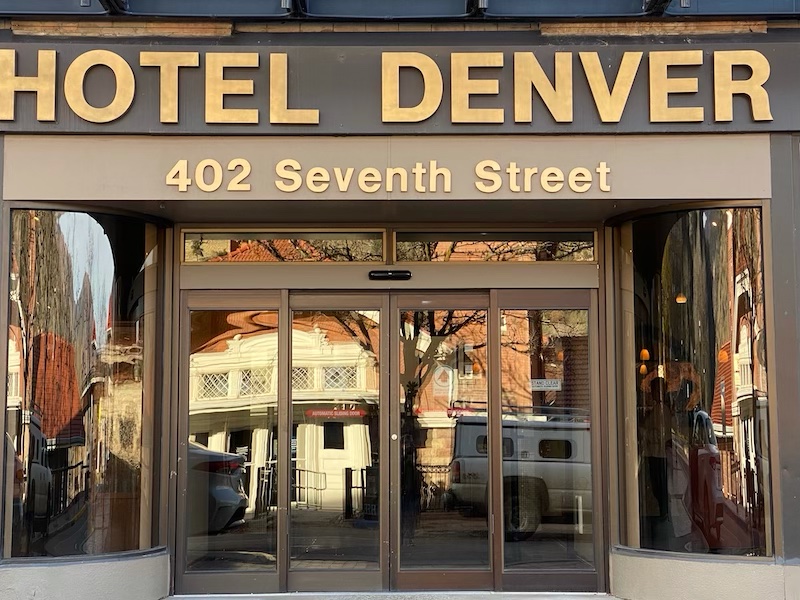 We got there by 5 and stayed at the gorgeous Hotel Denver. Looking around for cocktails and dinner, we ended up across the street from the Hotel Denver at The Pullman for cocktails and the Colorado Ranch House for dinner. The star of our meal was Nick. Nick was well-trained and reminded me of an old-school waiter who really made you feel like our every request was his pleasure to accommodate. He was extremely busy, but he took the time needed to answer all of my husband's questions. What a fabulous place! We ordered Bison and filet mignon with mashed potatoes and broccoli. For dessert, we ordered a lemon pie and took it back to the hotel.
Gorgeous Scenery Beyond the Canadian Borders
We were entering the new frontier beyond the Canadian borders. But what was the highlight? With the ever-changing landscape between Denver and Moab, it's really difficult to pick just one. There's so much to see from Byers and Gore Canyons to the unique natural sandstone landscapes of Utah. Typically our speed on the train goes around 35 mph which allows for time to capture beautiful pictures of the scenes that we passed through. We were riding a locomotive known as SD70MS. It has a powerful 4000 hp six-axle diesel-electric locomotive. We were on the train for over two days and traveled over 354 miles.
Animals We Saw
But I bet you're wondering what kind of animal did we see? We saw everything from bighorn sheep to eagles, mule deer, moose, and even a bear. So be sure and keep your eyes peeled for the tree line.
Rocky Mountaineer Takes Care of You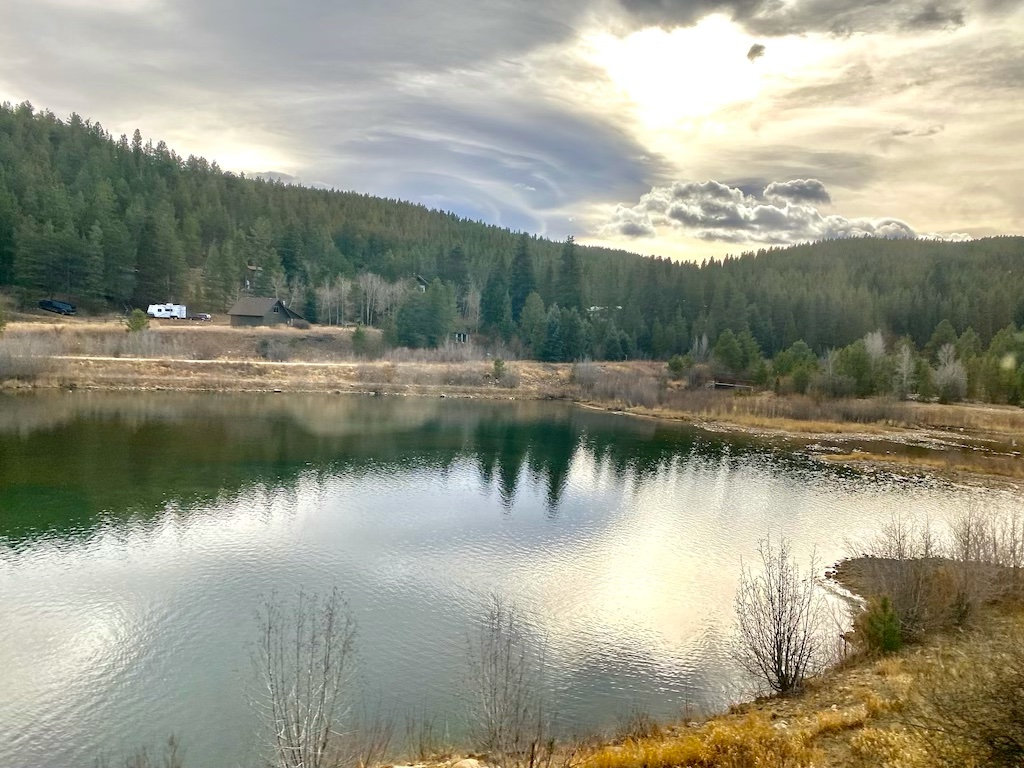 Did you know that the bus takes your luggage and drives ahead of the Rocky Mountaineer train? And they put your luggage into your room? Then, give you your keys while on the train? What a great thing they do! I love that Rocky Mountaineer does that for each passenger. They really take care of you!

Here's Why I was On the Train for One Day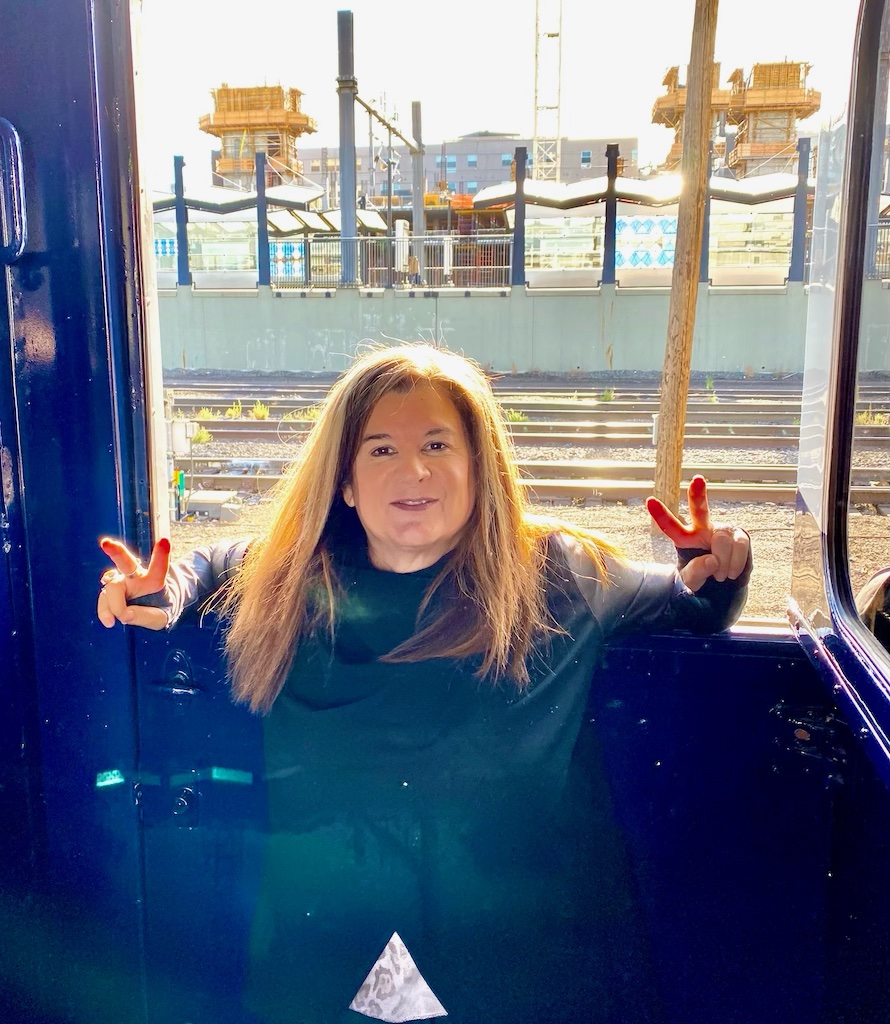 Getting into Denver, CO wasn't as easy as you'd think… it was touch and go with my Mom. She has had Alzheimer's for 7 1/2 years and my Dad takes care of her… So when I got the call from my brother that Mom is going into hospice care, I jumped on a plane and headed out. I still did not know what the outcome would be. After three days in hospice, she still had not passed, so I decided to go ahead and take the Rocky Mountaineer train I had planned for my birthday. I met my husband in Denver. Let me tell you, he wasn't the happiest person when I picked him up at the airport.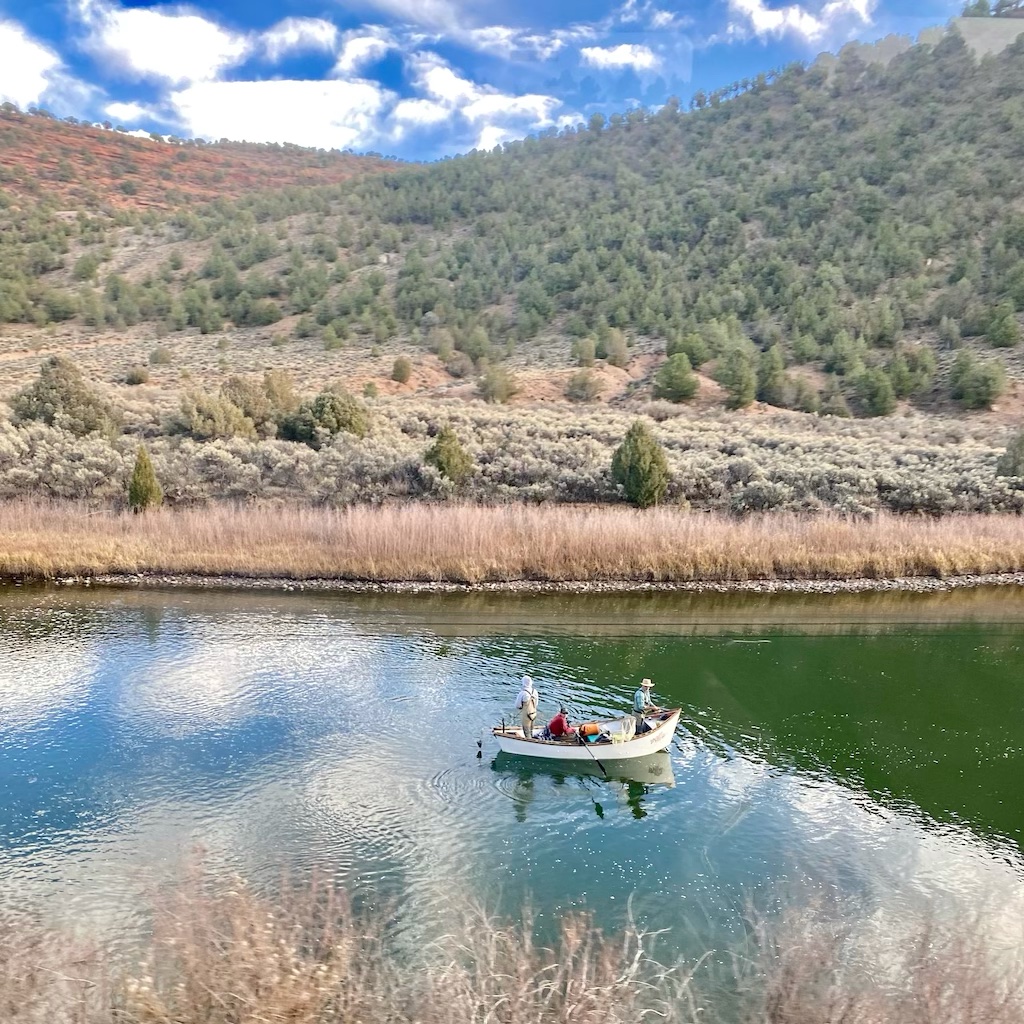 We stayed at the cool Hotel Indigo trying to figure out what we should do. Cause all I wanted to do was sleep. Finally, we came to the conclusion that we should take the train for one day and enjoy the train ride landing in Glenwood Springs, CO. Then we rented a car and just drove to my hometown in Texas… so that's what we did. She died on November 13, and her funeral was on November 17 – at 2 pm – on my birthday! One other thing – on November 14th at 8 am, my niece gave birth to two twin boys – Nash and Ranger. The circle of life continues on.