I believe that Krakow is the #1 most underrated city in Europe so I won't go into the details of the lavender growing along the old city walls or the shapes of the trees that blow in the wind or even the cobblestone central square, but I do want to tell you about this unusual place found deep within its crevices: the Krakow Salt Mine. The Krakow Salt Mine Tour is located inside this UNESCO World Heritage Site of Krakow's Wieliczka Salt Mine. Visitors come for the health benefits of its naturally filtered saline microclimate and to find themselves in a living history museum. During the tour, you will have a chance to explore the salt mine rooms with carvings and artwork that has been etched into the salt. The Krakow salt mine was built in the 13th century and produced table salt continuously until 2007. It is 1073 feet deep and was one of the world's oldest salt mines in operation until that time. A Krakow Salt Mine Tour is offered daily.
---
A bit of history: Hard working salt miners have carved over 300 passages within the mine!
---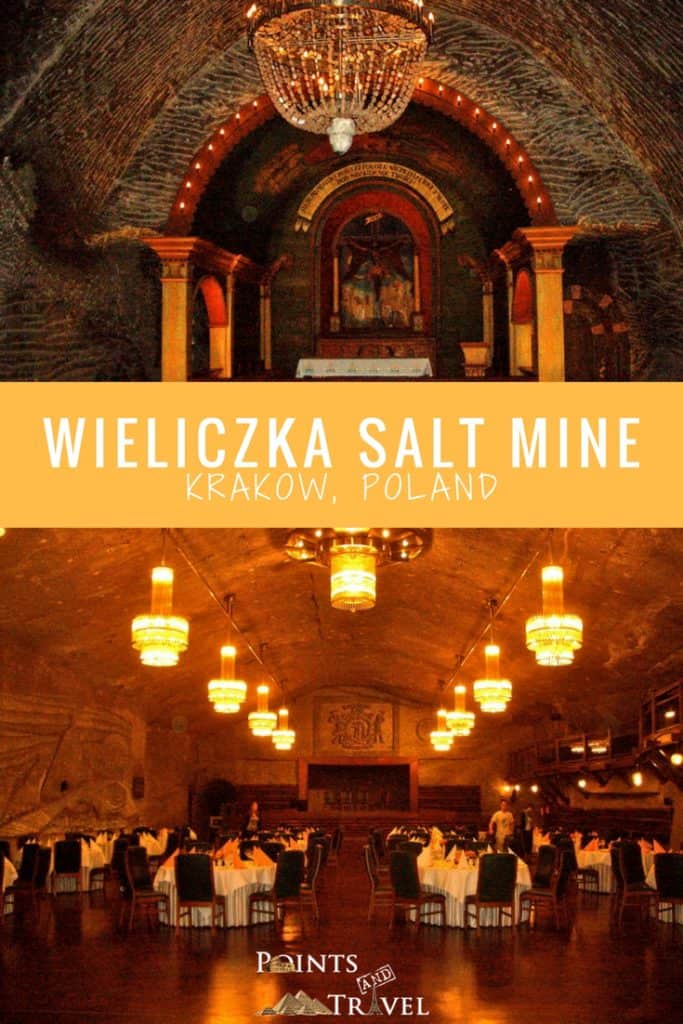 Salt Mines Krakow Tour: Entrance to Krakow Salt Mine
I think it is ironic that this place is named Krakow, as you go down, down, down into the "crack" of the earth by walking the 378 steps that take you to its entrance. Don't worry about climbing those stairs back up as you get to take the elevator! The elevator is not fancy, but you will appreciate it later when coming out of the salt mine Krakow, that way you won't have to climb all the way back up!
Salt Mine Krakow Tour: What to Expect
The Salt mines Krakow Tour guides speak English and they that help you understand what the salt miners did while underneath the earth on a daily basis. It truly is remarkable how this mine was created.
Krakow Salt Mine Tour: Underground Arrival
Once underground, you will learn about Krakow history and the business of salt mining. In 1996 they turned this working salt mine into a tourist attraction. Townspeople, as well as tourist, have been fascinated by the art that was created underneath the earth by these miners. That is now the number one reason to visit the salt mines, to look at its art. It has literally dozens of statues, an underground lake, three chapels and an entire cathedral carved out of rock salt.
The rock salt is naturally grey in various shades, resembling unpolished granite rather than the white or crystalline look that many tourists may expect. During the Middle Ages, before refrigeration, salt was valuable food preservative, thus the longevity of this operation.
Krakow Salt Mine Tour: Rehabilitation Center
As a physician, I found this fascinating: There is a physical therapy clinic located in the mine that is about 135 meters underground. The entire treatment takes about 6/1/2 hours and is located in the chamber known as the Lake Wessel Chamber. It has a unique microclimate that contains bacteriological purity. The air contains large amounts of sodium chloride, magnesium, and calcium ions. They offer treatment for breathing problems, allergies, and metabolic disorders! They even have long stay treatment plans you can take a look at here.
Salt Mines Krakow Tour: The Chapel of St. Kinga
The highlight of the entire tour is the Chapel of St. Kinga, a cavernous underground hall. This place is massive and unbelievable.  You will gt a chance to look around this place to see the detail of the carvings on the wall. They are incredible!
This entire room and all of the art in it is carved salt!
---
The Chapel of St. Kinga is located approximately 331 feet below ground. It is 101 feet x 50 feet in size, and its floor area is of 5005 square feet. Its splendors make it the perfect location for a christening, a wedding, or a music concert and can hold up to 400 people.
Krakow Salt Mine Tour: But who is St. Kinga?
St.Kinga was a woman!  Yes, that's right, she was also a Catholic saint in the 12th century! She lived from 1224 BC to 1275 BC. She was the daughter of the King of Hungary. And known as the Grand Duchess of Poland. During her reign, St. Kinga got heavily involved in charitable works, and when her husband died, she sold all her material possessions. She decided to dedicate her life to the poor. She left all government-related work to join the monastery at Sandec, where she would spend the rest of her life in prayer.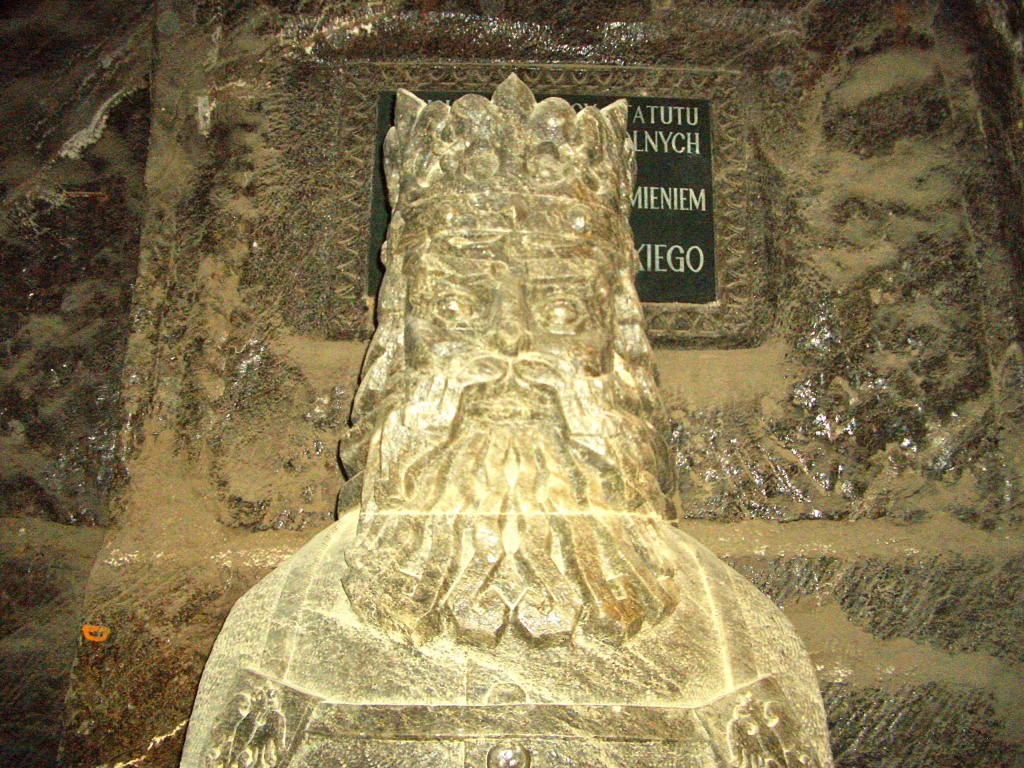 Auschwitz Salt Mine: Legend
Well you knew there had to be a story about her, didn't you?  As the Legend goes, St. Kinga threw her engagement ring into the Maramures salt mine in Hungary. The ring traveled along with salt deposits to this Krakow Salt Mine where it was rediscovered. On the very spot that it was found, the miners erected a statue of her. There is even a scene of artwork depicting the time that the minors found her ring! Obviously, this makes St. Kinga the patron saint of miners!
---
Even the chandeliers are made of rock salt!
And the glow of the crystal chandeliers illuminates on the intricately carved floor. It is quite stunning to see.
---
Krakow Salt Mine Tour: Recommendations
Be sure and wear comfortable shoes since you will be walking a lot and it is important for good food placement.  Also, wear warm clothing since you are going underground and it tends to be a bit cold and damp.
Krakow Salt Mine Tour: Tickets and Location:
Wieliczka Salt Mine
Daniłowicza 10, 32-020 Wieliczka, Poland
Admission: Regular price for foreign tourists is 89 PLN and includes a guide
Recommended Reading about Krakow:
You may be interested in visiting Auschwitz while you are in Krakow, so here is a guide.
A Less Visited European Destination That is Worth the Trip