Salt Mine Krakow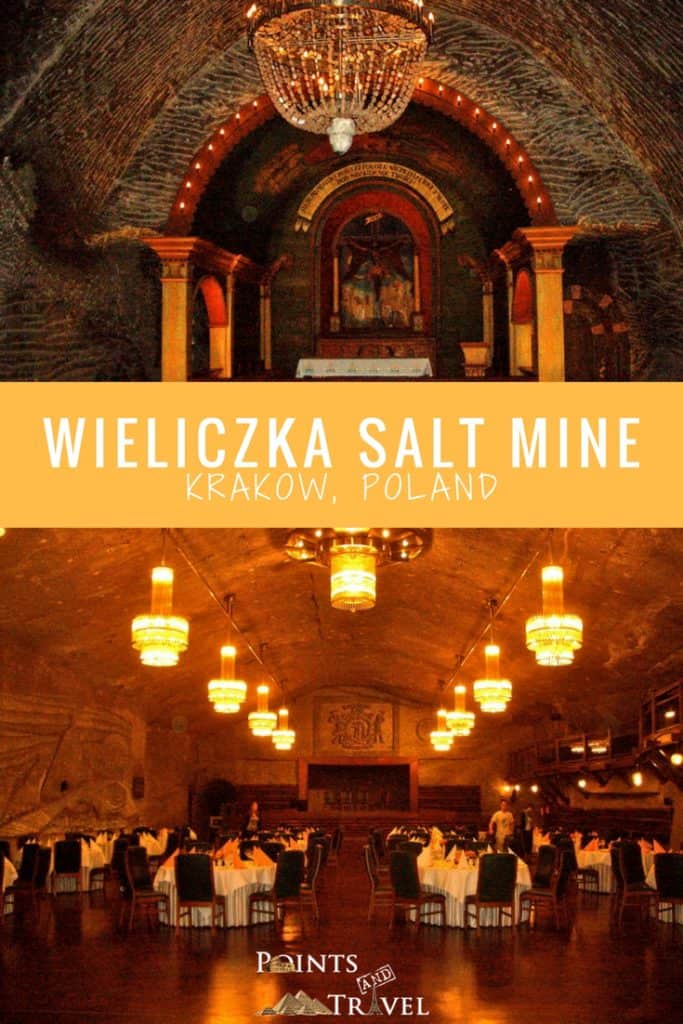 Krakow, Poland is an amazing city and I believe it is the #1 most underrated city in Europe. I won't go into the details of the lavender growing along the old city walls or the shapes of the trees that blow in the wind or even the cobblestone central square, but I do want to tell you about an unusual place found deep within its crevices. It is known as the Salt Mine Krakow and is 1073 feet deep. The salt mine, built in the 13th century, produced table salt continuously until 2007 and was one of the world's oldest salt mines in operation until that time. It was deemed a UNESCO world heritage site in 1978.
Salt Mine Krakow
Entrance to Krakow Salt Mine
It is ironic that this place is named Krakow, as you go down, down, down into the "crack" of the earth by walking the 378 steps that take you to its entrance.  Don't worry about climbing those stairs back up as you get to take the elevator! It is not fancy, but you will appreciate it later when coming out of the salt mine Krakow.
Salt Mine Krakow
What to Expect:
They have English speaking tour guides that help you understand what the salt miners did while underneath the earth on a daily basis. It truly is remarkable how this mine was created.
Once underground, you will learn about its history and the business of salt mining. In 1996 they turned this working salt mine into a tourist attraction. Townspeople, as well as tourist have been fascinated by the art that was created underneath the earth by these miners. That is now the number one reason to visit the salt mines, to look at its art. It has literally dozens of statues, an underground lake, three chapels and an entire cathedral carved out of rock salt.
The rock salt is naturally grey in various shades, resembling unpolished granite rather than the white or crystalline look that many tourist may expect.
The highlight is the Chapel of St. Kinga, a cavernous underground hall.
This entire room and all of the art in it is carved salt!
Even the chandeliers are made of rock salt!
And the glow of the crystal chandeliers illuminates on the intricately carved floor. It is quite stunning to see.
The Chapel of St. Kinga is located  at approximately 331 feet below ground!  It is 101 feet x 50 feet in size, and its floor area is of 5005 square feet. Its splendors make it the perfect location for a christening, a wedding, or a music concert and can hold up to 400 people.
Another article about Krakow:
A Less Visited European Destination That is Worth the Trip