Traveling on holiday is an exciting time! The anticipation of seeing a new place or going back to a favorite place is always something to look forward to. Of course, being on holiday and making it to your destination is a beautiful time. But you may be unable to have the best experience if you don't take the appropriate measures.
---
What's in this post:
hide
Travel Preparations for a Stress-Free Holiday
---
---
Some problems, such as flight delays or lost luggage, are out of your control. They may arise anytime. Luckily for you, though, we have gathered steps that you can take to prepare before you leave for your holiday.
Carry On Luggage
If you are going to board a plane for a holiday, one of the best pieces of advice you can receive is to consider packing on carry-on luggage versus having to check in the luggage before your flight. Although this may not seem the easiest thing to do, it is a choice that will prevent any further issues on your holiday. Lost luggage is an ongoing issue, and by preparing carry-on luggage, you can eliminate the possibility of being on holiday without any luggage.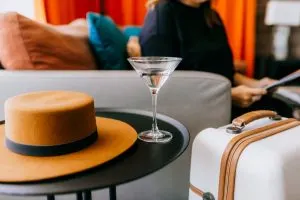 .
Packing on carry-on luggage requires some additional preparations. You will have to call the airline you are traveling with or look on their website to inquire about the size requirements for carry-on luggage. There is a size requirement for your luggage. If it does not meet the required size, airline personnel will need to check your bag.
Additionally, while you search about the carry-on bag's size, you will also need to be informed about the items allowed on a carry-on. For example, liquids must be in 3.4 ounces containers or less, and certain items such as sharp objects are not allowed on carry-ons.
Finally, if you are traveling internationally, be as informed as possible regarding carry-on luggage because rules may differ once you reach an international flight.
Pack Light
Whether you decide to pack in a carry-on or check your luggage, it is always a great idea to pack light. We have all been there. We pack double the amount of clothes that we will actually use. Rather than over-packing, take some time for your travel preparations to ensure you would only bring the necessary items for your holiday.
Choose outfits you can wear multiple times without having washed, and try to avoid colors that are more likely to stain, such as nudes and whites. Also, try to focus on clothes you can layer so that you are ready for any type of weather.
Prepare for Unexpected Events
Finally, one of the best ways to avoid stress during your holiday is to be informed and prepared for unexpected events. Delayed flights are always a possibility. But if you are prepared, you will be better equipped to handle the situation. First of all, did you know you can get compensation for flight delays? Every country has different regulations, but customers are generally entitled to flight delay compensation.
You can claim compensation for flight delays when your flight arrives late at the final destination by more than 3 hours. The airline must be at fault, and you have checked in on time, but the flight was delayed, nevertheless, and many more factors.
AirAdvisor helps customers file a claim and determine whether they can get compensation for their flight delay. If you are well informed about what to do with delayed flights before your holiday, then you can quickly resolve the situation and get back to enjoying your trip.
For example, if you are informed, that your flight is delayed, you will know that you can go to the airline counter and ask them for help.
Being Informed Is Key to a Stress-Free Holiday
As we have mentioned before, being informed and prepared before your holiday will eliminate some headaches that can occur during your travel. Packing in a carry-on will eliminate the possibility of losing your luggage, but it isn't as easy as just packing in your favorite bag. You will need to inform yourself about carry-on regulations.
Packing light will also be beneficial, so taking time to prepare outfits before your trip that can be mixed and matched or layered will help you better prepare for any type of weather on your holiday. Finally, being informed about your rights will help you tackle any situation if your flight is delayed. Follow these simple guidelines — you will be on your way to a stress-free holiday.