Malibu is a unique California beach town, 64 miles away from Santa Barbara, filled with romantic, luxurious, and spectacular scenes. It is known for its body surfing waves, iconic fishing pier, and great shopping. Tourists can enjoy doing various activities, such as spending time relaxing underneath palm trees on a beautiful beach, doing wildlife viewing, going kayaking, or bonding with family and friends in beach campgrounds.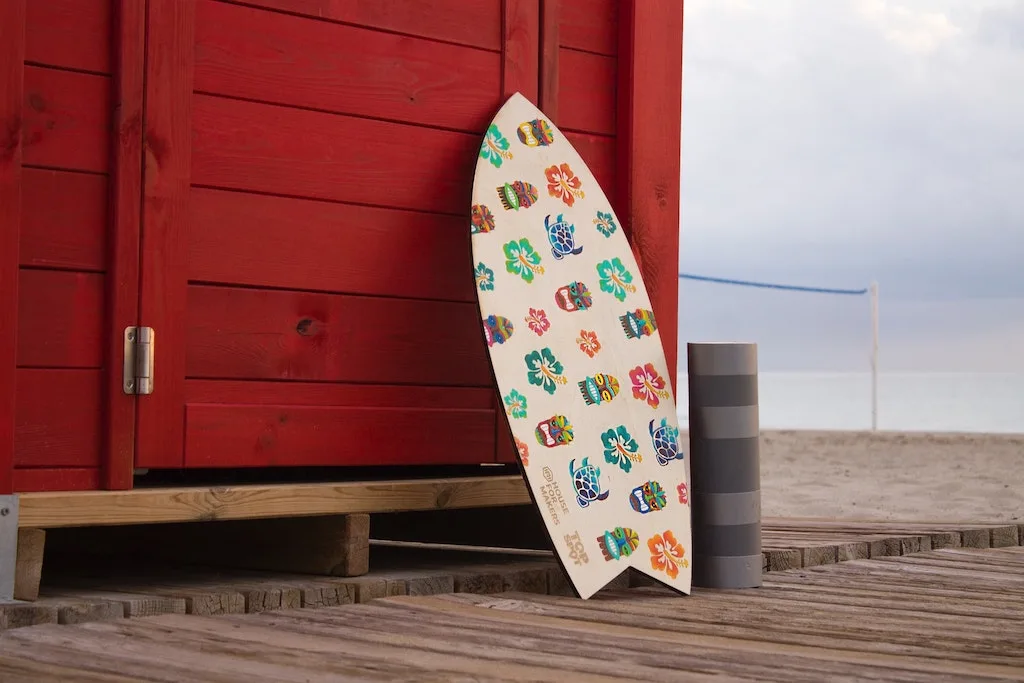 ---
5 BEST Beach Camping of Malibu:
Beaches, State California Camping Parks, and Campgrounds
---
You can also take a hike at the most popular hiking destination for locals and visitors in Malibu. The Sandstone Peak is the highest peak in the Santa Monica Mountains. You could see an incredible view of where the mountains meet the sea on the coast of Malibu. This place holds some of the most beautiful sandy beaches of California. You could also explore the California state parks, biking trails, and coastal caves.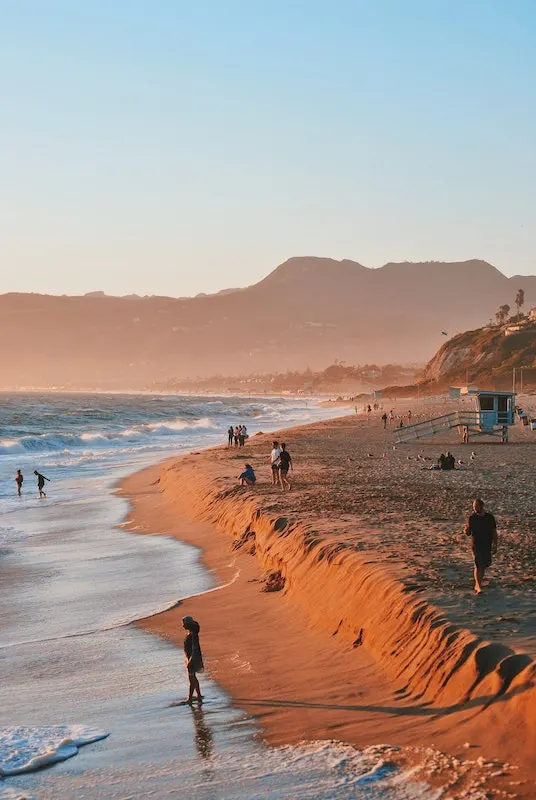 Where to Camp in Malibu:
Read on and find out the five best Malibu camping sites
#1 Malibu Creek State Park
Malibu Creek State Park is located just 25 miles away from downtown Los Angeles. This 8,000-acre park in the Santa Monica Mountains is an easy nature getaway in Southern California. You can explore its rugged terrain and the miles of trails, including hiking trails suitable for mountain biking and horseback riding. It is also popular for fishing, rock climbing, and bird watching.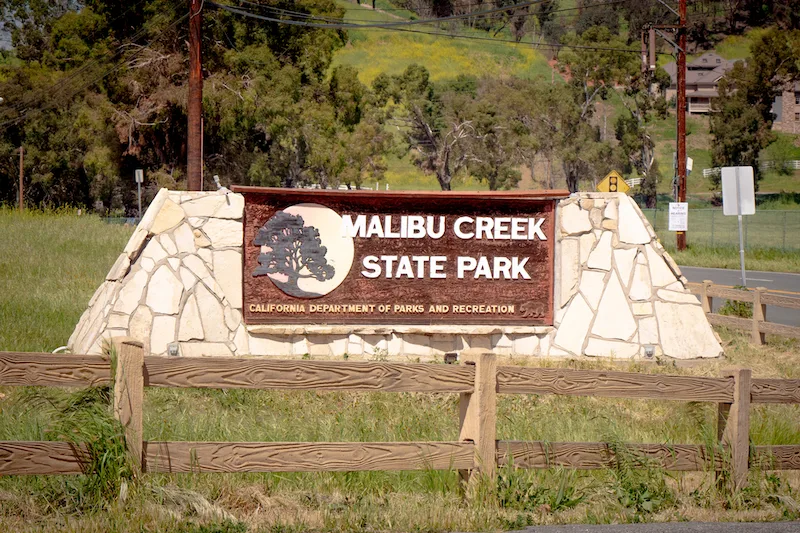 Are you camping with several families? Additional vehicles can park in the overflow parking areas in Malibu Creek State Park for an additional day-use fee. The Malibu Creek State Park is a developed campground with campsites, flush toilets, and hot showers. Campers will enjoy an easy overnight experience in this area.
#2 Leo Carrillo State Park
This state park consists of a 1.5-mile-long stretch of beach that is perfect for swimming, surfing, windsurfing, and beachcombing. The tide pools and coastal caves in this park are hidden along the picturesque coastline. It features back-country hiking as well.
The Leo Carrillo State Park Campground is located northwest of Malibu's popular and stunning Zuma Beach. It has a cluster of pocket beaches off the Pacific Coast Highway and features 130 campsites. The campsites in this state park can accommodate RVs, trailers, and tents. There are picnic tables, fire rings, restrooms, and a fire pit.
The Leo Carrillo State Park Campground also has hot showers, a camp store, a campfire center, and a dump station. You will also notice electrical hookups for some sites. You will also find that the campsites are well shaded by giant sycamores, offering more privacy than most beach campgrounds located in the south.
Leo Carrillo State Park also offers a group campsite off the north end of the campground and a "Hike & Bike" trail at the south end.
During the summer months, the Leo Carrillo State Park Campground offers Junior Rangers and campfire programs. Moreover, in this state park, dogs are allowed in the day-use area and campgrounds. However, they are not allowed on backcountry trails.
The attractions nearby the Leo Carrillo State Park Campground include:
Visitor Center
Malibu Lagoon Museum
Point Mugu State Park
Nature trail
North Beach and South Beach along with multiple other beaches
#3 Point Mugu State Park
Point Mugu State Park is located within the Santa Monica Mountains. It is a five-mile-long stretch of gorgeous ocean shoreline with rocky bluffs, rugged hills, pristine beaches, sand dunes, large canyons, and lush valleys. You will also find several spots for swimming and surfing in the area.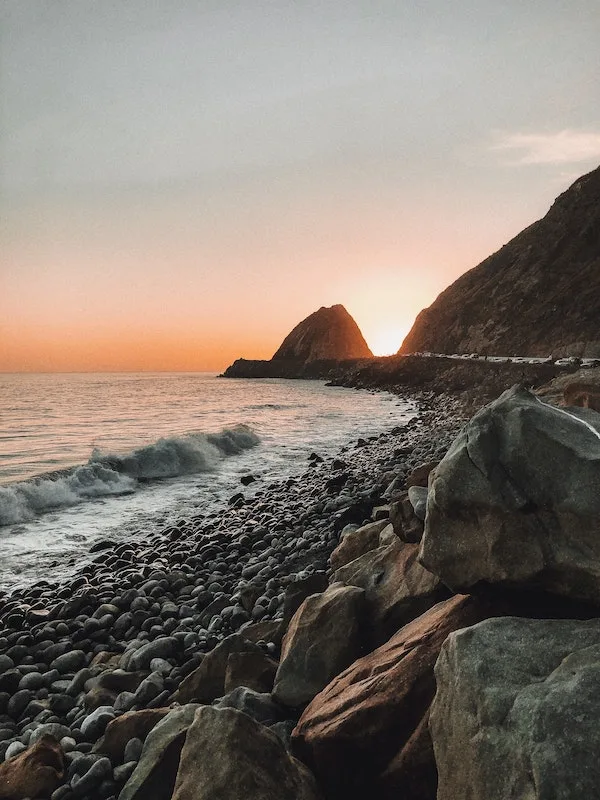 If you visit the Point Mugu State Park during the winter, you will be able to catch glimpses of migrating whales. This state park has two campgrounds. These are the Thornhill Broome and the Sycamore Canyon campground. Both the Thornhill Broome and Sycamore campground are perfect tent sites and for trailer camping as well.
#4 Crystal Cove State Park
The Crystal Cove State Park provides its visitors and campers a delightful contrast to urban surroundings with its sandy beaches, tide pools, rolling surf, deeply wooded canyons, and ridges. This state park is one of Orange County's largest remaining examples of open space and natural seashore. Orange County still has the Bolsa Chica State Beach also.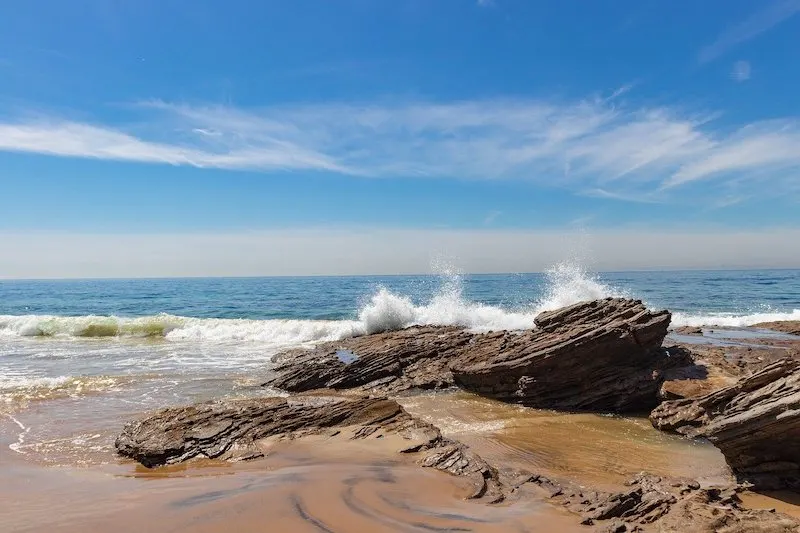 The Crystal Cove State Park is located off Pacific Coast Highway, between Corona del Mar and Laguna Beach. It has 3.2 miles of beach and 2,400 acres of backcountry trails, both of which are popular for outdoor enthusiasts. Hikers, mountain bikers, and equestrians can enjoy the great expanse upland, north, and east of the Pacific Coast Highway. They can follow hillside and canyon trails to primitive campsites. They make you feel that you are away from the bustling streets and busy cities.
#5 Malibu Beach RV Park
The private property Malibu Beach RV Park is a perfect stop for people on a road trip up the California coast. It has a tent-camping area for those traveling without an RV. If you have pets, they are welcome in the RV sites or parking units but not in the tent area.
The Malibu Beach RV Park has standard sites that range from $45 per night for a mountain view site on a weekday to $190 per night for ocean views on the weekends. This RV park comes with several amenities. These include a washer/dryer, game room, grills, picnic areas and tables, and a convenience store.
Malibu Beach and Popular Hikes or Trails
If you are planning to explore Malibu, you might want to take a look at the stunning beaches and great hiking and biking trails in this place. Here are some of them:
#1 Zuma Beach
Zuma Beach is the largest, most beautiful, and most popular beach in Malibu. The wide stretch of golden sand of this best beach is perfect for swimming, building sandcastles, playing beach volleyball, and surf fishing.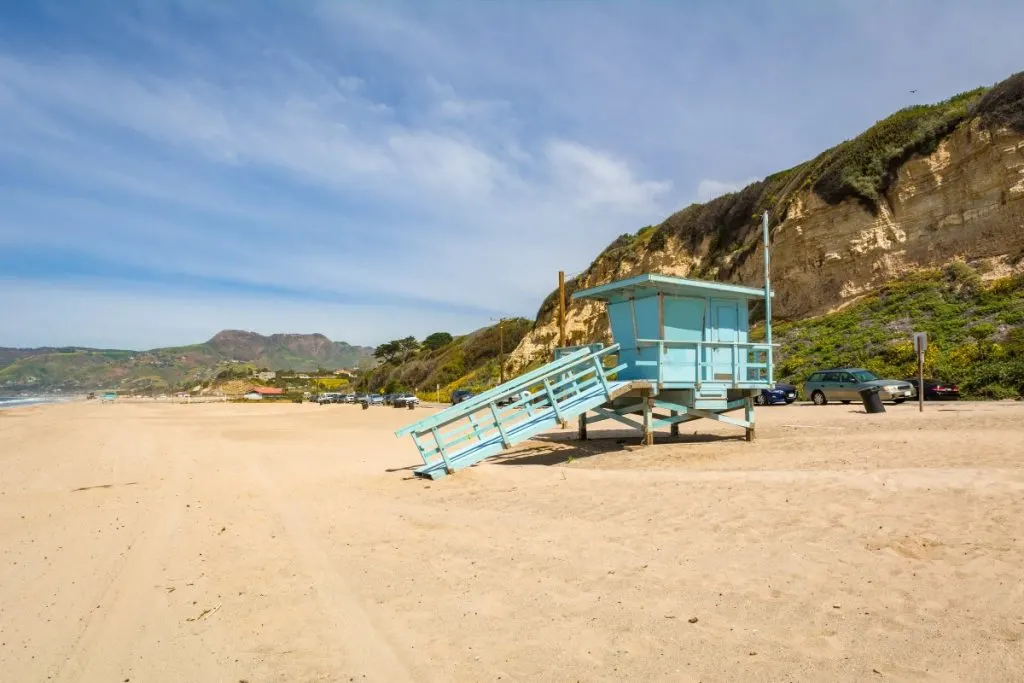 #2 Malibu Pier
The Malibu Pier is located next to Surfrider Beach. This pier is a favorite spot for watching surfers ride the waves and cheering them on. The Malibu Pier is dotted with brackets for fishing rods and reels. It is also a pleasant place for a stroll before sunset.
#3 Malibu Lagoon State Beach
Also known as the Surfrider Beach, the Malibu Lagoon State Beach is located in Santa Monica Mountains National Recreation Area. It is a 110-acre coastal area designated as a state park in 1951. At current date, it is now one of the best surfing beaches in the entire state. This state beach offers several social amenities and activities for beach-loving people.
#4 Nicholas Flat Trail
The Nicholas Flat Trail is a 6.9-mile-long trail that runs through Leo Carrillo State Park. It has 1,664 feet of elevation gain and some rocky, steep terrain. While hiking the Nicholas Flat Trail, you will notice beautiful plant life, and views of the local grasslands and the Pacific Ocean.
#5 El Matador State Beach
The El Matador State Beach is one of the hidden beaches west of Zuma. The easy access to this area is through hiking down a trail from the mesa. It has good rock formations and some tide pools caused by the low tide.
Other good campgrounds are the Malibu Beach Camping Village located in Lido di Jesolo and the Emma Wood State Beach Campground in Ventura.
California Follows State Guidelines
You will be glad to know that state parks in Malibu will continue to use a monitor and adapt strategy to meet any new guidance it will receive from local and state public health officials. This is to protect everyone, especially the elderly, immune-compromised, and the unvaccinated from the deadly Covid-19. Fully vaccinated individuals are not required to wear face coverings in public outdoor settings. Unvaccinated people, on the other hand, should still wear face coverings.
If you want to know more about these state parks, you can browse through several California camping websites on the internet. These websites can provide you with accurate and up-to-date information, and some even have direct access to the mentioned areas. Make sure that you always confirm information with the service provider and check for any recent changes. Keep in mind that the information provided on these websites is done without a warranty of any kind, including the implied warranties of merchantability and fitness for a particular purpose.