Tulsa, Oklahoma is the Oil Capital of the World. Aside from that, it is also home to several NCAA Division I level institutions. Among these is the University of Tulsa and Oral Roberts University. Thanks to the growing population in Tulsa, it is not surprising that its dining scene is one of the best in the area. In fact, there is no shortage of places to have your breakfast. Or brunch for that matter for you late risers. That said, let us check out the restaurants in Tulsa that are perfect for your breakfast needs.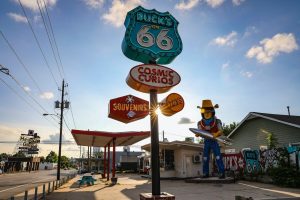 ---
The 10 BEST Breakfast Restaurants in Tulsa
---
---
Best Places to Grab Breakfast in Tulsa
There is no shortage of restaurants to grab your early morning treat. In fact, if you search the internet for the best breakfast restaurants, you will get a long list of names to check out. It can be overwhelming for first-time visitors which is why you should use this as your guide. Let's get started.
#1 Savoy Restaurant
Located on S Sheridan Rd, Savoy offers high-quality brunch using fresh ingredients available. What sets it apart from other restaurants is that they offer homemade meals that will fill your belly. In fact, if you take a look at their extensive menu, they offer traditional breakfast meals as well as various skillets. You should try their California skillet which comes with ham, bell peppers, sausage, scrambled eggs, cheese, and avocado.
#2 Dilly Diner
Dilly Diner is on the E 2nd St and advertises itself as Tulsa's Favorite Diner. This is not surprising since they know that breakfast is the most important meal of the day. In fact, they serve it all day to ensure that their guests will not miss it. One of their main dishes is the Huevos Rancheros made with fried corn tortillas, refried beans, and eggs over easy. It also comes with pico de gallo, cotija, chorizo, as well as ranchero sauce. Head to this restaurant in E. Second St. for their Meg sandwich too.
#3 Neighborhood JAM
Another breakfast spot that you should visit is the one on E 61st St. That's right, Neighborhood JAM is a good place to have your first meal of the day. As the name implies, this restaurant is serving great food for the neighborhood to get together and talk over breakfast. Pair your favorite cup of Joe with their Avocado Toast to start your day right. Also, the laid-back atmosphere adds to the overall ambiance of the place.
#4 Kilkenny's Irish Pub
Meanwhile, Kilkenny's off E. 15th St. is the perfect spot if you are craving a traditional Irish breakfast. This is one of the best Irish pubs in the area that serves locals and tourists alike. While you are here, you definitely need to try their traditional Irish brunch. It comes with two bangers, two eggs of your choice, a grilled tomato, rashers, black pudding, Irish baked beans, as well as soda bread. Also, you should top it off with a glass of Irish beer.
#5 Cherry Street Kitchen
If you are looking for the freshest ingredients, then you have come to the right place. In fact, the welcoming family atmosphere and great service are just a few things that you will love about it. Their brunch menu is available during the weekends from 8 am to 3 pm. Aside from that, it has all the ingredients you want in a classic breakfast. You should try their Chicken in a Biscuit. This dish comes with buttermilk biscuit and fried chicken with its signature sweet and spicy taste to it.
---

---
#6 Doc's Wine & Food
Located at 3509 S Peoria Ave lies Doc's Wine & Food. The menu item here is quite unusual in Oklahoma City. After all, they serve traditional Creole dishes that are not seen here often. In fact, they have a wonderful selection of fresh seafood that you can have for brunch. One reason why people flock here is because of its beverages. For example, they serve Cajun Bloody Marys together with their Cajun spiced Chicken & Waffle dish.
#7 New York Bagel Cafe
This old-school bagel cafe has stores in Stillwater and Tulsa area. There are all kinds of bagels being served here. Aside from that, their breakfast menu is worth pairing with their wide selection of bagels. In fact, their best brunch menu item is the Lox & Cream Cheese. This menu item comes with a thinly-sliced salmon placed on a fresh-baked bagel. To complete this breakfast treat, they add cream cheese, capers, tomatoes, and red onion to it.
#8 The Vault Restaurant
Meanwhile, if you are craving specialty pancakes then The Vault is where you should be. Located in downtown Tulsa, expect Classic American dishes made from scratch. Aside from the wonderful atmosphere, they have great food too. Try their Steak and Taters with a side of Strawberry Shortcake pancakes. Aside from that, their breakfast burrito is delicious too. It is a spinach tortilla packed with red bell peppers, cheddar cheese, caramelized onions, and avocado.
#9 Chimera Cafe
Chimera Cafe is at 212 N. Main St. and is a great brunch destination for everyone. They serve brunch from 7 am to 3 pm. Their brunch options include breakfast tacos, bowls, as well as different types of toast like French toast.
#10 First Watch
First Watch is on South Lewis Avenue and is one of the locals' favorite breakfast spots in Tulsa. This local restaurant offers a wide range of dishes that you'll enjoy. For starters, they offer a delicious twist to their eggs benedict. Also, they have classic brunch food of bacon, waffles, and eggs among others.

Other Popular Spots for Breakfast in Tulsa
The best way to satisfy your taste buds further is to sample the meals from these restaurants.
Bramble Breakfast & Bar
Located on E 6th St, this restaurant serves breakfast, brunch, and lunch. It has other locations like in Jenks Riverwalk and Pearl District. Try their Eggs and Friends where they serve hash browns or breakfast potatoes. Their Riverwalk Terrace store is a good place to head out.
Phill's Diner
Phill's Diner on E 32nd St has changed its name to Tim's but it still serves amazing food. In fact, order omelet here for starters. Their friendly staff will get your food hot and ready for eating.
Brookside Diner
Aside from their extensive list of omelets, you should also try their Belgian waffle. They also have a full breakfast and breakfast specials too.
Village Inn
Head to Village Inn at S. Harvard Ave. if you are looking for vegetarian meals. Of course, there is more to this restaurant. In fact, they have the best burger, best breakfast sandwich, and the best pie too! You can also find another branch at E 71st St.
El Rio Verde
This restaurant is known for its fusion of breakfast meals you will not forget. From burritos to ensaladas to tortas, you will be spoiled for choices. Choose your meat whether it will be carne asada, al pastor, or carnitas.
Blue Moon Cafe and Bakery
Next, try the Blue Moon Bakery where you can find great people and great food too. There is no bad choice here as you can order traditional breakfast meals to their modern dishes.
Tally's Good Food Cafe
This cafe is on S Yale Ave and is well-known for its big breakfasts. From omelets to sausage gravy to pancakes and waffles, you're all set. Aside from that, they have brunch delivery too.
Wrap Up Tulsa's Best Breakfasts
Foodies like Breckyn Hudelson and Megan McCann McManus do offer insights on where to eat in Tulsa… like Broken Arrow. Aside from that, there are MAD Eats which is on S Main St. This modern American diner on S. Main St. is perfect for families. On the other hand, Java Dave's Coffee Shop. Especially if you want some coffee and bagels in the morning.
Aside from the usual morning fare, drop by Iguana Island treats. This drive-through spot is where you can buy shaved ice and pineapple whip. Head to Cracker Barrel in E 31st St for their chicken and dumplings. Also, do drop by Miss Micah's Kitchen by Micah Pope. You can add your own gourmet flair to your own ingredients with the spices she makes.
Regardless of whether you are looking for American cheese or cinnamon rolls or sour cream to go with your breakfast meal, Tulsa has got you covered. All that you have to do is to check your current location and see which breakfast restaurants are up. You might be lucky to find some with live music to entertain you.