Breakfast in Mexico City is one you don't want to miss. Fortunately, most stores open at 8 in the morning. Also, there are others that offer their breakfast menu until 12 noon. Or until 1 in the afternoon. This means that you have plenty of time to rest. And still have time to grab a great breakfast to fuel your day.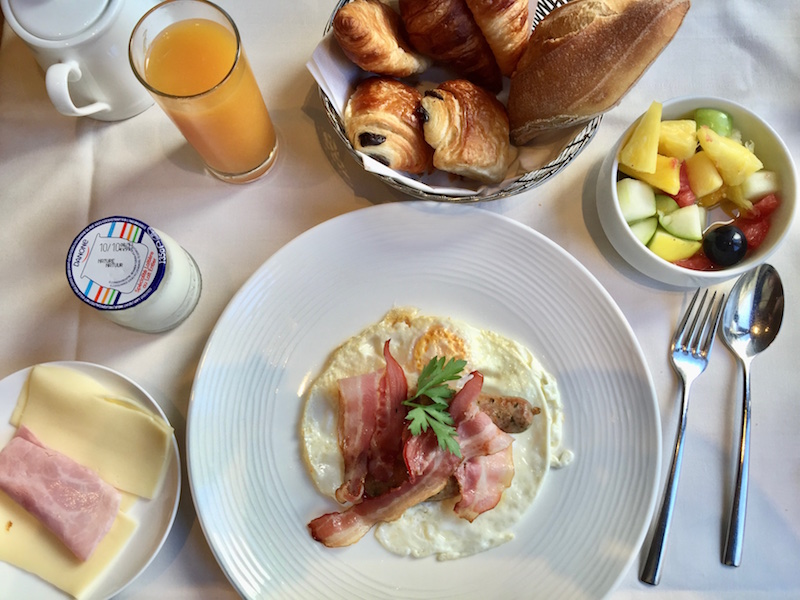 ---
What's in this post:
hide
Where to Have the Best Breakfast in Mexico City
---
---
If you are traveling to the city, make sure that you check this list for the best places to grab a good breakfast. After all, this is the most important meal of the day. Most of these shops are within the city itself. But you'll find some in the neighboring areas.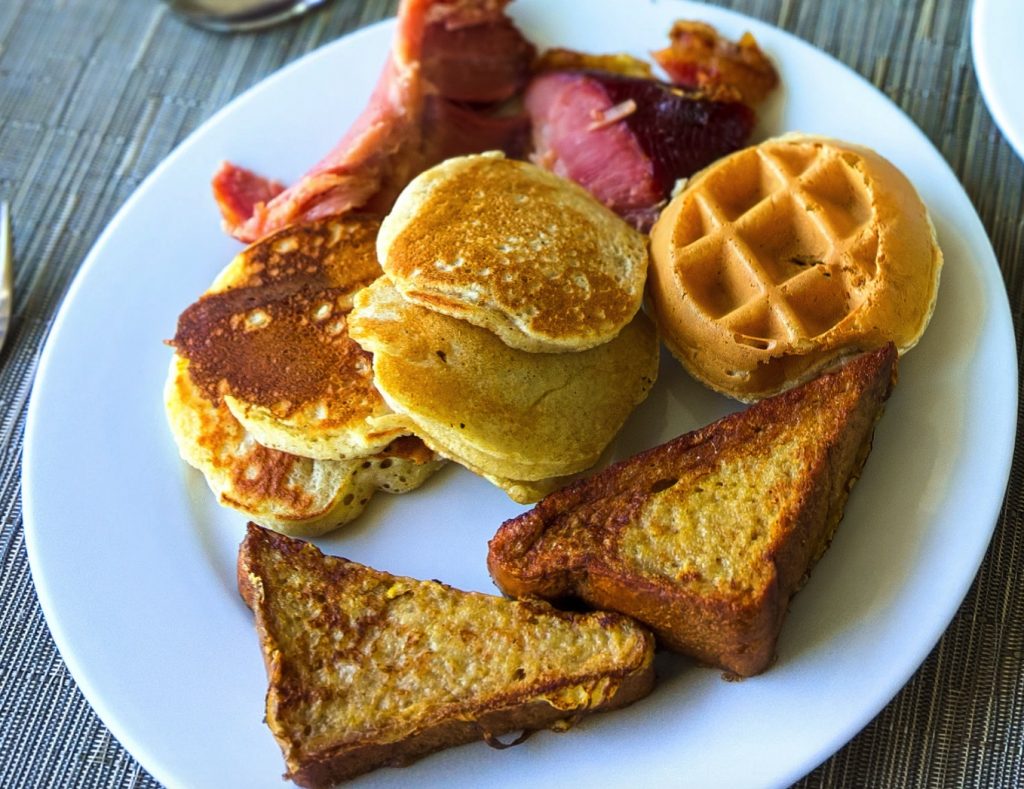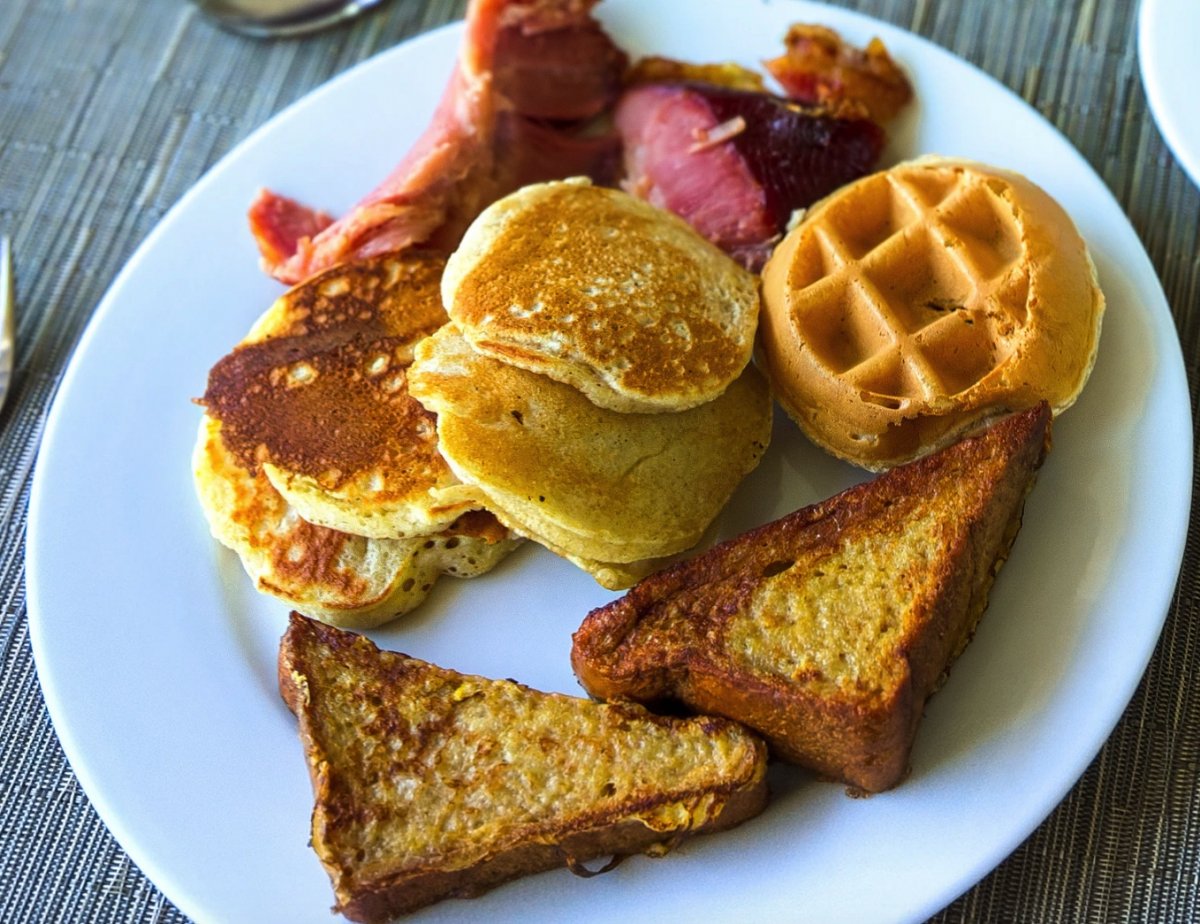 Best Restaurants to Grab the Best Breakfast in Mexico City
Mexican food is famous across the globe. They use meats, seafood, vegetables, and an array of condiments to create meals that hit the right spot. Also, you'll come across traditional Mexican dishes as well as innovative ones. To start your day right, you can grab your breakfast among these favorite restaurants by locals and tourists alike.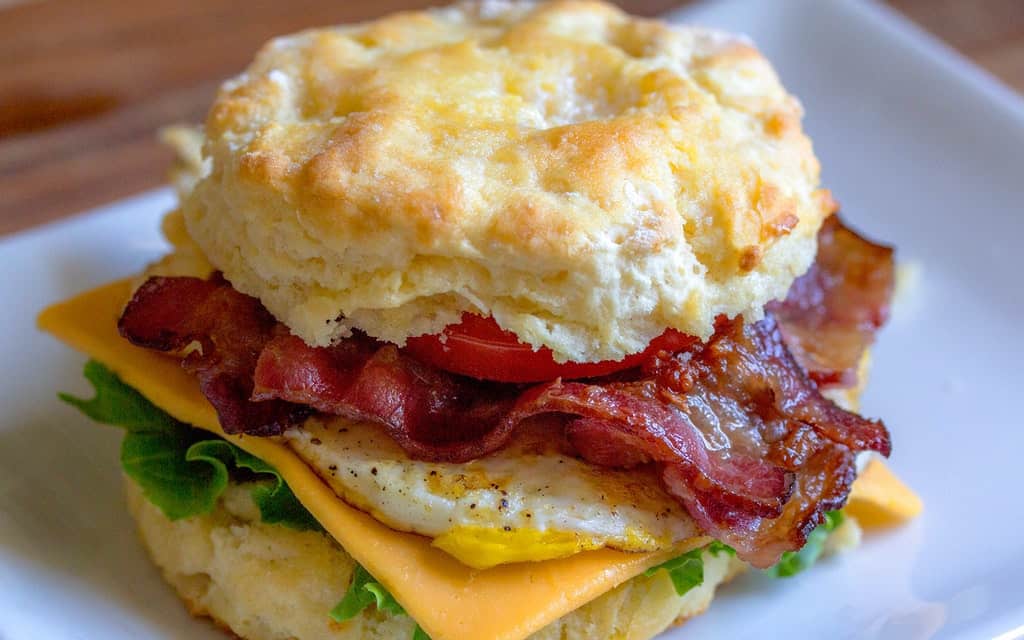 #1 El Cardenal
This is perhaps the most popular spot to enjoy your first meal of the day in Mexico City: El Cardenal. It rests in a historic spot. Once you step inside, it will give you that old Mexican dining tradition vibe.
In addition, the food here is delicious. From their freshly baked bread to their thick hot chocolate drinks that you can dip into. You'll want to come back for more. They offer the best chilaquiles here but you shouldn't miss their egg dishes too.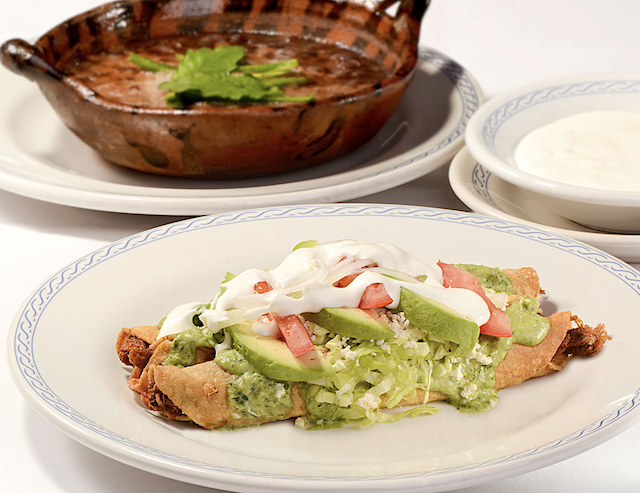 #2 Loncheria Eno
Mexican chef Enrique Olvera continued the concept of Loncheria. This means that his restaurant offers breakfasts, Mexican dishes, and sandwiches that use seasonal ingredients. Aside from that, you should order their huevos rancheros con hoja santa with spicy tomato sauce. Or their tamal de cochinita. You can choose between flour tortillas or corn tortillas to go with their rancheros.
Don't forget their pan dulce or Mexican sweet bread. Also, they offer breakfast meals for children so you can bring the whole family here. You can also grab some American breakfast classics here like French toast.
Eno can be found in different locations. If you want to experience its busy atmosphere, drop by their Polanco restaurant. Their Roma Norte location is the perfect place if you want to enjoy your breakfast in peace and quiet.
#3 Lardo
Another breakfast spot that you should add to your list is Lardo in La Condesa. This restaurant is in one of the corners of Edificios Condesa. It is one of the historic buildings in the area. Aside from that, the interior design combines a large bar and an open kitchen. In addition, their proposal of the menu invites people to share their meal at the center of the table.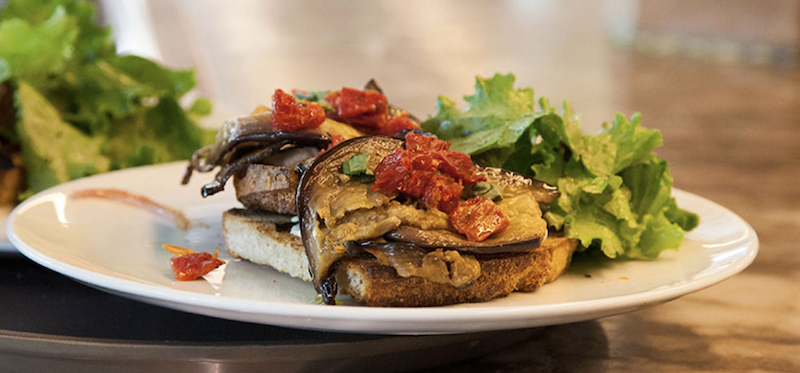 Their breakfast food includes egg preparations, like a poached egg with salmon and egg wrapped in a holy leaf. Aside from that, they also have green chilaquiles with burrata. Pair this with fresh juices like jicama and ginger, coconut, or macadamia and you're good to go. If you want to indulge in their gastronomical offerings. Don't forget to book a table ahead of time.
#4 Cafe La Habana
One of the locals' favorite places for breakfast in the city is Cafe La Habana. Aside from their great coffee, their chilaquiles are impressive. Not only that, but their serving sizes are huge which should satisfy your hungry stomach in the morning.
Meanwhile, light eaters can choose from their paqueta menu where you choose the main dish and side dish for a specific price. The size is smaller but it should be enough. Their enchiladas suizas will be your personal favorite for sure.
#5 Fonda Margarita
Fonda Margarita is a small restaurant that offers good food at affordable prices. In fact, this breakfast restaurant is one of the best in the city that uses great seasoning for decades. Aside from that, it became more popular after Anthony Bourdain dropped by for his show. You can order a comida corrida or the stew of the day. Or even antojitos if you like.
In addition, they have four to seven daily specials that you should look into. You can choose from eggs, stews, and soups among others. Meanwhile, if you want the best, try their chicharron en salsa verde or their eggs in pasilla sauce. Their refried beans are a good choice for their main event.
#6 El Hidalguense
El Hidalguense is the place to be for the best barbacoa in Mexico City. Aside from that, this shop operates from Friday to Sunday only. Also, once they sell out, they will close their store after. If you don't want to miss their food, come here earlier in the day.
You might think that having slow-roasted goat meat for breakfast is unusual. However, it is not uncommon in the city! As it also acts as a cure for hangovers. They serve it with a basket of tortilla chips and plenty of salsa too. You can drop by around 11:30 or 12 noon for an early lunch but any time of day is fine as long as they don't close early.
#7 Pastelería Ideal
This enormous bakery is at the Centro Histórico. Its huge size can be overwhelming for first-timers. However, just follow how the locals do it. Grab a tray and a pair of tongs then proceed to the bread area.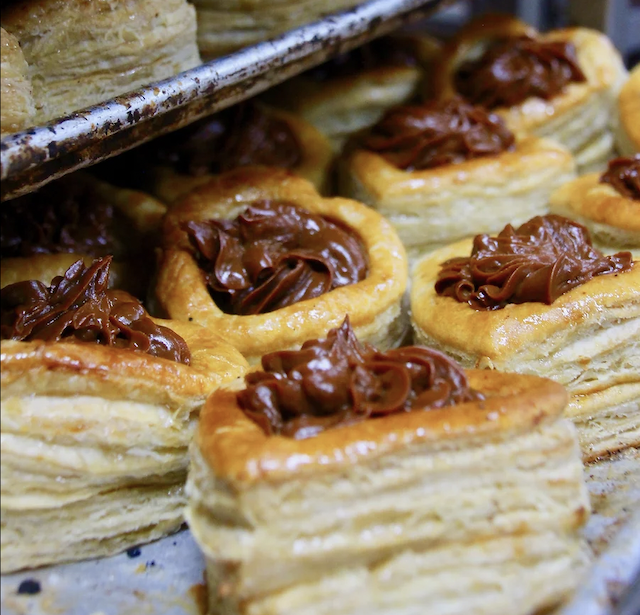 Aside from that, they have a whole section each for cakes and cookies. However, if you are here for breakfast, stick to their bread and pastry section. Follow the crowd to a table to have your orders tallied before you proceed to the payment section.
#8 Panaderia Rosetta
There are two locations for this shop run by chef Elena Reygadas who also runs Cafe Nin and Lardo. This European-style bakery offers delicious pastries that will satisfy your sweet tooth. In fact, you can pair their sweet roll with any coffee on their menu for your breakfast meal. You can even go for a beer and a sandwich while you are here.
Aside from that, you should order their guava and ricotta Danish or their sweet concha. These are their best-selling pastries. On the other hand, there is no bad pastry in this shop so anything on their menu will be delicious. In fact, you should grab your Sunday brunch here before heading out to the park nearby.
#9 Lalo!
You will wait for a table if you decide to come to Lalo during the weekends. However, their delicious food is worth the wait. This is a great spot for casual breakfast or brunch if you like. Among the food they have on their menu are coffee, fresh juice, and popular Mexican classics to name a few. It is a bit pricey here but worth the cost especially if you want a good breakfast.
#10 Domingo Santo Cafe
Another example of Mexico City restaurants to visit is Domingo Santo Cafe. Aside from having all the classic Mexican breakfast dishes, you will have a spectacular view of the plaza below. In addition, their coffee is great, and their service is exceptional.
Although there is a cafe below with the same name, head to the boutique hotel for the best views and delicious menu.
#11 La Ventanita
La Ventanita is a famous place in Fuente de Cibeles, especially during the weekends. This outdoor cafe offers the best spot for a light breakfast on a warm sunny morning. In addition, their delicious breakfast options will leave your stomach full.
You can have fresh fruit, yogurt, whole grain waffles, and even cheesy croissants. Their outdoor seating is a good spot to have your warm breakfast meal. In addition, you can go people-watching here too.
The rest of Mexico often mocks the city for putting everything in their bread roll. From tamales to different meats, even chilaquiles. In fact, this is what you can expect from this street food stall. You can visit any day of the week from 8 am to 12 pm unless they sell out early.
In fact, you should prepare to wait in line because locals frequent this spot for their chilaquiles. You can choose from red or green salsa and the type of meat you want. Their milanesa is a good choice. Aside from that, their cochinita pibil is another option to consider. It is a type of pulled pork that has several seasonings.
#13 Tacos Hola
Tacos Hola is a good place to have your breakfast or early lunch. What you will like about this place is that it is tourist-friendly. In fact, their menu is in English so you won't have any trouble ordering.
It is a popular brunch spot for vegetarian and vegan travelers. In fact, it is their veggie guisados that draw the crowd here. Choose your preferred condiments like their green tomatillo sauce which is perfect for your tacos.
#14 La Güera Tortas de Chilaquiles
This local hotspot has gained plenty of attention from tourists. However, this means that you will need to get here early if you don't want to miss their sandwiches. If you visit during weekday mornings, be here by 7 am. You will not regret ordering their tortas de chilaquiles because they pack the ingredients well.
#15 Cafe de Tacuba
This Mexican restaurant is a great place to have your breakfast and dinner. Aside from being one of the oldest restaurants in the city, they offer the best classic Mexican breakfast dishes. They offer egg dishes, grilled meat dishes, tacos, chilaquiles, gorditas, and more. However, if you are looking for Mexico City institution's breakfast enchiladas, this is it.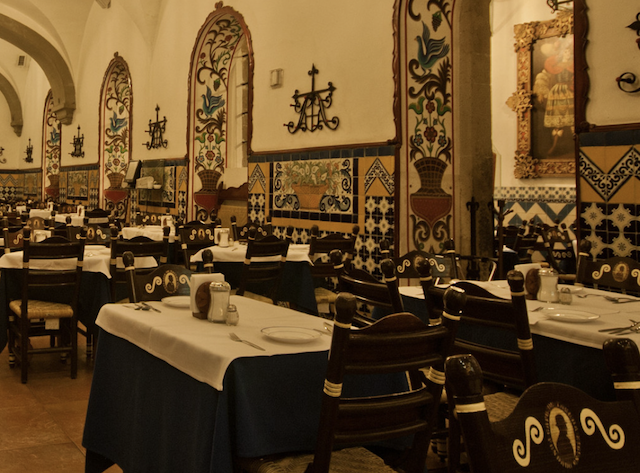 In addition, Cafe de Tacuba is the ideal spot for large groups with varying tastes. You are sure to find a dish that will meet your dietary needs here. Aside from their staff wearing traditional Mexican outfits, they also have live music to accompany your meal.
#16 Chilakillers
If you are a fan of chilaquiles, add Chilakillers to your list of places to visit. You can visit their Tacubaya store but you will have to wait at least an hour for your order. Don't worry, it is worth the wait.
In fact, you will love the huge selection of toppings to add to your order like mushrooms, different cuts of pork and meat, and more. You can check their fresh juice menu or try their café de olla.
#17 Café Nin
Cafe Nin gives that Parisian-flair in Ciudad de México. They offer a substantial drink menu from coffee to tea to fresh juice. What you'll love about this cafe is its pastries. Just like in Panaderia Rosetta, there is no bad pastry to be found here. Of course, don't forget to try the sandwiches here too.
#18 Ojo de Agua
Little restaurants like Ojo de Agua can still pack a punch in terms of food. At first glance, you will think that this is a restaurant/grocery store. The food is great from their eggs Benedict, to their sandwiches, and salads. It might be pricey for some but worth the value and the ambiance.
#19 El Mayor
This restaurant is at the back of Templo Mayor where you can grab your breakfast. It is a stylish indoor-outdoor restaurant on the top of a colonial palace. They serve an updated Mexican fare that is light and delicious. In addition, you can enjoy an amazing view of the surrounding area while digging in.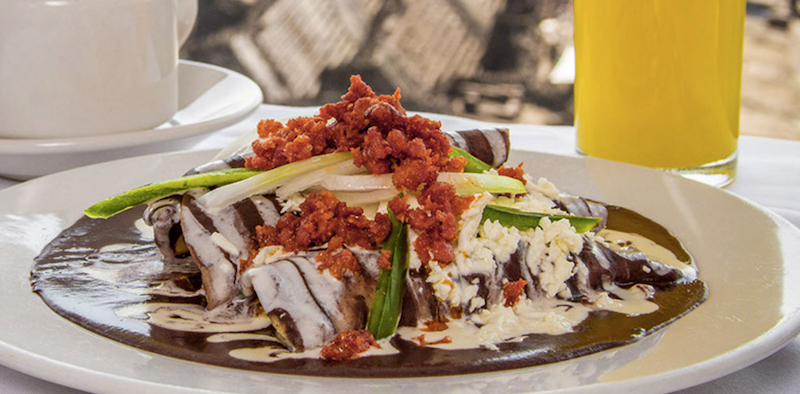 #20 Los Huevitos y Hot Cakes
If you want to have an English-style breakfast then visiting this restaurant is a good idea. In fact, the welcoming ambiance of this eatery will make you want to stay longer. Aside from having tables dressed with checkered tablecloths, they have a little basket on top filled with goods.
In addition to their egg dishes, their best-seller is their hotcakes. They are puffy, delicious, and can go well with Nutella, maple syrup, or classic honey. Aside from that, they top off their hotcakes with little squares of butter that melt on the sides.
Mexico City has it All
Mexico City's restaurants offer plenty of breakfast meals to satisfy your hunger. From food wrapped in banana leaf to tacos filled with melted cheese, you won't go hungry here. The best part? These restaurants are run by friendly owners. What a great way to taste everything that Mexico has to offer.