Cancun is quite famous for its turquoise blue waters and its white-sand beaches. It is not surprising that tourists flock here to have a tropical vacation. Aside from that, Cancun is a great place to spot friendly dolphins frolicking in the ocean from the beach. In fact, those who are on a tour around the Caribbean Sea will most likely come across them!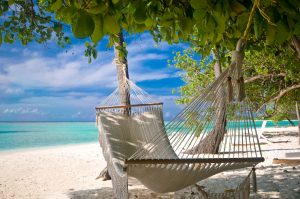 ---
Best Place to Swim
with Dolphins in Cancun!
---
---
What better way to meet these friendly denizens of the sea than go swimming with them? Cancun is the best place to see them up close as they offer dolphin swim experiences that you will not forget.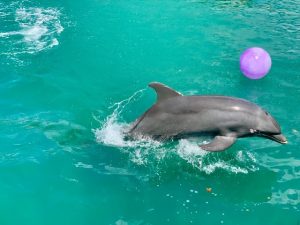 Top Dolphin Programs in Cancun
If you want to see dolphins in their natural habitat, you should book a dolphin swim adventure in Cancun. Here are a few options to consider.
Dolphin Encounter
The Dolphin Encounter program offers its guests an experience of a lifetime. In fact, this is the perfect option for the whole family. They allow pregnant women as well as non-swimmers a chance to enjoy the dolphins.
Dolphin Royal Swim Cancun
The Royal Dolphin swim program happens on Isla Mujeres. Where you will be able to swim with the dolphins in their natural environment. Afterward, guests can take advantage of the Beach Club. It includes breakfast, a buffet lunch, and an open bar. Also, you get to tour downtown Isla Mujeres and snorkel with sharks, and stingrays.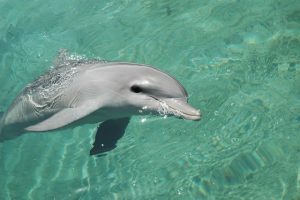 Take advantage of their Royal Garrafon program. Where you can explore Garrafon Natural Reef Park. Enjoy the "Foot Push" and the "Dorsal Tow" here as part of the dolphin swim. Garrafon Park is an excellent place to go on a bike tour on top of the dolphin tour. After all, there are plenty of sights to see here.
Swim Adventure Cancun
Traveling to Cancun for a dolphin experience is a must. In fact, Swim Adventure Cancun will make your dreams come true. It is a 1 hour underwater experience with the dolphins. You can swim, go on a belly ride, hug, and shake hands with these playful creatures.
Dolphin Discovery Cancun
Go on a 40-minute boat ride from the Hotel Zone in Cancun to Isla Mujeres. From here, you will head to Dolphin Discovery-Isla Mujeres. Where you can have your dream dolphin experience. Their habitat is in the southern part of the island.
First, the Dolphin Royal Swim will take you on a high-speed ride on the nose of the dolphin. Second, the Dolphin Swim Adventure lets you snorkel to observe the wild dolphins in their habitat. Third, the Dolphin Encounter lets families get closer to these friendly dolphins.
Delphinus Dream Punta Cancun
Guests of Dream Cancun Hotel can take advantage of their dolphin interactive program. There are four dolphins program offered. There is the Trainer for a Day program. Where visitors will learn how to care for and train these animals. You can shadow marine mammal specialists throughout the tour to learn more about the bottlenose dolphin. And other marine species. Another is Primax where dolphins propel guests into the water by pushing their feet.
Aside from that, there is The One. Which is a unique experience worth trying. After all, you will have one-on-one time with the trainer and the dolphin. Lastly, the Dolphin Ride allows guests of all ages to interact with the dolphins on a platform. You can even go around the pool by holding on to the dolphin's dorsal fin.
Dolphinaris Cancun
If you are looking for the best experience with these marine mammals, you should visit Dolphinaris Cancun. Their dolphin interaction happens in a controlled environment. Aside from that, they offer different activities like foot pushing, swimming with the dolphins, and learning how to train them.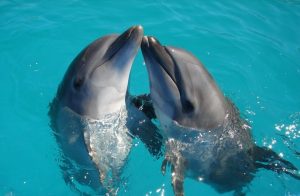 Delphinus Playa Mujeres
Delphinus Playa Mujeres is the right place to be if you want the best possible experience with dolphins. You can get to see them in their natural habitat in front of Dreams Playa Mujeres hotel. Get to swim, play, and learn more about these fun animals here. For safety reasons, make sure that you are with the dolphin trainer when you play with the dolphins.
Xcaret Mexico
Xcaret offers a small group of travelers the chance to interact with dolphins. Kids of all ages are welcome in this program where they can do a fin shake, foot push, and cuddle with their new friends. You can explore Xcaret Park after your close encounter with the dolphins if you like.
Dolphin Discovery Playa del Carmen
The next time you plan any of your Riviera Maya vacations, make sure that you book a dolphin swim program here. After all, you will have an unforgettable experience with their dolphins. In fact, this is the perfect place for a family vacation. After all, the white-sand beach and crystal clear waters are ideal for swimming too.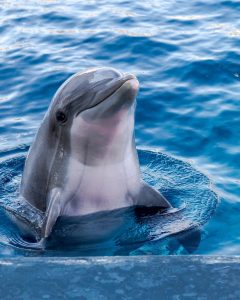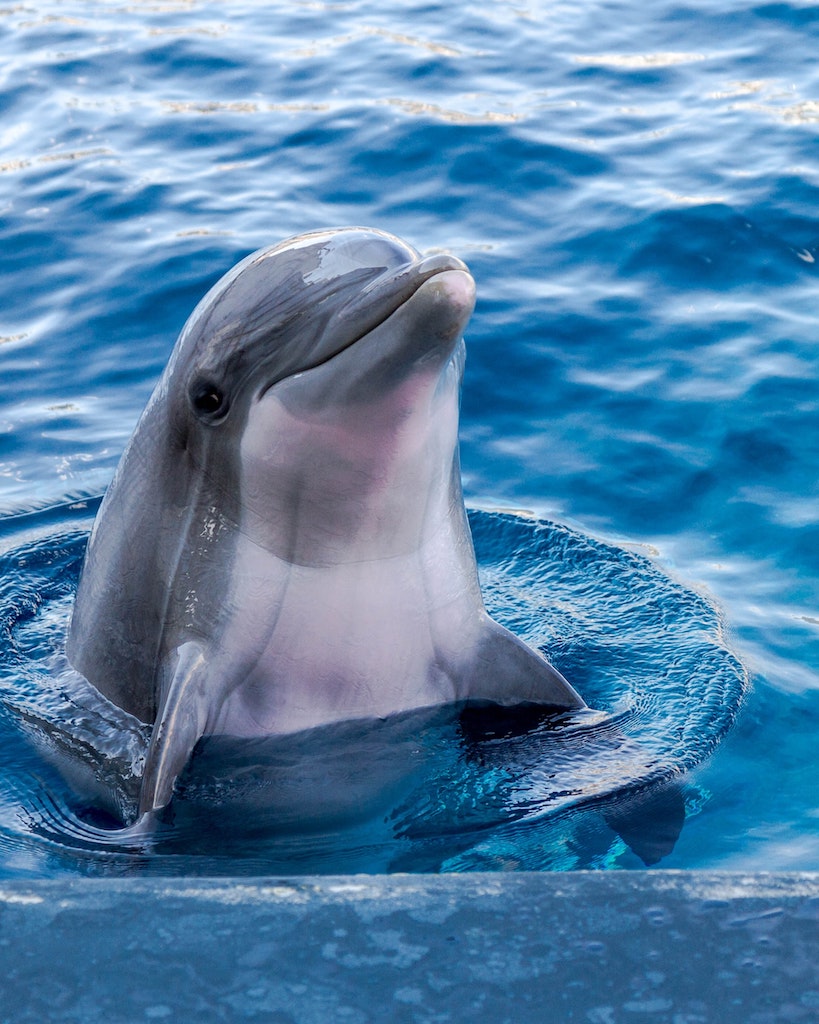 Cancun Adventure
Cancun Adventure offers a host of dolphin activities. For starters, they have the Dolphin Sailing Isla Mujeres. Aside from learning about these marine animals, you can also get to ride with them too. Apart from that, you will board a catamaran for your trip to Isla Mujeres where more fun activities await.
In addition, you can also book their Couples Dream Swim. They offer different experiences with them like kissing, hugging, and swimming. The best part is that you get to do them all with your significant other. You can choose where you will head out to in this tour such as Puerto Morelos, Punta Cancun, and others.
Why Go On a Dolphin Adventure?
The Yucatan Peninsula has a lot to offer. From inclusive hotels to gorgeous beaches to water activities, you will be spoiled for choices. In fact, if your bucket list contains a dolphin quest, then you are in the right place. After all, it is one of the best things to do here.
In fact, if you are looking forward to an amazing experience, you should book a day trip to Isla Mujeres. Here you will find plenty of marine animals, like dolphins, that you can learn more about. This five miles-long island is a great spot to find sea lions, dolphins, and other marine life. In fact, if you book a dolphin tour, there are various activities that you can do here. From swimming in the shallow water to interacting with the playful dolphins at the dolphin park, you sure have plenty of fun things to do here.
On top of that, this beautiful island is home to hotels too so you can stay for a few days. Aside from resting under the bright green palm trees on the island, you can also let your little kids play in the water with you.
Wrap Up Best Place to Swim with Dolphins in Cancun
Guests from the United States often head to Cancun during their free time. After all, the beauty of the Mexican Caribbean is just near their borders. From hotels with an infinity pool with fresh water and health programs to help you relax and unwind to dolphin tours and other activities, you will have tons of fun here.
As a paying adult, it is best that you bring extra money with you. Your best option is to have cash aside from your credit and debit cards during your visit date. It is a great idea to check a dolphin tour website for the rates. Just click on the agree button when the cookies policy window appears to continue with your booking.