Campeche lies in the Yucatán Peninsula and is known for being one of the most beautiful cities in Mexico. This is not surprising since it is home to 17 archaeological sites including Calakmul, the largest Mayan city that was unearthed in the country. Aside from that, Campeche is one of the most picturesque colonial cities that you will find in the country.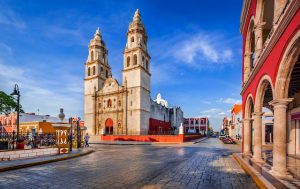 ---
What's in this post:
hide
The 5 BEST Campeche Beaches (with Photos)
---
---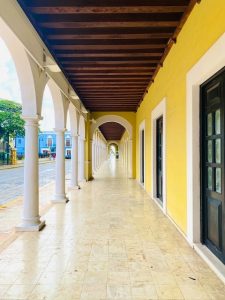 In fact, this city is the perfect tourist destination since it doesn't get a lot of people. After all, most tourists head to the sandy beaches of the Caribbean Coast. This means that you are free to relax and unwind here. Also, it has plenty of beaches overlooking the Pacific Ocean which you can explore as well. There are plenty of attractions here that you don't want to miss.
Where Will You Find Campeche?
The city of Campeche is the capital city of Campeche State. Which is one of the three states that make up the Yucatan Peninsula. It lies in the southeast portion of Mexico, right on the Gulf of Mexico. Tourists often head here on a road trip around the Yucatan which covers three states. These are Quintana Roo, Yucatan, and Campeche. In fact, you should book a rental car to get here which is faster and more convenient.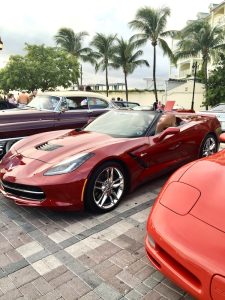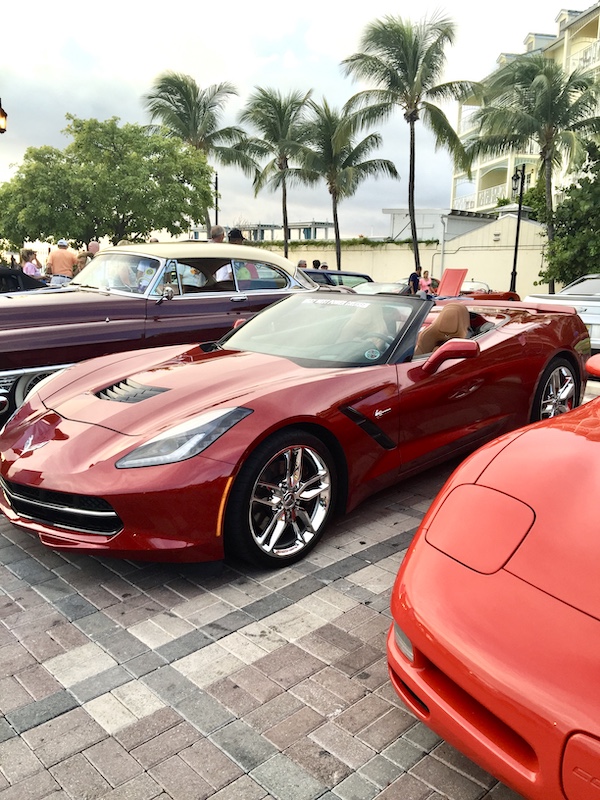 Aside from driving to Campeche, you can also fly to Campeche International Airport. Although there are no direct flights from the United States to here, you can take a connecting flight from Mexico City Airport to Campeche. This is why it is best to simply rent a car, plus, you can just stop when you see something that piques your interest along the way.
Best Beaches to Visit in Campeche
Mexico is famous for its beautiful beaches, and this is true. In fact, you will find some in Campeche. After spending most of your days exploring colonial buildings, you should also check their famous beaches. In fact, there is something for every type of traveler here. Let's take a look.
Isla Aguada
The first thing that you will love about the Campeche beaches is that they are quite peaceful and tranquil. This is a far cry from the beaches at Playa del Carmen, Cancun, as well as in the Riviera Maya. After all, they are often packed with tourists, especially during the summer season or during Spring Break. If you want to get away from the crowd, then Isla Aguada in Campeche is your best bet.
This is one of the pueblos magicos that you can visit in the Yucatan. In fact, there are several fun activities that you can do on this island. One of them is just lazing around on the beach minus the crowd. Just imagine being able to soak up the sun or stroll around white sand beaches at your leisure.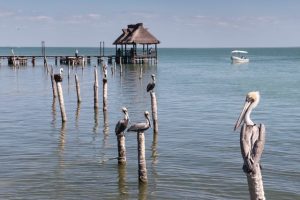 Meanwhile, a trip to the Laguna de Terminos is a great idea. This is a mangrove sanctuary that covers 2,700 square miles of land. The best way to explore the mangrove forests is by boat. In fact, the Laguna de Terminos is now a Dolphin Sanctuary. What better way to see these friendly creatures up close than going on a boat tour?
Before you go, make sure that you visit the small Isla Aguada Museum of Underwater Archaeology. You will find this inside the historic lighthouse of Campeche.
Playa Bonita
Just 13 km south of downtown Campeche and past the port of Lerma is Playa Bonita. This is the closest real beach that you can visit from the historic center. However, this "beach" is not really the kind of beach that you have in mind. In fact, it is a manmade beach complete with toilets, showers, and playgrounds too. Aside from that, it is a gated resort with gritty sand and even sandbagged swimming areas. The sandbags are there to prevent the sand from being washed away.
That said, Playa Bonita is still a pretty beach to head out to if you are in Campeche. For starters, there are plenty of palapas that can provide you with shade. Aside from that, there is also a restaurant and even a futbol pitch if you want to play. The best time to visit here is on a weekday when there is less crowd to worry about.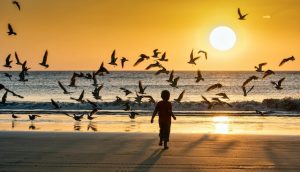 After all, the locals favor this beach because of its calm waters. However, some tourists may find it a bit underwhelming. There are times when the waters are murky. Also, there is plenty of seaweed too. Still, if you are looking for a quick break from the crowd, you can drop by here even for a short while. Take note that there is an entrance fee here that can be a bit steep for foreigners.
The best way to get here is to ride a combi labeled "Lerma Tecnologico". It will take 20 minutes to get here. Just ask the driver to drop you off at the entrance of the Playa Bonita.
Isla Arena
This small fishing village lies in Campeche and is quite close to Yucatan. A trip here will take you more than two hours, but it will be worth it. In fact, the first thing that you should do here is to visit Hacienda de Tankuche. This is a stunning brick-red, castle-like structure that boasts French influences. Make sure that you bring food and water here since there are only a handful of stores that you can purchase from along the way.
Afterward, make your way to the pier. Here you will enjoy a great view of the Bay of Campeche. You can also visit the lighthouse on this island at the Administracion Portuaria Integral. Here you will find plenty of palapas where you can get some reprieve from the hot sun.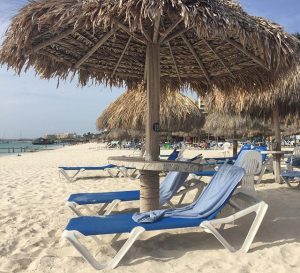 Don't forget to check out the museum too. It is here where you will come across a statue of Pedro Infante, a famous Mexican actor. In fact, the museum houses a few of his belongings that were donated by his family. It is nice to see a glimpse of the man who worked his way up in the world.
Aside from that, there is also a 4 km stretch of soft, white sand to stroll on. In fact, the best way to explore this fishing village is on foot. This way, you will get a feel for the way of life here. Their friendly nature is sure to win you over. Aside from that, you can also make your way to the end of the island. This is where you will find Wotoch Ayin: La Casa del Cocodrilo. You will find that they breed Morelet's crocodiles here.
Playa Sabancuy
The tropical paradise of Playa Sabancuy is an ideal spot for families to head out to in Campeche. In fact, it has an inlet where you can enjoy swimming in calm, shallow waters. Pair this with fine sand and you have a nice vacation spot on hand. In addition, this beach is where the hawksbill turtles reproduce. How cool is that?
In fact, the waters at Sabancuy are worth exploring since you will see plenty of marine life here. Go on a boat trip here to see a wide array of birds and mammals that consider this area their home. Among the fish species that you will find here are oysters, crab, shrimp, snail, octopus, and some fish. You can see them up close when you go snorkeling.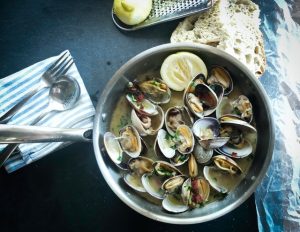 Sabancuy is still developing its eco-tourism trade here. On a good note, there are accommodations and restaurants available if you decide to stay for a few days. If you like, you can also go camping to immerse yourself in the natural beauty of Sabancuy. With its gorgeous views and friendly people, it is not surprising if you consider extending your stay here.
Ciudad del Carmen
Ciudad del Carmen is another great place to add to your list of beaches to visit in Campeche. This tourist destination is on the Gulf of Mexico just off the Yucatan. It lies in the southwest part of the state of Campeche, on the southern tip of Isla del Carmen. Although this area is known for its rich culture and best seafood, it is not as popular as the other beaches in Campeche.
This isolated paradise is actually the perfect getaway. Think of it as an ecotourism vacation hotspot. For starters, it has rich biodiversity where there is plenty of flora and fauna to enjoy. In addition, the sandy beaches and clear waters in Playa Norte are perfect for sunbathing. The North Beach is a long stretch of coast with pristine white sands. There are boat and water equipment rentals here if you like.
Aside from that, you can also go on boat tours such as to the Laguna de Terminos if you like. On the other hand, you can drive to the El Zacatal Bridge. This is the longest bridge that you will find in Mexico which crosses clear blue waters.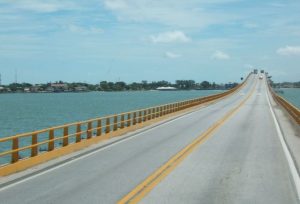 Carmen Island, or the Pearl of the Gulf, is a small island that is worth exploring. As you stroll around the area, you will see that most of the buildings here have a European influence. In fact, expect to see some colonial-era architecture here. You will feel the local history here as you explore it.
And since we are talking about history, don't forget to check the Mayan ruins around Campeche. They are the remains of the Mayan culture that once thrived in Mexico.
More Beaches to Explore
The good news is that Campeche has more beaches for you to explore. If you are planning on extending your stay here, then consider adding these to your itinerary.
Playa Caracol
This is a vast lagoon that lies in the middle of Isla Aguada as well as Isla del Carmen. The beaches here are quite calm with gentle waves lapping at the shore. Aside from that, the environment here is quite picturesque. If you want to get away from the crowd, you will be glad to know that there is a rustic hotel here. Also, there is a restaurant on-site that serves great food and live music.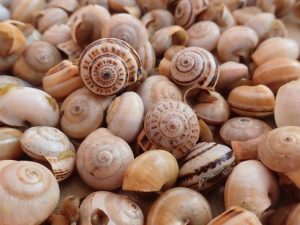 Punta Xen
Another best option to consider if you want to see the beaches of Campeche is Punta Xen. This pristine beach boasts soft sand that you will want to explore on foot. Aside from that, you can lay out your beach towel here and just soak up the sun. The crystal clear waters are quite inviting too. You can go swimming, snorkeling, or any other water sports.
In fact, if you are going on a trip to Campeche, make sure that you head to Punta Xen. This is the best spot to go on boat tours, windsurfing, diving, and sport fishing.
Isla Mujeres
Meanwhile, if you are willing to go beyond the immediate surroundings of Campeche, you are in luck. Isla Mujeres is one of the islands in Mexico that will give you a respite from the crowd. However, it will take you a few hours to get here from Campeche. If you are willing to spend a good chunk of your day traveling here, you will be well rewarded.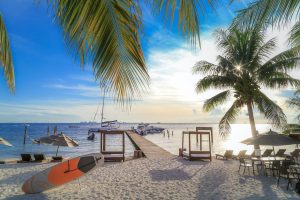 This small island is just off the coast of the Yucatan Peninsula. It is here where you can truly appreciate the island life. It has turquoise waters and pristine beaches perfect for diving and snorkeling. Not only that, but the food here is amazing too. You can opt to stay for just a day but, it is always better to spend a day or two here.
Best Things to Do in Campeche
As was mentioned before, Campeche is one of the best places to visit in Mexico because of its history. That said, there are several tourist hotspots that you can add to your itinerary if you plan on traveling here soon.
San Miguel Fort & Museum
Campeche is known as a UNESCO World Heritage Site. In fact, it is one of the 35 World Heritage Sites that you will find in Mexico alone. One of the reasons why UNESCO recognizes this city as such is because of the city walls surrounding it. Built back in the days when pirates were known to roam the waters, the Fort of San Miguel served as protection against pirate attacks. Today, the city walls are still standing and have become one of the must-see sights in the city. In fact, going on a leisurely walk around Fuerte de San Miguel is a great experience.
From the top, you will see some excellent views of the city below. On the opposite side, you can see old cannons pointed toward the ocean in case of a pirate attack. A walk around the ramparts will only cost you $1USD which is worth it. You just need to pay the fee at the Campeche Archaeological Museum. This small museum is the perfect backdrop for a bit of history around Campeche.
Check Campeche Street Cafes
Aside from the forts, it is also considered one of the more colorful cities in Mexico. In fact, the homes, cafes, churches, and shops in downtown Campeche come in various colors. You will enjoy going on a leisurely walk around downtown since there are plenty of interesting shops to see.
In fact, you should make your way to Calle 59 where you will find plenty of colorful buildings and cobblestone streets. Also, you will find the best restaurants to dine in. Aside from that, this is also where you will find the Hacienda Puerta Campeche. It is a 16th-century boutique hotel that you can stay in.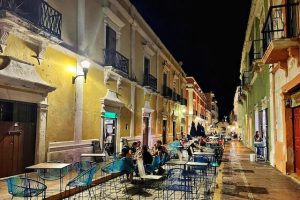 If you want to sample authentic Campeche cuisine, make your way to El Bastion de Campeche. You can find it at Independence Square or Zocalo. Another option to consider is Marganzo Restaurante. Don't forget to step inside Luz de Luna too. Among the local cuisine that you should try here are pan de cazon, pampano en Verde, and Camarones el coco.
Explore the Campeche Botanical Garden
Although this botanical garden is not as large as the others, it is still worth the trip. What makes this an interesting tourist spot is the central fountain. It works as the central irrigation system on the property that waters the plants. If you are just passing through, it will take around 5 to 10 minutes to explore the place. On the other hand, if you have time to spare, you should read the signs and see what other floras you will find in the garden.
Ride the Campeche Tram Tours
One of the best ways to explore the historic city of Campeche is to go on a tram tour. It will not be difficult to spot the trams since they come in bright colors of green and red. Aside from that, they usually depart from Independence Square. This is the Zocalo or main square.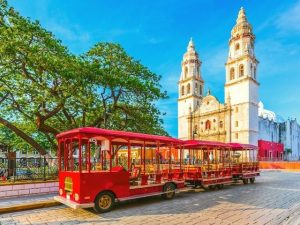 The train ticket will only cost you $5 USD or the equivalent of $100 pesos. Their tours are bilingual so you will not miss anything. Aside from that, there are two routes that the trams take. The first one is the Tranvia de la Ciudad or City Tram Tour. This tour will take you to all of the best sites that you will find downtown. Second, there is the El Guapismo. This tour will take you to the yellow Fuerte de San Jose.
Visit Historic Mansions
Another option to consider when in Campeche is to visit their historic mansions. In fact, there are two that are worth visiting which are Centro Cultural Casa No. 6 and Mansion Carvajal. Centro Cultural Casa No. 6 was once owned by a rich family. You can step back in time when you explore this well-preserved home. This will give you a good idea of how they lived back in the days.
The second, Mansion Carvajal, was once the home of the wealthy landowner, Fernando Carvajal. Today, it now houses government offices in the city. Step inside to see the black and white tiles, elaborate arches, as well as its vintage wrought iron staircase.
Stroll the Streets of Centro Historico
Exploring Campeche's city center is a great way to learn more about its history. One of the reasons why this is a treat is because the area is relatively quiet. In fact, it gives off that small-town vibe to it which is quite charming. Here you can admire the colonial structures in the historic old town. You can even snap photos of these buildings too.
Walk Around the Malecon
Meanwhile, the Malecon lies along the Gulf of Mexico. This is a good spot to walk around after eating to your heart's content. Aside from that, this is the perfect place to watch the sunset too. If you are going to stay here for this amazing view, you should head to La Palapa del Tio Fito. You can also check out Restaurante Malecon Campeche which is famous for its sunset views.
Aside from that, there are several statues that are worth seeing while strolling around the Malecon. Among these are Angel Maya or Mayan Angel and the other is Novia del Mar or Ocean's Girlfriend.
Take Photos of Colonial Churches
If you are interested in colonial architecture, you will not be disappointed with Campache's old churches. The main church of the city is the Our Lady of Immaculate Concepcion. Aside from that, you should also check Ex-Templo de San Jose, Iglesia San Roman, and Iglesia de el Dulce Nombre de Jesus.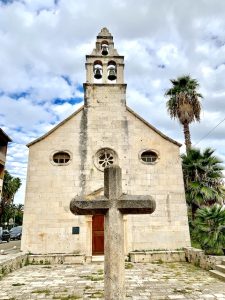 Just make sure that when you visit the churches, you should remove your hats and cover your shoulders with a shawl or jacket. This is a sign of respect for the old religion and for the locals as well.
Climb the Baluartes and Ramparts
Among the main attractions of Campeche are its baluartes and ramparts. In fact, seven of the original eight baluartes are still standing. You can go on a mini-walking tour along the Avenida Circuito Baluartes Prominente. Here you will find most of the bulwarks and ramparts from the city walls.
These structures were built as defensive walls back in the day. Today, they have been transformed into museums, attractions, and more. If you are going to visit one of these bulwarks, choose Baluarte de Nuestra Senora de la Soledad. This is where you will find the Museo de Arquitectura Maya or the Museum of Mayan Architecture.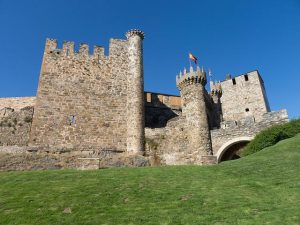 Aside from that, you can also check Baluarte de San Pedro, Baluarte de Santiago, and Baluarte de San Juan. You should also explore Baluarte de San Francisco, Baluarte de Santa Rosa, and Baluarte de San Carlos.
Check the San Jose Fort & Museum
Meanwhile, the San Jose Fort is the second fort that you can visit in Campeche. The locals call it Fuerte de San Jose el Alto or Saint Jose's High Fort. They call it "high" because it is on a higher elevation compared to the other forts in the state. You will need to take a cab to visit this fort since it lies outside of downtown Campeche.
The trip here is worth it since it is much prettier. In fact, this is an Instagram-worth site so make sure that your smartphone is fully charged. Aside from that, don't forget to explore the Museo de Arqueologia Subacuatica or the Underwater Archaeology Museum. There are plenty of interesting artifacts on display here that were recovered from the sunken ships around the ocean.
Learn History at the Cultural Museum
Another popular spot that you should include in your history is the Cultural Museum. It lies inside the stunning colonial building in Independence Square. The Palacio Centro Cultural museum is home to several rooms that contain various historical exhibits.
For example, the Sala de Fortificaciones is a great spot where you will learn more about the forts and the baluartes. They were built as defensive structures to protect the state from pirate attacks. Meanwhile, the Sala de Comercio showcases how the illustrious families earned their riches through the Palo de Campeche or the natural textile dye. Another is the sisal which is the Yucatan Peninsula plant used when making twine for rope.
Make your way around the different rooms in the museum to learn more about Campeche. In fact, you will know why this city is a UNESCO World Heritage Site.
Enjoy the Nightlife
The small city of Campeche has a laid-back nightlife that you can enjoy. For starters, you can head to the Puerta de la Tierra which is the main entrance to the city. The best way to explore this is through a boat tour on board a real pirate ship. Aside from that, make sure that you visit the area every night since they have a light show here.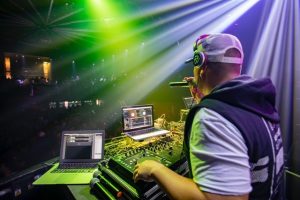 What are the Best Mayan Sites to Visit in Campeche?
If you had your fill of the great beaches of Campeche, why not visit some archaeological sites? Yes, Mexico is home to the famous Chichén Itzá ruins. However, there are more Mayan ruins to explore. After all, Mexico has plenty of these ancient ruins that you don't want to miss. Here are some of the popular choices that you should consider while you are in the area.
Calakmul Mayan Ruins
Calakmul is one of the best off-the-beaten-path Mayan ruins you should visit. However, if you are expecting easy access to the ruins, think again. It will take you five hours to reach it from Campeche by driving. After all, it lies within the Calakmul Biosphere Reserve.
Although the trip is a bit long, nature lovers and history buffs will not mind at all. After all, Calakmul is a UNESCO World Heritage Site with two pyramids towering over the area. The tallest is Structure 2 which towers at 150 feet. As was mentioned before, it is the tallest Mayan pyramid to be discovered. However, you cannot climb this pyramid since they are preserving its grandeur.
On a good note, it is possible to climb an ancient pyramid here. Structure 1 is open to the public. Although it is smaller than Structure 2, you will still be treated to impressive views of the land. For sure, you will be mesmerized by the view of the jungle canopy and the sweeping vistas before you.
Becan Mayan Ruins
Meanwhile, the Becan Mayan Ruins are worth seeing too. In fact, it is easier to get to compared to Calakmul. Aside from that, Becan is a great spot for those who are planning a day trip from Merida as well as Lake Bacalar.
What makes the ruins here worth exploring is the fact that it is a large site. Aside from that, there are about 20 structures here that are quite amazing to look at. The biggest pyramid that you will find here stands at 90 feet which you can climb too. You will be treated to some impressive views from the top.
Edzna Mayan Ruins
The Edzna Ruins are one of the most beautiful that you will find in Campeche. Its central structure called the Temple of Five Buildings has five levels. Aside from that, it stands 131 feet tall. However, just like Structure 2 of Calakmul, you will not be able to climb it. On a good note, there are other pyramids that you can climb up. Among these are the Great Acropolis, Small Acropolis, and the Temple of the Masks.
The latter was discovered back in 1988 and is a must-see for tourists. After all, there are two large masks found on the base of the pyramid. The first one lies to the East and represents the Mayan Sunrise God. Meanwhile, the second mask is on the west side for the Sunset God. If you have seen Chichen Itza and want to see more ruins, this is one option to consider.
Practical Tips to Consider for Your Trip to Campeche
Campeche is more than the hilltop fortresses that surround it. In fact, it was an important port back in the day. Since it is the second most productive oil field back then, pirates attacked the city often. Today, this historic port has become a hidden gem in Mexico.
That said, if you are planning on visiting Campeche, there are a few tips to consider.
Campeche is a Small City
As was mentioned before, Campeche is just small. You can spend one to two days here to see most of what it has to offer. However, extending your stay is just as good because you will have more time to explore it thoroughly.
Use Public Transport
You don't have to worry about how to get around the city. Public transportation here is working well. From rental cars to taxis, to buses, it will be easy to explore the city and the neighboring towns.
January and February are the Best Times to Visit
If you are wondering when to visit Campeche, the first two months of the year are good. After all, the average temperature falls around 25 degrees Celsius. Although March and April are also good, the weather tends to be hotter and more humid.
Have a Travel Insurance
It is always a good idea to get travel insurance anywhere you go. This will give you some peace of mind knowing that you have coverage in case you got into an accident.
Consider Renting a Car
If you want to have full control over your trip to Campeche, then why not rent a car? Not only will you be able to travel easily, but you can also stop anytime if you see something interesting. Don't worry, it is safe to rent a car here.
Think of What to Pack
What to pack will depend on when you will travel here. On a good note, since Mexico has pleasant weather most of the time, light clothing is always a great idea. You can bring a light jacket or scarf for the night breeze. Aside from that, you should also wear comfortable shoes here. Flip-flops and sandals are great for the beach. However, if you are going to go on nature walks, then a pair of hiking boots is better.
Wrap Up: Campeche Mexico Beaches
Campeche, founded by Francisco de Montejo, is one of the best spots to visit in the Yucatan Peninsula. Aside from its stunning colonial buildings, the beaches on the west coast opening to the Gulf of Mexico are beautiful too. Just imagine palm trees swaying overhead, pristine white beaches, and blue waters. This is a piece of paradise for you to enjoy.
In fact, you have read which beaches are best to visit while in Campeche. If you want to have a copy of this Campeche travel guide, subscribe with your email address. This way, you will receive updates if I learn something new about this quaint little town. From ancient ruins in good condition to colorful buildings, to delicious food, Campeche is indeed one of the rare gems of Mexico.
If you want to get away from the hustle and bustle of Playa del Carmen and Cancun, this is a good option. It does have its fair share of attractions but minus the crowd.