Cancun is a beautiful vacation destination with miles of white sand beaches. It is also known for its crystal-clear waters and warm weather. Turquoise waters and natural marine life surrounds this area and is home to some of the best boat tours.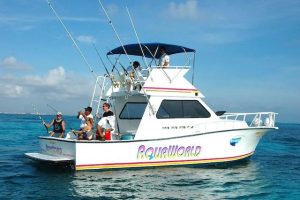 ---
What's in this post:
hide
Cancun Boat Trips!
---
---
Cancun has a reputation for being the party capital, and that's part of its charm. But for vacations, Cancun has so much more to offer with more than enough to get your heart pumping. Whether you're interested in snorkeling or scuba diving or seeing mangrove forests, there's a trip for every type of traveler.
That's why I've made this exhaustive list of the ten best boat tours and water sports in Cancun.
1. Cancun Jungle Tour Adventure
Driving a speedboat and snorkeling through the beautiful mangrove canals of the Nichupté Lagoon is an adventure of a lifetime.
The Nichupté Lagoon is at the southern end of the Riviera Maya, between Playa del Carmen and Tulum. Also, the lagoon is surrounded by miles of mangroves that form part of the Mesoamerican Barrier Reef System. This stretches from Mexico to Honduras.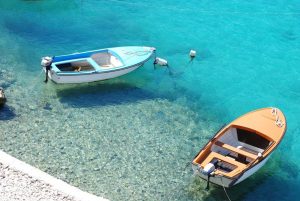 The water in this lagoon is calm and shallow because thousands of acres of mangroves protect it. It's dotted with cenotes that open up into underground caverns. This, in turn, makes it perfect for snorkeling.
2. Full-Day Sailing on a Luxury Catamaran
Sail the breathtaking Caribbean Sea on a luxury Catamaran from Cancun to the stunning Isla Mujeres. You can snorkel alongside the coral reef and have a luxury experience. Also, you can explore Playa Norte and relax with a Mexican buffet and soft drinks in a private beach club.
Nestled in the Yucatan Peninsula in Mexico, Isla Mujeres is a dream destination for those who want to get away from it all. Furthermore, the island paradise offers white sandy beaches and turquoise waters that are perfect for snorkeling.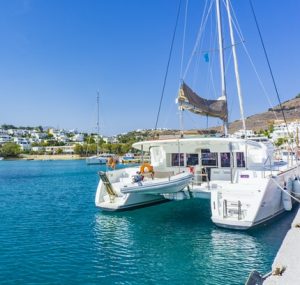 You can see some of Cancun's skyline across the water as well as some beautiful beaches with clear water perfect for snorkeling! You'll also visit a unique archaeological site called Chacchoben. It is one of only two Mayan sites open to visitors that have not been damaged by development or looting.
3. All-inclusive tour of Isla Contoy
The Isla Contoy National Park is in the Caribbean Sea off the coast of Cancun. It is made up of an archipelago of four islands. The islands are Isla Contoy, Isla Mujeres, Isla Pelícanos (Swan Island), and Isla Tortuga (Turtle Island). They have been recognized as a protected zone since 1959 by the decree of President Adolfo López Mateos.
The wildlife on this island is abundant and diverse. And you can get to see them in their natural habitat. Contoy Island is an important area for turtle nesting. And Hawksbill turtle conservation in Mexico. Some manatees and manta rays, dolphins, sharks, and even whales can be found here!
Continental breakfast, buffet lunch, and other Cancun activities such as a snorkeling tour on Isla Contoy and a visit to Isla Mujeres are also included. Besides the thrilling boat trip to Isla Contoy National Park, you will see the Sustainable Ecological Station of the State of Quintana Roo.
4. Punta Nizuc Underwater Museum
One attraction is unique to this city – an underwater museum!
Jason deCaires Taylor, a British sculptor, created this museum in 2009 by placing 30 sculptures on the seafloor. Also, the sculptures are made of materials that benefit the corals' lives. You will be able to snorkel inside the underwater museum (MUSA).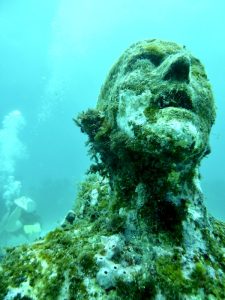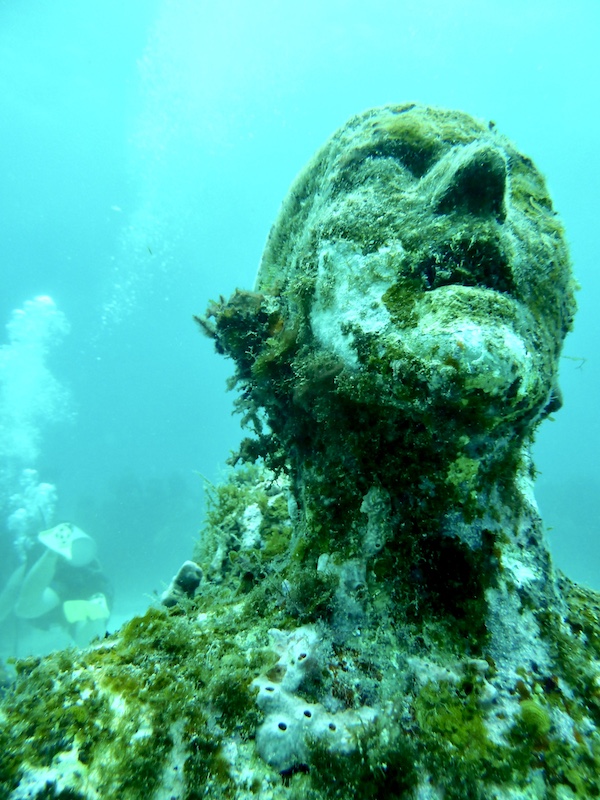 This museum is in Isla Mujeres Bay, just off Cancun's coast. It is easy to get there by boat or ferry from any hotel zone in town. The museum has three main zones. These zones are Discovery Zone, Exhibition Zone, and Education Zone.
5. Boat Tour and Transfer from Cancun to Holbox Island
Holbox Island is a small island off the coast of Mexico that offers an incredible experience for travelers to enjoy. The island comprises white sandy beaches, warm waters, and a volcanic archipelago. There are many water activities for guests to enjoy on this island, such as snorkeling and diving.
Holbox Island is an adventure that begins with travel from Cancun to Chiquila. It is a Mexican town near Holbox Island. The boat tour will take you to Holbox Island and Yamaha and Pajaros islands. The boat tour will take you through the mangroves, where you can see many different species of birds. You may even encounter dolphins while in the mangroves!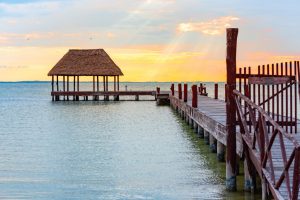 Once you reach Holbox Island, you can have a great experience snorkeling or scuba diving in the clear blue waters surrounding the island. Many fish swim around these waters, including parrot fish, angelfish, and sea turtles!
6. Snorkeling Day Tour from Cancun to Cozumel Island
The glass-bottom boat snorkel tour is one of the most unique experiences you will ever have with your whole family. This is a transparent boat where you can see the bottom of the ocean.
The ferry to Cozumel Island departs from Playa del Carmen. When you arrive on the island, the glass bottom boat tour begins. The boat ride is about 2 hours long and takes you directly over the reef where you can snorkel.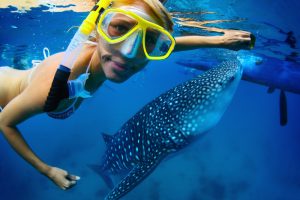 There are two parts to this excursion. First, a 45-minute ride over the reef for snorkeling. Second, a guided walk along the beach to learn about the history of Cozumel Island. Also, you can see some interesting natural formations in addition to beautiful scenery.
7. Sian Ka'an Biosphere Reserve Discovery Tour
The Sian Ka'an Biosphere Reserve is a stunning marine ecosystem 100 miles south of Cancun. Round-trip transportation from Cancun is included in the 10-hour tour.
The tour starts with a short boat ride to the Yal-Ku Lagoon and stops at a cenote (a natural pit or sinkhole). You'll then head to the Sian Ka'an Biosphere Reserve. This is where you'll spend two hours kayaking through mangrove forests. Also, you can do snorkeling in crystal clear waters, and explore Mayan ruins. The guide provides information about the area's history, flora, and fauna.
You'll head out on a boat that takes you to several beautiful beaches along the way. At one beach, there's a chance to swim with sea turtles and manatees. At another beach, you can snorkel through underwater caves filled with colorful fish and coral formations. You'll climb up an island's rocky cliffs for a fantastic ocean view.
8. Trip to Isla Blanca by boat
Isla Blanca is a must-see if you want to see white sand beaches and crystal clear water. The island is north of Cancun and can be reached by land or boat tour. Isla Blanca is home to many wild animals and has canals lined with mangroves that can be explored by kayak. Visit the coral reef and snorkel before returning to Cancun.
Isla Blanca also offers an excellent opportunity for scuba diving. They have plenty of different sites to explore. From shallow reefs with colorful fish to shipwrecks that date back centuries, there are many things to choose from.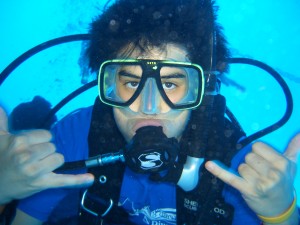 The island's main attraction is Isla Mujeres, an island about 10 miles away from Isla Blanca. There are several ways to get there. First, you can take a ferry from the mainland. Second, you can go on an island hopping tour that stops at both islands.
9. All-Inclusive Tour of Chichen Itza, Cenote, and Valladolid
This tour is perfect for history buffs who want to learn about the ancient civilizations of Maya people and their culture. Discover the history of the Yucatan Peninsula on this half-day guided tour from Cancun or Riviera Maya. Learn about its rich pre-Columbian past at Chichen Itza. Which is one of Mexico's most impressive Mayan cities.
Chichen Itza was once a major city with a population of over 100,000 people. Other notable sites have Uxmal (entrance fee not included). Then we have Tulum (entrance fee not included), and Coba (entrance fee not included). You can also explore the Kukulcan pyramid and its surrounding structures. Including El Castillo and El Caracol.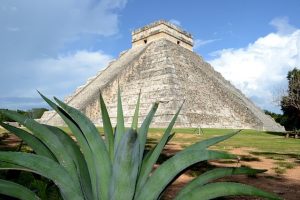 In addition, you can visit Valladolid. It is a colonial city with beautifully nature-preserved Spanish architecture. The area has stunning views of the Caribbean Sea. Finally, you can relax in the waters of Samal after a long day of exploring. And enjoy a delicious buffet meal at one of the restaurants.
10. Cancun Pirate Show and Columbus Lobster Dinner Cruise
Experience the magic of Cancun with this 3-hour dinner cruise. The Captain Hook cruise transports you to the world of swashbuckling pirates and Spanish Galleon Columbus. It includes a three-course meal, live entertainment, and a national open bar.
Set sail on a magnificent vessel with indoor seating and an open dance floor. As you're transported across the waters, you can enjoy delicious food. They serve salad with beetroot, avocado, and shrimp. Or you can have chicken breast stuffed with mushrooms; beef tenderloin; seafood paella; cheesecake; and more.
There will be so much fun and it doesn't stop there—the live-action with an amazing pirate battle at open sea will keep you on the edge of your seat! Watch your favorite pirate captain take on his enemy in this exciting display of swordsmanship. You'll be cheering for your side as they try to outmaneuver each other to win their treasure chest full of gold coins.
What kinds of boat tours are there in Cancun?
Group trip
Group activities are the most popular in Catamaran cruises and boat excursions. Because the number of passengers on a boat is limited, the groups on boat tours are small. Most group tours have a maximum of 10 to 20 participants. You can also avail one of the combo tours that other sites offer.
Private trip
Private boat tours are ideal for those who want privacy and the ability to customize their itinerary. A private boat tour will provide you with a boat and a captain. Furthermore, you can check out all of the private boat tours to find the best deals.
Boat rental
You can rent a boat for the Isla Mujeres Catamaran tour, or a yacht for a few hours or the entire day. Renting a boat allows you to reach the coral reefs easily and the Mujeres, Contoy, Holbox, and Cozumel islands.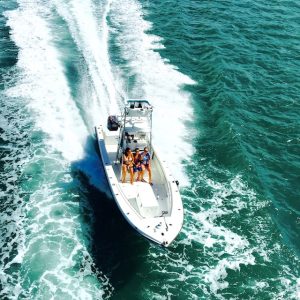 What are the best places to visit on a Cancun boat tour?
Isla Cozumel
The best place to visit on a Cancun boat tour is Isla Cozumel. The beautiful island is home to various attractions. This includes the Mayan ruins of Chichen Itza and the world-famous diving spots.
An island cruise tour is the best way to explore this tropical paradise. Also, these tours leave from the bay of Cancun and Playa del Carmen on a private Catamaran or yacht with a maximum capacity of 250 passengers per vessel. The tours feature delicious cocktails, meals, snacks, and unlimited drinks throughout the day. And snorkeling equipment and kayaks for your trip.
Isla Mujeres
The island of Isla Mujeres is a small island off the coast of Cancun that is home to some of the best snorkeling in the area. It's also a great place to go scuba diving, but you'll need to bring your gear and be experienced enough to handle it yourself.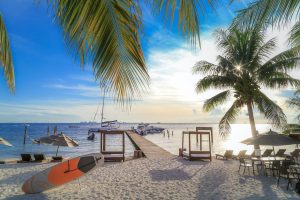 The best time to go snorkeling at Isla Mujeres is when there are no clouds in the sky and no current running in the water. This way, if you come across any marine species you'll be able to see it clearly without being distracted by other factors.
Isla Contoy
This island is located off the coast of Cancun and is only accessible by speed boat. The island is home to one of the oldest coral reefs in the world. And is also home to tons of marine life, including dolphins and whale sharks known as gentle giants!
Isla Contoy is a National Park due to its pristine beaches and natural beauty. There are no hotels or restaurants on this small island, so you'll have the entire place all to yourself! The only way to get there is by taking a day trip from Cancun.
Holbox Island
Holbox Island is a small island off the coast of Cancun, Mexico. It's one of the best places to visit on a Cancun boat tour. Holbox is an island that has been inhabited for thousands of years. But it wasn't until recently that it became popular with tourists.
The main activities on the island include snorkeling, and swimming with dolphins. And of course, fishing, and diving. Most people visit this area for its laid-back atmosphere and beautiful scenery.
Some say Holbox Island is like the Bahamas, but with few tourists and the best prices.
Sian Ka'an Reserve
Suan Ka'an is located just outside Cancun and is home to more than 500 species of birds, including the green macaw, toucans, and parrots.
This region is also home to one of the most extensive mangrove forests in North America. This provides food and shelter for many species of wildlife. The reserve also has extensive coral reefs home to an array of fish and other sea life. The main attractions in Sian Ka'an include Bird Island Lagoon. This is where you can see flamingos, pelicans, and other water birds.
Punta Nizuc
Punta Nizuc is located in the heart of Cancun's Caribbean coast. It is a small peninsula that juts out into the Gulf of Mexico, making it a better place for snorkeling and diving. The main attraction at Punta Nizuc is its beautiful beaches. These beaches are surrounded by thick mangrove trees and coral reefs. You can walk along the shoreline or swim in the clear blue waters of the Caribbean Sea.
The area is also home to several restaurants. You can enjoy fresh seafood dishes while watching the sunset over the water from your table on their terraces overlooking the ocean. The waters around Punta Nizuc are calm enough for swimming and snorkeling. But there are also areas where it's possible to go scuba diving or deep-sea fishing.
Isla Blanca
On a Cancun boat tour, there are many places to visit, but Isla Blanca is one of the best. This island is located off the coast of Cancun. Isla Blanca is only accessible by boat, and many operators offer tours to the island. If you're looking for an adventurous outing that will take you away from the touristy areas of Cancun, this is the perfect excursion.
Isla Blanca is famous for its beaches and you'll be able to enjoy swimming, snorkeling, or even scuba diving while you're there. If you're looking for something less active, relax on the beach or go into town for some shopping or dining options.
When is a great time to take a Cancun boat tour?
Cancun is a paradise for some Cancun sailing enthusiasts and travelers who want to explore the Caribbean Sea. You can enjoy a day on the water with the Cancun boat tours that leave from Playa del Carmen, Cozumel, or Isla Mujeres.
The tours are available all year round, but there are some differences between winter and summer. The dry season corresponds to winter and is ideal for a boat tour in Cancun. Instead, there may be several days of rain from June to October.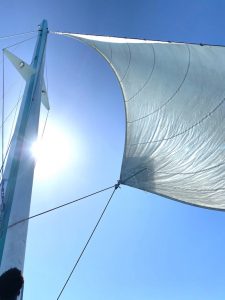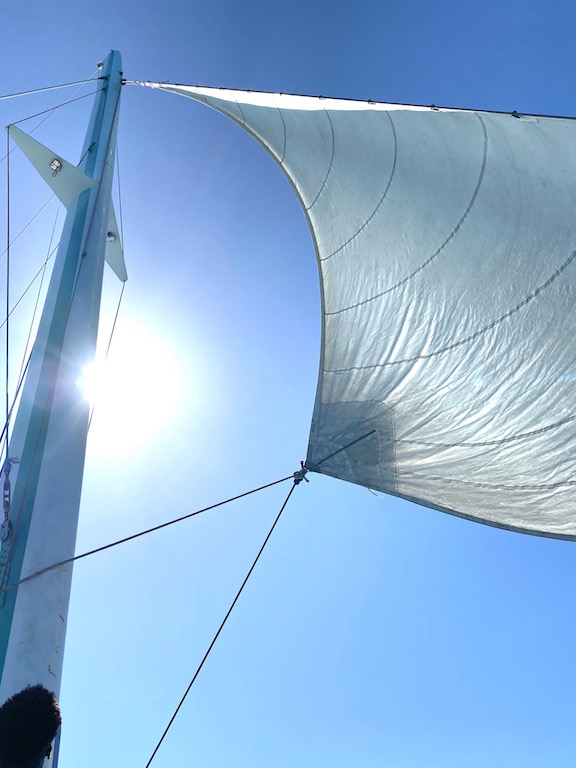 The rainy season does not mean that you cannot visit Cancun. It simply means that you should prepare for the possibility of rain and plan your activities accordingly. The rainy season brings beautiful sunsets. It also means there will be canceling of some activities due to inclement weather conditions or because some places are not accessible during these months.