Cancun is the perfect spot for snowbirds who want to experience a tropical paradise. After all, it boasts of white sand beaches and turquoise waters of the Caribbean Sea. Aside from that, Cancun is home to mouthwatering cuisine, lush mangroves, and ancient Mayan ruins too. With generally warm weather all year round, it is not surprising why many tourists book a stay here.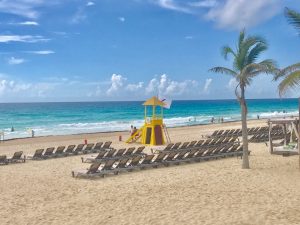 ---
What's in this post:
hide
Cancun Weather In October!
---
---
It doesn't matter if you are visiting Cancun for a romantic getaway or a family vacation. When you will travel will depend mostly on your preferences. Of course, it doesn't hurt to consider when the best time is to visit this beach town in Mexico.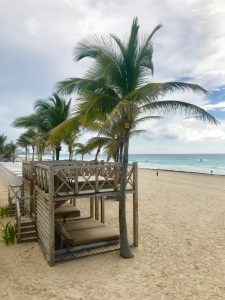 When to Travel to Cancun?
As was mentioned before, Cancun is a year-round destination. But knowing when to visit can help maximize your vacation here. For example, if you travel during the high season, then expect that there will be more tourists in the area. On the other hand, if you opt to travel during the low season, the beaches will not be as crowded as before. That said, let's take a look at when the perfect time to visit Cancun is.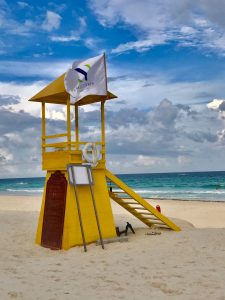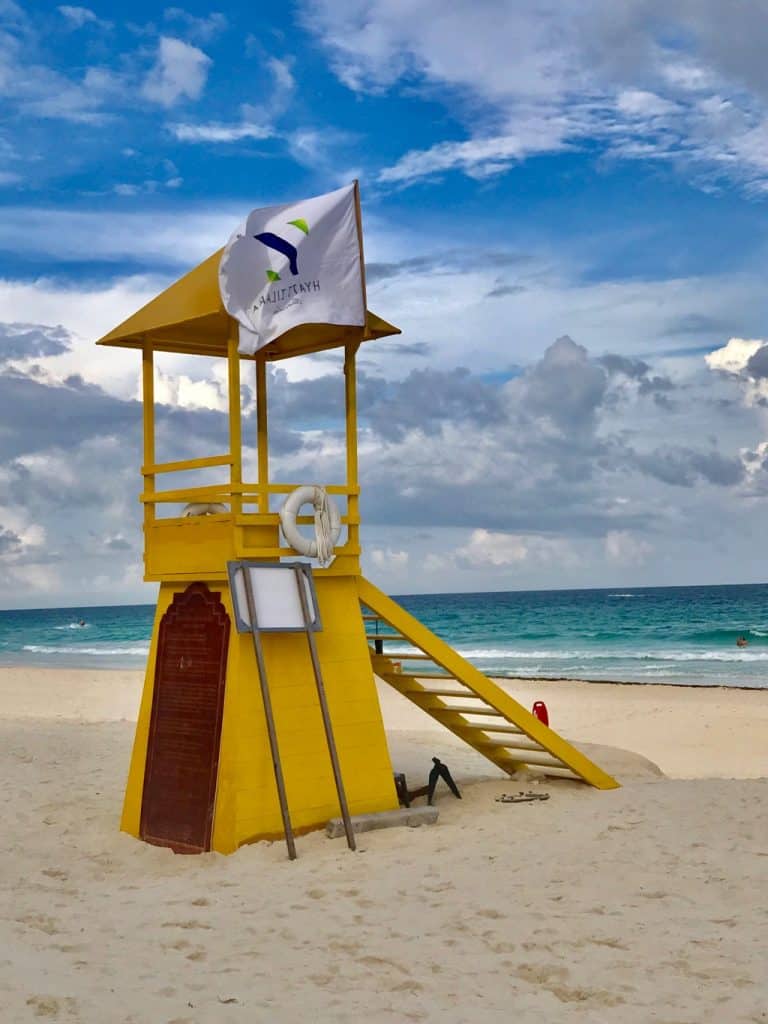 Peak Season: December to April
These are the busiest months in Cancun since tourists flock here during its peak season. In fact, expect ideal weather from December to February since the temperatures are below 80. After all, these are the winter months in the area with March being the windiest month. Also, sunny days await travelers here during these times as well as low humidity. The pleasant weather here makes it ideal for sightseeing, swimming, and chilling by the beach.
Aside from that, since this is a popular time to visit Cancun, expect that there will be more tourists here. This means that hotel prices, as well as airfares, will go up. In addition, keep an eye out for peak travel times in the country. Among these are Christmas, Spring Break, Semana Santa, or Holy Week. Watch out for the Inception music festival which happens during Spring Break. If you want to head here during the peak season but want to avoid the crowd, there are hotels that offer more privacy to consider.
Also, if you are thinking of heading here during the high season, better book your trip in advance. Not only will you get great deals, but you'll get ahead of the crowd too. An important tip to consider for those who want to avoid the crowd is to book a hotel in Isla Mujeres, Playa Mujeres, and Riviera Cancun. There are fewer tourists staying here compared to those resorts in the Hotel Zone.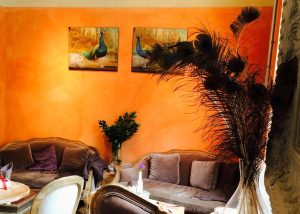 Shoulder Season: April – May, and October – November
When you say shoulder season, it is the time between the peak and off-peak seasons. Cancun weather from April to May tends to be more humid since temperatures can go up to the low 90s. Meanwhile, temperatures from October to November fall in the mid-80s but humidity levels can go up because of frequent rain showers. On a good note, this is a great time to travel to this beach town because there are fewer travelers. Also, you can score cheaper hotel rooms too.
In addition, it will be easier and more enjoyable to tour ancient ruins and cenotes near Cancun. You can have a great time at the beach because it is not that crowded and noisy too. Also, the water temperatures during the shoulder season are ideal for underwater exploration or for swimming.
Low Season: June to November
When is the wettest month in Cancun? June and September fall under this category. Aside from that, expect high humidity levels that can reach up to 80%. There are fewer travelers in Cancun during this time of year because of the weather. Also, the crowd thins out from August to September. That said if you are looking for the cheapest deals and less crowd in Cancun, consider traveling during the low season.
Of course, finding great deals for Cancun coincides with the hurricane season. During this season, there are many restaurants and shops that close down because of the inclement weather. Also, tours are not as frequent during the peak season. After all, the weather forecast during these months leans toward more rain.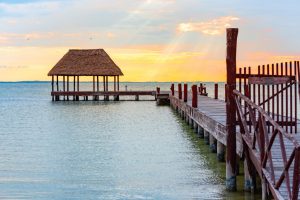 If you do travel during these months, be prepared for days that are hot, humid, and rainy at the same time. In fact, average high temperatures can reach up to the 90s. Also, expect high humidity levels because of tropical storms and rain showers, particularly from August to September. On a good note, rain showers happen in short bursts which means that there will be clear skies after. It is only during tropical storms that you can expect heavy downpours throughout the day.
Best Times to Visit Cancun
The changing climatic conditions in Cancun are something to consider when planning a trip here. Although the typical weather here is warm, because of its tropical climate, there are months when the weather is cooler. Let's take a look at the best times to visit Cancun.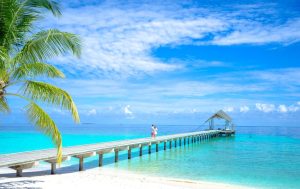 For Good Weather
December to April offer good weather to travelers. In fact, the peak is between January to March. January is the coldest month so make sure that you bring the right clothing with you. If you want to explore the Yucatan Peninsula without having to worry about rain, then choose these months. After all, the minimum temperature is cooler compared to the summer months.
For Great Deals
If you are looking for cheap hotel rates, then travel to Cancun from July to October. After all, it will touch the hurricane season which starts from late August to October. This is the best time to see tourist attractions in Cancun minus the high price.
For Families and Kids
Families with children can head to Cancun in the Yucatán Peninsula between April and June and in November. The beautiful beaches are not as crowded during the high season plus the ocean has warm temperatures which are ideal for swimming.
For Whale Sharks and Sea Turtles
Whale sharks arrive in May until June. From June to August, you can search for tour operators who will take you closer to these gentle giants. On the other hand, sea turtles start to nest on the beach during May. As July rolls in, these eggs will hatch with baby turtles making their way to the ocean.
What is Cancun Weather Like in October?
October is the last month of the rainy season in Cancun. Although it is the rainiest month, there are sunny days too. It is the weather during the month of October that makes it fall under the low season. After all, not all tourists are willing to risk the rainy weather in Cancun. On a good note, with the forecast becoming more reliable, it is easier to find great deals during this month.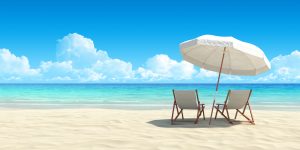 In fact, October is a good time to visit the Mayan ruins of Chichen Itza and others because the weather is not that hot. Also, this is the ideal time to save on your hotel room since there are fewer travelers.
Temperatures
Even though the average temperature is the same in September, there are fewer days when you see the temperature reaching 90 degrees F. Aside from that, the average low temperature is 74 degrees F with humidity levels at 30/80. This means that you can still pack your swimsuit with you but do include a rain jacket as well.
Humidity and Rain
The month of October is the second most humid month in Cancun. Although the average humidity remains the same for the rest of the year, the maximum is felt from September to October.
Meanwhile, the average relative humidity remains the same throughout the year though there are months when it is high like from September to October. This means that the weather feels warmer during these months.
Average Wind Speed
Tourists who want to take advantage of the wind to fly a kite or a drone should also consider the wind speed during this month. After all, getting drone shots makes for great souvenirs in Cancun. The average wind speed for October is 15 kph which is perfect for flying kites and drones. However, it is best that you check with weather stations to determine wind speed.
Average Rainfall
The average rainfall in Cancun during October is 137mm. This means that October is the wettest month. And it is not just in Cancun, but also in the entire Riviera Maya. Meanwhile, the driest month is March since there is little rain happening here. In fact, the dry season begins from November to March which falls during the summer months.
Average Sea Temperature
Cancun's average sea temperature during this month is 28.6 degrees Celsius. The warm water is perfect for swimming, snorkeling, and diving. However, the best month to enjoy the waters is during the month of August. In fact, the sea temperature for this month is 29.4 degrees Celsius. Still, exploring the waters of Cancun during October is not a bad idea. You should check what boat tours are available so you can book a trip.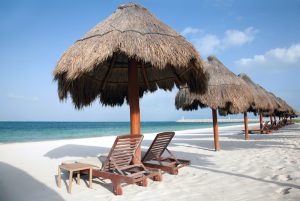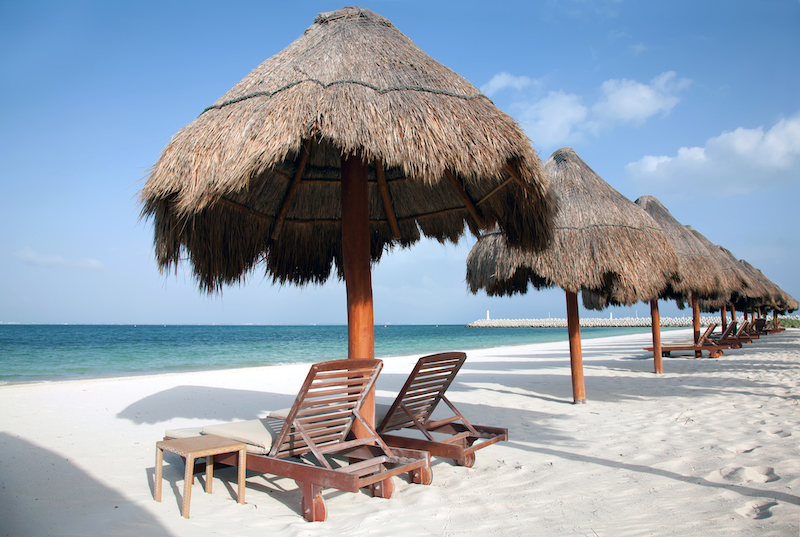 What Happens in Cancun in October
With 8 hours of sunshine, it is not surprising why some tourists are still willing to travel to Cancun during the wet season. Yes, there are rainy days but they are less frequent compared to September. In fact, the average temperature ranges from 27 degrees Celsius and up. It could be that October is the best month for those who want to explore Cancun minus the crowd.
Aside from the beautiful beaches, there are events to watch out for in Cancun during October. Among these are:
Cancun Travel Mart
The Cancun Travel Agent Association, together with the Cancun Hotel Association, holds a travel mart during the middle of October. It is an annual convention that is partially open to guests. Here they can sample local dishes, learn more about the hotels in the area, and more.
Cancun Jazz Festival
Another event that locals watch out for during this month is the Jazz Festival. This is a four-day music festival where renowned contemporary jazz musicians take the stage. You can head to the Hard Rock Cafe in the Riviera Maya to join in the fun.
Dia de la Raza or Columbus Day
Meanwhile, Columbus Day is a holiday that Mexico celebrates every October 12. They commemorate the fusion of Mexican and Spanish people. Expect to see colorful parades happening in Cancun and other parts of the country.
Dia de las Brujas or Halloween
The locals bring flowers and candles to the cemeteries to honor their dead relatives. In Cancun, however, they celebrate it just like in the United States. Kids dress up in their Halloween costumes for trick or treating while adults dress up for the Halloween party. If you are here during this time, make sure that you bring your own costume. After all, the shops here will have limited supplies.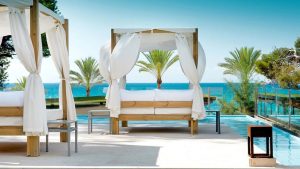 Wrapping Up Cancun in October!
There is no doubt that Cancun has nice weather all year round. However, it is always a good idea to check the weather data from time to time to see the monthly averages in Cancun. From sunset times to air temperature to average sunshine hours, it is important to monitor the weather to plan your day. This is true especially if you will be making your way to Playa Delfines or other beaches in the area.
For example, the hottest months are from June to September, but the warmest month of the year is July. This means that you should bring a broad spectrum SPF sunblock with you since the UV index is high during this time. With the summer holidays drawing the crowd in, it is not surprising why many consider October an excellent month to visit Cancun until late November. With the number of days of rain fewer and daily highs at 85 degrees Fahrenheit, there is nothing to worry about at all. Cancun has never been more enjoyable to explore during this month.