Travelers to Mexico know that a trip to Chichén Itzá is a must. After all, it is one of the most popular tourist hotspots in the country with good reason. For starters, it is a renowned UNESCO World Heritage Site. Additionally, it has plenty of ancient Mayan ruins for you to explore. This archeological site has been attracting millions of tourists year-round. It is not surprising that those who are visiting for the first time often add Chichen Itza to their itinerary.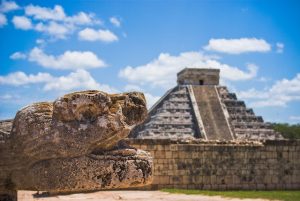 ---
Chichén Itzá: 10 Things to Do and Know + Day Trip Itineraries
---
---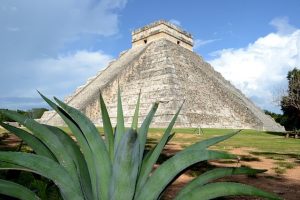 Visiting the ancient city of Chichen Itza is a must when traveling to Mexico. It is one of the highlights of any trip to this tropical country. History buffs as well as explorers by heart are going to be in awe when they see the ruins of what was once the most powerful city of the Mayan civilization.
Best Things to Do When Visiting Chichen Itza
As was mentioned before, there are plenty of things to see and do here. Let's take a look.
El Castillo
Your first stop in Chichen Itzá should be El Castillo. This symmetrical pyramid towers 24 meters high with 91 steps on each of its four sides. El Castillo is one of the most enduring legacies that have been left behind by the Mayans. In fact, it once served as the Temple of Kukulcan. Kukulcan was the name of their Mesoamerican feathered serpent god.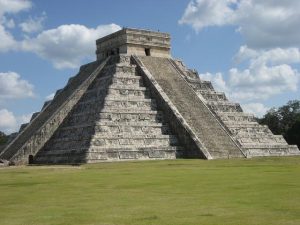 El Caracol
El Caracol has been aptly named as it means "The Snail" in English. If you take a look at this spherical dome, it does give the impression of a snail's shell. However, the name doesn't do justice to what the Mayans used it for.
In fact, El Caracol was their astronomical observatory. This means that it was here that the ancient civilization studied the sun and the stars. Thanks to its height, the Mayans were able to get the proper elevation to be closer to what they have been observing in the skies.
Cenotes
Cenotes are these natural freshwater sinkholes that you will find in the surrounding area of Chichen Itza. In fact, you will find plenty of them near various ancient Mayan ruins. The Mayans consider these freshwater sinkholes sacred. This is why most of their civilizations were built around or near them.
The most important cenote for them is the Sacred Cenote. This particular cenote was used for their religious practices including human sacrifices. In fact, it is not surprising why the Mayan chose this for their main cenote. Take note that you will not be able to swim here because it is a sacred space for the locals. Dredging the cenote revealed plenty of artifacts like obsidian knives as well as human remains.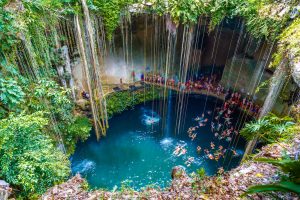 Aside from that, there is also the Cenote Xtoloc which is the main source of water for the city. Meanwhile, Cenote Ik Kil may be less sacred, but today, it is popular among tourists for swimming. The best way to fully appreciate these natural sinkholes is to go on a cenote tour while in Chichen Itza.
La Iglesia
One of the best examples of Mayan architecture that you will find in Chichen Itza is the La Iglesia. In fact, you will be amazed by its intricately designed ornate walls. This architectural landmark is tucked behind the observatory. Although it is not as imposing compared to El Castillo, you will not be able to resist taking a closer look at it. It would help if you have a local guide with you who can explain the meaning of the hieroglyphs.
Cenote Ik Kil
After spending the day exploring the ancient ruins of Chichen Itza, you can cool off at Ik Kil cenote. It is just 3 km away from the ruins so you can get here easily. Ik Kil is quite stunning once you see it up close. In fact, there are long vines trailing to the bottom of the cavern.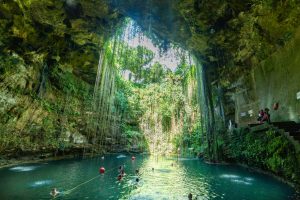 Aside from that, the sun's rays penetrate the waters below giving it an enchanting atmosphere. In addition, the waters here can go as deep as 60 meters in certain areas. The best part is that the waters here are crystal clear. You can rent some towels and a locker room to put your belongings at the entrance of the cenote.
Temple of the Warriors
One of the famous Mayan ruins that you will find in Chichen Itza is the Temple of Warriors. As the name suggests, this temple was dedicated to the Mayan warriors who fought throughout the Yucatan Peninsula. In fact, when it was first excavated in 1920, there were murals that showcase the prowess of the warriors.
However, because of their exposure to the elements, the murals faded over the years. Still, the temple itself is an architectural wonder! The extensive columns at the entrance are full of inscriptions, reliefs, and even carvings of their warriors and the battles they have faced.
Cenote Xtoloc
There is no shortage of sacred cenotes in and around Chichen Itza. In fact, one of them is Cenote Xtoloc. It was considered to be a sacred cenote by the Mayans because it was their source of fresh water. Located near the Temple of the Warriors, Xtoloc is quite deep. Although you will not be able to swim here, peering at the edge of the cavern's opening will give you an idea as to why they call this sacred. Aside from that, this cenote is also close to the Temple Xtoloc which was named after the sacred cenote.
Casa Colorada
Meanwhile, if you want to see the oldest sections of Chichen Itza, then make your way to Casa Colorada. Here you will find a rectangular stone house full of inscriptions sitting atop a plinth. The Spanish called it the Red House because of the red paintings and inscriptions. However, the color has already faded, but it does add to the feeling of the ancientness of this structure. Aside from that, Casa Colorada and the other buildings nearby were dated back to the 9th century. It is not clear what their purpose is but they are among the remains on this land.
The Ball Courts
Just like the other Mayan cities, Chichen Itza has its own arenas for its ball games. Its great ball court is where they attempt to hit a rubber ball to pass through the stone rings. The players can only use their elbow, hip, or knee to control the ball. Aside from that, the ball should not hit the ground otherwise it will disrupt the symbolic course. Any transgression led to the loser being offered as a sacrifice.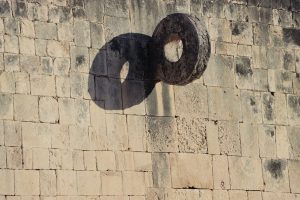 The Temple of the Jaguars
Meanwhile, the Temple of the Jaguars lies on a platform on the southeast wall of the ball court. It was named as such because of the stone carvings on the platform that resembles a jaguar. Aside from that, you can access the upper temple by climbing the steep steps on the side. Just like with the Temple of the Warriors, you will find serpent columns at the entrance. Once you step inside the temple you will find murals depicting the battle between the Mayans and the Toltecs.
Best Chichen Itza Tours
Going on a Chichen Itza day trip is a great way for you to immerse yourself in Mexico's history. However, you will want to consider going on a guided tour of the archaeological sites so you don't miss anything. In fact, you should check out the tours below to see which one suits you best depending on where you will be starting from.
Cancun
Cancun is a two-hour drive to Chichen Itza and is one of the hottest tourist spots in the country. Aside from the gorgeous beaches, you can also spend a day exploring the ancient ruins. If you want to explore it, then consider these tours.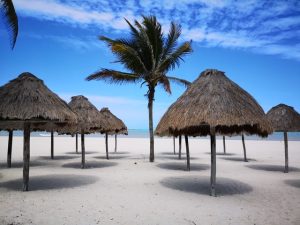 Chichen Itza, Valladolid, and Cenote
If you are traveling from Cancun, then this is the best tour that you should get. This tour of Chichen Itza will include the ruins, the colonial city of Valladolid, and of course, the cenote. Aside from that, you will be accompanied by a certified guide. This way, you will gain more insight into the history of the ancient Mayan culture and civilization. In fact, you will get to see the ceremonial center up close. This is where the Mayans made their sacrifices to their gods.
After exploring Chichen Itza, you will then visit Valladolid. There are more colonial structures to visit here. You can dine at a local restaurant while you are here to taste their local cuisine. Aside from that, the last leg of the tour will be at one of the cenotes. Make sure that you bring your bathing suit with you so you can swim in the cool waters of the cenote.
Private Tour Chichen Itza Day Trip
One of the best tours that you can book is a private tour around Chichen Itza. This is perfect for those who want to see the ancient capital of the Mayan Empire minus the crowd. Take note that you will be paying extra for this tour since it is a private trip. However, you will not regret paying the required fee, especially when you get to walk around the ruins at your own pace.
This tour will last 8 hours. You will be picked up from your hotel using a private vehicle. Afterward, you will be taken to Chichen Itza where you can head to El Castillo. Once done with this imposing pyramid, you are free to roam the surrounding areas. A good tip here is to request the tour company for your tour to go well into the night. This way you will not miss the impressive light shows. Another thing to consider about this tour is that you will have to bring your own food and water. However, you can pay an extra fee to have this included in your trip.
Chichen Itza and Coba Ruins
Meanwhile, those who do not have enough time on their hands can opt for this tour instead. Aside from seeing the ancient Mayan city, you will also get to see the Coba Ruins. This is another interesting tourist hotspot where you'll find more ruins to explore. In fact, it is possible for you to climb the ruins to get a good vantage point. Lush vegetation surrounds the area which adds to its overall charm.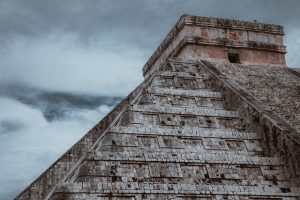 At the end of the day, you will be taken to the cenote Ik Kil. Going on a refreshing swim here is a great way to end the tour after a long day. This tour comes with roundtrip transportation, bottled water, and packed lunch from Playa del Carmen.
Chichen Itza Deluxe Day Trip
Do you want to se Chichen Itza in style? If you fancy splurging on your trip to these ancient ruins then book their deluxe day trip. Aside from being a full-day tour, it includes a roundtrip transportation service on board one of the luxury tour buses.
You don't have to worry about paying any entrance fees since it is already part of the tour. Guests will also enjoy a continental breakfast on board and additional buffet lunch too. This means that you don't have to worry about going hungry during the tour which is great! A professional guide will take you around Chichen Itza. You'll learn all there is to know about this ancient ruin and its impact on the country's history.
The next leg of your deluxe trip is the Ik Kil cenote. As was mentioned before, only a handful of cenotes are open to the public. Fortunately, Ik Kil is one of those. Life jackets are available at the entrance to the cenote which you should wear for your safety.
The crystal clear waters of the cenote are quite inviting. Swimming here is a great way to refresh yourself after hours of exploring the ruins. And you know what the best part about this tour is? You get to drink ice-cold beer along the way!
Meanwhile, this small-group tour will bring you to the Mayan ruins of Chichen Itza. Aside from that, this 12-hour tour includes a bilingual guide who will provide insights about Chichen Itza. Guests will have bottled waters throughout the trip so you don't have to worry about dehydration.
Your next stop is the city of Valladolid where you can go on a walking tour. This is also the perfect place to snag some souvenirs. Aside from that, you can also visit Cenote Maya. This day trip is quite different from the others because you will start at the Ik Kil cenote. Having early access to the cenote means that there are no crowds to worry about. Make sure that you bring your swimsuit with you to fully enjoy the freshwater here.
You can even go snorkeling if you like. Your tour guide will bring your snorkeling gear so everyone can enjoy the crystal clear waters. The best part is that after you have worked an appetite, a delicious buffet lunch awaits you.
Tulum
Travelers from Tulum can also visit the ruins of Chichen Itza. If you have plenty of time on your hands, then choose among these tour options.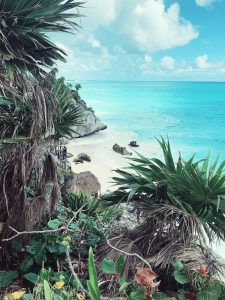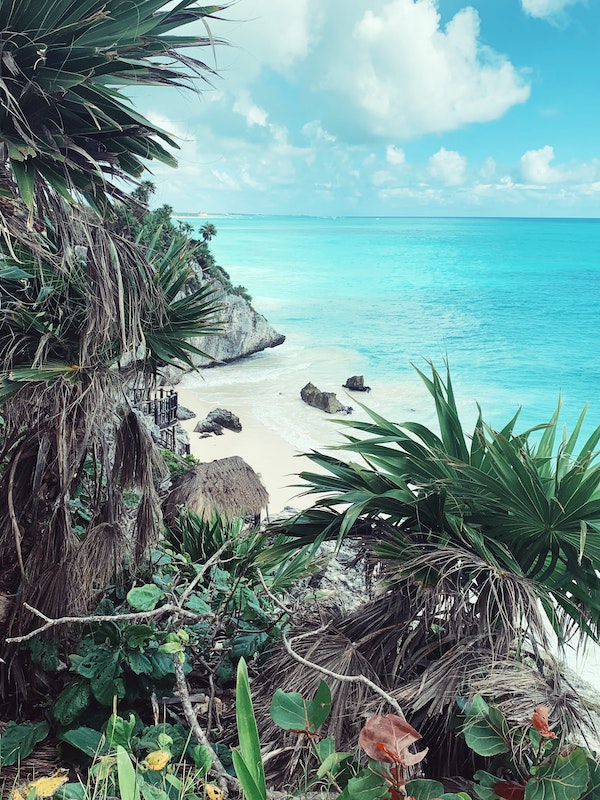 Private Chichen Itza, Cenote, and Valladolid Tour
This private Chichen Itza excursion will take you right to the ancient ruins. On this 8 to 10-hour guided tour, not only will all the entry fees will be paid, but it also comes with a box lunch. Your expert guide will take you into the Mayan ruins and all the famous landmarks.
Afterward, you can swim in one of the beautiful cenotes nearby which is the Ik Kil. Once you are feeling refreshed, you will be taken to Valladolid for more exploration. You will spend an hour here at least doing some sightseeing and shopping.
What you'll love about this tour is the people who are part of the group. In fact, they have received several rave reviews about the service. You are going to get good value for your money here if you book this private tour from Tulum.
Chichen Itza Private Tour, Snorkeling Cenote, and Valladolid
Another option to consider if you are in Tulum is this tour. In fact, this is the best choice if you are looking forward to a comprehensive tour of the ruins. What you'll get in this tour is a certified archaeological guide, private transportation, lunch, and drinks. In addition, you will have snorkeling equipment on hand plus the entrance fees to the ruins and Ik Kil cenote.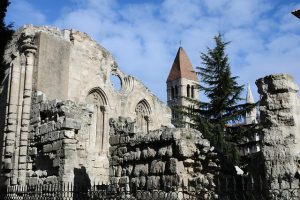 Aside from that, you should take note that this is going to be pricier. After all, you are opting for a private tour. On a good note, you will be able to avoid the crowd, plus, you get to explore the ruins in your own way. This is a great choice if you have an elderly in your group. If you choose this package, you will have plenty of time to explore the area.
Playa del Carmen
There are different tours that will take you to the famous ruins of Chichen Itza. In fact, you can find some if you are staying in Playa del Carmen. Let's take a look.
Taking this highly-rated tour is going to be a great experience for you. It is a full-day trip that starts with a hotel pick-up. From your hotel, you will be taken to Valladolid for a short excursion. Afterward, you will have your lunch plus unlimited access to ice-cold beers. This is one of the highlights of this trip! After all, nothing beats having an ice-cold beer on hand to battle the hot summer sun.
When lunch is done, your group will be taken to one of the new seven Wonders of the World. An expert guide will show you around the Mayan ruins while sharing important details about them. If you want to learn more about the ancient Mayan civilization, then you need to pay attention. This tour will give you insights into one of the most powerful civilizations in the world.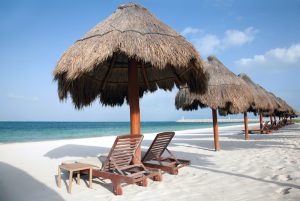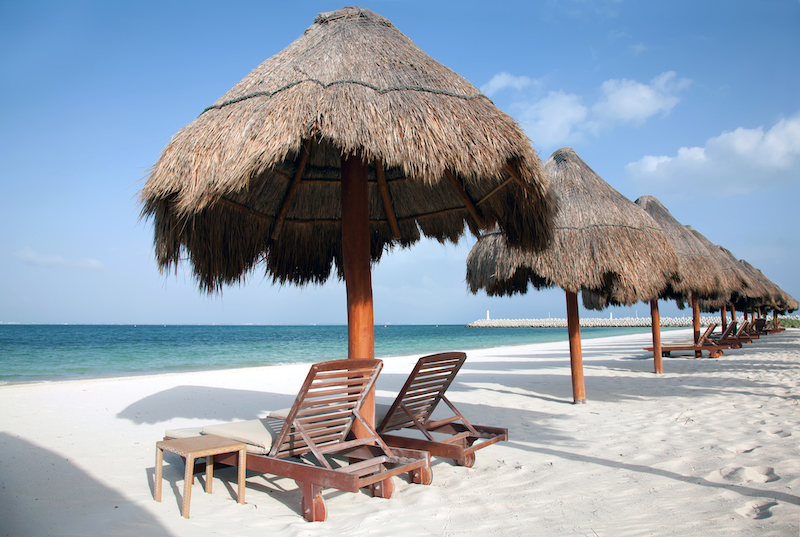 Aside from that, another highlight of this trip is the cenote. Instead of going to Ik Kil, this tour will take you to the Suytun cenote. That's right, this is the most Instagrammable cenotes in the area. What makes this an intriguing cenote is the fact that there is a platform that will take you to the center of the cenote. With the light playing overhead and crystal clear waters around you, you are going to enjoy taking photos of yourself here.
Merida
Merida is another city in Mexico that is best known for its colonial architecture. Aside from that, it is home to Mayan artifacts and ruins so exploring it is a must. Of course, you will want to see Chichen Itza so here are the tours to consider.
Open the Gate to Chichen Itza
Do you want to beat the crowd? Then this tour is your best bet. For starters, you will be leaving the city at 6 in the morning. You will head directly to Chichen Itza to start your exploration. There is no need to wait in line once you arrive because you will have immediate access to the ruins. What makes this tour quite different is that you get to see and do more.
In fact, you will see the Mayan Planetarium among the landmarks to visit. Aside from that, you will witness a Mayan ceremony and even receive a blessing from their high priest. Everything will be laid out for you by your bilingual guide. Roundtrip transportation is part of the package but take note that entrance fees are not.
Chichen Itza Day Trip and Cenote
Meanwhile, if you are looking for the best prices for tours, this one will work for you. This is a basic tour that will last up to 10 hours. Aside from roundtrip transportation, this package comes with a drop-off lunch too. Not only that, but you'll also get to explore the famous hotspots in Chichen Itza. This also includes entrance fees and a trip to the Ik Kil cenote.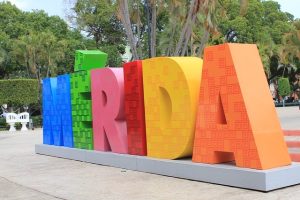 Chichen Itza Small-Group, Buffet Lunch, and Cenote
If you prefer traveling with a small group to Chichen Itza then this is it. This 8-hour tour will bring your group to Chichen Itza via a private entrance. In addition, a bilingual guide will accompany you on your trip so you can learn more about the ruins. This tour also includes a dance performance and a buffet lunch.
Aside from that, you can have access to the amenities of the Mayaland Hotel. You can swim in their pool if you want to cool down. Take note, however, that entrance fees are not part of the tour's fee. Also, there is no hotel pick-up. This means that you will have to head to the designated meeting point first.
Tips to Consider When Heading to Chichen Itza
It is possible to explore Chichen Itza on your own. After all, you can travel here using public transport or through a rental car. Aside from that, there are a few tips and tricks to make the most out of your trip to this World Heritage Site.
Line Up Early in the Day
Since this historical site attracts tourists, it means that it will be quite crowded. Getting here early is not enough. In fact, you need to be here even before they open the gates. It may not be appealing to you at the moment, but keep in mind that the lines will get pretty long. Arriving earlier in the day will give you a short window of time to enjoy the ruins before it gets crowded.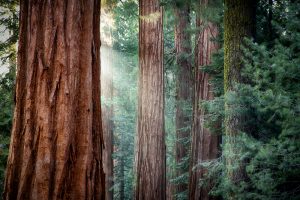 Explore the Ruins in a Counter-Clockwise Manner
If this is your first time visiting Chichen Itza then head first to El Castillo which is the main pyramid. This towering pyramid is a sight to behold. Afterward, you can move in a counter-clockwise manner since it will take you to most of the famous ruins here. Instead of wandering the area haphazardly, you should try this tip out. This way, even if you do not have enough time to spend here, you will still be able to see most of the landmarks.
Bring Plenty of Water
If you are going to spend a longer time on Chichen Itza then make sure you have plenty of water with you. Travelers who are part of a tour will be given bottled waters. However, if you are doing the exploration on your own, make sure that you bring your recyclable bottle with you. Take note that the weather here can get pretty hot so dehydration is a problem.
Dress Appropriately
You need to keep in mind that the weather in Mexico can get pretty hot. This is why it is important that you plan your outfit. Since you will be out exploring the ruins of Chichen Itza, make sure that you wear comfortable clothes. Think t-shirt, shorts, or summer dresses. Anything that will keep you cool as you wander around the premises. If you are going to visit some cenotes then bring your swimwear with you too. Also, don't forget to pack quick-dry towels.
Wear Sunscreen
The blistering sun can take a toll on your skin if you are out here for long. This is why it is a good idea to apply sunscreen. Sunscreen can give some protection against the sun. Aside from that, it is also better to bring an umbrella or wear a cap and sunglasses. You will be glad that you did since they can cut back the heat considerably.
Do Your Research on Cenotes
It is understandable that you will want to see the nearby cenotes in Chichen Itza. However, if you are traveling here without a knowledgeable tour guide with you then you will need to do some research first. You have probably noticed that I've mentioned that some of the cenotes are not open to the public.
This is why you will need to do some research on which cenotes to avoid and which ones are good for tourists. You don't want to end up offending the locals and their gods.
Explore the Other Ruins
Chichen Itza is not the only ruins that you will find in Mexico. In fact, you can find more in Tulum as well. You can visit Uxmal if you have free time because it is going to leave you in awe. However, if you are traveling from Cancun or from Tulum, you will not be able to see Uxmal. On a good note, you can stay in Valladolid before heading to Ek Balam which is also another ruin.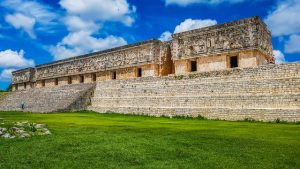 Stay Overnight
If you want to make the most out of your trip to Chichen Itza then why not stay the night? There are several hotels that you can stay in that is close to the ancient ruins. This way, you will have easy access to it.
Wrap Up Chichén Itzá: 10 Things to Do and Know
Located between Cancun in Quintana Roo and Merida lies Chichen Itza. The ancient ruins are one of the most popular attractions that you will find in the Riviera Maya. In fact, even on different days, the number of people visiting remains the same. This is not surprising since it is one of the World's Wonders.
Fortunately, there are different ways to enjoy this tourist site. You can do a half-day trip here if you have little time on your hands. You will spend 4 to 5 and a half hours exploring the ancient city. On the other hand, you can opt for full-day tours if you like. These tours include visiting cenotes and nearby towns too.
One thing is for sure, even if you are traveling from Cancun, Isla Mujeres, or some other town, it is best that you visit Chichen Itza. This ancient city was once the center of power of the Mayan Civilization until the Spaniards came. What's left behind are its ruins that have been preserved for centuries. If you want to know more about Mexico's history, this is one location you definitely need to visit.