Christmas is just around the corner and for others, it means putting up their festive decorations at home. For some, however, it means trying something new for the holiday season such as celebrating it in another country. And if you are thinking along the same lines, why not travel to Ireland to spend Christmas there?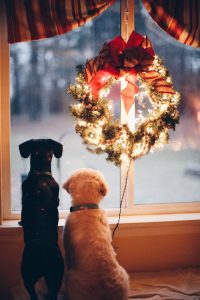 ---
What's in this post:
hide
Christmas In Dublin
---
---
Christmas is a huge deal in Ireland and rightly so. In fact, everywhere you go on the island, you will find the towns preparing for this annual event early. However, if you are looking forward to spending the holidays here, make sure that you add Dublin to your list of places to visit or stay in. After all, the town has an impressive lineup of activities to entertain locals and tourists alike. Not only that, but the city itself comes alive as the Christmas season begins.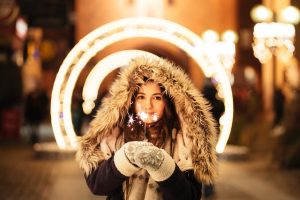 As soon as you land at Dublin Airport, you will feel a rush of excitement thanks to the festive atmosphere. With public transport at your disposal, getting from the airport to your hotel will be easy.
10 of the Best Things to See and Do in Dublin on Christmas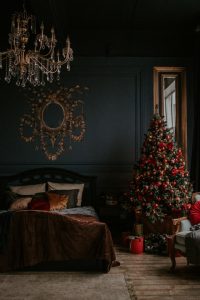 Dublin may appear gloomy and wet at times. However, once Christmas time rolls in, you will be amazed by the city's transformation. The streets become bright with all the lights and Christmas decorations they put up. In fact, I would suggest that you explore the city streets while you are here. This is the best way to immerse yourself in Dublin's holiday celebrations. That said, let's take a look at the top things to do in this city over the holidays.
Christmas Decorations at Henry Street
Henry Street, which is the second-largest shopping street in the city, lies to the north of Liffey. It begins at the Spire and goes all the way up to the Church pub and restaurant. This particular street lights up during the festive season thanks to all the lights that decorate the streets. You can even spot the lights showing the traditional Irish greeting "Nollaig Shona". It means "Merry Christmas".
Aside from that, I would suggest that you make your way to Arnotts. One reason behind this is that the decorations here are quite stunning. In fact, everywhere you look there is something interesting to see.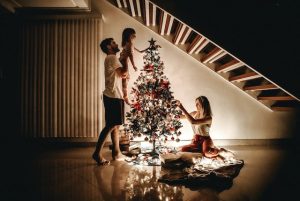 Check out Arnott's display window to see what decors they have up on display. Think snow, bears, and even nutcrackers. You might think that Henry Street is for kids only, but you might be surprised to find that even adults love to hang out here.
Grab a Drink at Temple Bar
Meanwhile, Temple Bar is an icon in the city. But if there is one place that you should visit in Dublin during the holidays, this is it. Aside from being in the heart of Dublin, Temple Bar becomes a magical Christmas pub. In fact, it's hard to miss this pub as its facade is brightly lit with all the lights hanging from the roof.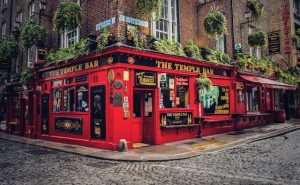 Not only that, but you will see a huge Christmas tree just hanging above the street. What better way to cap the night off than with a pint of Guinness at this pub? Aside from their drinks, the live music is also enjoyable. From the decorations to the music, and festive atmosphere, you will definitely feel the Christmas spirit here.
Check the Decor at Grafton Street
If you want to see a lot of action while in Dublin, head to Grafton Street. This is, in fact, the main street on the south side of Dublin. It connects Stephen's Green Shopping Centre to Trinity College. Here you will find a variety of shops from clothing to food and everything in between. In fact, you will not be disappointed once you explore this area in Dublin city center during the holidays.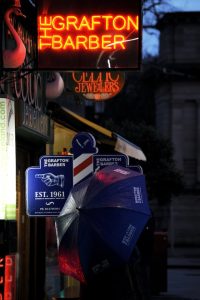 Look up and you will see plenty of Grafton Street lights strung about. This makes it easier for guests to see where they are heading especially at night. But that's not all! The stores here decide to ramp up the festive atmosphere by decorating their establishments. In fact, I suggest that you head to Marks and Spencer as well as Brown Thomas. These two certainly go all out with their decorations.
Go on a Tour of Dublin Castle
One of the great things that you can do while in Dublin is to book a tour of Dublin Castle. You will find it just off Dame Street. You can enter the castle and its chapel for a small fee. Guests can explore the castle at their own pace. Aside from that, you can step outside to visit the gardens since there is free entry to them.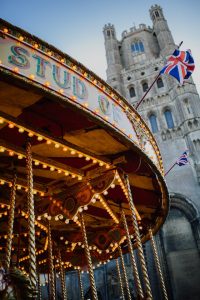 The castle does not get left behind during Christmas time. In fact, each room here has its own Christmas tree that is lavishly decorated. Aside from that, guests can have some sweet treats and drinks as they wander the halls. Not only that but there are special events held here. For example, they usually hold Christmas carol concerts here during the holidays. The Dublin Gospel Choir usually sings here during Christmas.
Watch out for the Dublin Christmas market here too. This boutique open-air Christmas market is the perfect place to find handmade gifts and other unique treats.
Christmas Markets at Phoenix Park
Christmas holidays in Dublin mean seeing markets everywhere. Aside from the one in Dublin Castle, you will also find one at Phoenix Park. This is Dublin's most iconic park as it is much bigger than the famous Central Park in New York. In addition, this park is also known for being home to hundreds of deer. I suggest that you add this park to your itinerary and see if you can find a Phoenix Park deer.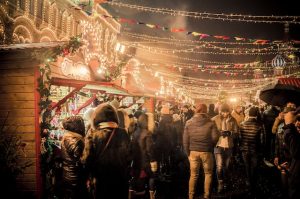 Another reason why you should visit Phoenix Park is because of the Christmas events held here each year. Farmleigh House and Estate is the one that organizes these events annually. Aside from hosting Christmas markets, they also put on a show and even a Christmas concert too. Although they canceled the festivities because of the pandemic, they are back with more Christmas cheer for everyone.
Concert at Christchurch Cathedral
Meanwhile, Christchurch Cathedral is one of the more popular tourist attractions in Dublin. You will find this gorgeous cathedral at the end of Dame Street. Although you can visit this church any time of the year, the best time to visit is during the Christmas period.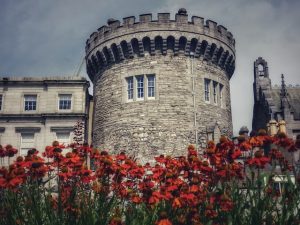 After all, the choir of Christchurch will be regaling you with Christmas carols. There is a small fee to attend the concert held in an open area of the cathedral. Aside from that, there is also a nativity scene here which you should also look into.
12 Pubs of Christmas
It is that time of year when Irish people make it a point to do the 12 Pubs of Christmas. As the name suggests, groups will go pub-hopping during this time. They will need to drink in each pub to complete this new tradition. This sounds like a lot of fun considering that you will be hitting several pubs in one night. The locals have taken up this tradition in recent years. Why not try it yourself?
Aside from Temple Bar, you can also add The Harbourmaster Bar and Restaurant and The Auld Dubliner to your list of pubs to visit.
See Dublin's Christmas Lights at Samuel Beckett Bridge
Another great place that you should see in Dublin is the Samuel Beckett Bridge. This bridge connects the north and south sides of the city. Aside from that, this bridge lights up with fairy lights during the holiday season. Not only that but Christmas scenes are displayed here as well.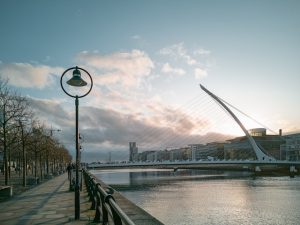 The best place to see these dazzling lights is on the side of the river Liffey. You can ride the Jeanie Johnston boat to get a great view of this light show. If you are looking for a family fun activity, this is one of them.
Go Ice Skating
Christmas celebrations in Dublin will not be complete without going ice skating. After all, skating has been a Christmas statement across the globe for a long time now. The same goes true in Ireland. Fortunately, you can find an ice rink at Tallaght stadium. You can buy a ticket online or on-site.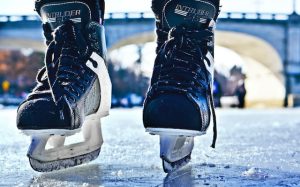 Aside from that, there is also an ice rink in North Dublin. Just like at Tallaght Stadium, there is an entrance fee here. On a good note, parking is free for the first two hours. In addition, there are food and drinks available here. You can have some snacks while taking a break from the ice.
National Concert Hall Christmas Show
Another activity that you don't want to miss in Dublin when you visit at Christmas time is the concerts. In fact, you should check out the shows at the National Concert Hall. Guests will be regaled with Christmas songs, the Nutcracker, and more. Aside from that, you will also see the classic, The Snowman. It will be performed by the Christmas Orchestra. You should check out this year's schedule so you will know what date it will be held.
More Christmas Activities to Enjoy in Dublin
There is so much fun to see and do in Dublin aside from the ones mentioned above. In fact, I've added more activities here for you to check out as well.
Christmas at the National Botanic Gardens
If you want to feel the Magic of Christmas in Dublin, a trip to the National Botanic Gardens is a must. You will find market stalls selling giant wreaths and various treats. Even seasonal goodies are available here. In addition, children can go and meet a special guest from the North Pole. Yes, that's right. It's Santa Claus!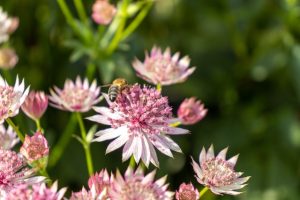 Mistletown Christmas Market
Another market that you should check out is the one in Mistletown. The Dublin City council is the one that organizes this yearly event. You will find it at the City Fruit and Vegetable Market. This indoor market has been around for a couple of years now. You will find plenty of food, crafts, and other gift items as well.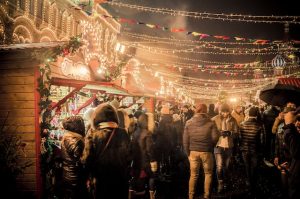 Visit Dublin Zoo
If you are looking for live entertainment, then the Dublin Zoo is where you should be. There are plenty of animals here that are worth seeing during your trip. Aside from that, you should also see their Wild Lights show. This year the theme will be "The Magic of Life". Guests will see an immersive and magical experience here thanks to the winter lights that light up the zoo.
Explore the National Museum of Ireland
Another attraction that you can visit during the holiday season is the National Museum of Ireland. Here they offer activities on different days of Christmas.
Watch the Christmas Parade
As for the Christmas parade, you might see one on December 3rd. The Exchange Club of Dublin plays host for this event. It will pass through the historic districts of the city. This yearly event adds a touch of wonder to the festivities here. You can check the list of events for this year's Christmas celebration.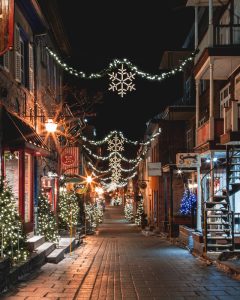 Celebrating Christmas in Ireland
Celebrating Christmas in Ireland is an experience you will not forget. In fact, you can start your holidays here by heading to O'Connell Street where the giant Christmas tree is. The locals make it a point to attend the annual Christmas light show here. Aside from that, keep your eyes peeled for Christmas markets, such as the Dublin Flea Christmas Market, in Dublin. Most of them will open on November 26th onwards.
It might be that you can listen to Glen Hansard busking during the holiday season. Don't forget to check out the events at Gaiety Theatre. This year, the Gaiety Panto is in full swing after being canceled last year. Watch Peter Pan or the Jungle Book here.
Stubbs Park for the Yuletide Glow
If you are not in a hurry, make your way to Stubbs Park for the Yuletide Glow. The best way to appreciate the lights here is to go at night. Your kids will love seeing all the decorations here for sure. Afterward, have a cup of hot chocolate at Butlers. On the other hand, if you are looking for a bit of excitement, the Ferris wheel is back at the Square. You'll get a good view of the city from the top.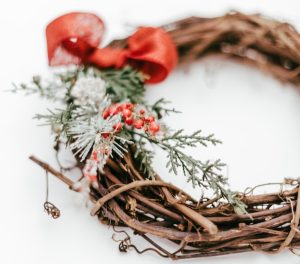 Why stick with browsing Dublin Christmas stock photos when you can experience them instead? The previous years were tough on everyone because of the pandemic. But now that the world is going back to normal, Dublin is the only place that you should visit in Europe. Here you will get plenty of good cheer, especially on Christmas Day!