Have you ever heard of the small Balkan country known as Bosnia & Herzegovina? I hadn't really either, as it wasn't even really on my bucket list! But while visiting Croatia, my husband and I decided to take a day trip from Dubrovnik to Mostar. And we were certainly glad we did. Mostar is considered the cultural and economic capital of Bosnia & Herzegovina. Oh, and also known for its gorgeous bridge Stari! Mostar received its unique name by the bridge keepers themselves, known as Mostari during the medieval times!
The city is alive with history, stunning Ottoman architecture, beautiful culture, a blue-green river, and delicious Bosnian food. A day trip from Dubrovnik to Mostar is an absolute must. Once you have visited this southern city of Croatia, it is only natural that you should want to wander over to Mostar for a short day trip. In fact, it was one of my favorite day trips we took as we were able to get out of the busy capital city of Dubrovnik for an adventure into another country!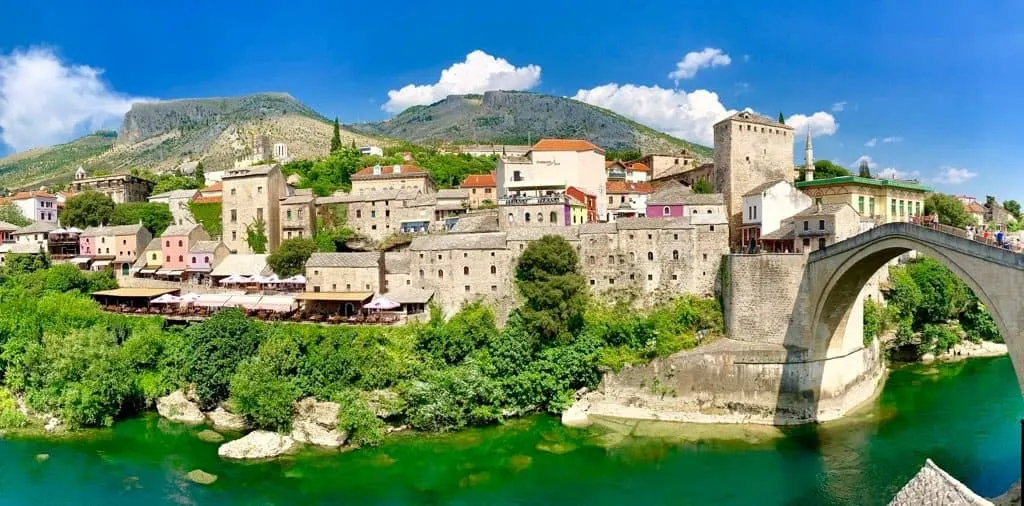 Best Time of Year to Go to Mostar
The best time of year to go from Dubrovnik to Mostar on a day trip is between April and mid-June. To start off, the weather is less humid and there are only a few days of rain during these months. The second reason to visit during these months (also the Spring season) is that it is less crowded. With schools still in session and people working, visiting during these months allows you to check out the churches, eateries, and museums with fewer people to bump into. If you go during the Summer (June-August) as we did, be prepared for the high temperatures. As it is definitely hot but gorgeous!
Day Trip from Dubrovnik To Mostar
The distance between Dubrovnik to Mostar is about 50 miles (81 km) but the road distance is roughly 80 miles (128 km). We decided to rent a car in Dubrovnik, as we were making our way down to Split for a 6-night stay to explore this area of Croatia. We were using Split as our base as we toured many of the Croatian islands. We thought an afternoon in Mostar would be a perfect way to break up the drive. The drive time is about 4 hours. Bosnia & Herzegovina is not a part of the European Union so be sure and bring your passport to cross the border.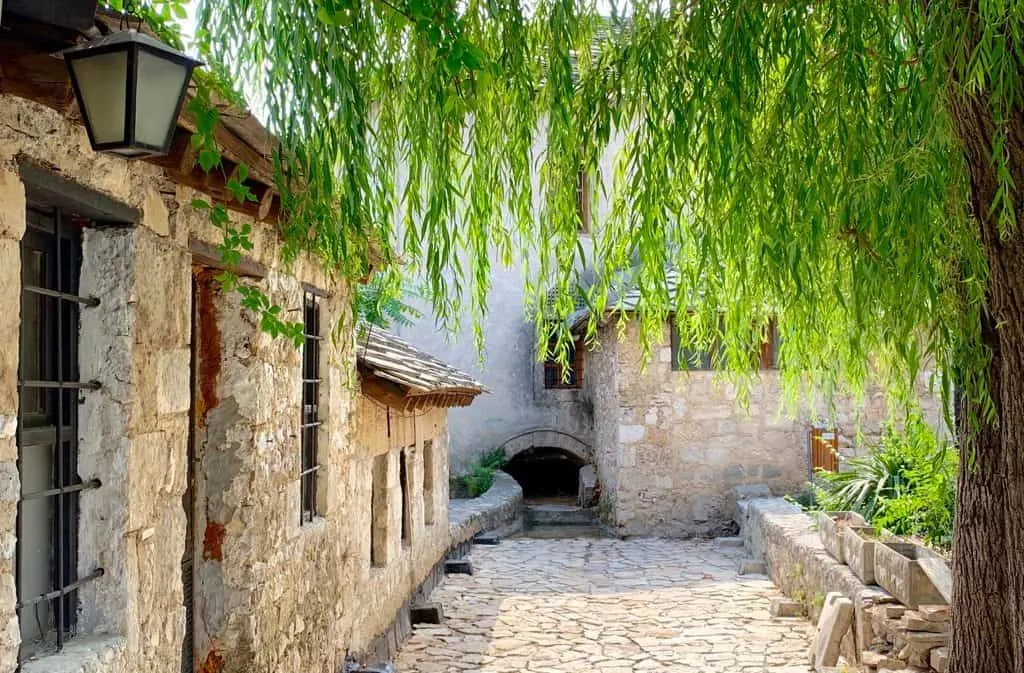 Getting to Mostar
There are a few ways to get to Mostar from Dubrovnik. We were recommended to go along the coastal route of Croatia, but (of course) we got lost getting out of Dubrovnik and could not make our way back to the coastal highway! And before you know it, we were on the upper road in Bosnia. Oh well, next time we will try the coastal route!
If you don't rent a car, you can get a Mostar from Dubrovnik by bus for about 12 Euros, but I don't recommend it as it will take roughly 3 hours. Maybe the fastest way to get to Mostar from Dubrovnik is by train as it takes roughly 2 hours and cost about 20 Euros.
However, my husband loves driving in Europe (especially a stick shift, so we opted for this option.) If you do rent a car, I want to remind you that you will need to pay the fee to get the option to take the car into another country. Our driving time was roughly 2 1/2 hours. We rented the car and got a decent price for a week, but we don't mind since it gives us the freedom of the road.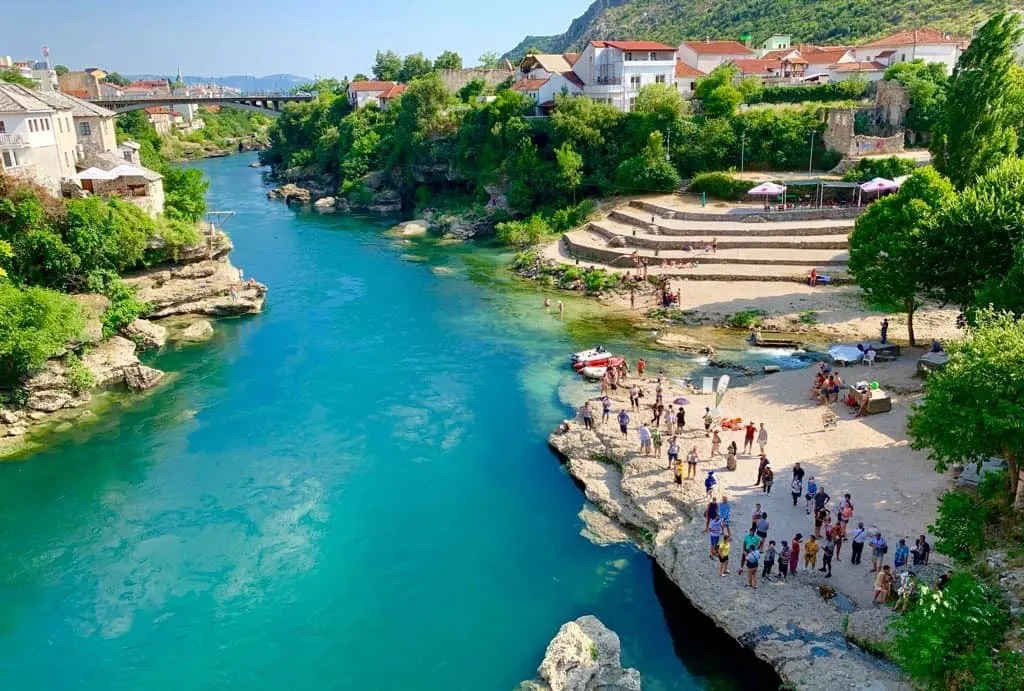 Mostar The Ancient City
The city of Mostar has been around since medieval times, if not even before then! This glorious city lies within the mountainous terrain of Bosnia along the Neretva River. The 16th and 17th centuries in Mostar was the real highlight of development and architectural building. Beautiful mosques, bridges and other essential structures were built during this time. During the 19th century, this little town became a popular place for arts, crafts, and trades to be bought and sold. After the Second World War, the city of Mostar began to regain its strength and sold tobacco, wine, aluminum and aircraft parts of all things!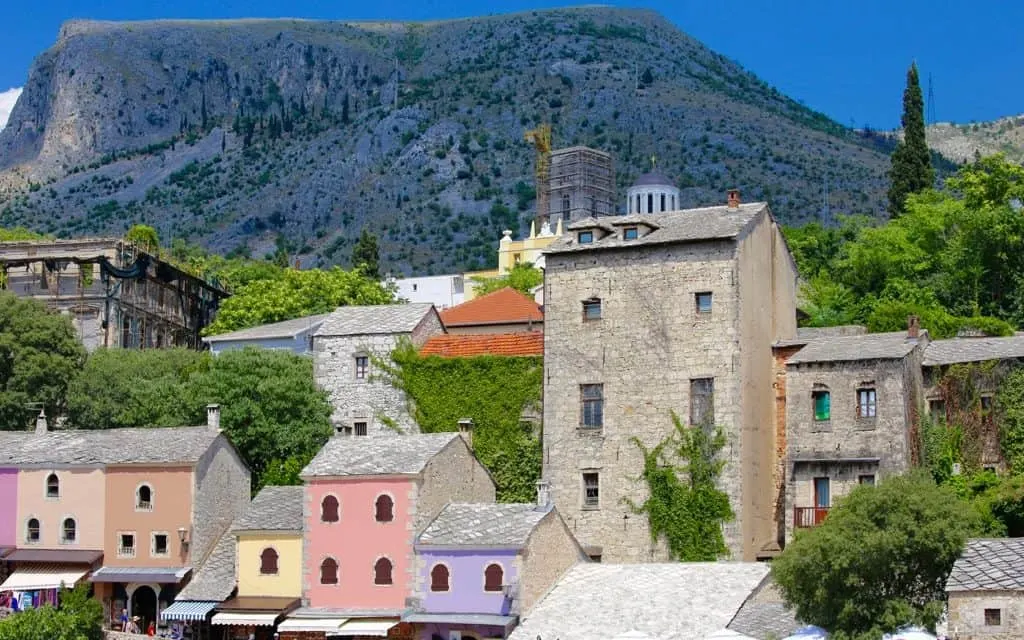 Major Religions in Mostar
Orthodox and Muslim were the major religions in Mostar during the 19th and 20th centuries. Bosniak was the term that referred to the Islamic Bosnians, as Bosnian Serbs were a part of the Orthodox community and Bosnian Croats were considered Catholics. This well-known divide of the religions is what ultimately led to the war on "ethnic cleansing". A weak judicial system and government are also what contributed to the unnecessary attacks and deaths during the war.
Inter-Ethnic Wars
One of the worst blows to this country was the inter-ethnic wars from 1992-1995. To recap, Bosnia gained independence from Yugoslavia's collapse in April 1992. The increasing tension between the Croatians and Bosnians grew more and more because both countries wanted to hold power in a specific religion.
Mostar was sieged at least twice during these wars. Several buildings were destroyed by attacks on Mostar such as the Cathedral of the Holy Trinity, the Catholic Cathedral of Mary, and the Serbian Orthodox Zitomislic Monastery. More attacks and devastation fell on the city of Mostar as the war continued. It wasn't until Washington DC intervened and helped put an end to the destruction caused by this hideous war.
Stari Most – Mostar's Famous Bridge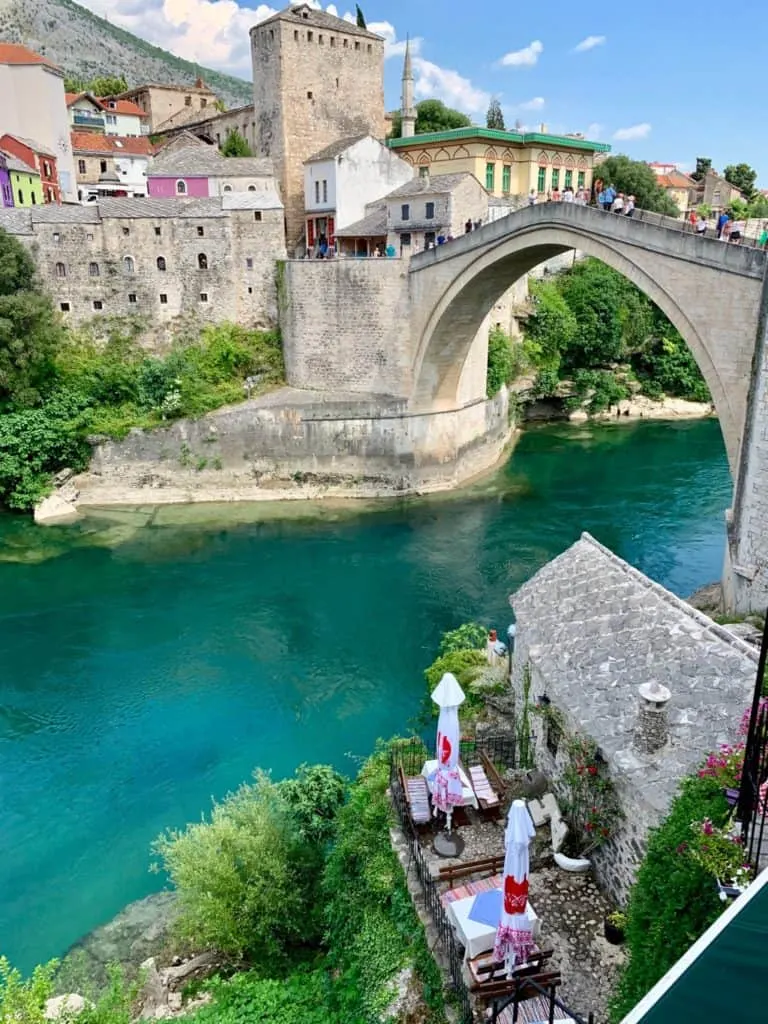 One of the famous spots in this UNESCO world heritage listed city is the stone bridge of Stari Most. This bridge was built in 1566 to replace an old wooden suspension bridge. The new stone arch bridge quickly became the center of attention with its beautiful design. It linked the east bank's Muslim community to the west bank's catholic community.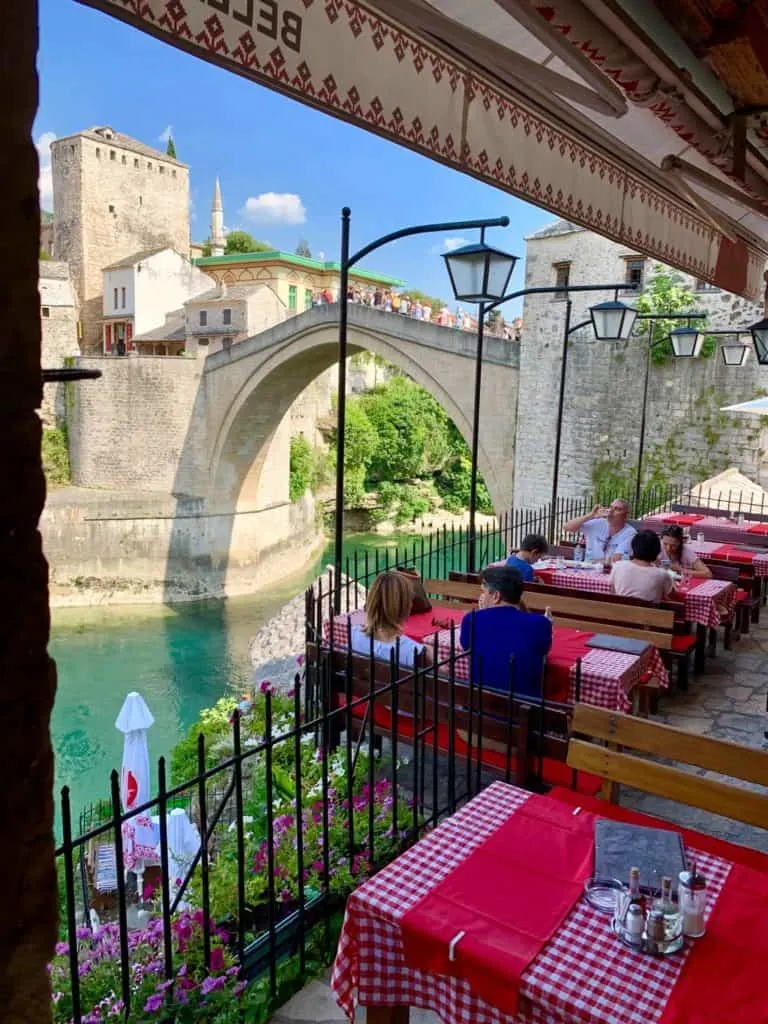 Unfortunately, during the war, the Stari Most Bridge was one of the easiest spots for attack by the Croatians. On November 9, 1993, a devastating hit to the bridge collapsed it right into the Neretva River. The people of Mostar did not allow this attack to ruin their town or their spirits. The rebuilding of the bridge was completed more than 10 years later in 2004. UNESCO added the Stari Most Bridge to its World Heritage list the following year!
Things to do in Mostar
Mostar is a safe city to visit these days and it is an absolute MUST during your Dubrovnik to Mostar day trip. This day trip from Dubrovnik to Mostar will include visiting some of the most fascinating places.
Here is a quick list of things to do during your day trip from Dubrovnik to Mostar:
Wander the Old Town Bazaar Kujundziluk Area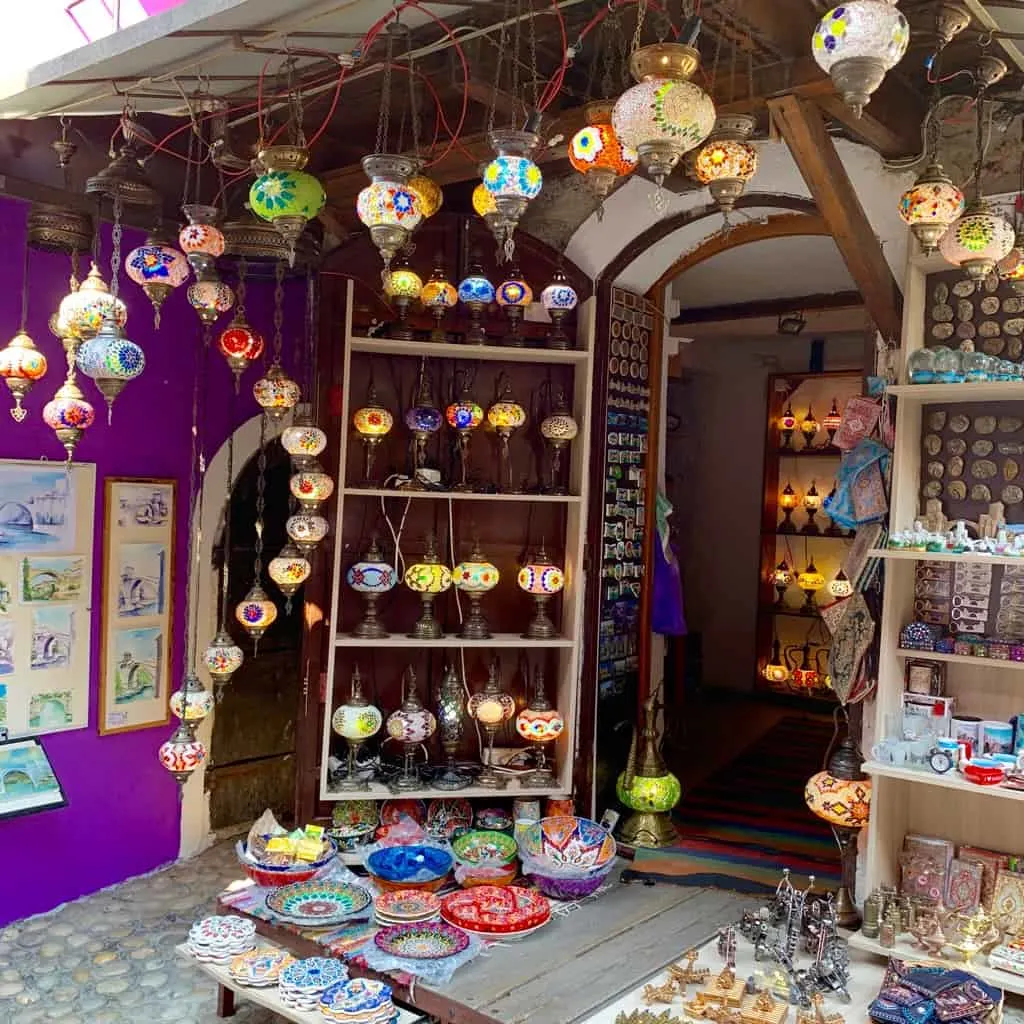 The cobblestone roads of this petite part of the city are remarkable and picturesque. You can catch a glimpse of the real-life of the Bosnians as they shop in markets and little shops that cater to tourists with their huge collection of souvenirs. You can shop for Turkish rugs and local handicrafts as well. We found the shop owners and restaurateurs alike to be friendly and welcoming.
Free Diving Off of Stari Most Bridge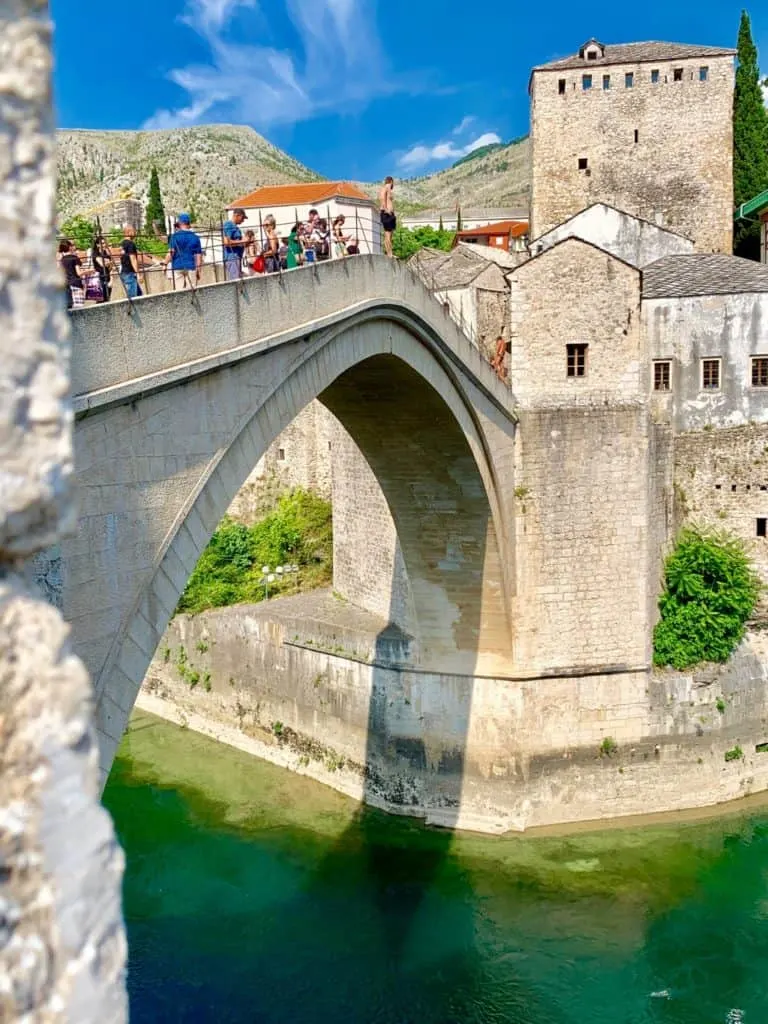 If you are a thriller-seeker, then you could jump off the Mostar Bridge, however, I would leave that to the professionals! Don't worry, you won't get arrested, but you might get a huge adrenaline rush if you try it. The bridge is approximately 78 ½ feet (24-meters) high and if you choose to jump into the river, there is no turning back (yikes!).
However, the professionals I was referring to are the Mostari Diving Club or Mostarski Ikari. They are members of one of the most elite diving schools in the world, as they jump off that bridge into only about 15 feet of water! And it only takes about 3 seconds going about 53 miles per hour!
Free Diving Landing Patterns
And when they land, they either land head first or feet first. Which way would you try your luck? The head-first style is known as the Lasta or "swallows" method. Like a bird that dives, you have to open the water with your hands, so you don't snap your neck. Feet first style is known as the Let or "flight" method, where they hook their legs underneath them and push their chests out and hold their arms out. This style pushed them forward so that they land in the water at an angle. And they land in the gorgeous blue-green water, yet there is a very strong current and it is very cold! So they have to be ready for the impact!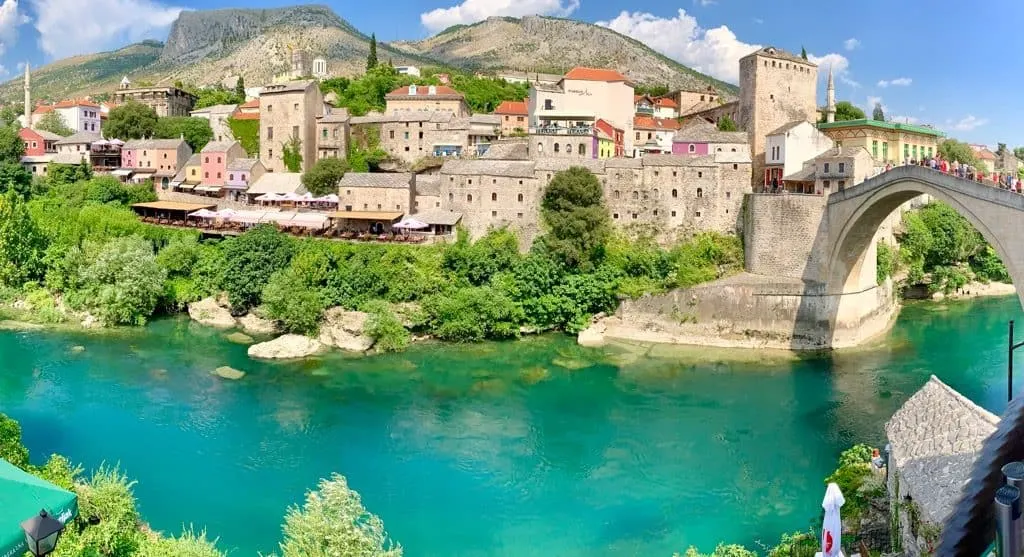 Mostari Diving Club Donations
Each day they come to the bridge with their speedo style swim briefs on, from what I saw, in a group. They try to get the crowd all excited about their jumps and then send out a few members to get money from the watchers. Honestly, I wouldn't do it, as I am sure they have to take much time to practice to make sure they are ready for the BIG jump! It looks too dangerous for me! But I guess that is why they named their free diving club after the Greek mythological figure known as Icarus! He is known for having fallen to his death when the wax that joined his wings was melted by the sun.
But there is one thing you should know about the Mostaari Diving Club. Even though the river divides the city of Mostar, with the Orthodox Catholics on one side and the Muslims on the other, they take everyone who wants to free dive into their group!
Visit A Few Mosques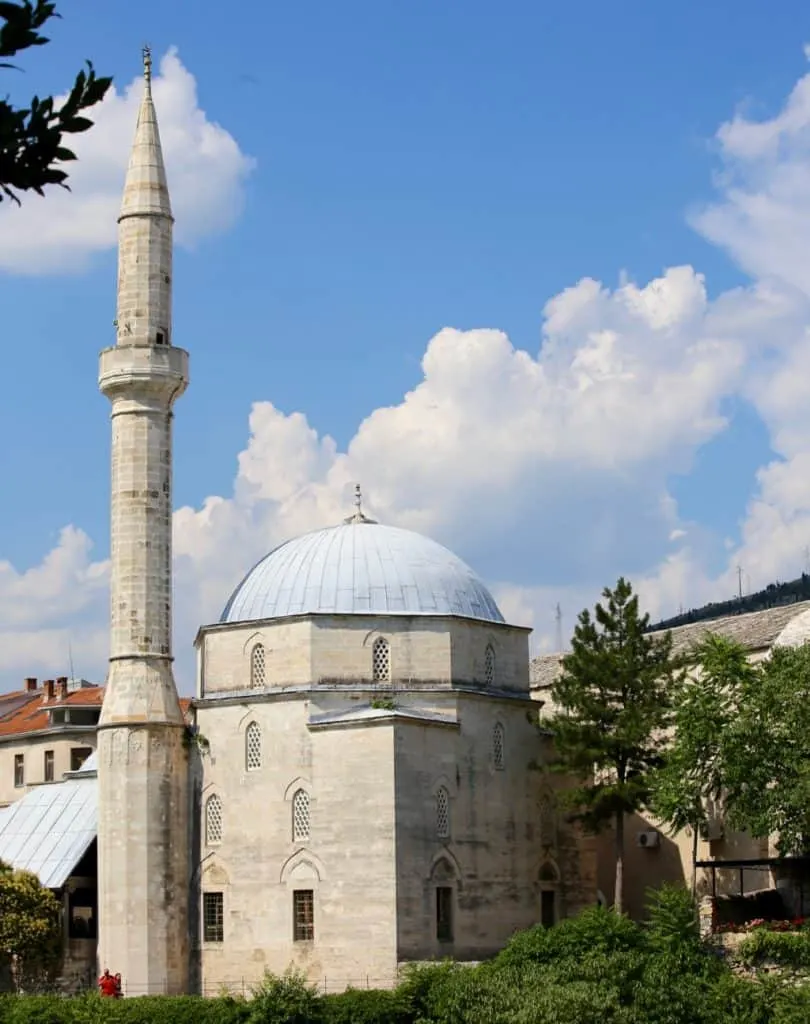 The Koski Mehmed Pasha Mosque is one of the oldest Mosques in the city, which was built in 1617. It has a beautiful water fountain on its grounds, which is used to wash oneself before praying. Another stunning mosque to visit is Tabacica Dzamija. The inside of this Mosque has gorgeous red carpets and simple elegant décor.
Drink Bosnian Turkish Coffee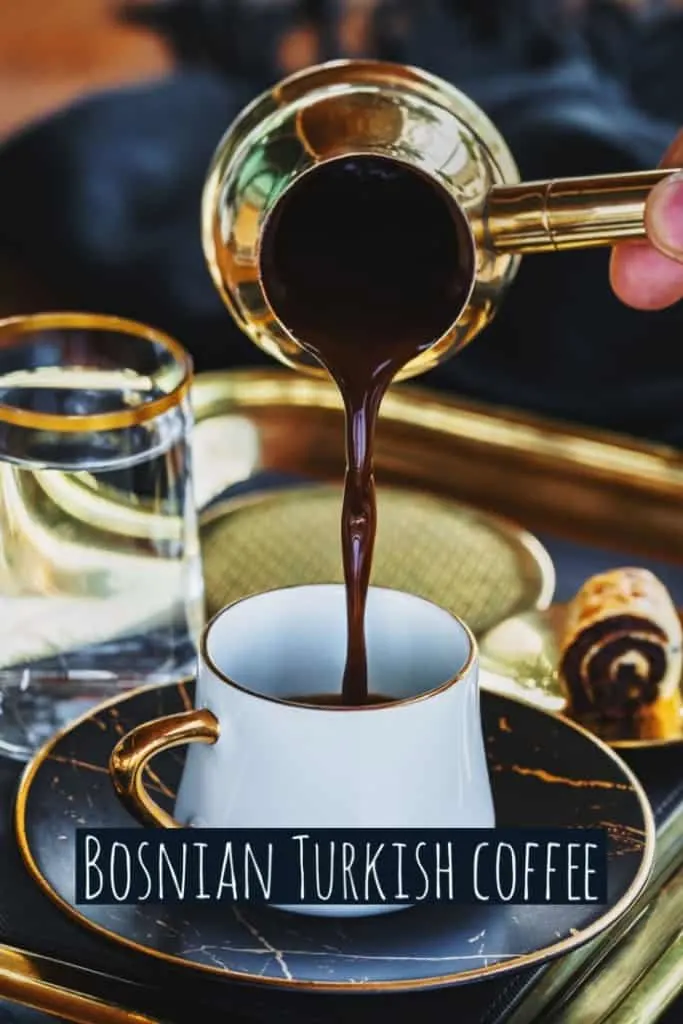 Instead of getting a Starbucks and chugging it down, the Bosnians like to sip their Bosnian Turkish Coffee for hours. The best spot to drink this amazing coffee is at the Café de Alma. It is located near the Stari Most Bridge and it offers outdoor seating and a stunning view of the city. Since the day was so warm, we chose a few places to sit and enjoy the breeze when it came. My husband couldn't wait to try Bosnian Turkish Coffee and got a kick out of how the gal at the café showed him how to do it. First, she swirled it slowly around the top of the cup, adding in a cube of what looked like hard candy or sugar. This dissolved into the coffee and makes for a wonderful drink!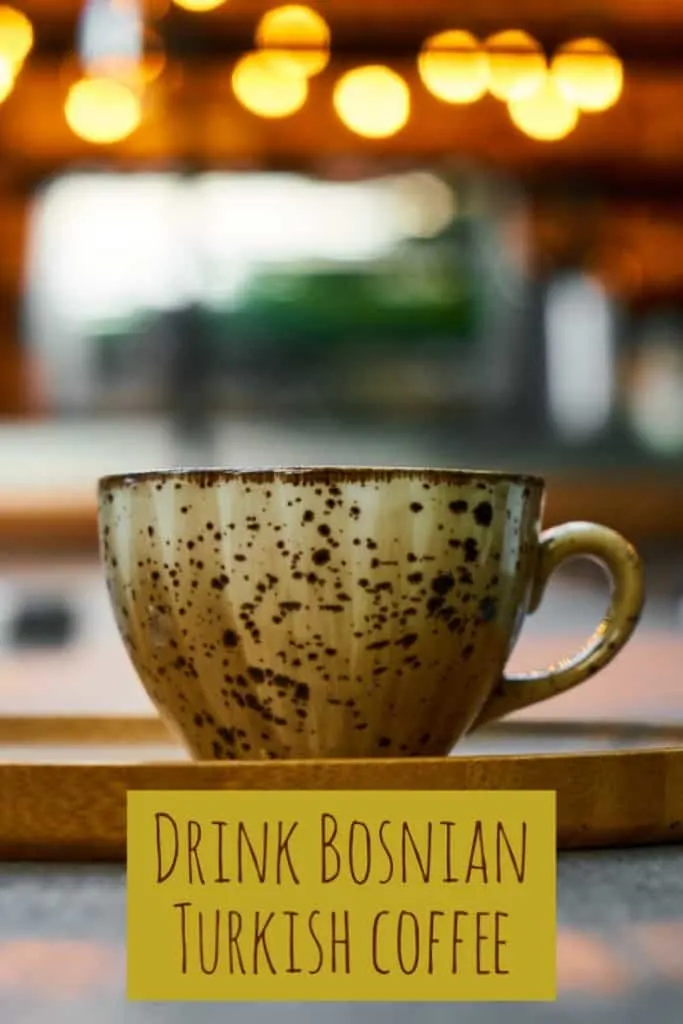 You Must Eat Bosnian Food!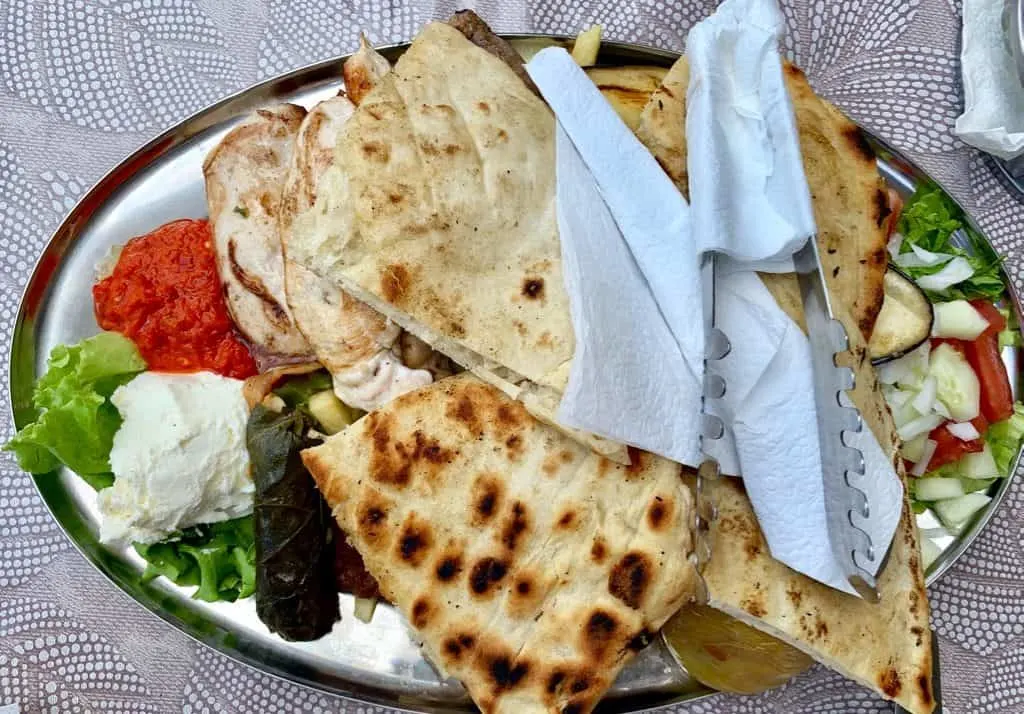 You cannot spend a whole day in Mostar without eating – and this was our first time trying Bosnian food! So if you are in the mood for traditional Bosnian food, then you should try Lagero for the best Bosnian cuisine with an awesome view from the owner Allen's terrace! You will feel like you are sitting in the Neretva River! Look no farther than Lagero for amazing Bosnian cuisine in Mostar. Plus, conversation with the owner makes it even more special as he delights in bringing you his specialty of the day and discussing the politics of Bosnia! He serves an extensive list of wines, meats, and cheeses as well. We loved the traditional Cevapi, which is a Balkan minced meat kabob served with onions, paprika flakes, and somun bread that they make here.
Sadrvan is another restaurant that serves Bosnian food (on the cheap). This is a quaint restaurant located near the Stari Most Bridge where the waiters serve in traditional Ottoman attire. Some of the best dishes on their menu include Begova Corba soup (made with okra and chicken), Japrak, and the dessert Tufahija.
Another good spot to eat in Mostar is Kulluk. This is located near the Koski Mehmed Pasha Mosque. It is a family-friendly restaurant that serves a Bosnian meat palter and Cevapi.
Take a Day Trip to Kravice Waterfalls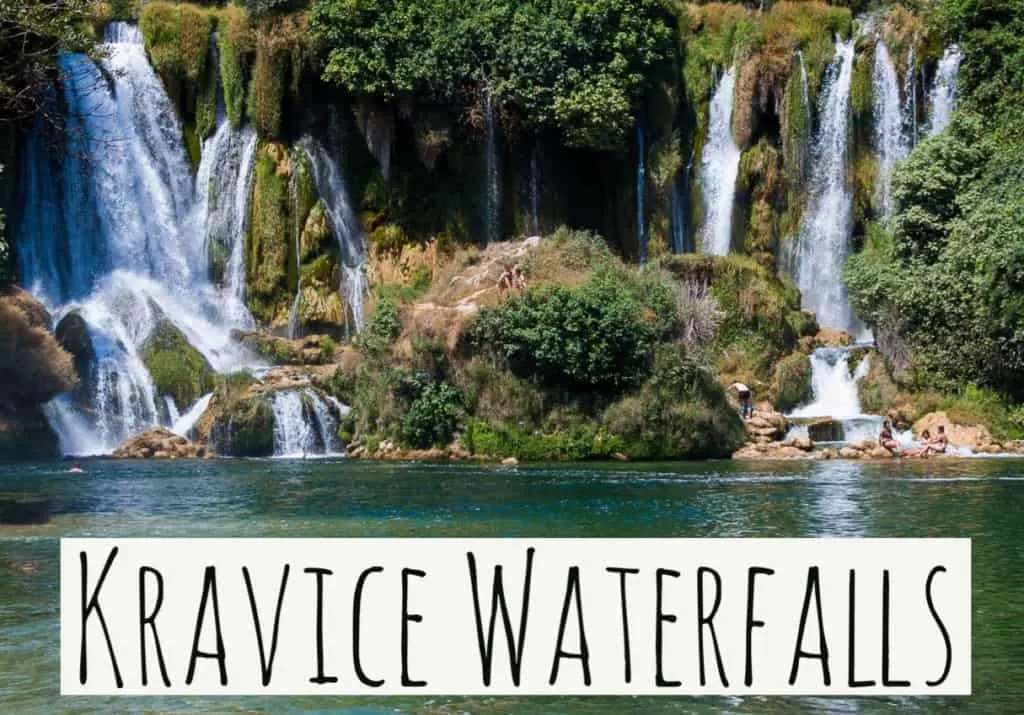 Of course, if you have time, less than an hour from Mostar is the country's most breathtaking waterfalls. After a small entrance fee, you can gain access to the cascading waterfalls. You can also go swimming, kayaking, and boating near these waterfalls. Unfortunately, we only chose to visit as a day trip from Dubrovnik, so simply did not have the time. Next time though, we will stay the night and head out to these gorgeous waterfalls.
I bet that your mind is racing at all the exciting things to do in Mostar on your day trip from Dubrovnik. I am sure you don't know what to check out first. Don't hesitate to make the trip from Dubrovnik to Mostar, as we truly enjoyed the experience. Although this list might seem short and compact, you can truly enjoy Mostar in a day trip from Dubrovnik.
But if you want to stay for a few days,,,
Where to stay in Mostar
Hotel Mepas
Hotel Mepas is literally where East meets West, this hotel is situated only about a 20-minute walk from the old downtown area. They also have a large-sized pool, which we could have used on the hot day that we arrived. The rooms are large and modern. It is actually located on the top of a shopping center and I heard so many people say that the staff was superior in service in every way!
Villa Anri Mostar is a B &B in Mostar that is a 5-minute walk to the beach and provides a panoramic view of the Neretva River and Mostar's Old Bridge, which is only about a 1/2 mile away.
Like it? PIN it!