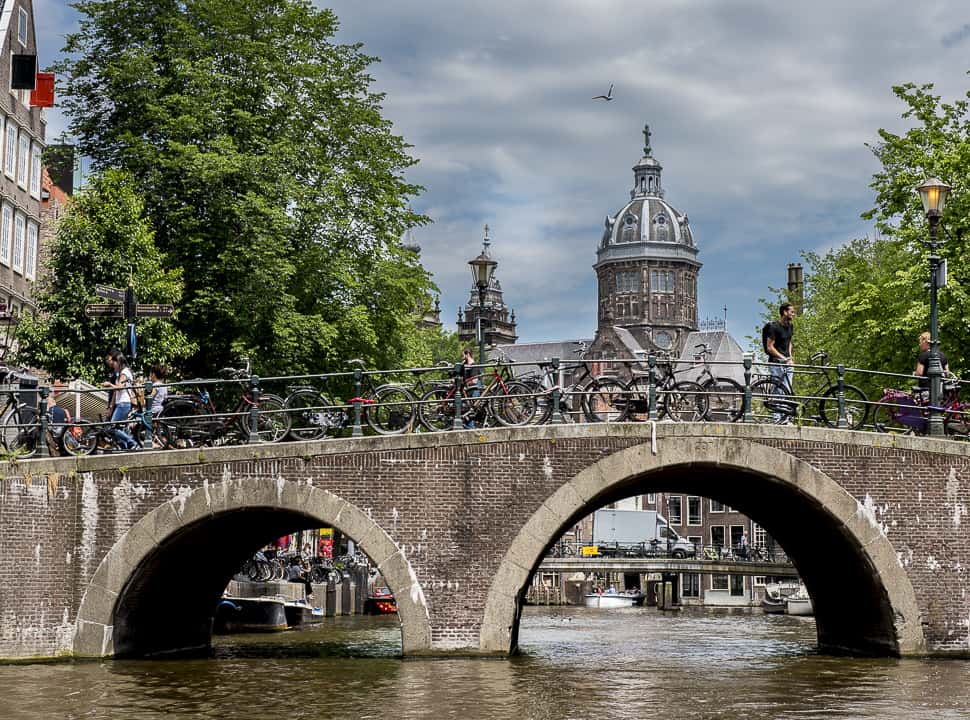 If you would have asked me a month ago what I know about Dutch food, I would have answered in 4 words…Black licorice!n Gouda cheese! Thankfully, my curiosity is always at peak levels, so when the opportunity came up to get the skinny on what's cooking in this region with Eating Amsterdam Tours, I was all over that. This specific tour, the Jordaan Food and Canals Tour, is much more than just eating Dutch food. It's an absolutely delightful walk through this historic neighborhood in Amsterdam, hosted by Aileen Martinia.
Aileen Knows a lot About Dutch Food!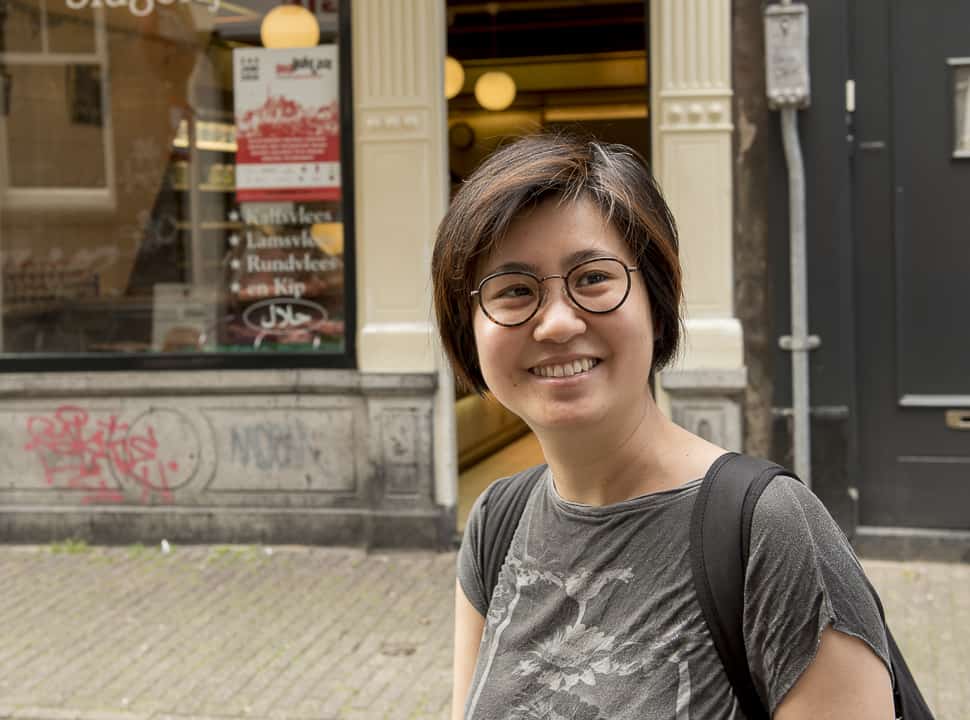 Aileen provided a remarkable narrative of Amsterdam's history, especially as it relates to the Jordaan district, while we strolled and munched our way along the canals and narrow streets of this capital city of the Netherlands.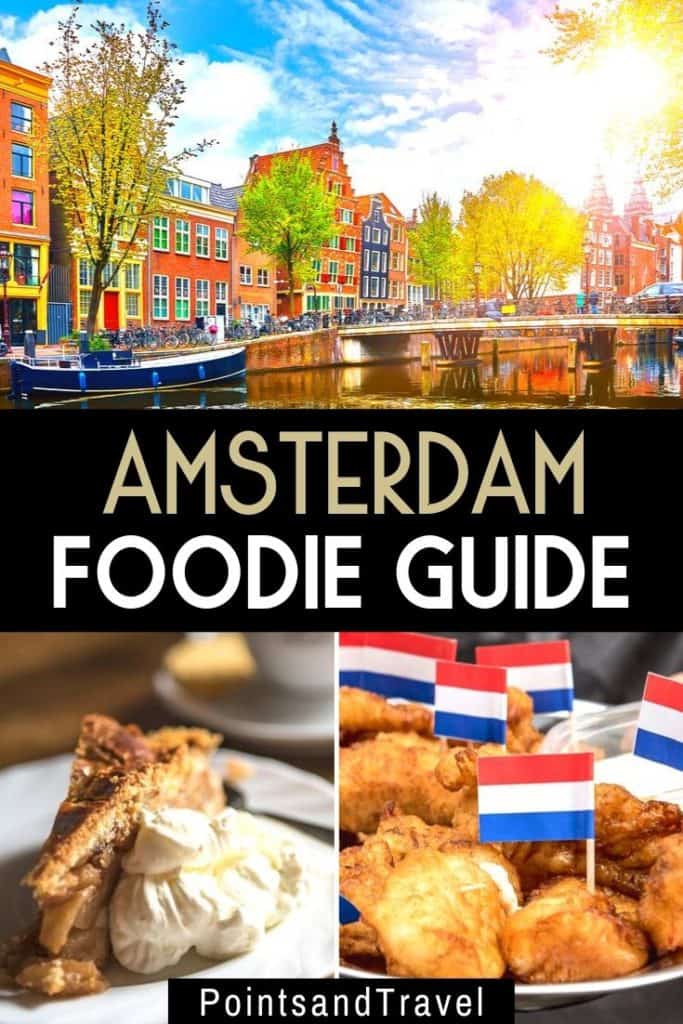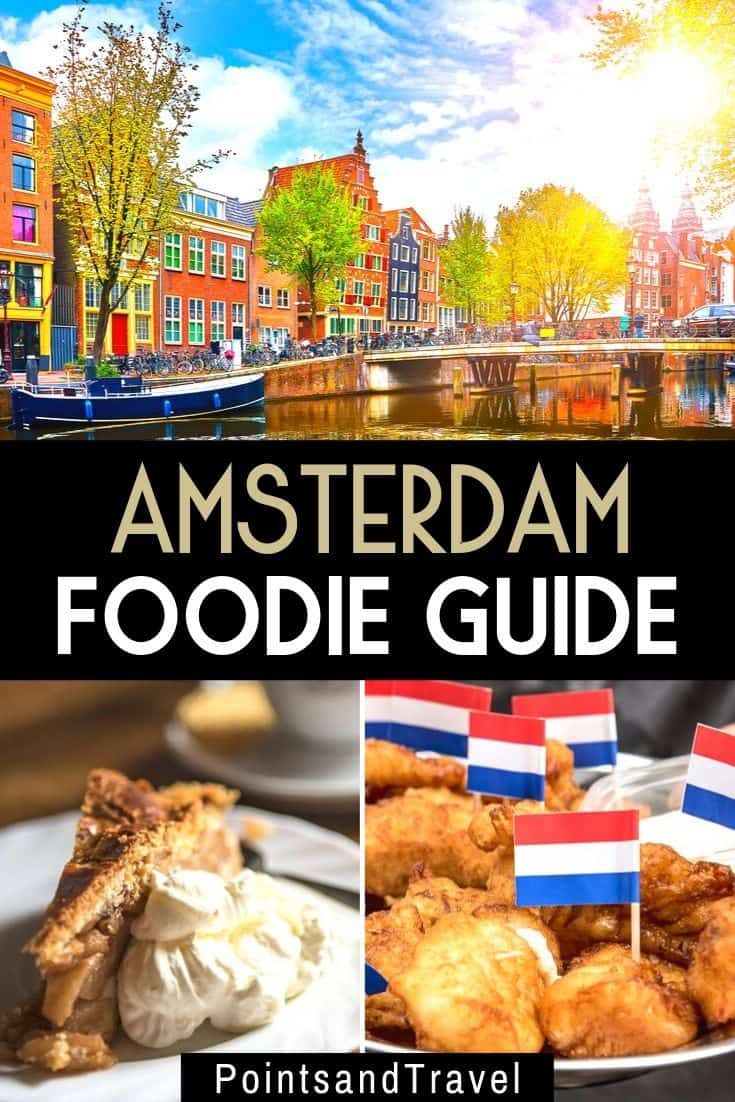 Starting Point: Café Papeneiland
Starting at a Café Papeneiland, which dates back to 1642, we were treated to a slice of killer apple pie that was at least two inches thick with layered apples, from a recipe that was handed down through the generations.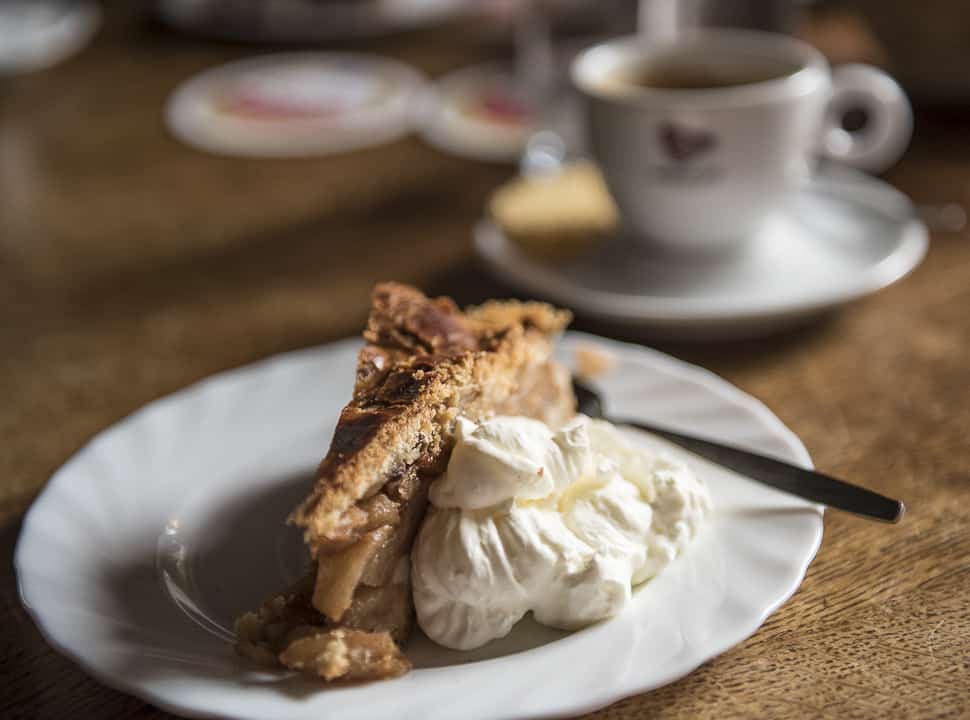 Mom, I hope you're not reading this, but it rivals your apple pie! This charming corner Café is known as a "brown café", a result of stained walls wearing the effects of years of smoking, which fortunately is no longer allowed. The place oozes of charm with well-worn wooden tables and chairs, and a bar cluttered with glasses, elaborate bar taps, candles, eggs, coasters – you name it!
Next Stop: Swieti Sranang
Our next stop was truly a surprise – Swieti Sranang, a take-out featuring foods from Surinam and Indonesia, both former Dutch colonies. We sampled fried plantain with a satay sauce and a broodje (sandwich) with a hearty filling of chicken, malanga root, pickled cucumber, and pepper – a combo definitely new to my taste buds.
Another Stop: Hofje
As we continued to wander, the always smiling Aileen led us into a hofje (an inner courtyard –a green oasis of flowers and grass).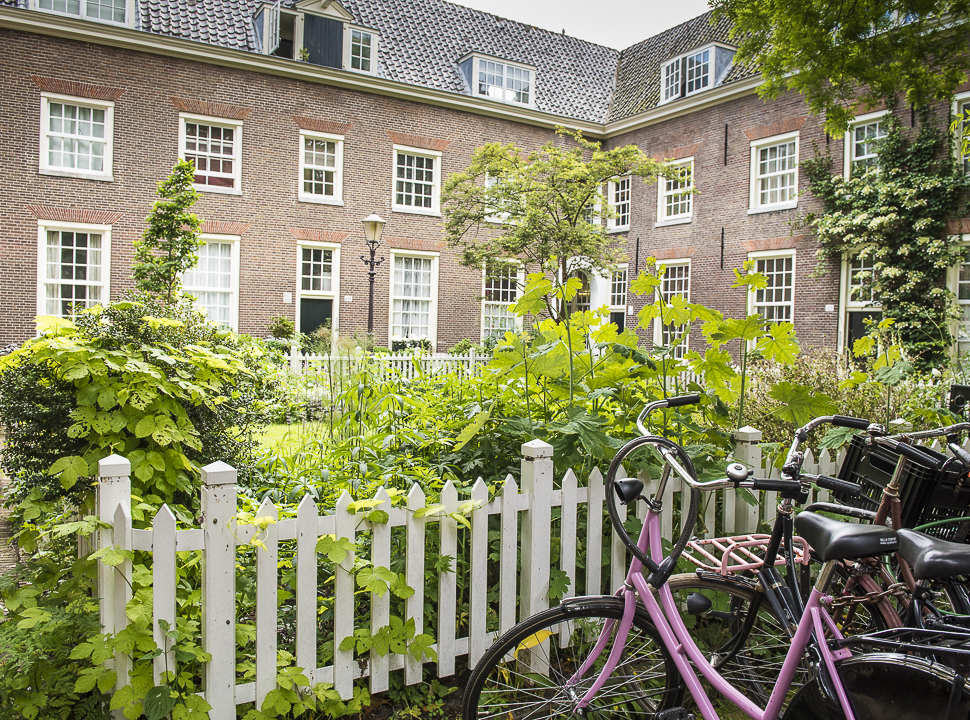 Aileen would tell us that the hofjes were originally surrounded by almshouses – charitable housing from Amsterdam's earlier days, which today serve as apartments. We would sample ossenworst and grillworst from Butcher Louman who has been in business for over 150 years!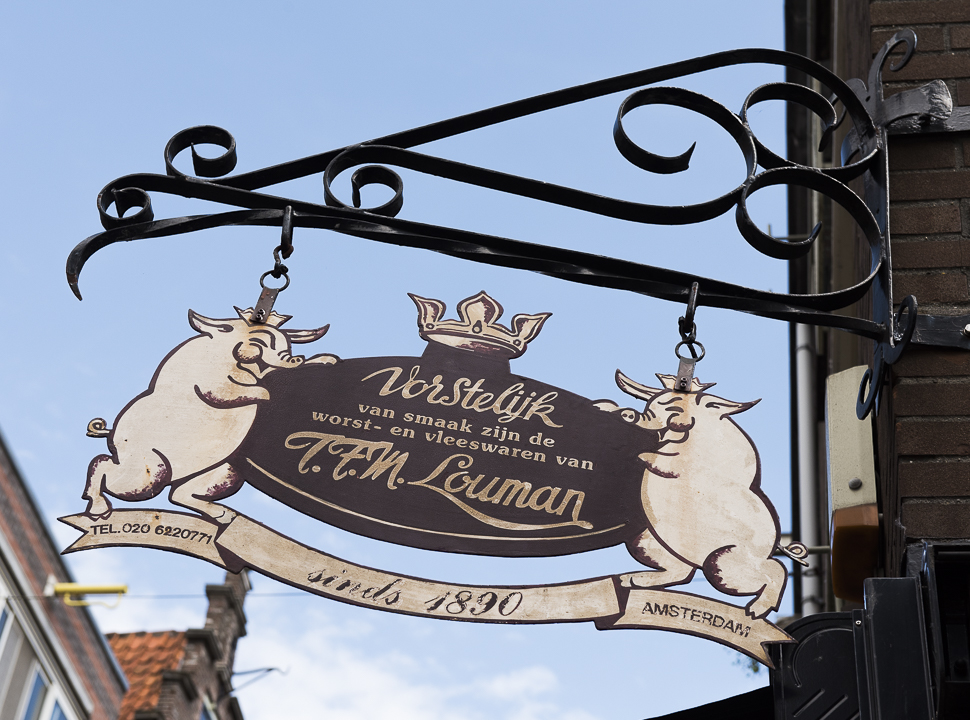 Vis Plaza Stop For Pickled Herring and Cod
Then continued on to Vis Plaza for a taste of pickled herring and Kibbeling (deep-fried cod).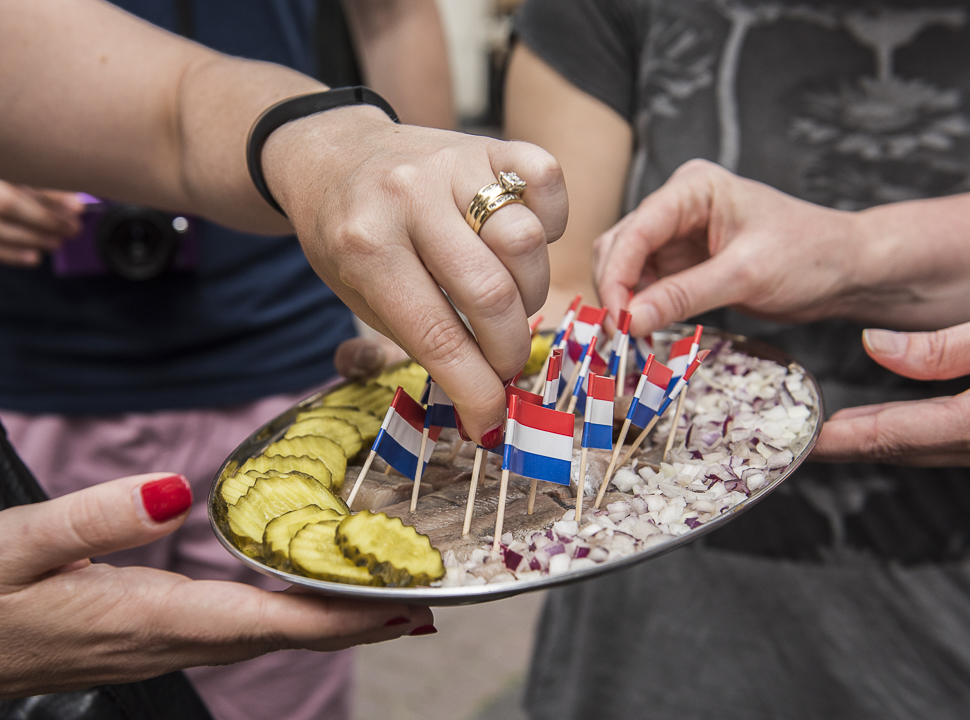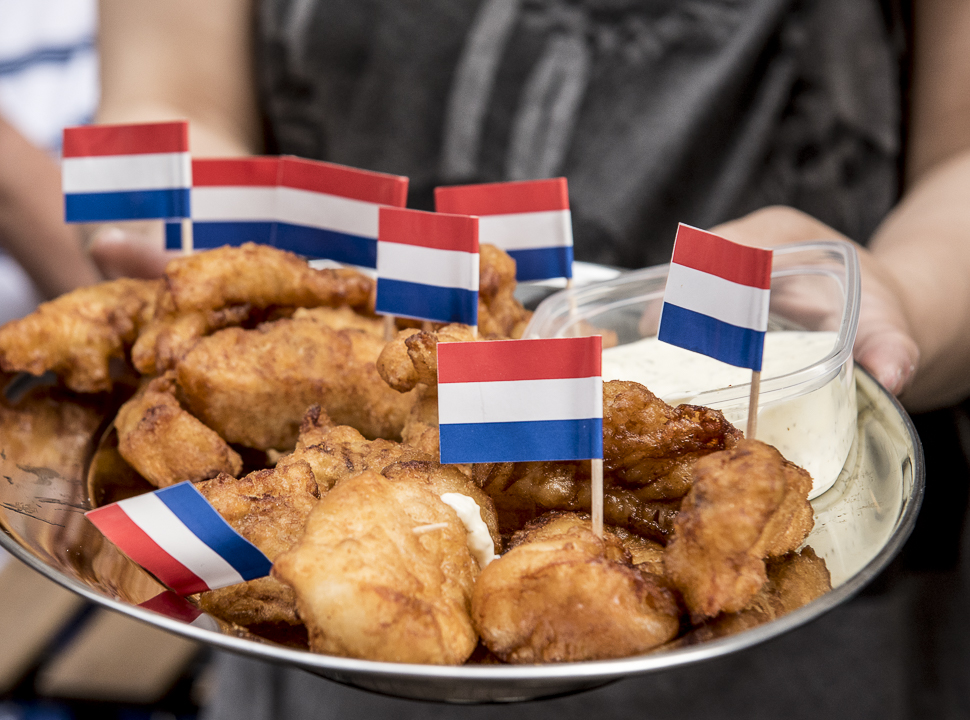 Admittedly, raw or pickled fish never touches my lips, but my fellow foodies said it was delicious.
Last Stop: "The Tourist" Salon Boat
The last part of the tour takes place on "The Tourist", a beautifully restored salon boat that was built in 1909.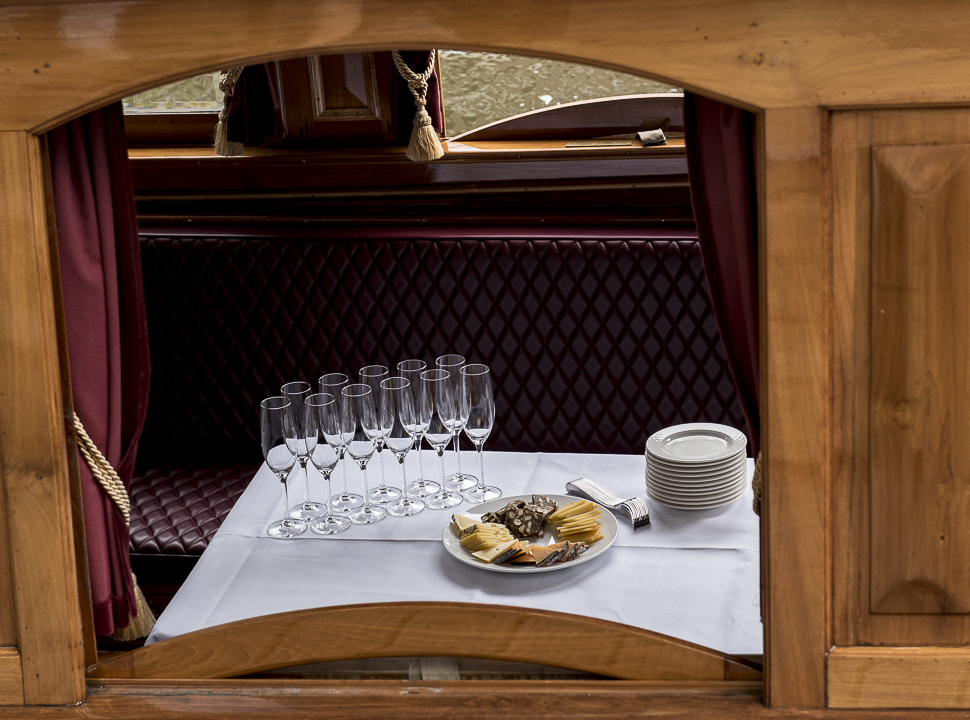 Amid the tiffany lamps and intricate scrollwork found throughout the vessel was a table set with an assortment of cheeses from De Kaaskamer (including Gouda!) paired with a glass of bubbly wine and splendidly arranged on a crisp white tablecloth.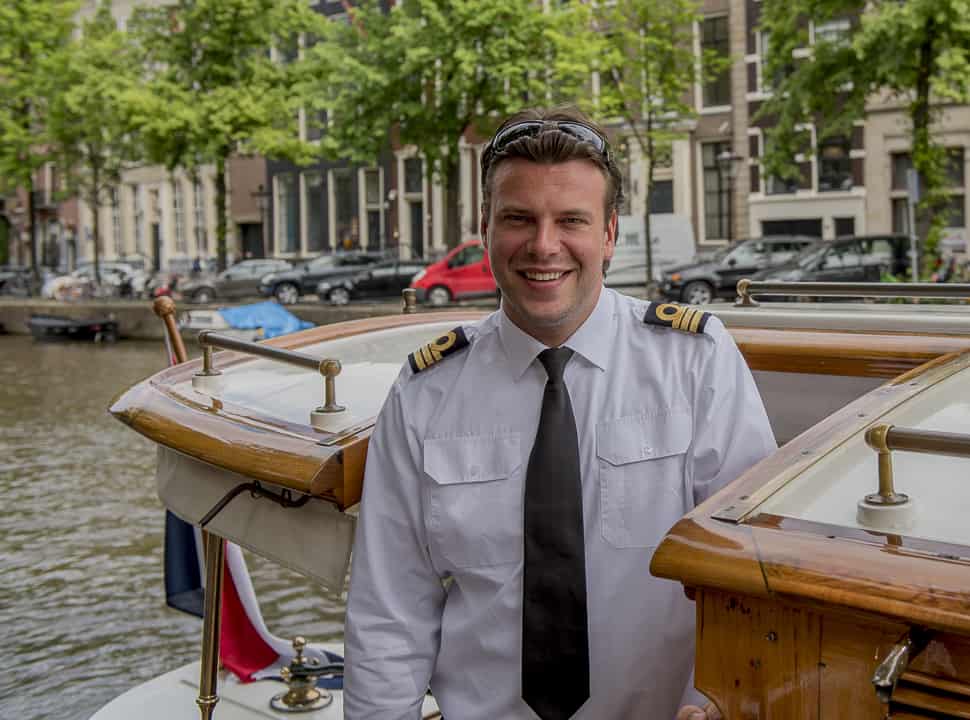 Captain Tony, sporting a crisp white shirt that paired nicely with that tablecloth, set the tone for a lively, engaging ride through the canals. By now, our group is relaxed and taking in the sun and the sights of Amsterdam from the water level – a perspective not to be missed.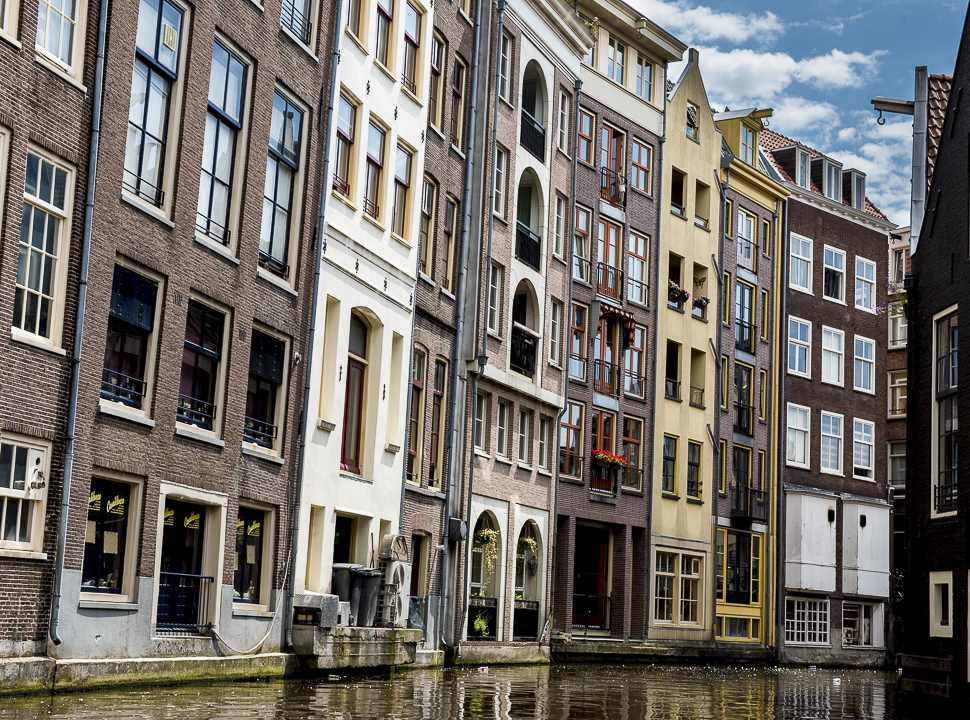 Midway on the ride, Captain pulls over and someone onshore hands him a bag filled with bitterballen from the Holtkamp Bakery. Interestingly, this is a deep-fried ball of meaty-flavored gravy, served to us with a local beer from Brouwerji 't IJ Brewery. One was enough for me – I would suppose you acquire a taste for bitterballen, usually served as an appetizer.
Oops, One More Last Stop: Café De Prins
There was one final stop at Café De Prins, another one of Amsterdam's brown cafés noted for its poffertjes – a puffy Dutch pancake served up with powdered sugar and butter. I paired my plate of these tender morsels with a cup of cocoa that is without question, the best hot chocolate I've ever tasted.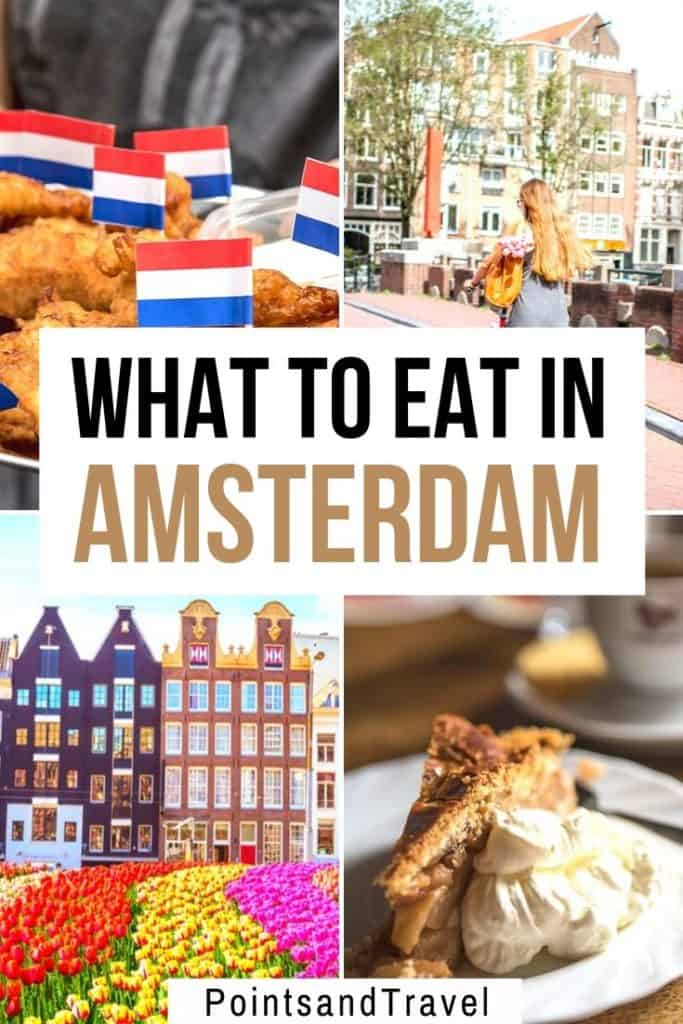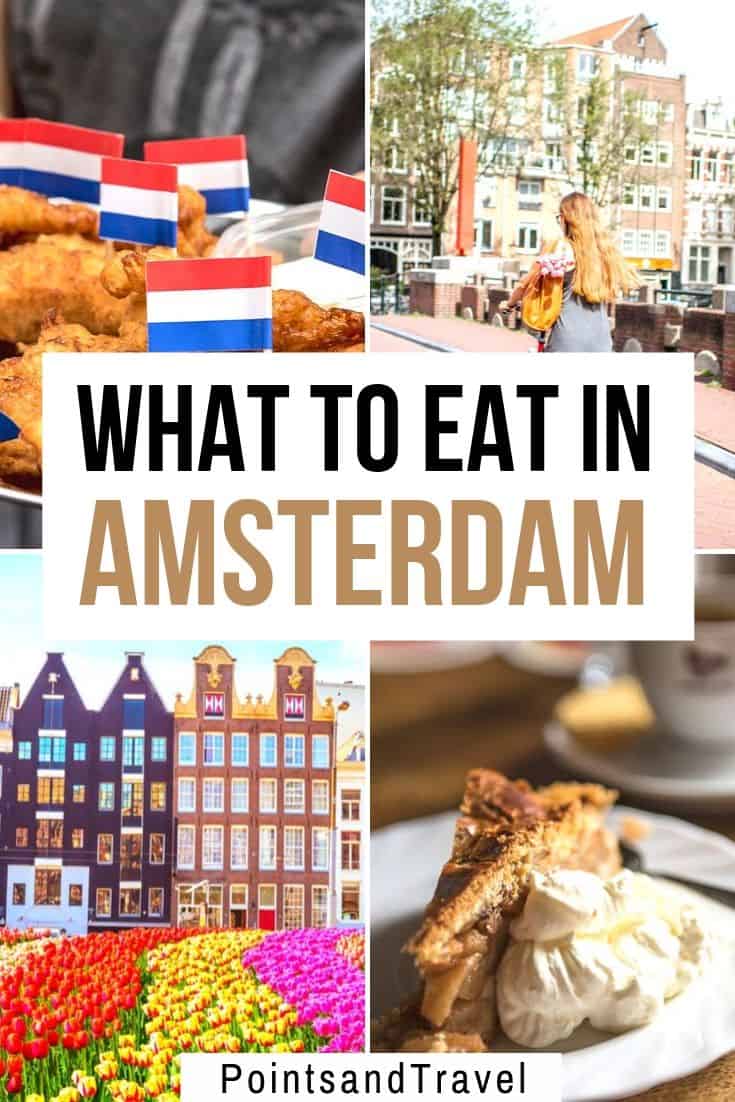 Before saying goodbye to Aileen in front of the Westerkerk Church, she handed each of us a gift of assorted Dutch licorice, some sweet, some salty. The beauty of this four-hour foodie tour wasn't just the food. It was that instant comradery that happens when you find yourself in a new situation with like-minded people. By the time the tour was over we had everyone's back story – an emergency room nurse on a three month holiday, a newlywed couple on their honeymoon, parents traveling with their daughter – who just happened to be a magazine editor in Calgary, Canada – a mere six hours over the border from my home!
I expected with a foodie tour, you come away stuffed and uncomfortable, and I'll admit to wearing loose-fitting pants, but not so with Eating Amsterdam Tours. You can easily pace yourself and with the walking in between stops, I never felt like I was overindulging (well, until we had those poffertjes!).
Eating Amsterdam Tours offers three distinct options. Check out their site for times and descriptions of their various tours. The Jordaan Food and Canal Tour starts at 10:30 am and lasts four hours. I would offer six words of advice – wear walking shoes and skip breakfast!
Disclaimer: Donnie Sexton was a guest of Eating Amsterdam Tours. The opinions expressed are all her own. You can follow her over on Instagram @donniesexton1