I may have mentioned that I was at the International Travel Goods Show in April this year, I even wrote a round-up of what I called "Innovative Products" from the show. When I heard about this show, I made a list of vendors that had products that I thought would interest travelers. I then went to each booth to visit them, but there were so many, I couldn't visit them all. At one of the booths, there was this one piece of luggage that caught my eye right away, as I have been searching for a more elegant, yet 'smart luxury' spinner for my collection of carry-on luggage. And what did I find, but the Delsey Chatelet. I fell in love instantly! Who knew I would be writing this Delsey Chatelet review? Certainly not me!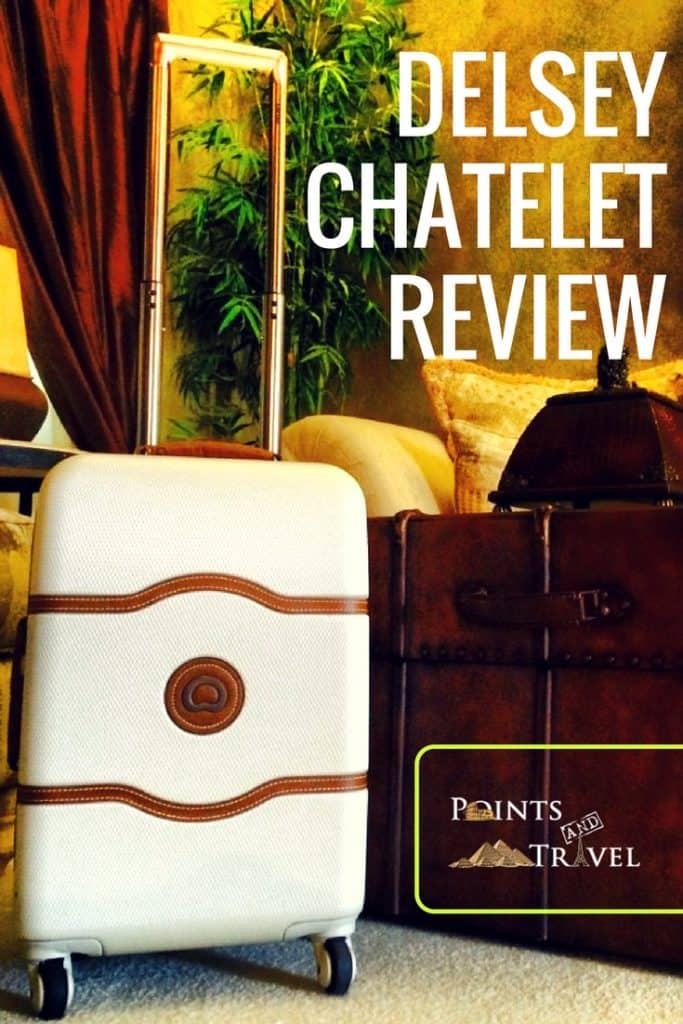 Delsey Chatelet Review
The company is DELSEY and it has been around since 1911. In the beginning, DELSEY made leather cases for cameras and photographic equipment. It became a branded product in 1946 and it was in the 1970's that they started making luggage. It is a French company that has expanded into the USA market as the world's second largest luggage company.

At the show, they had many choices in the way of carry-on spinners, but this one I kept going back to. I think the number one reason was that of its classic beauty. Now I am usually more of a functional type of person when it comes to luggage, but sometimes a lady would like to look elegant, instead of the usual way in which I show up, which many times is with a heavy pack on my back (I use the EBags Mother Lode backpack, which is extremely functional, but not very sexy).
Delsey Chatelet Review
Delsey's Chatelet Carry-On is more of a one city, one resort elegant stay for a romantic weekend versus a 32-day trek around Europe, although I am sure it could that too. This piece of luggage is more for the affluent, elegant woman who has several pieces of luggage and purses. She is looking for the "right look" in which to arrive at an elegant hotel. When I see this particular piece of luggage I imagine Carrie from Sex in the City wheeling this piece of luggage into that French hotel she stayed in while in Paris on the last episode! (I miss that show!)
Sex in the City meets Delsey Chatelet for a sexy, elegant look
Delsey Chatelet Review: Style
The luggage piece I am talking about is the Chatelet Trolly Case. The piece comes as either the 55 cm or 67 cm, 4-wheel cabin trolley, with its elegant color choices and innovative braking system; I was thrilled to take it for a spin. It has a wheel locking brake system where if it is parked on an incline, it can be set to not slide down the hill. I also actually, for a change, loved the coloring, which is a creamy white and a tan leather color combination. I think is much more elegant than the traditional black that I always choose. It is also of the hard body style. Note that the materials are very luxurious and stylishly designed, instead of the plastics that you find in other carry-ons. This line of suitcases is all about style! There is no denying that this is a gorgeous piece to add to your collection of luggage.
Delsey Chatelet Review: Function
So what about function? I found that it worked perfectly for my weekend getaway, with plenty of space, small areas to hold special items in, and the wheels spun with no glitches.
Delsey Chatelet Review: Inside The Suitcase
If you haven't used a hard case before, I think you will enjoy trying the Chatelet out. The case splits in two so you can lay it down and pack both the halves. This is super handy, as it allows for you to pack your clothes a bit easier and allows for more organization of the luggage. Once open, you will realize that it has two zippered enclosed sides, that way it won't matter which side you open up first, nothing will fall out.
Delsey Chatelet Review: TSA Lock
I am one that constantly uses TSA approved locks, but for this case, you won't have to remember to put one on your luggage because it comes attached to the suitcase, which I think is an excellent feature. And for me, it certainly was easy to figure out how to make the combination lock work. Just zip up the case line up the zip ends to the slots and "wa la", it is locked AND TSA approved!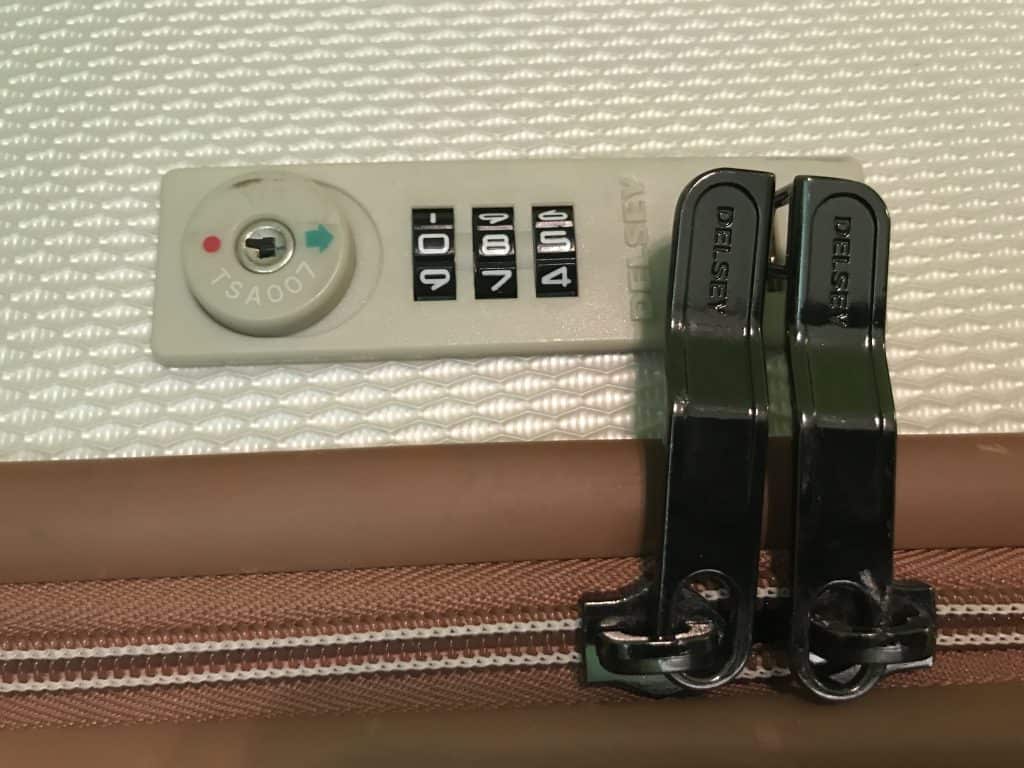 Delsey Chatelet Review: Additional accessories included
An extra cloth bag for your laundry and a small foldable sturdy plastic hanger.
One last thing:
Delsey Chatelet was named after the famous central district of Paris, which I give them kudos for that in my book. It is a timeless, elegant spinner luggage made of leather-like accents as well as has a deluxe interior. The label says the made it out of "virgin polycarbonate formulated to achieve the highest standards of extreme temperature and impact resistance."
Delsey Chatelet Review: Warranty
Finally, with all great luggage comes great warranties and the same is true with this elegant Delsey produce. They provide a 10-year limited warranty on this piece of luggage.
Delsey Chatelet Review: Specs
What: Delsey Chatelet Trolly Case (Carry-On)
Size: 55 cm or 67 cm (21.6 inches or 26.4)
Features: Spinner, innovative braking system, style
How much: retails for $255.00 (see link above to purchase) But you can get it on Amazon for $185.90
Company: Delsey USA
Delsey Chatelet Review: Softside Expandable
And don't forget the Softside Expandable as an added suitcase to your selection. It comes with the same basic features, however, instead of being the hard side virgin polycarbonate, it is made from a soft side expandable material. Same quality, same look, just a bit softer and more expandable.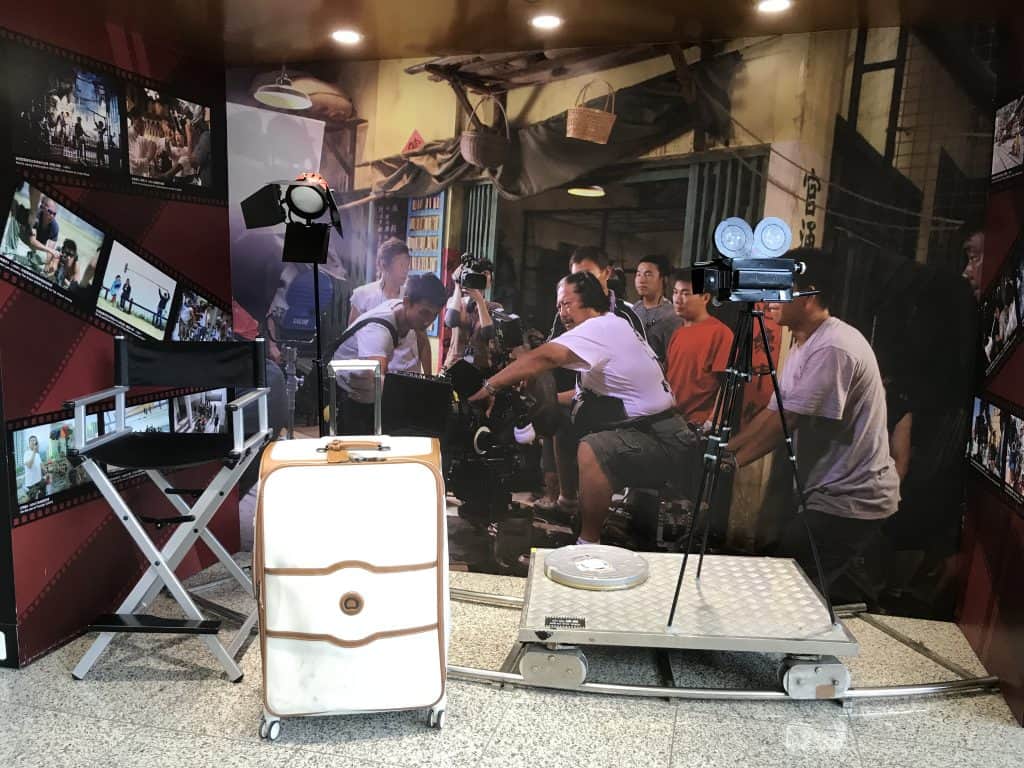 Don't want to carry luggage? Then try this Scottevest Jacket – my 3rd Carry-on!
Or if you need a backpack, I review some here.
Disclosure: Delsey USA was gracious enough to let me try out and keep the Chatelet Trolly and honesty, I loved it! Opinions like that can not be bought or sold! This article contains affiliate links.