I am sure that most of you have heard the expression 'Don't knock it till you try it'. Well, that is the perfect expression to accompany this article. If you haven't guessed from the title, I will be discussing what Indian Goat Mutton Curry is, and how it tastes in recipes! I wouldn't be surprised if you read the words goat and mutton and thought, heck no! I am not eating the meat of a goat!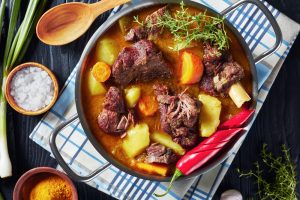 ---
What's in this post:
hide
Indian Goat Recipes!
---
---
You might be thinking, Indian food- YES! Curry- YES! But a hard pass on Goat. Well, I am here to tell you don't knock it till you try it! It is an amazingly delicious dish that will leave your taste buds wanting more! Now, before I give you some yummy Indian recipes to follow, let's dive into some details about Mutton and Goat.
What is Mutton?
Before I tasted this Indian dish, I had only heard the word mutton in British Period Dramas on Netlfix (shout out to Bridgerton). I assumed that mutton was a highly sought meat. One that old rich folks loved to eat! As it turns out, mutton is still used today in Indian Cuisine. As well as British and Irish cuisines.
Mutton is a mature lamb that has aged between 1 and 3 years old. The biggest difference between a lamb and a mutton is the age. A lamb is a baby sheep and a mutton is an adult sheep. Mutton has a similar consistency as lamb, but it tastes scrumptious when cooked with loads of Indian spices. Mutton can be chopped into different pieces, similar to a cow. At your local butcher, you might find a shoulder cut, lean meat, mutton chops, and other mutton pieces This sheep meat is best cooked in a pressure cooker. Or on a medium flame and marinated with tons of spices.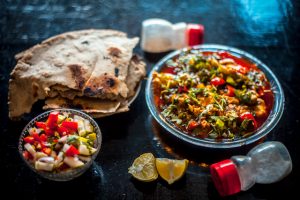 What Part of the Goat to Use?
If you are unfamiliar with this recipe, you are probably wondering what part of the goat you will eat! In my opinion, the goat's shoulder and leg are the best parts of the goat. Especially, to use in this recipe. Both the goat's shoulder and leg are tender. And they keep their tenderness while being cooked in the slow cooker. Slow cooking these types of meats in a slow cooker allows for the meat to become succulent and juicy.
Differences Between Meat from Goat and Mutton
Aside from the fact that goats and mutton are different animals, they have many other differences. I want to start by stating that goat meat is one of the easiest red meats to digest. Adult goat meat is milder. And much sweeter than mutton. Unlike mutton, which is higher in fat, goat meat is tougher to cut and has fewer proteins. However, thanks to the high-fat content, mutton has a gamey flavor to it. Last but not least, goat meat is healthier than mutton. Some cultures refer to goat and mutton as one and the same, but as I have expressed, they are quite different.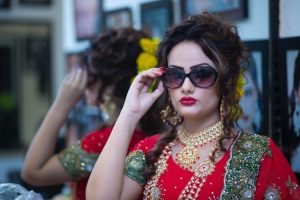 What Goes into this Curry Dish?
I highly recommend you check out this Step-by-Step Recipe and video to get into the proper steps on how to cook this dish. The exact measurements of this dish can vary. But here are the basic ingredients you will need for this mutton curry recipe.
Whole Spices or Ground spices (depends on which you prefer):
Coriander Powder, Red Chili Powder, Cumin Powder, Turmeric Powder, Cinnamon Stick, Curry Powder, and other aromatic spices of your liking.
Red Onions, Green Chilies, Chopped Tomatoes, Tomato Paste
Red meat such as goat pieces and mutton mince (don't worry about the raw smell it will go away once everything is cooked)
Other Simple Ingredients:
Coconut milk, Mustard Oil, Fresh ginger, Curry Leaves, a Cup of Water or Cups of Water (hot water), Ginger Garlic Paste, Bay Leaves, Green Cardamom, Bay Leaf, Garam Masala, and Mutton Masala
Cooking Time and More
You will need either a pressure cooker, large pan, or crockpot for the cooking process. I recommend having as much time as you need to cook this Indian food. You should begin cooking with medium heat to medium-high heat before reducing it to low heat.
Pressure cooking is a good choice to cook meat because you can control the high-pressure lower levels. You will most likely need 6-8 hours to cook this curry. And wait for the natural pressure release to let you know when it's almost done. Lastly, get a small bowl or large if you want, and put the curry in the bowl for tasting.
You can click on the following links, Easy Indian Recipe, Instant Pot Goat Curry, and Slow Cooked Mutton Curry to get more in-depth, but easy recipes. You might find some recipes that vary from the ones I provided. Or your grandmother's recipe. Here is a delectable Indian Goat Curry Recipe that includes mint yogurt (but you could probably use plain yogurt too).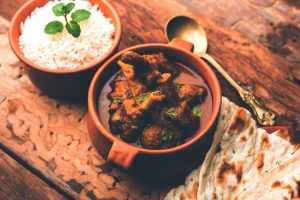 Pro Tips/Suggestions
A secret ingredient to make this dish pop is a tbsp of lime juice.

Don't worry if the oil separates.

Make sure to use marinated meat.

Take care to give the curry a good stir every once in a while, so it doesn't stick to the bottom of the pot/pan.

Check the spice level to make sure it isn't too spicy or not seasoned enough.

Keep in mind to use enough water to ensure cooks properly.

A close sign that your curry goat is almost done is meat is golden brown.

Don't be discouraged if your curry doesn't come out the same every single time you make it. Even Indian home cooks don't make the same curry every time. Plus, don't read all the dialog window reviews about curry goat, everyone likes to be a critic.
After all, is cooked and devoured, you with have tasted a delicious mutton curry. The above-mention goat meat recipes and Indian mutton recipes come from North India and South India. If you enjoyed this Indian Mutton Curry then I suggest the Simple Recipe on Rogan Josh Curry. I dare you to open a new tab on your phone/tablet/computer and follow one of the recipes I suggested for some of the best Indian curries you will eat!