There is no doubt that Cancun is a famous travel destination in Mexico. Aside from its stunning beaches and ancient Mayan ruins, it also boasts of impressive cenotes both in and around Cancun.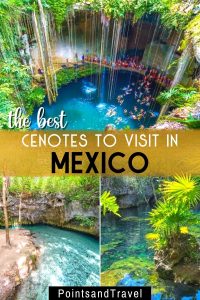 ---
What's in this post:
hide
Cave Snorkeling in Cancun
---
---
Cenotes are water-filled natural sinkholes that form in limestone rock when an underground cave collapses in on itself. This exposes the groundwater underneath. Based on the Mayan culture, they considered cenotes sacred. In fact, they throw their sacrifices into these holes. This is why there are some that are off-limits to the public because of what lies beneath.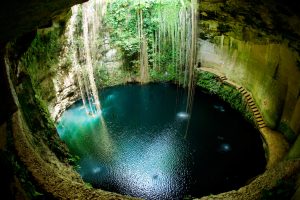 If you want to see them up close, then you need to explore the Yucatan Peninsula. In fact, Cancun is a good starting point for exploring the Riviera Maya. And the wonders it has to offer. What you'll notice about the waters in these cenotes is that they are cool. This is because the water comes from the underground. In fact, tourists visit these natural wonders to go diving or snorkeling!
Beautiful Cenotes to Visit in Cancun
If you planning on visiting the Yucatán Peninsula soon, make sure that you visit the cenotes. In fact, there are several in Cancun in the Mayan Riviera that you can start with. Some are hidden in the lush jungles of the Yucatan while others are on the off-the-beaten-path. If you are ready for a unique experience on your next Cancun adventure, you should check these cenotes out.
La Ruta de los Cenotes
These are the best cenotes that you will find near Cancun. In fact, the name itself which means the Road of Cenotes should make you feel excited. These cenotes lie on one continuous road, heading west to Puerto Morelos.
One of these is Cenote Zapote EcoPark which has four cenotes. Two are open cenotes and the last two are cave cenotes. Each site offers tourist activities like riding an ATV, jumping from platforms, and snorkeling.
Another is Cenote La Noria which boasts crystal clear water. In fact, you can easily the little fish darting about even from the surface. Since this is in a cave, you will be able to see different rock formations that add to its beauty. This is on a dirt road so you need to choose your mode of transport well.
Cenote Azul
Cenote Azul, or blue cenote, is a huge open-air type of cenote that boasts turquoise waters. Aside from that, there are multiple pools for you to explore, plus a cliff jump too. The cliff jump is on the deeper end of the cenote. This cenote is just an hour away from Cancun and it is just off the main highway heading to Playa del Carmen. There are amenities available here like shops selling soft drinks and other souvenirs even.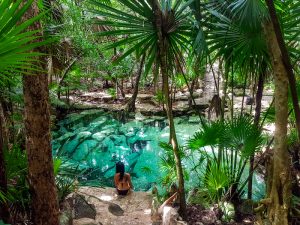 3. Cenote Azul
While you are in Cenote Azul, you should also stop by Cristalino. As the name suggests, the waters here are clear and cool too. Is this your first time visiting, make sure that you swim in its cave which runs for 20 miles. Aside from that, check out the dive platform which towers over the pool. This is not for the faint of heart! Just imagine climbing up the rock platform and then jumping into the pool below.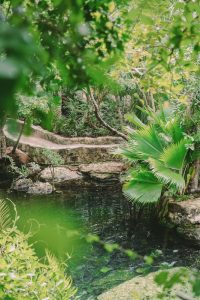 Cenote Ik Kil
Cancun is near the renowned Chichen Itza and is often a favorite option for a day trip. Aside from that, it is also here where you will find one of the best cenotes in the Yucatan which is cenote Ik Kil. The roof of this cenote collapsed completely. The end result is a spectacular view of tree roots cascading into the hole below. In fact, you should take advantage of a guided tour to see the archaeological site and this stunning cenote.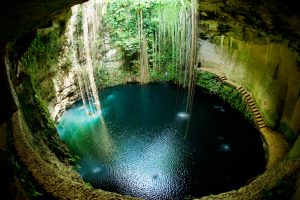 Gran Cenote
Meanwhile, the Gran Cenote, or Big Cenote, is one of the most Instagram-worthy cenotes in the country. Just 15 minutes away from Tulum town, this should be your next stop after the cenote. After all, the Tulum ruins are also worth exploring if you want to learn a thing or two about the country's history.
However, since this is the most popular cenote in Quintana Roo, expect that there will be a crowd here. It is best that you arrive here early in the day to avoid the long line. Aside from that, there are several amenities that you can enjoy here. Among these are restrooms, bathrooms, and lockers to keep your personal belongings. You can also rent life jackets here.
Cenote Dos Ojos
The Dos Ojos cenote is the perfect place for divers. In fact, there are two cenotes that you can visit here. The first one is the Ojo Azul or Blue Eye, and the other is Ojo Negro, or Black Eye. What's interesting about Ojo Negro is that the cave is completely black. You will need a tour guide to enter this cave cenote. It can get pretty busy here, but it's worth seeing it. After all, freshwater is crystal blue water. This is perfect for watching marine life thrive here.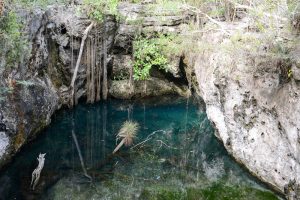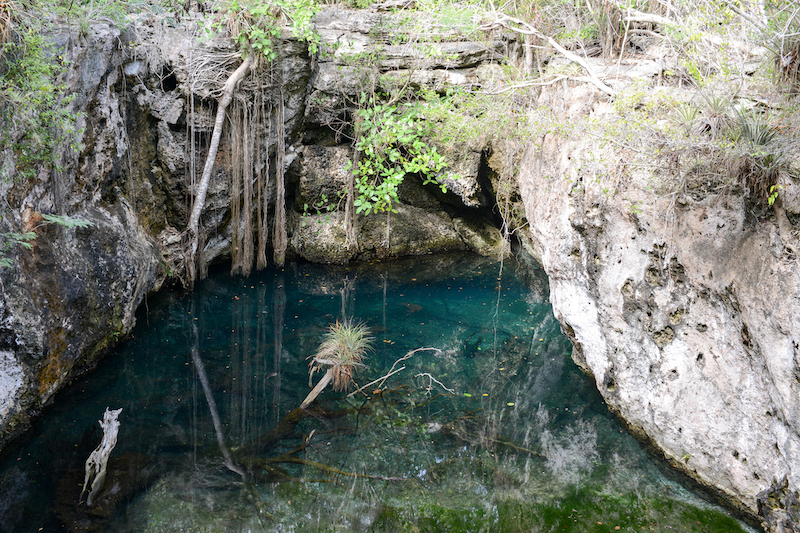 Cenote Yal Ku
Another popular cenote to visit is the Yal Ku in the town of Akumal. Known for its white-sand beaches, sea turtles, and coral reef, this is a great spot to visit for families. Aside from the cenote leading straight towards the Caribbean Sea, this open-air cenote boasts of shallow waters as well as plenty of sea creatures. This is actually a good spot for families who want to go swimming and snorkeling.
Cenote Zacil-Ha
One of the best things about this open-air cenote is that it is ideal for swimming. In fact, there are several places where jump or dive in! Aside from that, you can take advantage of the zip line here for that adrenaline rush that you've been looking for.
The good news is that this is a great option for families who have little children with them. Apart from the open-air cenote, there are also two additional pools here that you can swim in. Also, the hammocks tied in between trees will make you want to lounge here the entire day.
Cenote Suytun
Cenote Suytun is a great place to add to your list of cenotes to visit with good reason. Aside from being able to swim in its cool waters, it is also ideal for photoshoots. After all, when the sun is overhead, the cave itself becomes bright. Also, the natural light highlights the circular platform that juts into the center of the cave.
Casa Cenote
Casa cenote is another option to consider in your cenote tour. For starters, its crystal clear turquoise waters are quite inviting. Aside from that, there are mangroves and lush vegetation around it adding to its overall apparel. You can even head to the beach nearby once you have your fill of the cenote. Guests can go swimming, snorkeling, or kayaking here too. The waters are shallow making them safe for young kids. Aside from that, cave divers often head here because of their underwater cave system.
Coba Cenotes
If you are a fan of ancient ruins, the Mayan jungle in Coba is a great spot to visit. Aside from that, it is also here where you will find the Coba cenotes. In fact, there are three cenotes here that you can swim in. These are Choo-Ha, Multum-Ha, and Tamcach-Ha. These are small cenotes where you can go for a quick swim after exploring the ruins.
Cenote Sac Actun
Sac Atun is just less than two hours drive away from Cancun and is worth visiting. This is an underground cenote that lies close by to Dos Ojos. In fact, this is one of the longest underground cavern systems in the country. It connects Sac Atun with Dos Ojos! As soon as you enter this cenote, you can marvel at the stalactites coming from the ceiling. You can hire an experienced guide to take you into the heart of this cenote. Your expert guide will take you to the underground rivers here.
Cenote Calavera
Meanwhile, cenote Calavera is in a league of its own. From the top, the formation of these three cenotes looks like a skull hence the name. That said, you can enter from the small opening if you want to plunge into the water. On the other hand, there is a ladder that can bring you safely below. If you are in Tulum, you can go on a half-day tour here to see what the fuss is all about. Take note that this is one of the popular spots near the town. If you can, make sure that you arrive here early to avoid the crowd.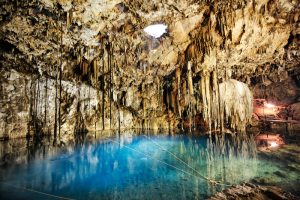 Cenote Jardin del Eden
Cenote Jardin joins the ranks of Cenote Cristalino and Cenote Azul in terms of beauty. In fact, it is one of the more popular spots near Cancun. Just imagine a large open-air cenote surrounded by lush vegetation and crystal clear waters. It will certainly give off that Garden of Eden vibe to it.
Aside from swimming in its beautiful waters, it is also good for cliff diving as well as snorkeling. It is not surprising that scuba divers go on dive tours here. After all, the cave system here is one of its major draws. You will want to explore the depths of the water once you arrive here.
Cenote Xcanche or Ek Balam
Full-day tours to the lesser-known of ruins of Ek Balam also come with a chance to swim in its cenotes. It is a beautiful place that lies in a village of the same name. Also, it is near the entrance to the ruins of Ek Balam. Xcanche is an impressive open-air cenote that boasts of its own waterfall streaming into the hole. Aside from that, zip-lining, swing jumps, and swimming is among the enjoyable activities that you can do here. It is not surprising why it is a popular activity after touring the ruins.
Cenote El Pit
If you are looking for a different experience in a cenote, then head to El Pit. Unlike other cenotes where snorkel activity is a staple, this cenote doesn't allow it. This includes swimming too. Aside from being the deepest cenote that you will find in Quintana Roo, it is literally just a hole on the floor. Only dive-certified individuals can go exploring the deep water of this cenote. Cave divers often flock here because of its deep waters.
Cenote Carwash or Cenote Aktun Ha
One reason why this cenote got its name is because of its location on the main road. Since it is near the road, taxi drivers often stop here to wash their vehicles. Aside from that, this is a great place if you want to explore a cenote on your own. Also, referred to as a "pond cenote", this cenote has blue waters that you will want to swim in. In fact, this cenote is completely natural-looking, with its fallen trees, as well as the turtles and fish that reside here.
Cenote Escondido
If you are looking for an amazing experience, this is where you will find one. Just imagine being able to climb ropes and swing above the waters. There is a swing rope from the cliff that you can swing for you to dive into the water below.
Aside from that, there is another cenote that you should add to your options. This is the Cenote Cristal which can get crowded in a while. Fortunately, Escondido is nearby so if the long lines at Cenote Cristal overwhelm you, there is another option to consider and this is it.
Cenote Taak Bi Ha
This underground cave system lies near the Cenote Dos Ojos. in fact, if you are visiting Dos Ojos make sure that you head here. Although this may mean an additional cost to your budget, it is worth it once you see its beauty. You will need to pay an entrance fee to be able to explore the cenote.
Aside from that, once you step inside, there is that feeling that you have stepped back in time. The best option to truly appreciate this cenote is to go hire a local guide that will take you deep into the cenote.
Different Types of Cenotes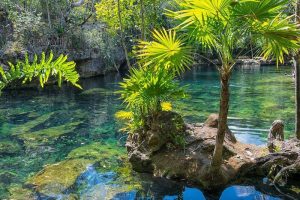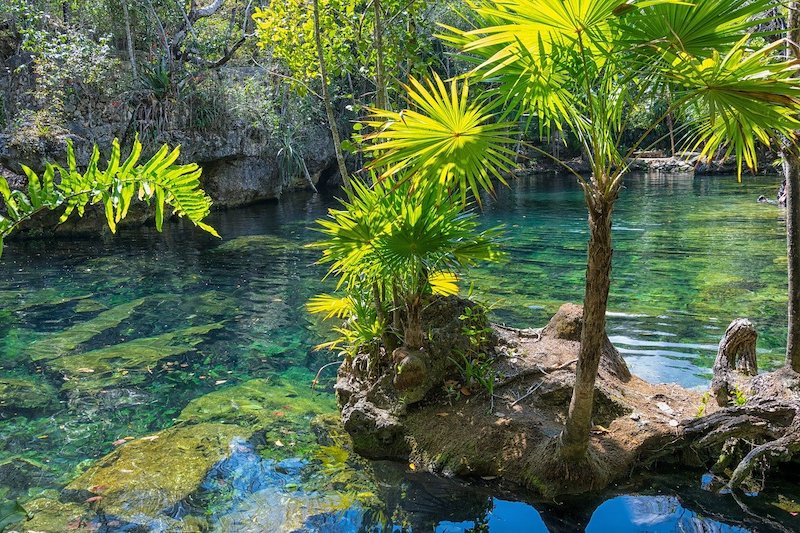 You might not realize this, but there are more than 6,000 cenotes in the Yucatan. Although only a handful is open to the public, you will notice that there are different types of cenotes. In fact, there are four of them that you should know to be able to classify the cenotes that you are visiting correctly. Let's take a look.
Open Cenotes
If you booked a snorkeling tour, you will most likely head to open cenotes near Cancun. This type of cenote means that the cenote openings are wide enough to allow guests to swim comfortably. In fact, they look like natural wells with their crystal clear waters and water levels ranging from shallow to deep.
Aside from that, expect that there is more natural light penetrating the cenote. Also, there is always lush vegetation nearby. It is not surprising why they are among the best snorkeling spots in the country.
Semi-Open Cenotes
As the name suggests, these are cenotes that are partially covered. This type of cenote has large walls surrounding it with an opening at the top. The hole is where natural light can illuminate the cave below. A good example here is Cenote Ik Kil.
Closed Cenotes in Caves
These amazing caves are underground which you will be able to access via some stone stairs or a ladder. In fact, Cenote Suytun is the best example of this type of cenote. Usually, a small amount of sunlight is able to illuminate the cavern below. Fortunately, a closed cenote is a great option for those who want to explore the depth of the water.
Dive Cenotes
As the name suggests, this type of cenote is often inside caves. Thanks to its deep water, they make a perfect spot to jump from cliffs, swim, or explore the underground river system. If you are wondering which one is a dive cenote, then visit Cenote El Pit. You can have a great time here provided that you have professional guides with you to assist in scuba diving.
Helpful Tips to Consider Before Visiting the Amazing Cenotes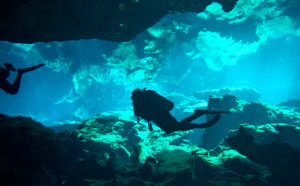 Spending some quality time with your loved one is not a bad idea. In fact, you can go on a 6-hour tour roaming the most popular cenotes in the country. This is a great option if you want to see the natural formations here with the help of an expert guide. That said, let's take a look at how you can enjoy the great tour.
Visit early or late in the day
If you book a private tour, the owner will pull out all the stops to make you feel welcome. However, if you want to avoid the crowd, you should be here at least 1 to 2 hours before they open. You can also do the same when the cenote is almost closing.
If you are looking forward to your cenote adventure, keep in mind that you will need cash on hand. This is especially true if you are visiting cenotes. It is best that you get cash prior to heading out to the cenotes. After all, the parking lot in some cenotes charges a fee. Also, the locals do not accept credit cards.
Another tip that you should keep in mind when visiting cenotes is to ditch sunscreen. Even if you choose a water-friendly version, you cannot wear it in the cenotes. In fact, even if you are going for a quick swim, you will need to take a shower before entering the pool. After all, the ecosystem here is quite fragile and the locals are trying to preserve it.
Wrap Up Cave Snorkeling in Cancun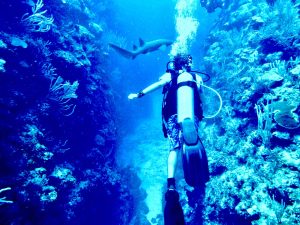 Traveling in small groups to these cenotes is not a bad idea. A great tour package will not only pick you up from the Cancun Hotel Zone, but you will also have round-trip transportation too. Even if you will make your own way to these cenotes, you will find that it is easier to get around with the aid of public transportation.
First-timers who want to know more about these cenotes can visit National Geographic to learn more about them. This will give you better insights on these cenotes so you can plan your trip here accordingly.