Anyone who has traveled to Cancun not only talks about the beautiful beaches but also the whale sharks that appear here. After all, this is one of their migrating spots where they can feast on plankton and krill. If you plan on visiting Cancun soon, make sure that you time your stay here during the whale shark season to feast your eyes on these majestic creatures.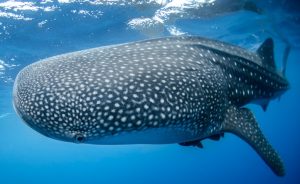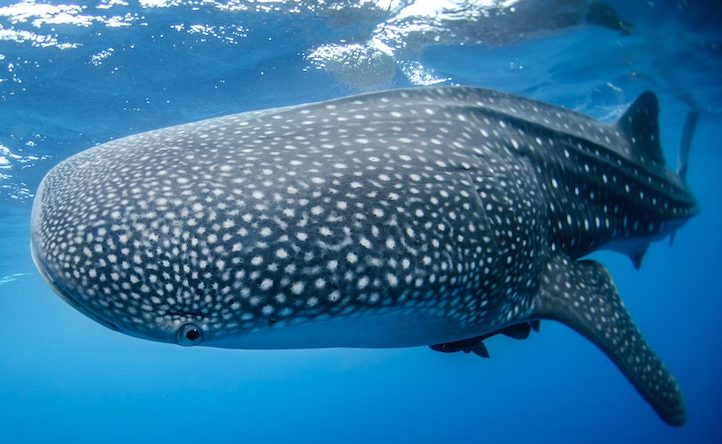 ---
What's in this post:
hide
Swim with Whale Sharks in Cancun
---
---
Unfortunately, whale sharks are an endangered species which is surprising since they help with tourism in different countries. However, human beings still hunt them for their fins, oil, and meat. Others, including other marine life, get tangled in nets left behind by large trawlers.

What are Whale Sharks?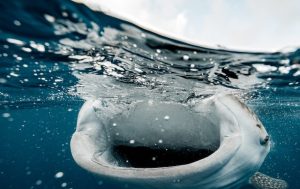 First things first, whale sharks are not whales. In fact, they are sharks and are the largest fish in the open seas. This is surprising since they are filter feeders. It can grow up to 39 feet and weigh up to 19,000 kilograms. Even though it is the biggest fish, they are gentle giants that feed on plankton, fish eggs, and even small fishes.
The average speed of whale sharks is 3 mph. This is why, even if you do your best to swim beside them, you will not be able to catch up easily. On the other hand, the best chance to see them is to go on a whale shark tour. If you are traveling before lunch, having a light lunch is a good idea.
Aside from that, you should avoid wearing any sunscreen or lotion when diving into the seawater to protect the ecosystem. One of the great ideas to avoid sunburn is to wear a wetsuit.
Where to See Whale Sharks?
Whale sharks love the warm waters. This means that their natural habitat is the tropical seas. However, keep in mind that they are migratory in nature and will follow where the food leads them. For example, these creatures are often seen in Ningaloo Reef in Australia, Cenderawasih Bay in West Papua, Isla Contoy, as well as in the Philippines.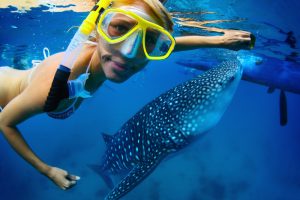 However, fishermen in the Philippines are importing food to lure these giants to the waters. Ask any marine biologist and you will learn that they frown upon this practice. Aside from these, among the best places that you can find whale sharks are in Cancun and the Riviera Maya. You can rest easy knowing that you will have an incredible experience in these areas. This is especially true if you are looking forward to the best snorkeling tour with the whale sharks.
When to See Whale Sharks?
The best time to swim with these impressive creatures is from June to September. In fact, you can go on a day trip to the coast of Isla Mujeres from Cancun within Quintana Roo. Look for whale shark tours, such as the tour services in Contoy Island. These will take you out into the Caribbean Sea where you will see them up close.
Fortunately, you can set your sights on Isla Mujeres and the coast of Cancun where they are often seen. Tour operators from Holbox Island have to travel far for this which hurts their business. However, you go where these beautiful creatures are, right?
In fact, tourists in Playa del Carmen andRiviera Maya can easily join a Cancun whale shark tour by riding a shuttle to their private marina in Cancun. From here, you will ride tour boats that will take you out to where the whale shark swims.
Where is the Best TIME to see Whale Sharks?
The official season for whale sharks in Mexico begins on May 15 and ends in September. It starts in the warm waters of the Mexican Caribbean Sea off the Yucatan Peninsula. This is where thousands of these amazing creatures congregate to feast on plankton. This is a great time to be here since you will see more of them in one area.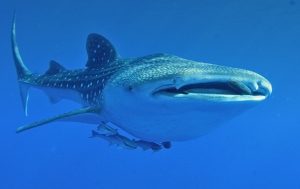 On the other hand, if you are traveling here off-season, there are other water activities that you can do. Among these are swimming with small fishes and sea turtles. Although whale shark tours in Isla Holbox were among the best in Mexico, it seems that the whale sharks do not frequent Holbox as much as they used to.
Swimming with Whale Sharks
The good news is that there is no shortage of tours in Cancun. In fact, you will find it a bit difficult to choose among them because of their competitive prices. The only thing that you should do is weigh your options, including which one can accept your credit card.
However, you will need to book early especially during the peak season as tourists often flock here. That said, let's take a look at the different whale shark trips that you can book on your vacation.
Whale Shark Encounters with Caribbean Connection
One of the tour operators that you will find here is the Caribbean Connection. Their years of experience in offering whale shark tours put them on top of the list.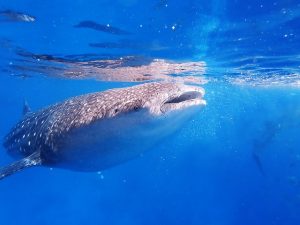 Among the tours that they are offering are as follows:
#1 Mexico Whale Shark Tours
All tours come with a light breakfast with morning coffee, orientation, an informative briefing on safety, and professional-grade snorkeling equipment. Aside from that, you will also have drinks like water and soda, plus gourmet sandwiches. Also, you are given two to two and half hours of swim time not just with the whale sharks, but manta rays, turtles, and dolphins too.
After you have seen the main event, you will be taken to a different snorkeling stop where the crew will prepare the best fish ceviche for you. This is a fresh fish salad that consists of fish fillets marinated in spices and lime juice. You can have it along with freshly chopped cilantro, tomatoes, and tortilla chips.
For those who will be booking a public whale shark tour, you will be joining other tourists in your boat.
#2 Private VIP Whale Shark Trip
Meanwhile, those who are looking forward to the ultimate whale shark experience should book a VIP tour. Onboard a private boat, you can head out to the whale shark area earlier than the others. You will also have more time to swim with these giants compared to others. Once you have your fill, you can opt to head to a nearby beach or snorkel in another area where coral reefs are plentiful.
What's included in this VIP package? Aside from a continental breakfast, you will also have your snorkeling gear by National Geographic snorkeler. Additionally, you will have round-trip transportation to and from your hotel, beer on the boat, and freshly made ceviche to enjoy.
#3 Whale Shark Snorkeling Tour
On the other hand, if you want a fuss-free whale shark snorkeling experience in Cancun, better book this tour already. This snorkeling tour is a unique experience since you are on a private charter with the best boats and staff members ready to enjoy your trip. Since there are fewer people in the water, you will have more time to fully appreciate the wonders of the Caribbean waters.

Mexico Whale Shark Tours
One of the best things about whale shark tours is that there are dozens of operators that you can choose from. Mexico Whale Shark is one of those that guarantee a good experience out in the open waters.
A shuttle will pick you up in your accommodation to take you to the private marina. Other guests will be picked up along the way, so you will have time to rest and enjoy the view. You will be informed about the safety rules and regulations before having a light breakfast. If you are prone to seasickness, better take some non-drowsy seasickness pills before you head out.
You have the option to rent a wetsuit and a GoPro in case you forgot your camera. In addition, you can choose to wear a life jacket on your day tour for your peace of mind. Once you arrive at your destination, you will take turns on the water.
As a rule, only two people plus the tour guide should be in the waters. If you want to extend your swim with these giants, you should wear your life jacket to avoid getting tired quickly. You can jump a second time at the snorkeling site to get your fill of this fish appearing from the deep water.
Take note, however, that these tours rely on the weather. This means that if the waters are choppy or if there is rain, your tour might not push through. It is always a good idea to check weather forecasts for the day or week to know what you are up against. After all, Mother Nature can change her mind easily.
Solo Buceo
Swimming with the whale sharks is a once-in-a-lifetime opportunity that you don't want to miss. This is why, if you want to have that once-in-a-lifetime experience with the giants of the deep, you can go scuba diving too!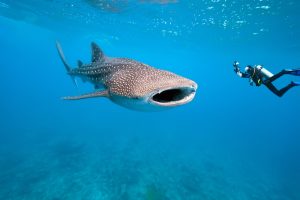 Solo Buceo is the perfect choice to lead your scuba dive as they are fully certified divers. Aside from that, they also offer snorkeling tours with whale sharks. You can see them up close while you are on the water's surface and there are fewer people. The best way to see them is to travel to the island during their season.
Unique experiences in Cancun are for everyone, including pregnant women. As long as you have permission from your doctor, you are more than welcome to join in on the fun.
Other Places for Whale Sharks
Although Cancun is one of the best destinations to find whale sharks, do add Cabo San Lucas and La Paz too. If you don't want to be out in the open ocean, you can see them from the seawater. When the whale sharks arrive, it is always a good idea to watch them from a distance.
READ MORE: