Traveling to Croatia is a dream come true for many and with good reason. Spanning more than 35,000 miles, there is always something exciting to do here for locals and tourists alike. After all, it boasts of powdery white sandy beaches, historic buildings, and of course, national parks that you don't want to miss. As you move between the country's historic cities, you will love how their natural beauty unfolds right before your eyes.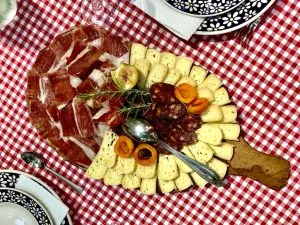 ---
What's in this post:
hide
The Best Things To Do In Croatia In 2022
---
---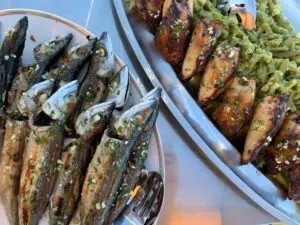 Aside from that, there are plenty of interesting things to see and do that you need to make your Croatia itinerary before visiting. This will help ensure that you visit all the popular destinations in the country and then some. Among these are the Roman Amphitheater and the Museum of Broken Relationships to name a few.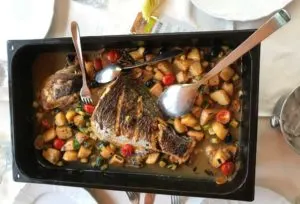 We have rounded up a few recommendations that you can add to your list of the best places to visit in Croatia. But one thing I did want to mention is the food in Croatia is about the best there is! Thus the photos from above.
Aside from that, you'll learn what activities to do in these locations to better prepare yourself.
Plitvice Lakes National Park
Considered as one of the best national parks in the country, Plitvice Lakes National Park boasts immense blue lakes connected by forests and waterfalls. Aside from that, it is the first of its kind to be recognized in the "Land of a Thousand Islands". You can explore this enchanting park on foot by following the footpaths and storybook bridges along the way. The pine forests set the mood here while giving ample protection to the denizens.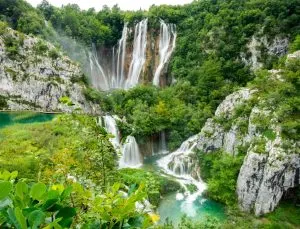 This UNESCO World Heritage Site is home to plenty of flora and fauna that you need your camera ready. You can spot wolves, bears, owls, and other migratory birds here as well as the native ones. Although you can explore the Plitvice National Park on your own, joining a guided tour from Zagreb or Zadar is much better since you get to learn a thing or two along the way.
Dubrovnik Old Town
Dubrovnik's Old Town is one of the most popular tourist attractions in the country. It is a small medieval town with stunning landscapes and impressive city walls around it. The best way to enjoy this historic town is by spending a few days here. After all, there are several things to do and see here.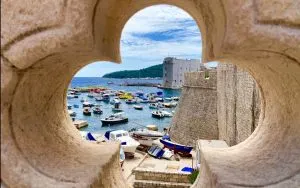 One of the popular activities here is to walk along the top of the city walls. This will take you two hours at least but well worth your time. If this activity is in your itinerary, it is best that you start early in the morning while there is no crowd. This way, you will be able to explore at your own pace.
For sure, you will recognize one of the areas here from the hit TV series, Game of Thrones. Yes, you will spot King's Landing here especially when you join a Game of Thrones tour. After the tour, you can go down and explore the narrow streets of the medieval old town. And to cap it all off, go on a sunset tour where you will get a different view of the ancient walls surrounding the city. Of course, you don't want to miss Renaissance architecture, which is one of its main draws.
Split
It is always a good idea to add Split to your list of places to visit in Croatia. After all, it is the second-largest city in the country that lies on the Dalmatian coast. Tourists who are in Croatia for the first time can use this place as their starting point to explore the nearby towns.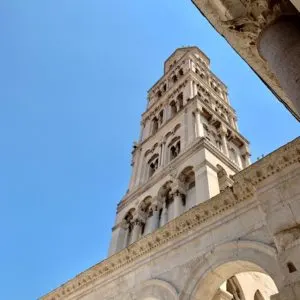 However, this does not mean that there is nothing to do in this city. In fact, you will need to spend a few days here to make the most out of your trip. After all, there are dozens of sights to see and activities to do that will fill your hours with.
For example, you can explore the Diocletian Palace which is a popular attraction in Split. In fact, we ended up staying there and really loved it! It was built by the Roman Emperor Diocletian and served as his place of residence after he retired. It spans over 30,000 km. Here you will find the Cathedral of St. Dominus and Jupiter's Temple. Tourists can climb up the bell tower for the best views of the city below. Aside from that, you can also go on a day trip to Trogir as well as Omis.
Hvar
If you are making a list of the top things to do in Croatia, a trip to the Island of Hvar should be one of them. Hvar town is home to the Spanish Fortress, St. Stephen's Cathedral, and a Franciscan monastery. After exploring the town on foot, you can go on a boat ride to the nearby Pakleni Islands or make your way to the blue and green caves for more adventure.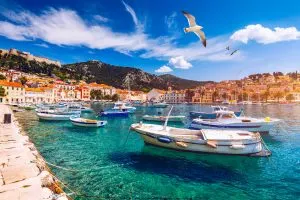 If you want to avoid the crowds during the summer months, you can go to Jelsa which is known for its laid-back vibe. Make sure that you time your trip here to see the beautiful lavender fields in bloom.
Brač
Croatia is home to several islands which means that a trip to this European country will not be complete without visiting one of them. One of the islands that are worth seeing is the Island of Brac. This island is known for its olives, stonemasonry, as well as wine. Since you are on the island, you should add them to your list of things to do.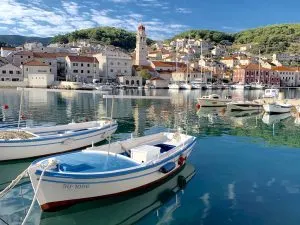 For example, you can start your exploration in the island's main town called Bol. Aside from its stunning waterfront, it is also home to the Stina Winery where you can sample their products. In addition, you should also visit the Olive Oil Museum to know more about the traditional methods that they use to make this oil. They also offer olive oil tasting here which you are sure to enjoy.
Since you are visiting an island, you are sure to find several beaches here. The most popular is the Zlatni Rat or Golden Horn which is one of the best beaches. It deserves such praise since it sits on a spit of land that reaches into the Hvar channel. Just imagine being able to choose between two beaches on each side with a pine grove offering some shade.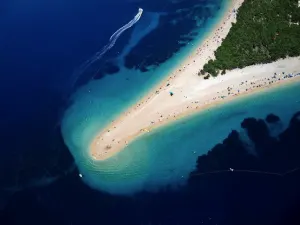 Vis
The Island of Vis is the perfect place for tourists who want to immerse themselves in the old-world charm of Croatia. You can reach this gorgeous island by ferry which will only take you two hours from Split. If you plan on spending a few days here, don't worry. You don't need to rent a car since everything is just a short walk from each other.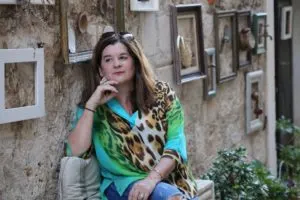 If you are looking for a great spot to hang around here, then make your way to Kut. Aside from being built by the Venetians, this idyllic place has plenty of courtyards and passageways that will take you up a hill. Although there are no boutiques here, you can search for souvenir shops along the way.
You will not be able to resist the call of the crystal clear blue waters on the island so make sure that you are ready to swim or take a dip in one of its beaches. Additionally, there is no shortage of restaurants and food stalls here. What's impressive about these shops is that they are often seen in old ruins that dot the area.
Pula
Croatia has plenty of medieval towns that speak of the rich history of the country. For example, the Istrian Peninsula has strong ties to the Roman era which means that you'll find interesting Roman architecture. One of these is the Roman Amphitheater which drew thousands of Romans and locals alike. Today, the amphitheater plays host to the annual Pula Film Festival.
Aside from that, you can also make your way to the Byzantine chapel, or go walk around the town square. While you are here, make time to visit the Venetian fortress as well as the old city gates. Also, there are several beautiful beaches in and around this town that you don't want to miss.
Krka National Park
Krka National Park is just an hour away from the town of Split. The roaring Krka river runs through the park where you will find seven impressive waterfalls that become more stunning than the last. It is not surprising that the Krka waterfalls are the main attraction here, specifically, Skradinski Buk. After all, once you drive into the park, you will hear the roar of the waterfalls even from a distance.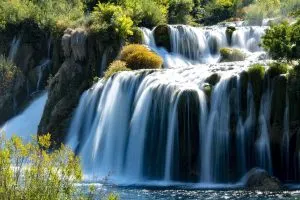 Skradinski Buk is accessible by a circular route. Once you reach your destination, you will have a great view of the entire waterfall. The waterfalls drop down into a pool below which you can head out for a swim. Aside from that, be sure to check the archaeological site in Burnum. It is an old Roman camp that will give you a glimpse of the past.
Trpanj
Trpanj sits between the old city of Dubrovnik and Split. It is a quiet little town that is perfect for tourists who want some peace and quiet while exploring the area. Although this is just a small town, it does make up for the historic landmarks here. Aside from that, there are restaurants here that serve exceptional local cuisine.
Another activity that you can do here is to go on a hike up the mountains because of the fantastic views on top. In addition, this town is the best place to see the sunset. The nighttime view is worth experiencing as well.
Getting here is easy since you can ride a ferry from Ploce. In Ploce, there are several buses that can take you up and down the coast.
Groznjan
The small town of Groznjan is a must-see for tourists who are in the Istrian Peninsula. What makes this a great place to visit is the fact that they have olive groves and vineyards around it. It boasts of a long history from Roman to Venetian to Austrian, to modern-day Croatia.
In addition, Groznjan is known as a town of artists. During the 1960s artists took advantage of the empty houses here. Today, less than 200 people are living here with 20 galleries and several art festivals held here. You should visit this town between the months of May to September to immerse yourself in beautiful artwork.
Zagreb
Zagreb is the capital city of Croatia and is one of the popular places to make your way to. One of the reasons why tourists add Zagreb to their bucket list is because of Gornji Grad, better known as the Upper Town.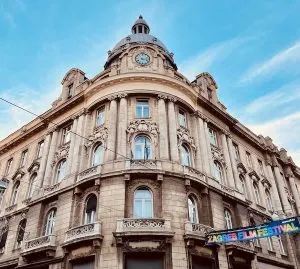 Although the city has become a modern city, there are still historic sites that you can visit. For starters, you can go on foot to the Ban Jelacic Square which boasts cobblestone streets. You can also make your way to the Dolac Market where you can find fresh produce and souvenirs. If you are after some entertainment, the Strossmayer's Walkway is the place to go. This is where artists, street performers, and musicians gather to entertain the crowd.
Zadar
One of the coastal towns in Croatia that you should visit is Zadar because of its well-known sea organ. This impressive organ has 35 pipes that were installed under the marble steps. They convert the rhythm of the waves to play music. The pipes come in different lengths and sizes to create a wide array of sounds that is pleasing to the ears.
Aside from that, Zadar also boasts of the Sun Salutation which is a huge solar panel that gathers energy throughout the day. Once the sun sets and night falls in, the waterfront lights up using the solar energy from the Salutation.
In addition, the town is home to Roman ruins that range from old churches to tombs. You can join a walking tour here to see the ruins up close or explore on your own. Aside from that, take advantage of the boat rentals here that will take you to nearby towns for a day trip.
Rovinj
Rovinj is a coastal town that you will find along the Istrian Peninsula. This quaint town is a fishing village that boasts colorful homes that stand out against the waterfront. One of the iconic structures here is the bell tower that looms over the village.
There are several beaches that you can visit here but while you are here, make sure that you visit the Batana Eco-Museum. Here you will learn about the batana which is a traditional fishing boat in the area. It is always a treat to know more of the town's past to fully appreciate the present.
Once you are done with your museum tour, head back to the heart of the town where bars and restaurants await you. Do try the seafood restaurants here since their ingredients are always fresh from the sea.
Omis
Omis is a great place for adventure seekers and those who want to explore the area at a leisurely pace. Just 20 km southeast of the town of Split, and nestled on the Cetina River, you'll fall in love with the view here.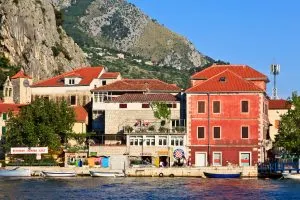 What makes Omis worth visiting is its Old Town. The terracotta roofs of the settlement give a hint of the Venetian rule in the country. Aside from that, you will also see the fortress of Mirabella which the pirates used to keep an eye on the Channel of Brac.
For the more adventurous types, you can hike up the fortress of Fortica that sits on top of a hill. This fortress will give you panoramic views of Omis as well as the Island of Hvar, the Island of Brač, and Solta. In addition, there are gorgeous beaches in Omis that you can head out to after a day of exploring the town.
What to Do in Croatia
Now that you have an idea of the best places to head out to while in the country, let's talk about the activities that you can enjoy here. If you want to make your experience in real Croatia one that you will not forget anytime soon, try these activities out.
#1 Blue Cave on Besivo Island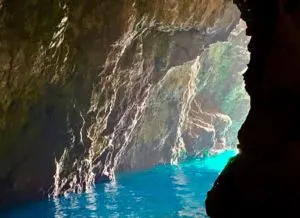 This Blue cave got its name because of the mysterious blue light emanating from the waters. Located on the island of Besivo, the Blue Cave has been drawing plenty of tourists all year round. The good news is that it is just close to the island of Vis. However, the best way for you to reach this stunning attraction is to join a boat tour from Split or Hvar.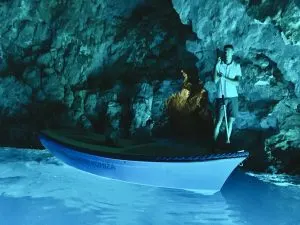 #2 Museum of Broken Relationships
Meanwhile, those who are looking for a unique experience in Croatia should come and visit this museum. As the name suggests, the items that are put on display here are from broken relationships. Some stories are cute, true, but be prepared for the heart-wrenching stories in some of them. In fact, the history behind some of the items on display is not one you'll forget any time soon.
#3 Parasailing
Thanks to the beautiful coastline of Croatia, you will not run out of water sports to try. If you want to experience an adrenaline rush, you should try parasailing. This water sport will take you up in the skies with a parachute while being pulled by a boat at the same time. It might sound scary at first but it is not. In fact, once you get to experience this, you might try it on the different islands of Croatia.
#4 Visit Spanjola Fortress
Want to add some workouts to your travels? Why not climb the impressive fortress of Spanjola on the island of Hvar? Not only is it a great way to get your heartbeat racing, but you'll find a fantastic view at the top. This fortress was designed to protect the town. Today, it is home to various artworks and antiques that will give you a glimpse of ancient times.
#5 Road Trip
If you don't have much time to visit most of the tourist hotspots in Croatia, why not plan a road trip that will take you to the best spots instead? Although public transport is available, driving around the country in a rental car lets you explore at your own pace. The good news is that there are plenty of car rentals here so you will not run out of options. In fact, some of these also include accommodations with their package so you will have a place to stay.
#6 Sail Week
Sail Week is a popular activity in this side of Eastern Europe and with reason. Younger people flock to the waters on boats or yachts while having a party. This usually occurs during school break so expect to see a lot of youngsters here.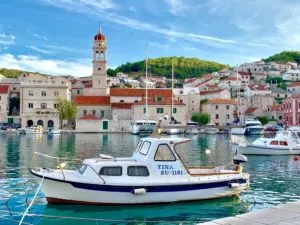 Aside from all-night partying on board a yacht, you can also get rid of your hangover by island hopping. Since Croatia has several islands, it is only fair that you make your way around them. You can go kayaking, swimming, or snorkeling on these islands. Aside from that, you can also go on hikes to the islands that you have come to visit. And to cap it all off, you can try your hand on the wheel as you guide the boat out in the open waters under the tutelage of the captain.
What to Bring on Your Trip to Croatia
You can bring your usual travel clothes on your trip to Croatia, true, but there are a few items that you should also add to your bag. Let's take a look.
#1 Water Shoes
If your Croatia itinerary includes heading out to the Adriatic Sea or the coastline, pack a pair of water shoes with you. Some of the beaches here are rocky plus sea urchins are almost everywhere you go. You don't want to hurt yourself out there because it will ruin your trip for you.
#2 Swimming and Snorkeling Gear
Since Croatia has several beautiful beaches, it is only right that you pack your swimsuit and snorkeling gear too. This way, you can jump into the water to swim or go snorkeling if you like. Although there are swimming gear rentals on the beaches, you don't want to spend on them when you can just bring your own. Aside from that, do bring a microfiber towel that will remove most of the water from your skin. The best thing about this towel is that it dries up fast.
#3 Backpack or Daypack
You don't need to bring your entire luggage with you while you are off exploring the cities in Croatia. In fact, you just need to bring an extra backpack or daypack where you can pack your essentials, water, snacks, and other traveling items that you will need. Investing in a travel backpack is going to be worth it especially when you will be exposed to the sun, sand, and sea.
Best Things to See in Croatia
Croatia is on the Adriatic Sea and is often dubbed as one of the best destinations in central Europe. Aside from the beautiful beaches that you will find on the Adriatic Coast, the historical structures here speak volumes of the country's rich history.
If you are wondering when the best time to visit Croatia is, it will be between the months of June and September. Aside from fewer crowds, the weather is generally pleasant, with warm coastal temperatures that will make you enjoy the beaches here even more. If you want to experience the high season here, time your trip between July and August.
However, expect that the airline prices will be higher as well as accommodations and entrance fees in many tourist destinations. Also, there will be plenty of tourists here during these months. That said, you might be wondering where to start? Here's a guide that you can use to see the beautiful places that Croatia has to offer.
Wrap Up
Croatia is a beautiful country that has a lot to offer its guests from across the globe. From its natural landscapes to ancient ruins to gorgeous beaches, you will never run out of places to see and activities to do here. In fact, it is better that you make an itinerary before you head out here so you will know where to go. For sure, once you arrive at this location, you'll come up with different reasons to prolong your stay here.