Spending my two days in Venice, Italy, was a wonderful–and one-of-a-kind–experience. There is no great place like Venice, with its lovely canals filled with classic gondolas, the majestic Doge's palace, and the ease of becoming pleasantly lost in the labyrinth of small streets and little canals.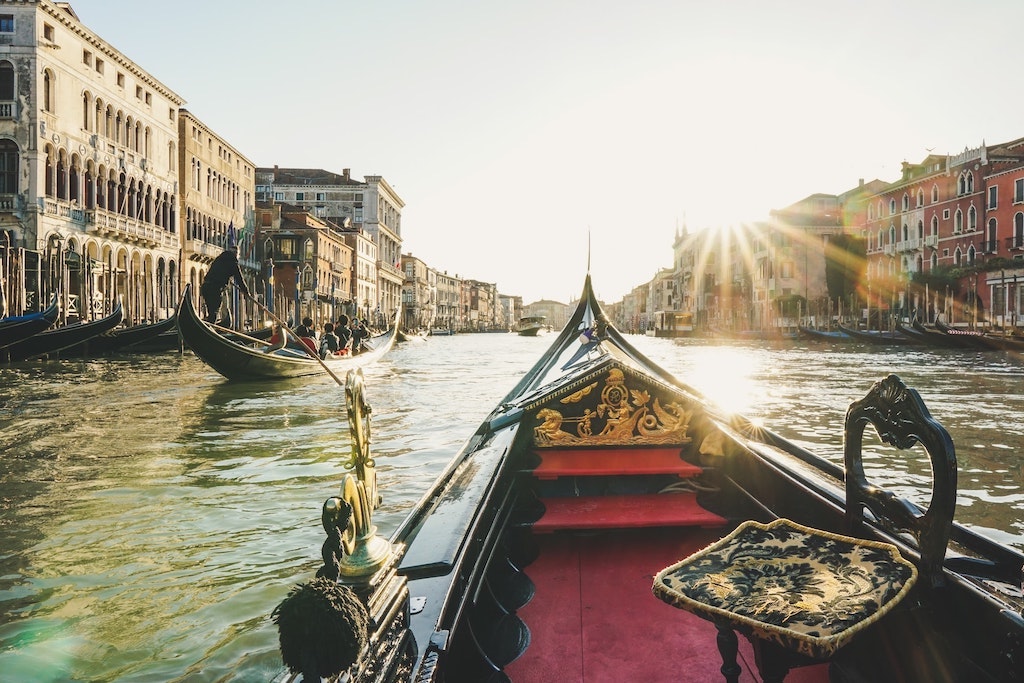 I've got some fantastic news for you! If done correctly, Venice can be a genuinely great vacation experience. Alternatively, you may spend two days in Unesco's world heritage site at Venice, walking from tourist attractions.
Yes, it is crowded. Yes, it is pricey (at least by Italian standards!). Yes, it is a very touristy area.
But it makes no difference.
Venice is magical, and with my 2-day Venice itinerary, I'll show you around and show you what makes it so fantastic.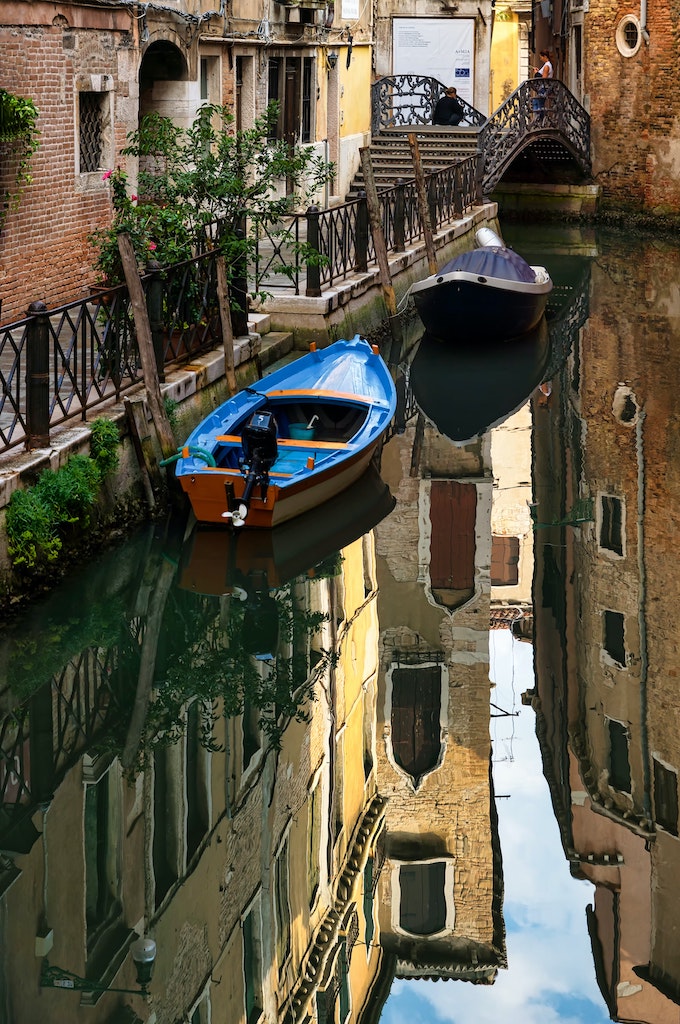 ---
---
What's in this post:
hide
The Ultimate 2 Days in Venice Itinerary
---
---
This Venice itinerary is a perfect place for you to explore the famous landmarks and the real side of the city. It includes must-see attractions like Piazza San Marco and the Rialto Bridge, as well as Venice's hidden jewels found just off the main route. Known as the "City of Canals" or "Floating City," Venice, Italy, boasts several attractions or destinations for its tourists. These destinations never fail to amaze people as it gives you a one of a kind travel experience worthy of every time and cent you will spend here.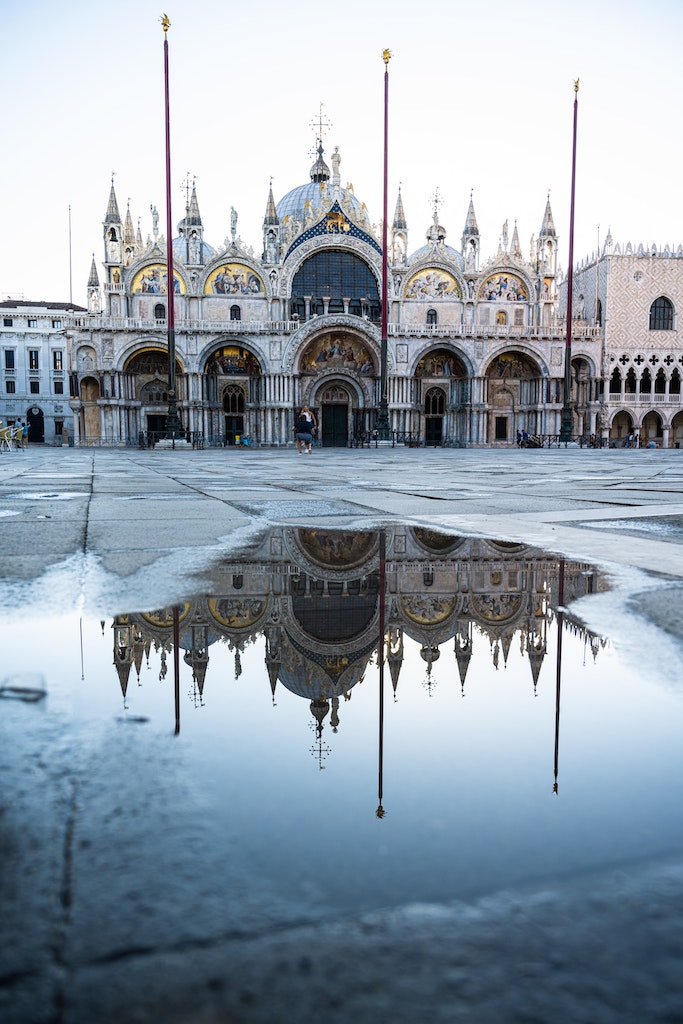 You will never run out of things to do in Venice. The options are endless— historical landmarks, a romantic gondola ride, canal-side dining, world-class museums with exquisite treasures of Medieval and Renaissance arts, Vaporetto rides, and even beautiful beaches. Travelers can also enjoy canal-side dining, their famous Cicchetti, a tapas-like snack that you should not miss.
My First Day in Venice:
#1 Explore Cannaregio Alleys
If you're anything like me, you'll be anxious to go out and about as soon as you get to Venice. Fortunately, Cannaregio, a Dorsoduro district right outside the railway station, is an excellent site to begin your two-day journey in Venice. I recommend arranging a water taxi from the airport or railway station if you'd prefer to travel directly to your accommodation with your stuff. After you've dropped off your luggage, you may get ready to go on this first full-day itinerary on this small island.
This vast northern section functioned as Venice's Jewish Ghetto for approximately 300 years. Although Napoleon's forces abolished segregation at the end of the 9th century, the district remains a significant gathering spot for Venetian Jews. It also has some of Venice's most beautiful alleyways. Most people hurry from the train station to the Piazza San Marco, leaving Cannaregio's alleyways pleasantly empty.
Stop by the Campo del Ghetto Nuovo, where you'll discover many historic synagogues, a WWII monument, and the Jewish Museum of Venice while you explore to your heart's delight. Cannaregio has a lot of rich history and is the best way to learn about it – Maybe even and had ake a tour with a native.
#2 St. Mark's Campanile Viewpoint
The viewpoint from the top of the Campanile di San Marco is simply breathtaking. From here, you can see st mark's square, the doge's palace, st. mark's basilica (with its spectacular roof! ), the Venetian Lagoon, and surrounding outlying islands. The list is endless. You'll take an elevator to the top of the skyscraper, not the steps, which literally shocked us!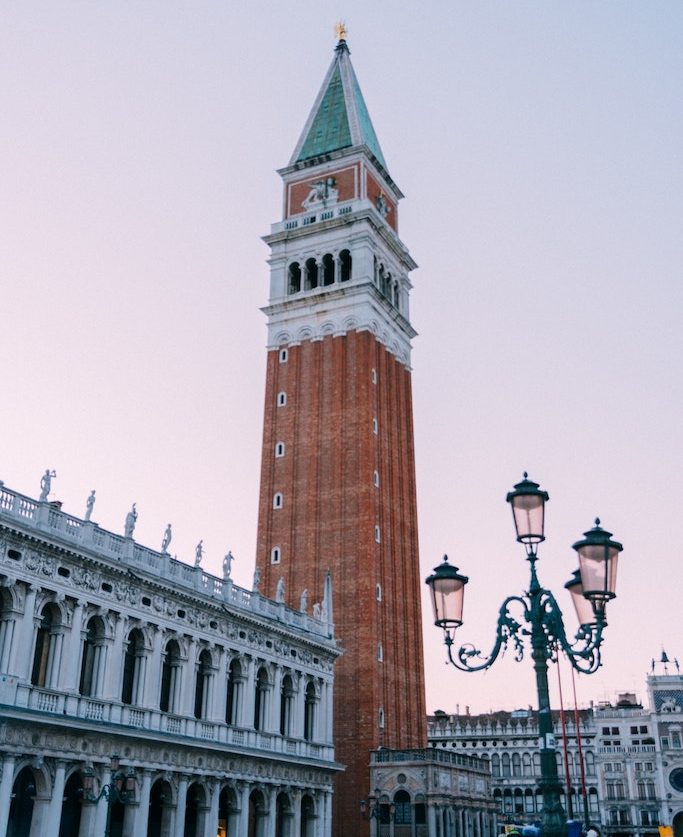 #3 Frito Inn and Gelato di Natura Lunch
Before leaving Cannaregio, I strongly advise you to have a unique lunch combination of fried fish and gelato. The Frito Inn offers tasty nibbles in an Instagrammable cone in Venice. Famed for its fritto misto. The shrimp and squid combination is fantastic. Keep the cone theme going by going up the block to Gelato di Natura. I tried a lot of gelato in Venice, and this great place had the creamiest texture and the richest taste. They have many locations across Venice, so if you're too full to try them now, you'll get another opportunity later!
If you've been traveling with your luggage up to this point, go to your lodging and drop them off. Then, starting with the famous bridge of sighs, restart your journey.
#4 Sighing Bridge or the Bridge of Sighs
The Bridge of Sighs, along with the Rialto Bridge, is undoubtedly Venice's most famous bridge. If you, like me, assumed the term came from passersby "sighing" at the bridge's beauty, I'm sad to inform you that it's darker than that! While this elegant covered hallway seems charming, it had a considerably less romantic purpose: connecting the interrogation chamber of the Doge's Palace to the Venetian jail. As they were brought to a wet cell, the inmates let out a last sigh as they took one last look out at their lovely city.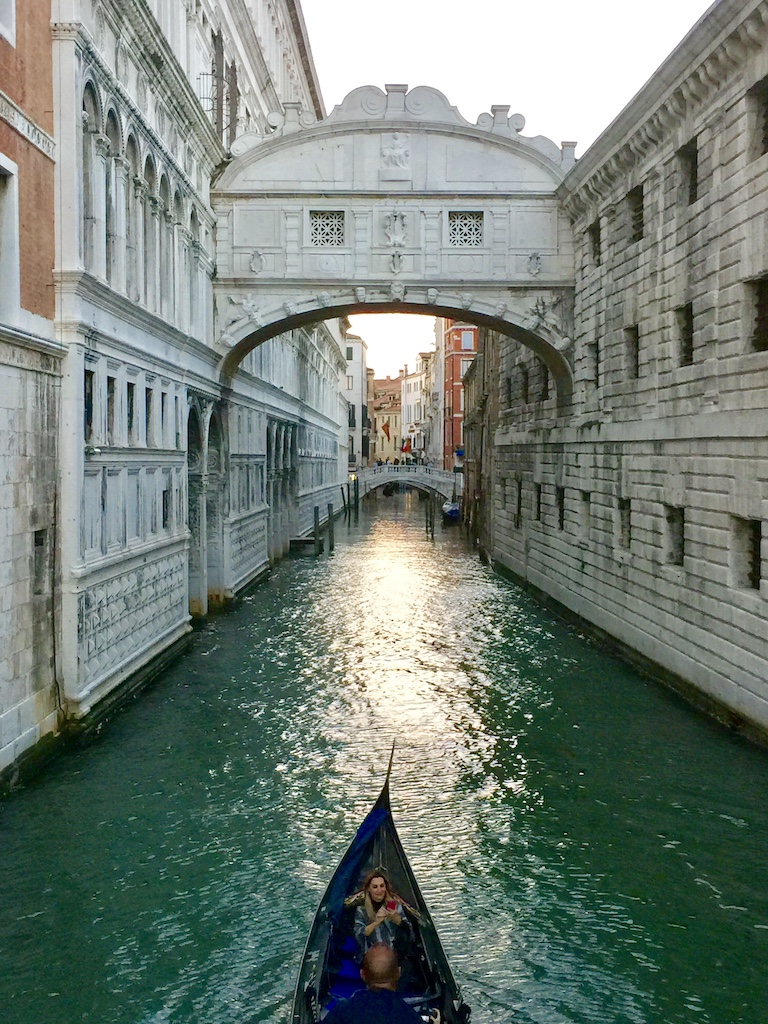 Aside from its ominous past, the Ponte di Rialto is a sight to see, particularly when gondolas pass under its white bridge. Prepare to fight for a good spot on the Ponte Della Paglia, which has the greatest view of the Sighs Bridge. You'll be right adjacent to the Piazza San Marco, Venice's pulsing heart, at this point.
At lunchtime, though, the area will be quite congested, so it's better to just pass through on your way to the next stop on your 2-day Venice itinerary. Later on, when the Piazza is less crowded, you'll have lots of opportunities to explore it.
#5 Santo Campo Stefano
In Venice, there are hundreds of campi or main squares. These spacious areas provide a welcome contrast to the city's tiny alleyways. They are home to many lively shops, cafés, and restaurants that cater to residents and tourists. One of the biggest, with many churches and beautifully painted buildings, is Campo Santo Stefano. The lanes that protrude from the campo are also fun to explore, notably Calle dell'Olio's canal vista.
#6 Traditional Venice Canal Trip
Gondola tour rides and Venice are like peanut butter and jelly. While walking about Venice is the best way to see the city, a canal ride is a must-do in Venice. The style of canal day trip you pick now is determined by two factors: your budget and the environment. You should hire a private gondola if you want a traditional, romantic gondola trip without dealing with random people. It's the priciest choice, but it's a once-in-a-lifetime opportunity.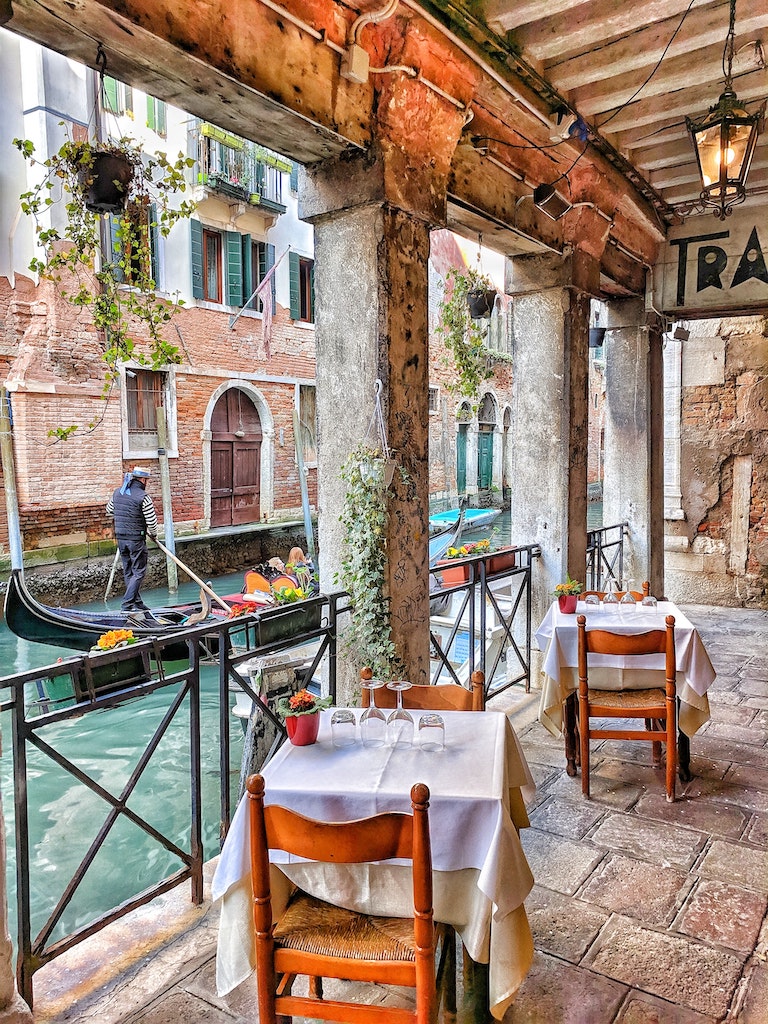 Your private romantic gondola ride departs from Campo Santo Stefano and complements this Venice day trip wonderfully. You will save money by booking ahead of time and avoid being caught in a line, typical during peak season. There are also communal gondola trips available, which are less expensive than private gondola excursions. You will, however, be traveling with strangers and will not be assured a seat adjacent to your travel companion.
Finally, using a Vaporetto stop, Venice's public transport. It is the most cost-effective choice. These mid-size boats go throughout the island's central canals, rapidly transporting passengers. It's not quite a personal experience, but with rates starting at about 8 euros, it's a fantastic way to have a Venice canal trip on the cheap.
#7 Santa Maria Della Salute Basilica
From across the Grand Canal, you've caught views of the stunning Basilica of Santa Maria Della Salute. It's worth noting that its beautiful domed façade and gorgeous internal design aren't the only best things worth looking at.
The Basilica is home to a stunning collection of 12 paintings by Titian, a well-known Renaissance painter. You'll be close to swooning over the aesthetic pleasures, which include a patterned tile floor and light-filled ceilings. The main Basilica is free to see, but the Sacristy, which houses Titian's artwork, is an extra cost of 4 euros.
There are two alternatives for getting here from Campo Santo Stefano. Alternatively, take a 15-minute walk east, crossing the Ponte dell'Accademia ( accademia bridge). Alternatively, you may take the #1 Vaporetto stop line from Giglio to Salute, which will drop you off just outside the Basilica.
#8 Ponte dell'accademia
The gallerie dell'accademia, unlike the other renowned bridges in Venice, is notable for its outlook rather than its architecture. Two excellent views of the Grand Canal and surrounding city are available from the bridge's apex.
If you look east, you'll get the postcard image of Venice. As boats and gondolas sail down the canal and out into the open lake at dusk and twilight. It is incredibly lovely. For great long exposure photographs, photographers should carry a tripod or use the bridge's railing in a pinch.
A beautiful vista of the Grand Canal as it swirls among colorful buildings may be seen facing west. Remember to observe each unique vantage point from both sides of the bridge!
#9 Grand Canal at Sunset
The twilight light in Venice has a beautiful quality to it. The deep blue ocean and the sunsets take on magnificent colors of orange and purple. It's the ideal time to take a walk along the Grand Canal.
You could walk from Gongulo station to the Giardini Della Biennale, or you could stop anywhere in between. After sunset, I recommend visiting the Piazza San Marco. The lit lighting and live outdoor music are must-see attractions.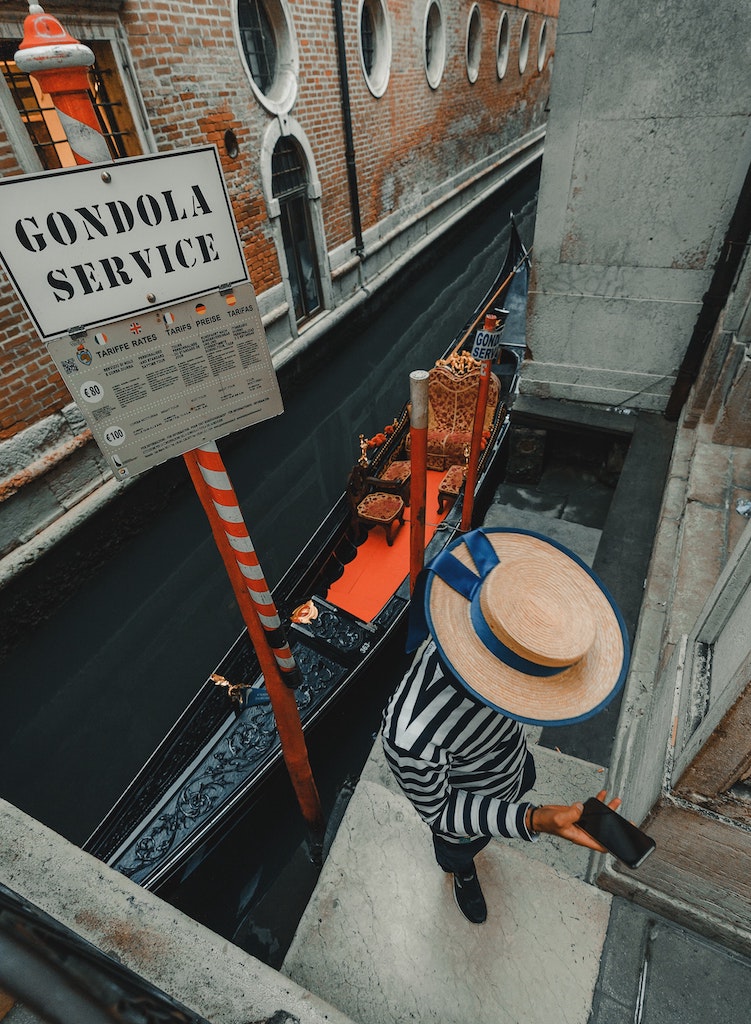 ---
---
My Second Day in Venice:
#10 Enjoy Piazza San Marco
You've undoubtedly gone through St Mark's Square a few times by now. Trust me when I say that you should return early in the first morning before the day-trippers and tourists arrive. On both of my two days in Venice, I took a dawn walk around the plaza, and it was breathtaking. Without having selfie-takers and dodge tour groups, it's much easier to appreciate the beautiful façade of the Doge's Palace and st. mark's basilica.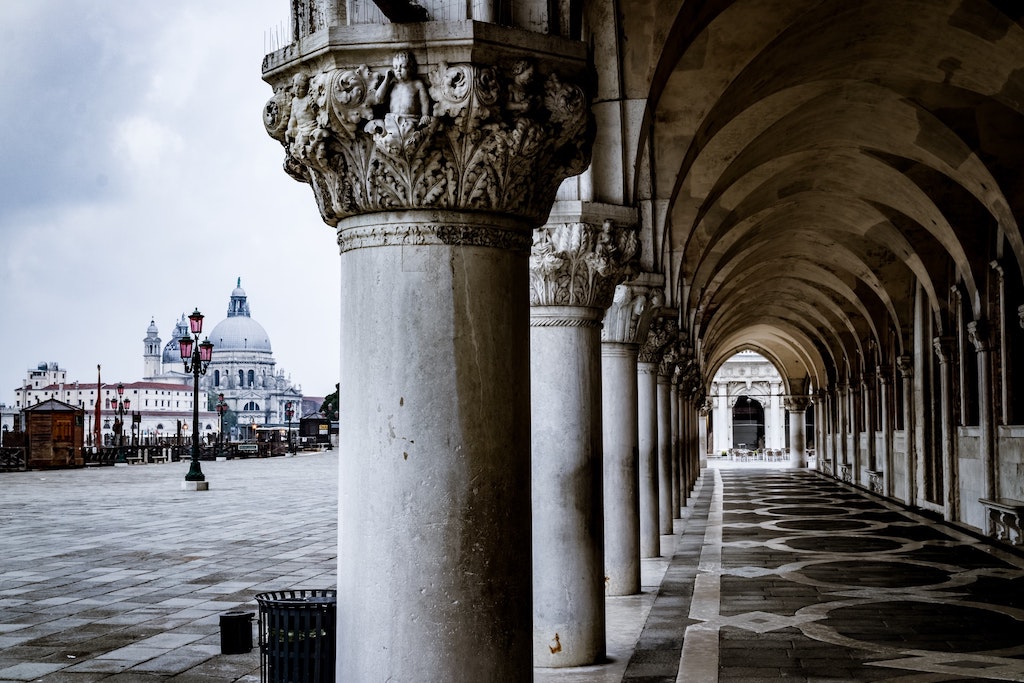 You may drink a Cafe Florian morning espresso, the world's oldest coffee business if you schedule things just so. And, since we're on the subject of time, don't forget to peek up at the astrological clock tower before continuing to your next destination.
#11 Visit the Doge's Palace and the Basilica of St. Mark
The Doge's Palace and st. mark's square is, without a doubt, Venice's most popular sights. Each location is amazing in its own way. Marble flooring, gilded walls, glittering frescoes, each location is extravagant in its way and deserves to be savored. As you can expect, they become quite busy very shortly when they open. Fortunately, there are a few methods for bypassing the long line and getting in early.
You may arrange a combined fast-track tour of the Doge's Palace and saint mark's basilica which includes entrance to the Bridge of Sighs! If you want a taste of history and quick admittance.
You might also go straight to the Basilica as soon as it opens from 9:30 am on weekdays. The main Basilica is free to attend, but separate entrance costs for the St. Mark's Museum, Treasury, and Pala d'Oro range from $2.15 to 5.75 USD (2 to 5 euros). You may utilize a skip-the-line ticket to access the Doge's Palace after you've finished inside the church.
Alternative: Book an exclusive night tour of the Doge's Palace for a unique experience with fewer people.
The Palazzo Ducale, often known as the Doge's Palace, was built in the 14th century. The indoor museum displays gorgeous Gothic architecture and provides a superb view into Venice's glorious and rich past.
#12 Acqua Alta Library (Antique Bookstore)
Going to an antique bookstore in Venice in two days may sound uncommon, but believe me when I say it is definitely worth your limited time. Thanks to its distinctive back staircase constructed of books, Libreria Acqua Alta is one of Venice's most popular Instagram destinations. The stairs lead to a beautiful canal vista that I won't reveal just now.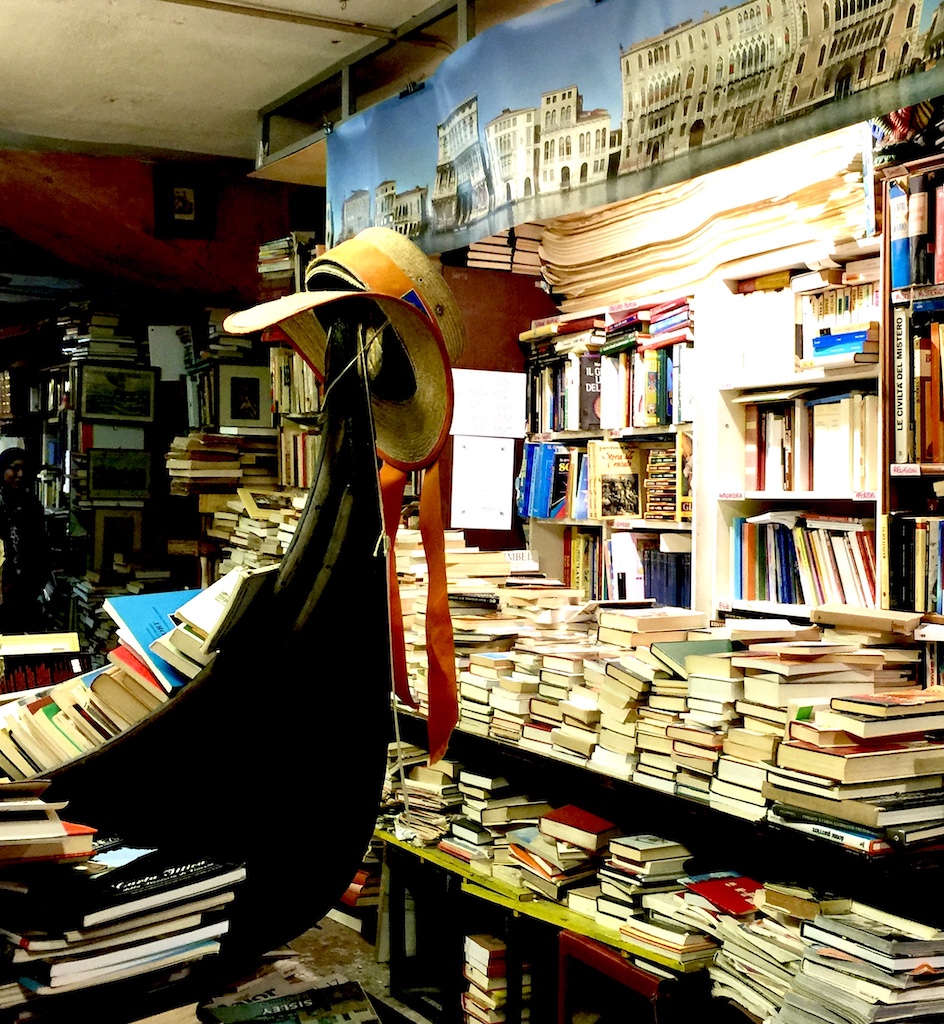 Another pleasant surprise awaits you inside: kitties! The boutique doubles down on the cat motif with postcards, artwork, and literature. And the business is home to numerous laid-back felines. It's an excellent place to get Venice souvenirs. I brought home a cat postcard and a hand-painted magnet.
#13 Arsenale di Venezia
My spouse was surprised that I hadn't included the Venetian Arsenal in my planned 2-day Venice itinerary. If medieval European history isn't your thing, the Venetian Arsenal was a large manufacturing line for cruise ships, both private and for the war. It was so efficient by the 1600s that it could build a complete commerce vessel in a single day. The massive bridges and gates are still a sight to see.
The Arsenale di Venezia is now mostly utilized for cultural events and exhibits. However, there are many museums devoted to Venice's maritime history in the nearby neighborhood and a big moored cruiser available to the public. The adjacent alleyways are also a good place to get away from the hustle that Venice becomes.
#14 Rialto Bridge
The Rialto Bridge is Venice's equivalent of Paris' Eiffel Tower. This renowned structure has inspired countless paintings, postcards, and even poetry. Even though it is overcrowded, it is a must-see attraction in Venice.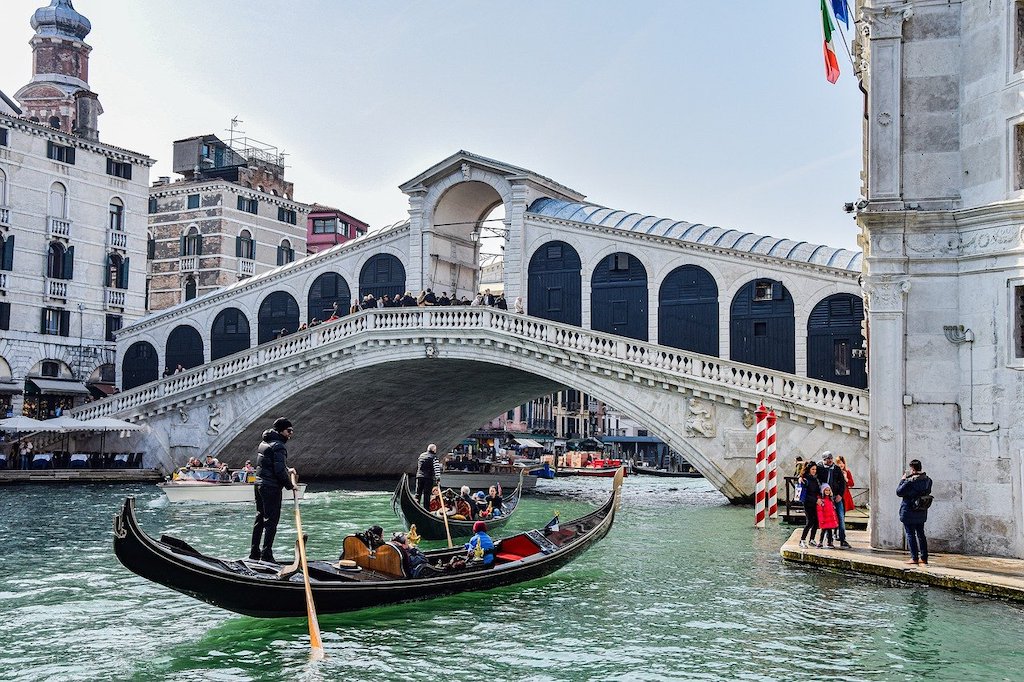 In the 1100s, the Rialto Bridge began as a simple pontoon bridge and underwent multiple renovations before becoming what you see today. It's incredible to consider how many individuals have walked on these same stones. In-person, walking over the Rialto Bridge is bizarre, and the views are breathtaking. Crossing the bridge, however, is just half the pleasure. You came to Venice, after all, to see the whole bridge in all of its arching grandeur, right?
Fortunately, I know a hidden area with spectacular views of the Rialto Bridge. And I'll instruct you how to get there in no time! But first, we'll stop at a few best places along the road.
#15 T Fondaco dei Tedeschi or Retail MALL
Most visitors to Venice overlook this free activity, which is surprising considering its proximity to the Rialto Bridge. T Fondaco dei Tedeschi, an attractive retail mall with a magnificent rooftop terrace, is just around the corner from the bridge's southeast side.
You'll enjoy a 360-degree panoramic view of Venice from up here. And, unlike the Bell Tower in saint mark's square and most other overlook sites, this one is completely free! However, walk-ins are not guaranteed entry. Thus a reservation is highly recommended.
#16 Rialto Market
If you're staying in a Venice apartment with a kitchen, you'll need to swing by the Rialto Market to get your groceries. This covered market focuses on fresh seafood and has a few vegetable shops. Even if you aren't planning on cooking, the market is a fun, traditional part of Venice that few people encounter. Furthermore, as the vendors shut down and spray out the area, dozens of puddles appeared, making for wonderful reflection photographic images.
#17 Campo San Cassiano and Its Bridges
Take some time to explore the picturesque lanes, bridges, and squares surrounding Campo San Cassiano as you make your way southwest across the floating city. This campo isn't as large as some more well-known ones, yet it exudes a unique sense of place.
The Ponte delle Tette, with its wonderful canal views and interesting history, is a must-see. During the Renaissance, it was a meeting spot for women of the night!
#18 Basilica dei Frari
In the Campo dei Frari, one of my favorite moments from my two days in Venice occurred. "This is a unique area," an older guy stated as he stopped us. This is a lovely church. It is very significant to the Venetians. The "Basilica dei Frari is its name." The contrast between the Frari's basic appearance and the large interior is one of my favorite features.
It reminded me of the cathedrals I visited when traveling in Bologna, where you walk by a basic brick front and are instantly taken aback. A Titian artwork that towers above the altar and an exquisitely carved wooden choir are among the highlights.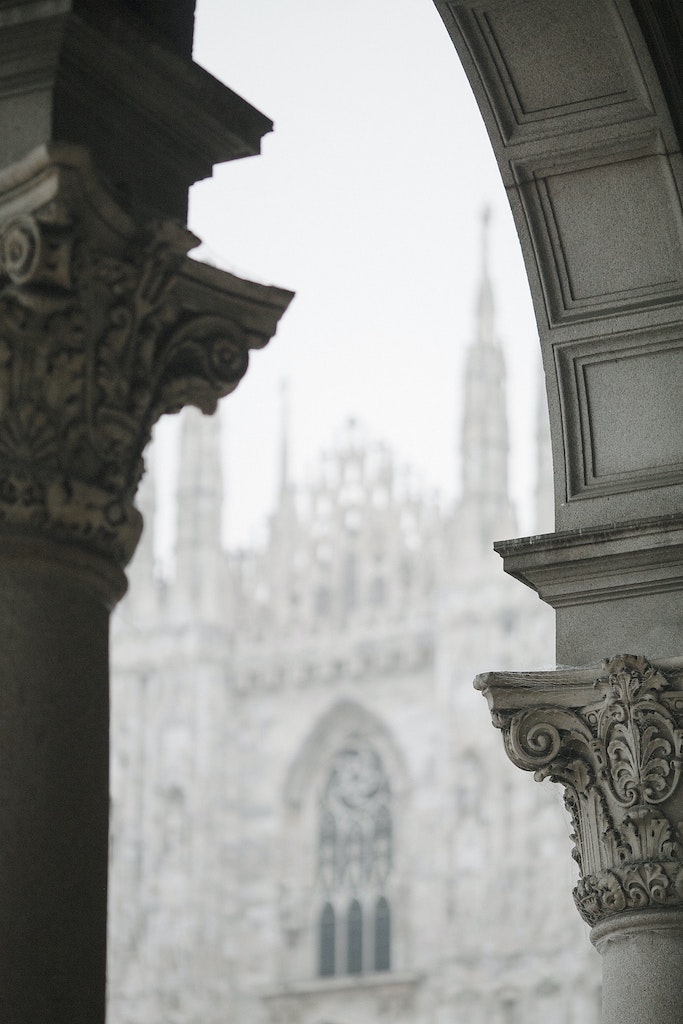 The Tomb of Antonio Canova is another attraction inside the Basilica. Its distinctive pyramid-shaped exterior is adorned with exquisite sculptures, paying homage to the great Italian artist.
The Basilica's entrance fee is 3 euros, and it is worth it.
#19 Santa Margherita Campo
Campo Santa Margherita is a large plaza with various colorful taverns, restaurants, and stores around it. During the summer, you'll see a lot of people enjoying a beverage or lunch outside. It's a fantastic area to stop for a bite or a drink without feeling cramped.
#20 Discover the Hidden Dock
When it comes to Venice's hidden beauties, this one is hard to top. A pier with wonderful views of the Grand Canal and Rialto Bridge may be found at the end of a long, narrow alley–the Calle Traghetto Vecchio.
It's near Fortuny Palace if you're having problems finding the lane. Near sunset, when everything is bathed in warm light, is the perfect time to visit. For a long time, I had to talk to myself until I had to leave so that a couple could use it for engagement shoots. It was, without a doubt, my favorite destination on my two-day Venice itinerary.
#21 Peggy Guggenheim Collection
The famous Peggy Guggenheim Collection, housed in the 18th-century castle previously Peggy Guggenheim museum, concentrates on contemporary art, largely from Peggy Guggenheim's collection, presenting publicly in the 1950s.
Al Giardinetto da Severino, splurge on a Traditional Venetian supper.
In my itinerary, I don't always provide restaurant suggestions. Al Giardinetto da Severino, on the other hand, deserves to be included in my Venice travel local guide. If you want a genuine Venetian lunch with excellent service in a gorgeous environment, you must make an appointment here. Their outside patio is vine-covered and lit at night, while the inside is full of old-world elegance. The sardines in saor and the tiramisu are both excellent choices.
Have time? Enjoy a few more Days
There is much more to see and do in Venice than what is included in this itinerary. Here are some suggestions if you wish to make some changes or spend an additional day or two in the city:
#1 Murano and Burano Venetian Islands
Take a day excursion to the lesser islands of Venice. Burano is known for its vibrant colors, whereas Murano is known for its glass-making legacy.
#2 Giardini della Biennale
This wide public park at the Castello neighborhood's southern end is ideal for avoiding the tourist crowds and seeing Venice like a local.
#3 San Giorgio Maggiore
I'm kicking myself for not planning a trip to San Giorgio Maggiore. This magnificent complex has luxurious buildings, lovely gardens, and several renowned Tintoretto paintings.
#4 Fondazione Querini Stampalia
In this conserved ancient residence of the Querini Stampalia family, see what life was like in a Venetian palace.
#5 Venice Guided Tour
Without a doubt, hiring a locally guided tour is the most genuine way to see Venice in two days. No, I'm not talking about being carried about the city by a large group of strangers. Instead of booking one of the impersonal large tour groups, consider one of these more intimate options:
Take a private tour of the

Doge's Palace

at night.

In a medieval palace, enjoy a touring opera.

With the help of a local, tour the Jewish Ghetto and try gelato.

Shop for a Louie Vuitton Bag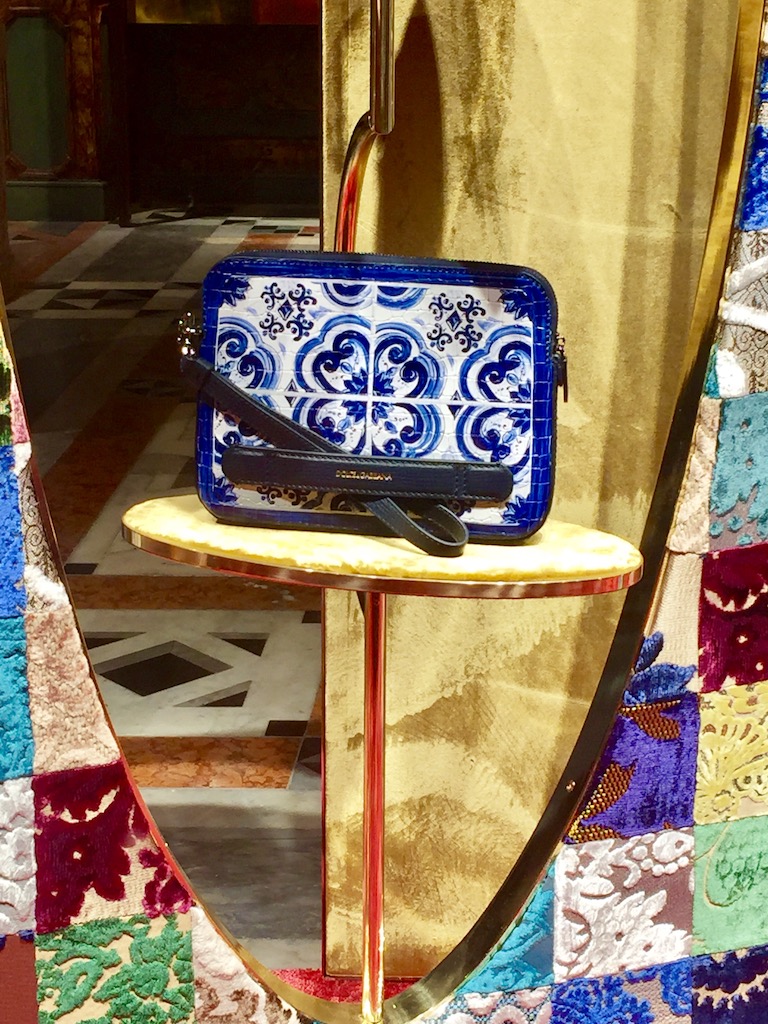 Travel Advice for Venice
The Language
The official language of Venice is Italian. Although almost every service worker in Venice knows English, I usually advise learning a few basic words before visiting. Although knowing Italian isn't required for this two-day schedule in Venice, saying "hello" and "thank you" in the local tongue will set you apart from the average visitor. I also recommend getting the Italian dictionary and installing Google Translate on your phone.
Money Exchanges
The euro (€) is used in Italy. Credit cards are generally accepted in Venice, but it's always a good idea to have cash on hand, particularly for minor purchases like gelato and tipping. Tipping in Italy is tricky since each area has its own set of rules. Most restaurants in Venice will include a coperto, or flat rate cover fee, in their bill (typically roughly €2 per person). A service, or service fee, may also be applied, computed as a percentage of the total price. Always double-check the menu and your bill to determine whether service is included! A coperto fee would appear on your receipt as a line item, although it's not always clear if servizio was included. You are not accountable to offer a tip if you are charged a servizio.
If you're merely charged a coperto, though, you may choose whether or not to give a tip. One euro per person is plenty for an individual or couple. However, you may leave extra if you desire.
Transportation
Venice's Marco Polo Airport is situated to the northwest of the city. High water, conventional, and water bus are the three options for getting from Venice airport to the city center. The shared water taxi is the quickest and most distinctive choice. As you reach Venice, you'll be driven straight from the airport dock to your hotel (or a neighboring canal if it's not central), all while enjoying breathtaking views of the city.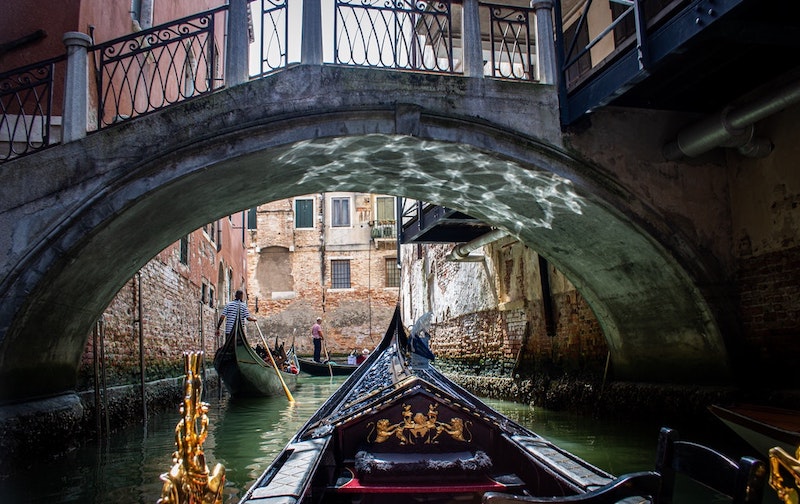 The express bus is the most cost-effective mode of transportation. You'll be picked up from the airport by bus and dropped off near the Venice railway station, where all automobile traffic must come to a halt. From the airport to the railway station area, you may easily take a typical private cab. It costs approximately the same as the shared water taxi, but it's a lot less fun!
Taking the Train into Venice
You'll arrive at Stazione di Venezia Santa Lucia if you're heading to Venice by rail from the airport or another Italian city. Most major Italian cities have direct high-speed or regional rail connections to Venice. High-speed train tickets include reserved seats and baggage storage, but regional train tickets do not. Tickets may be purchased online via ItaliaRail or at the railway station's ticket machines.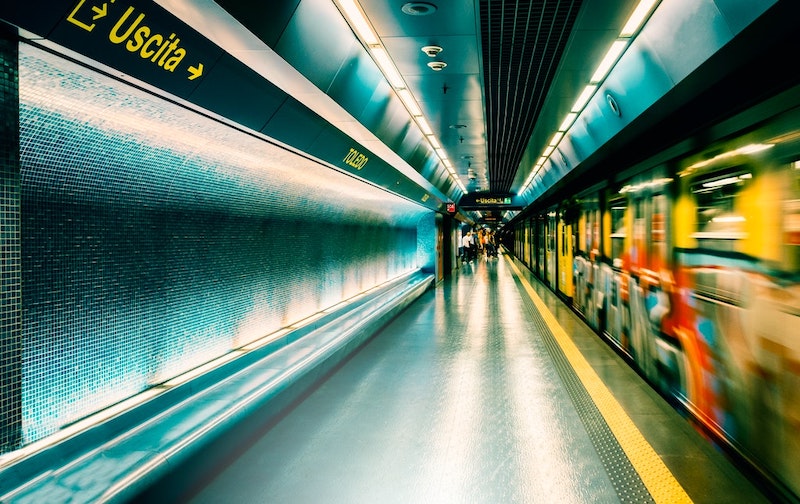 The Santa Lucia Station is placed on the city's northern outskirts, with various ferry and Vaporetto stations in front. If you have plenty of baggage, take a boat that lets you off close to your hotel. This Venice itinerary, on the other hand, anticipates that you will walk from the station. Despite what the map suggests, walking from the railway station to the city center with a small quantity of baggage is possible. With a piece of carry-on-sized rolling luggage, my spouse had no issue going from the station to Piazza San Marco.
Before you go, be informed!
$170 to $190 is an estimated budget for two days in Venice (without lodging and transportation).
Is it possible to walk the whole city of Venice?
You can walk almost the whole city of Venice. Bridges link the major cluster of islands, so you can take a short walk to all of the destinations on this Venice itinerary. I feel that walking rather than taking a boat is a great way to see Venice, (shocking, I know!) I've never encountered anything like navigating through the city's tight lanes and footbridges. A hedge labyrinth comes closest to describing it, but with stunning surprises at every turn.
Furthermore, you cannot depend on Google Maps to navigate Venice. While getting your bearings is useful, your phone's GPS will struggle to pinpoint your specific position. In rare cases, the recommended walking tour will direct you to traverse canals without bridges. You'll have a terrific time if you embrace your inner adventurer. It's worth noting that a few small islands, such as Giudecca and Burano, are only accessible by ferry. These, however, are not in my two full-day Venice agenda.
When is the best time to visit Venice?
Mid to late October, in my opinion, is a great time to visit Venice. It's the fall shoulder season, which means fewer people, less expensive lodging, and milder weather. The only spot that seemed busy throughout my two days in Venice itinerary was the Rialto Bridge, which I did during the third week of October.
In Venice, 48 hours is enough time to explore the main attractions and a few hidden treasures. To put things in perspective, I arrived in Venice about 10 am on the first day and departed at the same time on the third day. While I didn't do much the morning of our departure (other than snap many foggy dawn photographs), staying in Venice for two nights enable me to experience the late afternoon city at a leisurely pace.
However, staying an additional day in Venice wouldn't hurt. I would have liked to go to Murano and Burano for a day excursion if I had enough time! Furthermore, I feel that Italy is best appreciated at a leisurely pace.
Where should you stay in Venice?
Choosing where to stay in Venice is a delicate balance of price, location, and quality. I looked for the right hotel in Venice for hours before settling on Hotel Locanda Canal. It is a great place to stay if you're searching for a hotel that's inexpensive, strategically situated, and full of Venetian character.
The Hotel Locanda Canal was located on a peaceful street only a short minute walk from Piazza San Marco. My large hotel room had sight of the canal below and was well furnished with old wood furnishings and a large, comfortable bed. There were lots of cafés and restaurants around, and it was the ideal starting point for my two-day schedule in Venice.
Hotels in Venice rapidly fill up, particularly during peak season. You'll either spend a lot or stay in a less-than-desirable hotel if you wait until the last time to reserve a hotel room. If you like apartment living, you're in luck. Many wonderful vintage apartments with its balcony are available for rent in Venice.
Visiting Venice for a Month?
February
Venice is host to the world-famous Carnival for virtually the whole month of February. It's the most joyous time to visit, but it's also the busiest and most costly!
Early March through Early May
Spring is the shoulder season, with temperatures ranging from 13°C/55°F in March to 22°C/72°F in May. If possible, avoid May 1st, since the public holiday attracts a large number of people.
May till the middle of September
This is Venice's busiest high season, with August being particularly hectic as Europeans enjoy their summer vacations. Expect a huge and long line, exorbitant pricing for everything, and crowds of people. I've also heard that the canals stink because of the hot heat (28°C/82°F in August).
October — late September
As the weather cools–the average high in October is 18°C/64°F–so does Venice. As previously said, late October is an excellent time to visit Venice because of the decreased crowds and pricing.
From November through January
Venice is a popular and excellent popular tourist destination in Europe if you don't mind the cold. Ethereal morning fogs make Venice even more enigmatic at this numerous times of the year. At Piazza San Marco, the city also hosts a large New Year's Eve fireworks display.
Where should you go following this two-day Venice itinerary?
#1 Ravenna
With this one-day Ravenna itinerary, you may see Italy's mosaic city's beautiful historic main attractions.
#2 Bologna
Spend three days in Bologna, Italy's gastronomic capital, admiring the medieval architecture and eating your way through the city.
#3 Dolomites
The country's magnificent alpine area is just a short train ride away from Venice.
There are affiliate links in this post.