I'm a collector of masks. On display in my home are over 30 masks carefully carted back as my treasures from visits to faraway lands. So naturally, heading to Venice, I was keen on picking up a few Venice masks to add to my collection. I timed my visit to be there during the last three days of the Carnival of Venice so as to soak up the energy and color of this annual affair.
---
What's in this post:
hide
Venice – Behind the Mask
---
I was not disappointed…
St Mark's Square and the Mask
Even before the sun was up, there were costumed revelers purposefully wandering about in very elaborate costumes totally coordinated from head to toe – no detail left undone. From shoes to purses to gloves to elaborate headdresses (maybe even underwear although I have no proof) – all was perfectly in sync. These masked figures moved silently through St. Mark's Square with a distinct air of mystery –not even the pair of eyes staring back at me revealed anything about the person behind the Venice masks.
History behind Carnival
I was hungry to know more about the history behind Carnival, the costumes, and the Venice masks. It felt like every other store in this enchanting Italian city was heaped with masks for sale, many of these being cheap plastic knockoffs made in China. I did a bit of homework prior to setting off for Venice and came across a few websites of traditional Venetian mask shops and then I struck gold. Ca' Mana Venezia, a traditional Venice masks shop dating back to 1984, offered mask-making workshops. This was my ticket! I would make my own mask through their one-hour course entitled the "ABC of Decoration of a Paper Mache Mask".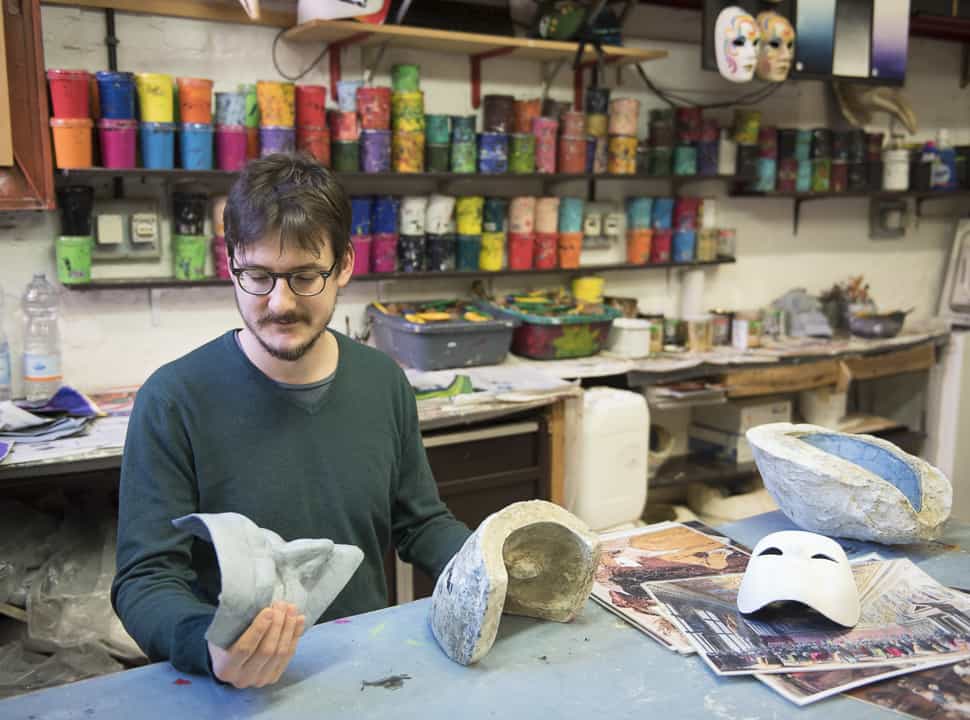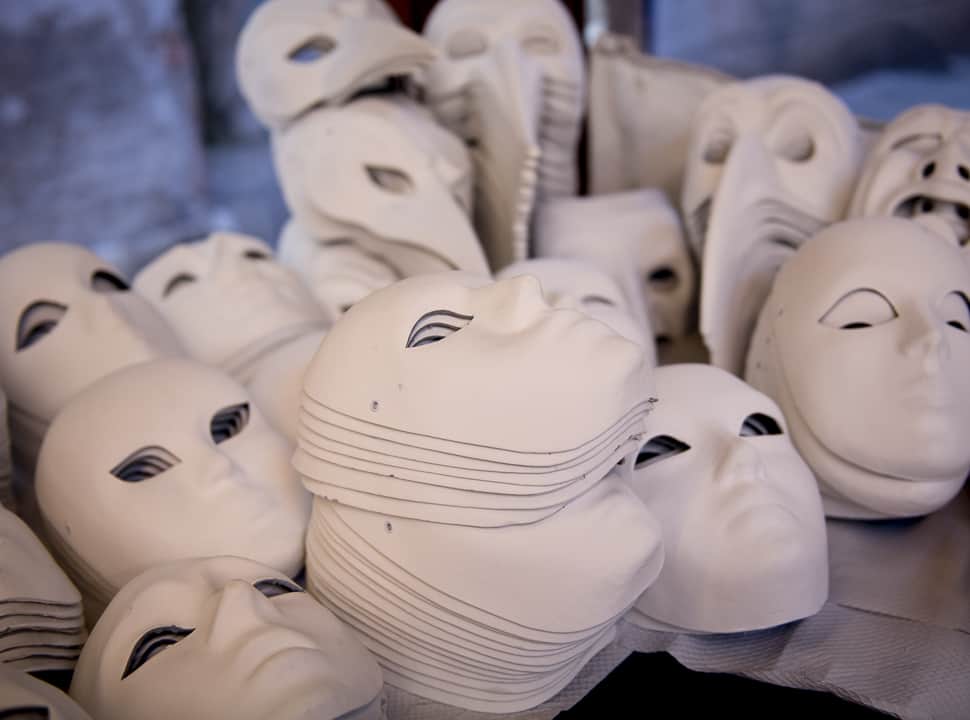 Venice – Behind the Mask
Prior to the start of my workshop, I met with Davide Belloni, whose father started Ca 'Mana, to chat up about the history of the Venice masks. The Carnival of Venice dates back to the 12th century, where elaborate dress and masks were an integral part of this celebration. Venice masks were part of the early day theater.
Masks Worn in Everyday Life in the 17th Century
To my surprise, I would learn that the mask was also worn as part of everyday life for the Venetians up until the 17th century when they were outlawed. The Venice masks were a way to hide your identity and social status. More importantly, the mask gave these Venetians the freedom to engage in all sorts of hanky-panky. From what I gathered, there was plenty of naughtiness going on with the nobility in these early days of Venice.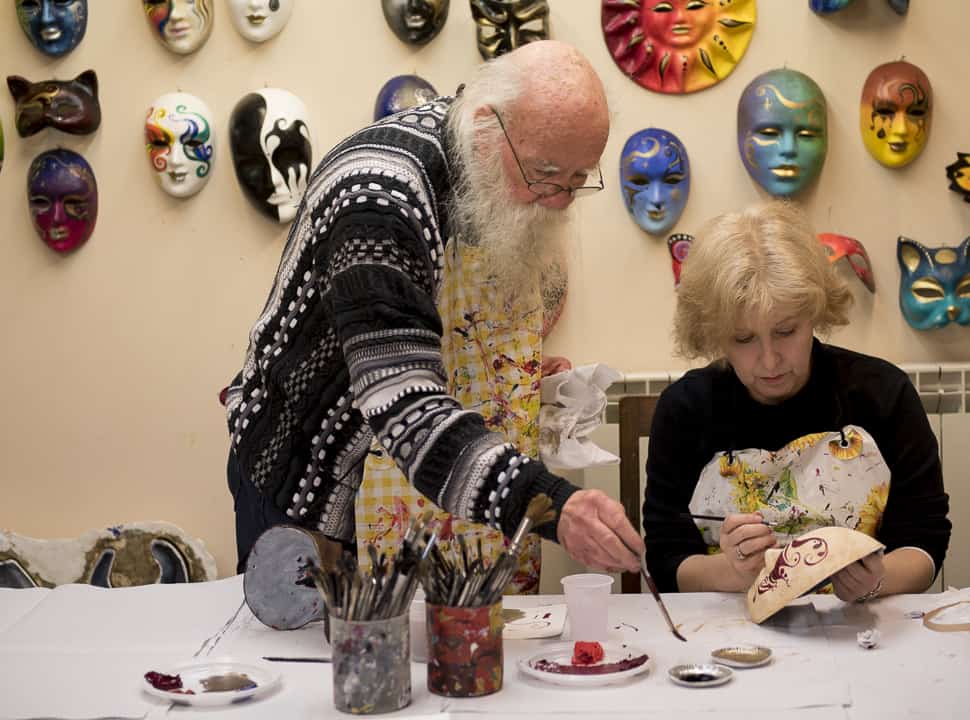 Ca' Mana's claim to fame is the fact that their Venice masks were used in the movie, Eyes Wide Shut. Davide explained to me that because each mask is made by hand, using traditional methods of paper mâché, no two are exactly alike. He went into detail on a few specific masks.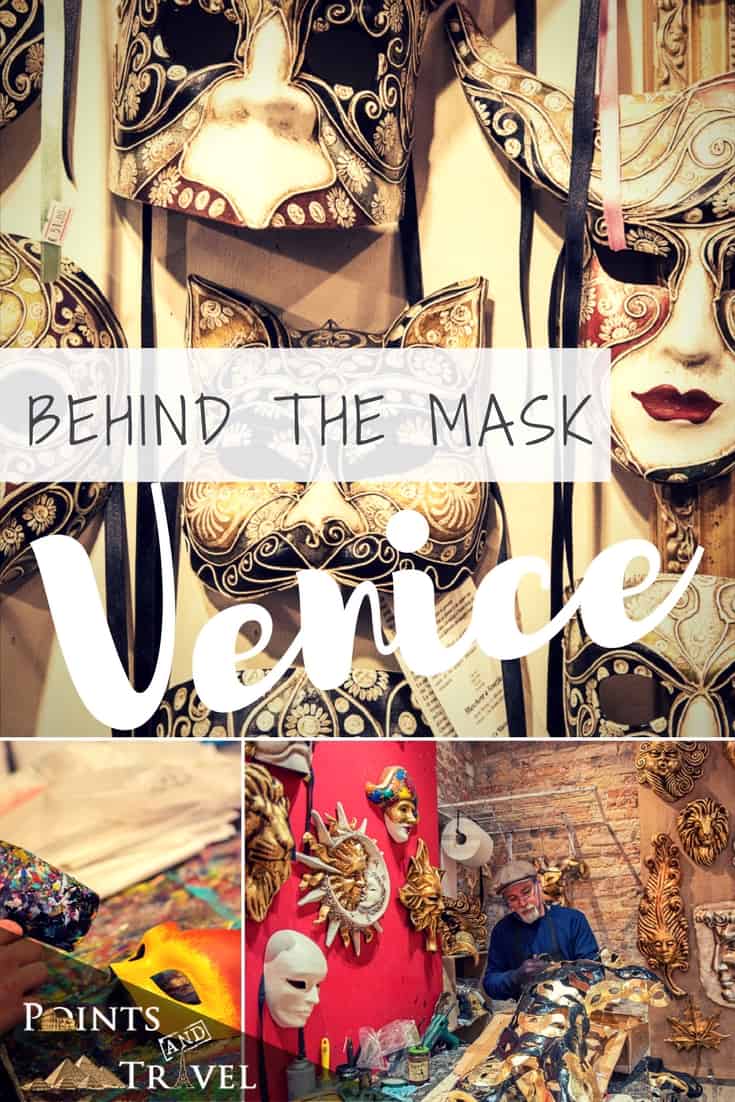 Venice – Behind the Mask
The Moretta or Muta mask was worn exclusively by women as an erotic enticement.
This black velvet oval mask with two eye holes covered the oval of the face; it was held in place by the woman biting down on a small button inside the mask. Women who wore this mask sported a dress cut very low and square across the breasts so as to show off their cleavage. This particular mask is no longer in use at the Carnival today, although there were plenty of women wandering around stuffed into costumes that revealed ample and visible cleavage!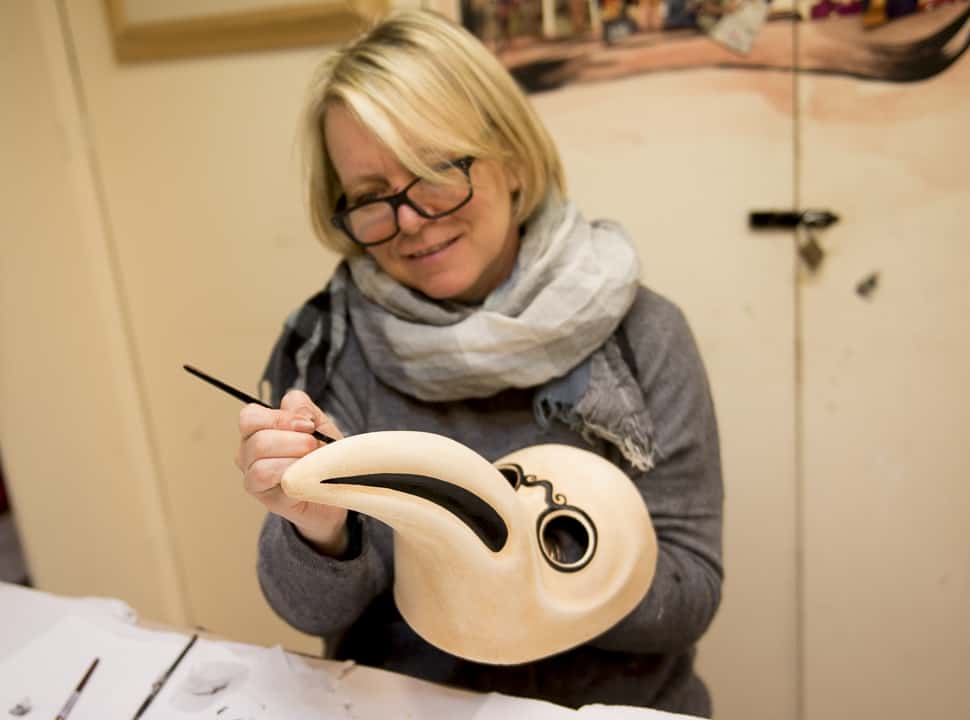 The Bauta Mask
The Bauta mask, originally a simple, stark white mask, covered the face down to the mouth and was characterized by a very pronounced nose. The Bauta, ending at the cheek, allowed the wearer to talk, eat, and drink.
One of the eeriest masks I saw during the Carnival is the Medico della peste or plague doctor mask with a very pronounced long white beak. It was designed by a 17th-century French physician as a way to prevent the spread of disease.
Venice – Behind the Mask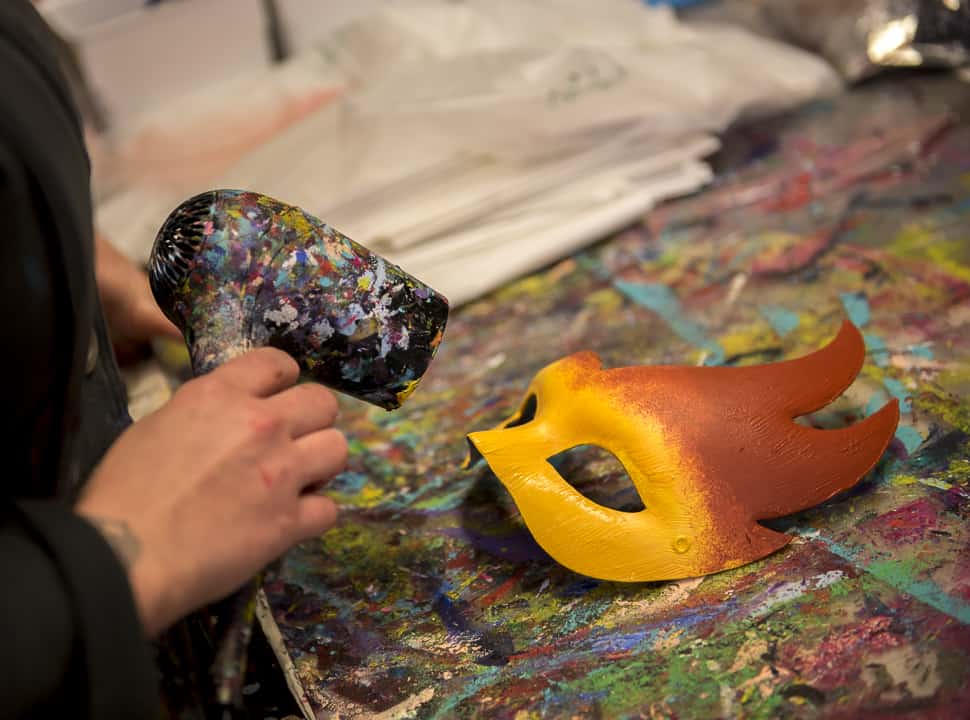 After learning about the rather spicy history of Venice as related to masks, I was ready to create my own. There were over 50 handmade paper mâché models to choose from. Under the guidance of Tiziana, the bubbly workshop instructor, I would learn the techniques available for blending and painting on my mask.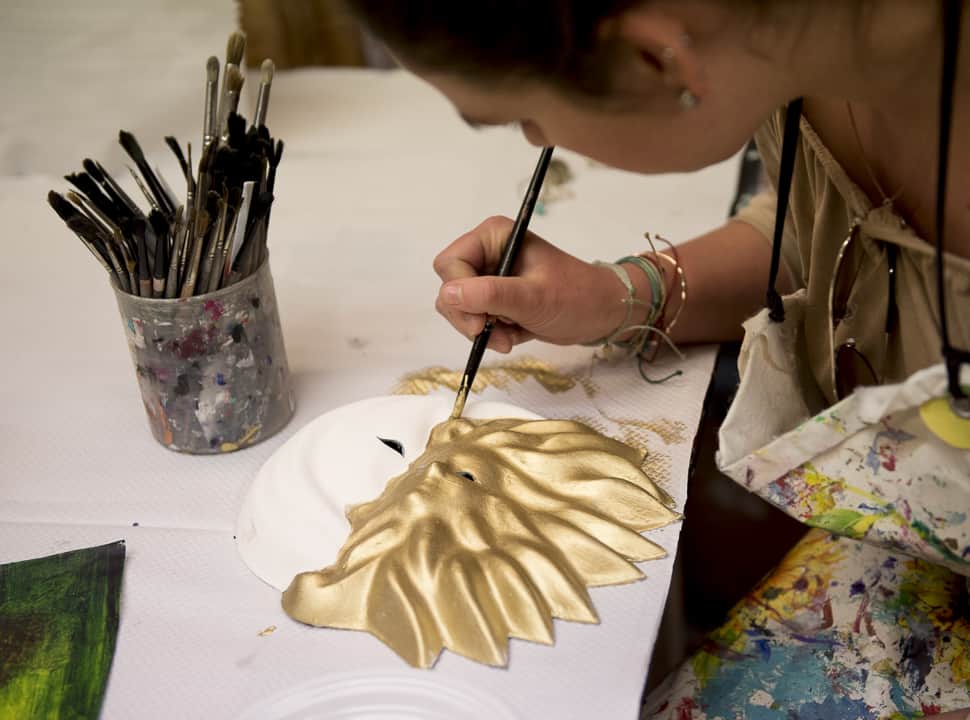 I made my mask selection, chose my colors and technique, tied on a plastic apron, and went to work with the paints and brushes that were laid out for me. I worked, reworked, and played with the colors until Tiziana coached me into finishing, as my allotted hour was long past. After a coat of varnish, followed by blow-drying my creation, Tiziana suggested embellishing the mask with feathers as a final touch. Out came a box brimming with the goods, and another box of buttons to finish out my work of art.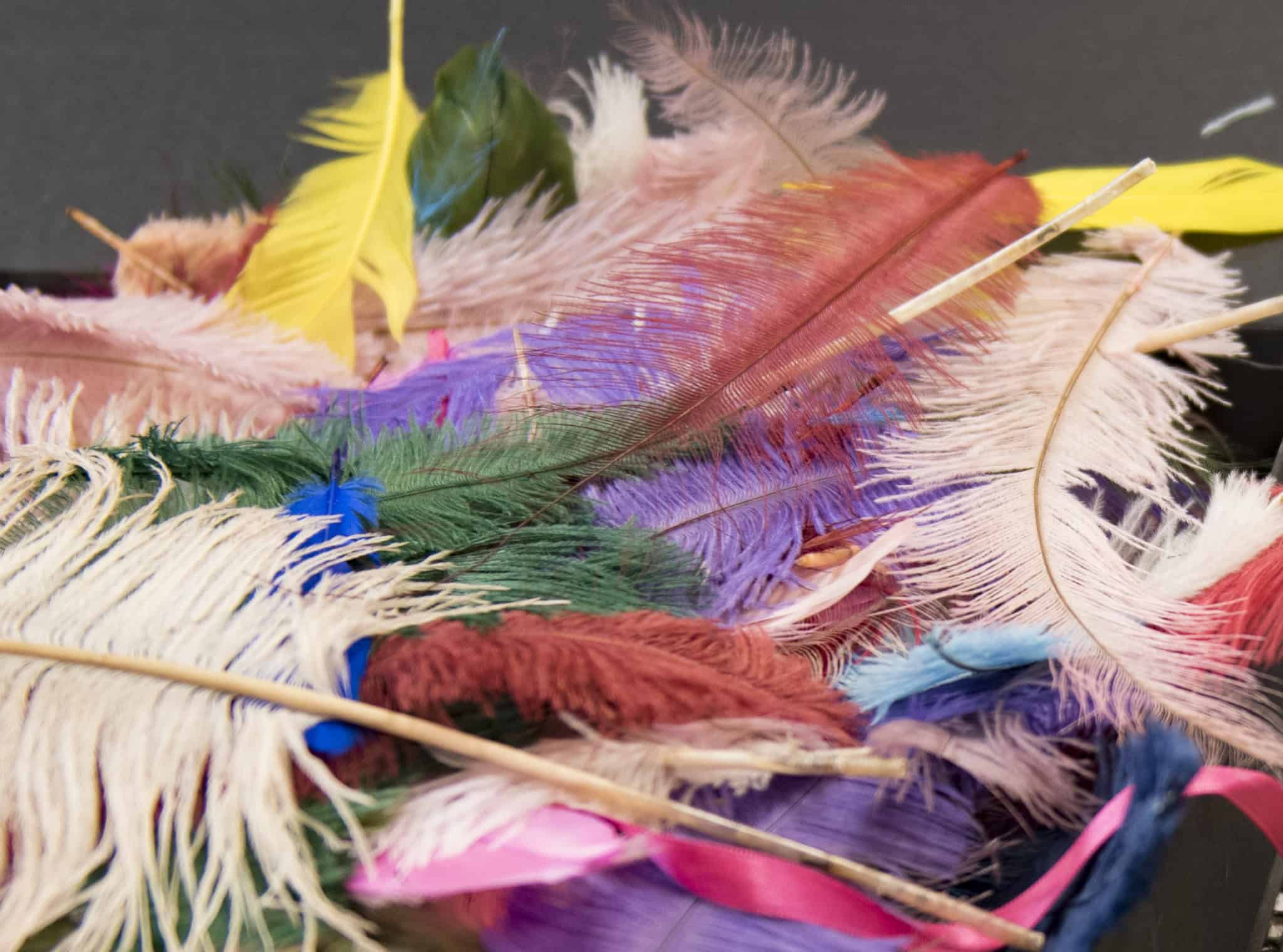 Venice – Behind the Mask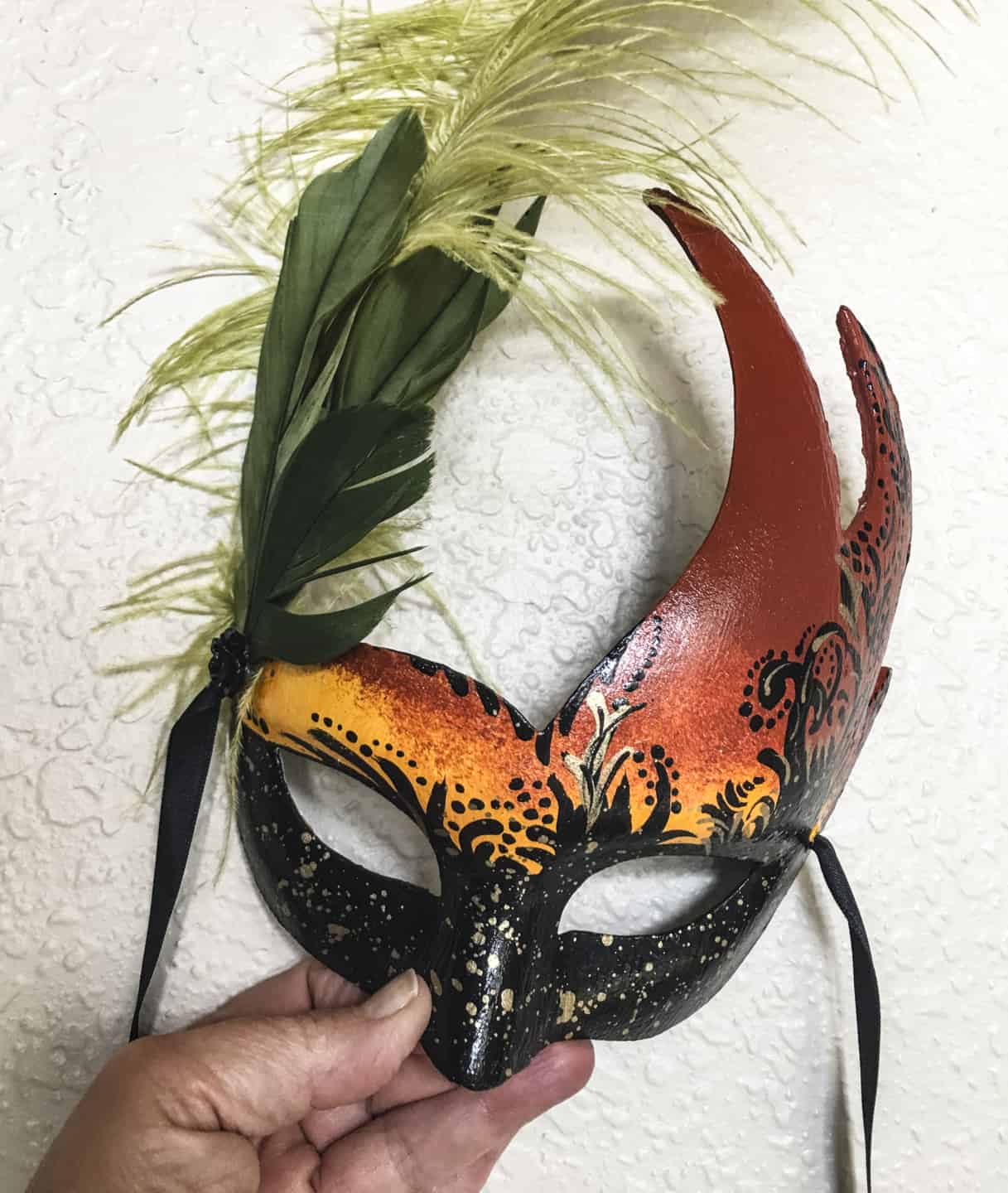 Traditional Mask Shops
It is worth seeking out these traditional mask shops in Venice to admire and appreciate this art form. The creativity of these artisans is simply amazing – some masks are adorned with beautiful paintings or photographs, some with beads, feathers, buttons, lace, gold and silver leaf, metal – there is simply no limit to the imagination.
If you're lucky, you might wander into a shop where the artisan is at work creating a one-of-a-kind piece. Such was the case when I stepped into BlueMoon. Alberto Jimenez, who has been crafting masks for 28 years, was hard at work applying gold leaf to a torso-shaped mask.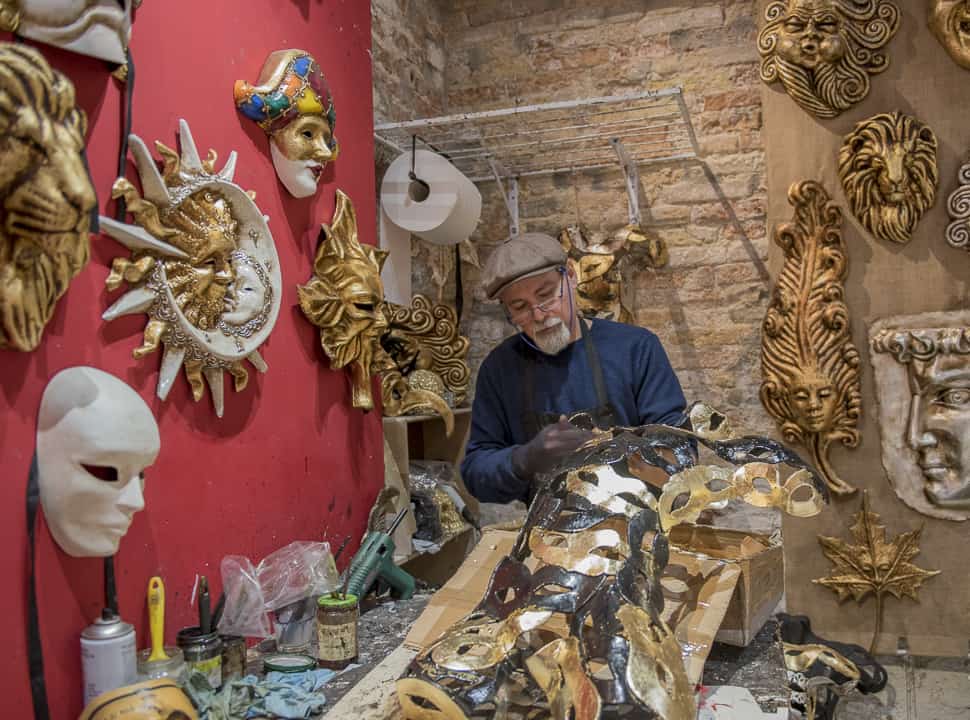 As I wandered the narrow canal-lined streets of this much loved Italian city, I secretly wished to be a masked time traveler and experience this place in all its glorious, mysterious, and naughty days. Oh, Venice – you mischievous, a mystical city on water – the more I learn about you, the more I love you!
Where to Find a Mask Class: Ca' Mana Venice
The one-hour workshop with Ca' Mana is available Monday to Saturday from 10 am to 12 pm and from 2 pm to 6 pm. It is suggested you call in advance in order to confirm the availability of the workshop, although walk-ins are very welcome.
The cost is approximately $50. There is also an option for a private two-hour class with the creation of two masks, best suited for families or groups. This needs to be booked in advance.
Recommended Reading:
Authentic Italian Recipes for the Soul
Tuscany Region, Italy:
Luxury Italy: A Journey for the Soul
Lazio Region, Italy:
5 Reasons to Rent an Apartment in Rome
Get the Scoop on the Best Gelato in Rome
Tiber Island: A Tiny Island in the Middle of Rome
Campagna Region, Italy:
The Abbey of Montecasino and Herculaneum
Positano, Italy: Bellisimo Part 1
Positano, Italy Bites Deep: Part 2
Furore, Italy: The Most Beautiful Place on Earth
Emilia-Romagna Region, Italy
La Bottega del Legno: The Woodshop in Forli, Italy
First Words: La Biblioteca Malaestina in Cesena, Italy
A weekend trip to Cesenatico, Italy
Altavita Winery: The High Life of Cesena
The Magnificient Masselina Estate and the Women of Faenza, Italy
Veneto Region, Italy:
A Voyage Thru Time: Things to do in Venice, Italy
Puglia Region, Italy:
The Power of Travel Seen Through the Eyes of a Travel Company
Liguria Region, Italy:
Portofino, Italy: At least Once in a Lifetime
Genoa, Italy and the BW City Hotel
Treat Yourself to the Suite Life: Hotel Splendido, Portofino, Italy
Hotel Splendido: Absolutely Splendid
The Poetry of an Old Fisherman's Village: Bocadasse, Italy
Italy Revealed: Camogli, Italy
Le Marche Region, Italy:
Make this Your Next Authentic Italian Vacation
Food, Friendship, and Wine in Le Marche Region, Italy
The Lost Art of Print Blocking in Carpegna, Italy Regenerated
Calabria Region, Italy:
Disclosure: Ca' Mana Venice gave the writer a discounted price for the class. All other expenses paid by the writer.