Everyone knows Venice, but how many people really know those 100 islands in Northern Italy's Veneto region built upon the islands of the Adriatic Sea? Venice, also known as Venezia to the Italians, is a 1700-year-old city that at one time was considered the epicenter of European finances and art. Today it is a romantic tourist destination for all to enjoy. A place where you can walk over 400 bridges and find almost too many things to do.
---
Venice Italy Attractions
---
I have compiled a list of a few ideas of things to do in two days, so you won't become overwhelmed once you arrive. There are so many Venice attractions, I cannot name them all. So if you are looking to complete your itinerary of Venice and looking for the Best Things to do in Venice in 2 days? You have come to the right place, so let's get started: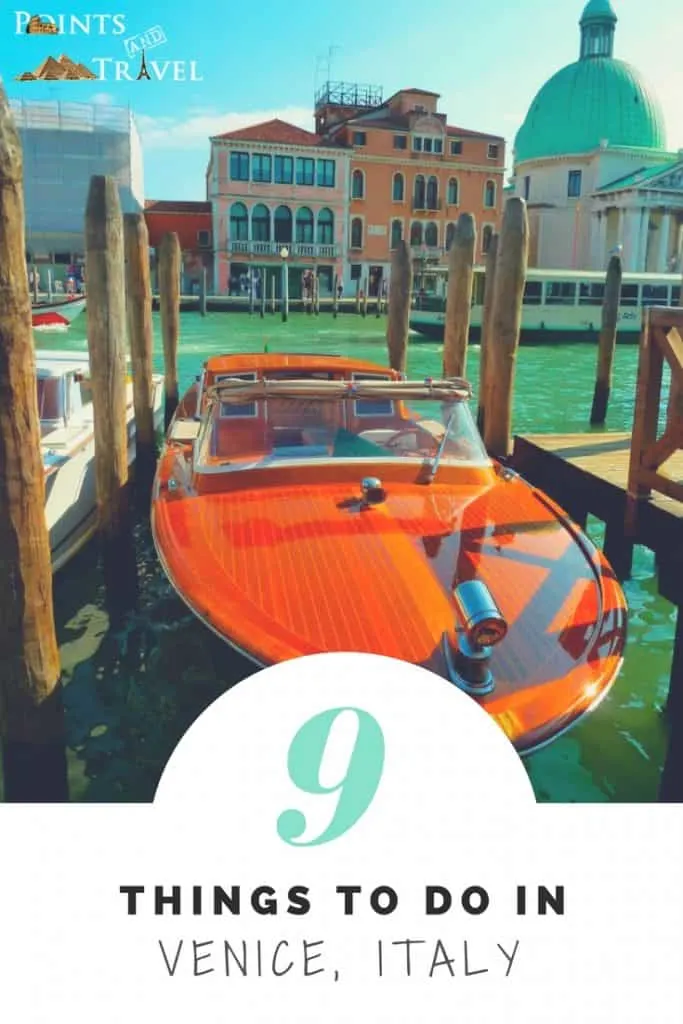 ✦ Things to do in Venice in 2 Days ✦
#1 Get Lost
Venice attractions Italy: If you are like me, you may like to get lost, then this is the city to do it. I tend to wander around, losing myself in the age-old architecture. The best thing to do is truly just wander around aimlessly through its streets and alleyways. I would recommend that you do this before you set foot inside a single church or museum.
This is crucial to enjoying Venice, with its hoards of tourists. Where ever you see a ton of tourists, just walk in the opposite direction! By wandering you can find Venice's many charming and sometimes empty squares. I am amazed that this jewel of a city, audaciously built on these tiny little islands, even exists.
#2 Visit the Grand Canal and take the Vaporetto #1 Tour
In 1495, the ambassador to French King Charles VIII called the Grand Canal "the most beautiful street in the world." And I think not much has changed since then. When I arrive, one of the first things to do in Venice, Italy is to get on the water and cruise the waterways. I love the breeze in my hair and the chance to see even more of Venice from the viewpoint of the water.
It is such a wonderful site to see the main thoroughfare with the gondoliers and the sleek, gleaming teak cruisers making their way down the canals. Like something out of a movie set, Venice is like nothing I have ever seen before. It makes me feel like I am being taken on a voyage through a romantic time in the history of the world! The slow #1 Vaporetto that runs the full length of the Grand Canal is the vaporetto to take. It is the equivalent of taking a city bus tour and is one of the many Venice attractions I always take.
#3 Visit Dodge Palace, the Bridge of Sighs, and St. Mark's Basilica
---
" Venice is like eating an entire box of chocolate liqueurs in one go." – Truman Capote
---
Ok, I admit it, I ate the entire box! How can you not when we are talking about Venice,
with its maze of narrow streets
hundreds of canals and bridges and all its beauty?
When a wrong turn can be as thrilling as the next with palazzo's that are hundreds of years old, gothic churches, carved windows and arches, fluted columns and gorgeous ornamentation that catches your eye at every turn, she is a stunner.
---
#4 Take a Walking Tour
Venice attractions: It still is the most beautiful "street" in the world, even with all the hustle and bustle and the thousands of tourists. Even when you cannot get a single spot on the St. Charles Bridge because there are just too many people standing there, waiting their turn to peer out over the bridge to see it too.
Yes, of course, Venice has been taken over by the droves of people that come to see it, but you have to admit, that there is something magical about this place and that is why we all go there and why I return again and again. I recommend you to take a walking tour of the city to get your bearings straight.
It is always nice to have a guide who can show you the ropes and doesn't make you feel like you are a tourist. I can recommend the Walks of Italy tour known as the Venice Full-Day Tour: St. Mark's Basilica, Doge's Palace & Gondola Ride. They do an excellent job of keeping the day moving and by showing you everything you ever wanted to know about Venice attractions. You could even try the Walk Alone Inside of St. Mark's Basilica Tour!
#5 Stay overnight in a local Neighborhood
The sestieri are the six districts or neighborhoods that Venice is divided into. They each have their own character: San Marco and San Polo are the busiest with the most tourists, Santa Croce and Castello are where the working-class people live, Dorsoduro is the most elegant, Cannaregio is the largest. Each of these districts has so many things to do in Venice.
But my solace in Venice is to stay away from the crowds by staying in areas where the tourists are not. On this last visit to Venice, I decided to stay in an apartment in Castello. It was one of the best things I have ever done on a visit there because it gets you into the neighborhoods with the people who live and work there. You are now miles away from the droves of tourists in the main area by St. Mark's Square, yet it is just as beautiful.
And Venice is easy to get around on the Vaporetto, so you don't have to worry about completely getting lost.
How to get to Castello Neighborhood
When you arrive from Rome or Milan, be sure and have a cruiser lined up to come to pick you up and take you to your apartment, as I did through Ultra Ride.
Ultra Ride has an amazing service that they offer that most people don't know about, just follow this link to get the information. They have access to the cruise boat drivers for their tours and this is just one more service that they provide, besides the amazing tours that they offer. I cannot say enough about them: they were timely and had great communication with me before and during the trip. This speeds up the amount of time you can spend trying to figure out how to get to your apartment or hotel. And when you only have 2 days, you want to be as efficient as possible.
Here's how my pickup worked: I arrived by train and ended up at the main train station, where I walked outside by the main waterway and the pick up was right there beside the white church. From there, the driver took me to Castello and when I needed to leave via the airport for an early morning flight, he picked me up right by the apartment where he had dropped me off a few days earlier. This was the best part because it is quite a ways to the airport and so to travel by private is the best way to go I think, versus taking the water taxi that stops at all the stops along the route.
#7 Rent a local apartment
So what type of apartment can you get in Venice? I looked at Travelocity and there were many options depending on how many in your party and your price range. I wanted one that looked modern, preferably on the first floor, so I didn't have to lug my luggage up the stairs, had a kitchenette because, after a few days or more in Venice, food can get expensive. I got all of that and more.
It was very comfortable, in a cute neighborhood and was perfect for two to four people. Mine even had a washer, which by this point in my travels was well needed. So just take a peek at their website to determine what type of apartment you want to stay in.
#8 Ride A Gondola or a Vaporetto or a Traghetto
Another thing to do in Venice is to go ahead and book a private session with a local photographer in Venice. You won't regret it. I did this in Monaco for my husband's birthday and I loved how the photos turned out!
Traghetto
There is also a gondola called a traghetto that you can take from one side of the bank to the other and it is super cheap. The traghetto at Santa Sofia, halfway between the Accademia and Rialto Bridge, goes across the Grand Canal. And the ride cost: $1 and is quick!
The traghetto, which is a gondola that has been retired, is driven by gondoliers wearing the same uniforms as the gondoliers in the more expensive gondolas.
#9 Go Island Hopping
The nearby islands of Murano, Burano, and Torcello are great places to get away from the crowds in Venice. Murano is known for glassmaking, the Burano for lace, and the Torcello—I suspect—for being seldom visited by tourists.
So there you have it, my wrap up of things to do in Venice in 2 days.
So you want to read more about Venice?
Veneto Region, Italy: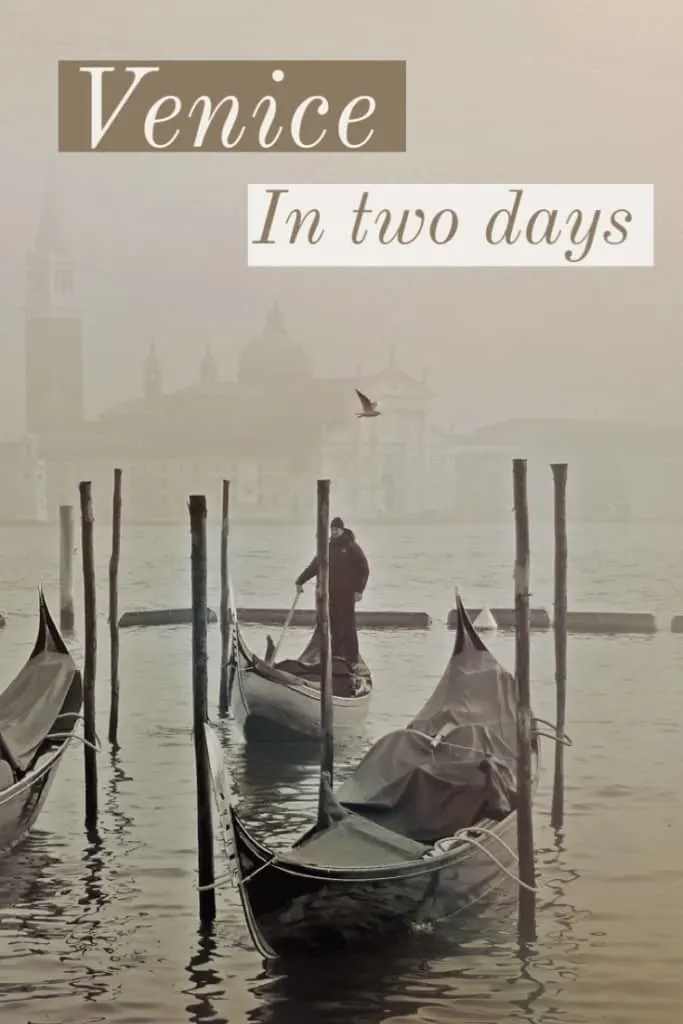 Disclosure: My accommodations and transportation were provided by GowithOh and Walks of Italy, however, the opinions expressed here are all my own! There are affiliate links in this article.