Air travel has become such a hassle over the last couple of decades, especially since 09/01/01. I can almost remember what it was like BEFORE that happened. Now, lines at the airport have continued to get longer while the list for prohibited items on a plane has increased. However, the one thing that has improved about air travel is the business class choices that are available. As many of you followed along on my PointsandTravel Instagram stories about my recent visit to Qatar, you know that I flew on Qatar Airways checking out the Q-suite business class seating and here is my Qatar Airways review!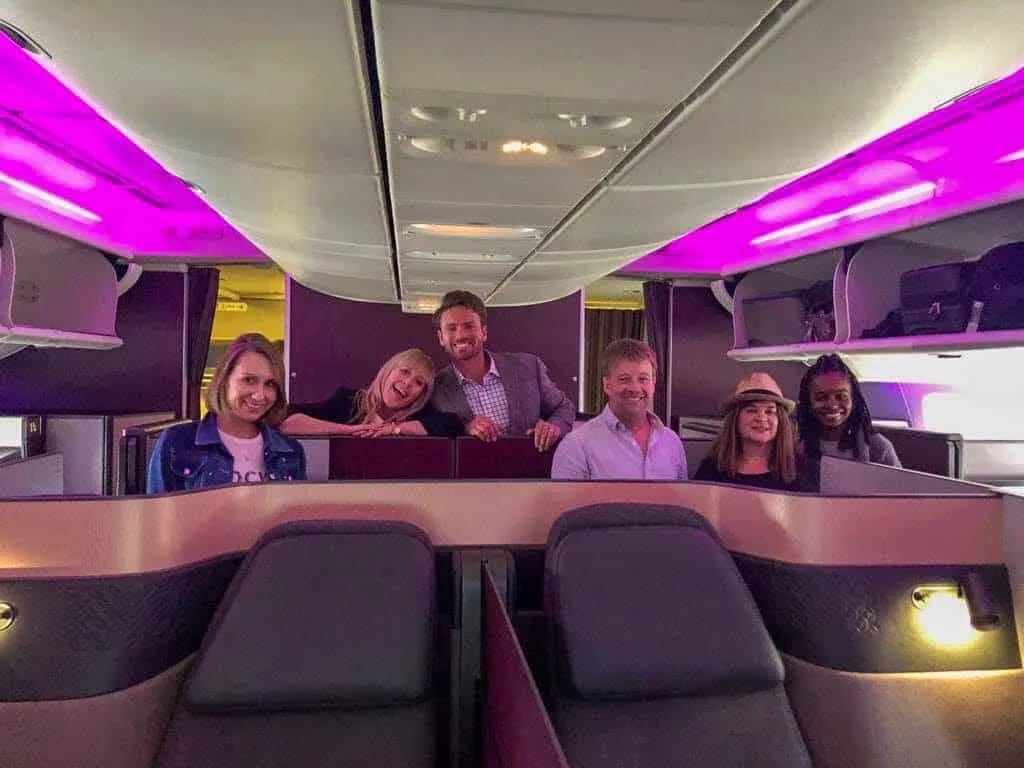 Qatar Airways certainly is known for having one of the world's best business-class suites in the airline categories. I do have to agree that their service was impeccable as well. I loved flying Qatar Airways and it certainly was one of the highlights of my time spent visiting Qatar. Plus virtually no jetlag and plenty of free time to enjoy the experience!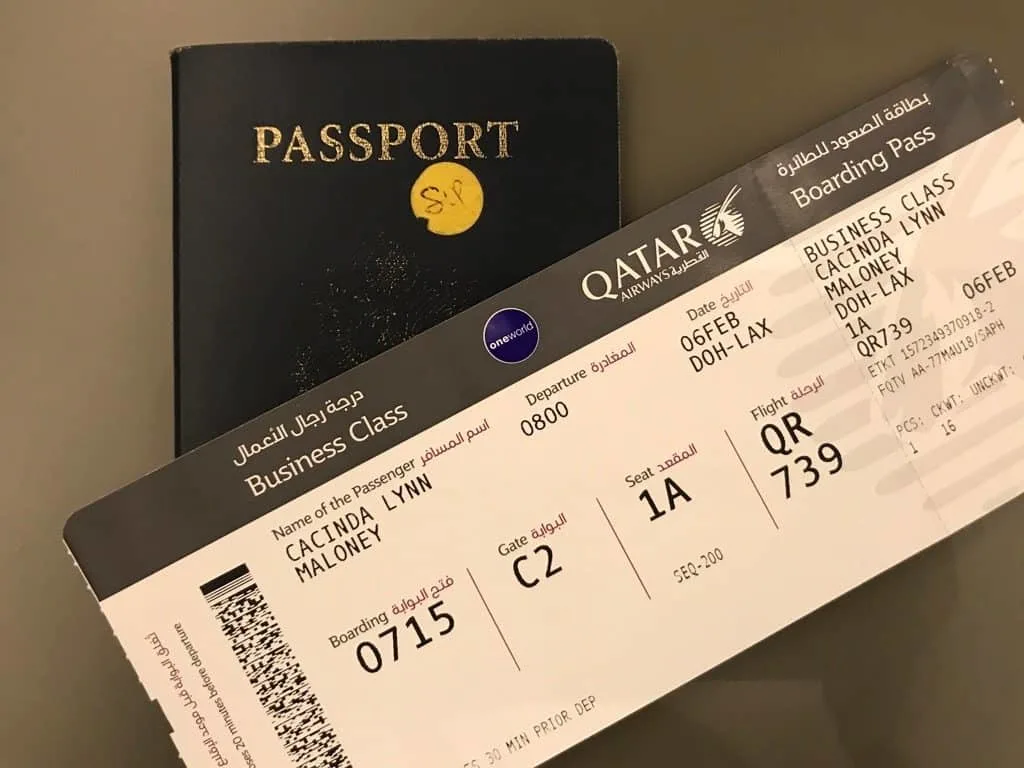 Qatar Airways Review
Experiencing the Q-suites for myself on the new route from LAX to Doha and back was literally a dream come true! I had done this route before, but I was on my way to the Maldives and Sri Lanka. I was in the economy class of seats. And I have to tell you, even economy class was really good too, especially when compared to the American airlines that I typically fly. So do yourself a favor, try it out some time!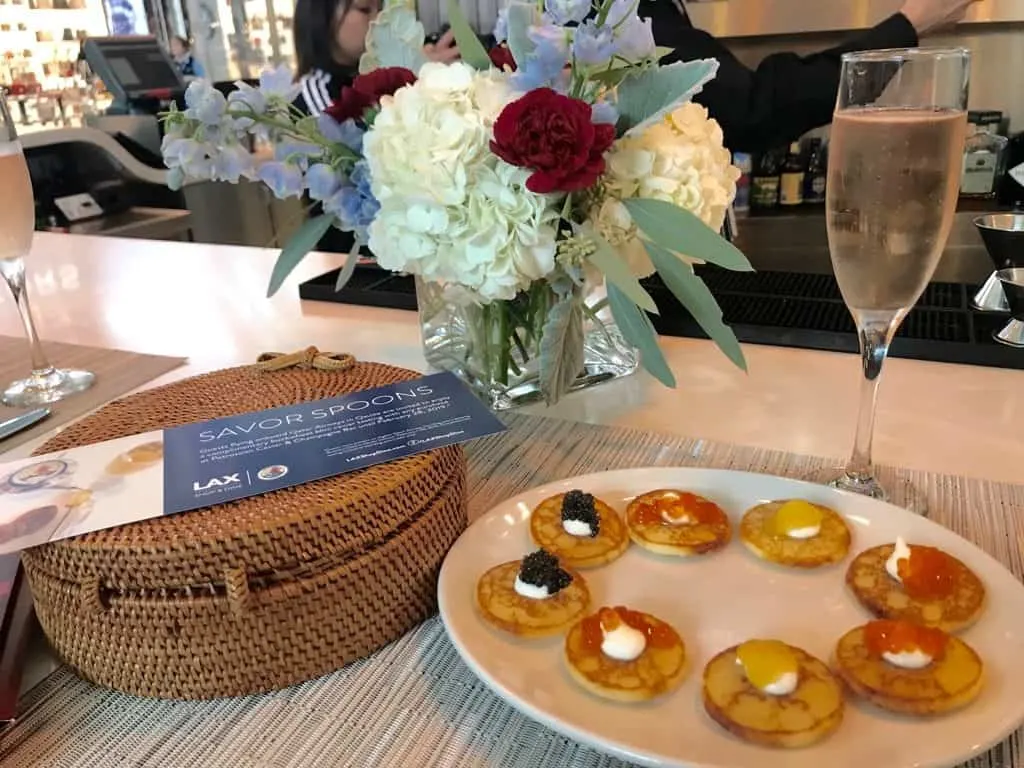 Oh, and did you know that Qatar Business Class allows you entrance into their Lounge in the departing city and in Doha?! At LAX, they had a special that guest flying onboard Qatar Airways in the Q suite were invited to enjoy a complimentary buckwheat blini caviar tasting and champagne at Petrossian Caviar & Champagne Bar, which of course, I took them up on!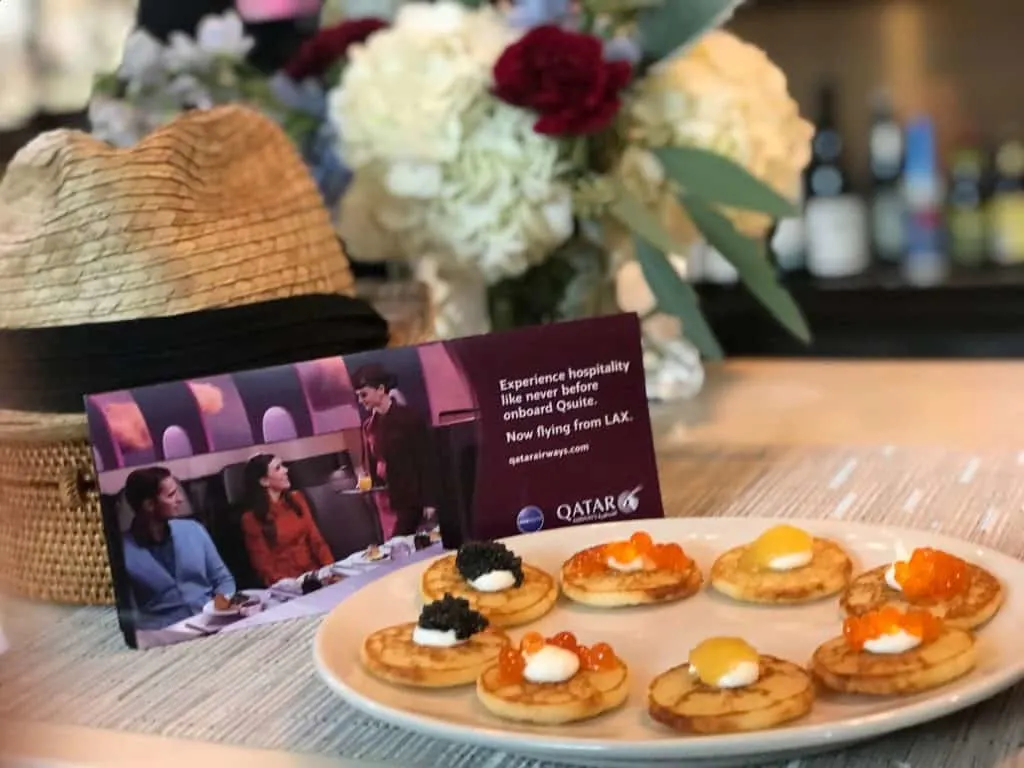 Qatar Airways Review – Amazing Business Class Q Suites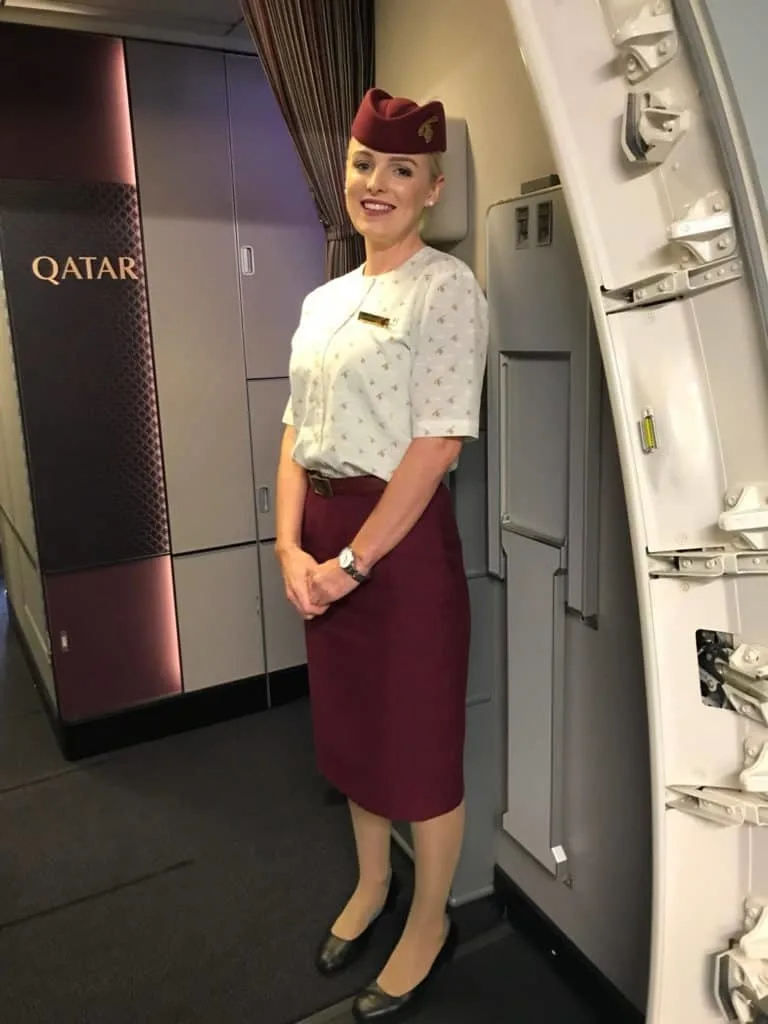 Amazing Q-suite Business Class Features – Welcome Champagne and Toiletry Kit
A complimentary glass of champagne and toiletry kit is among the many perks that a business class passenger receives in the Q-suites. The toiletry kit is specially made by Italian designers, exclusively for Qatar Airways. Passengers will find facial creams, socks, lip balm.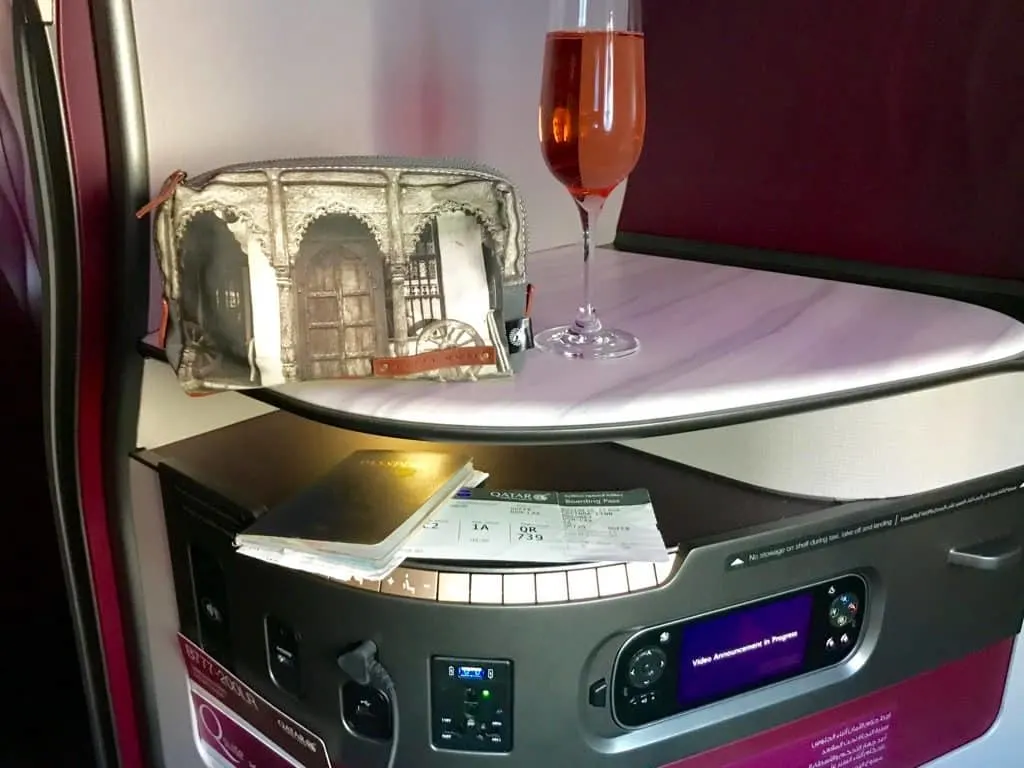 Qatar Airways Review – Unique Pods with Full-sized Beds!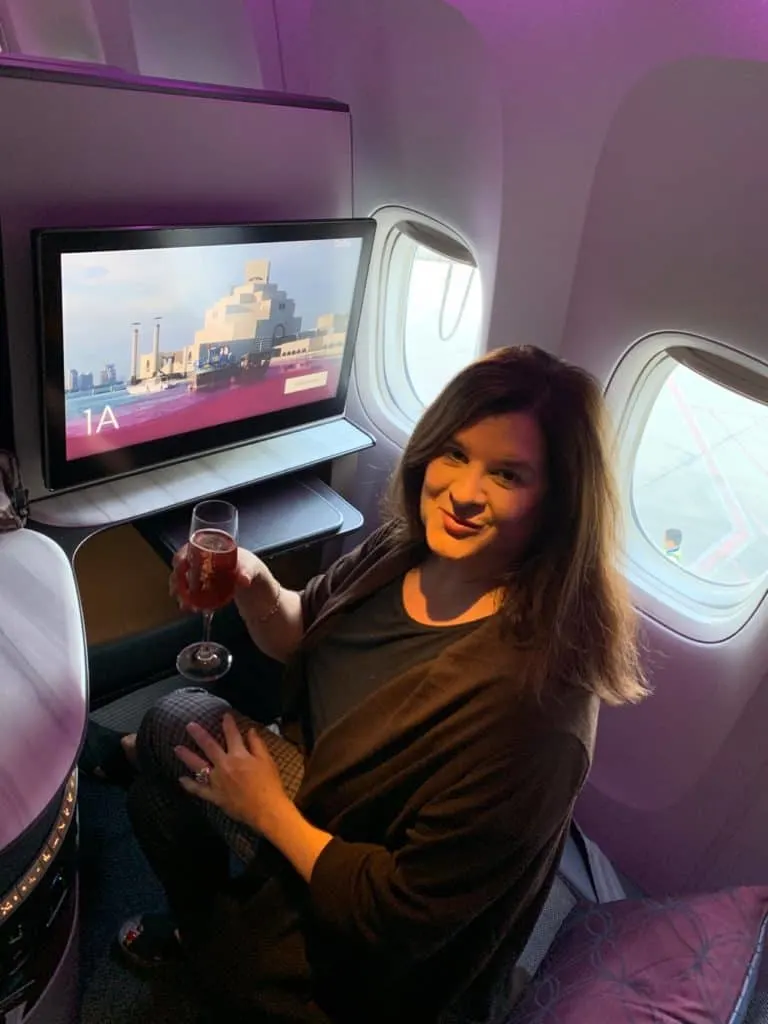 Business class service has long been a luxury that not everyone has been able to afford. However, Qatar Airways has been able to give some of its customers a taste of this luxurious life through their first class and business class sections. In March 2017, the new "Q-suites" were officially introduced to the world of aircraft. These types of suites were the first suite-style business-class seats that were complete with closing doors! That's right, your own little cubical. I would almost call them a "self-enclosed pod". They can be modified in order to accommodate up to a four-person family-style room, a work area, and even a double bed in the center of the suite. Families and couples can share time and meals together. Q-suites has kicked it up a notch and now offer the first ever double bed in the sky! These suites can also be made to fit a single use as well. Whether you choose this space for family use or alone time with your partner, or just for yourself, the closed compartment setting is definitely a huge benefit of this business class suite.
If you choose, you can have the steward lay out your bed cushion for the evening and you are even given a set of pajamas to keep and slippers. Q-suites certainly did not skimp out on cheap mattresses, pillows, or blankets either. As they offered really soft and thick blanket as well as a larger sized pillow than traditionally seen on airplanes
Although these Q-suites look similar to other types of business class sections, they do have some amazing features. These suites are now available from selected flights out of LAX. (Yippee!)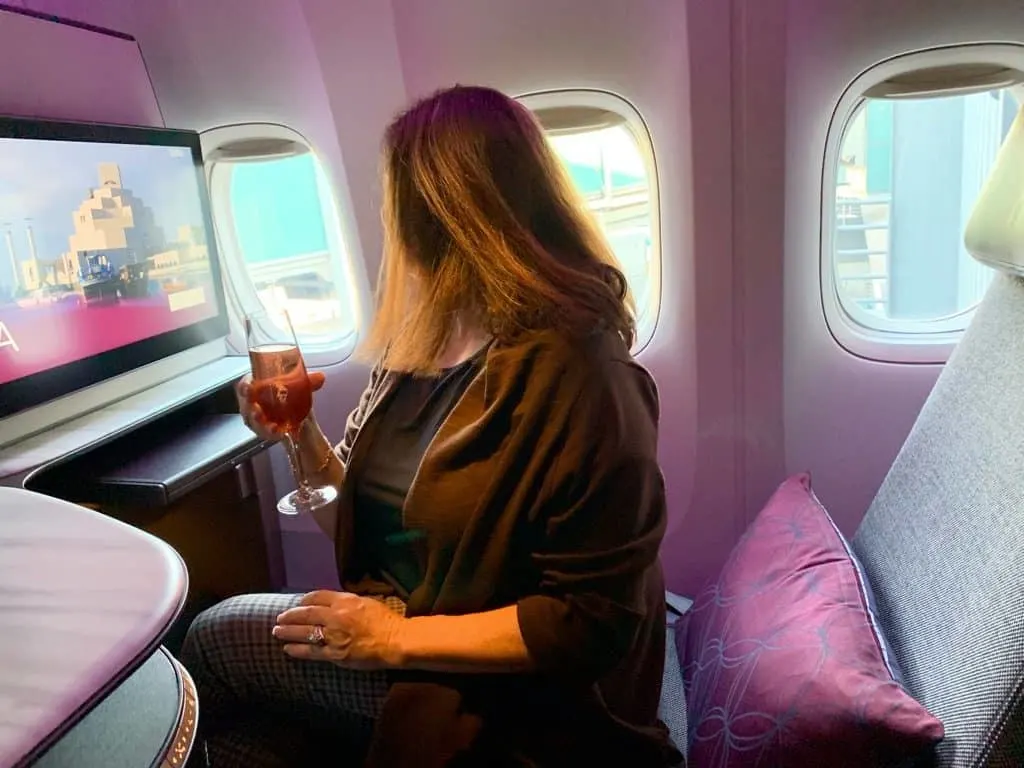 Amazing Q-suite Business Class Features – Privacy
The privacy that comes from these Q-suites is unlike anything seen among other airline companies. The suite itself offers seat controls so you can adjust the seat to your favorite position. In addition to changing the seat position, there is also a do not disturb button as well as a massage and lumbar support button. The control system also has spots for an HDMI plug-in as well as USB sockets. These are perfect for charging multiple devices as well as connected laptops to the monitor.
---
Qatar Airways Review – Business Class has Full-Sized Bathrooms
A dental kit and shaving kits are available in the larger business class bathroom. They truly have thought of everything!
---
Amazing Q-suite Business Class Features – In-Suite Dining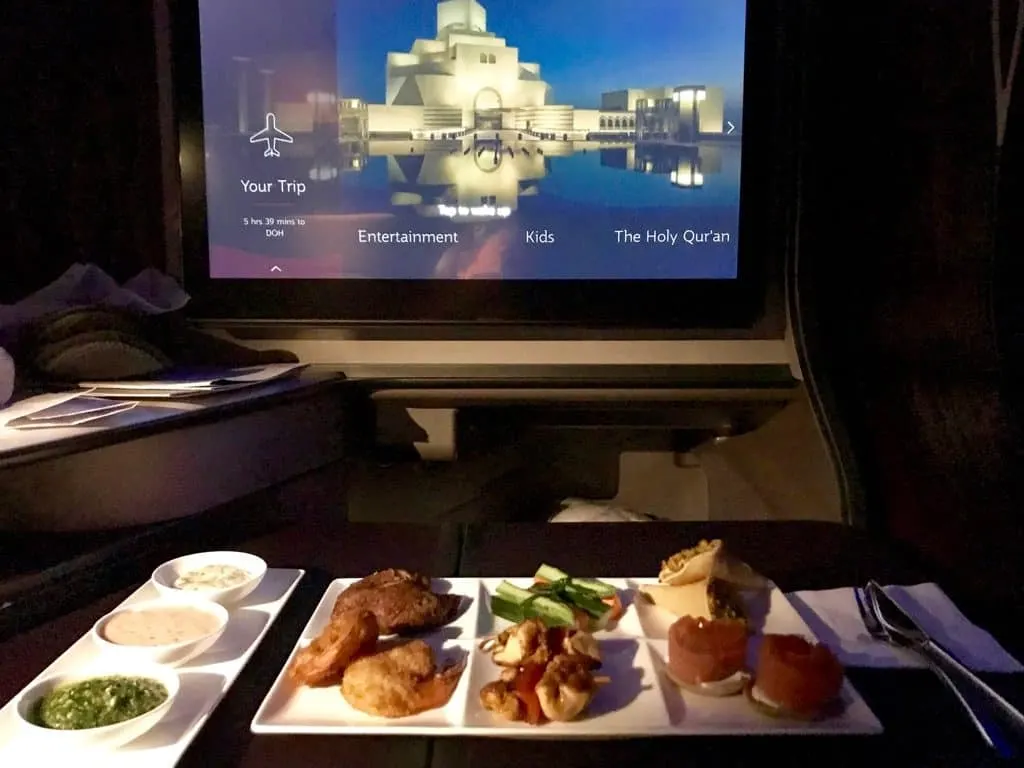 As you know, dining can be a luxury on an airplane in Business Class and the Q-suites chef has everything you need! Passengers can order whatever their stomach desires and whenever you want upon request (one of the best parts!). In the seat pocket, there are two menu's of food for you to choose from, as well as a list of drinks available. Order to your heart's desire!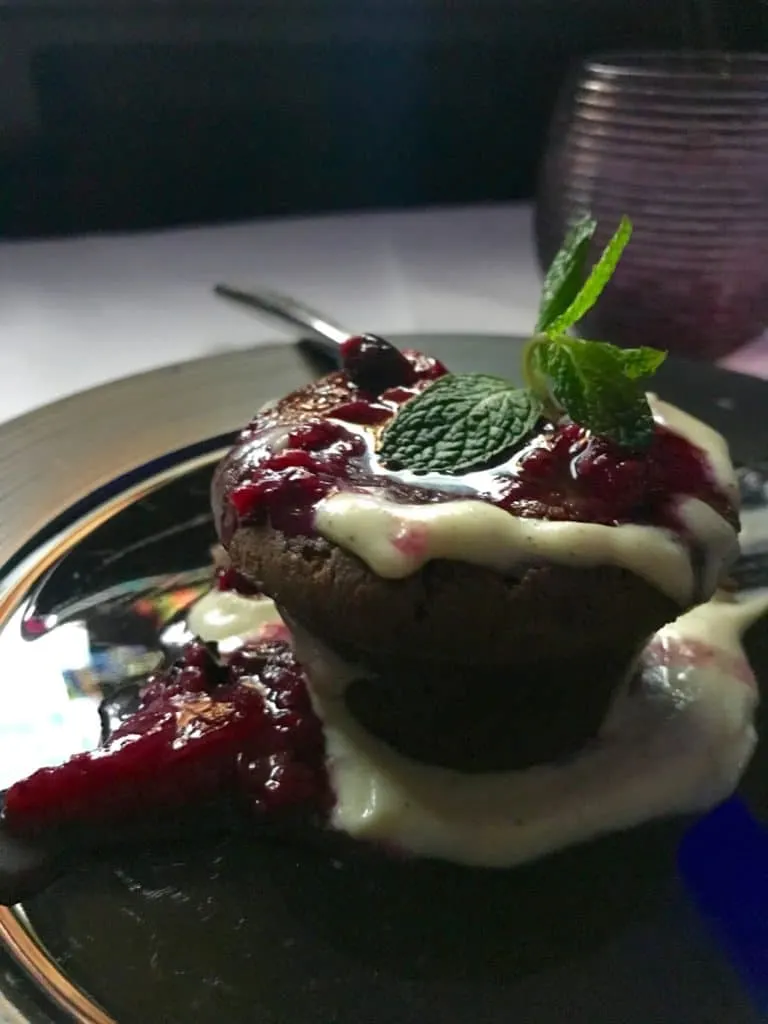 Chocolate lovers will surely enjoy a box of Godiva chocolate as a late-night snack offered before bedtime. Once your tummies are full, can hit the 'do not disturb" button for as long as you like!
Qatar Airways Review – Q-suite Business Class Features – Massive Entertainment & Wifi!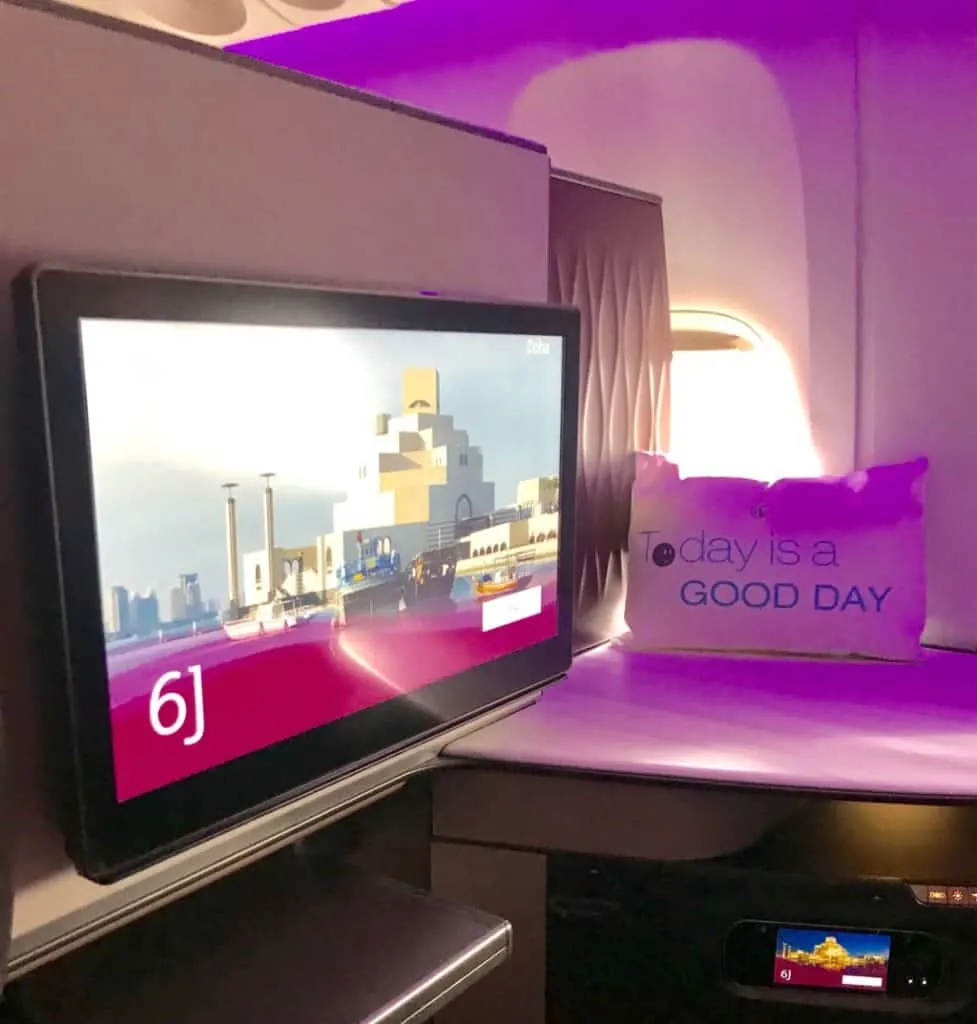 Ensuite in-flight entertainment is always available on Qatar Airways. The Q-suites offer more than 3,000 different entertainment options in movies – everything from Hollywood to Bollywood, to television, and even HBO as well as world-class music in all genres, games, and flight maps. But even more importantly, you can purchase Qatar Airways wifi for $10 for the entire flight! That way you can stay connected the entire time you are traveling, especially on these long 15 hour plus flights! There is no way you can become bored on this flight!
Q-Suites Available on Selected Flights of the Airbus out of LAX & JFK
These Q-suites are set to launch throughout 194 Airbus and Boeing planes within the next few years. The only downside to the Q-suites of Qatar Airways is that they are not available on all flights, so you do have to check to see what airplane you are traveling on. Starting now, Q-suites will be available on select flights between LAX to Doha and starting in March 2019 from Boston to Doha. JFK already has flights going out with Q-suites. You don't have to be rich to fly Qatar Airways and book a Q-suites but you do have to decide to spend your money on the things you find important. Also, don't forget that airline points can be used to book this perfect flight on the best business class section in the world, so there is always that!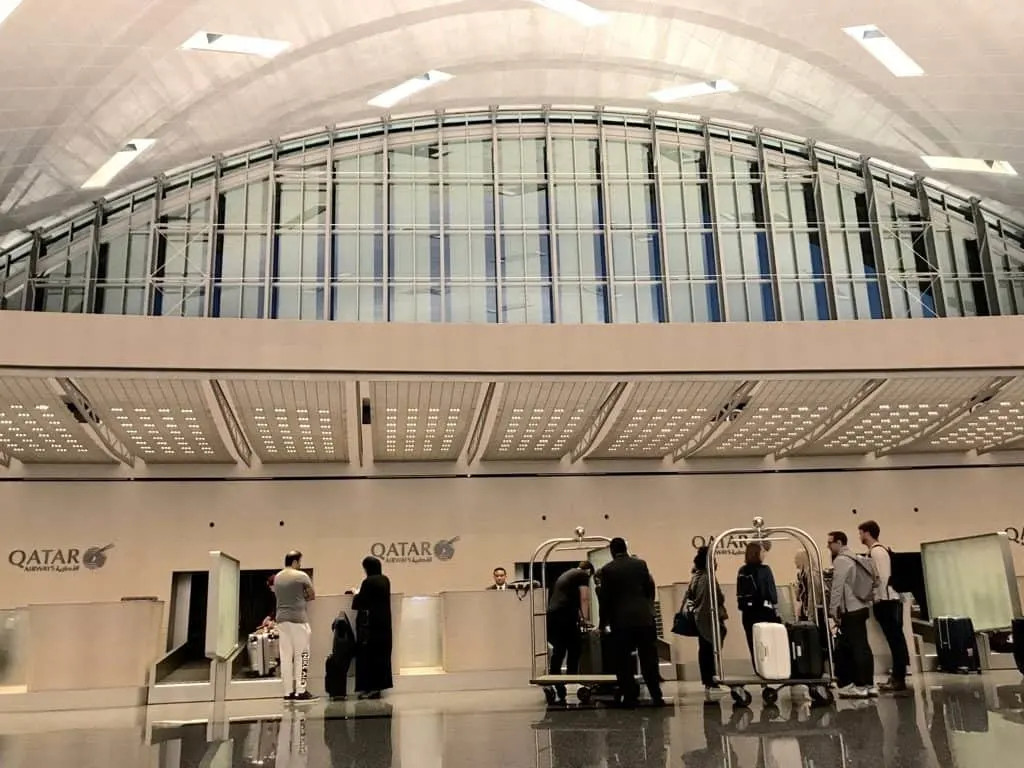 Qatar Airways – Where it has Been and Where it is Going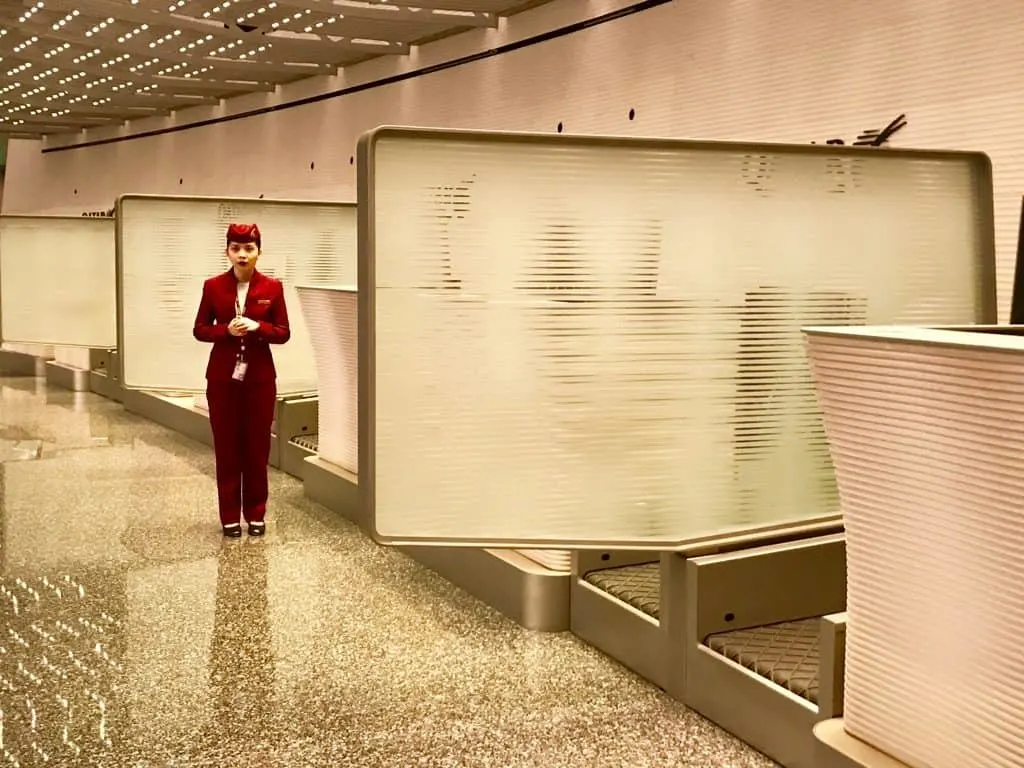 After taking a look at these amazing Q-suites, let's take a look at their business class lounge in Doha, Qatar! Where they have premium business class check in! No waiting and there are plenty of desks available and they are waiting for you (what a concept!). From there, they whisk you off to the DOH business class lounge, which quite frankly well appointed and gorgeous! Here they have everything you can imagine in order for you to relax and avoid the crowds of this massive airport. From free food to drinks to sleeping locations. They have everything you need. Believe me, you won't want to leave!
Qatar Airways Success Story – The DOH Lounge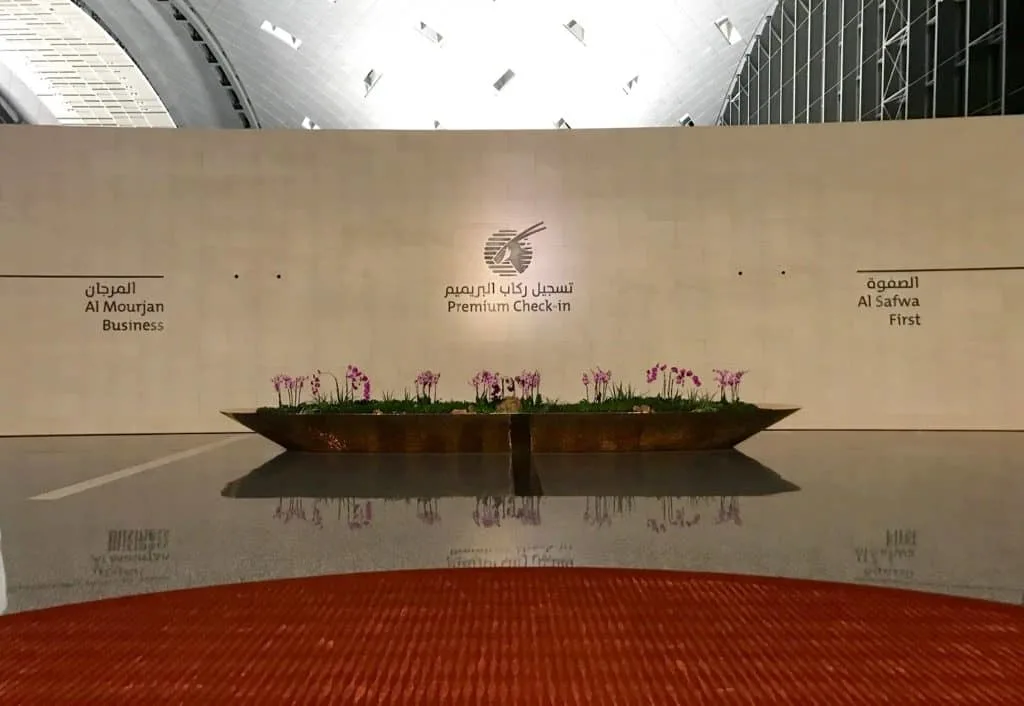 The main hub of Qatar Airways is located in Doha at Hamad International Airport (DOH). Qatar Airways flies to more than 150 destinations on all six continents. Although many airline companies fly to most continents in the world, there are only a handful that fly to every continent. Qatar Airways is one of these airlines that travels to every continent in the world, including non-stop flights. With each passing year, this airline has been conquering major cities and flying to every edge of the world.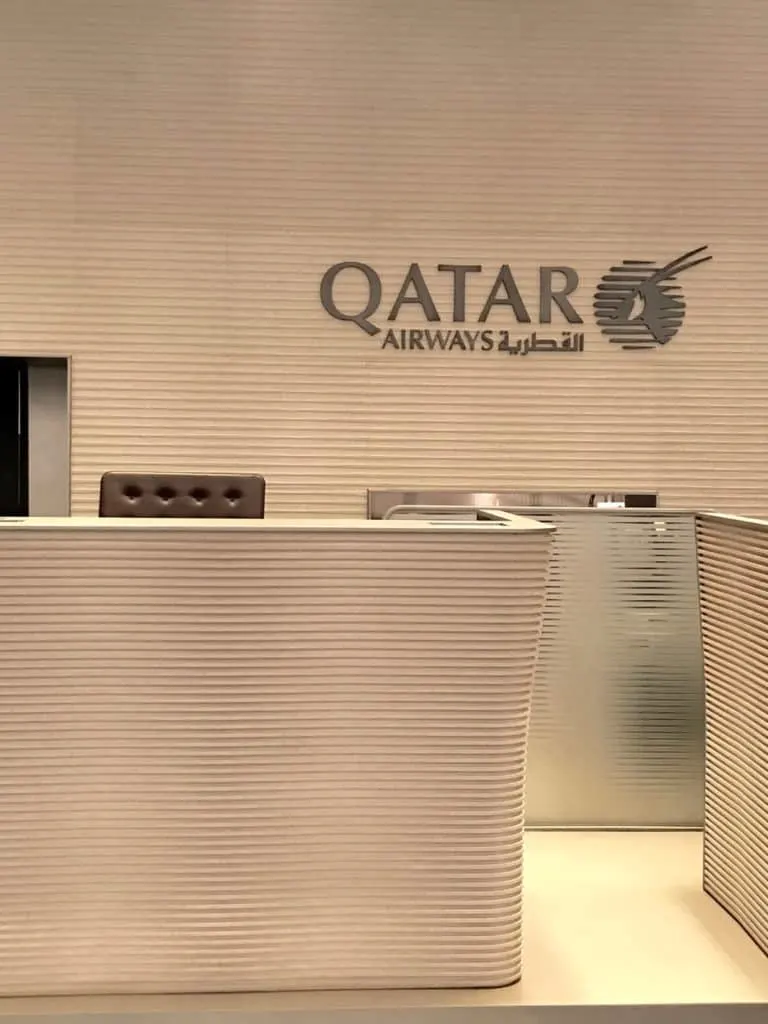 The longest flight that it operates on a regular basis is Doha, Qatar to Auckland, New Zealand. Due to political and diplomatic issues, Qatar Airways has been temporarily banned from traveling to Saudi Arabia, Egypt, UAE, and Bahrain. Similar to other airlines, Qatar has agreements or "alliances" with other airline companies such as Iberia, JetBlue, American Airlines and British Airways in the One World Alliance Program.

Qatar Airlines History
Also, let's review a little about Qatar Airways history. This way you can get a better idea of where this airline is headed by knowing where it has been. Qatar Airways is a relatively new airline that was founded in late 1993. In less than 3 decades, this airline has managed to climb its way up the ladder of success.During the beginning of this success story, Qatar Airways was opened by the royal family of Qatar. As the years progressed, this company changed ownership to 50% by the royal family and 50% by the Qatar government.Within 2 years, Qatar Airways had managed to increase its fleet to only 3 planes. But as of 2018, the fleet size of this company is 213 airplanes! Not bad for an airline company that has been around for a little more than twenty years.
---
With all the amazing features that Qatar Airways offers its passengers, it was no surprise that they were awarded the "World's Best Airline" four times in the past 10 years by the Skytrax awards.
---
Disclosure: As is common in the travel industry, I was provided with accommodations, meals and other compensation for the purposes of review by Qatar Airways and Qatar Tourism. While it has not influenced my review, PointsandTravel.com believes in full disclosure of all potential conflicts of interest. All Photos were taken by the author/or were given permission from the photographer. Affiliate links may be located in this article.