Crowded in the back of a forest green jeep with the top down, I was hanging onto the metal bars of the truck.  Slight breezes touched my face in the muggy weather when suddenly light droplets began to fall from the sky.  Crouching down into the vinyl black seat below the metal racks, I covered my head, iPhone and DSLR camera with my scarf.  It was all I could do to keep from getting wet. The driver looked back at me and motioned that he would pull over in a few minutes to put the tarp back on. With the black tarp curled up over our heads, we barreled down the curving dirt roads in a convoy of jeeps in the high grass and slushy mud towards the Kaudulla National Park.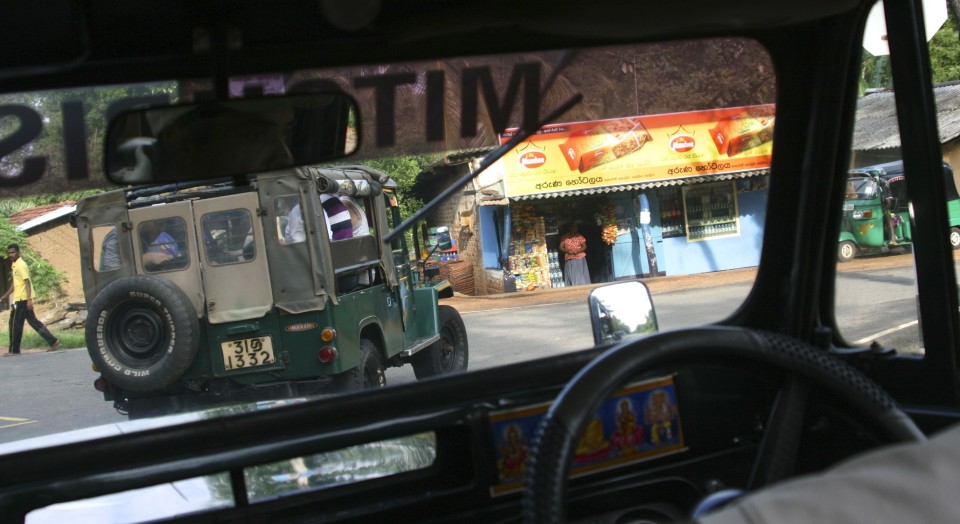 We were North of Colombo on an "elephant safari" to see "the Gathering", known as one of the most special wildlife experiences in the world right here in the foreign lands of Sri Lanka. It is estimated that Sri Lanka has the highest density of elephants in Asia and we were ready to search for them. Elephant safari, here I come.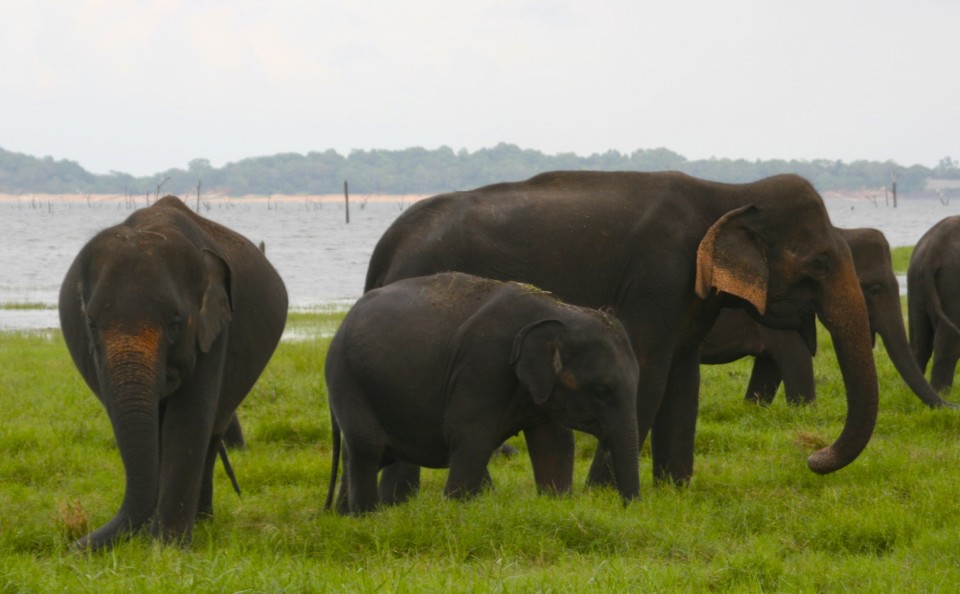 Elephant Safari
In Sri Lanka
Sri Lanka is a tiny spot of an island just south of India and those who have gone there say it is like "India light", a lighter version of the craziness that is India, like "India for beginners"!
Sri Lanka Visa Rules
In order to promote tourism in Sri Lanka, Immigration introduced ETA (Electronic Travel Authority) system in the beginning of 2012. If you want to travel to Sri Lanka for short tourism reasons, you can obtain a Sri Lanka ETA online, prior to the trip. You do not need to visit the local embassy anymore. ETA allows you to say in Sri Lanka for 30 days, you have the possibility to prolong it for another 30 days from Immigration in Colombo.
Elephant Safari
Back to the Elephant Safari
In no time at all, we saw fields and fields of lush green landscape.  Then far, far away, there they were dark smudges in the distance.   At first, to see them, we had to squint our eyes.
But soon enough they came into focus only yards away, maybe a herd of 200 or more. Our entourage had multiple jeeps and so each driver was jockeying for position to let their group of travel photographers get the best shots to capture the moments of this elephant safari.
Elephant Safari
Don't Mess with a Mother Elephant 
Suddenly we hear a howl from one of the Asian elephants and notice from our safe distance that it has begun to charge one of the other jeeps. Apparently, this jeep had gotten in between the mother Asian elephant and her child. She was furious and raised her trunk towards the offending jeep.   Again she let out another howl of intimidation, even though the rest of the herd seemed almost quiet and still.
Elephant Safari
The Charge of the Elephant
The driver of that jeep slammed his foot on the gas and tried to get out of the way of the angry elephant. But the previously dirt road had now turned into mud with the rain.  It stuttered with bits of mud flying everywhere from its rear tires. The jeep then gained traction and quickly speed away with the travel photographers who were hallowing with exhilaration or fear! The charging elephant then lifts her trunk again and runs across the muddy road. She rejoins the other elephants and her child, where she herds them into a circle surrounding the baby elephant as if protecting it from the humans. It was quite exciting for all of us to watch, but the travel photographers in that jeep definitely had the best view and got great shots of an irritated elephant. Honestly, though, I didn't mind from my safe vantage point, as she was quite aggressive. I was happy to watch all the excitement from afar.
Taking a closer look at the elephants as our jeep finally gets its turn at being paparazzi, I see a few of the larger elephants doing something very interesting. They grab the long grass with their trunks and they thrash it back and forth until it starts to wrap itself into almost a wadded bundle of grass as if they were getting the water out of the grass before eating it, as I read where they consume 330 lbs of plain matter per day! They may have also been thrashing it around in order to scratch an itchy spot on their leg or back, as I was not quite sure what they were doing but they seemed to do it incessantly.
Others in the group would butt trunks against each other, while others just stood by motionless. I did notice that there was also quite an abundance of baby elephants in this particular herd that we saw.
Elephant Safari
Kaudulla National Park
Most likely you have never heard of Kaudulla National Park in central Sri Lanka, where hundreds of elephants run wild even though they may be used to seeing humans in open-air jeeps daily. Here they run free from poaching or capture, as they are in a protected wild animal reserve with lake-filled acres to roam. The government of Sri Lanka even has a law in place of protection for them in that intentionally killing them gets the death penalty. Sri Lankans hold elephants in high esteem due to their religious and cultural significance and many efforts are made by the Sri Lankan government to protect them.
These elephants come here typically during the dry season, which is from July to November.  Even though it was slightly raining the day I was there in late November, our group was extremely lucky to see them. The herds typically disperse into smaller groups and move to other lands this late in the season.
Thankfully the government of Sri Lanka has set aside these lands for the wild Asian elephants to run free and not allow humans to encroach upon their land as a new way of preserving the breed. No other animal has been associated for so long with the people of Sri Lanka and their traditional and religious activities as the elephant.
I want to thank my friends over at Cinnamon Hotels and Resorts for coordinating our trip out to see these wild animals, it was such an honor to be on this trip and to be selected as one of the top 50 travel bloggers from the Professional Travel Bloggers Association. What an amazing time I had scoping out the elephants in the wild in Sri Lanka and what a wonderful experience it was!
**Photo Credit:  All shots taken by me except the first one, the featured image, taken by Hai Huynh of Notes of Nomads.  Since it is a featured image, I was unable to tag it appropriately and wanted to give credit to him, since it is my favorite shot from the trip and he graciously allowed me to use it!
8 Days between Heaven and Hell 
Disclosure: I was invited to Sri Lanka as a guest of Sri Lankan Airlines and Cinnamon Hotels and Resorts for this elephant safari, but the excitement I felt on the wild elephant ride was all my own.