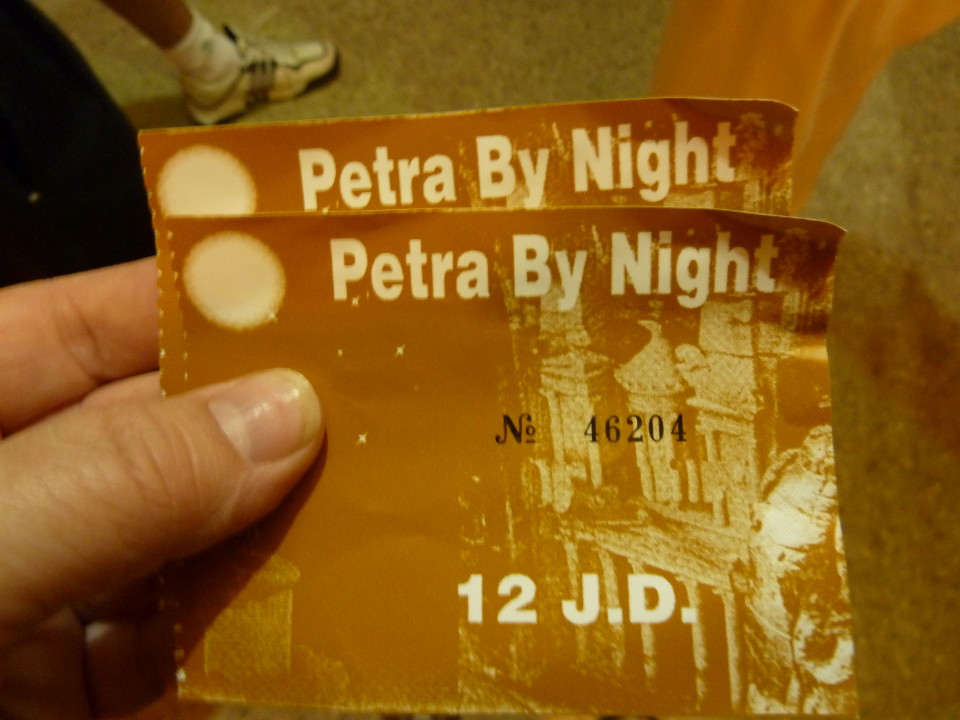 ---
What's in this post:
hide
Petra, Jordan By Night – A Practical Guide
---
Petra by night is an after-dark, guided excursion down the Siq to the Treasury in Jordan's famous carved city. It gets mixed reviews on the travel forums and Tripadvisor about whether or not it is worth it to go while visiting Jordan. I thought it was an amazing experience and one worth doing, so don't let the naysayers keep you from enjoying it. Cultural tourism anywhere you go is typically worth the time you put into it. What else are you going to do in the small town of Petra, Jordan in the middle of the desert? In the Middle East? But see Petra by Night!
It fit perfectly into our plans to visit Jordan, as we were arriving mid-day. That way, we could rest when we arrived. Then go see Petra at dusk, when Petra by Night starts. A visit to the ancient city at night with thousands of lit candles and dim lighting, as well as the local rhythms played on the Rababa, a bow-stringed instrument, was fascinating.
I enjoyed it, as you can see from this article I wrote about a candlelit night I will never forget, a more emotional version.
What to expect at Petra, Jordan By Night
Depending on where you stay during your visit to Jordan, the hotel should be able to get tickets for you beforehand, so you don't have to worry about showing up early to get tickets. There is no special seating for those in the front of the line, so no need to rush either. We were at the front of the line and hiked fast to stay up with the crowd to be there first. I had to constantly look down at the path to sure I didn't trip on rocks and uneven ground. But it really made no difference to be first, once we got there because of the way the rows line up. You pretty much have to stay in order of arrival, so even if you are up at the front of the line, once you follow the order they line you up in, you may end up on the same row as someone who is 40 people back. So keep that in mind when you are racing to get there.
TIP: Bring a flashlight so you can see where you are walking on uneven ground.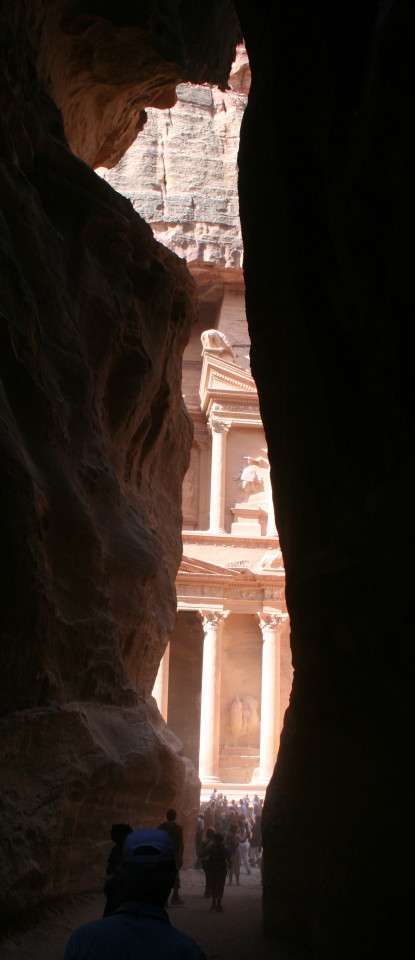 Light & Music Show in Petra
The walk through the Siq seemed endless, but once there, they do have dim lighting that marks the path. When you arrive, it will be at the point where the Siq opens to reveal the Treasury. This is one of the highlights of the Petra experience that you will get to experience that night. When you arrive, you will be sitting in silence on rugs laid out on the ground. There you will be waiting for the local music to start, during which the Bedouins begin to hand out candles to each person present and chai tea. Eventually, the show starts, and the music plays while the host Bedouin describes Petra and some Bedouin traditions. The candles throw flickering shadows onto the iconic facade as you sit underneath the moonlight.
In the end, the host Bedouin states that we are allowed to take a flash photo of the Treasury simultaneously. This will be your first glimpse at the iconic structure. Be sure to have your cameras ready, as they only shine a light on the Treasury for a moment, literally a flash, during Petra by Night. The photos I took were not that good, as it happened so fast!
My Thoughts About Petra Jordan By Night
I have heard that many people are disappointed at the site, as their first exposure to Petra. I agree that you should probably view Petra during the day before you choose to go at night, but with the limited time we had, we felt like this experience worked out perfectly for us and we had no problem with it. Some say to save your energy and excitement for the day viewing and I agree, if you are not physically able to hike down there and back and then do it all over again the next morning, then I wouldn't do it.
Seeing it in the daylight is so much more exciting than seeing it in the moonlight with candles, which is counter-intuitive. Also, I was exhausted when I got back to my hotel at way past midnight, knowing that I was going to be one of the first visitors at 6 am to do it again (ok, I admit it, I didn't quite make it that early!). That is why the cave bar helps! (Just kidding).
Petra, Jordan By Night Times
Petra by night is only held on Mondays, Wednesdays, and Thursdays, but be sure to check at the Petra Visitor Center, in case they change the days or the times. The tickets cost 12 J.D. and are available from the Petra Visitor Center. We met there at 10:30 pm and it lasted for about 2 hours. You really don't need a guide, as they are a part of the ticket price, although they are not personal guides, but for the whole group of ticket holders.
Where to stay in Petra, Jordan?
I have been twice and both times I stayed at the closest hotels to the entrance of the Petra Visitor Center. The last time I was there, I stayed at the Movenpick Resort Petra, a 5 star hotel. It has an ideal location and the hotel is beautiful, upscale, and historic. The first time I was there, I stayed at the Petra Moon Hotel, a 4 star hotel, which is conveniently located just one street back from the Movenpick, clean and is definitely worth a stay as well depending on your budget.
Enjoy The Cave Bar in Petra
Afterward, we had a chance to go over to the Cave Bar, one of the oldest cave bars in the world.
Petra Guesthouse Hotel Cave Bar
It is right outside the entrance to Petra in Jordan and is located within the Petra Guesthouse Hotel. This was a fun thing to do after the long walk back to town.
The walls of the Cave Bar are part of an ancient 2000-year-old tomb carved by the Nabataeans. It may sound creepy, but it is not! The tables are placed outside on a large piazza and within the cave, where lanterns cast a haze over the bar's sandstone walls; some seats are even tucked into what were likely individual burial niches for private seating.
The Real Cave Bar in Petra
It was like being in a hip bar in Hong Kong, Moscow or Vegas, yet we were in the real Jordan and not a made-up version of it! They also had a great cocktail menu (which is difficult to find in Jordan) and a fun atmosphere, which is great for Jordan Tourism.
People complain about the prices, but to that, I say, who cares? There is nothing quite like it in all of the world, much less Jordan, so just enjoy yourself and spend a little money. They even have a video of the Treasury playing with no sound against the main, cave wall. It is shown on a real stone cave wall, so it feels as if you are actually sitting in a piazza underneath the Treasury during Petra by Night! The DJ playing your favorite American songs (and Jordanian too!).
The ambiance is great with soft lighting, hip music, and furniture contrasting against the hard rock of the interior cave. It is very cool, especially after the long hike over to Petra back. You will need a rest since you will be, most likely, doing it again the next morning.
So stop on by, the one and only, Cave Bar in Petra, as it is worth a visit!
---
You may enjoy some of the other articles I wrote about Petra:
Listening to Silence – Jordan By Night
Petra, Jordan: "A Rose Red City Half as Old as Time"
Aquba, Jordan العقبة‎: Diving The Red Sea
Bedouins (بَدَوِيُّون) Of Petra, Jordan
Khol Eyeliner and the Evil Eye