Landing in Colombo, I had no idea what riches lie in front of me. Sri Lanka sounded to this American Girl like an exotic, far-off land. This trip for me was intriguing and mysterious all at the same time. Any country's UNESCO World Heritage sites are always of interest to me, so I was ecstatic to learn I would take a visit to an ancient city in Sri Lanka known as Sigiriya. Pronounced "see-gee-REE-yah". Sigiriya is an ancient rock fortress located in the northern Matale District near the town of Dambulla in the Central Province of Sri Lanka.
---
Sri Lanka, Sigiriya
The name Sigiriya refers to an archaeological and historical sight that is dominated by a massive rock over 650 feet high and features frescoes, graffiti, and landscaped gardens! One hop on the bus in Colombo and soon enough we were bumping along the Colombo-Habarana Highway and within three hours, we arrived at Sigiriya.
---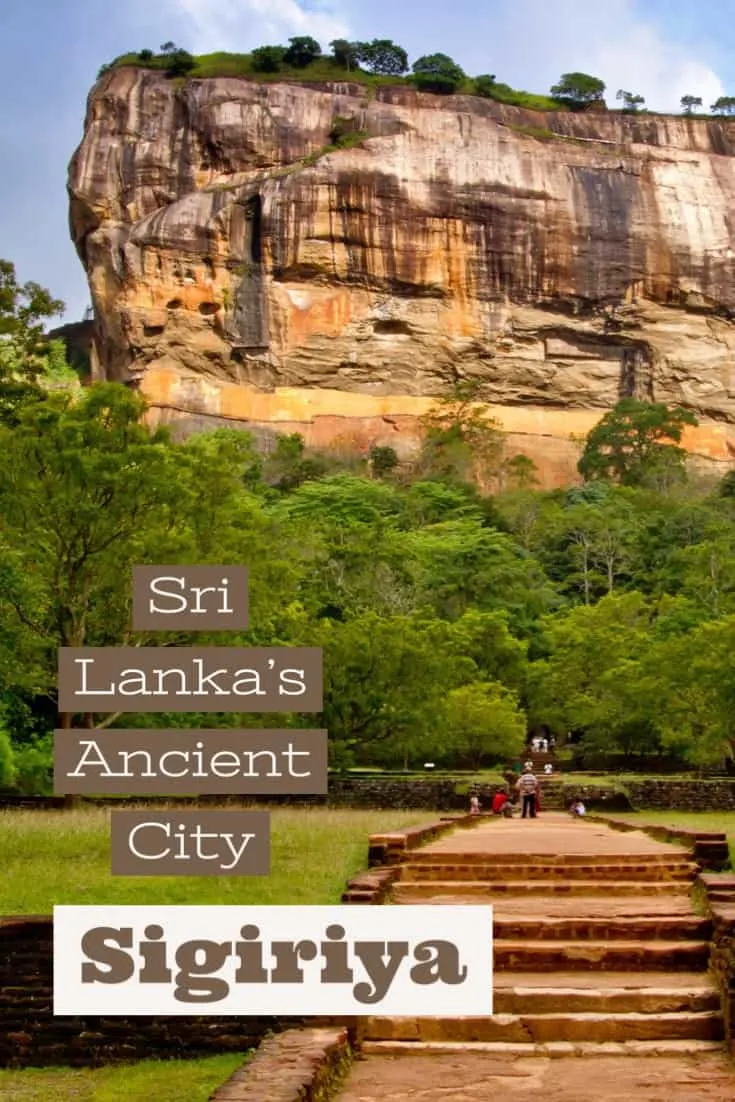 ---
You can read here about one of the 20 of the Best Places to Visit in Sri Lanka!
---
One of Sri Lanka's Historical Sites
Having just returned from our elephant safari, I must confess that I had never even heard of Sigiriya. I had no idea it was referred to by the locals as the eighth wonder of the world! I could even barely say the name of it, let alone know what it was. Apparently, it is Sri Lanka's most visited historical site. Coming upon it, I could see it from far away, a giant rock in the middle of a flat grassy landscape. There it was in all its glory: a giant rock turned into a palace and fortress during the 5th century. We stopped for a quick photoshoot from far away to get some perspective of the actual size of this massive rock.
Koi Fish And Floating Lily Pads
As we approached, the first thing I noticed was the moat surrounding the entrance with what appeared to be Koi Fish and hundreds of floating lily pads in the water. I then came upon the gardens and started to realize the magnitude of this complex city, its structures, and gardens.
Pathways to the Ancient City
It seems you could wander here for days, finding pathways that you hadn't seen before. But if you continue up the main path, there are several approaches to the inner city. The most prominent one being the western entrance.
Sigiriya's Plateau called Lion Rock
As you get closer, you will see a small plateau about halfway up the rock. This is where the formation of the giant rock starts to take shape to look like a lion and where it gets its name "Lion Rock" (aka Sigiriya). It is well over 200 meters tall, so get ready to hike straight up.
---
They say you can't visit Sri Lanka without visiting the incredible rock fortress at Sigiriya! I think they are right!
---
There is always a Story!
I love visiting historical sites where there is a story and this one was no exception. As the story goes, Kasyapa, the illegitimate son of King Kasyapa came to power after he plotted the assassination of his Father. He seized the throne from his brother, the legitimate son of the Queen. Even though Kasyapa was older, he was not going to inherit the throne since he was illegitimate. Fearing that his brother would take the throne from him, he built this palace on the top of the rock, which had sheer cliffs on every side. And remember that moat?
Well, he put crocodiles in there to ward off any unwanted visitors. Today, it takes 1000 steps to get to the top of the rock. As you climb through the rock, you will also get a chance to see the centuries-old frescos painted on the walls of the rock.
Sigiriya gets Abandoned
Sigiriya was abandoned after the death of Kasyapa (actually his brother did end up conquering the palace, and gave Sigiriya to the Buddhist clergy). Kasyapa is generally portrayed as a villain and his Father and Brother are portrayed as benevolent servants of the people. This explains a large part of why Kasyapa's Brother and Father are portrayed as good people; since Buddhist monks always chronicled the history of medieval Sri Lanka!
How to get to Sigiriya:
I took a flight into Colombo with Sri Lankan Airlines from the United States. I then hopped on a bus and went along the Colombo-Habarana Highway turning towards the East for about three hours, as you can see the signs on the road. Arriving in Inamaluwa, we proceeded about another 10 km to arrive at Sigiriya.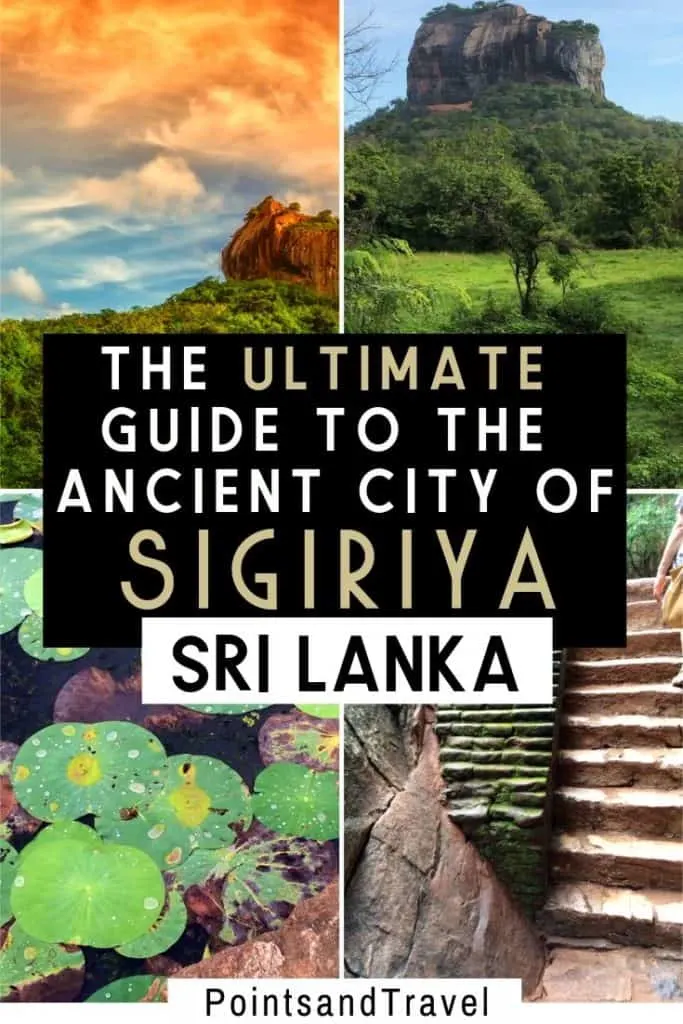 Where to stay in Sigiriya:
I stayed at Cinnamon Hotel's Habarana Village where the cozy cottages are actually thatched-roofed rows of rooms with painted brownish yellow exteriors. The paint is mixed with mud to ensure it's in harmony with nature. There is serenity here across from the lush forested land that borders the stunning lake. It was designed to reflect the rural environs and simplicity of village life. The only thing I heard was rustling leaves and chirping birds, so it was quiet and peaceful.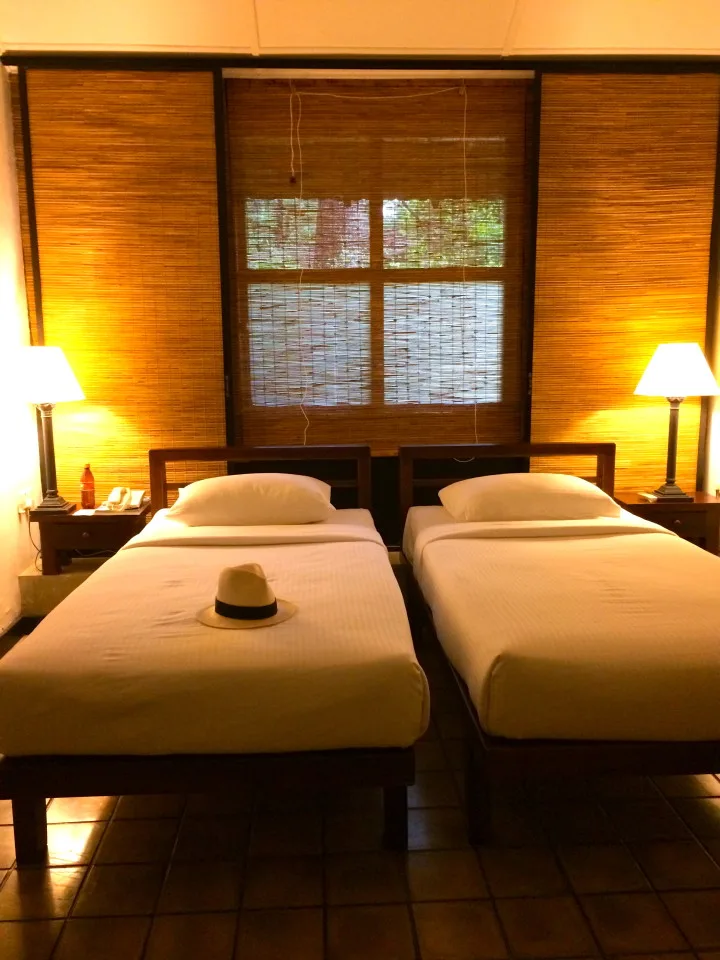 Cinnamon Hotel's Chaaya Village Habarana, Sri Lanka
Sigiriya Culture
Frescoes adorn the western side of the rock, along with a mirrored wall, a brick face covered in a highly-polished white plaster. The wall was said to be able to produce reflections. Over time, the Mirror Wall became a graffiti board, covered in verses scribbled by visitors. Known as "Sigiri Graffiti," some of the message's date all the way back to the 8th century CE.
Disclosure: The writer believes in full disclosure and wanted to let you know that this trip was provided by Cinnamon Hotels and Sri Lanka Airlines. As is common in the travel industry, the writer was provided with accommodations, meals, and other compensation.