Doha, Qatar is located within a tiny Arab nation that has unbelievable architecture, a huge expatriate population, and the highest per capita income in the world! As the smallest country in the Middle East, it has grown in population super fast over the last 40 years. Back then it was a desolate desert with virtually little going on other than a lonely Sheraton Grand Hotel along the beach.
---
Doha City Tours
---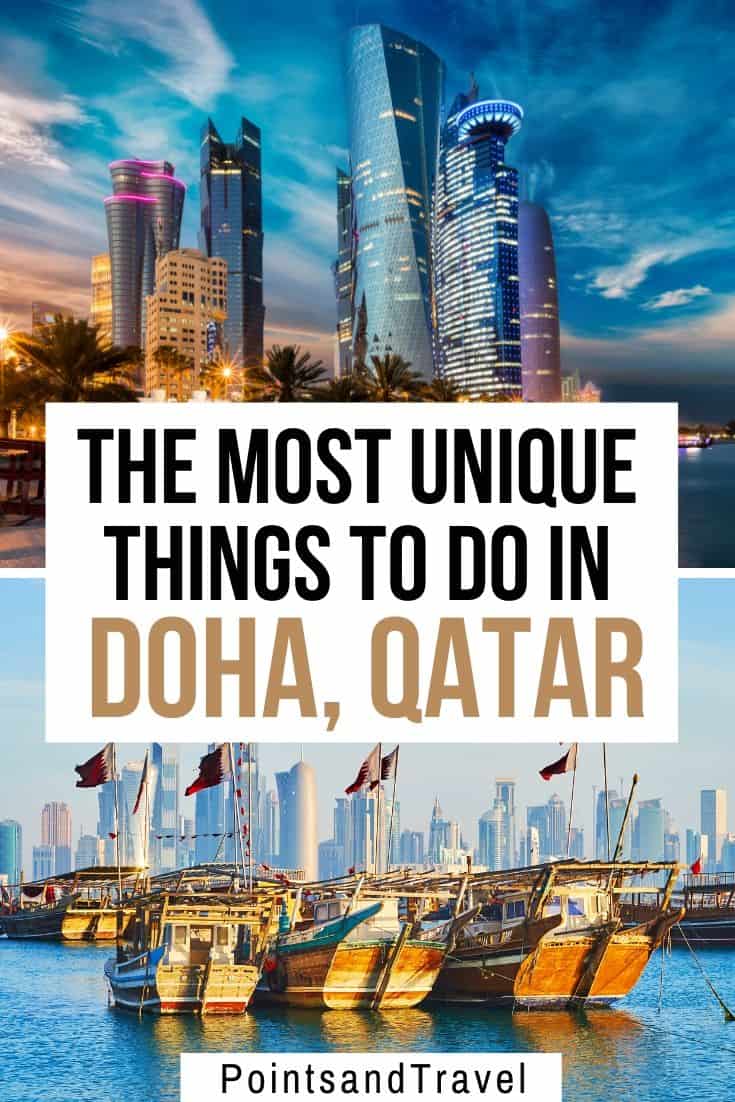 But today, Qatar it is a massive city with a skyline and population to match. It truly is a city that needs to be seen to be believed. This metropolis appears to be on the cusp of international greatness as it prepares to host the FIFA World Cup in 2022. And prepared it will be, so take a look at a few of the things I can recommend for you to do when you visit Qatar and take a Doha city tour. Having recently visited the country via the world's best airline Qatar Airways, I have lots of exciting and fun things to tell you about!
Plus Unique Thing to do on a Doha City Tour:
✦ Have Breakfast on a Helipad High In The Sky!
One of the most amazing things I did on my city tour of Doha was early in the morning at the JW Marriot Marquis Hotel! They invited me and my group to have breakfast on their helipad! What? That's right! It was unbelievable. Yes, I know it sounds crazy, but if you happen to have a special occasion like a marriage proposal, then I promise you, this is the perfect place to do it! They will set up everything you need, including rose petals, champagne, and anything else you will need!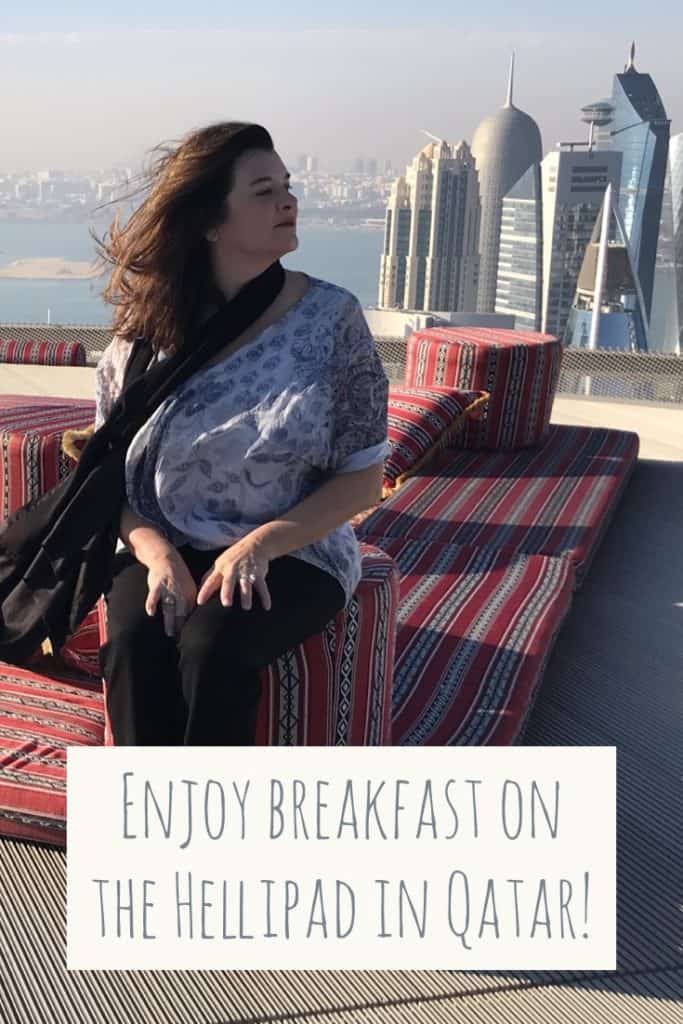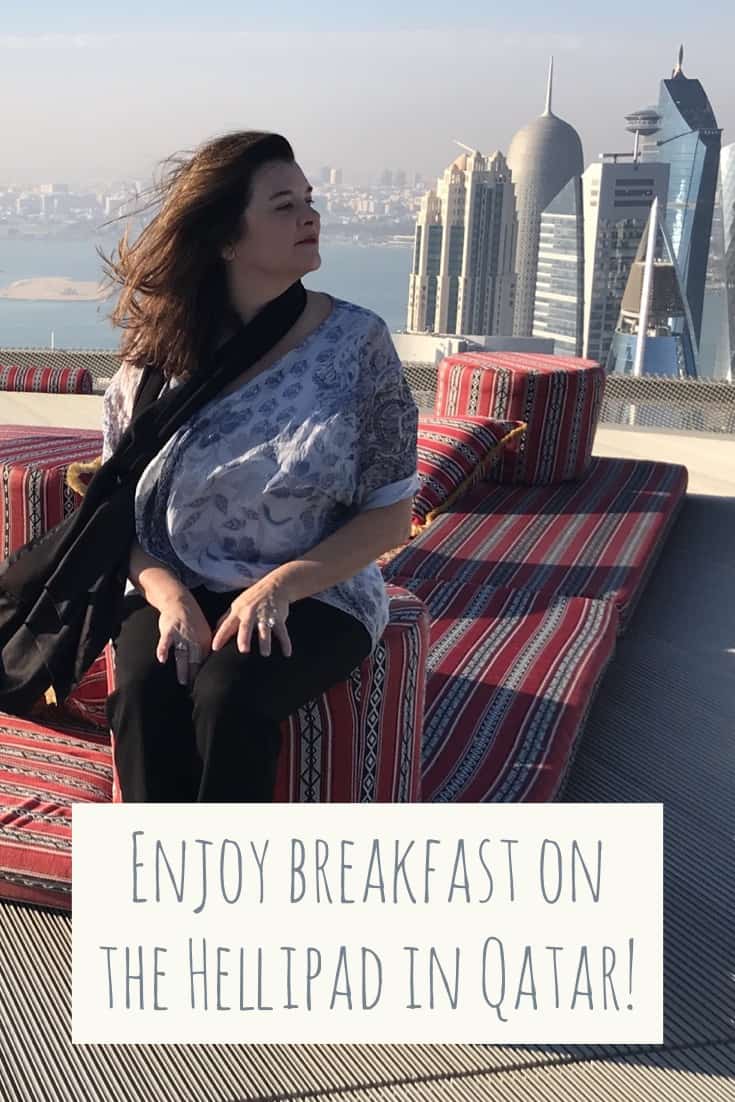 Things to do in Doha City:
✦ Spend an Afternoon Kayaking at The Pearl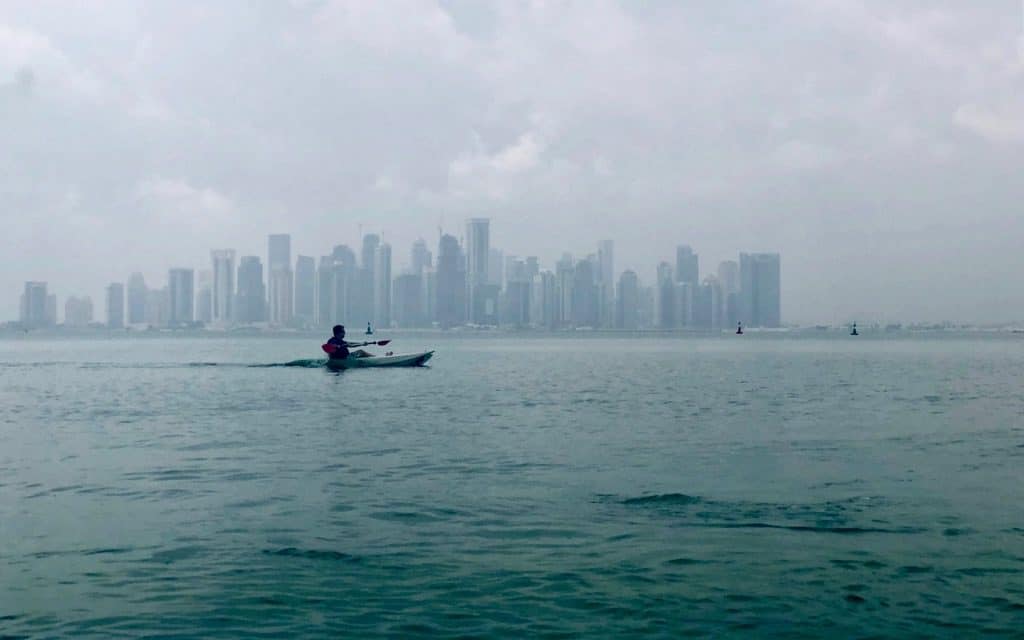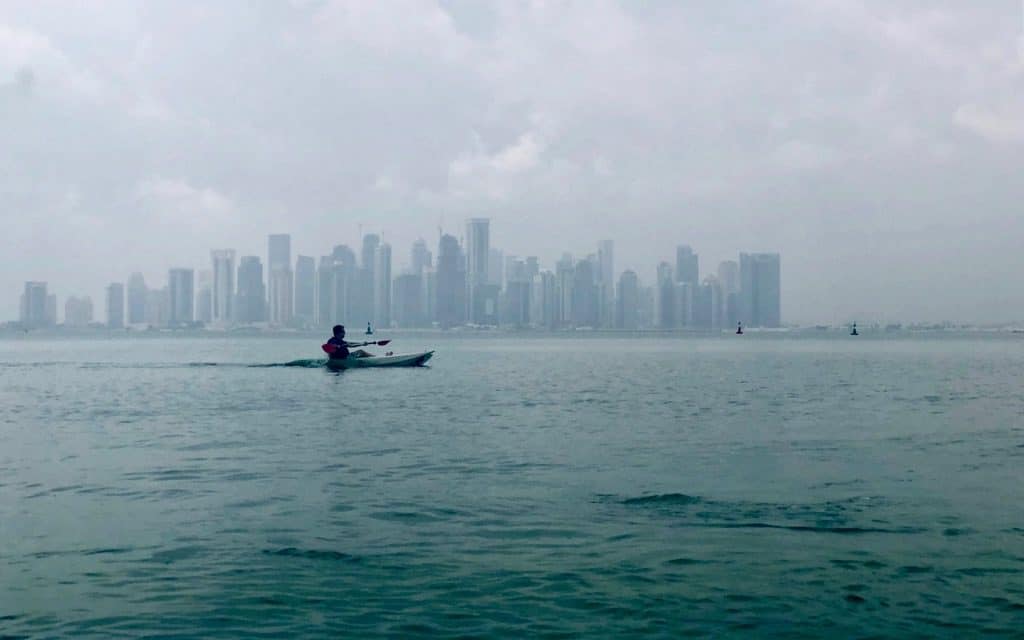 Hopefully, you will get a chance to visit the ex-pat area known as The Pearl. It is a man-made island and is considered one of the most "glamorous" addresses in all of Doha. You can hobnob with the expatriate elite here. It has a yacht-lined marina with luxury shopping and restaurants. On my Doha city tour, I spent the afternoon kayaking around the marina and enjoyed every minute of it.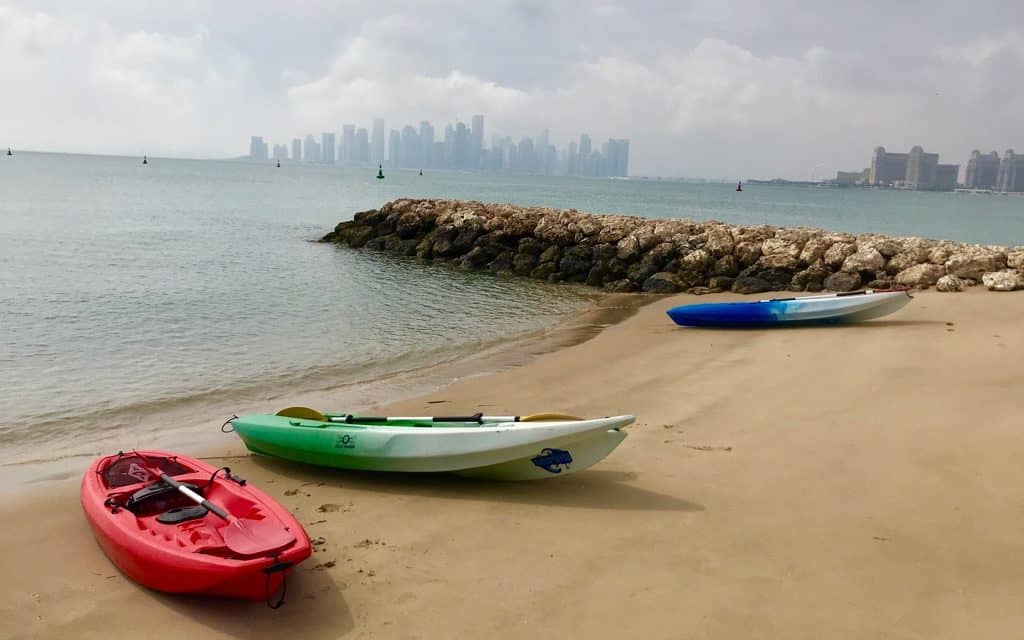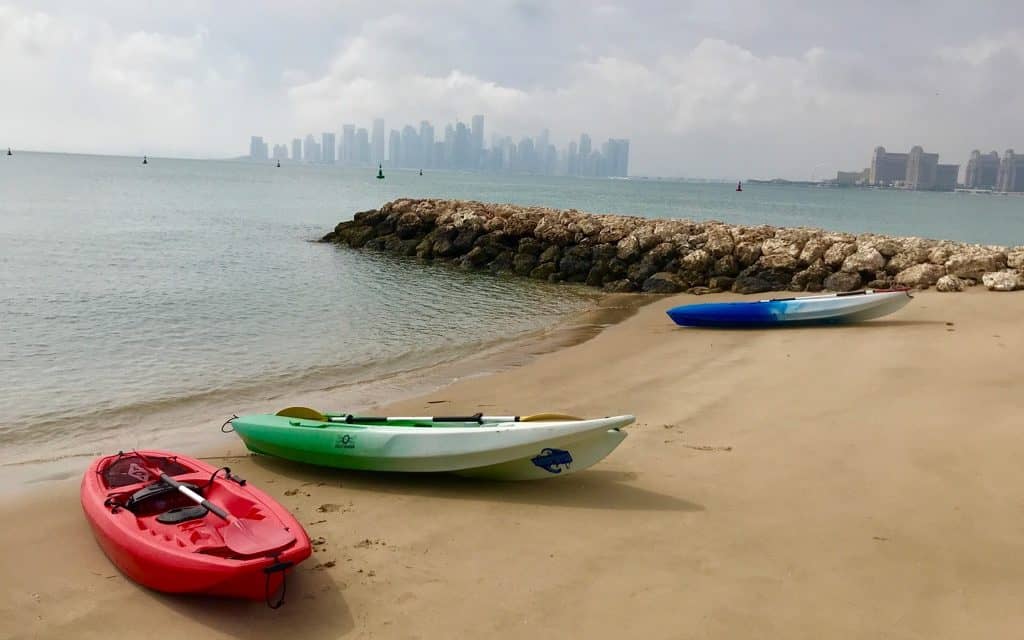 Things to do in Qatar:
✦ Escape to a Private Beachfront Resort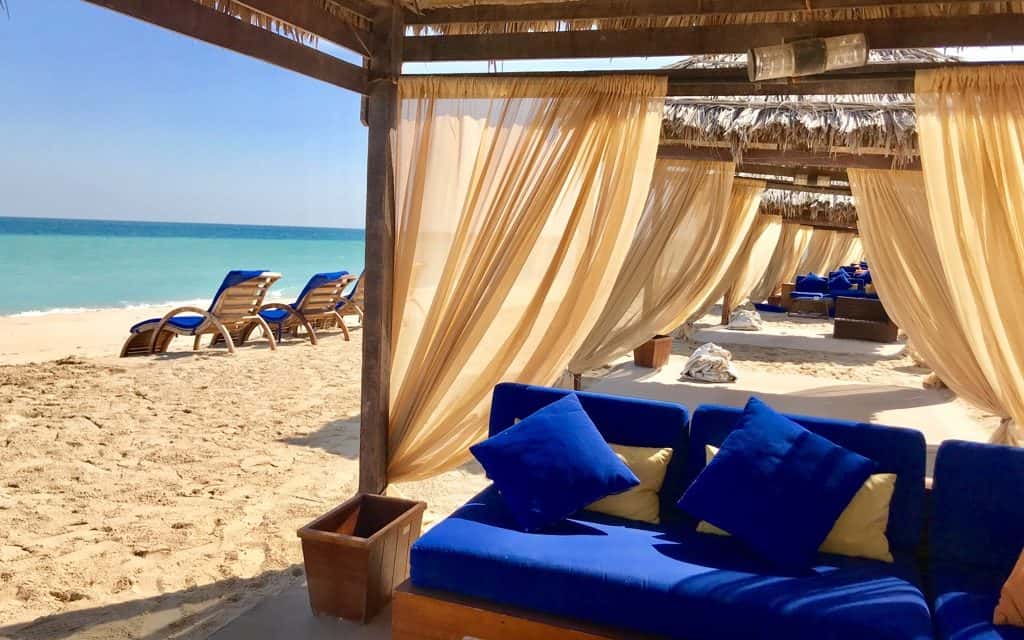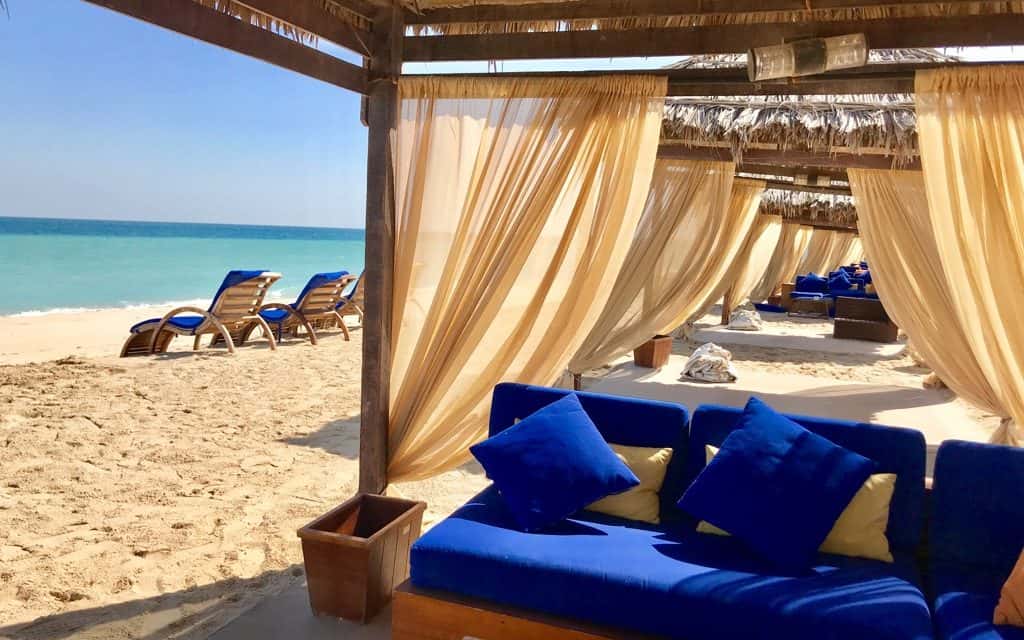 Believe me, you won't find anything like this in the deserts of Arizona where I live! Right on the edge of the Arabian desert, you can find a desert oasis in the Persian Gulf to help you relax and play for the day. With a place to stay, you can book a half-day desert safari with Arabian food and lounge chairs waiting for you at the Regency Sealine Camp at the Inland Sea (Khor Al Adaid). So bring your swimsuit and get ready for a dip in the gulf on this Doha city tour outside of the city.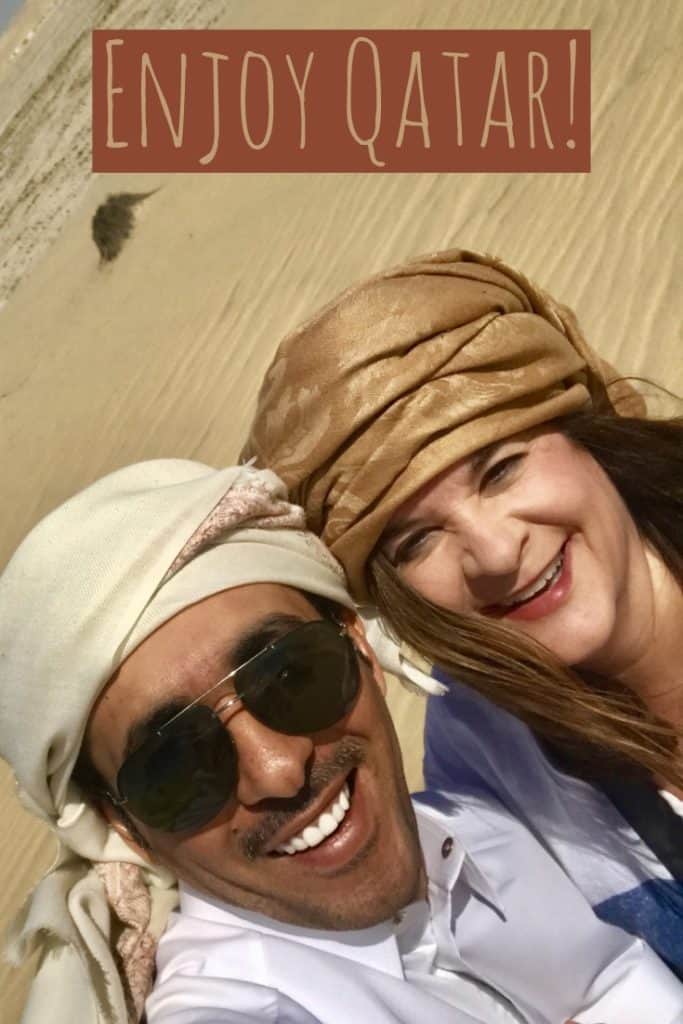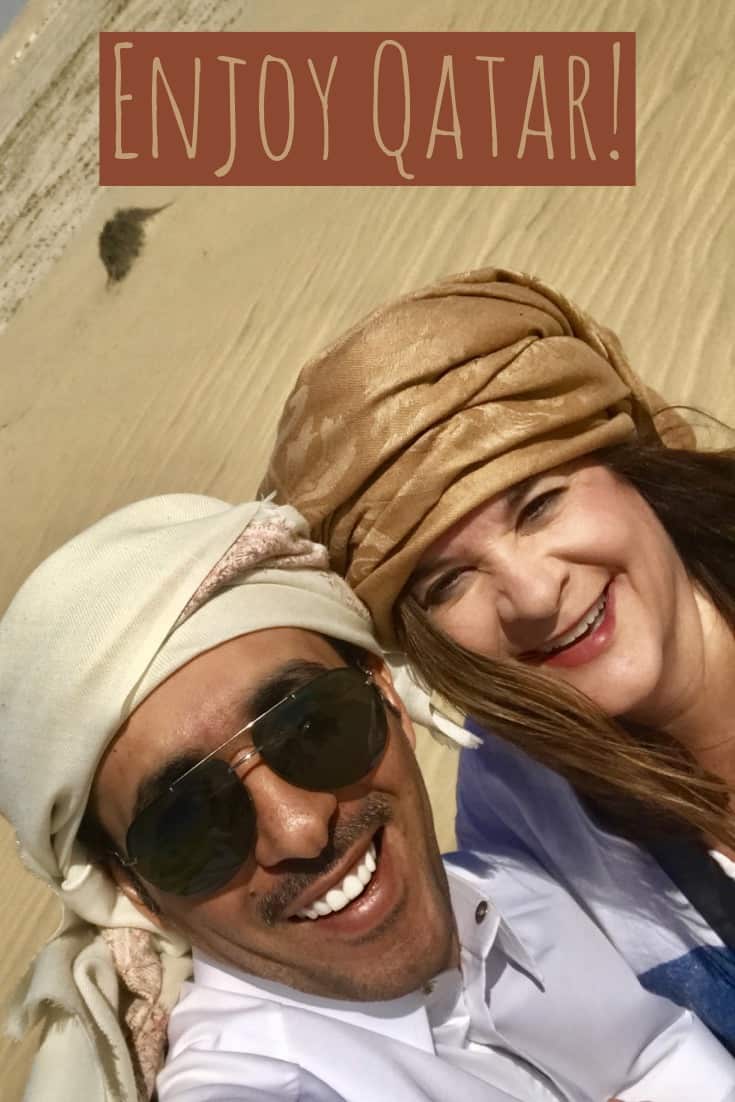 Unique Things to do in Qatar:
✦ Go Sand Dune Bashing
And before you get to the Regency Sealine Camp, you should go dune bashing. If there is one thing that the Qataris love to do, it is dune bashing in the Arabian Desert! And dune bashing is one of the most fun and exciting things you can do in all of Qatar on this Doha city tour outside of the bustling city! Believe me, once they get going dune bashing, they never want to stop.
What is dune bashing? Well, it is sort of hard to explain, but basically, it is And with these dunes, each and every ride is a different one because of the way the winds blow and shape the dunes. It is pure adrenalin! We even went to a spot on the top of a dune where we could see the Saudi Arabian border. Check out my dune bashing video!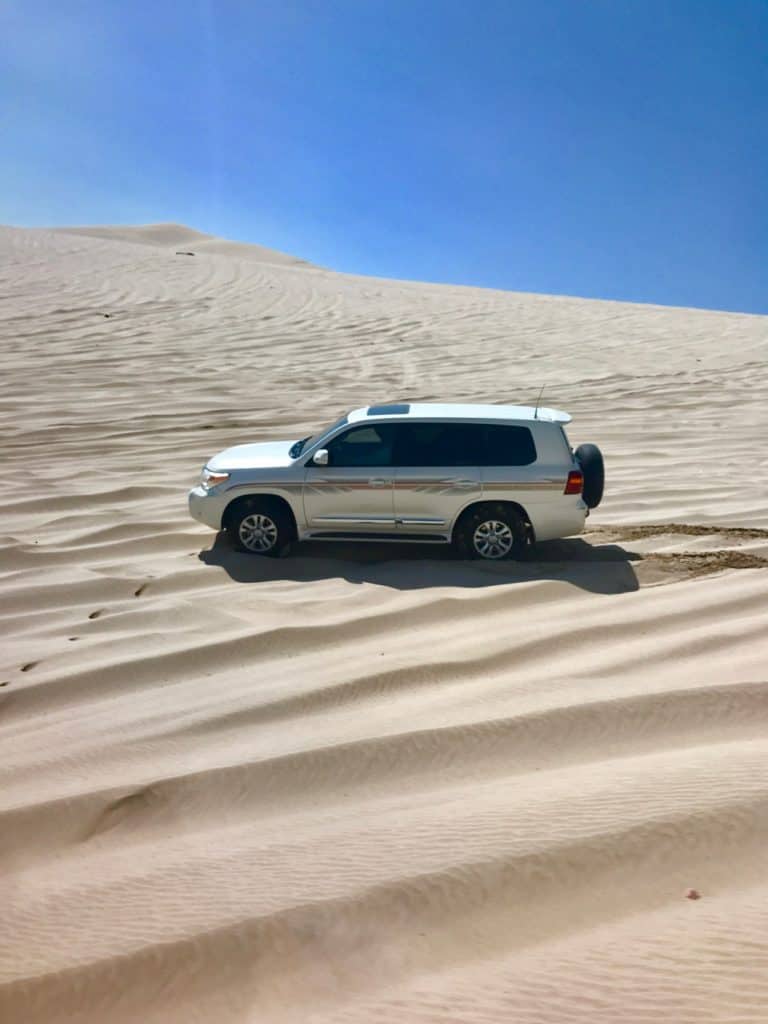 Unique Things to do on a Doha City Tour:
✦ Appreciate The Museum of Islamic Art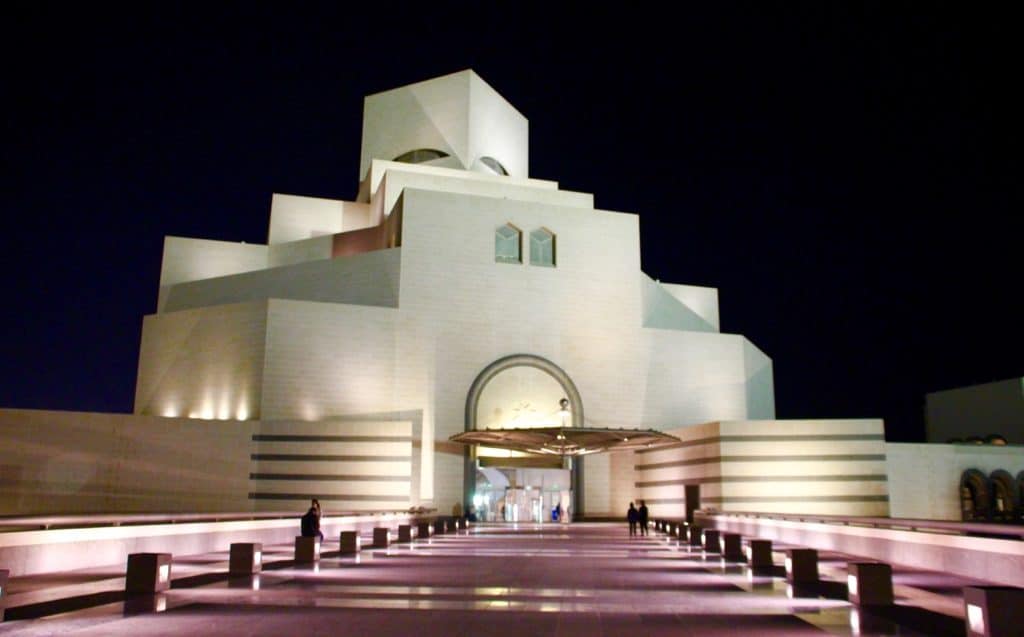 With such a gorgeous collection of international masterpieces, the Museum of Islamic Art is a must for those of you who appreciate art and architecture. The building itself is designed to look like the Muslim woman's Nicab by 91-year-old I.M. Pei, who had to be coaxed out of retirement to design his stunning masterpiece. It is located in the MIA Park, a man-made island built for all visitors to enjoy the panorama of Doha's West Bay's waterfront.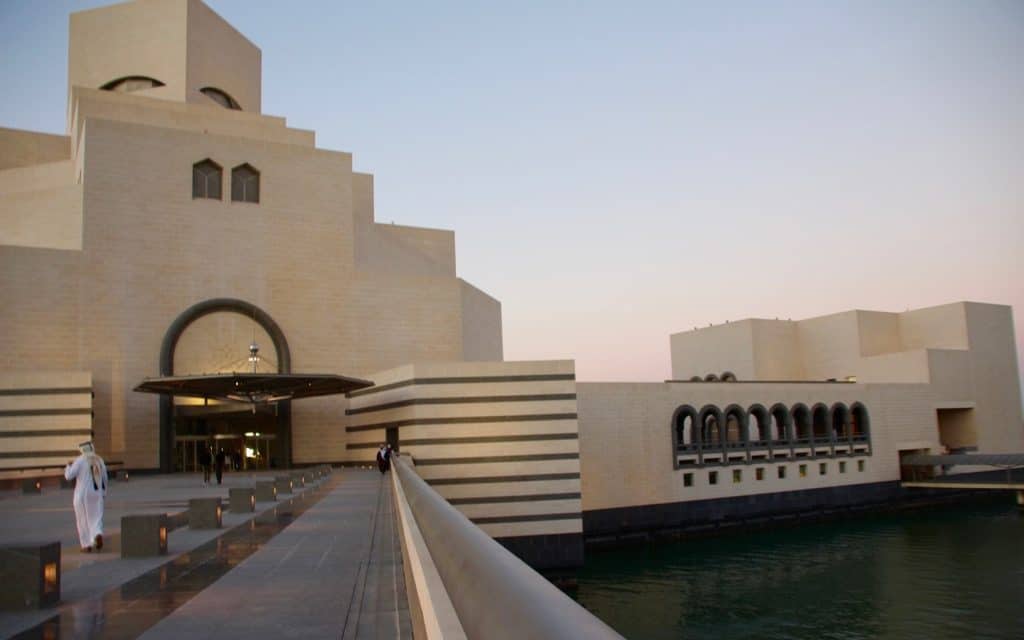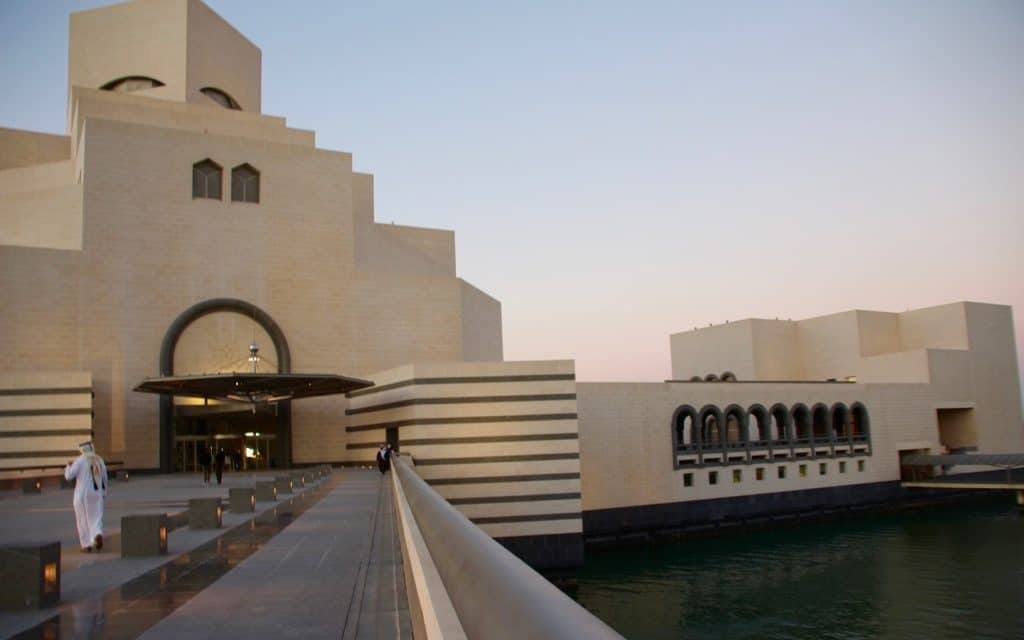 Doha City Tour:
✦ Visit The Katara Cultural Village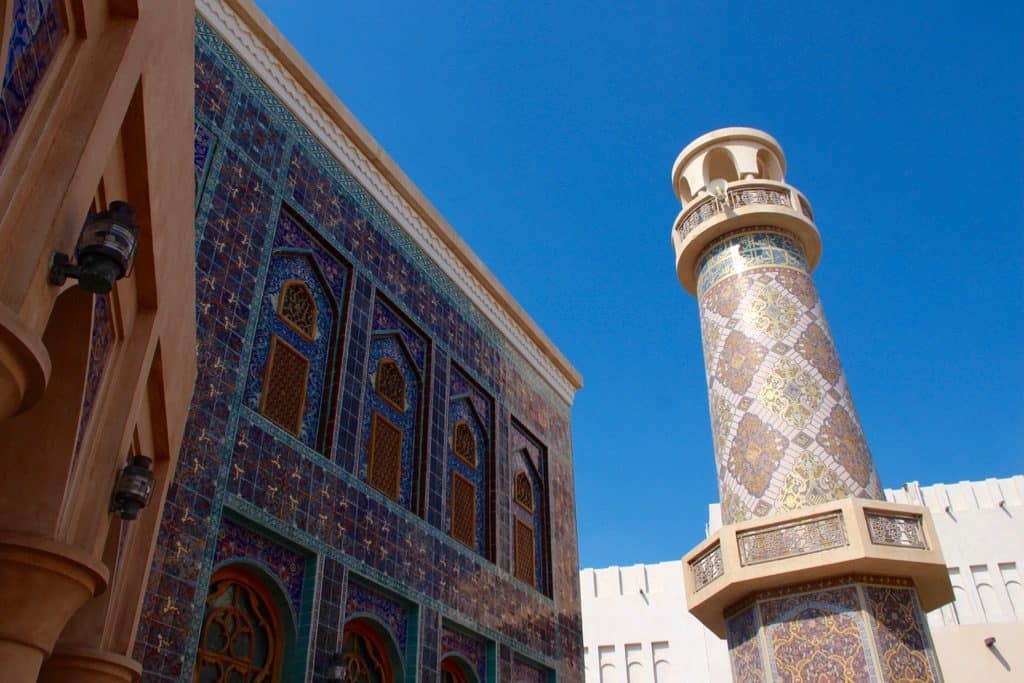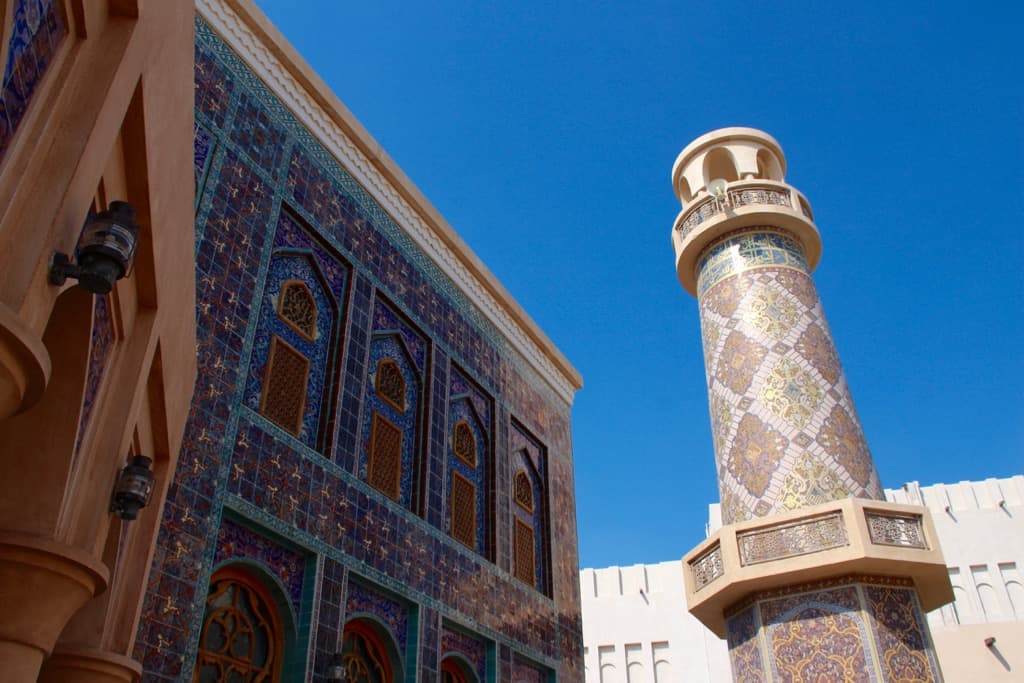 Stop by the Katara Mosque first while on your Cultural Village tour. The tiles and intricate carvings are gorgeous along with the twin beehive pigeon towers. And don't forget to bring your camera, as there are plenty of photo opportunities here.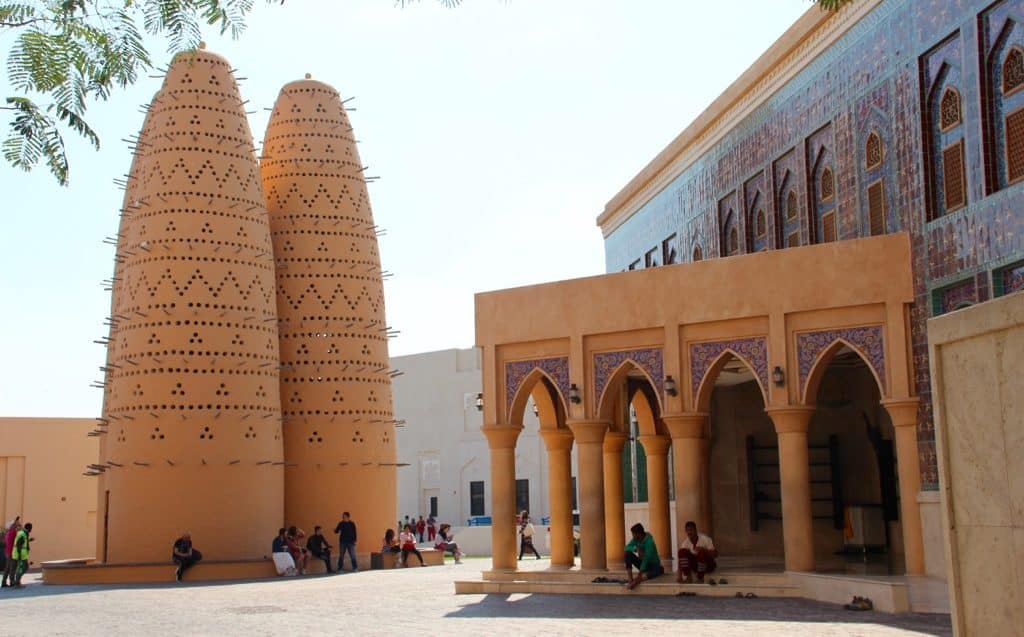 Unique Things to do on a Doha City Tour:
✦ Stroll the Souq Waqif and Immerse Yourself in the Local Culture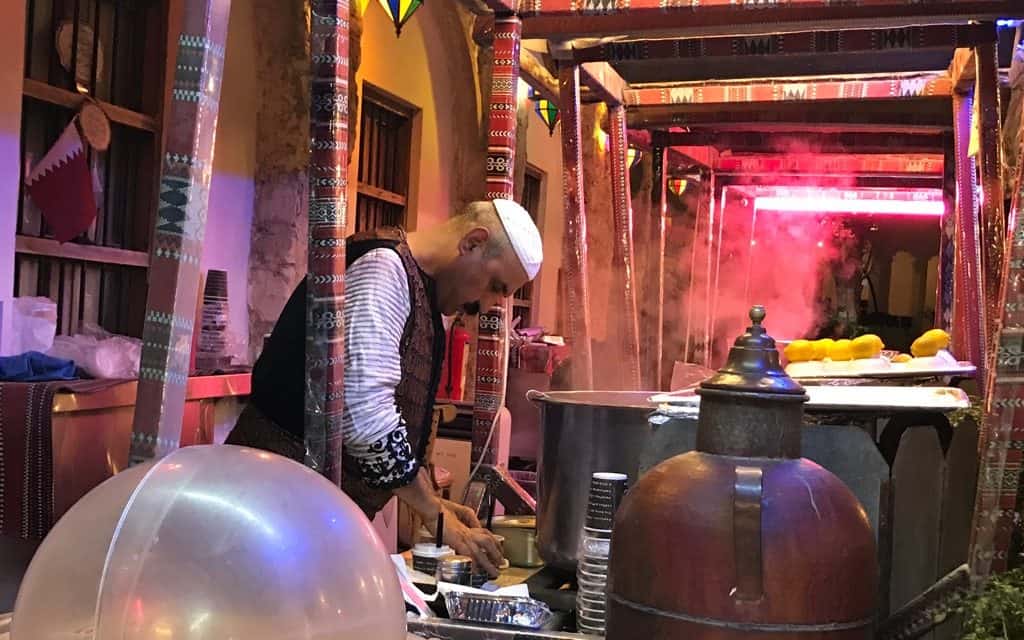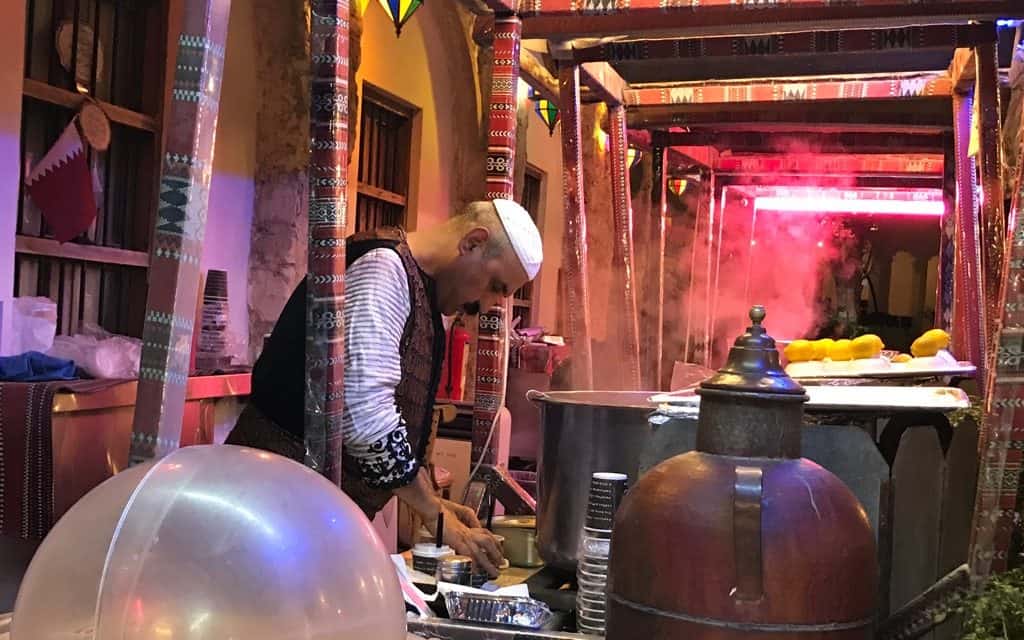 If there is one thing to make you feel like you are in the center of the local culture – even though there are only approximately 313,000 Qataris and the rest of the massive population are from somewhere else – it is the Souq Waqif! This area of town has everything from restaurants and souvenir shops to falconry stores and even a falconry hospital! You can wander an entire afternoon away here through a labyrinth of small shops for sure.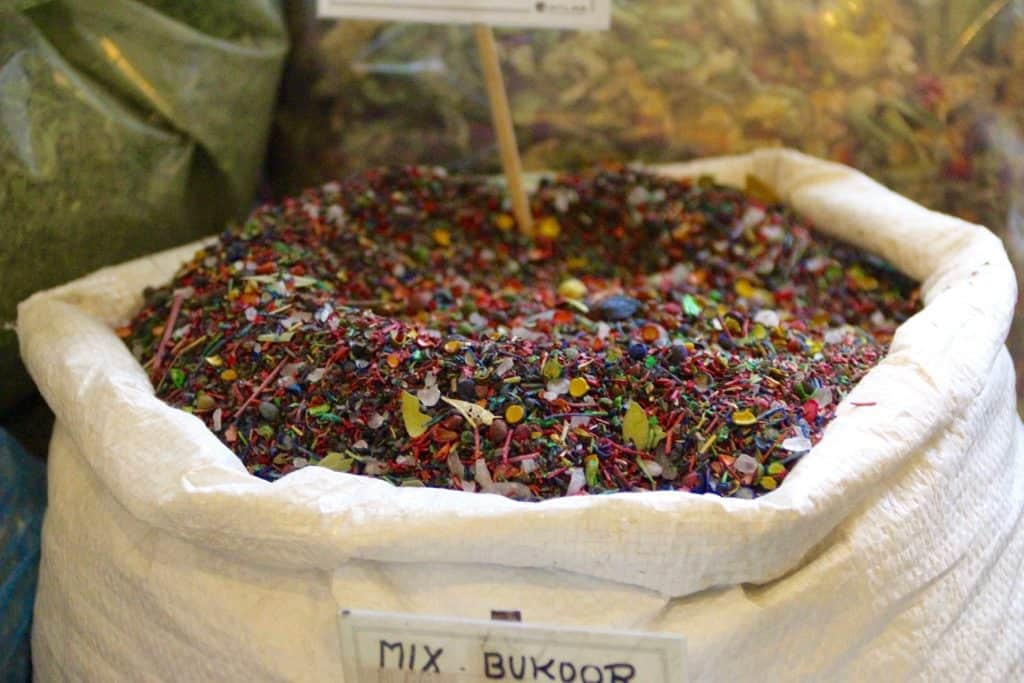 ✦ Learn About Falconry
Although there is not a lot of local Qataris in comparison to the overall population here, there is one tradition that has never died in the country – and that is Falconry! The art of Falconry is alive and well in Doha and is a huge sport amongst its inhabitants.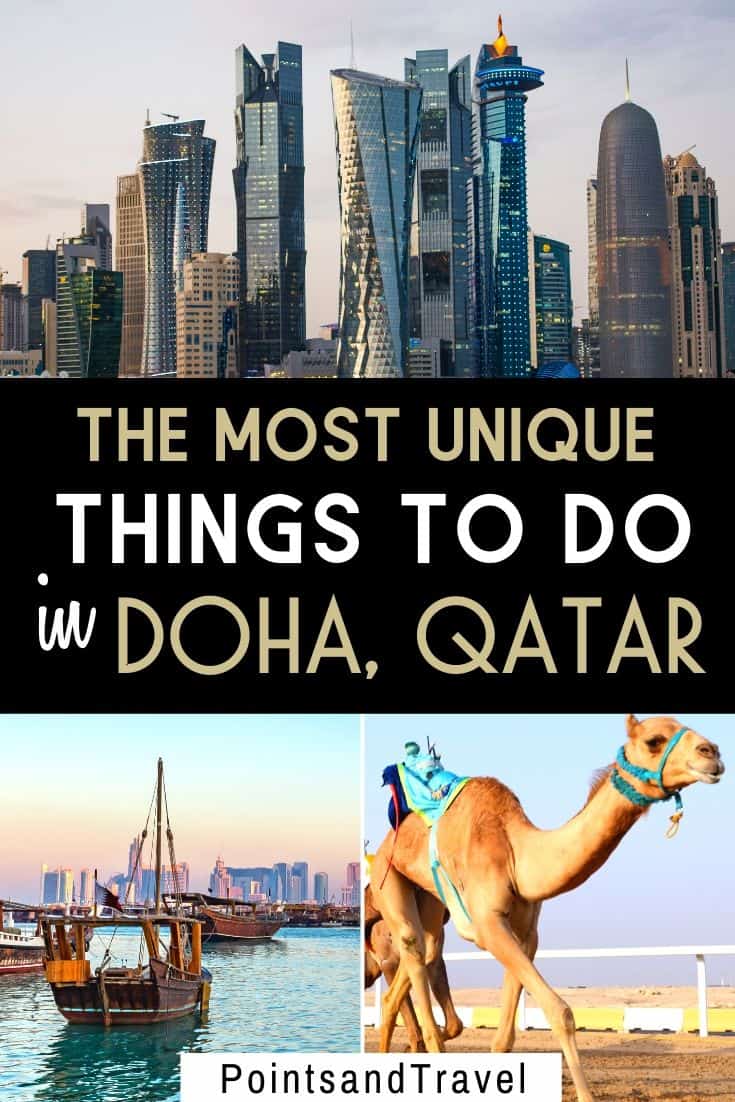 In fact, it is a national obsession and at Doha's Souq Waqif you can even find the Falcon Souq – a fortress-like arcade next door where all the falcon action begins with a falconry hospital, a falcon museum, and falcon stores that carry everything you need to purchase and supply your falcon with the things it needs. The roots of Falconry go deep within the Arabian Peninsula.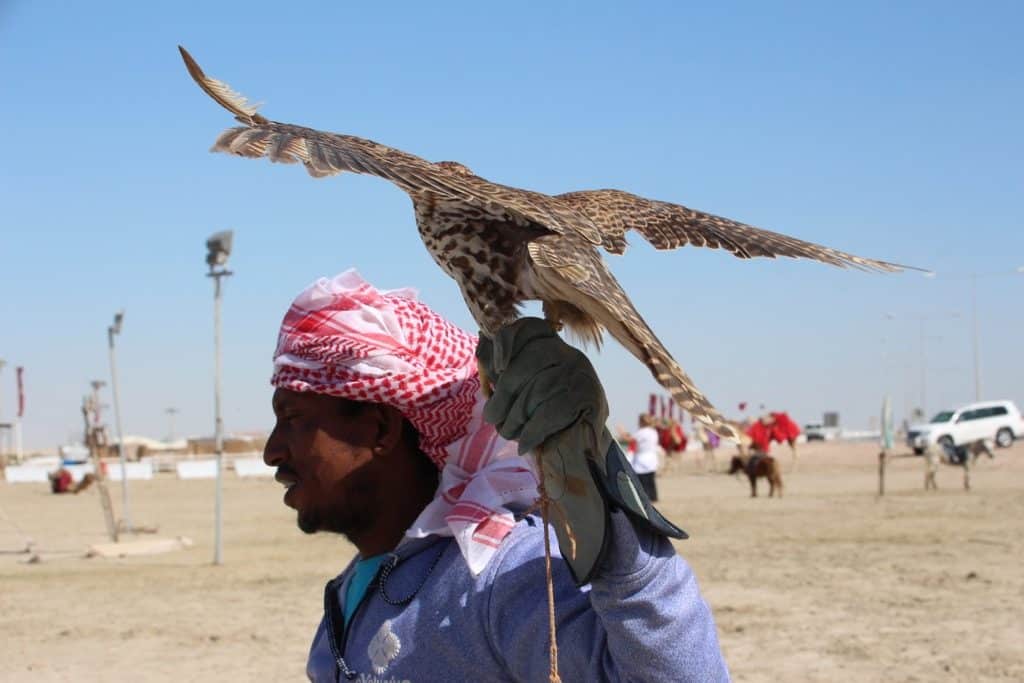 Doha City Tour:
✦ Admire The Doha Skyline from A Traditional Dhow Boat at Sunset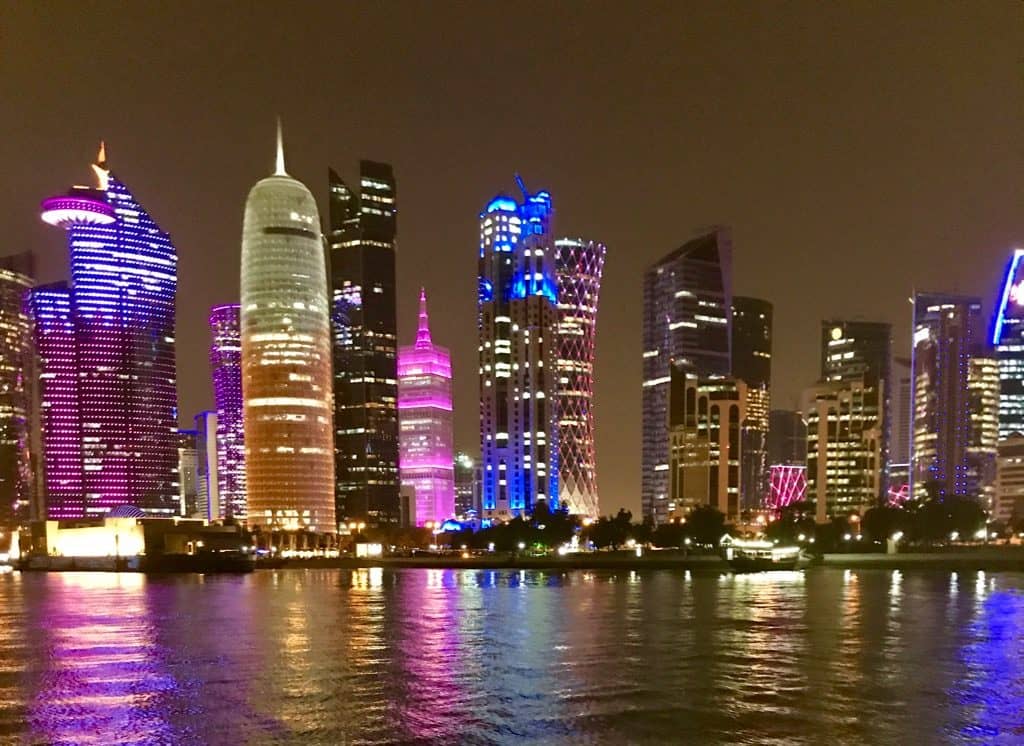 What a joy to ride a dhow (traditional style) boat along the water's edge to take in the amazing skyline view of Doha! This is a typical tourist boat ride but do it anyway, as the view at sunset from the boat is absolutely stunning. And bring your camera because there are so many photo opportunities!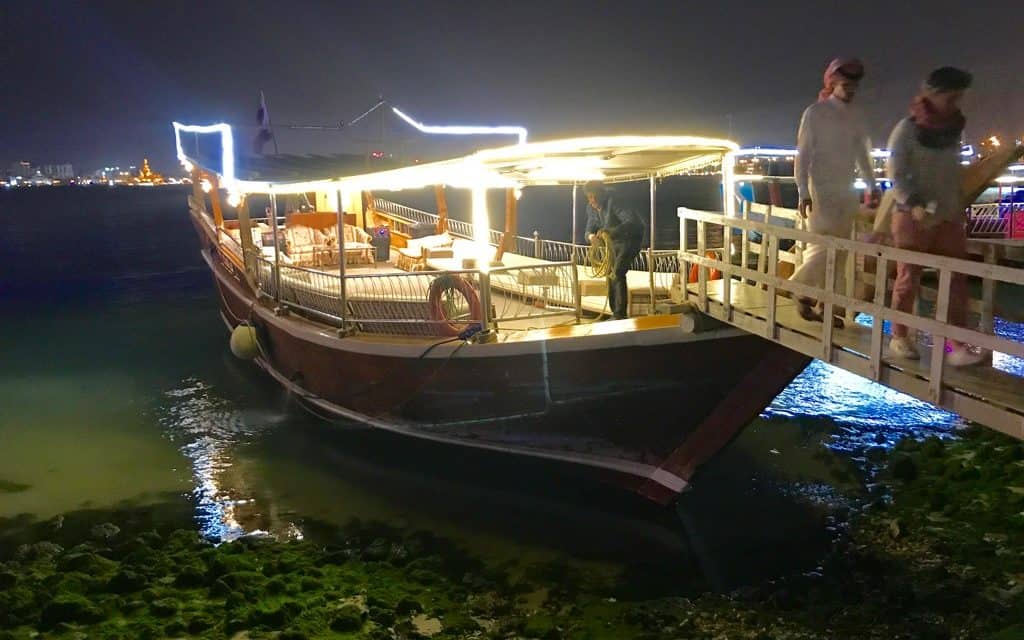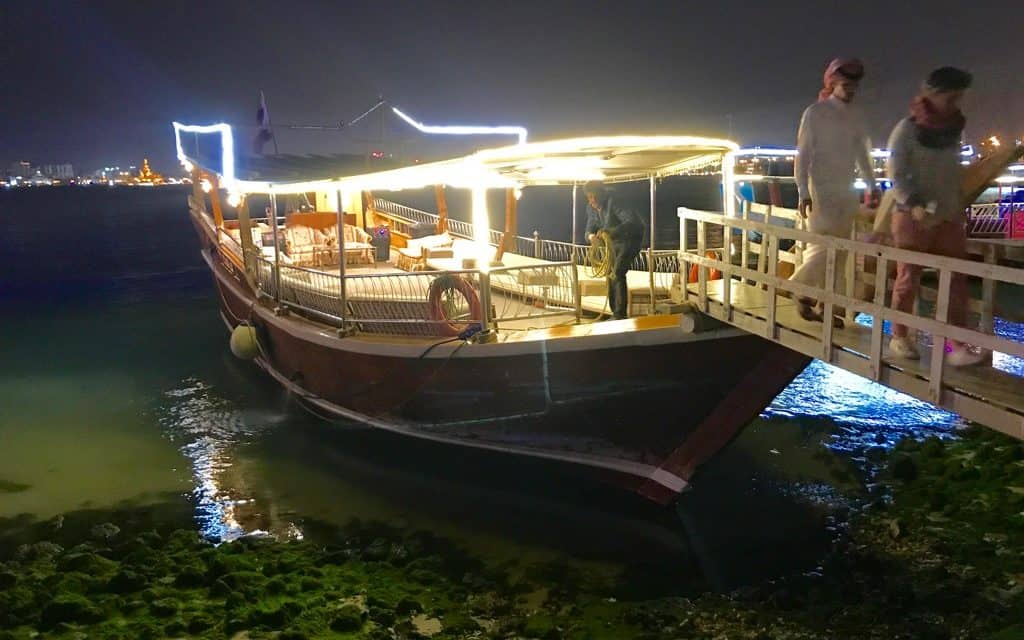 Things to do in Doha City:
✦ Dine on Amazing Meals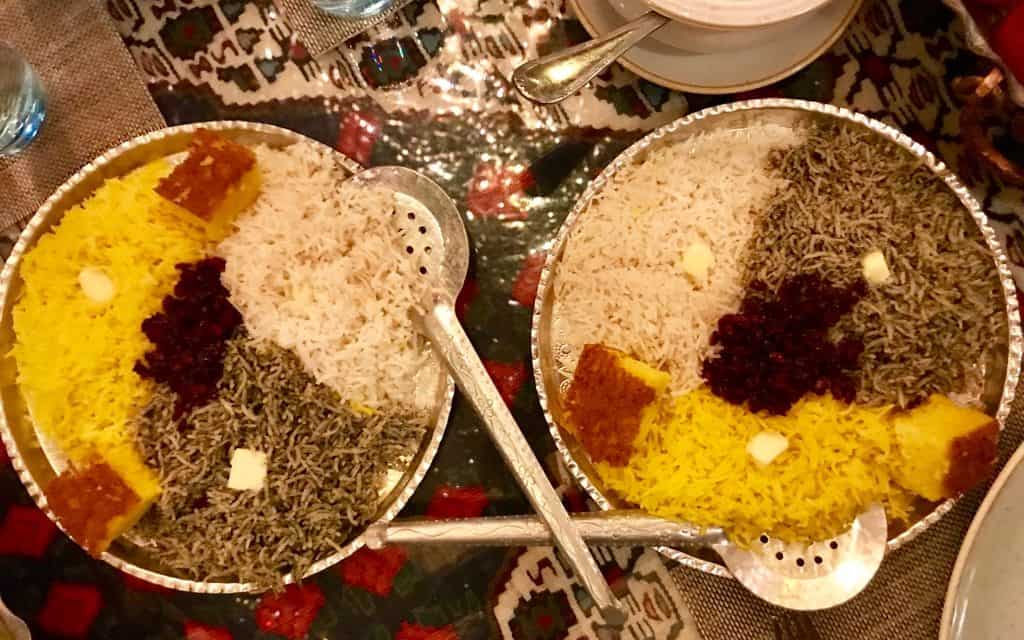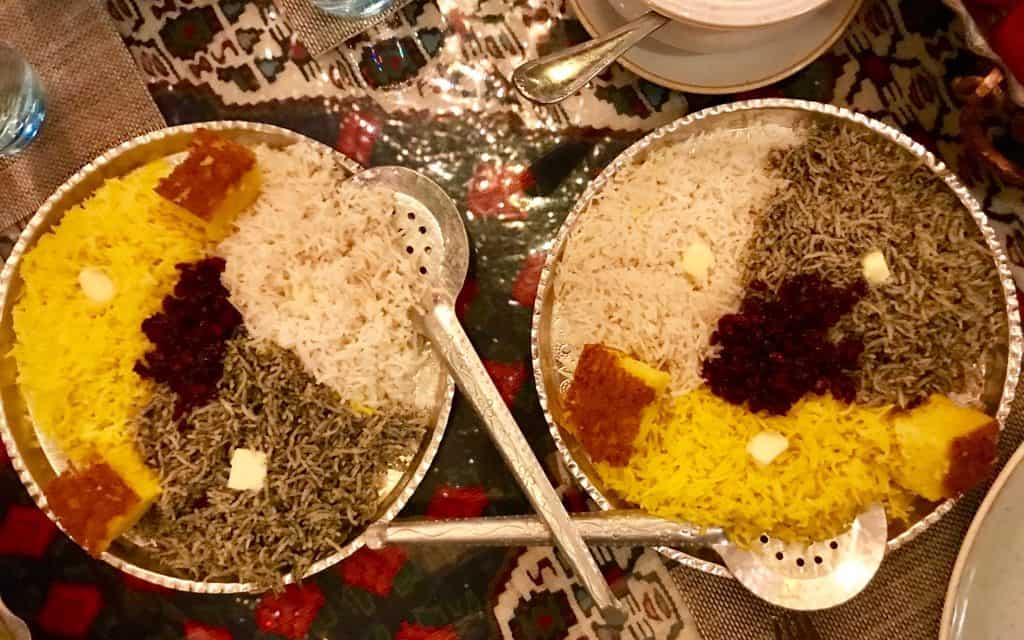 While in Doha for a few days, I had a chance to try a variety of different restaurants and styles of food. From Iranian to Lebanese to Palestinian food, I have to say I loved it all. Especially the hummus! I have never tasted hummus like this before – each and every time I had it, it was so fresh!
✧ Al Mourjan – This is a great place to eat after a dhow boat ride for waterfront outdoor dining with a gorgeous view. They also had refreshing drinks and delicious Lebanese food.
✧ Spice Market – Loved the vibe at this Southeast Asian W Hotel Restaurant, as well as the bar! It has a nice ambiance of a candlelit lounge and the food was served family-style.
✧ Ard Canaan – This Palestinian restaurant was gorgeously decorated (be sure to check out the bathroom!) and the food was just as pleasing. As well as the fresh Pomegranate juice I ordered! Oh, and the hummus was to die for!
✧ Parisa – This Iranian restaurant is in the heart of the Souq Waqif. I loved the sparkling entryway before you even make your way into this lavish restaurant. As for the food, it seemed to just keep coming and I was full before the main course even made its way to the table. So be sure and hold back your hunger for the rest of the meal or you won't get a chance to eat it all!
Doha City Tour:
✦ Visit the Arabian Horse Center – Al Shaqab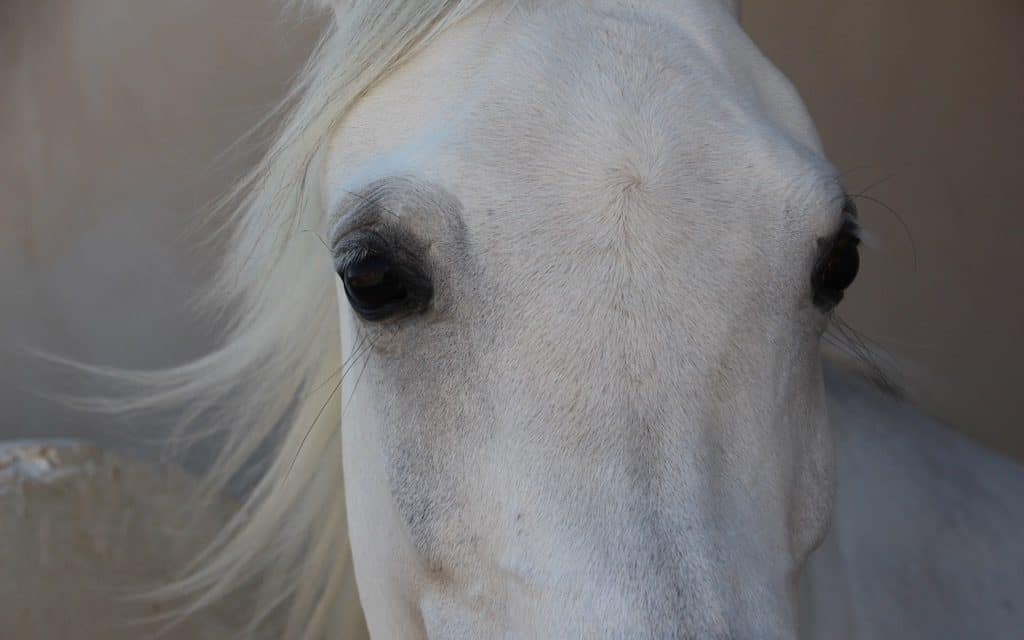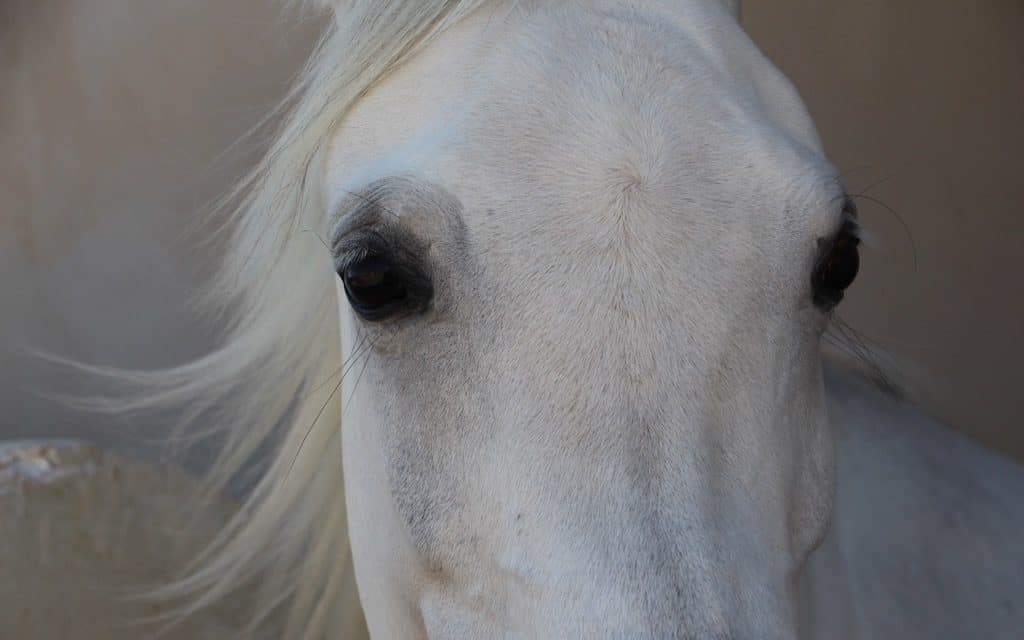 Qatar has always been known for its prized Arabian horses. In an interesting side note, Arabian horses played an important role in the founding of Qatar! Bedouin tribesmen and their Arabian horses defeated the Ottomans in 1893 during a battle that eventually led to Qatar's independence. This event is memorialized by The Emir Sheikh Hamad Bin Khalifa Al Thani who in 1992 established the Al Shaqab center. It now serves as a breeding farm at the very battle site where this battle was fought! They also have horse races and training. Their mission is to promote the highest standards in Arabian breeding.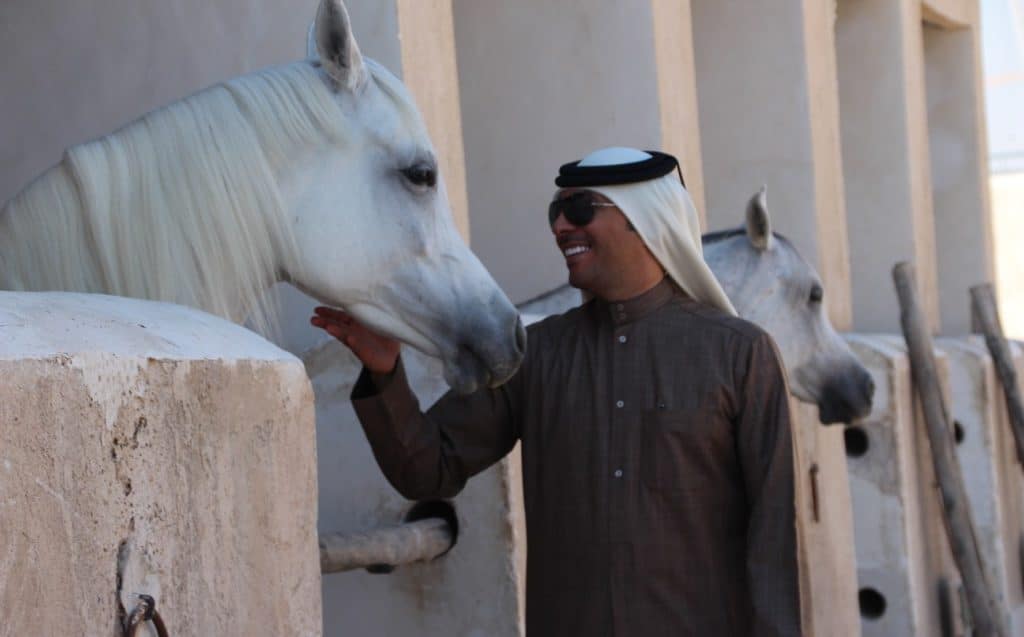 Doha City Tour:
✦ Go Camel Racing At Al Shahaniya Camel Racetrack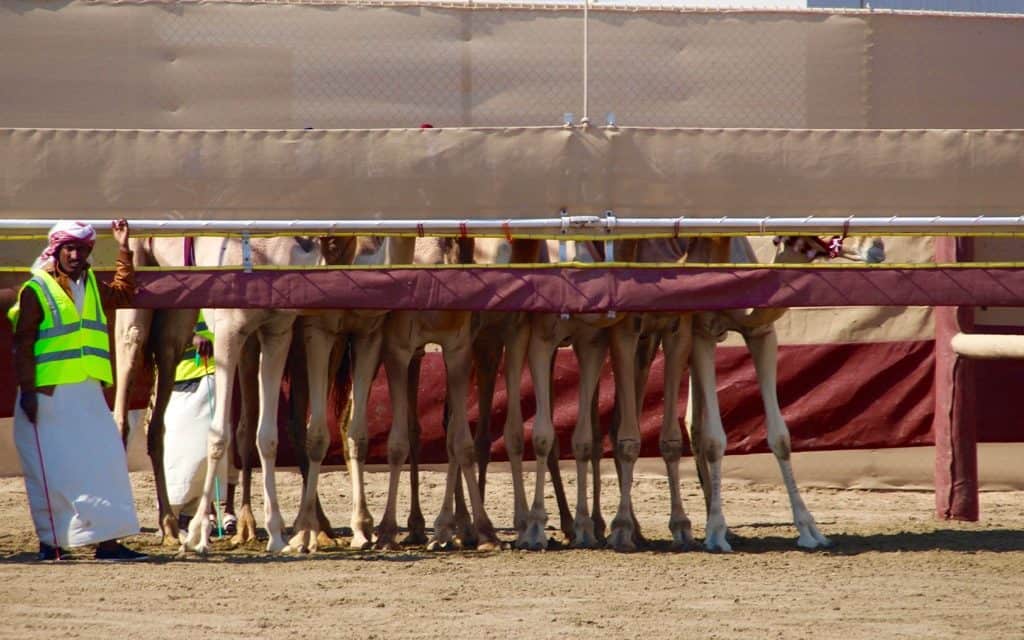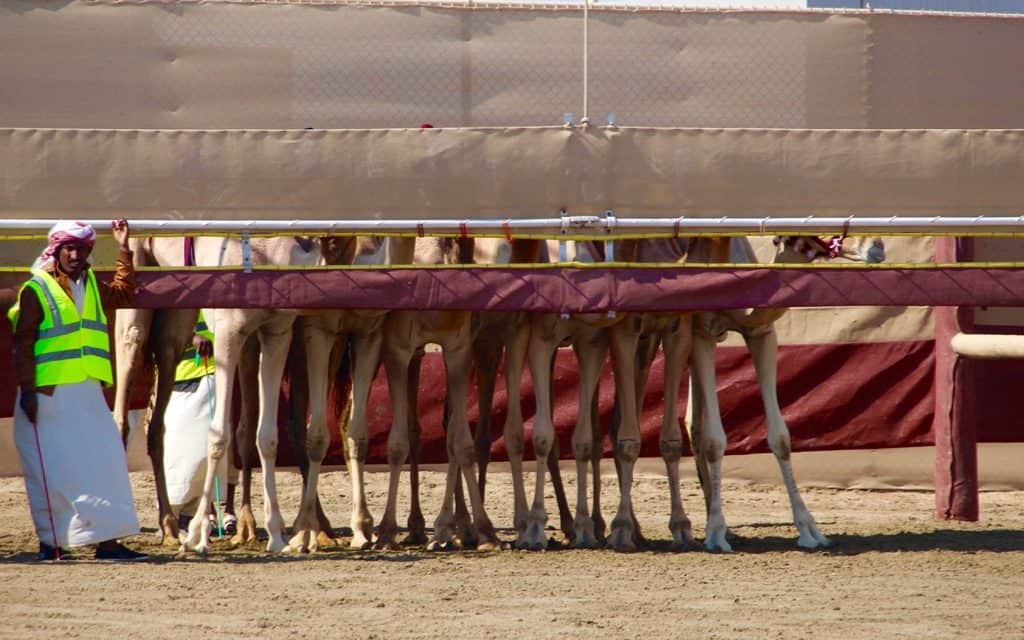 This one you won't even believe! So they line up the camels along a racetrack at Al Shah Aniya. Then when they are ready, the gate goes up and the camels start the competition. But not only them, but the cars also start jockeying for position as well, as they chase along the side of the track, yelling for their favorite camel to win They have been doing camel racing in the desert for years and it has become a tradition here in Qatar as well. It just so happens to be a multimillion-dollar business as well. The camels have a robot styled jockey strapped to their backs and controlled by their owners who are in the cars along the tracks. This sport is pure craziness.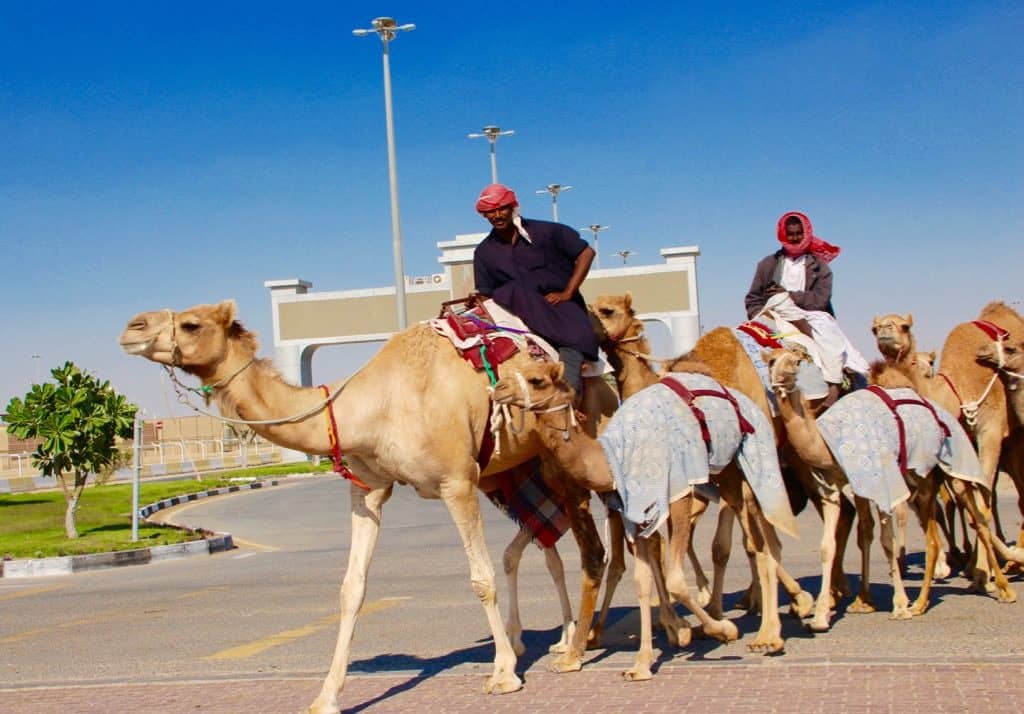 So there you have it, some of the best places to visit in Doha and Doha City Tours that will knock your socks off!
And what better way to get there than by Business Class with Qatar Airways! Check out my review of the Q Class Suites. It is the best way to travel for 15 1/2 hours straight with early and easy business class check-in, lounge access, and you know what they say? Caviar and dreams!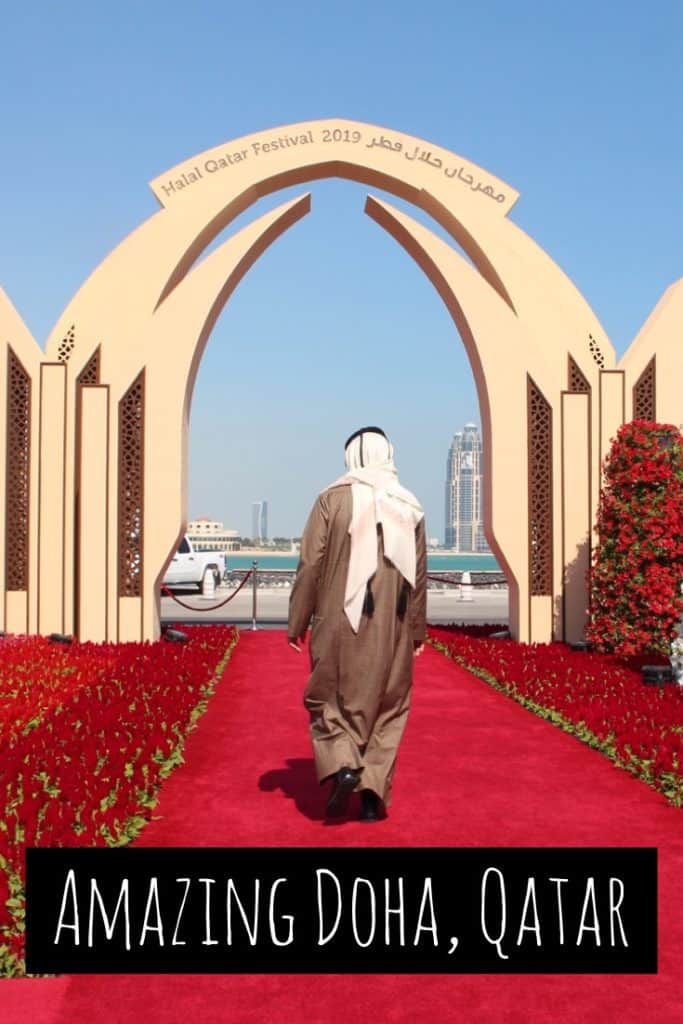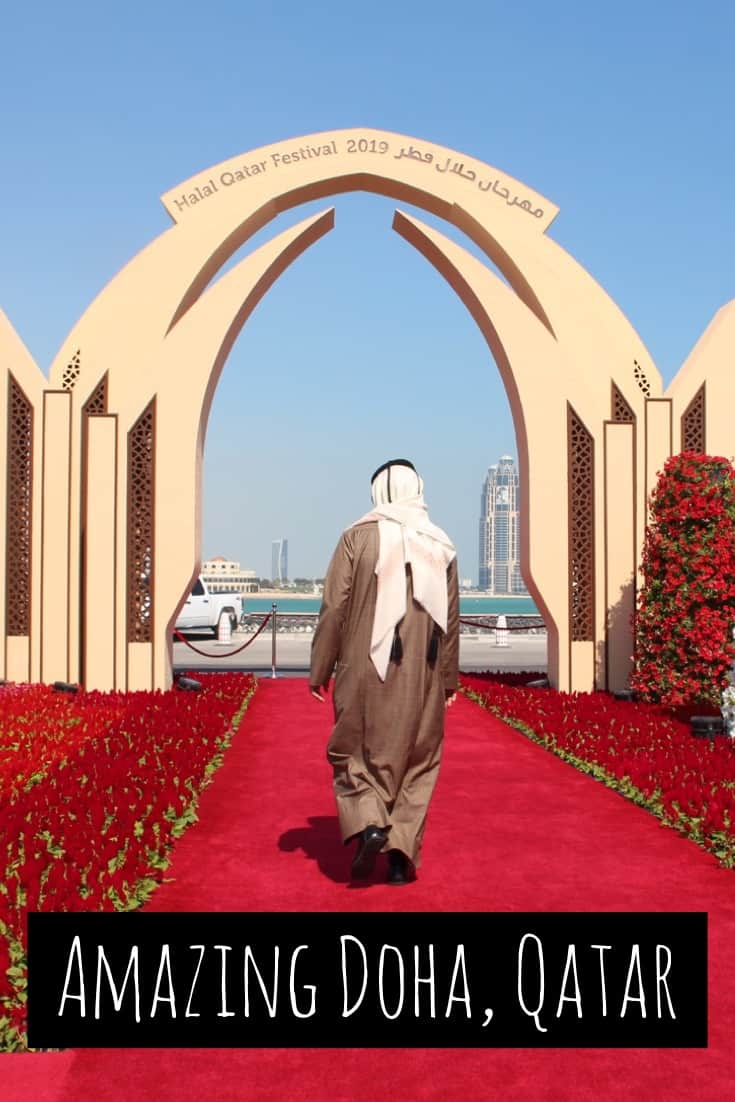 And where should you stay?
I thought the JW Marriott Marquis Center in Doha was truly amazing! It was absolutely gorgeous and my room had views from almost every angle!
Disclosure: As is common in the travel industry, I was provided with accommodations, meals, and other compensation for the purposes of review by Qatar Airways and Qatar Tourism. While it has not influenced my review, PointsandTravel.com believes in full disclosure of all potential conflicts of interest. All Photos were taken by the author/or were given permission from the photographer. Affiliate links may be located in this article.