I was talking to my friend today, and she was telling me about her quick trip to San Miguel de Allende over the long weekend. She was in Mexico City and decided to take a drive up to San Miguel. By car from Mexico City, you can get there in approximately 3 hours. San Miguel de Allende is a historic treasure, high in the Sierra Madre Mountains. When you arrive there you will feel as if time stood still in this little town with its pastel-colored houses, a century-old church, and cobbled stone streets.
---
What's in this post:
hide
San Miguel de Allende
---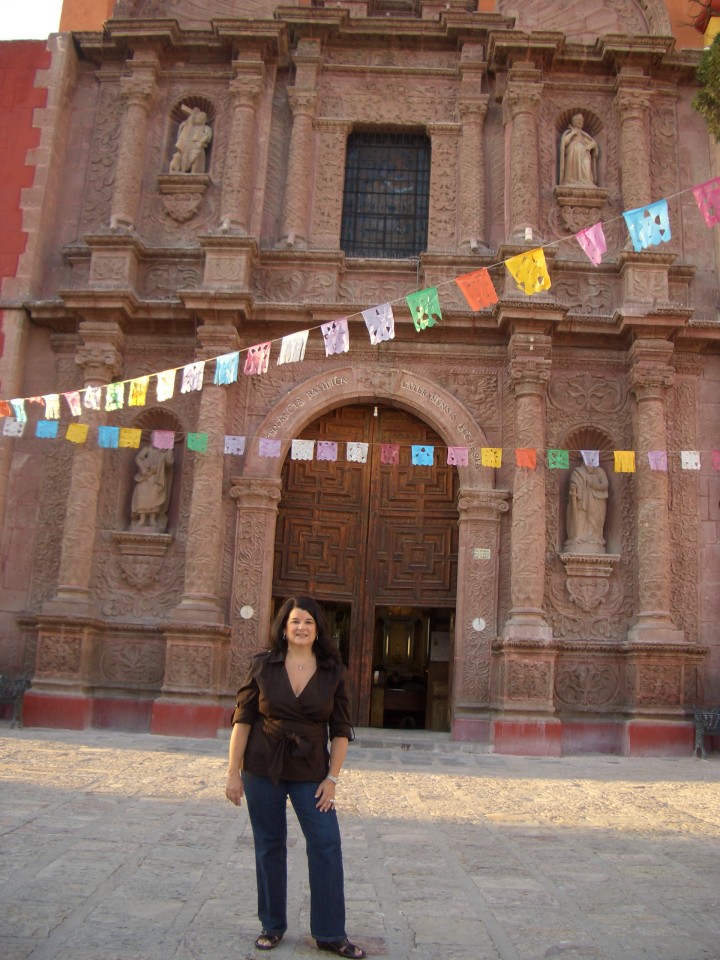 San Miguel de Allende – The Perfect Oasis
Honestly, it is a place I have fond memories of. A place I have written about before and a place I love. But there is a secret I didn't tell you about. I really don't like to tell all my secrets, but sometimes they are just so good that I can't keep them all to myself! "Ok, I will get back to that in a minute." But let me tell you a little about San Miguel.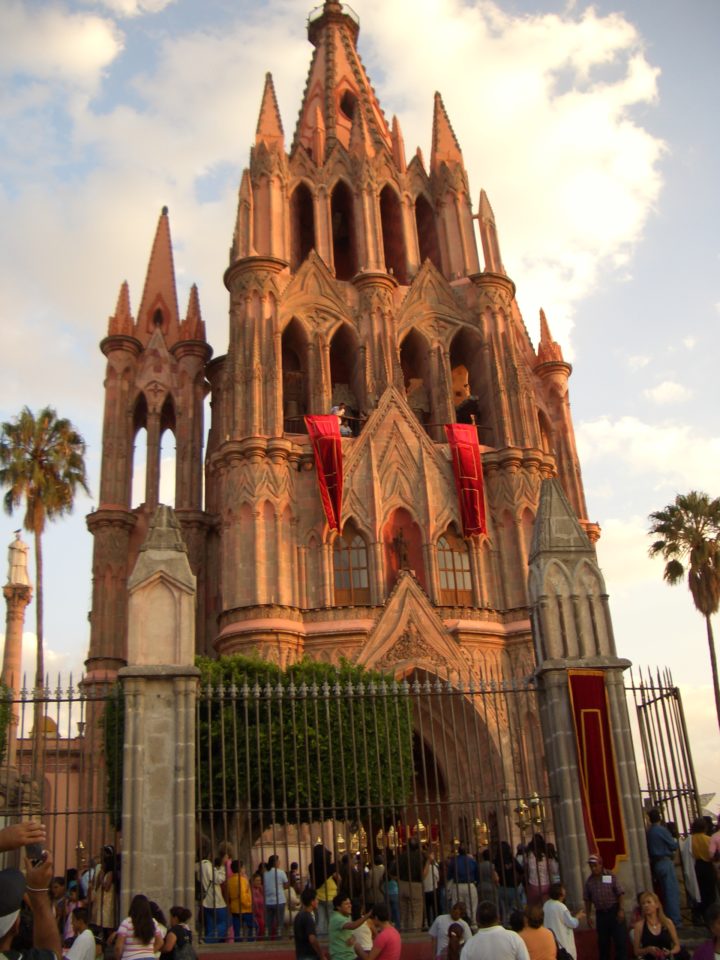 San Miguel offers a slow pace, fabulous food, and a cultural experience not to be found in other pueblos in Mexico. It is a UNESCO world heritage site and also often voted as one of the best destinations to go to in Mexico.
---
Want to read more about San Miguel?
Read my Ultimate Guide to San Miguel de Allende
and
How to get from Mexico City to San Miguel
---
In between strolling mariachis and flower vendors, you'll be able to breathe in the tranquil atmosphere, stimulate your senses, and ignite your passion for all things colonial Mexico.
San Miguel de Allende, Mexico – the Perfect Vacation Spot
The colors are vibrant with faux-washed buildings and lively rooftop bars with views, you will want to stay out till the wee hours of the night enjoying this heavenly place and your perfect cocktail. (Remember, tequila and mezcal was first produced right here in Mexico from the blue agave plant and no one makes it better than the Mexicans.)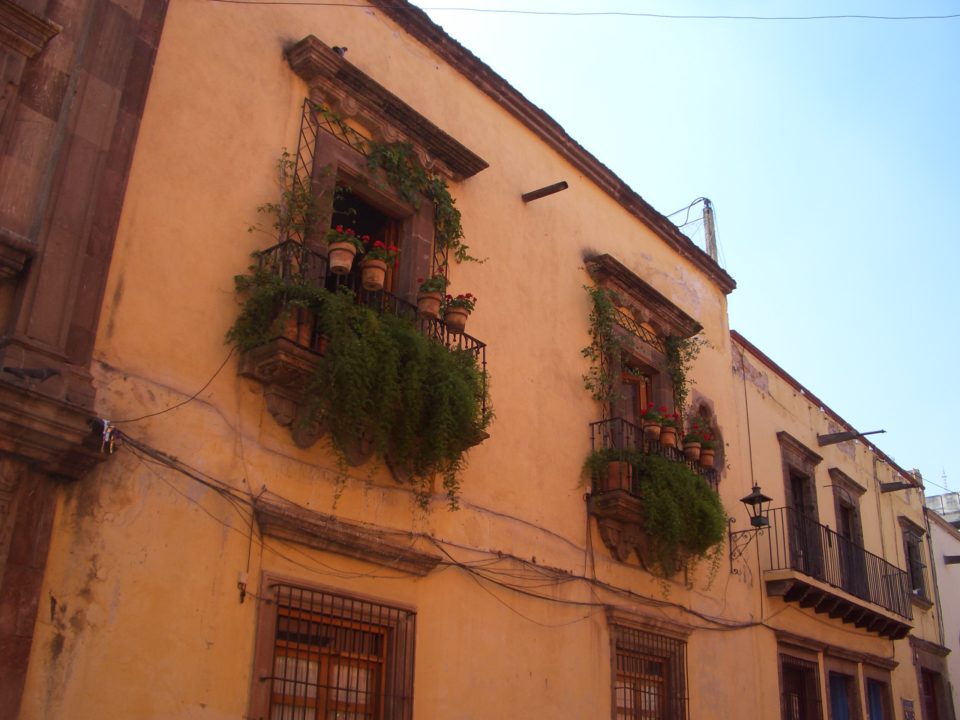 San Miguel de Allende offers beautiful Mexican colonial architecture, a vibrant art scene, great restaurants, great music, and nightlife. They also have a year-round spring-like climate. But then, you realize that you want to go back to your Mexican oasis. There is this perfect short walk up the hill from the main square to this inconspicuous place. You barely notice it in the daytime, but then you. . .
Slip your key in the door and "wa-la", you are in the beautiful entryway of La Casa de Cuesta.
---
Be sure and take a day to visit the La Gruta Spa San Miguel
---
La Casa de La Cuesta – My Perfect Place to Stay
As you make your way down the hallway filled with traditional style masks from the collection of the owners, Bill and Heidi LeVasseur. They are folk-art dealers that represent Mexican artists and have decorated this place to the nines. You will then wind your way into the starry night courtyard below and anxiously await the room of your choosing.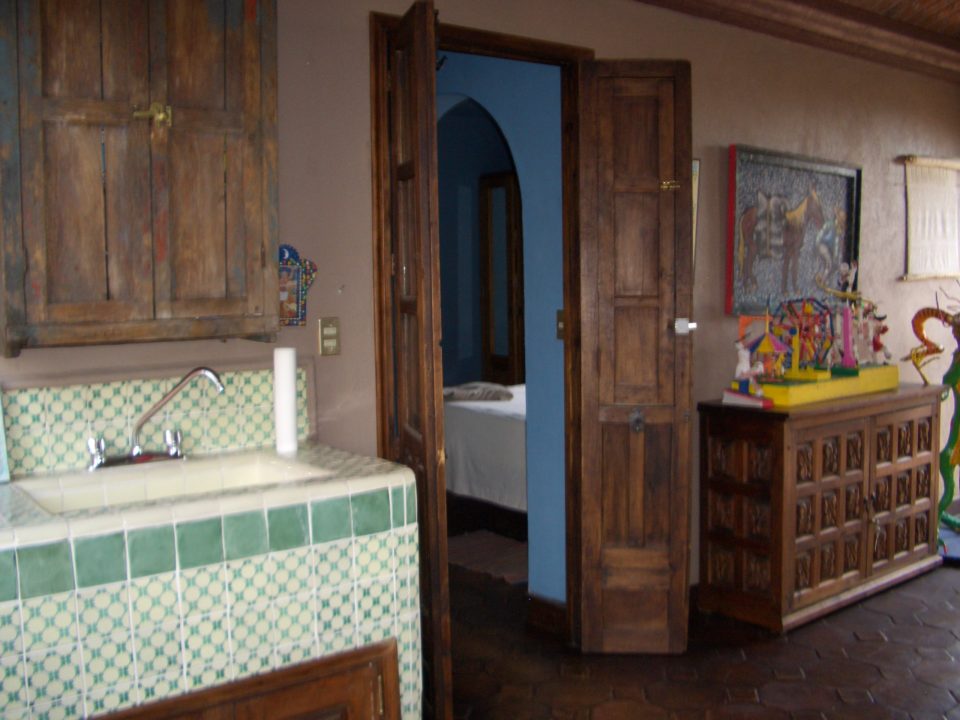 San Miguel de Allende, Mexico
This B & B is the most stunning mix of colonial Mexico and comfort you will find. Each room offers outdoor living areas and patios, plus a uniquely personal environment created by Casa de la Cuesta's fine collection of Mexican folk art, crafts, and antiques. This place is a gem.
One of the nights that we were there, the B & B was hosting an event for the local art museum and they invited all the guests staying at the B & B to attend. It was a fabulous evening of drinks and hors d'oeuvre, plus a special invitation to tour Bill's museum-quality collection of Mexican folk art masks. Bill is a long-time collector of Mexican ceremonial dance masks which are displayed in their own separate showroom.
San Miguel de Allende, Mexico Culture
The Casa de la Cuesta gallery offers a truly unique look at Mexican culture through its craft. They have items such as paintings, indigenous textiles, handmade paper, masks, handcrafted toys, milagro's, and more for sale as well.
There is perhaps no other object that better reflects the true nature of Mexican indigenous culture, its ceremonies, and spiritual complexity than the mask. Masked dance rituals date back to pre-Hispanic times and play an important role in the lives and religious beliefs of many Mexicans. The museum boasts a collection of over 500 Mexican masks used for ceremonial dances, which are on display, and offers over 300 masks that are available for purchase.
You will not be disappointed in San Miguel de Allende. It has the perfect vibe for a wonderful vacation. So go ahead and book a trip there and stay at La Casa de Cuesta.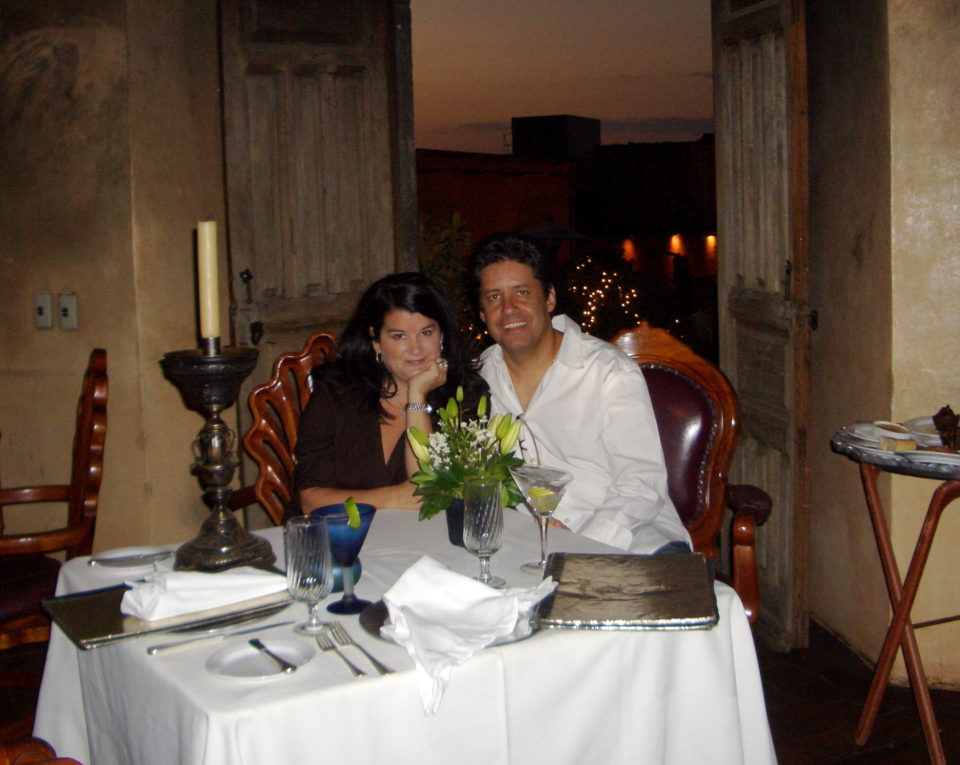 Want to read more about Mexico?
10 Popular Mexico Destinations & Cities to Visit
Famous Landmarks in Mexico You Must Visit!
A Guide to Mexican Grocery Stores & Supermarkets
Puerto Vallarta:
The Best 8 Puerto Vallarta All-Inclusive Resorts
10 Puerto Vallarta Beaches with No Passport Required
Puerto Vallarta All-Inclusive Resort: Hyatt Ziva
Cancun Area:
Foodie Heaven: Benazuzu, Cancun Mexico
The Ultimate Xel Ha Travel Guide – Riviera Maya, Mexico
Xel hà vs Xcaret: A Review of Mexican Adventure Parks
Zihuatanejo:
Zihuatanejo, Mexico: Unplugged Paradise