Puerto Vallarta beaches are among the most popular tourist destinations in Mexico. This coastal city used to be a small fishing village and was transformed into a popular beach holiday destination in the 1960s when popular Hollywood celebrities such as Elizabeth Taylor and Richard Burton came for a visit. Today, the beaches in Puerto Vallarta are dotted with world-class hotels and resorts, although what attracts tourists the most is the stunning stretch of powdery-fine white sands in the shoreline of Puerto Vallarta. If you're heading to this Mexican resort town soon, here's your guide to the best beaches in Puerto Vallarta and the surrounding area.
---
What's in this post:
hide
Puerto Vallarta Beaches
---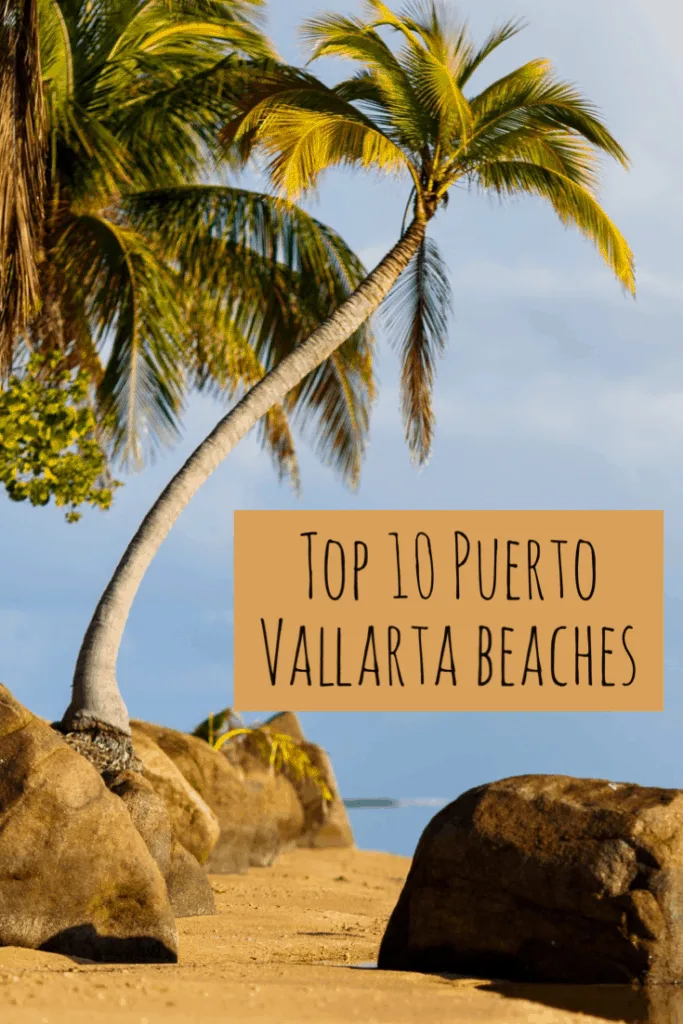 ---
TIP: To get the BEST deals once you arrive in Puerto Vallarta, read this Guide to Mexican Grocery Stores
---
Colomitos Beach near Puerto Vallarta
Colomitos is a secluded beach about 10 1/2 miles away from the main square of Puerto Vallarta. It has a clean sandy beach and crystal clear emerald-colored water. Colomitos is no doubt one of the most beautiful beaches, if not the best beaches in Puerto Vallarta. There's also a small creek nearby as well as a waterfall.
HOW TO GET THERE: There are two ways to get to Colomitos. If you love adventure, you can hike from the Boca de Tomatlan. Going this way requires passing through jungles and should take about 30 to 40 minutes. If you don't want to hike (and who does?), then there's a water taxi that you can take from Boca de Tomatlan that goes to Colomitos in only about 5-min.
Puerto Vallarta Beach: Playa Camarones
Located right in the hotel zone in Puerto Vallarta, Playa Camarones (Shrimp Beach) is another quiet beach that's great for families with kids who enjoy swimming and building sandcastles. This is among the Puerto Vallarta beaches that are known for offering a variety of water sports activities. Adventure-seekers who want to experience parasailing should head to this beach as well. Other activities to enjoy at Playa Camarones are paddleboarding and banana boat excursions.
HOW TO GET THERE: Playa Camarones is just north of Playa de Los Muertos, which is just a walking distance from the town center of Puerto Vallarta.
Las Caletas, A Very Popular PV Beach
This beach is near Puerto Vallarta but is a private beach that is leased out to Vallarta Adventures, a tour operator. Therefore, you have to get special permission ( purchase a ticket) to go here, but I can tell you that it is totally worth it. This tour company does a great job getting you here, entertains you, and gets you back safely!
This is definitely a day trip if you are staying in the area. This is a popular destination for the cruise ships that come in, but don't let that hold you back! The island really is big enough that it doesn't seem too crowded and there are so many amazing things to do! They have their own floating islands that you can swim out to, hammocks in the water and along the beach, plus, zip-lining, flyboarding, and some great food! There are even pink flamingos walking around you can feed! I loved my day spent here! You must contact Vallarta Adventures to get a ticket and they will tell you how to get here!
Playa Yelapa Beach near Puerto Vallarta
Playa Yelapa is definitely one of the best beaches in Puerto Vallarta for a holiday. Situated in a beautiful beach community, Playa Yelapa is still barely touched by Puerto Vallarta's tourism industry. The coastal village is a bit isolated from the rest of the Puerto Vallarta beaches and can only be accessed by taking a boat from Puerto Vallarta in about 45 minutes. Aside from enjoying the gorgeous scenery of Yelapa, visitors come here to sample the delicious local dessert pies from the "pie lady" that sells chocolate, lemon, and coconut pies along the beach.
HOW TO GET THERE: There are no paved roads that go to this isolated community of Yelapa so the only way to go here is by taking a boat from the pier in Los Muertos. The journey should take about 30 minutes.
Playa Los Muertos (Deadman's Beach) near PV
Along with Olas Altas, Playa Los Muertos is near the town center of Puerto Vallarta. Los Muertos means "Deadman's Beach" and it is named as such because the site is a former cemetery. In fact, excavations done in the area in the 1920s have revealed some ceramic pots with human bones inside. Although there are several more beautiful beaches around the area, the Playa Los Muertos is the most popular because of its vicinity to Puerto Vallarta. It's a great spot to enjoy some beach activities, such as beach volleyball and banana boat rides.
HOW TO GET THERE: It is South of the Malecon and since the beach is near the downtown area of Puerto Vallarta (the Romantic Zone or Old Vallarta), getting here is easy. In fact, it's only a walking distance away depending on where you're coming from in Old Vallarta. Otherwise, you can take an Uber to get there. The beach is called Olas Altas beach and from Venustiano Carranza to the south it's called Los Muertos Beach. It is south of the Cuale River, between the river and Venustiano Carranza.
Playa Los Gemelas Beach Near Puerto Vallarta
Playa Las Gemelas is another great option for those who prefer to swim in one of the more remote and secluded Puerto Vallarta beaches. Featuring majestic stretches of sand that faces the clear turquoise water, Las Gemelas is definitely the perfect beach destination for relaxation.
HOW TO GET THERE: Take an Uber or a Lyft and head South. Get off at Playa Las Gemelas. Then take the narrow stairs downwards towards the beach.
Puerto Vallarta Beaches: Playa Las Animas
Playa Las Animas is a 2-mile stretch of beautiful beach lining a small cove at the south of Boca de Tomatlan. Having a wide and spacious shoreline, this place is another one of the best beaches in Puerto Vallarta for sunbathers. With crystal clear and shallow water, Las Animas is also a great beach for families with small kids. It also offers a wide range of activities, such as kayaking, snorkeling, parasailing, and jet ski riding.
HOW TO GET THERE: Visitors coming from Puerto Vallarta can get to Playa Las Animas by taking a water taxi from the pier of Los Muertos. If you're coming from Boca de Tomatlan, you can simply hail a taxi going to the beach, which is only a 15-minute ride.
Playa Palmares Beach: A Stunning Puerto Vallarta Beach
Playa Palmares is one of the best beaches in Puerto Vallarta known for its long and narrow stretch of white powdery sand. It's a favorite among locals for swimming since it's located far from the rivers and therefore has stunning crystal-clear water all year round. This beach is also a bit secluded, and therefore, it's quiet and a perfect place to relax and unwind.
HOW TO GET THERE: Getting to the Playa Palmares is easy. Just take the bus bound to the South from the Puerto Vallarta downtown, hail an Uber or a Lyft, and get off at the Playa Palmares Condominiums. You can then walk through the narrow stairs leading to the beach.
Secluded Conchas Chinas in Puerto Vallarta
If you want to enjoy the stunning Puerto Vallarta beaches away from the crowd, head on over to Conchas Chinas. These are three small charming beaches tucked away in a secluded area surrounded by hills. There are no party bars playing loud music and no noisy crowd of beachgoers! I would say that is paradise! This is also the beach where the Hyatt Ziva All-Inclusive Resort is located near.
HOW TO GET THERE: It does require some effort to get to this beach. You need to take a long walk from the downtown of Puerto Vallarta towards the south until you reach some stairs made of rock. Climb up the stairs that go to Conchas Chinas. You can also hail an uber and go south and after a little more than a mile drive, you'll reach the rock stairs that go to the Conchas Chinas.
Puerto Vallarta Beach: Playa Mismaloya
Playa Mismaloya is just 2 ½ miles away from the Playa Los Gemelas and this is another iconic beach in Puerto Vallarta that is worth a visit. It's famously associated with Elizabeth Taylor and Richard Burton because this is where their film The Night of the Iguana, was filmed in 1964. Just like Las Gemelas, the Playa Mismaloya is also close to the famous snorkeling spots of Puerto Vallarta.
HOW TO GET THERE: From the central area of Puerto Vallarta, hail an Uber or a Lyft and get off at Mismaloya just close to the Hotel Barceló Puerto Vallarta.
Disclosure: As is common in the travel industry, I was provided with accommodations, meals and other compensation for the purposes of review by the Puerto Vallarta Tourism Board. While it has not influenced my review, PointsandTravel.com believes in full disclosure of all potential conflicts of interest.