One of our favorite family vacations is to travel and stay at a house or condo in the area where we want to explore in Mexico. We recently took a family trip to the Sea of Cortez to the little town in Mexico called Puerto Penasco to celebrate my son's college graduation. Not only did we pack a few things that are hard to find in Mexican stores, but we also found a few "new to us" things that are traditionally found in the Mexican grocery or in Mexican stores.
---
What's in this post:
hide
Grocery Stores in Mexico: A Guide to Mexican Supermarkets
---
I found that not only are Mexican grocery stores affordable, but they also offer you a chance to pick up many things that you simply can not buy at a regular market in the United States. Mexican Grocery stores tend to import things from not only in Mexico but also from Central and South America, therefore they offer things you simply cannot find in an American grocery store. They offer a variety of imported foods that are outstanding.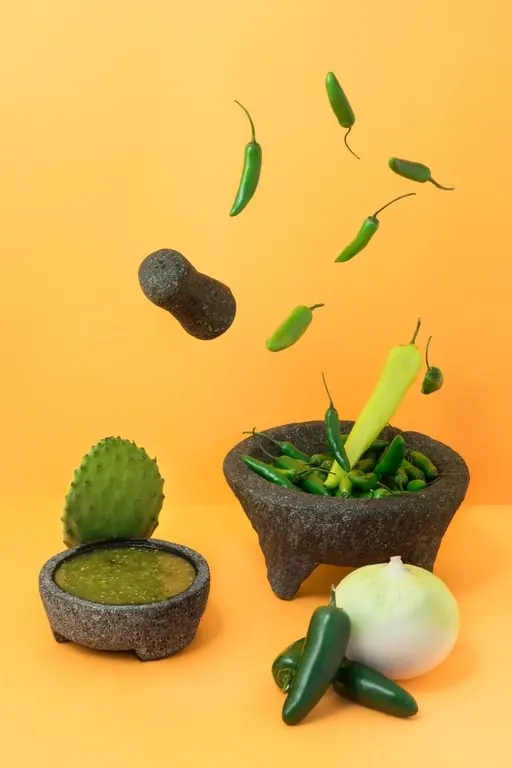 Come along with me as I go shopping in a few Mexican grocery stores to purchase supplies needed for our week's stay on the beach in Puerto Penasco (Rocky Point). I needed to purchase food for the house lady to cook while we stayed at the beach house. But one thing before we go, be sure and have a snack BEFORE you go, as an empty belly certainly can lead to increased food cravings and the purchasing of sweets that you may encounter. And as you know, hunger typically affects your decision-making skills, so enjoy a light snack before you head out.
✦ Mexican Food Culture
I have actually learned a lot about Mexican food culture by shopping at the local grocery stores in Mexico! A traditional Mexican grocery store can be jam-packed with all kinds of items to make your shopping trip interesting, tasty, and fun! This article will give you a thorough look at the local Mexican grocery stores to help you understand Mexican culture (and its food) better.
But the biggest thing I learned is that we, as Americans, have been overpaying for vegetables and fruits for so long that we probably have no idea what a vegetable or fruit is worth anymore! Mexican shoppers spend most of their hard-earned cash in the produce section of a Mexican grocery store and not much time in the middle aisles of the store where the calorie-rich snacks reside! Read on as I divulge other learning experiences.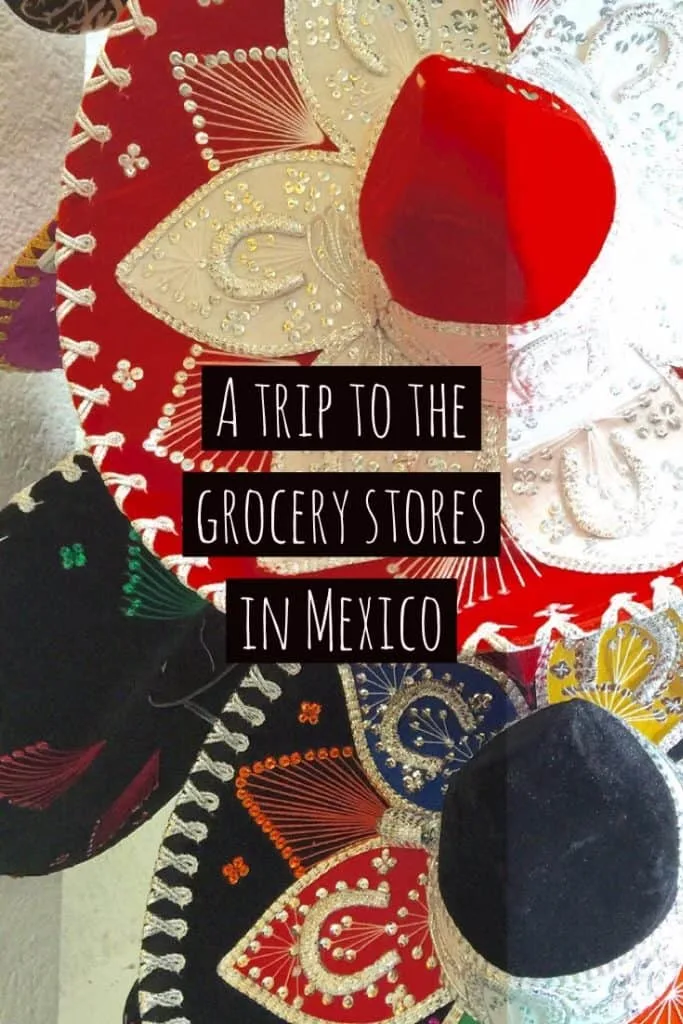 ✦ Grocery Stores in Mexico: What to buy?
Fresh or Dried Chiles
When traveling to a Mexican grocery store, there are some fun items you need to put on your shopping list. The first is fresh or dried chiles. You won't find any better spice to add to any dish than a Mexican Chile. Mexican food is famous for its tendency to be extremely spicy. Most Mexicans I know love their spices because they love the fresh or dried chiles taste.
Pan Dulce
The second thing to buy in a Mexican store is "pan dulce", which is "sweet bread". While most people would use bread for making sandwiches, this type of bread is considered sweeter, unlike basic American bread. This is one of my favorite things in a Mexican market. Typically it is found in a bakery-like setting where you use tongs to pick out the piece of sweet bread you want and slip it into a plastic bag. It is then weighed and tagged before going to purchase the pan dulce. This, of course, is a larger grocery Mexican store, if it is a smaller "mom & pop" style store, this is not done.
Tajin Seasoning
Another thing which you must purchase at a Mexican grocery store is Tajin, a classic Mexican seasoning that is put on everything from watermelon and cantaloupe to mangos, cucumbers, and vegetables. It is a spicy chili mixture that is typically put on fruit or around the rim of a drink. I have also seen it used to spice up meat, as well as on an avocado or street corn.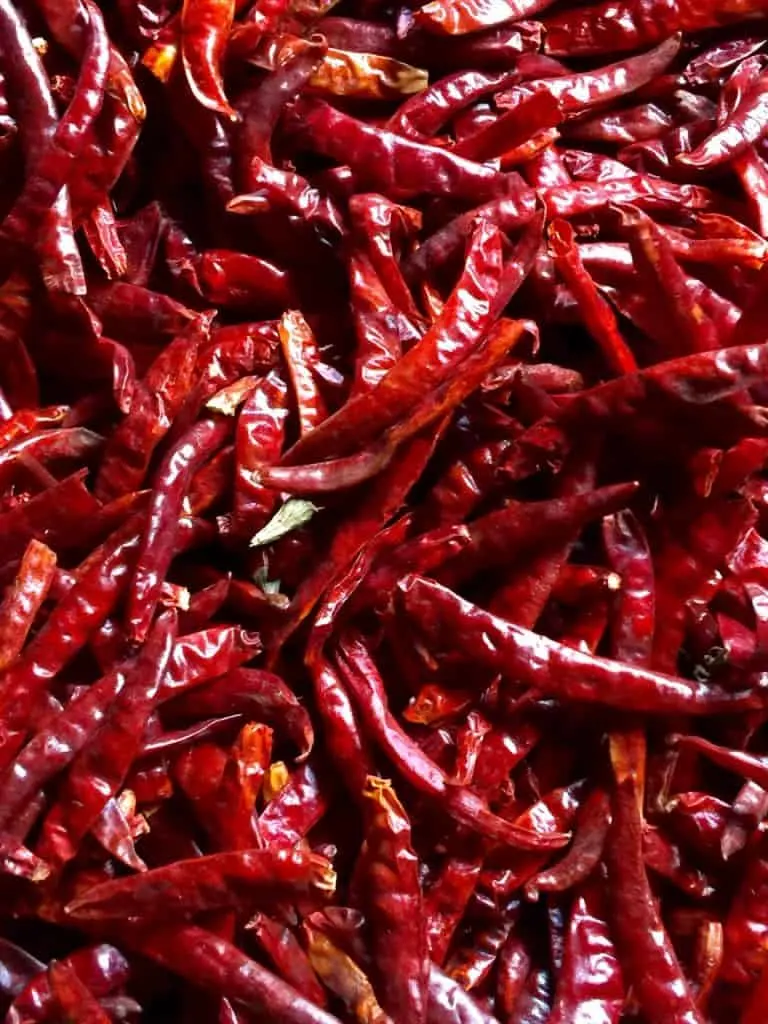 Candies
Next up, candy is super popular in Mexican grocery stores, especially with the kids. I think Mexicans are incredibly creative when it comes to making their sweet candy, as many times it is not only sweet, but hot, spicy, and even salty! So what type of candies can you buy in a Mexican grocery store?
Tamarind or "Tamarindos"
Mexican Tamarind candy is very popular and has a "sweet and sour" flavor that excites your tastebuds! Many times the candy makers put hot sauce and salt on the candy to bring out the flavor! These are such unusual flavors for an American to eat, but we love trying them out! And they do offer an extra kick to our tastebuds! This is a great find in a Mexican food store.
Pulparindos
Pulparindos is a type of tamarind candy from the Mexican candy company de la Rosa. The candy is made from the pulp of tropical fruit – the tamarind fruit. It is then is flavored with sugar, salt, and chili peppers! All of this brings out its "sweet and sour" plus salty, spicy, and tart flavor! They even have a flavor with "extra Picante" which makes it super spicy!
Marzipan
So what is Marzipan? It is a confection consisting primarily of sugar (or honey), peanuts, and artificial flavors. Here is a video unwrapping the delicate consistency of marzipan, that crumbles easily, but once you put it in your mouth… delicious! Like the guy says in the video – its consistency is like an uncooked sugar cookie! It melts in your mouth! The company de la Rosa is famous for making this delicate candy.
---
Recommended Reading about Mexico:
Popular Mexican Destinations: 10 Wildly Popular Places to Visit
Famous Landmarks in Mexico You Must Visit!
Puerto Vallarta:
10 Puerto Vallarta Beaches with No Passport Required
---
Hotels to stay at in Puerto Vallarta:
Casas en Puerto Vallarta: A Romantic Luxury Boutique Hotel
Experiencing the All-Inclusive Now Amber Puerto Vallarta Resort
Puerto Vallarta All-inclusive Resort: Hyatt Ziva on the beach!
---
✦ Grocery Stores in Mexico Have Food Stalls!
When visiting a store in Mexico you may find that there are food stands or stalls that sell everything from tacos de cabeza, (the roasted head of an animal taco) to barbecued (barbacoa) tacos. Grilled onions are also common additions, as well as different types of salsas. Each stand usually offers one red and one green sauce. They also usually offer a large bowl of halved Mexican limes for a squeeze into your taco.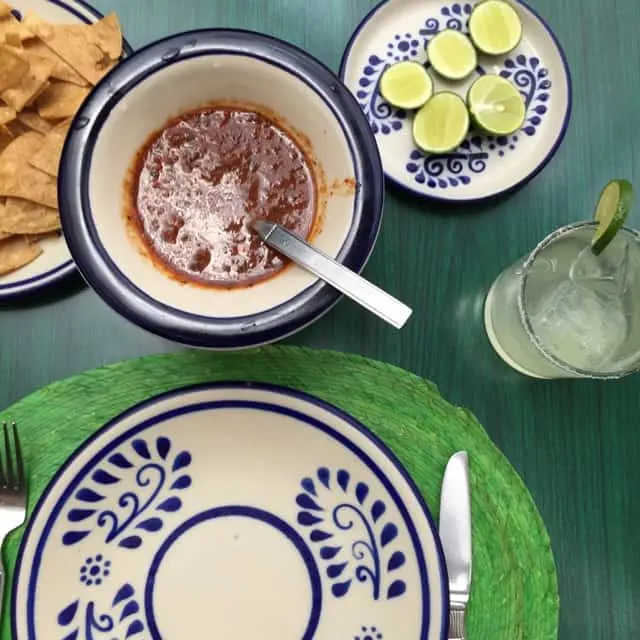 ✦ What are the differences and similarities between Mexico Grocery Stores and USA Grocery Stores?
There are many differences between grocery stores in Mexico and the USA. One of the main "rip-offs" at a Mexican grocery store is the fresh produce. Most locals will shop at the fresh fruit markets, much like they do in Europe. Fresh produce can cost half the price at a local farmer's market than it does at a Mexican grocery.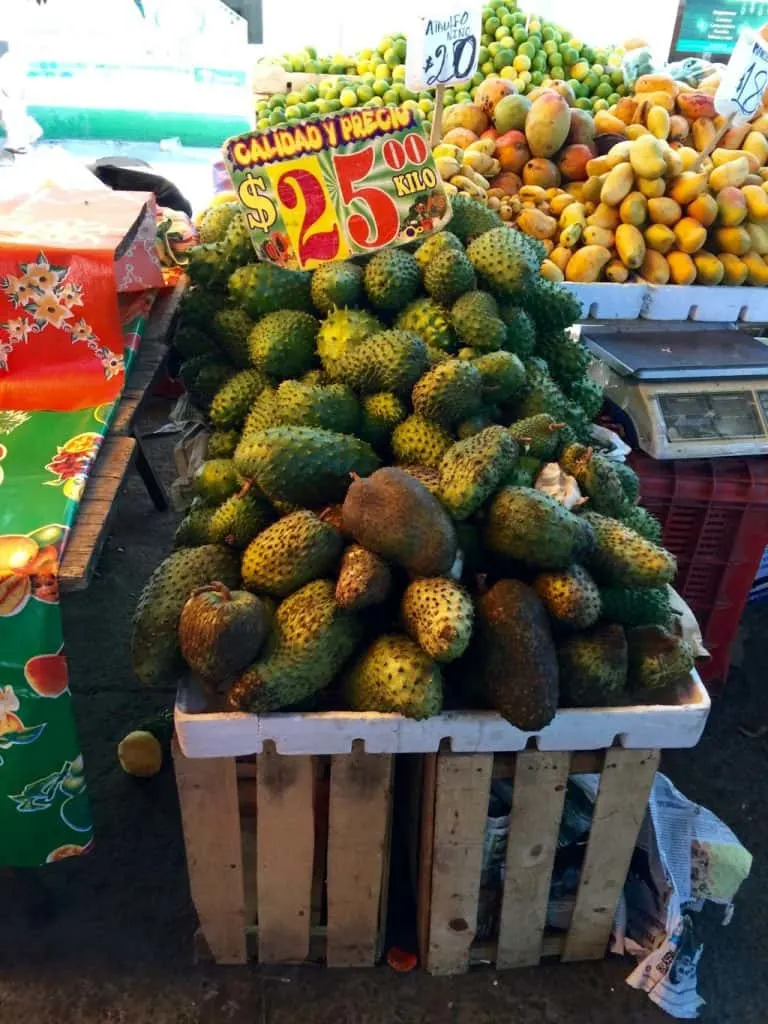 Where in Mexico I can buy produce?
Basically, Mexico has larger grocery chains, local corner stores, and also small open markets. Most of these types of stores offer vegetables and fruits for sale. But remember one big difference between the USA and Mexico is that the fruit and vegetables here need to be soaked in an iodine solution or washed really well. This is to ensure that all fruits and vegetables are free of bacteria. You typically can find a small bottle of iodine in most grocery stores in Mexico. Many fruits like apples, pears, and bananas are ready to eat with little to worry about, as they ripen in no time.
Another Difference: Dairy Items
Various dairy items in Mexico are processed quite a bit differently than they are in the United States. Eggs are not power washed, nor are they chemically treated. Basically, they do not need refrigeration. Almost all of the Mexican cheeses are from goat's milk. There fore their texture and colors are different. Mexico even sells non-homogenized milk, thus once again, it needs no refrigeration.
Meat Items Packaged Differently Too!
Meat products like chicken, beef, and pork are not as bright red because of the lack of sodium nitrates used in these meat products. Typically, Fish is seen openly displayed on ice and typically not seen whole, but sliced. And since Mexico is so close to the sea in various regions, then seafood plays a big part in the Mexican diet in these regions. for them, it is plentiful and inexpensive.
How to shop in a Mexican supermarket in the USA
Watch the wonderful video by Epicurious about how they shop in a Mexican grocery store in the USA!
Mexican Stores – No Freezers, but Meat Counters!
Frozen foods are not a common food found in Mexican grocery stores, unlike the endless freezer aisles in American stores. Americans are used to seeing prepackaged meat at the meat section, but that is different in Mexican grocery stores too. The meat counter will have fresh pieces of meat on display, for people to pick and choose which type of cut of meat they want to buy. You will find many cuts of meat, including thinly sliced meats and sausages like chorizo.
Depending on the grocery store, the bread will either be chosen and weighed or you can ask to have a specific weight of bread to be packaged for you.
While it may be more common to see gluten-free products and vegan option meals at American grocery stores, these luxuries are often not food options in smaller Mexican grocery stores. They are slowly making their way into the bigger supermarket chains but will lack variety.
Also, it is not uncommon for shoppers to bring their own recycled bags. Some grocery stores make you purchase shopping bags to put your items in. This act is similar to shopping at most European grocery stores.
---
Even More, Recommended Reading about Mexico:
Cancun Area:
Foodie Heaven: Benazuzu, Cancun Mexico
The Ultimate Xel Ha Travel Guide – Riviera Maya, Mexico
Xcaret, Mexico: The Adventure Park You Will Enjoy the Most!
Zihuatanejo:
The Circus is in Town; Zihuatanejo, Mexico
Zihuatanejo, Mexico: Unplugged Paradise
Oh the Colors of Mexico: Zihuatanejo
---
✦ How much will it cost in Mexican Grocery Stores?
Overall, shopping in a Mexican supermarket can be less expensive than in the USA. This is because the food is cheaper and pesos are cheaper than the dollar. For 20 pesos, roughly $1, shoppers can buy a 20 oz coke bottle, two packages of tortillas, and a variety of fresh produce.
Also, the cost of food is certainly relative to who is purchasing it. When locals are buying, their earned wages may be lower than the cost of goods. The USA dollar goes further in purchasing power. Food prices are set so the locals can also afford to shop.
Most Mexican grocery stores and Mexican stores will accept payment via cash, check, and credit. Typically, smaller stores will only accept cash and at rare times, credit cards.
✦ Grocery stores in Mexico: Where Are They?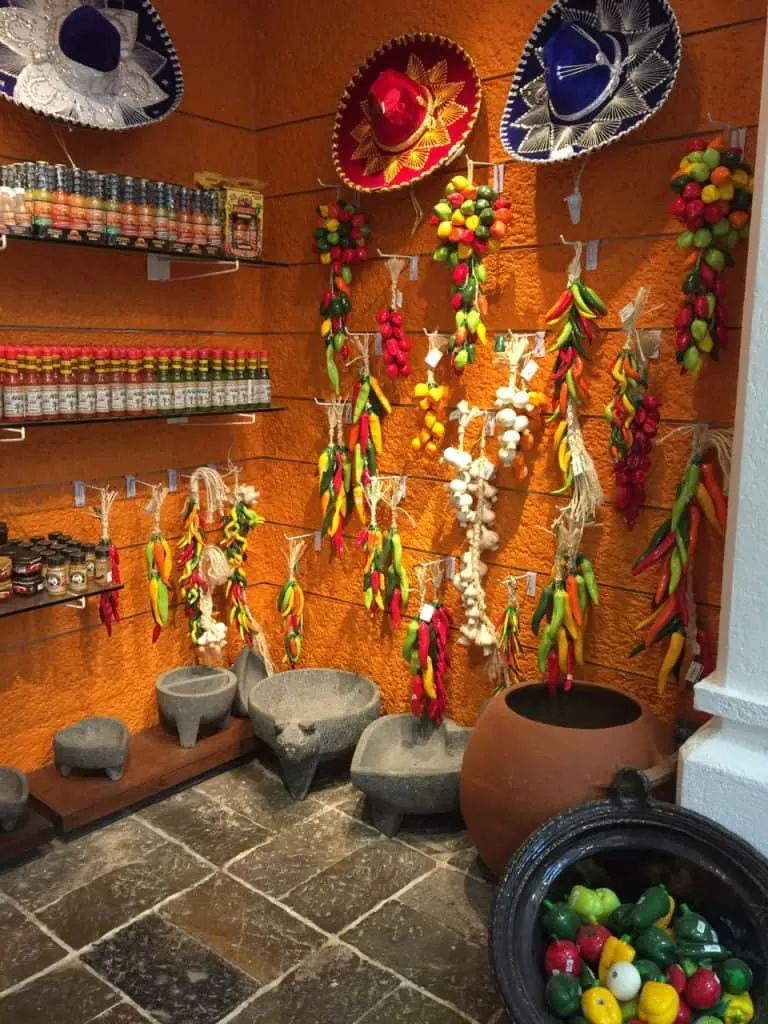 La Comercial and La Comer are hypermarkets (or superstores) that can be found in Central Mexico and Mexico City. According to this article, "about two-thirds of the retail sales in Mexico take place inside a grocery store and supermarket chains, so it's not surprising that most of Mexico's largest retail chains are hypermarkets and convenience stores that sell food."
Calimax is one of the largest Mexican grocery stores, with over 90 locations throughout the country. Chedraui is owned by the French store Carrefour, and sells everything from food to pets to electronics. Also, stores like Walmart, Soriana, and Costco offer a large selection of clothing, accessories, and even shoes to purchase while on your food shopping trip.
The more regional grocery store chains are Aladino's, El Asturiano, Calimax, Marinero, and Welton.
Some of the more main supermarket chains in Mexico are Chedraui, Mega, Soriana, and Superama, most are hypermarkets. Hypermarkets are large stores with a wide range of goods and a large parking lot, typically situated outside a town. Hypermarkets are more like large warehouses, where you can buy in bulk as well. There are also US-style membership stores such as Sam's Club and Costco. Even Walmart is located throughout Mexico. The smaller economy supermarkets like Bodega Aurrera and Sumesa are also found in the larger and smaller cities. It seems these days that Mexico is a hot-bed of trade and often offers customers a wide range of shopping choices.
---
Other Recommended Reading about Mexico:
San Miguel de Allende:
Step Back in Time: San Miguel de Allende
Mazatlan:
Cabo San Lucas:
Grand Velas Los Cabos -Elevating the Bar Once Again
---
✦ When are Grocery Stores in Mexico Open?
Shopping hours can vary depending on the day of the week, region, and city that you are in. Most grocery stores will be open until 8 pm-9 pm during the weekdays. Smaller supermarkets will be usually open from 9 am-6 pm. Some Mexican stores will open on Sunday, but only in the larger cities such as Mexico City. Supermarkets and hypermarkets can stay open for 24 hours a day and extend their hours during special occasions or holidays.
Keep in mind that smaller cities and towns will close their supermarkets and grocery stores between 2 pm and 4 pm. Mexican grocery stores are typically busier during the morning hours and are quieter during lunch because everyone is at home cooking or relaxing.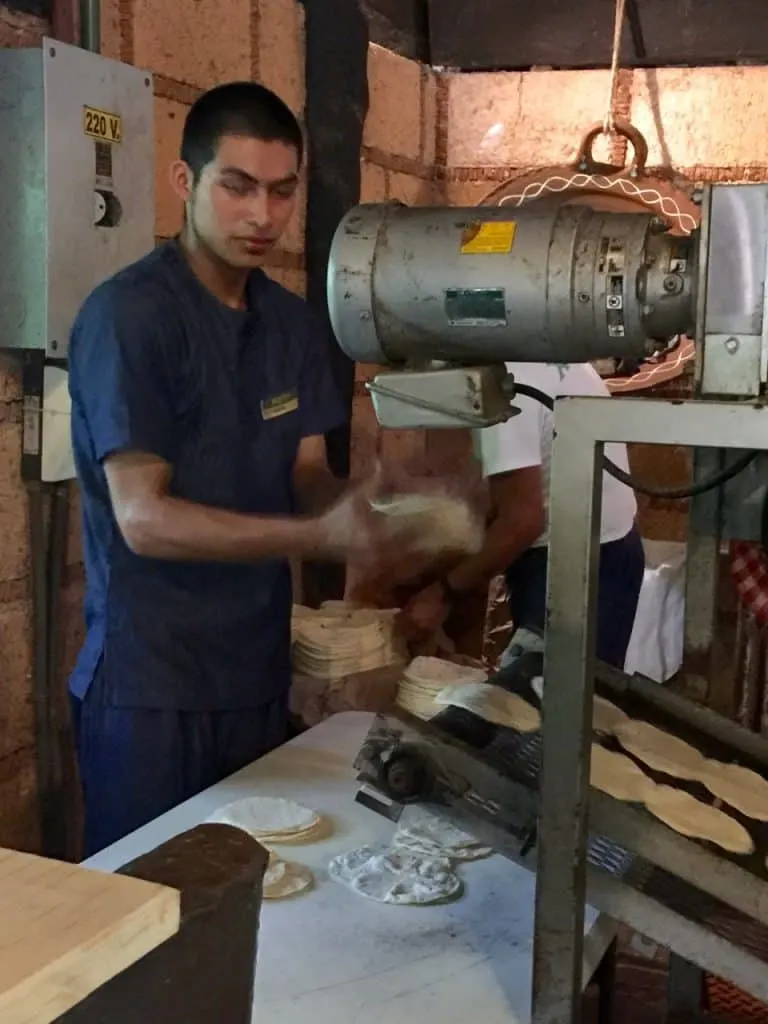 ✦ What is the Selection Like in Grocery stores in Mexico?
Pharmacy
Mexican grocery stores usually sell a variety of different things, depending on the area. One of the most common things you will see in a Mexican store is La Farmacia (a pharmacy). All supermarkets will have a pharmacy that sells over-the-counter medication as well as prescription medication.
Variety of things
Travelers can find animals, clothing, shoes, toiletries, food stands, and alcohol in a Mexican grocery store.
Fresh Flour and Corn Tortillas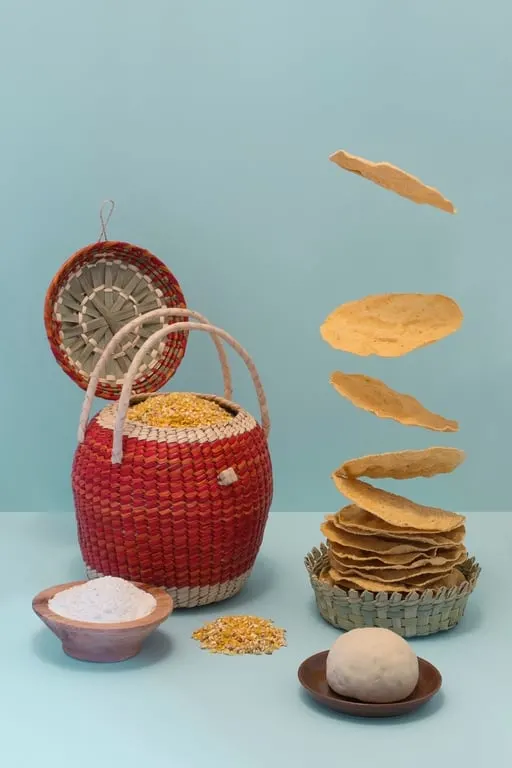 Oh, and of course, we found fresh flour and corn tortillas! I, personally, prefer the small flour tortillas, but the traditional ones in most Mexican grocery stores are the smaller corn tortillas.
Tequila (no Problem!)
Tequila and Mezcal are readily available in almost every Mexican grocery store I have been in. We did, however, find it hard to find a pre-made margarita mix the last time we went shopping. We ended up having to go to three different places before we were able to snag two bottles of it.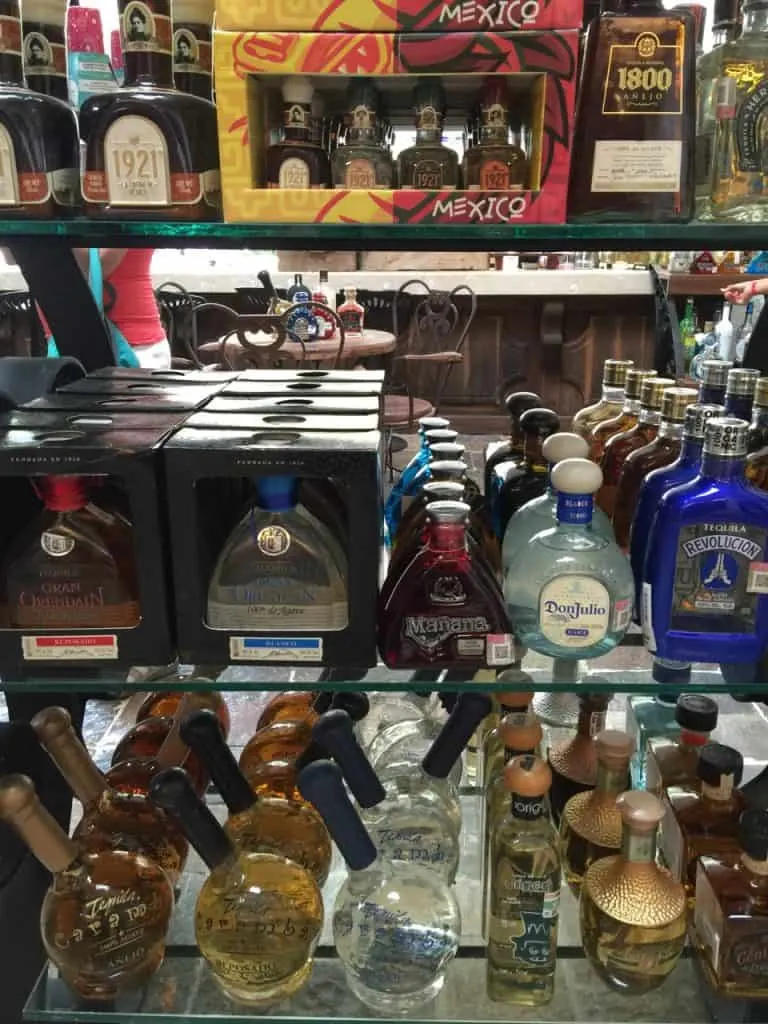 ✦ Mini Super Stores
Smaller towns such as Puerto Penasco, and bigger cities with individual neighborhoods, tend to have independent "Mini Super Stores" Usually they have the "look and feel" of bigger stores but obviously, carry less merchandise, and of course, they stock everyday groceries. But you can still find a few good things at these convenience stores.
✦ The Funny Things You Find in Mexican Grocery Stores
Unusual Items
Some of the most unusual things to find a grocery store in Mexico are furniture, appliances, office supplies, musical instruments, and motorized vehicles, such as scooters. However, it is not uncommon to find pets, animals, and fish for sale at a grocery store in Mexico. It may not be sanitary to keep puppies next to the deli section, but who are we to judge?
Traveling to Mexico can be a fun experience, whether you are visiting for a day or staying for a month. An authentic and fun Mexican grocery shopping trip is a must while visiting this spicy country! You can see how true native Mexicans go about their day at a Mexican grocery store.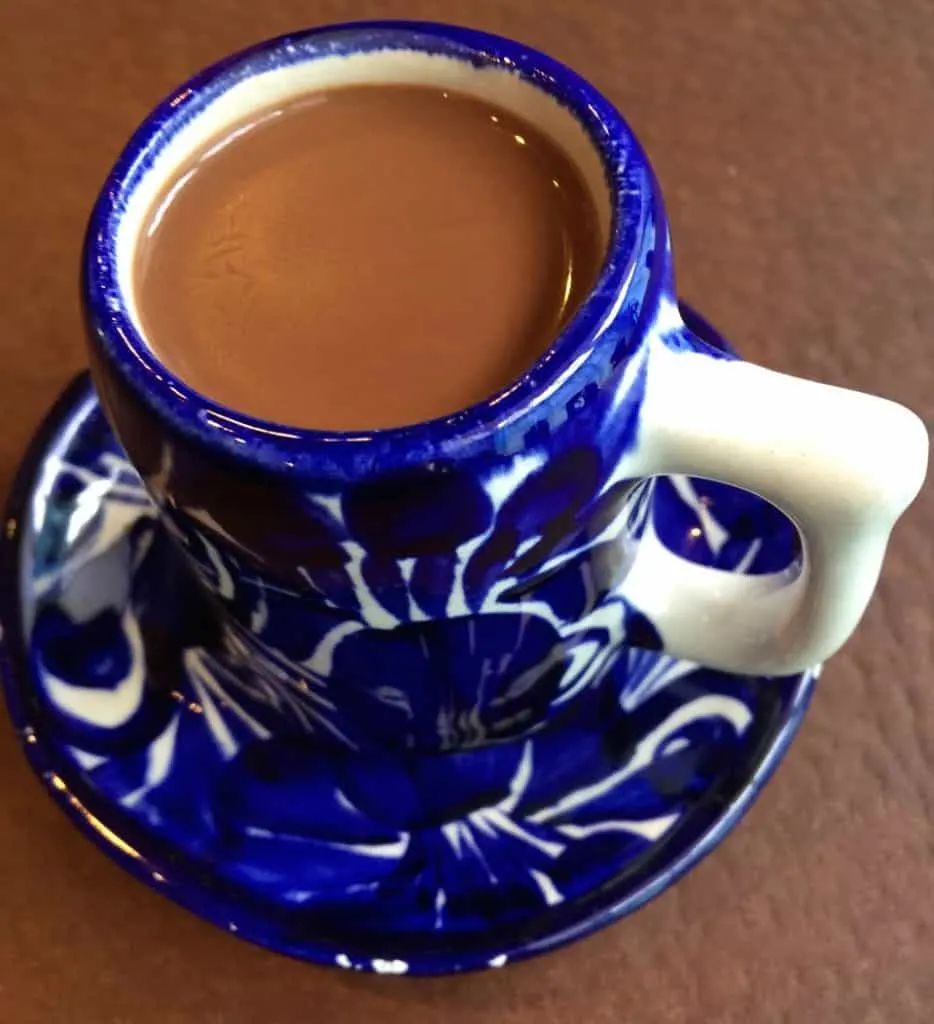 ✦ Finding Mexican Grocery Stores near You
Once you are home from your trip to Mexico, if you want to bring back a few memories of Mexico, then you can scope out your local Mexican grocery stores. Mexican Grocery stores are now widely available in the United States. To search for the best grocery store near you, you can use the help of Duck Duck Go-Go, Bing, Google Maps, Yelp, or any other store locator. So type "Mexican Grocery Stores Near Me" in the search engine of preference (like this one from Google: Find A Mexican Grocery Store Near you), and it will instantly show you all the nearest Mexican stores in your city.
However, many Mexican supermarkets don't have great websites, so don't be discouraged. Once you find them, visit first as you will find inexpensive ingredients that you can use in your cooking. You will be able to find a wide variety of unusual and fresh produce, as well as, local
Mexican drinks,
and of course,
the best handmade tortillas
. Another great thing, the
prices tend to be quite a bit lower than your typical USA grocery store.
---
So Much Reading about Mexico:
Puerto Penasco:
Arizona's Beach: Rocky Point, Mexico!
Oaxaca:
A visit to interesting Hierve el Agua, Oaxaca, Mexico
Everything You Need to Know About Playa Zipolite Mexico
Cuernavaca:
A Night at Hacienda San Antonio El Puente, Cuernavaca, Mexico
San Miguel de Allende:
San Miguel de Allende: The Ultimate Guide
---
Online Mexican Grocery Stores
But don't become discouraged if you don't find Mexican supermarkets near you, as because of technology, these days you can find Mexican grocery stores online! I know that many of my readers live in more rural areas and simply cannot find local grocery stores. So I have also compiled a list of online Mexican grocery stores here:
Deli Mexico
Deli Mexico is an online Mexican grocery store that is famous for importing rare authentic Mexican products. Many of the products offered are things like Mexican gluten-free corn tortillas that are hard to find, plus things like chilorio (pork in chile sauce), romeritos (seepweed in mole), and verdolagas (pork stew meat). They also have gift baskets, cooking utensils, decorative salsa bowls, cooking tips, and recipes as well.
MexGrocer
MexGrocer is a national grocery store for non-perishable and hard-to-find Mexican foods. They offer over 3,000 specialty Mexican and Latin products from international and Mexican leading brands. They offer all types of products including products, as well as cooking tips, Mexican cookbooks in both English and Spanish, and even religious goods.
Benefits of Shopping at Online Mexican Grocery Stores
There are a few benefits of shopping online at Mexican supermarkets versus actually visiting them if you live in the USA. They actually deliver their products directly to your front door, so you don't have to drive to the stores and spend your time in traffic or parking. They also carry a variety of genuine Mexican brands and products, so you can stock up on these when you place your order. They have literally hundreds of products on their website, so you can also see the ingredients and even learn about the calories. Many of these online grocery stores actually publish recipes for you to use! They also help chefs who are looking for these authentic Mexican recipes or products.
Main Supermarket chains in Mexico
As mentioned before, the main supermarket chain-style stores in Mexico are Chedraui, Soriana, Superama, Mega, and Walmart. Many Americans recognize these names and often buy their groceries and items that they need to purchase here since they already have a membership in stores like Costco and Sam's Club. Most likely, they feel "comfortable" with the brand and know how the system works. I can recommend them, but then again, it does depend if they do not have a grocery store near you that is more convenient.
You will also notice that the supermarket stores in Mexico's bigger cities advertise a lot on the radio. You will commonly hear them on the radio station you choose for your car, as they offer up sales to attract shoppers, gives hours of their openings, and even at times offer up credit card rewards! They are constantly coming up with special offers to attract customers. I would say that their primary message is: "shop with us, we're cheaper." This approach involves several marketing ploys like price matching, price comparisons, loyalty cards, and discounts with points.
In this article, I am writing about the things you can find in a Mexican grocery store, but what if you were not only visiting, but eventually turned into an ex-pat? So now you are living in Mexico and start to miss some of your American brands or products? My advice would be if you have been lucky enough to find a store that sells your favorite American brand, then I would suggest buying a lot of it when you find it! Things like Skippy Peanut Butter or your favorite brand of sliced American-style cheese are all gone. When you return, there may be another brand in its place!
Imported foods and products from the USA or UK often appear and you may feel super happy that you found your brand. But the thing is, these products come and go. So buy up as much as you think you can afford or will use. An imported USA or UK brand may be available in your closet store for months. Then one day you go back to get some more (often after allowing your supply to get down to the last jar, box, package, or whatever it is that you can't live without.) Then suddenly when you go to replace it, it is gone. Maybe it is another brand of that thing you crave or, quite possibly, a completely different item is in its place.
So if you find it buy it. I mean right then and some extra too because if you procrastinate or assume because the shelf is loaded that the item that there will be plenty at a later date, you are setting yourself up for a huge disappointment. Please heed my advice!
One Last Thing – Mexican Stores in Arizona
I live in Phoenix, Arizona year-round and travel a lot to Mexico. In Arizona, our Mexican stores are called Food City, which is an Arizona Mexican-Americana chain store. They create authentic everyday foods, like fresh-pressed tortillas from a tortilla press, have an inexpensive juice bar, and massive amounts of fruit and vegetables. Things like jicama, mangos, and key limes are readily available. Heck, they also typically have on-hand pre-cleaned nopales! Some locations within Phoenix offer prepared foods, such as hatch chiles grilled right before your eyes. Others offer really inexpensive meats that have simmered in spices. But my favorite store in Phoenix is the Los Altos Ranch Market over off 7th Street and Roosevelt, so be sure and check it out. It is owned by Cardenas which is a supermarket chain based in Ontario, California, USA that specializes in Latin American cuisine.