Come with me today on a magical journey through four cenotes with Xenotes and one cenote known as Río Secreto. "Where the history of our planet is written according to the ancient Gods. Where floating in clear freshwater will change your life forever" -they say. Let's experience these stunning underground rivers and caves together with thousands of stalactites and stalagmites. I say "It is like stepping back in time to witness something truly spectacular, and yet mysterious!" So let's go!
---
Hidden Worlds Mexico
---
Rio Secreto and Pure Darkness
The guide instructed us to turn off our headlamps and lay back with our eyes closed. I felt a chill come over my body as goosebumps began to arise within my dive skin. I did what was instructed, but hesitated for a bit. Lying there in the stillness, I heard a drip, drip, drip in the stillness. With his voice guiding me, I slowly opened my eyes to the black stillness that I had found myself. We were inside Rio Secreto. He and his partner had turned off all the lights they had and the other participants turned off their headlamps and now we were in the pure darkness.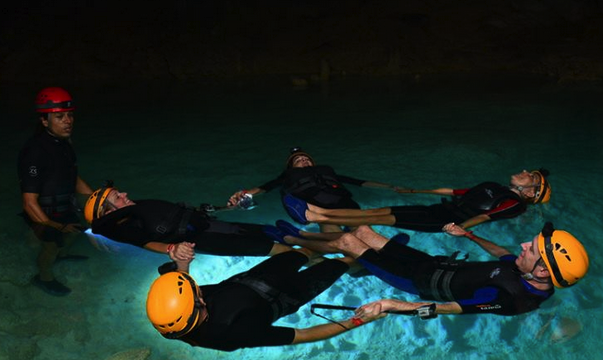 Rio Secreto
There are not too many places on earth like this and once again, as a wanderer, I suddenly found myself here. Here where the earth that has not seen the light of day. The cool water was crystal clear, and mostly untouched by man. This is where I found myself at 8 pm that night, inside of one of the most unique cenotes in the world: "Rio Secreto" Translated literally "the secret river" in the Riveria Maya region of Mexico's Yucatan Peninsula. It was utterly spectacular!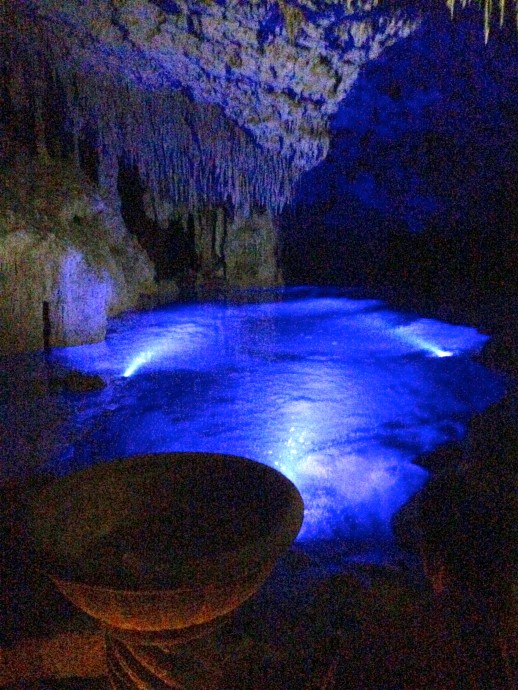 I made it here by a bus by the hair of my chinny-chin-chin and only had a three-minute turnaround with the dropoff in my van from my other four cenote adventure tour with Xenotes I had on the very same day. It was an action-packed day and one I will never forget.
Due to its geological composition, the Yucatan Peninsula absorbs water when it rains and that water seeps through the soil. Slowly over time, it begins to dissolve, giving away to caverns that can be partially or completely flooded. These caverns collapse due to erosion and so a cenote is formed. These things take hundreds of thousands of years to form.
Four Types of Cenotes with Xenotes
There are four types of Cenotes in the Riviera Maya: open, semi-open, ancient, and cavern cenotes classifications. I had a chance to go inside all four types of cenotes on my recent trip to the Yucatan Peninsula.
Before you know it, I was snorkeling rappelling, kayaking, and zip -lining in these gorgeous natural swimming holes! It was one crazy experience after another! It happened to pour down rain when we got there, but who cares? I was getting wet anyway! It eventually cleared up, but I was pretty much stayed wet all day!
The adventure tour with Xentoes, which I highly recommend, had four stops: four cenotes. Each one is named after what the Mayan call the guardians of the jungle and symbolize natural elements: fire, water, earth, and wind. Cenotes were considered a source of life for the Maya as they provided water and represented an entrance to the other world of the gods. The word cenotes comes from the Mayan world "dzonot", which means cave with water. Through prayer and offerings, our guides have asked these guardians for our permission to walk on their land and at the same time to take care of the land.
#1 K'aak' – is the Fire Cenote
The first one called K'aak'- it is the fire cenote. Here you will row the kayaks down the river, around the tiny island and back.
But the only way into the water is off of a zip line, so get ready to hang on!
#2 Ha'- is the Water Cenote
The second one called ha'- it is the water cenote. Here you will snorkel and see the floral and fauna surrounded by rock formations.
#3 Iik' – is the Wind Cenote
The third one is called Iik' – it is the wind cenote and is the most unpredictable of them all. Here you will find zip-lines that are one of the funniest things you will ever experience! Grab a line and zip right into the water!
#4 Lu'um – is the Earth Cenote
The fourth and final one is called Lu'um – it is the earth cenote, where you will rappel 30 feet down into a cenote thru a heart-shaped hole in the roof. It has amazing rock formations inside, where you can swim and just hang out and have fun. Remember when I rappelled in Costa Rica down that 100-foot waterfall? Well, this is nowhere near as scary, and much more fun than that was!
Each of these cenotes is connected by a network of underground rivers and varies in shape, characteristics, and type of cenote, yet each is a unique experience within itself and all are virtually unique to the Yucatan Peninsula.
I wholeheartedly recommend both these adventure cenote parks. They have done an amazing job to be both eco friendly and extensively eco-aware of their environments. The guides at both places were fun, knowledgeable, and reliable.
So to wrap it up, Rio Secreto is a completely different experience than Xentoes, but I enjoyed both of these cenote experiences. I tend to think that Xenotes is much more adventure, athletic, and fun, whereas Rio Secreto is unique, unbelievable, and educational. Both are perfect for families or going solo, although they may have age restrictions, so please check that in advance. Also, the guide at Rio Secreto told me that he has taken groups and individual autistic and cerebral palsy kids down in the caverns, so it is doable for them as well.
Here are a few articles I wrote about Mexico:
Cancun:
Foodie Heaven: Benazuzu, Cancun Mexico
Amazing Adventure Park in Mexico's Riviera Maya: Xel Ha
---
San Miguel de Allende
Step Back in Time: San Miguel de Allende
The Ultimate Guide to San Miguel de Allende
---
Zihuatanejo
Zihuatanejo, Mexico: Unplugged Paradise
---
Miscellaneous Mexico articles:
Arizona's Beach: Rocky Point, Mexico
A visit to interesting Hierve el Agua, Oaxaca, Mexico
A Night at Hacienda San Antonio El Puente, Cuernavaca, Mexico
---
Puerto Vallarta
Puerto Vallarta All-inclusive Resort: Hyatt Ziva on the beach!
Disclosure: This trip to Rio Secreto and Xentoes was in conjunction with my work with the Cancun Convention and Visitors Bureau. The screams, yelps, "oos and ahhs", are all my own!
Photo Credit – Original top photo is from Rio Secreto's Photo team