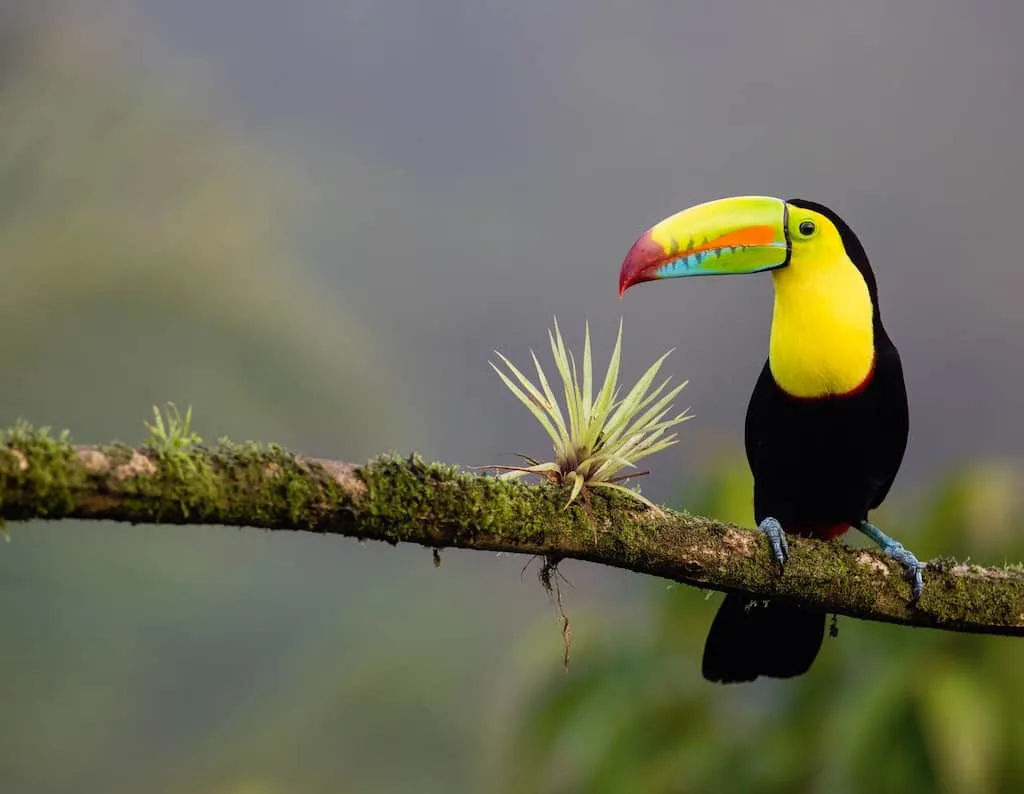 From volcanoes and endless beaches to rainforests, jungles, national parks, and awe-inspiring wildlife, Costa Rica really does seem to have it all. So you can imagine when I heard about a 110-foot rappel down the gorgeous King Louie Waterfall in the Osa Peninsula near where I was staying! Even though I was actually going to a yoga retreat for a bit of relaxation, I knew I needed a little bit of excitement along the way… so stay tuned as you read about one adventure I won't soon forget!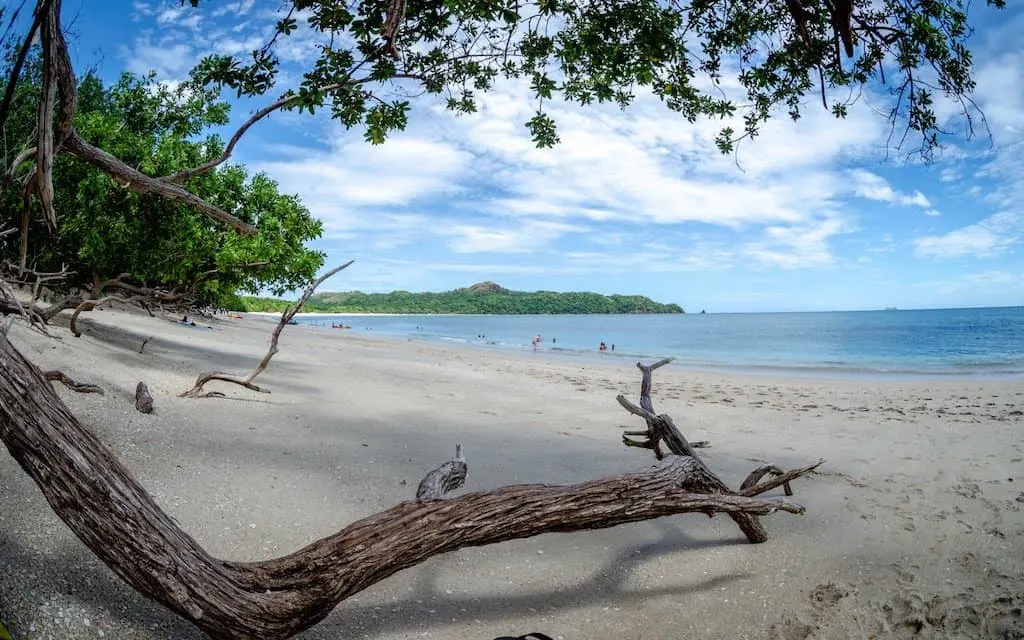 ---
What's in this post:
hide
Waterfall in Costa Rica!
---
It seemed pretty simple, according to the brochure: a two-hour horseback ride, then a half-hour hike through the forest, and ultimately a 10o- foot rappel down King Louis Waterfall, pfff… I can do that. While staying at the yoga retreat, I had the opportunity to get off the property for a little bit of adventure and I jumped at the chance.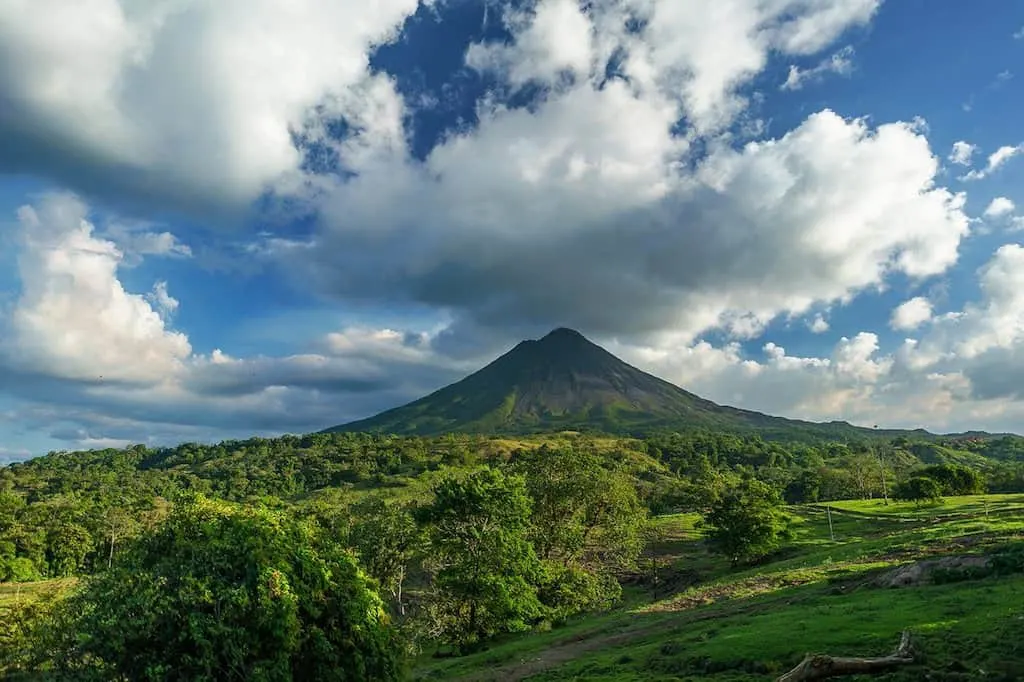 ---
Little did I know that this experience was one that could potentially "make a grown man cry" according to my friend.
---
A small group of us were picked up from the Blue Osa Yoga Lodge and had driven not too far away to a quiet and peaceful farm. I could hear the howl of the spider monkeys as we entered the property. This was where the horses lived that would be taking us up to the King Louie waterfall.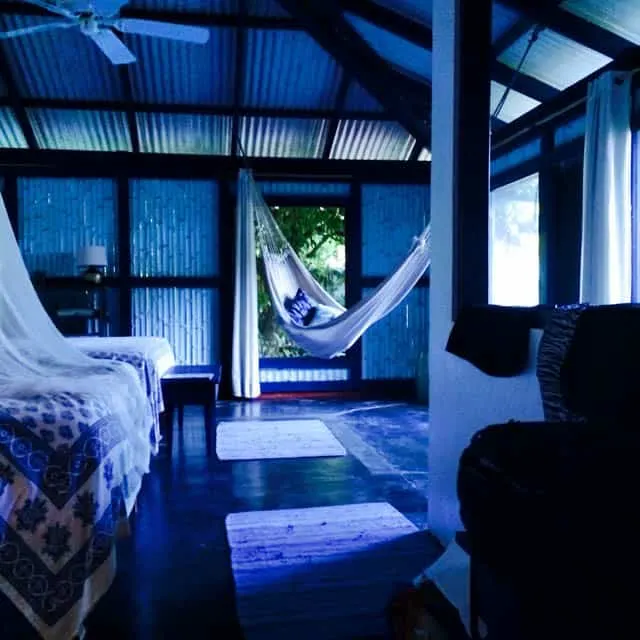 ---
"This should be a tranquil horseback ride through the Costa Rican rainforest." I thought…
---
Waterfall Rappelling at 100 Feet!
Steadying himself, he took one step onto the wet, slippery rock on top of the falls and slipped. He then took another step and slipped again. My heart dropped and my stomach began to feel queasy. I watched him intently as he tried to make his way to the harness to get himself strapped in. Nothing stood between him and the edge of the black lava rock near the 100-foot drop.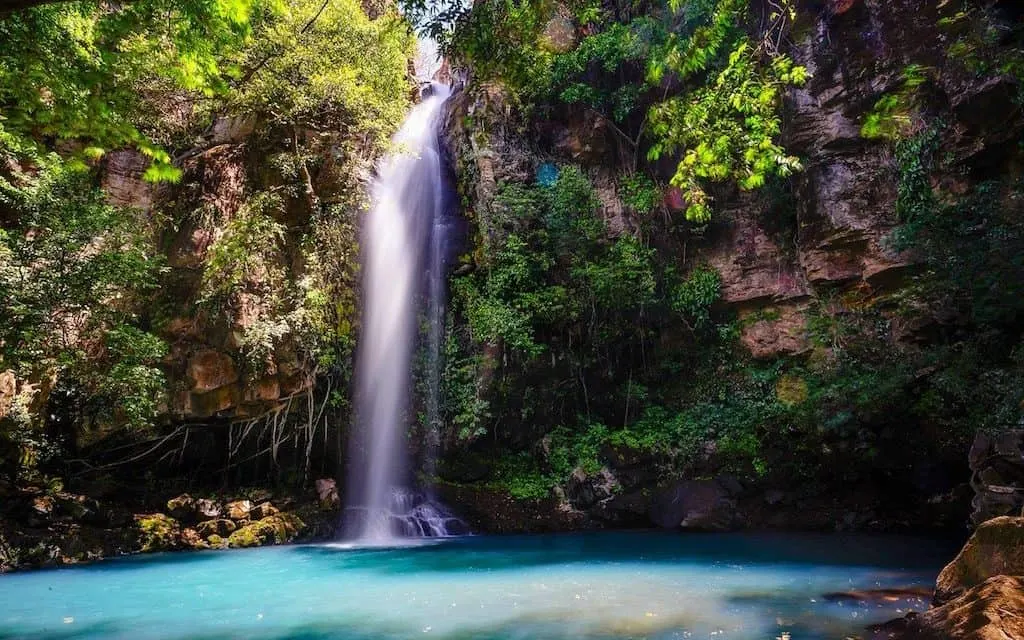 I was terrified, as my turn was coming up shortly. He eventually made his way out across the volcanic rock surface and got strapped in around his waist with one safety line and one pulley system line and began to disappear beyond my view. One by one, I watched as each person before me begin the terrifying walk across the rock, only to slowly watch them disappear below my view. I could hear the rushing water down below, but could not see anything beyond my vision.
Horseback Riding on the Beach
This day started out pretty much like any other adventure. I found myself in rural Costa Rica near the Osa Peninsula. The others on the trip mentioned something about a waterfall and rappelling… (in the same sentence and at the time), and honestly, I didn't think about it much.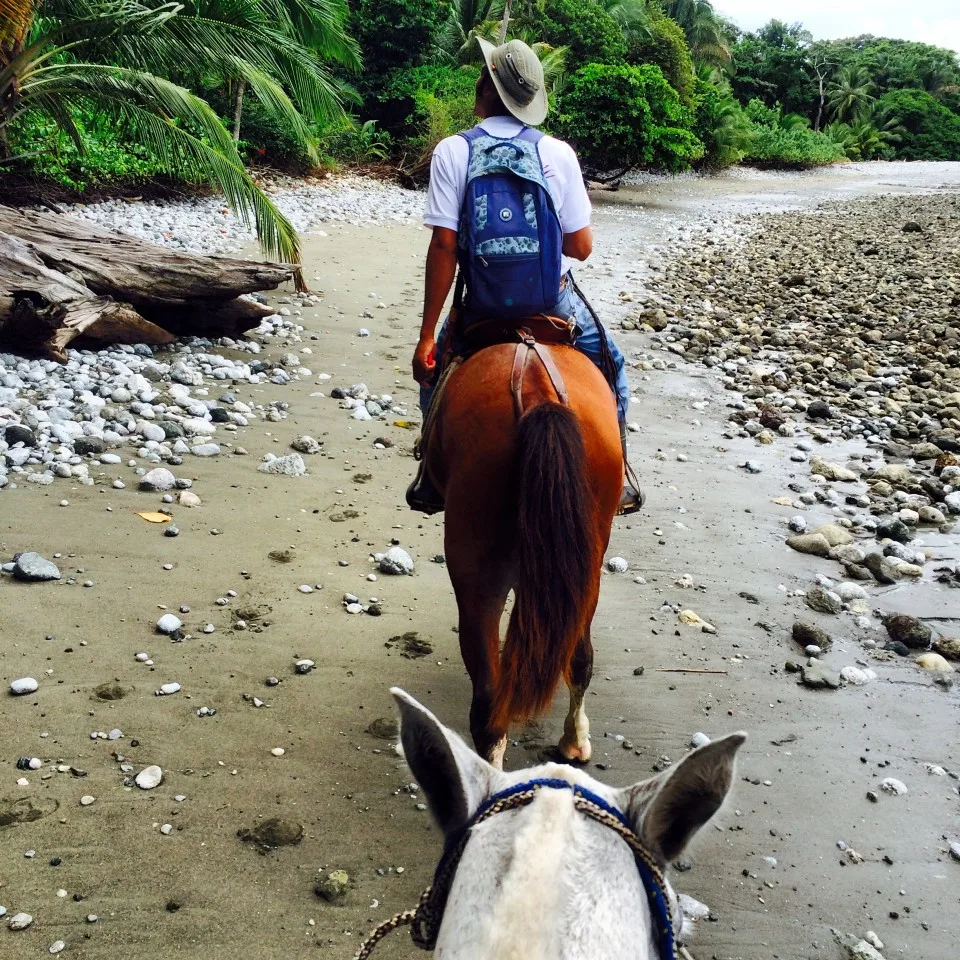 ---
The Conversation in my Head
"Sure", I thought, "a little horseback riding, a short hike, and rappelling down a waterfall." "Sounds fun". I thought.
"This is already an insane adventure and I hadn't even seen the waterfall yet." I was thinking now.
The brochure made it sound so simple:
"Hike up and around a series of waterfalls nestled in lush rainforest, leading to King Louie Waterfall in Matapalo. At the top of the falls, you will get harnessed in and rappel down a 100-foot waterfall that we call "the Cathedral".
---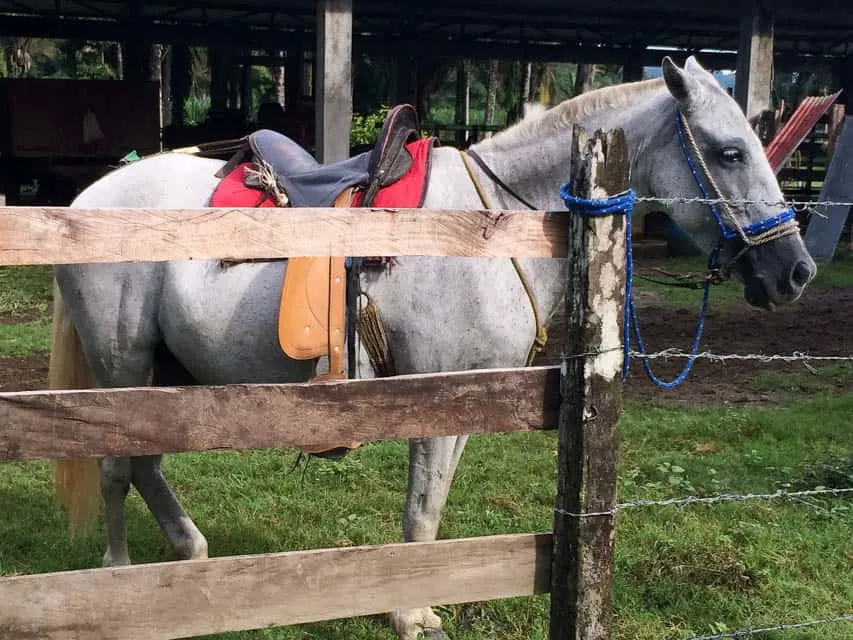 Start the Path to the Waterfall
At first, we rode horseback in the great outdoors, winding our way through the thick and bushy forest for about an hour. There was some sort of flat trail in the rainforest. But eventually, my horse was hesitant and didn't really like walking the path up through the thick forest as the incline got stepper. The path was beginning to disappear as it had slick mud puddles, rocks, and steep crevices in the dirt path that the prior rains had made.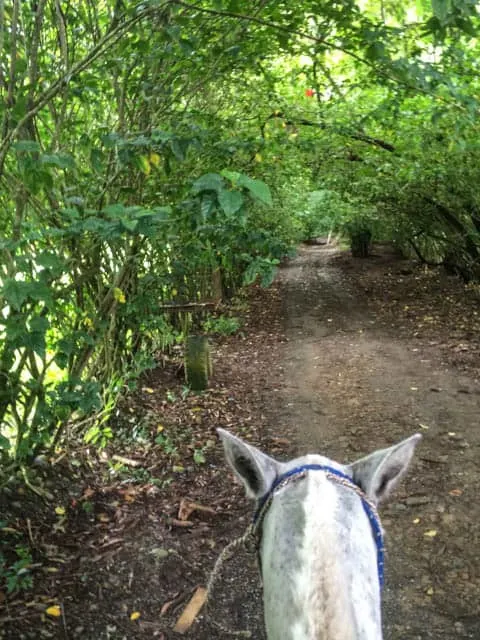 At this point, I had a death grip on the saddle horn and hoped my horse would be able to make it. Eventually, this narrow pathway was so skinny that you had to be sure to guide your horse straight in the middle of the trail or otherwise risk being pinned up against a wall of mud.
We encountered giant lizards, hawks, spider monkeys, humongous spiders with double webs, and even wild horses. At one point, my horse even took an alternative path. He went off the pathway and into the trees, where he got entangled in a giant double-webbed spiderweb! Ugggh!! The giant spider dangled on his nose and then clung to the horse's eyelash. The horse shook her head to get it off. It was at that point that I was getting ready to jump off if that giant spider came any closer to me.
---
I was so grateful when we got off those horses! But little did I know…
---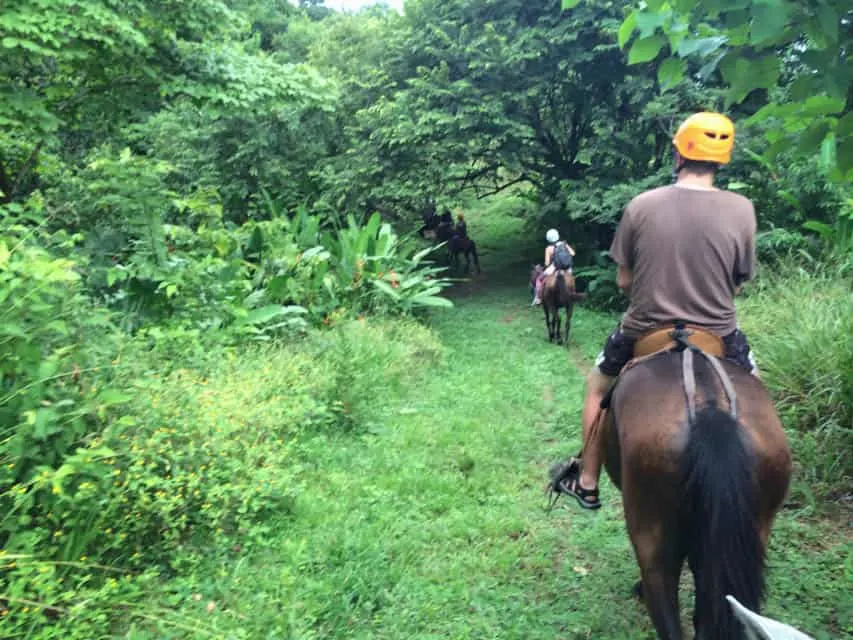 Welcome to the Jungle!
One thing I learned from this trip is how unforgiving the jungle can be. With each step my cream-colored horse made, we went deeper and deeper into the rainforest. Finally, after over an hour, we arrived at the hitching spot for the horses, dismounted, and continued on our trek on foot. We had about another twenty to thirty minutes of uphill hiking in the mud until we reached the starting point of King Louie Waterfall.
The Point of No Return
This was the spot where "the point of no return" really began! Actually, I guess I could have not appalled down the waterfall, but I just couldn't imagine turning around after I had gone this far, plus the embarrassment of peer pressure was too much for me to bear!
Now It was My Turn to Rappel
I made my way to the slippery rock, after watching several people before me I knew what I needed to do. I chose the left side of the rock to begin. I had on a pair of old Tevas and hoped I had enough grip and sure footing to make it out over the edge. Shockingly, I didn't slip.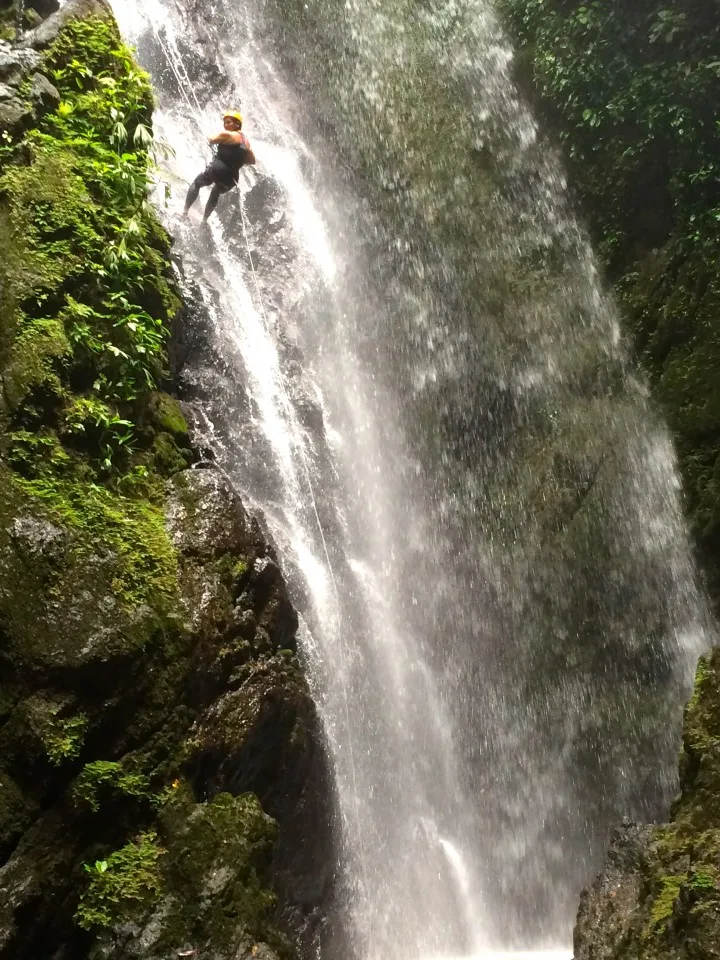 I made it out to the spot, walking backward, where I needed to be harnessed in. Once strapped in, I began to squat to sit and leaned backward. I made my way down the backside of the rock, which is, in essence, the top of the waterfall. For me, this is maneuver is counterintuitive. Once I started rappelling, I realized soon enough that the only way is down and so I began the descent.
Going Down a Slippery Slope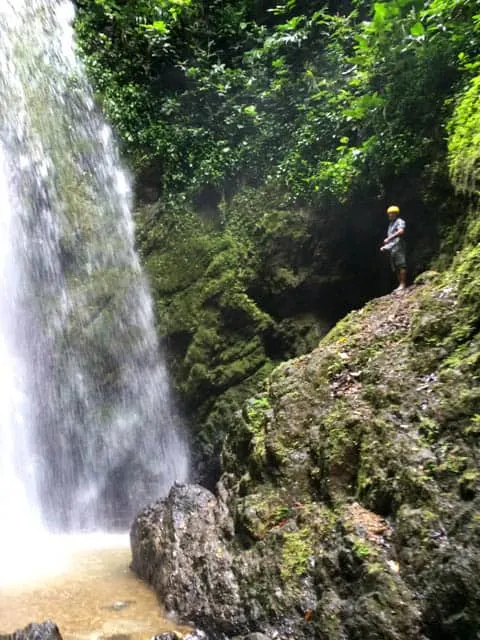 As I attempt to go down, rappelling is just the opposite of anything that is instinctual for me. Leaning back, pushing off with your feet, and hanging on for dear life, as your right-hand pulls up, you go down. Pull by pull, I finally made it down about 40 feet, where they had previously warned us that there was a "hole" in the waterfall.
King Louie Waterfalls Decides to SPLIT!
It was at this point that the waterfall split into two streams and there was a cave in between them. Not even thinking at this point, with my next push off, I slipped right inside of the cave and somehow while dangling on the rope got myself turned around and was now facing the waterfall from the inside. Yikes!
Honestly, all I could think about was getting out of there and so I tried with all my might to get my body turned around and pushed off against anything I could find. Soon I was turned back around and on my way down the ascent. Slowly, but surely, I eventually landed my feet on solid rocky ground in rushing water up to my waist, but I had made it! (I know, the photo is blurry!) I could not get unhooked fast enough and was ready to join the others across the flowing river at the meet spot.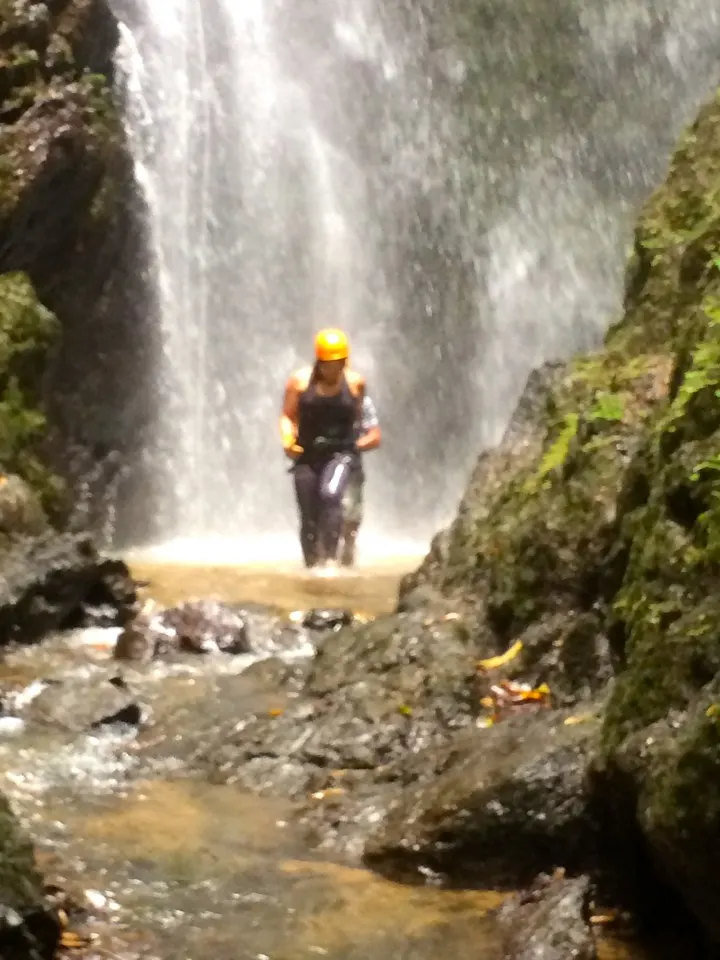 Would I Do This 100-Foot Waterfall Rappel Again?
Hell no! NEVER! But it was a heart-pumping bucket list experience!
---
Later conversation in my Head
"It was not so easy." "I guess I kind of skipped over that "100-foot waterfall" part, but that was only the half of it!"
---
Since I now know that the horse ride was over an hour just to get there, the hike took 30 minutes and that was just to make it to the waterfall spot. And then the terrifying experience to rappel down a 100-foot wet cliff, no thank you!
Upon the return, I had to do everything in reverse, except to get out of the deep canyon where the waterfall and the river were. I had to pull myself up, hand by hand, over a rope to get to the trail, pulling my body weight to the top. Others thought it was "exhilarating", but for me, "terrifying" would be the word that comes to mind!
---
"This was an experience of a lifetime, but one I do not wish to repeat."
---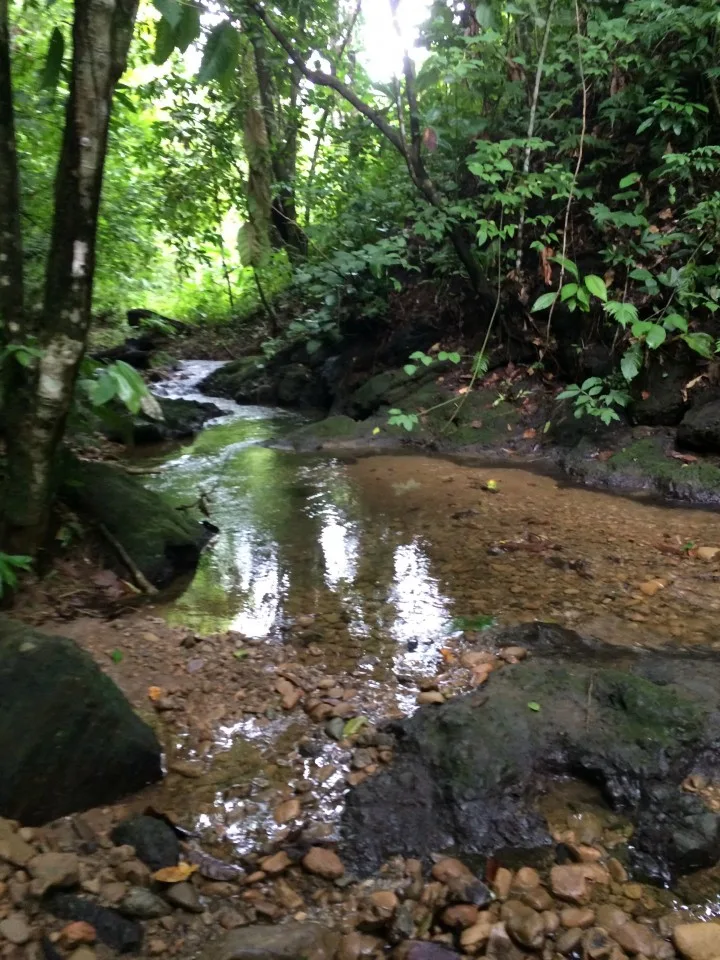 ---
Rappelling down King Louis Waterfall is an adventure that is not for the faint at heart. You will be doing it at your own risk. But, it is a once-in-a-lifetime experience you will never forget. This is just one of Costa Rica's wild and crazy things to do!
---

---
Recommended Reading About Costa Rica:
Top 7 Places For Wildlife in Costa Rica National Parks
Close Your Eyes and Imagine Stunning Blue Costa Rica
A Yoga Retreat Blue Osa, Costa Rica
---
Add Waterfall Rappelling to your Bucket List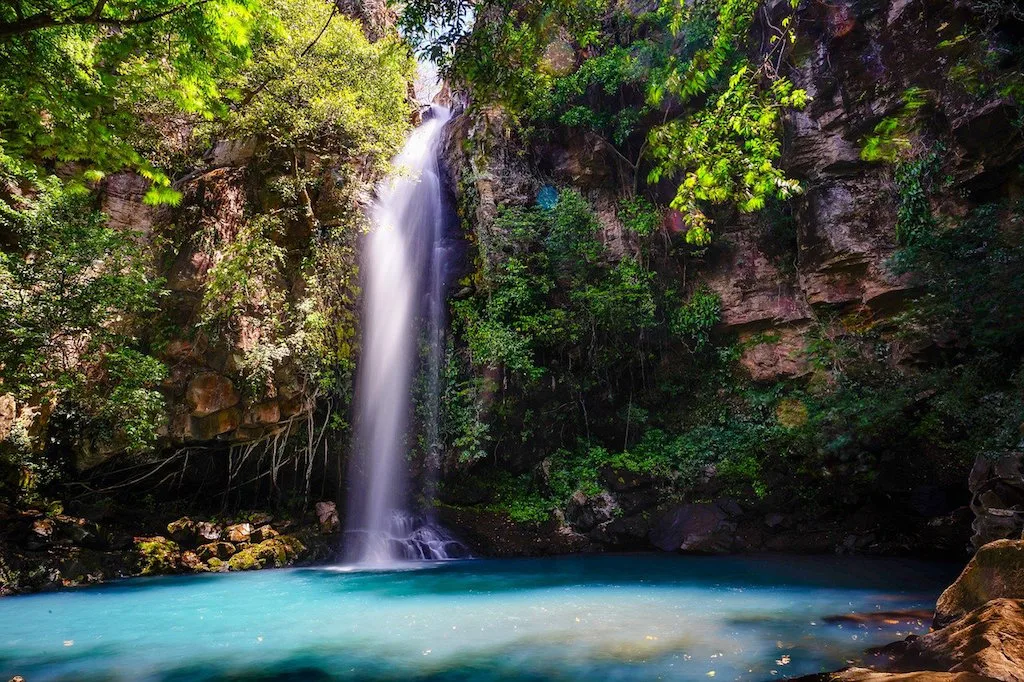 Location: Costa Rica
Costa Rica is in Central American country and bordered by Nicaragua and Panama, plus the coasts of the Caribbean and the Pacific Ocean. The Osa Peninsula is quite rugged. Its rain forests are pristine, many of the streets are unnamed, and nightly you hear the sounds of the wild calling.
How to get to the Osa Peninsula:
I flew into San José, Costa Rica. Then I caught a flight out to the Osa Peninsula by prop plane via to Puerto Jimenez Airfield which takes roughly 45 minutes. My flight was with Nature Air. The flight was pretty scary, as there was a small storm during the flight, so we had quite a few ups and downs and my stomach dropped quite a bit. But in the end, it was fun, scary, and we made it without crashing! But the pilot was upbeat and I loved his hula girl on the dashboard!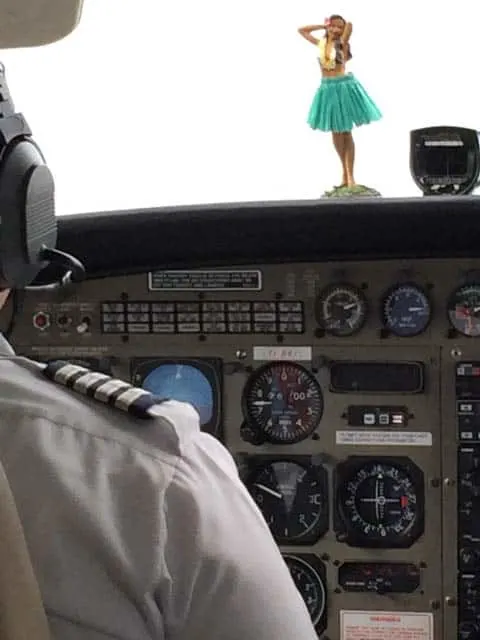 King Louie Waterfall
Height: About 100 ft
Habitat: Lowland rainforest and lush tropical forest
Entrance fee: free
Effort level: Strenuous (absolutely not recommended for small children)
How to get here:
You Can Book It (My Recommendation):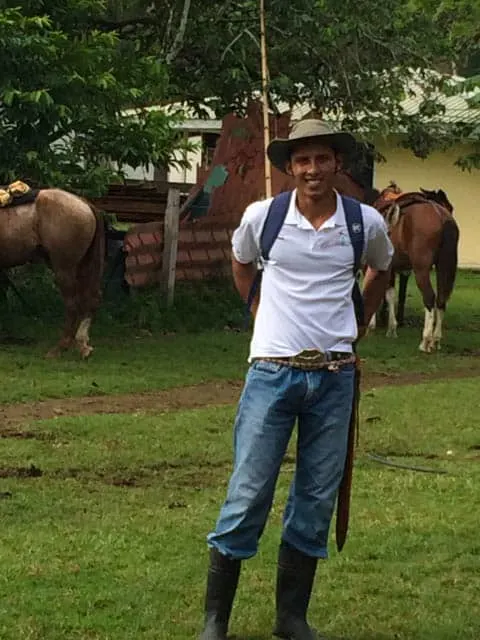 You can book this excursion through some hotels or do it directly with Rancho Tropical. This tour combines their 3 most popular adventures in one outstanding tour. They start with horseback riding in the wild jungle, then, they get your heart racing in a wet and wild waterfall rappelling experience. Finally, climb up the inside of an enormous 110 foot (33 meters) ficus tree, unique to this area, all taking place within the lush, tropical Osa Peninsula rainforest! A heart-pumping bucket list experience!
The cost for this adventure is $110, totally worth the 4-6 hours of adrenaline.
You can Go on Your Own:
Drive to the Matapalo Beach Road if you started in Puerto Jimenez.
At the end of this dirt road, look for a short offshoot in the right with the "Catarata" sign on a tree trunk. This is the beginning of the King Louis Waterfall trail. "Catarata" means waterfall in Spanish.
Follow the poorly marked trail along the stream as you climb up all the way to the waterfall.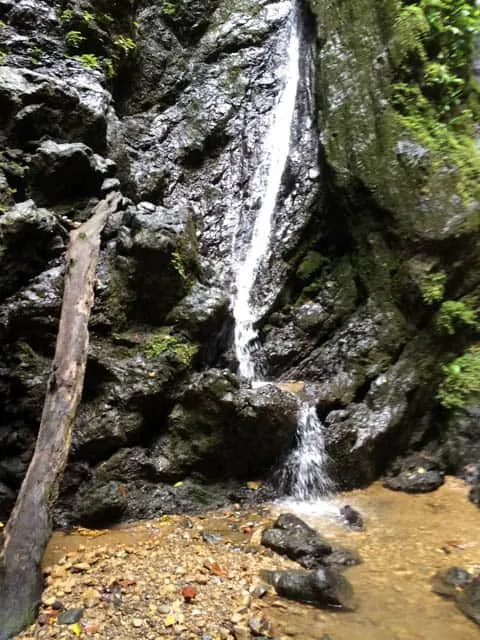 What to bring:
Teva-style shoes or any shoes with a grip.
Sunblock SPF 50+ (I like those new Glow Sticks)
Water Bottle
Insect Repellent
Camera or phone
Spare Clothes (as yours will be wet)
Small dry rag
Small backpack to carry it all in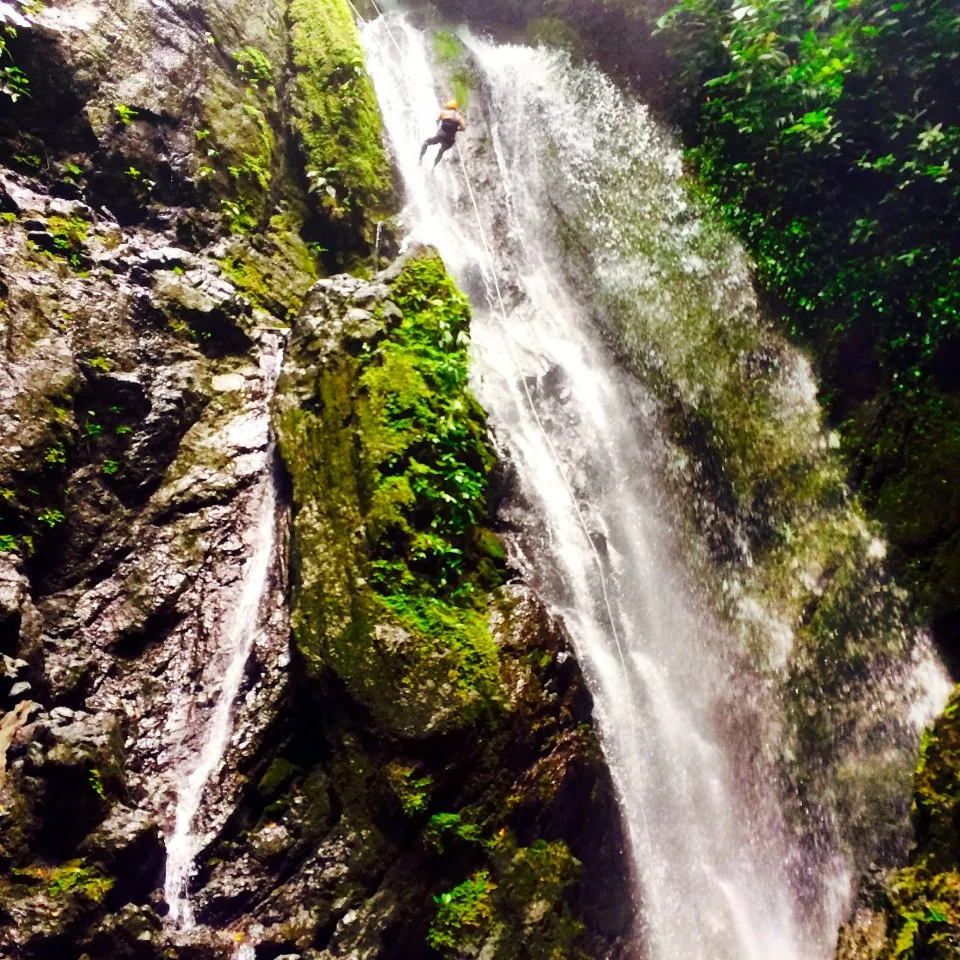 Disclosure: The writer believes in full disclosure and wanted to let you know that this trip was provided by Blue Osa Yoga Retreat. As is common in the travel industry, the writer was provided with accommodations, meals, and other compensation.