Have you ever wanted an escape? A place you can go to relax, unwind, and forget about life for a while. I found that at the Cosa Rican Yoga Retreat Blue Osa Retreat & Spa Beach Resort. At Blue Osa, they offer tailor-made experiences for just you, your group, or even for leaders of a retreat/group. Their smart luxurious packages include yoga, spa therapies outside or inside if you prefer, meals, and beachfront property.
---
What's in this post:
hide
Yoga Retreat: Blue Osa Costa Rica
---
From the moment you land from that tiny prop plane onto one of the most biodiverse places on the planet, Blue Osa will offer you a complete experience with its world-class yoga studio, and rustic, yet cool eco-friendly accommodations (there may even be a few monkeys hanging around!).
There is also a chlorine-free pool and the best tasting meals harvested from their very own organic garden AND they are only steps from a beautiful cove at a remote jungle beach! This is a secluded beachfront property run by two amazing guys who want you to feel like you have found a home… with its coconut trees, wildlife, and crashing waves, you will be provided a tranquil setting to relax and enjoy the good life.
Blue Osa Retreat & Spa Beach Resort
---
"When you lose, don't lose the lesson." – Dalai Lama
---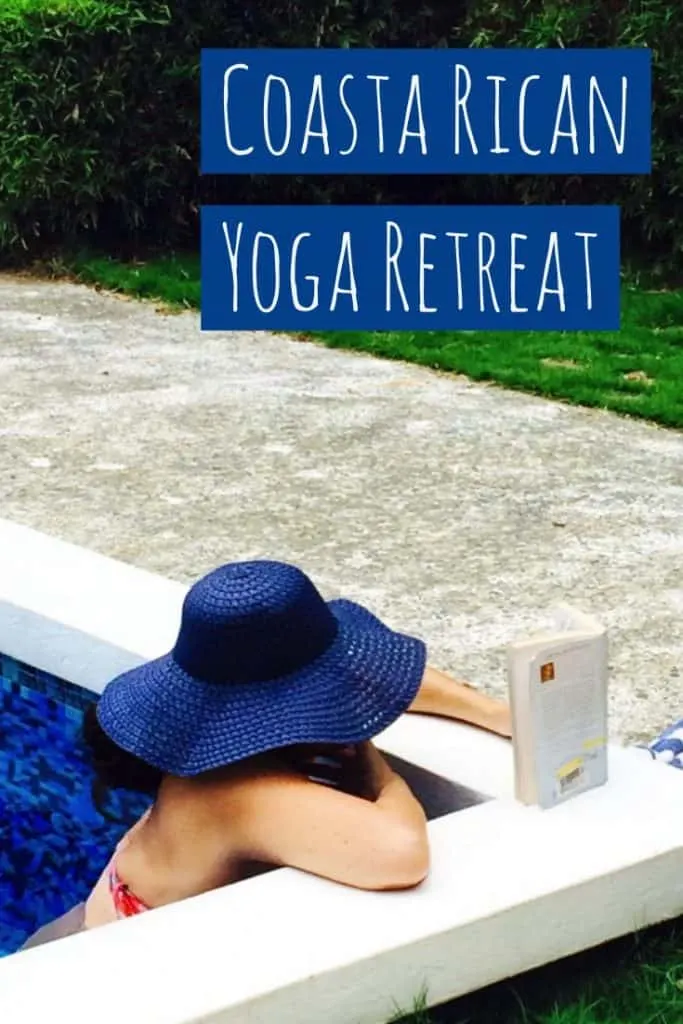 Birds flying high in the sky are of stunning colors. Macaws, I think. I can't seem for the life of me to get a photo of a single one of them as they soar. Actually, they run in pairs and someone told me if you see three of them together, that two of them are the parents and the third one is their baby. I think that is sweet.
I sit and stare on the tropical grassy grounds and wonder, "Why I am here, at this Costa Rica retreat? ' I find a wooden bench and I sit and stare into the sky.
Costa Rican Yoga Retreat: Blue Osa's Jungle Beach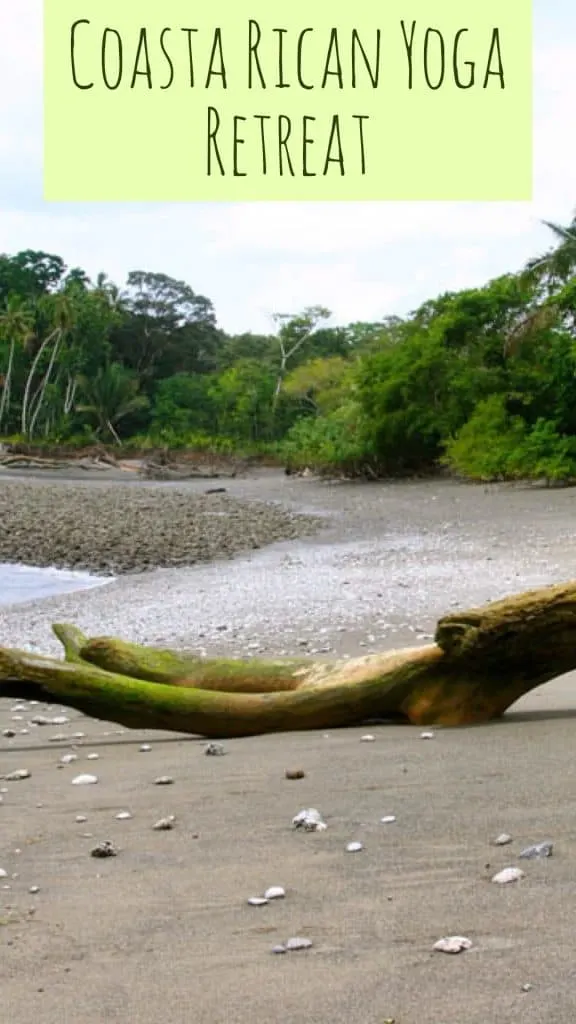 Walking out to the ocean, I find it rocky and sandy, there is no one around, except for the house dog Pete, who stares back at me. When I finally get up and go in, he follows me, but paddles so close to me that enviably I have to reach out to him and hold him. He is cute as a button, so I don't mind sharing my ocean swim with a dog. I paddle and swim around for a while, holding the dog as he won't let me let him go and eventually we grow tired and retire back to the beach.
Costa Rican Yoga Retreat: How Much Yoga Does One HAVE To Do?
Blossoms on the tree fall on the ground, so I pick up the flowers and twist them nervously in my hands. I have never been on a yoga retreat before and have quite a bit of anticipation about what it means to stay here. I have done a bit of yoga, but I am no yogi and I was anxious to see if I would be able to keep up with the group physically, as many of the attendees are younger than myself.
However, after the first yoga session, I was relieved, as much of it was instructional, and allowed for me to keep up at my own pace!
---
But what is a yoga retreat? Well, it is not what you think.
---
Costa Rican Yoga Retreat: Blue Osa's Amazing Farm To Table Organic Food
At this Costa Rican Yoga Retreat, it is a week of clean eating "farm to table". There is no meat served, except for the last day you are there. But the food was not only fresh and organic, but most of it was grown right here on the premises, it was also beautifully prepared and amazingly delicious!
Costa Rican Yoga Retreat: Yoga about Reflection
It is yoga, yet it is an inward reflection of who you are. (They talk about why people use yoga in their daily life)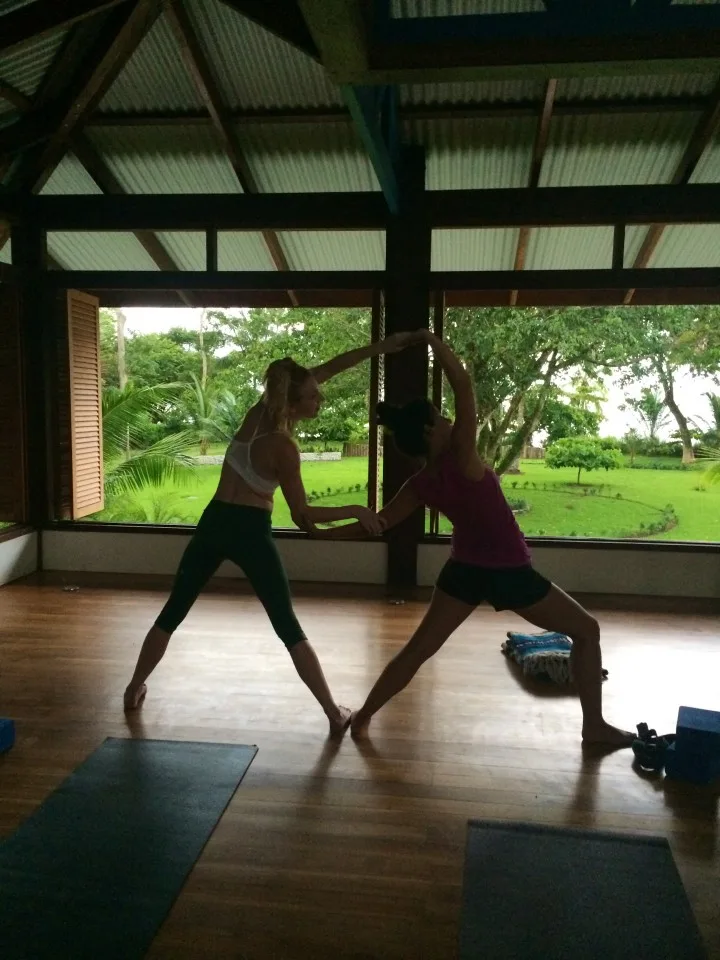 It is silence in the morning. (That's right, pure silence until 7:30 am), which I didn't mind a bit!
It is spa services for your body's needs. (Especially after daily yoga and my many excursions.) I had a chocolate scrub!
Costa Rican Yoga Retreat: You can Relax and Unwind or Take an Adventure
It is adding an adventure into your weekly routine. (They have all kinds of excursions, like horseback riding, rappelling, and baby turtle release the week I was there.)
It is a community. (Sort of like communal living: scheduled, eating together, camaraderie). I loved all those parts about it, especially the camaraderie.
Costa Rican Yoga Retreat: Blue Osa Retreat is pure BLISS!
It is beauty.
It is stillness.
It is joy and love, yet change and repair.
It is making time for yourself. And we all need a little bit more of that!
And as Nina Simone says:
"It is a new day, it's a new dawn, it's a new life for me… and I am feeling good."
Recommended Reading about Costa Rica:
Waterfall Rappelling in Cape Matapalo Costa Rica
Close Your Eyes and Imagine Stunning Blue Costa Rica
Top 7 Places For Wildlife in Costa Rica National Parks
Disclosure: As is common in the travel industry, I was provided with accommodations, meals, and other compensation for the purposes of review by Blue Osa Yoga & Spa Beach Resort. While it has not influenced my review, PointsandTravel.com believes in full disclosure of all potential conflicts of interest. All Photos by the author.