Costa Rica is the kind of place where you can commune with nature, as it provides the perfect backdrop with its hidden beaches, volcanic mountains, hiking trails, and lush tropical rainforests. So keep that in mind the next time you are searching for a Costa Rica retreat. As I have found the perfect location for yoga, Costa Rica style, at Blue Osa. It offers guests earthy and comfortable accommodations, daily healthy meals, quiet times, and daily guided yoga classes. This Costa Rica retreat can provide you with a spiritual excursion enriching your journey of life, even for the novice to those more accomplished in their practice. So let me reveal to you how my yoga retreat Costa Rica began.
Yoga Retreat Costa Rica: Before the Journey Begins
It looked black and cloudy, then the torrents of rain began.  It caused my stomach to lift up and then down real fast as the tiny plane jarred my aching body.  Peering through the mini window, I had great hopes for a tropical vacation, but it had not started off too well.  Arriving at 5:45 am, I had hours to wait at the airport and then the plane was delayed and we didn't even take off until after 2:30 pm in the afternoon. So you can imagine how I was feelling by then.
Yoga Retreat Costa Rica: Arrival by Prop Plane
When arriving by tiny prop plane, you never know quite what to expect, but this?!  A rainstorm and suddenly I am right in the middle of it.  Losing altitude, we dropped again and then got pelted with rain that was coming in sideways.  I couldn't wait for this part of the trip to be over and I would never have expected this. At least the pilot had his hula girl, who comforted me in some weird way!
The cloud and rain finally cleared and we came in for a landing on a miniature airstrip near Puerto Jimenez and imagine my surprise as it was right beside the local cemetery! I am not sure if it was a good sign or not, but for me, I have always enjoyed cemeteries, so I took it as a good sign and got out to photograph it as soon as we landed.
Yoga Retreat Costa Rica: Osa Peninsula
Puerto Jimenez is on the Osa Peninsula and Blue Osa, the place I was going to for the Costa Rica retreat, was on the bay side of the ocean.  Pick up was prompt and very informative as they pointed out things in the town and along the way until we pulled up to the giant gate that would be my home for the week.  Soon, I was escorted down a vine-covered path to the entryway of bungalow #10.
Yoga Retreat Costa Rica: My Earthy and Comfortable Accommodation
It was perfect and blue!  I had been thinking of the color of blue all week and now here it was.  I know normal people don't think about colors, but I do.  All these shades of the color blue jumping around in my head must mean something. I was destined to get the 'blue room', as when I took this picture, with no filter, just my iPhone, it had a sheen of blue all over it. Doesn't this blue room look relaxing?
My roommate would not arrive until the next day, so I had the suite to myself for a night! Now close your eyes and imagine. Blue ocean. Lush rainforest. Pure, unadulterated bliss!
Yoga Retreat Costa Rica: More than Just Yoga
You think I am on vacation, but Blue Osa is a place of work, a place to contemplate your life, to make changes about how you see the world; and a place for daily yoga.  Oh, and it is not the Four Seasons Scottsdale, but it is beautiful and right beside the beach!  There is little to no electricity and so things run off of a generator.  No bottles of water here, no blow dryers and curlers for your hair. Things run in a whole different way here.  It is a place to literally unplug, as there is no WIFI in your room (and of course, no television or phone).  And there is an insect net above your head.  I slept soundly inside the net every night, almost like my very own little tent!
Yoga Retreat Costa Rica: Luxury in a Whole Different Way!
Blue Osa is not luxury, but when I say it isn't luxury, really it is.  It is luxury in a whole different way than the way you think about it.  You have the luxury of sitting, of thinking, of reflecting.  When in life do you take the time to do that?  Many times, only when it is too late.
Yoga Retreat Costa Rica: And the Food!
You have the luxury of a chef, who cooks farm-to-table meals for you that taste fabulous and are displayed perfectly on large banana leaves.
Yoga Retreat Costa Rica: Luxury of Silence & Spa!
You have the luxury of silence in the mornings, where even if you see someone, you don't have to feel obligated to speak to them! (I love this!) (You don't have to be nice, as you are waking into your day!)
You have the luxury of spa services that are available to you for everything from massages, to wraps, to Reike to facials. You have the luxury of a cool lap pool.
Yoga Retreat Costa Rica: Ok, Yes to Yoga
You have the luxury of daily yoga.  Of sitting still with yourself and looking over the gorgeous second-story bungalow yoga studio that faces the ocean.  To contemplate and process what is going on in your life.
Yoga Retreat Costa Rica: Daily Excursions if you Choose
You have the luxury to take daily excursions doing anything from hikes, to rappelling waterfalls to chocolate tours to releasing turtles into the ocean.  There is even a chance to ride horses on the beach, take a dip in the pool,  rest in the hammock in your room or on the grounds.
Yoga Retreat Costa Rica: Luxury to Meet Others
You have the luxury to meet others like you, to mingle at lunch and dinner, to meet like-minded individuals who are here to rebuild their soul as well.
As I usually write about 'value luxury' properties, this time the value and the luxury are of a whole different kind: a value to my soul.
I can say, that I valued this trip more than most.  I needed the luxury of time off, time to not be so concerned about how I look (because the jungle doesn't care) and focus more on life.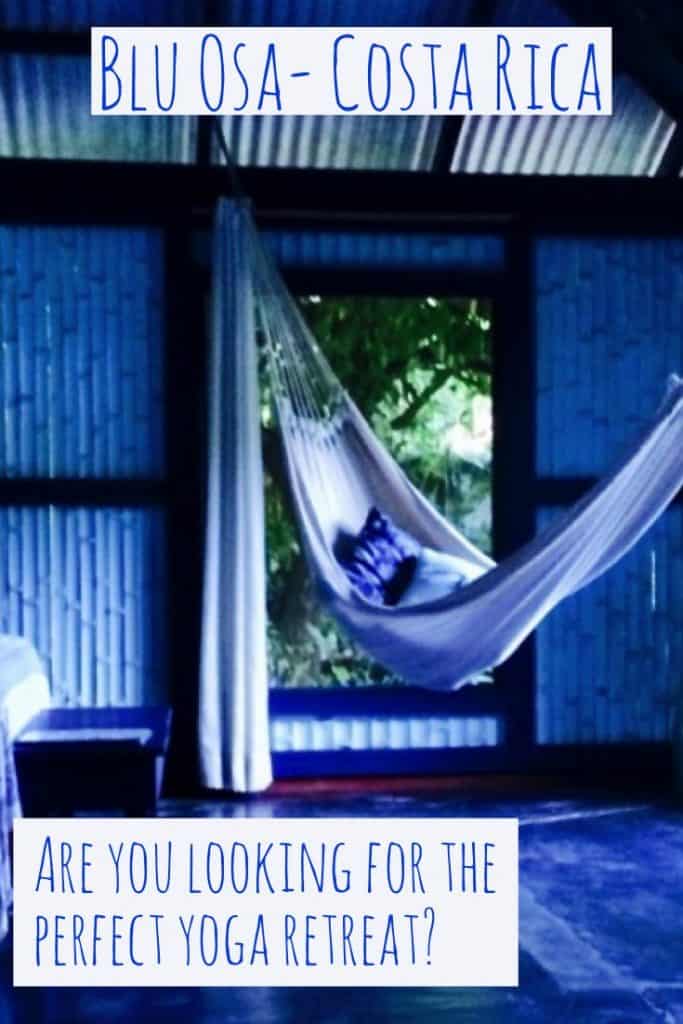 Disclosure: Thanks Blue Osa, as they organized a wonderful #presstripblueosa week for social media influencers, fashion bloggers and travel writers and bloggers.
Recommended Reading:
Things To Do in Costa Rica: Waterfall Rappelling at 100 Feet
Close Your Eyes and Imagine Stunning Blue Costa Rica