✦ Cooking Class Bangkok
When traveling, honestly, I never really think about taking a cooking class. I mean, I like to eat as much as the next guy, but just generally don't think of cooking it myself. Well, that all changed when the Tourism Authority of Thailand invited me to a special Thai cooking class. And I say special because this is not just some ordinary thai cooking class in Bangkok. Honestly, I had no idea what I was getting myself into!
One of the things I have mentioned before about traveling and what makes a big difference for me is who I meet along the way. I have met some wonderful people while traveling, like Mr. Castillo, Mr.Lombardi, and Mr. Coll. Well, this Thai cooking class made meeting someone special all the easier when I was introduced to the very tiny, very witty, and apron-clad "Miss Tam".
She is so cute and so sweet, and she really is the perfect person to teach me her wise ways about Thai cooking and her special ingredients.
✦ Cooking Class Bangkok
I recommend arriving at the Amit Thai Cooking Class via the banks of the Chao Phraya River on the Yai canal which completely adds to the authenticity of this experience. As you cruise through the canal, the houses become more affluent and eventually you will arrive at the Piyawadi "Tam" Jantrupon's property.
✦ Cooking Class Bangkok
Here, is where that sweet "Miss Tam" will come from underneath an archway to greet you. She started her Thai cooking class in August of 2008 and named it after her daughter Amita, meaning "eternity". This is not only a Thai cooking class, it is also an experience that she will take you through while you are there for your four-hour class.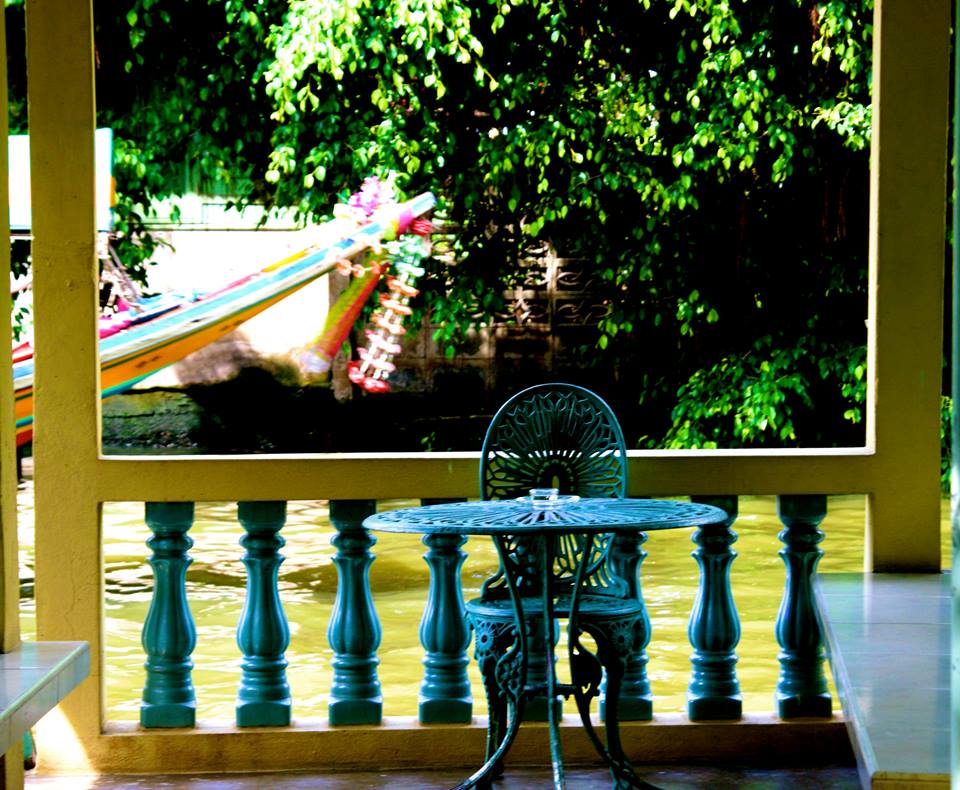 ✦ Thai Cooking Class
She has the cooking class honed in like a well-oiled machine and you are just a piece of chess that she moves on her chess game, moving you through the appropriate steps, so that one day you, too, can become a master Thai chef!
✦ Cooking Class Bangkok
If not, you will feel like you should be one under the tutelage of the "old great one".
Upon arrival, she sits you down at the table and shows you edible flowers from her garden at the table and then shows you the same flowers that have been deep-fried, tempura style and are ready for eating now!
✦ Thai Cooking Class – Garden Visit
Then, as she has you put all your belongings locked away for safekeeping in a chest nearby, she allows you to follower her along her wonderfully scented garden for a tour of her wonderful products. The scent of basil, lemongrass and kaffir leaves are in the air, then no, it is coriander and cumin you smell all in a single breath.
What you come to realize is that this is not just a single lady in a home on the river, but instead it is a conglomerate of houses together of family members that create the atmosphere you are experiencing all for the sole purpose of this cooking class. "The house belonged to my great, great grandfather" she quipped. There are sisters, and cousins and nieces and others always running around the area, quietly polite, yet always working to make things run as smoothly as possible in the background. A small army of minions doing a ton of work solely for your experience.
✦ Cooking Class Bangkok: Preparation time
Our host Tam will lead us as we prepare to cook four courses of authentic Thai food:
Khao Mun Som Tum
Satay (Moo, Gai or Nua)
Khang Keaw Wan Gai
Khao Niew Ma Muang
In English that is:
Coconut Rice and Payapya Salad
Satay with Spicy Peanut Sauce (Pork, Chicken or Beef)
Green Curry Chicken in Coconut Milk
Mango Sticky Rice
It's funny, but I have been eating these dishes of Thai cuisine for over 20 years and they seem like the perfect dishes to pick for our small group of 10. After the garden tour, we get whisked away to the food cooking stations, where one by one, she demonstrates how each is made.
Everything is close up and personal and easy to ask questions and make comments, as well as taste a few things along the way.
✦ Cooking Class Bangkok: Demonstration
Once each has been demonstrated, we are off on our own station, with each ingredient carefully placed in tiny dishes, for us to add and stir and smash. She did give us her tip of the secret ingredient, "the coriander and the cumin are pounded together with a mortar and pestle". This is used in the Green Curry Chicken and in the Satay peanut sauce. Also, they use things like palm sugar, Massa Man curry paste, green curry paste, fish sauce, and tamarind paste in many of their dishes.
And then, "wa la" like magic, our dishes are carefully prepared and ready to eat at the dinner table underneath the canopy outside.
✦ Thai Cooking Class – Finally We EAT!
We sit and we eat and we taste and we laugh and enjoy our food. We ask "Can you taste the lemongrass?" "Can you tell I put coriander in there?" We talk and laugh some more. In the end, I think that is what it is all about. The conversation, that centers around food. Our time has ended and she takes out on the pier for one last tasting of lemongrass juice and a demonstration of seeds that expand in the stomach, to make one no longer hungry.
We rest, then it is time for us all to say goodbye, to one tiny lady and all her people, as they laugh and wave to us "goodbye" and "until we meet again". It was a good day at the Amita Thai Cooking Class and I would recommend it one and for all: a family a single, a couple a group, it works for just about anybody and a good day will be had by all. In my humble opinion is one of the best cooking classes in Bangkok.
Disclosure: My trip to Bangkok, Thailand was provided by Thai Airways, in conjunction with the Tourism Authority of Thailand.