Monaco: Thermes Spa of Monte Carlo
My ticket said "Experience Sunshine Riviera" – Thermes Spa of Monte Carlo, which, after some research, I found out was Monte Carlo's state-of-the-art spa in Monaco, overlooking the Mediterranean Sea directly accessible from the Hotel de Paris Monaco and the Hermitage Monaco. Upon arrival to this glorious place, I received two instructions in English with a French accent: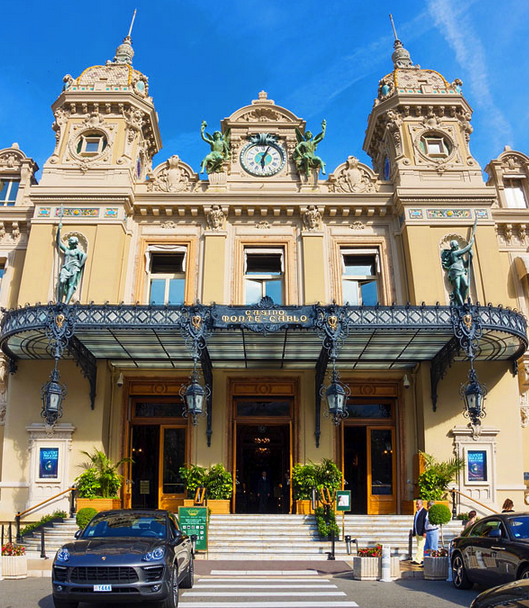 Monaco: Thermes Spa of Monte Carlo Instructions
"Put these on." her gruff voice directed at me, handing me a small package containing a tiny triangle with a stringed cloth wrapped in plastic (uggg). French women are usually direct, elegant and no-nonsense in my experience. So I did what I was told.
"Lay face down."
Not knowing what to expect, I undressed down to my birthday suit and got upon the crisp white surgical table, as I know how feisty French women can be and I did it fast.
Lying flat on my stomach with my moon to the world, I waited only seconds when she arrived (thank goodness I was face down, but had no sheet to cover my backside!). Standing at the foot of the surgical table turned waterbed/massage table, she began at my feet with a honey-butter, exfoliating sea salt, and argan oil scrub. The surgical table was actually a massage/waterbed that shapes to your body, minimizing pressure and allowing your muscles to relax. Rubbing the scrub on to my left foot and leg, she spread my legs apart and began what for her may be a normal ritual, but for me wanowherere near anything normal! Slowly, she made her way up each leg, and around my butt and waist, then to my back, down my arms to my neck and head.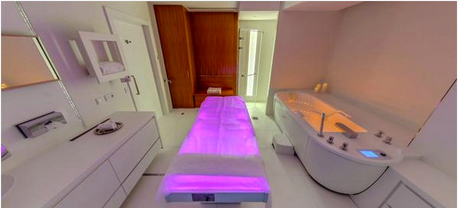 Monaco: Thermes Spa of Monte Carlo Instructions
"Turn over." She instructed. As I slowly flip to the other side and lie stark naked on the surgi table with only that tiny triangle of a string thong! (Yikes are my southern roots showing?)
Once again, she slathered me in the honey-butter, exfoliating sea salt and argan oil scrub and made her way up my legs. In the United States, the massage therapists tend to skip the stomach of a female and go straight for the neck, but I was in Monaco. You know, the world's famous playground for the rich and famous.  For the stars of Hollywood and the French Barons, who don't care when and where some one touches you… around these parts, no body part is sacred!
Slathering up my stomach, she continued, and you guessed it, gave me a full-on body rub of my chest, and I am not talking one swipe or two, but multiple go-rounds and then made her way to my neck and scalp.
"Get in the shower, I will wash you."  She said.
I paused. "ummm, say what?"
Pregnant Pause
"O crap, so this is the part where my eyebrows start to raise, I take a deep breath and my bible-belt Southern roots rise up again. I think she is telling me that she is getting in the shower with me! "Yikes!"
And so, that's what happened; she washed the honey-butter, sea-salted scrub off my backside and thankfully handed me the shower head to finish the rest.
This ritual went on for four more rounds!
Monaco: Thermes Spa of Monte Carlo Round Two
Round 2 was a chocolate-mud concoction with a cocoon-like, mud wrap in my new stringed triangle thong. Round 3 consisted of me slithering into a citrus-scented and hydrotherapy jetted bathtub for a full body jetted massage rub.
Lying there almost completely naked with the exception of once again, my new tiny triangle of a thong. She then brought me a fresh fruit juice and a few tiny, pastel French Laduree macaroons with a dark, fudge chocolate treat.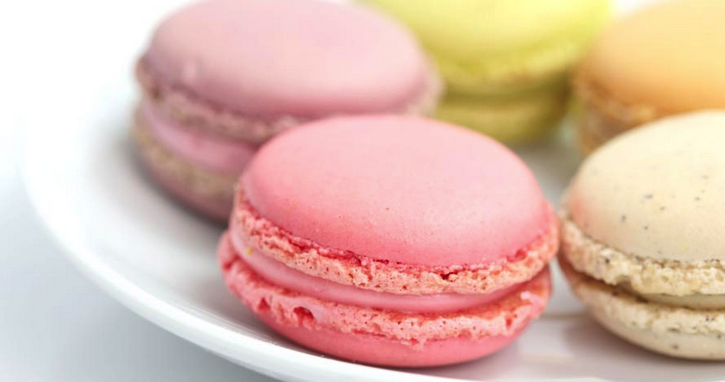 Lounging, I dreamed what it would be like if I were a Princess, as today, I suddenly felt like one. Since I already knew what it was like to be a queen for the night in Paris!
Round four and the final round was a massage using PURE GOLD FLECKED olive oil slathered all over my skin.
I'm not making this stuff up.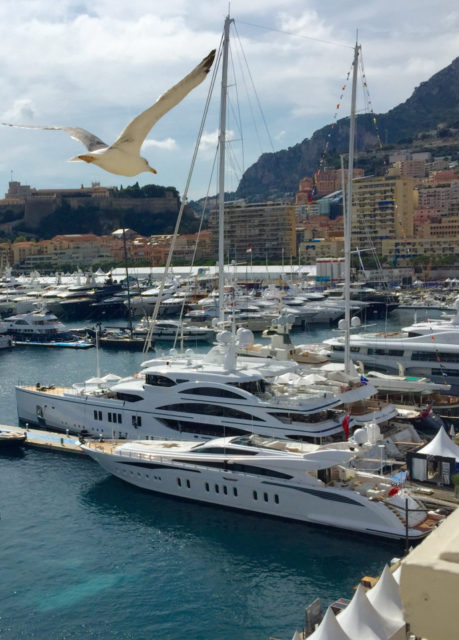 Monaco: Thermes Spa of Monte Carlo Waterlogged
By the time I got out of there, I was water-logged, yet felt molded like putty with the softest shimmering skin I have ever had. It was at this point that I think three French women could have lathered me in chocolate mouse completely naked and I wouldn't have even given it a second thought! (So this is how the superstars do it and don't care). To date, it was one of the most unforgettable spa experiences I have ever had and I have had quite a few.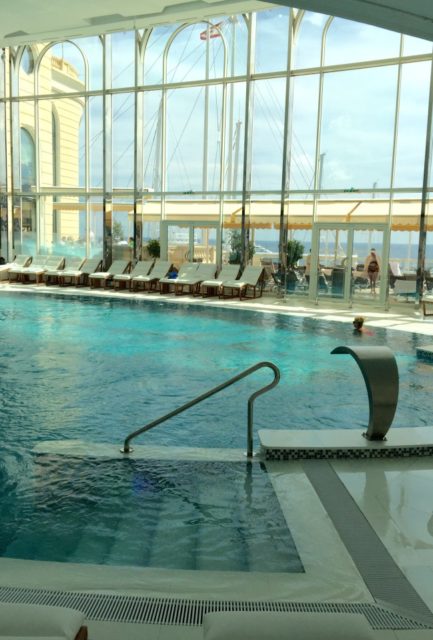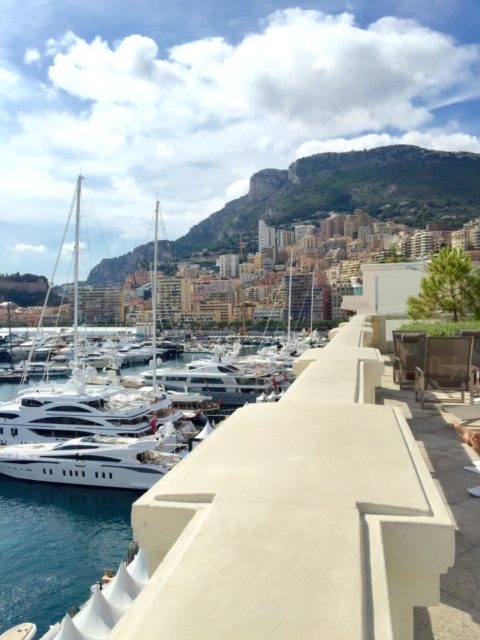 Monaco: Thermes Marins Spa
That afternoon I had lunch at the Michelin-starred L'Hirondelle at the Thermes Marins Spa. I menu looked fabulous, and I started with the chicken caesar salad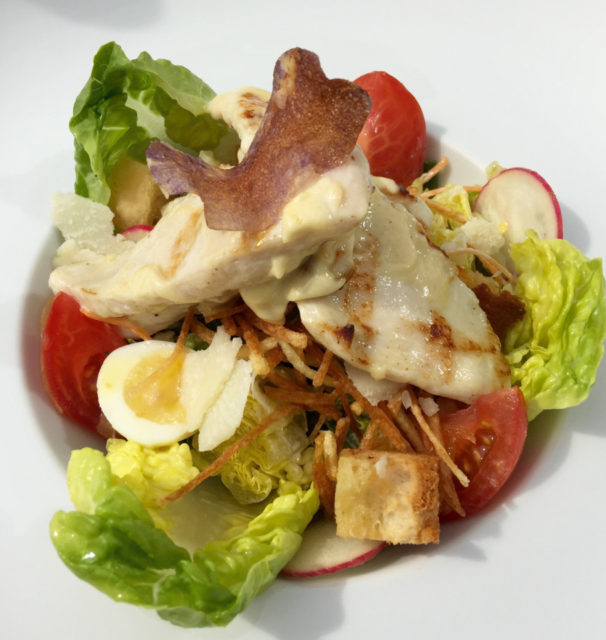 which was unbelievably scrumptious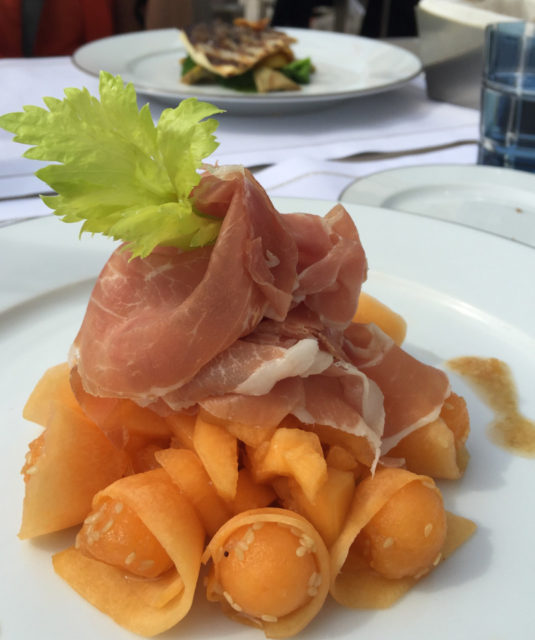 and then had the delightful melon/prosciutto entree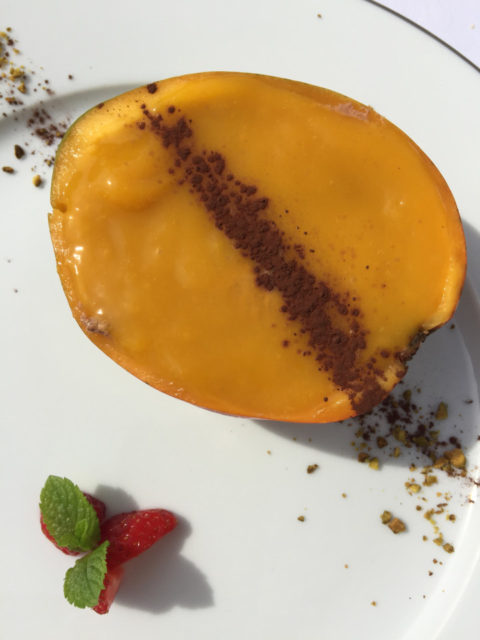 with the mango chocolate mouse desert (I know you can't tell, but there was actually chocolate mouse hidden inside the mango puree!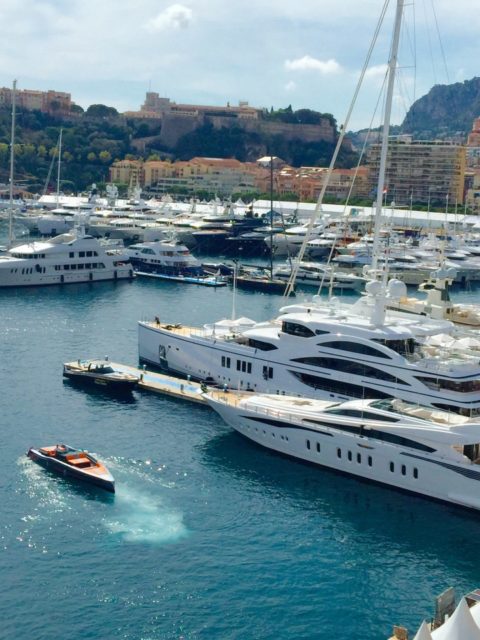 Seriously, it was amazing!!
Monaco: Michelin Star Restaurant
By nightfall, it was our last night in Monte Carlo, so we had a special meal planned at the Michelin-starred Blue Bay restaurant in the Monte Carlo Bay Hotel.When we first sat down, they had these cute little footstools for our purses (a very nice touch, especially for women with extremely expensive purses! #luxury). As we waited, next came a huge basket with way too many choices of gourmet bread offerings. I tried this one: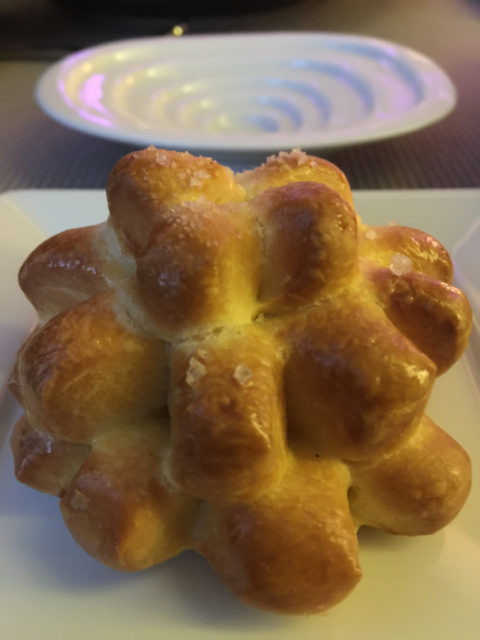 Then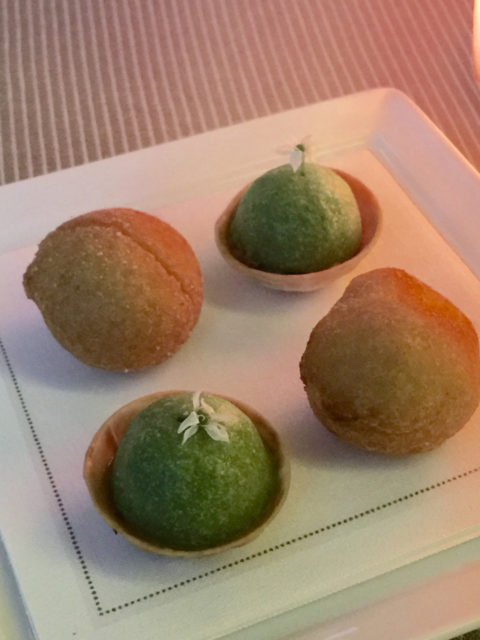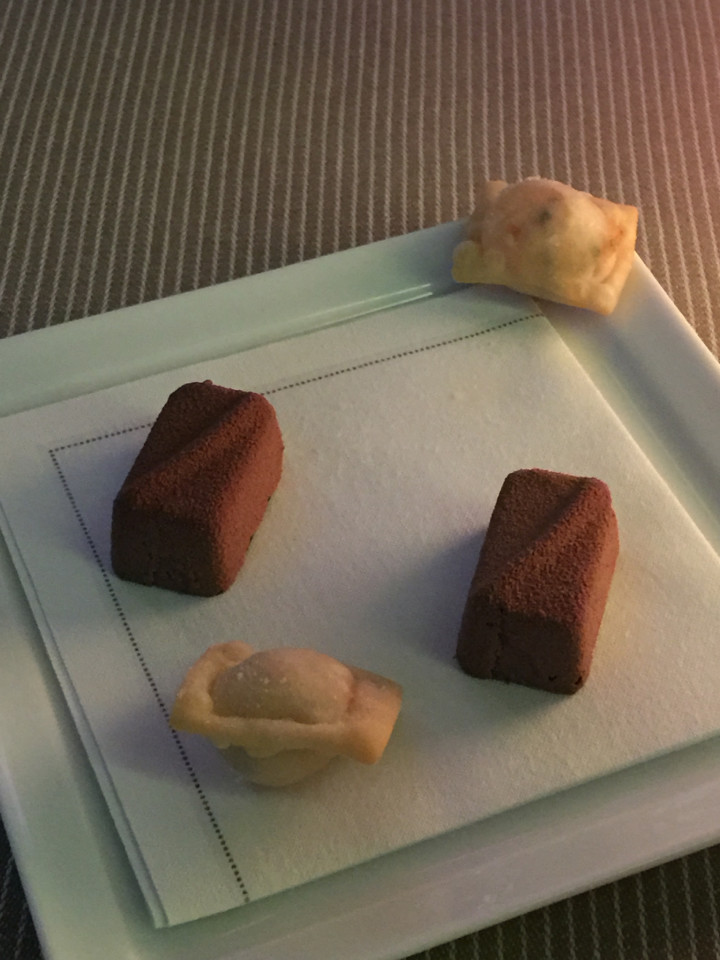 one by one,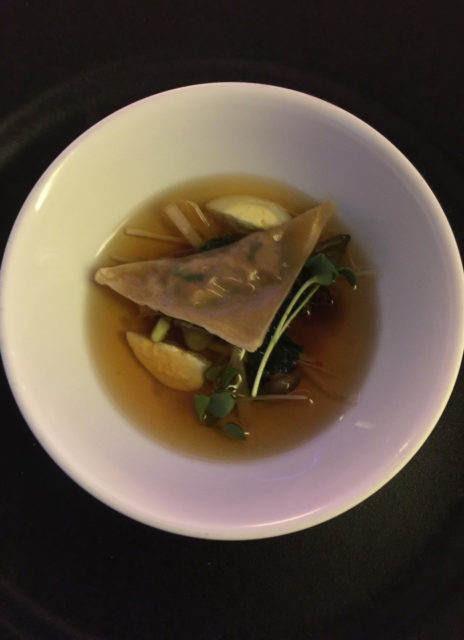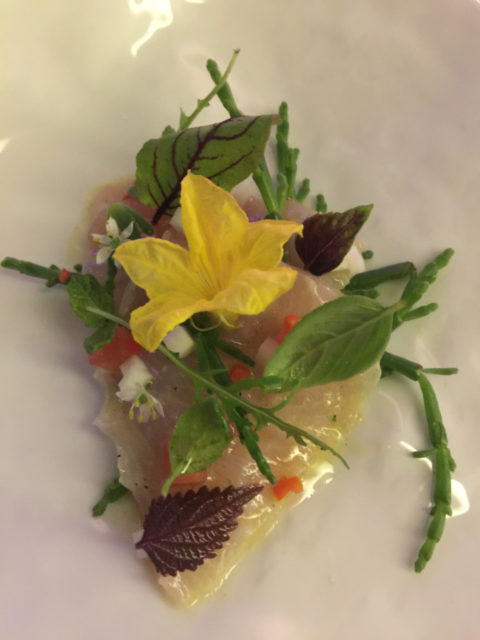 the mini meals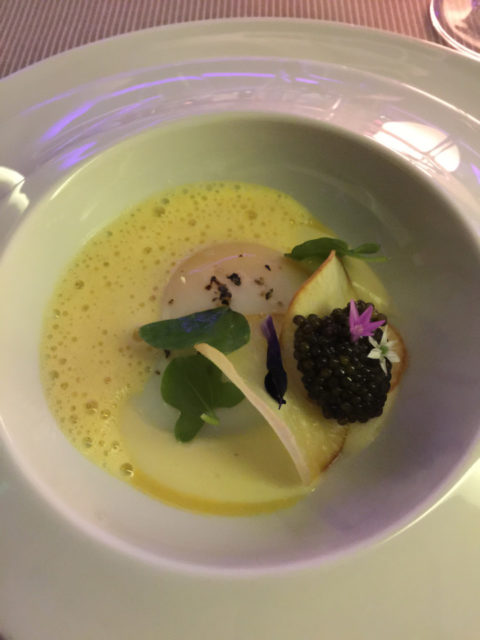 would be delivered,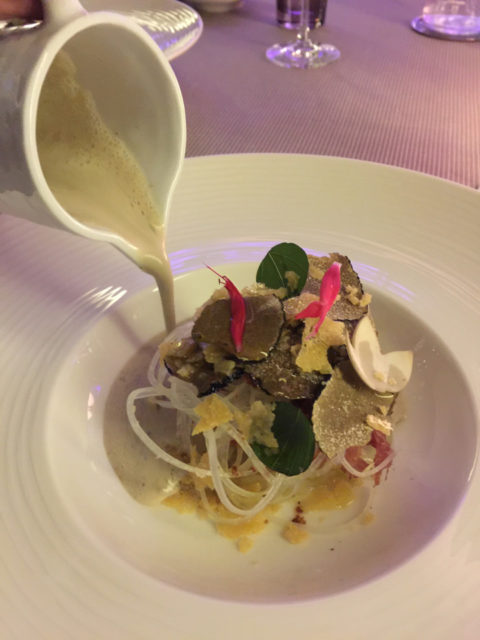 if I had to guess,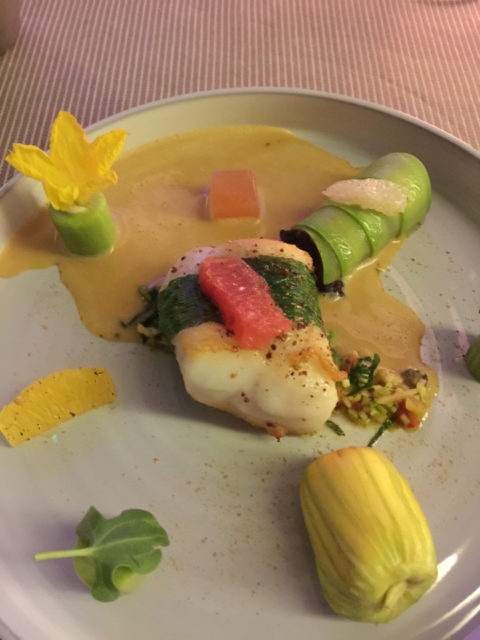 at least 10 rounds of food.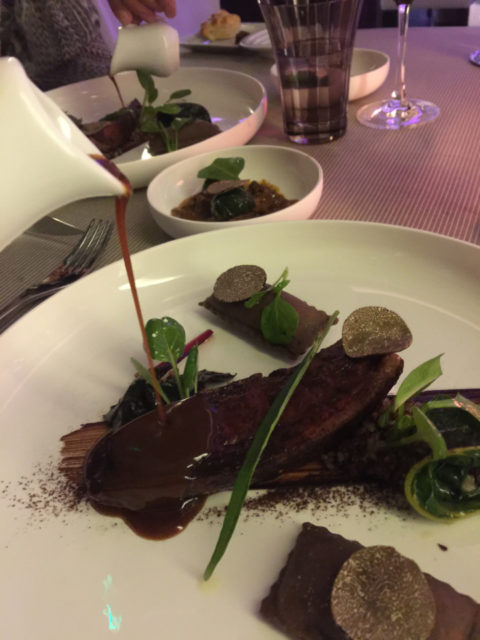 Needless to say, dinner was phenomenal. The chef had prepared a special tasting menu just for us. Everything was amazingly fresh, delicious, and utterly gorgeous. Like I have said before, in Monaco, they know how to wine and dine a lady!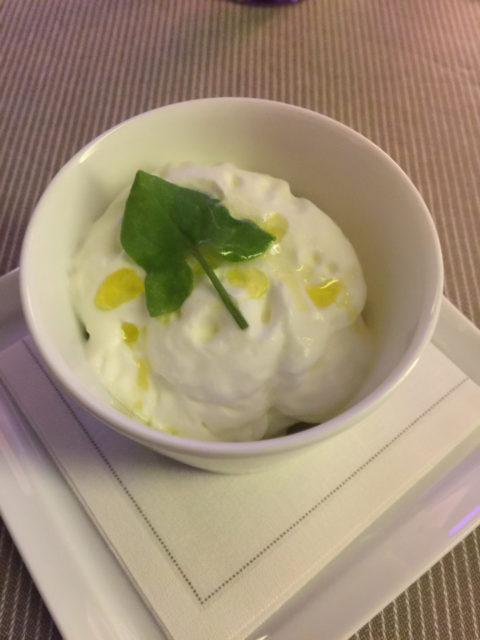 Monaco: Falling in Love
Although I only spent a short time in Monaco, honestly, I fell in love like Romeo meeting Juliet for the first time. There are paparazzi standing on every corner, just waiting for the next stunningly chic woman to step out of the latest expensive car in front of the Monte Carlo Casino.
With cobblestoned streets, gorgeous views, fabulous Michelin stared restaurants, everything in the air just seemed magical. Honestly, I could not have asked for a more amazing day than the one I spent in Monaco.
Disclosure:  My trip to Monaco was sponsored by the Monaco Tourism Board and included my spa treatment at the Thermes Spa Monaco and all dining experiences. The feeling of being a princess for a day, however, was all mine.