Get yourself into that Southern mood, the sweet sickness that is Savannah's lure. I call it le mal doux, which is French for "the sweet sickness". How? You ask? Try reading (or see the movie) Midnight in the Garden of Good and Evil before you take on the task of visiting Savannah attractions and finding things to do in Savannah, GA. This surely will put you in the Savannah state of mind.
If only these trees could talk!
---
✦ The Ultimate Guide to Savannah GA ✦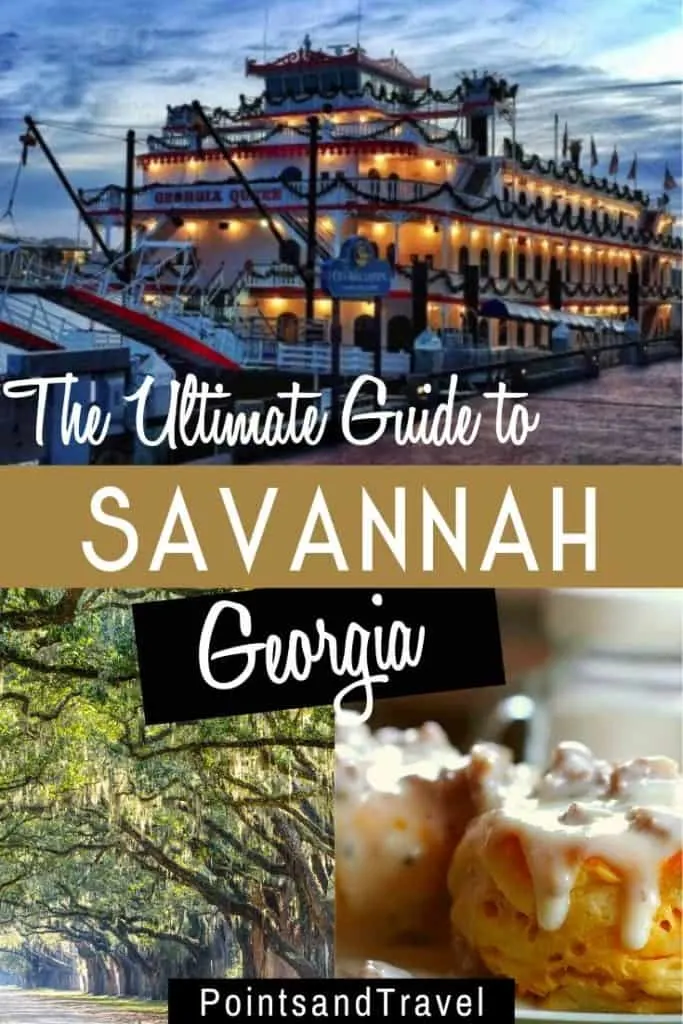 There are also many romantic things to do in Savannah GA, so get your heart ready! You could spend a lifetime in historic Savannah and still not discover all of her secrets. But this guide will guarantee the city stays with you long after you say goodbye. From historic attractions, winding back-alleys reminiscent of centuries-old European villages, and hidden gardens walled by decaying brick. It is here where you will find the best meals and cocktails in town. And you will know what to order when you get there. This list will help make Savannah, GA a city you won't soon forget. I know, as I still haven't forgotten her!
✦ WHAT TO SEE + DO: Savannah Georgia
You may remember the book Midnight in the Garden of Good and Evil? It became a New York Times bestseller for 216 weeks following its debut! And in 1997, Clint Eastwood made a movie (see at the bottom of this post a list of movies filmed in Savannah GA.) here in Savannah and featured many of Savannah's most famous attractions. It is the perfect introduction to Savannah, Georgia, and is atmospherically centered around the best Savannah attractions you will want to visit around the city. Believe me, it will get you into that sweet Southern mood!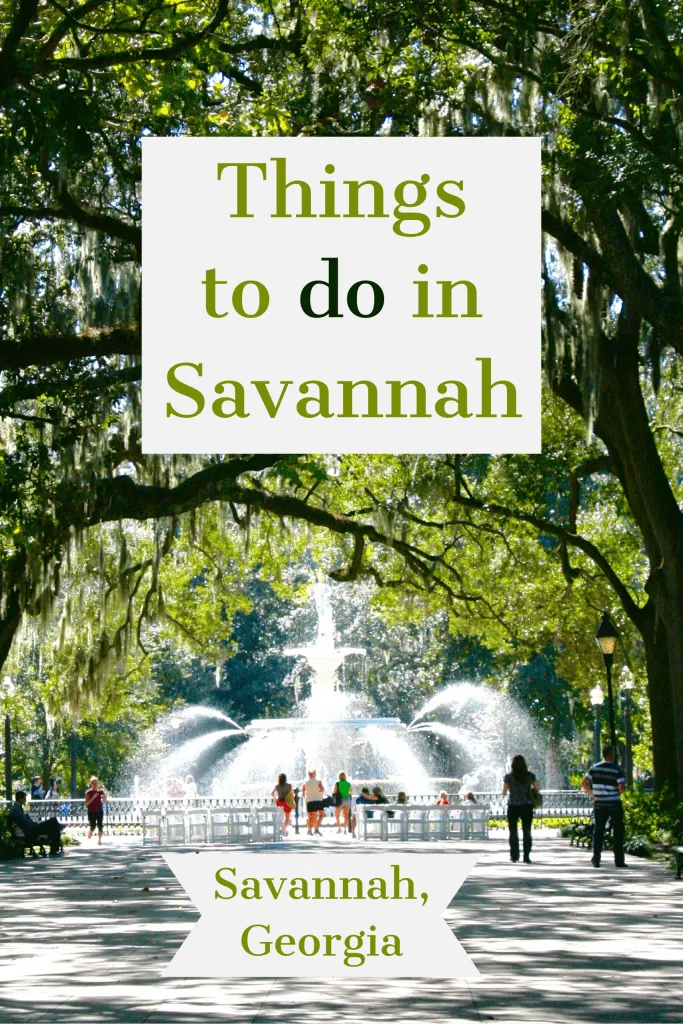 ✦ Know Before You Go: Savannah
Savannah is a walkable city, but if you don't feel like walking there are plenty of bikes and trolleys you can catch. Savannah was named as one of the top 10 Best Walking Cities from Walkable Magazine.
Be sure and drink a lot of water. Savannah is hot in the summer, so bring light and easy clothing to help refresh your look after being out all day in the hot sun. Also, book a hotel with a pool in the summer.
When to go: I can attest that going in August in HOT and humid! The tourism board says a good time to go is between March and July, however, this is in high season, where there are more crowds, yet the azaleas are in bloom and there is a slight breeze on those gorgeous trees! Although September to November the room rates are lower, so keep that in mind! From December to January, it is not as crowded!
The variety of food you can find in Savannah is quite diverse. Of course, you can get those traditional Southern dishes you have heard about your whole life like crispy fried green tomatoes, ham-hocked collard greens, pork chops, and fried chicken. But Savannah also has Cuban, French, Italian, Japanese, and even Peruvian foods!
---
Plus, no other destination offers charm, history, inspiration, and tradition in portions as generous as a Sunday Supper in Savannah!
---
---
Get the Savannah PASS: 1 Pass, 1 Price: Admission into more than 30 attractions!
---
Savannah, GA Attractions
1. The Bonaventure Cemetery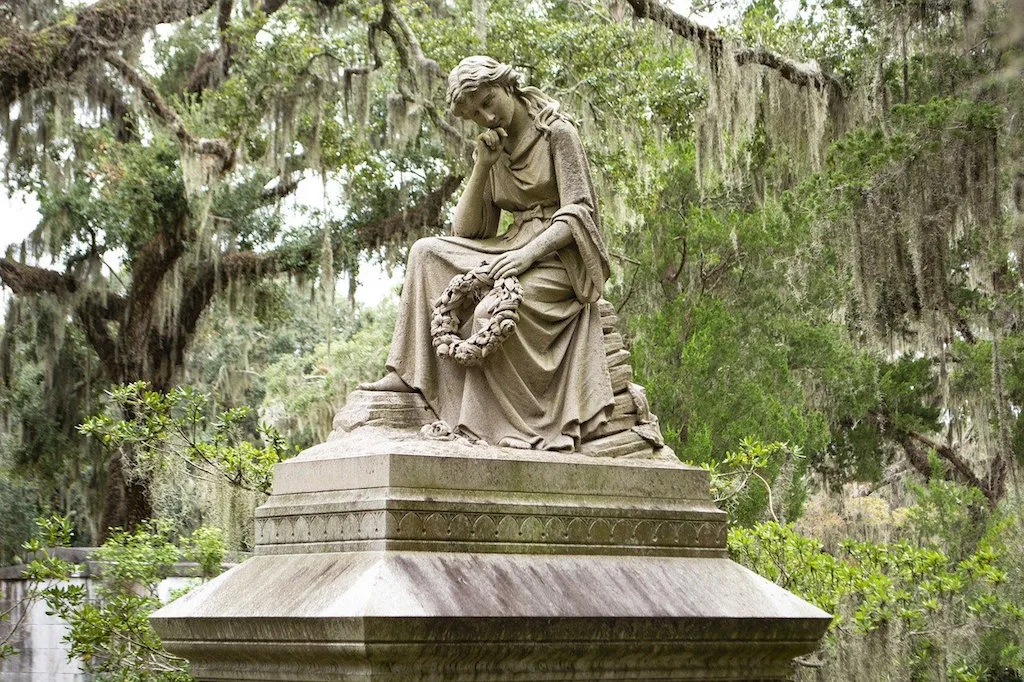 I have a fascination with cemeteries; I think it is genetic, as I used to visit cemeteries with my Dad as a kid. Stepping foot in Bonaventure Cemetery, with its avenues of 250-year-old live oaks and quintessentially southern gothic-look, it took my breath away. It captured me right from the moment I saw this famous Savannah graveyard with its natural cathedrals, tombstones, and sculptural gardens spread out over 160 acres.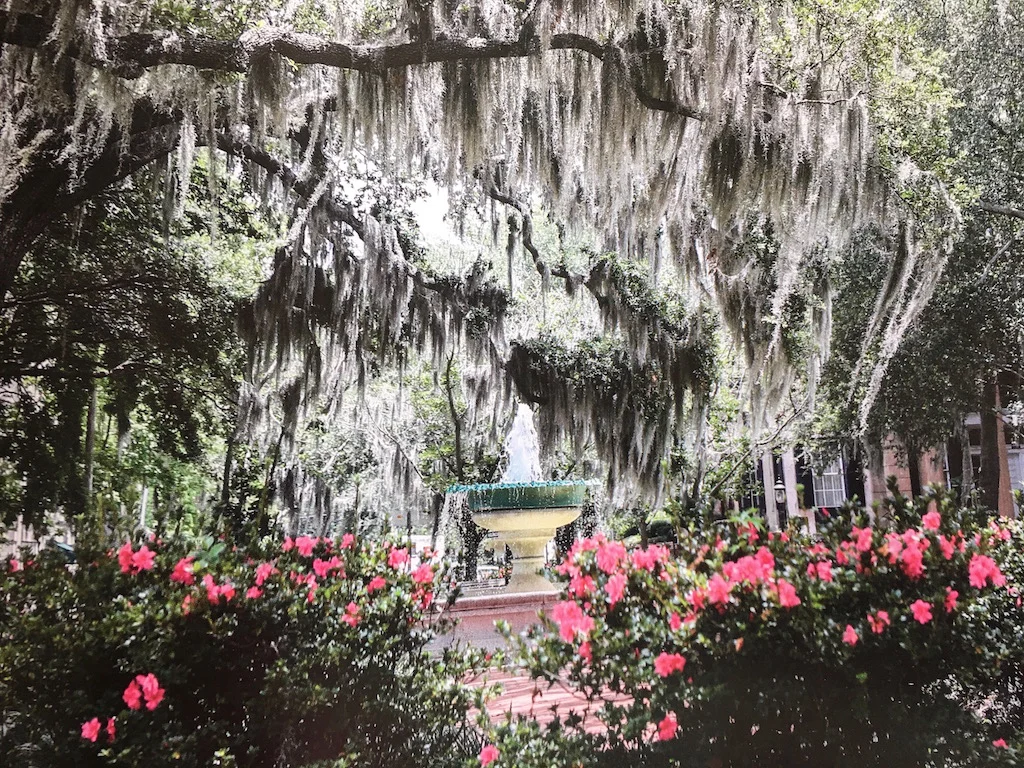 It transcends time, as you walk past each stone where many of the soldiers of the Civil War are buried. Singer-songwriter Johnny Mercer, who wrote "Moon River" and "That Old Black Magic" is buried here as well. Savannah GA has cemeteries that are more inviting than most city parks! This, of course, was one of my favorite things to do in Savannah, which is why I listed it first!
Bonaventure Cemetery is just a short drive from the Historic District, another Savannah attraction. It was a hotbed of tourist activity after the book Midnight in the Garden of Good and Evil got published in 1994. The famous "bird girl" statue that was on the cover of the book was brought here and put on the Trosdal family plot. It was located by photographer Jack Leigh, hired by Random House to shoot the cover for the book, and recommended by the author of the book to look here for its cover.
And while you are there, be sure and see if you can find the Johnny Mercer bench! It features a sketch of Johnny that is based on a self-portrait. It also has titles of some of his more famous songs like "Moon River" mentioned above. After all, he wrote over 1000 songs! The bench is in a shady spot in the cemetery, so you can sit and take a break.
Bird Girl has since been relocated to the Telfair Museum of Art, where it is on display. This is just another one of the great things to do in Savannah, GA this weekend, so go check it out!
Savannah's graveyards are more inviting than most city parks! So here is another cool cemetery to visit, the Colonial Park Cemetery. It is the oldest cemetery in Savannah with gravesites from the 1750s to the 1850s. It is well known to be a place where the Union Soldiers occupied during the Civil War. It is thought they vandalized the cemetery and changed some dates and altered the memorial inscriptions on a few of the gravesite headstones! One of the most notable people buried here is a signer of the Declaration of Independence, Button Gwinnett.
Oh, and just so you know, camellias bloom in December and January, followed by pink/purple azaleas in early Spring.
---
Come, let Savannah seduce you!
---
Things to do in Savannah Georgia: Savannah Attractions
2. Look around at the Beauty in Savannah
No matter how many photographs I took of Savannah, it was never enough to capture her true beauty and charm, the crown jewel of the Old South. Everywhere I turned there were cobblestoned streets, parks, fountains, Spanish moss (not real Spanish moss, but epiphytes that live of air), and town squares. It is as if in Savannah every house is a museum of sorts.
I knew I would find some amazing things to do in Savannah GA. I was so excited to begin my architectural tour of the most beautiful downtown area of any city in all of the United States (in my humble opinion) that I had ever seen. I don't say that lightly, as I have been to quite a few. But there is definitely something special about this one.
I believe Savannah has some of the most admired and preserved architecture in the country where more than 40 percent of its 2,500 buildings have architectural or historical significance! Most restoration has been accomplished by individuals, each of them one building at a time. It seems that historic preservation and restoration in Savannah have flourished since the late 1970s.
From the simple Colonial style to the more intricate Medieval-influenced cathedrals, to the Victorian period; examples of most of the USA's 18th and 19th-century architectural styles can be found right here in Savannah GA. Some examples of other architectural styles seen in Savannah are the English Regency, Federal, Georgian, both Gothic and Greek Revival, Italianate, Regency, Romanesque Revival, and Second French Empire.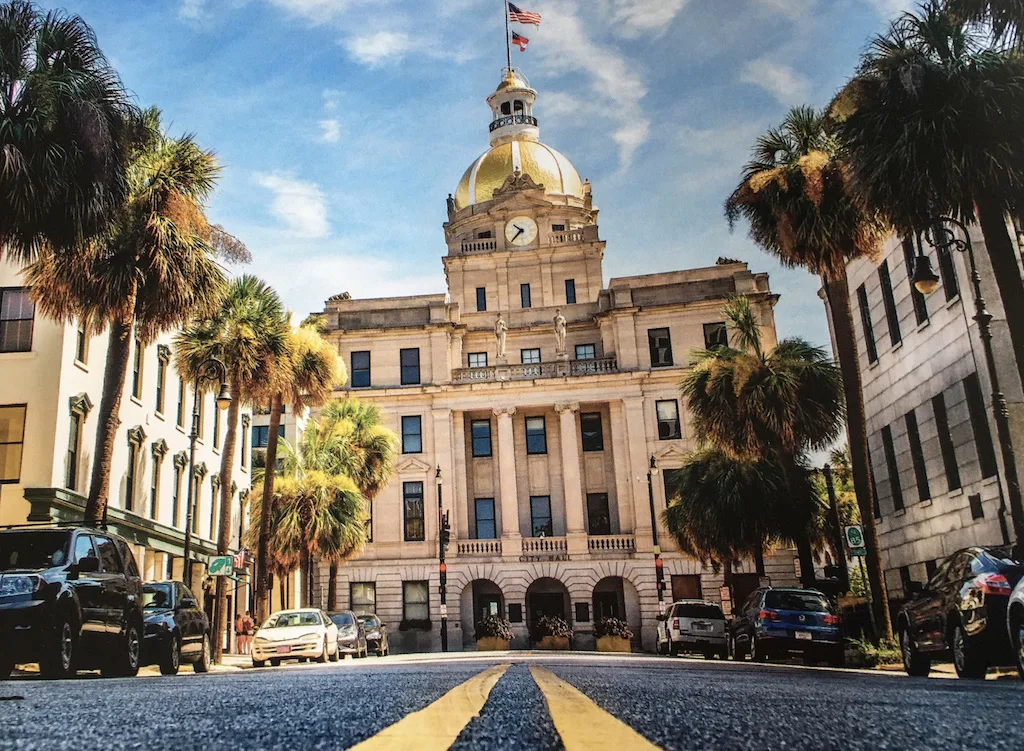 Things to do in Savannah: Savannah Attractions
3. Learn a Little History about Savannah
As America's first planned city, the town squares are where you will want to begin in your exploration to find things to do in Savannah GA. It is also known as the best walking city in America. Savannah was founded by British General James Oglethorpe in 1733 and was based on a grid system with twenty-four town squares, which is a brilliant and logical way to create a city. All the housing and public buildings are arranged in this manner.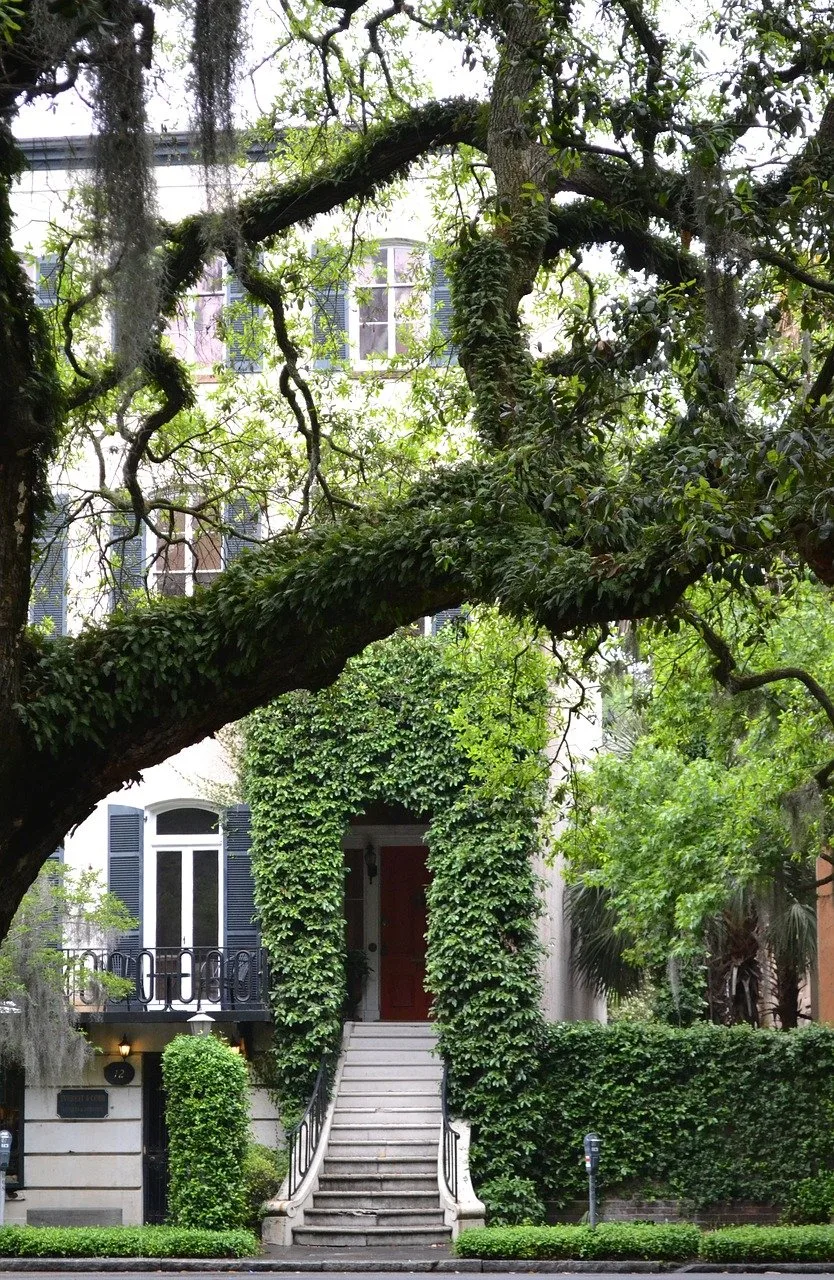 Today, there are twenty-one of the original twenty-four town squares left. Three were taken over by construction companies and demolished. That was before the ladies of the Historic Savannah Foundation stopped this dreadful practice. One of the three has been restored to its original grandeur. It is rebuilt according to its original plan. I just love those southern belles of the Historic Savannah Foundation! Each of the town squares left is certainly a famous Savannah GA attraction.
In fact, Thomas Square has become a very trendy spot with homes from the 19th century. Here you will find many architectural styles. Many are sprinkled in with antique shops, vintage stores, yoga and pilates studios, as well as burger joints and cafes.
Things to do in Savannah: Savannah Attractions
4. Shop Till You Drop in Savannah
Some of the most exciting shops in Savannah can be found in the Downtown Design District. Located on Whitaker Street between Charlton Lane and Gaston. With the winding back alleys reminiscent of centuries-old European villages and hidden gardens walled off by decaying brick, this shopping area is considered to be one of Savannah's attractions for high-end tourists.
I, personally, always make time for shopping and one of the best shops is One Fish, Two Fish at the corner of Whitaker and Jones. Yes, that Jones street! (Jones Street is considered to be the prettiest street in Savannah, GA!) Most of the buildings from Jones street date from the 1850s to the 1860s. Here on Whitaker Street is also where you will also find PW Short General Store, Savannah's modern-day version of a general store.
You can also take a gander at Broughton Street, as this avenue has unique shops and art galleries, as well as an afternoon tea experience at Gryphon Tea Room and boisterous bars.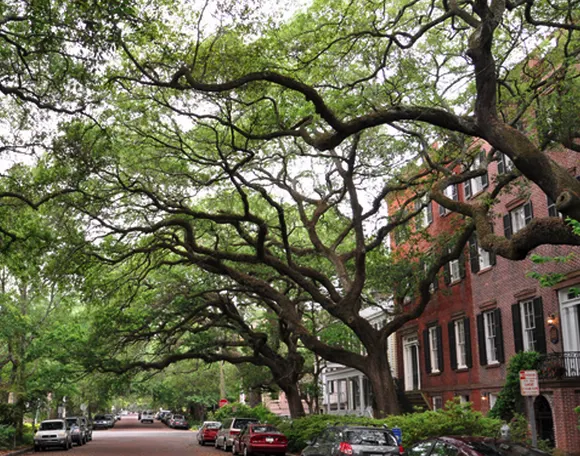 Broughton Street is also THE place for serious shoppers. You can find the perfect souvenirs at local shops, boutique stores, and while there, don't forget to have ice cream at Leopold's. Be sure and visit The Paris Market (at the NE corner of Broughton and Whitaker Streets) and the nearby The Salt Table on Barnard Street.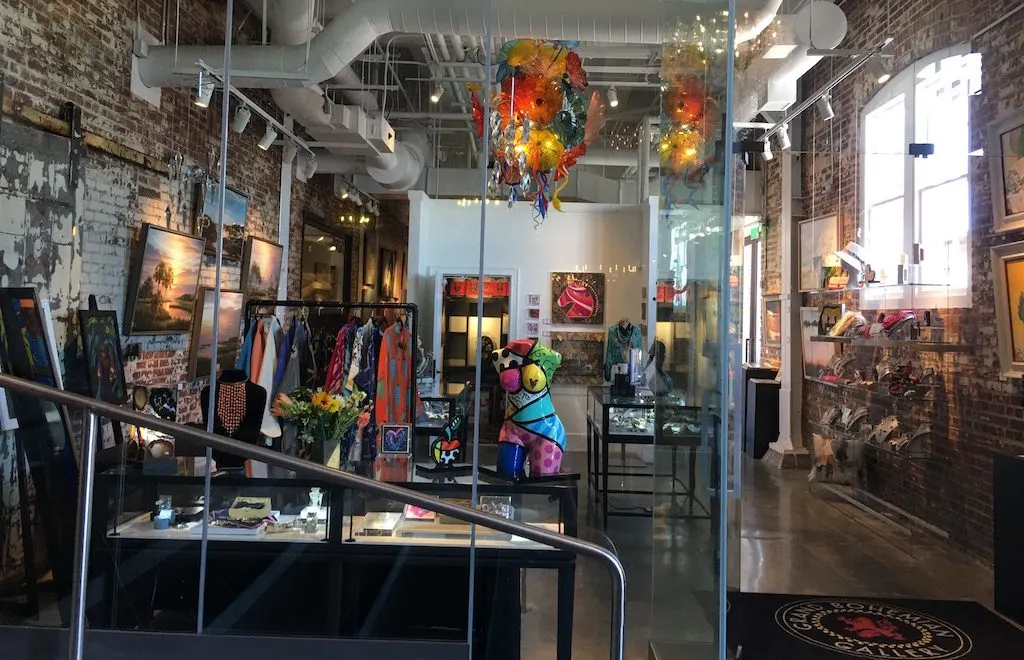 Plus, I would be remiss if I didn't mention the SCAD Shop. The Savannah College of Art and Design, where they have a retail shop on Bull Street. SCAD has such a talented community of artists who create everything from fine art to jewelry, handbags, and home goods. They are creative and everything sold here is created and designed by SCAD's students, alumni, and faculty.
Also, there is Factors Row over on Bay Street and just steps away from River Street. Here they have a line of red brick buildings connected with wrought iron walkways that are quite often overlooked by tourists. They have unique specialty shops, cozy cafes, art galleries, and historic hotels.
5. Savannah's City Market
Continue your shopping at the City Market in Savannah. The City Market is four blocks of open-air shopping surrounded by restored warehouses. With shopping, bistros, and art all while being serenaded by musicians. It was established in the 1700s! You can stroll the shaded courtyard between two of Savannah's famous squares, as Savannah City Market stretches from Ellis Square to the east and Franklin Square to the west. You can start at the corner of Jefferson and West St. Julian Streets. Where people once gathered to buy groceries. They now have a place to shop in art galleries, retail shops, and even popular restaurants.
---
"Savannah, the best-kept secret in America." -Author John Berendt
from "Midnight in the Garden of Good and Evil"
---
Things to do in Georgia: Savannah Attractions
6. Admire Savannah's Planned Community
As you walk around, you can read the plaques in each square to appreciate the history of the area. Don't forget to visit Chippewa Square to say you've been to the park bench where Forrest Gump was filmed (certainly a famous Savannah attraction). In the opening scene of the film, a feather floats high above the trees, then sweeps down past the Independent Presbyterian Church.
chIt then makes its way toward Chippewa Square. It eventually lands on this Forrest's park bench. (If you take the trolly mentioned below, you will see Forrest walking by on his way to the bench. haha!) And just so you know, this famous bench has been moved to the Savannah History Museum!
If you are tired of walking, you can also get around town by taking any of the trolley tours that are available. I chose the Old Savannah Trolley Tours, which is a hop-on/hop-off trolley system that takes you around the grid system and allows you to get on and off as you please.
Just look at these gorgeous bricks in the dirt. Savannah's rich history is obviously everywhere you step!
---
Find Hip and Cool Hotels in Downtown Savannah, GA HERE
---
More Savannah Attractions:
7. Take A Few Fine Home Tours:
For over three centuries, this city on a hill has endured two major wars, slavery, reconstruction, and segregation to emerge as one of America's most charming destinations. Taking a fine home tour will give you a little bit of this amazing history lesson. Savannah GA has a number of grand old mansions representing a variety of architectural styles that were all formerly owned by the wealthy plantation elite.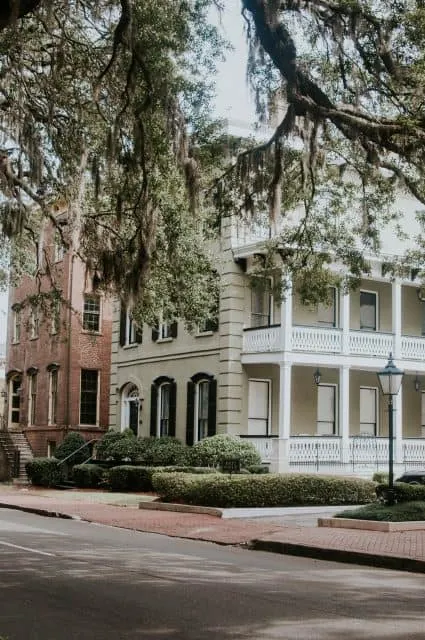 Thomas-Owens House: There are many fine homes to tour, but be sure and visit the Thomas-Owens House since it is considered one of the finest examples of English Regency architecture in America. It was built in 1819. It occupied a complete block featuring a cast-iron balcony, a winding double staircase, and arched storybook windows. See what I mean when I say there are plenty of things to do in Savannah GA? This is the perfect Savannah attraction to explore.
On the tour of this Savannah attraction, you will see the indigo ceiling near the pantry/kitchen area. This was where the slaves' quarters on the first floor used to be. This is the largest example of "haint" blue painting known to exist in America. The paint was created by mixing indigo, lime, and buttermilk. It was used to ward off evil spirits. The slaves put it on everything from the ceiling to the doors, the windows, and even behind or underneath furnishings.
Other Fine Home tours you can take in Savannah GA:
Juliette Gordon Low House: The founder of Girl Scouts, Juliette Gordon Low, was from Savannah, GA. You can tour a bit of Girl Scout history right here in Savannah. She founded the Girl Scouts in 1912 and there is a tour of her house most days. No visit to Savannah GA is complete without a visit to the Juliette Gordon Low House. (My son was an Eagle Scout in the Boy Scouts!) The tour of this house will give you some insights into the life of Juliette and the organization that she founded.
Andrew Low House: A former resident of Juliette Gordon Low.
Davenport House: This historic place marks the beginning of Savannah's historic preservation movement. It is currently a museum that was built in 1820 and restored to reflect the life of a middle-class family at that time. It is available daily for tours. It also provides a very interesting look at a well-preserved home for its time.
Green-Meldrim House: A Gothic Revival mansion that was occupied by General Sherman during the Civil War.
Mercer-Williams House: One of Savannah's most famous historic houses and featured in Midnight in the Garden of Good and Evil. If you read the book, then you would know that the story is based on the real-life events surrounding the murder of Danny Hansford who was killed in this stylish mansion with a twist.
Flannery O'Connor Childhood House: A Depression-era house of the author Flannery O'Connor, known as "Savannah's favorite daughter". She was the great American writer who was born in Savannah in 1925. She spent her childhood in this charming row house facing Lafayette Square.
Sorrel-Weed House: The Sorrel-Weed House is a historic landmark and also a Savannah GA Museum. It is well known for being a fine example of Greek Revival and Regency architectural styles. In fact, it was one of the first two homes in Georgia to be made a Georgia State Landmark. It is considered one of the most haunted places in Savannah, GA. The other is the Moon River Brewing Company.
I think it is evident that many of the best things to do in Savannah involve sites that are within easy walking distance from each other.
Things to do in Savannah Georgia: Savannah Attractions
8. Visit Medford Square
The birthplace of "Jingle Bells" – There is a plaque on 19 High Street in the center of Medford Square that reads the "birthplace" of "Jingle Bells" in 1850. James Pierpont wrote the song at the Simpson Tavern and was inspired by the town's popular sleigh races in the 19th Century, according to the historical society.
Things to do in Savannah Georgia: Savannah Attractions
9. Take a Walk in Forsyth Park
Forsyth Park: No visit to Savannah is complete without a trip to Forsyth Park to see the most alluring water fountain. It is right dab in the corner of the park and was erected in 1858! The park itself is surrounded by beautiful mansions that have been restored. They make for beautiful scenery as you stroll the park. I was there in November and so I was lucky to be able to see the amazing fall colors throughout the town. This is one of the wonderful things to do in Savannah probably one of the most famous Savannah attractions.
---
One Tip about the Forthye Park Fountain: It is not unique. It was ordered from a catalog!
---
---
One more tip: Every St. Patrick's Day, the Forsythe Park Fountain's water is dyed green!
---
Hey Tourists! Need a pitstop for a snack yet?
Well, Parker's Market Urban Gourmet, otherwise known as Fancy Parker's by the locals is here in Savannah for ya! They have everything from a bottle of water, coffee, sodas, sweet tea, snacks, to fresh flowers, cards, and souvenirs, and everything in between. I love this place!
---
Things to do in Savannah: Savannah Attractions
10. See where the Forrest Gump Bench was!
From the critically acclaimed film Forrest Gump, some scenes were filmed right here in Savannah, Georgia! Not only that, but Forrest also sits and waits on the bench to tell his life story to anyone who will listen. It is located in Chippewa Square. They have one of the Forrest Gump benches that were used in the movie on display at the Savannah History Museum…mentioned below as one of the things to do in Savannah.
Things to do in Savannah Georgia: Savannah Attractions
11. Walk Down to River Street and the Waterfront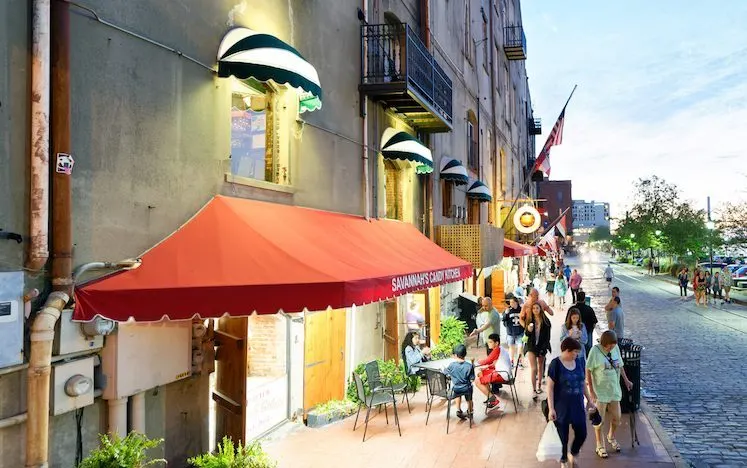 A bit "kitschy" for my liking, but still you should go down there to take a peak and walk along the riverfront. Unfortunately, the area has been taken over by tourist and touristy-type establishments, but that is to be expected in a town that draws in so many tourists. And tourists find many things to do in Savannah; things like haunted house tours, shopping, and lots of great restaurants.
12. Savannah's Nightlife
At this point, I do want to mention that Savannah actually has a night life! The fun actually starts here on River Street when the sun goes down! So grab yourself a plastic red SOLO cup and walk around this area to find some vibrant places in this area to hear some live music. And in Savannah, you can actually walk between locations with your red SOLO cup in hand with no problem!
I would say the funniest time is around St. Patrick's Day, when Savannah's large Irish population celebrates its heritage, who knows if the river will turn green?
Some of the more popular hangouts are:
Kevin Barry's Irish Bar, a vibrant Irish bar located at 117 W River St.
Saddle Bags, live country music, and a mechanical bull located at 317 W River St.
Wet Willie's, famous for its frozen cocktails located at 101 E River St.
Things to do in Savannah: Savannah Attractions
13. Walk down to visit the Waving Lady Statue
Since you are in the neighborhood (on River Street), you might as well walk down to see the statue of Florence Martus, also known as "the Waving Girl" or "the Waving Lady". But who is she, who is with her, and with whom is she waving at?? She was the daughter of a Seargent on Cockspur Island. Each day she would come out and wave at the sailors on the passing ships in the Port of Savannah, GA in the years 1887 to about 1931.
Typically she would have a handkerchief in her hand during the day and a lantern in her hand by night and she always had her dog with her! Legend has it that she did not miss a single passing ship for over 44 years! The statue down at the end of River Street is there for her memory and was created by Felix de Weldon in Morrell Park, right on the riverfront of Savannah GA.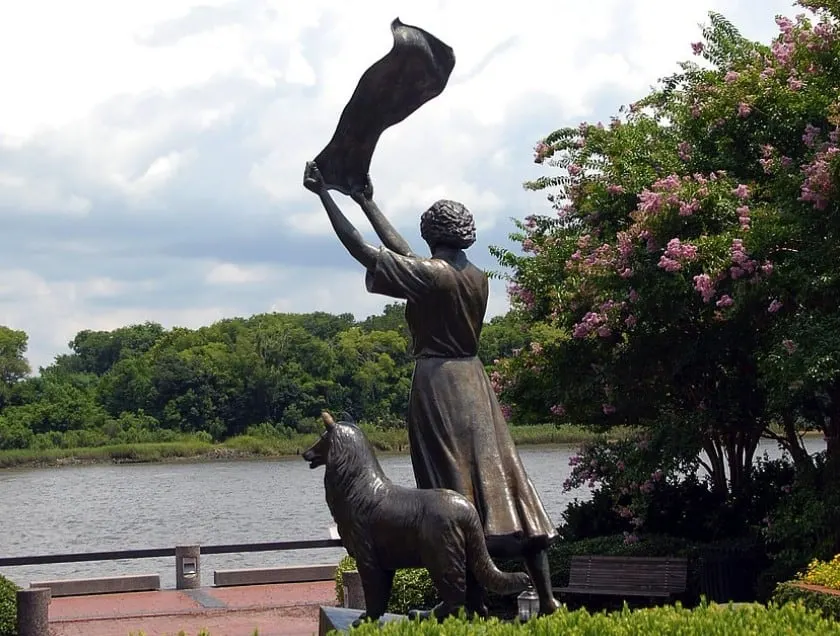 14. Visit The First African Baptist Church
A cultural treasure, this church was founded in 1777 by George Leile, the slave of a Baptist Church Deacon! The First African Baptist Church was built by its congregation that was made up entirely of slaves. They finished it in 1859. Located in Franklin Square, it was once a stop on the Underground Railroad. Still today you can see the holes drilled into the floorboard to funnel fresh air into the tunnels below for escaped slaves. It is considered the oldest black church in all of North America.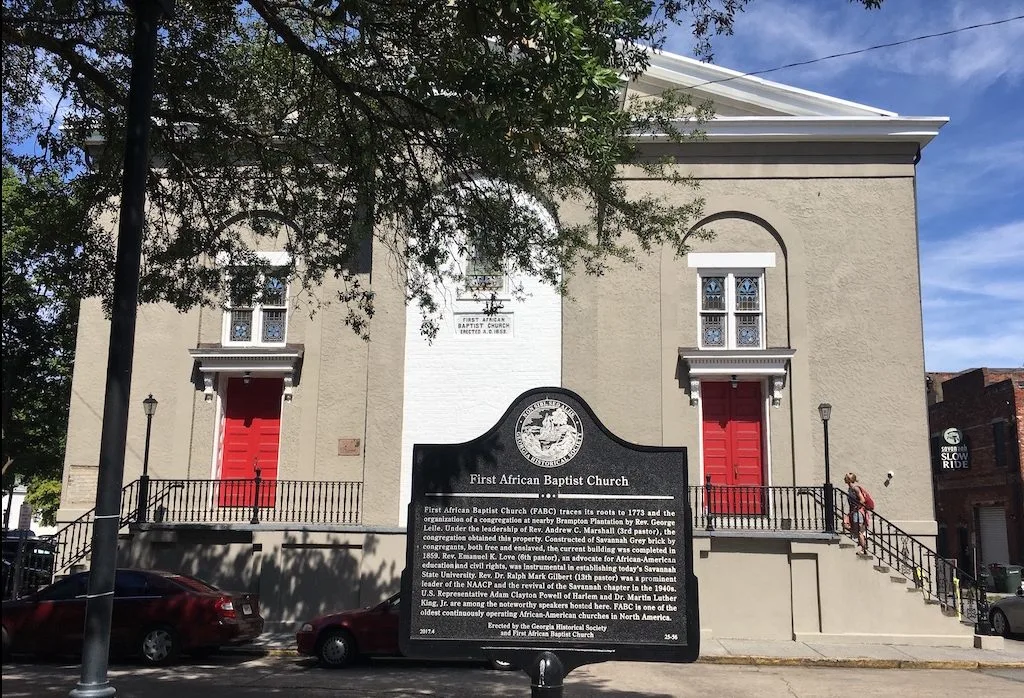 Things to do in Savannah Georgia: Savannah Attractions
15. Visit the Cathedral of St. John the Baptist
Take some of your wandering time to visit the Cathedral of St. John the Baptist. Take a peek inside the cathedral as well. The Cathedral of St. John the Baptist is open weekdays from 9 a.m. to 5 p.m., but Saturdays and Sundays are reserved for religious ceremonies only. Photography is permitted inside the cathedral. You can visit the cathedral's website for more information.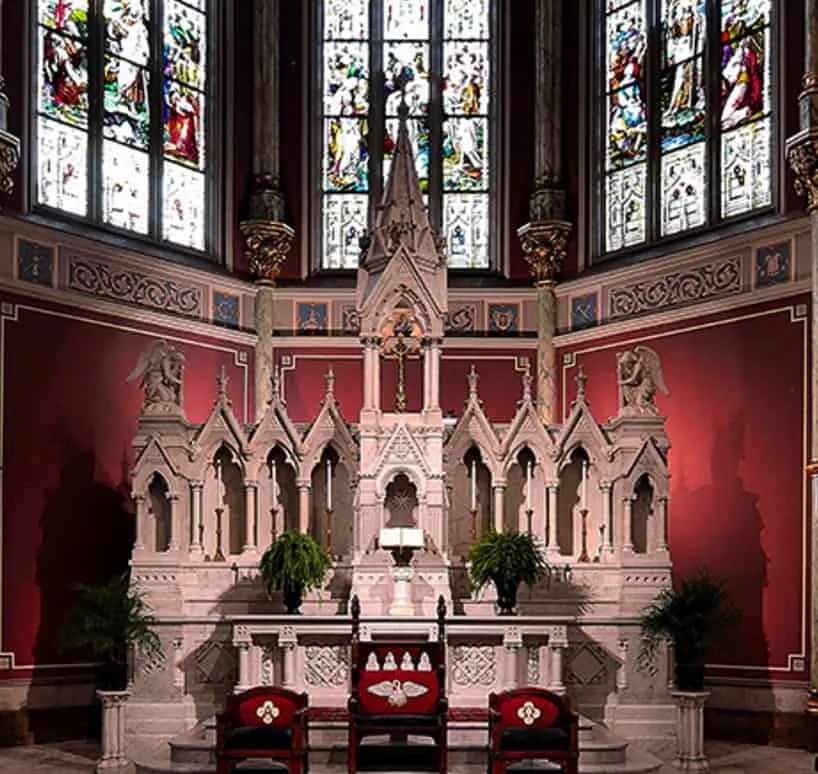 And if you are into religious history, you can also visit the oldest Jewish congregation in America which was founded in 1733: the Congregation Mickve Israel. It is over on Gordon Street in the Historic District.
Things to do in Savannah Georgia: Savannah Attractions
16. Say "Thank You" to the General
I have a big "Thank You" to say to General William T. Sherman, you know, the General in the Union Army during the American Civil War? In his famous "March to the Sea" at the end of the Civil War, he had burned down almost every plantation in the South, as well as the city of Atlanta. But he did not burn Savannah, he left it untouched as a Christmas present to President Abraham Lincoln. He spared it from Civil War destruction because he found it too beautiful to burn!
Telegram sent to the Capital, December 21, 1864:
"I beg to present to you, as a Christmas gift, the city of Savannah…"
And what a Christmas gift she was!
Things to do in Savannah Georgia: Savannah Attractions
17. Visit Jepson Center for the Arts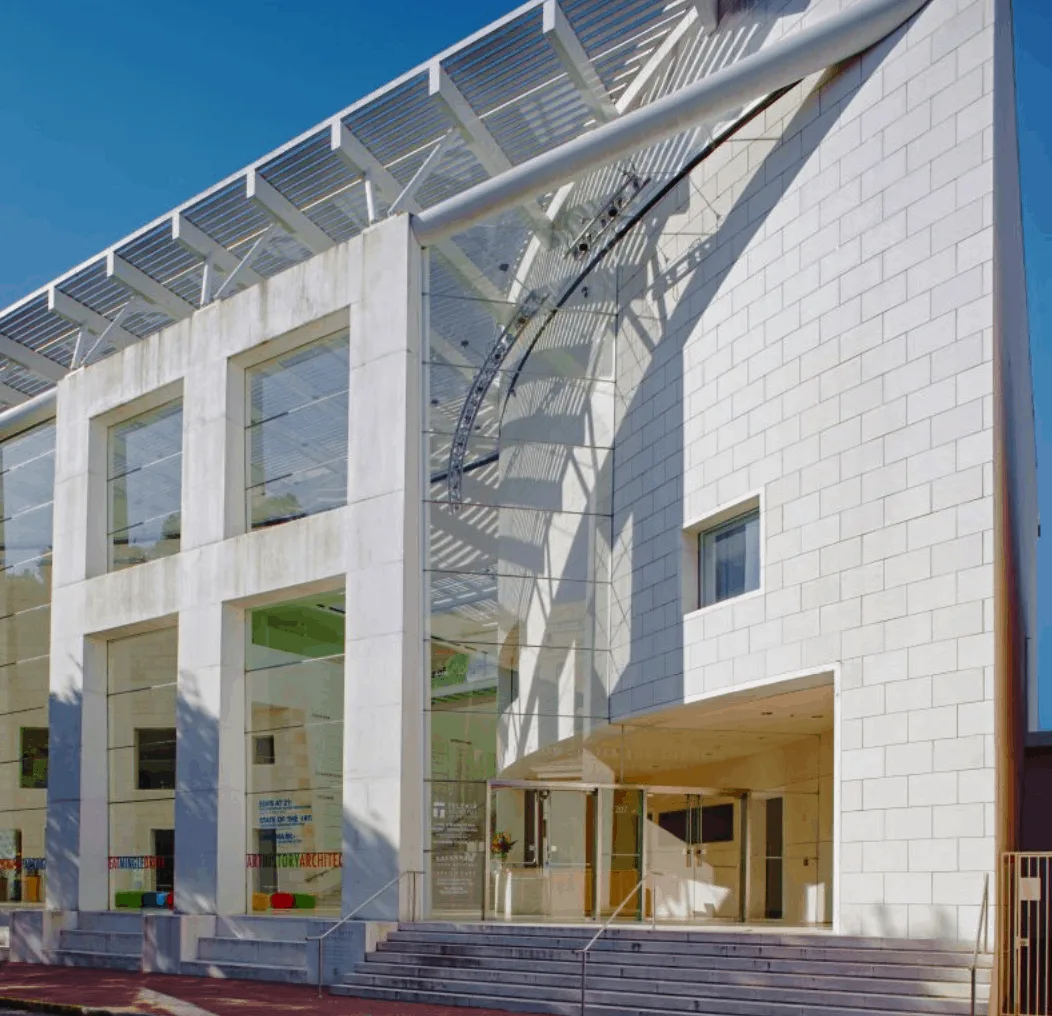 Elvis, the King of Rock and Roll was back in Savannah in the summer of 2016 to coincide with the 60th anniversary of his first show in Savannah way back in 1956! You could have admired black and white photographs taken of Elvis, back when Elvis was 21 and trying to make it in the world. The photographs were by Alfred Wertheimer, who then was a young freelance photojournalist. Wertheimer was able to capture images of the young superstar in his early years. Today, there is a new exhibit in its place, but there is always something interesting and cutting edge located here.
Savannah, GA Things to do: Savannah Attractions
18. Telfair Museum of Art
I mentioned the Jepson Center for the Arts above but wanted to let you know that it is a part of the Telfair Museums, where three diverse buildings house artwork ranging from classic to cutting-edge, like the Elvis exhibit above. The museum's three sites include two National Historic Landmarks and a contemporary building. They are all located within walking distance of one other the historic district.
And while you are at it, if you love art, then you will enjoy a trip to the Tiffani Taylor art gallery over on Whitaker Street. She not only has original art but also a selection of pottery. Her art can be found in galleries throughout the world and she has many worldwide fans. She also happens to be the founder of the Savannah Art Walk! It is a monthly tour of Savannah's galleries.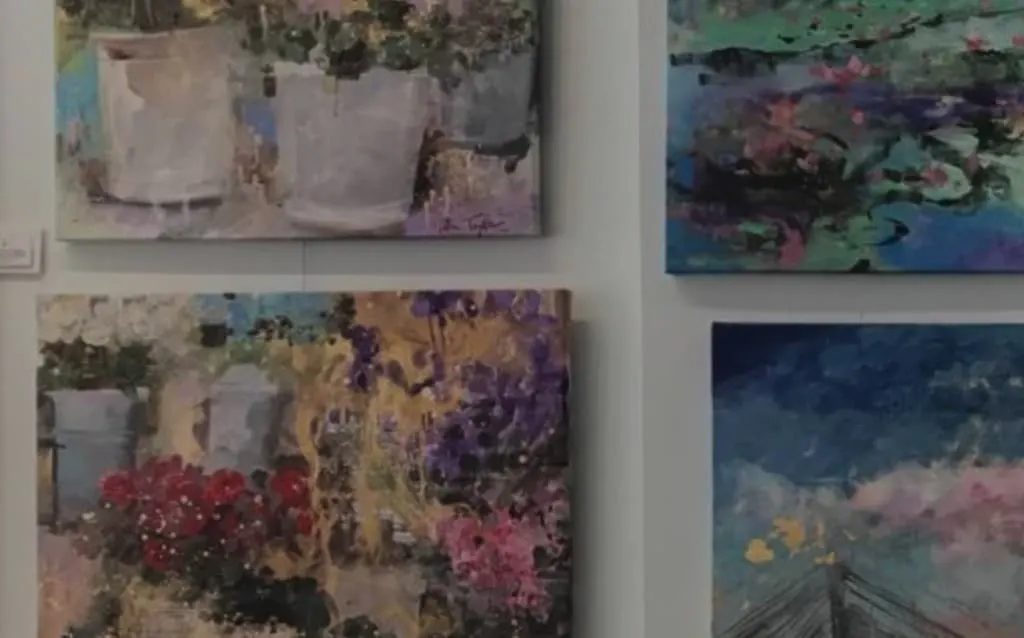 Things to do in Savannah Georgia: Savannah Attractions
19. Fall in Love with Savannah
Oh Savannah, how is it possible that I have been alive all these years and never been to you for a visit? How could I have overlooked your charms? It seems almost impossible but visiting Savannah only kindled my desire to return to her elegant architecture, her fancy ironworks, her stunning fountains, and her 21 squares. Visitors from all over the world come to see Savannah and it is only now that I have finally found her. I am smitten with a passion for Savannah!
---
San Miguel de Allende and Vienna you have a new rival in town, let me introduce you to my new love: Savannah
The way I see it, love is complicated and it is possible to have more than one great love in life!
---
Things to do in Savannah GA: Savannah Attractions
20. Take a drive under moss-covered oaks
This is something I have always wanted to do… walk or drive underneath the massive moss-covered oak trees. You can even take a drive to Wormsloe Historic Park and the Isle of Hope, which is an island that is surrounded by water on all sides at high tide.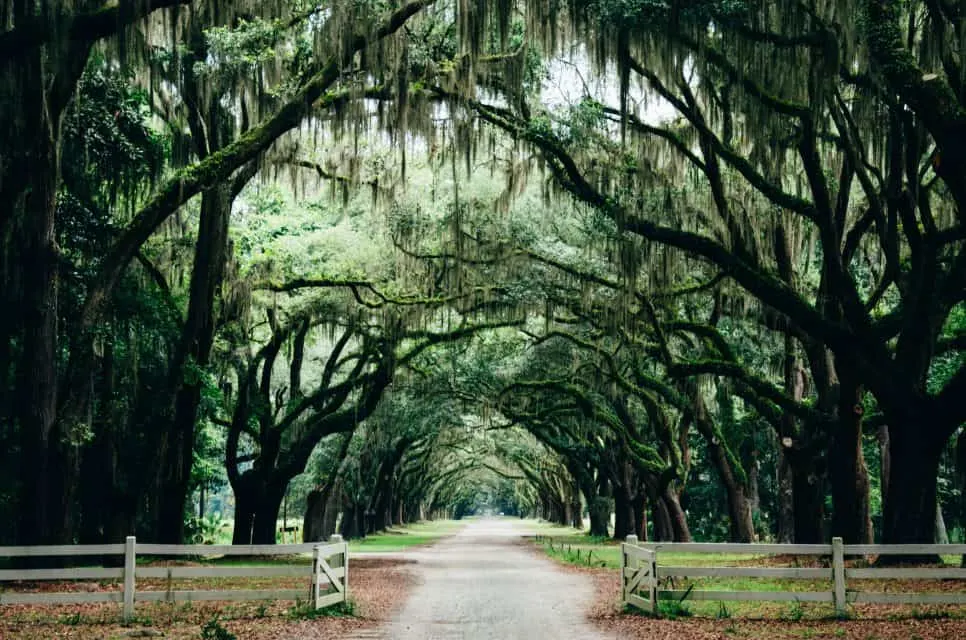 Things to do in Savannah Georgia: Savannah Attractions
21. Eat ice cream at Leopold's Ice Cream Parlor in Savannah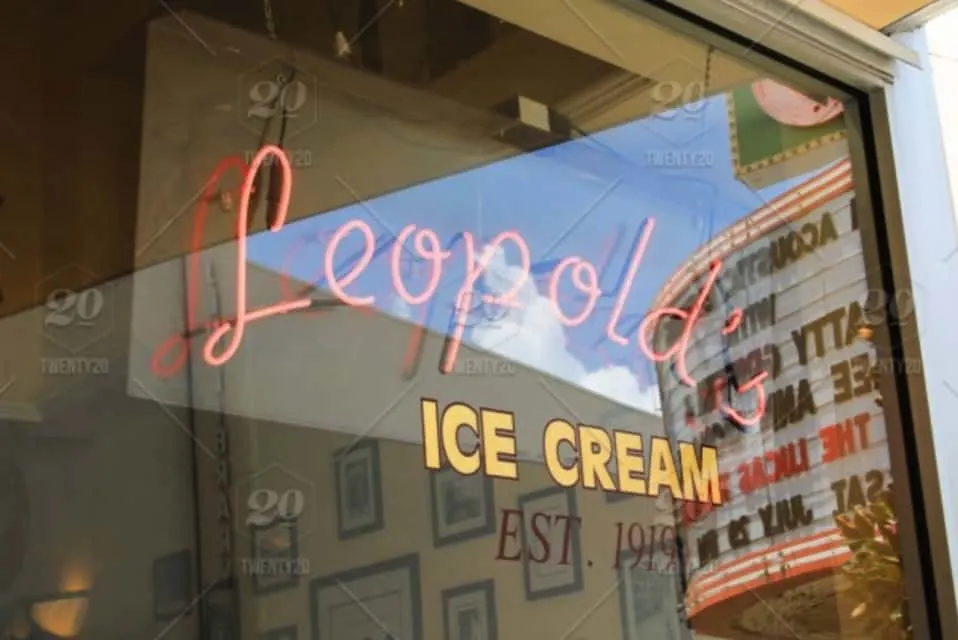 Generations of Savannahians have loved Leopold's Ice Cream since 1919. This soda fountain shop was started by the three brothers George, Peter, and Basil Leopold. They were immigrants from Greece who came to the USA and learned the art of candy and dessert making from their uncle. Their soda fountain business on the corner of Gwinnett and Habersham streets became legendary! This location was where two streetcar lines intersected and so plenty of riders would jump off the streetcar to grab a bite to eat.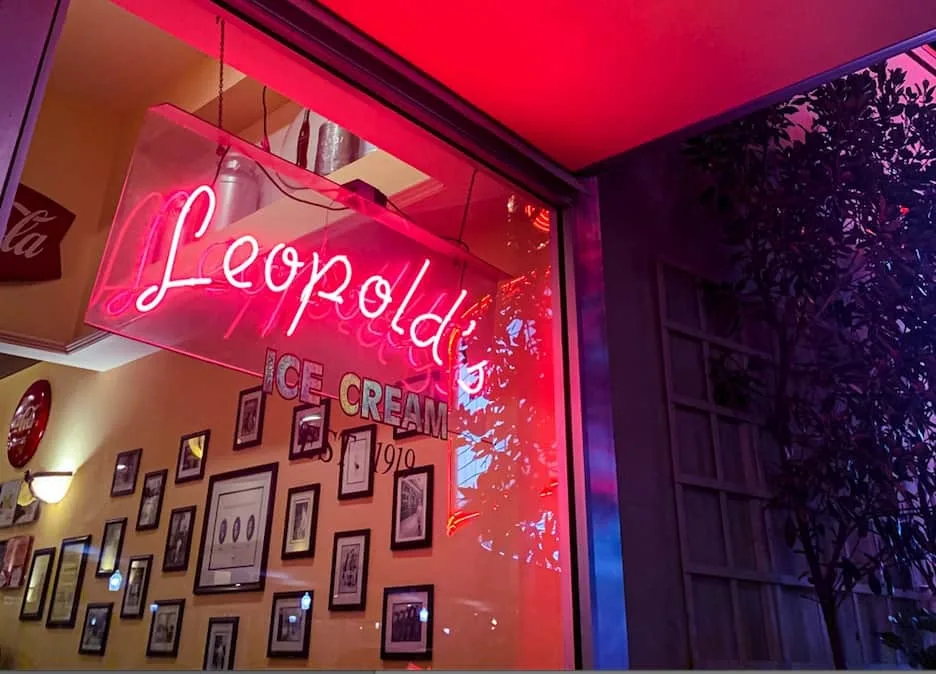 No trip to Savannah is complete without a stop at Leopold's. It has had a few closures and moves since then, but much of the current décor, such as the original soda fountain, the banana split boats, and the malted milk dispenser are all still being used. For a bit of nostalgia, you can still see the Philco radio and the wooden interior phone booth. It is like walking back in time.
Things to do in Savannah: Savannah Attractions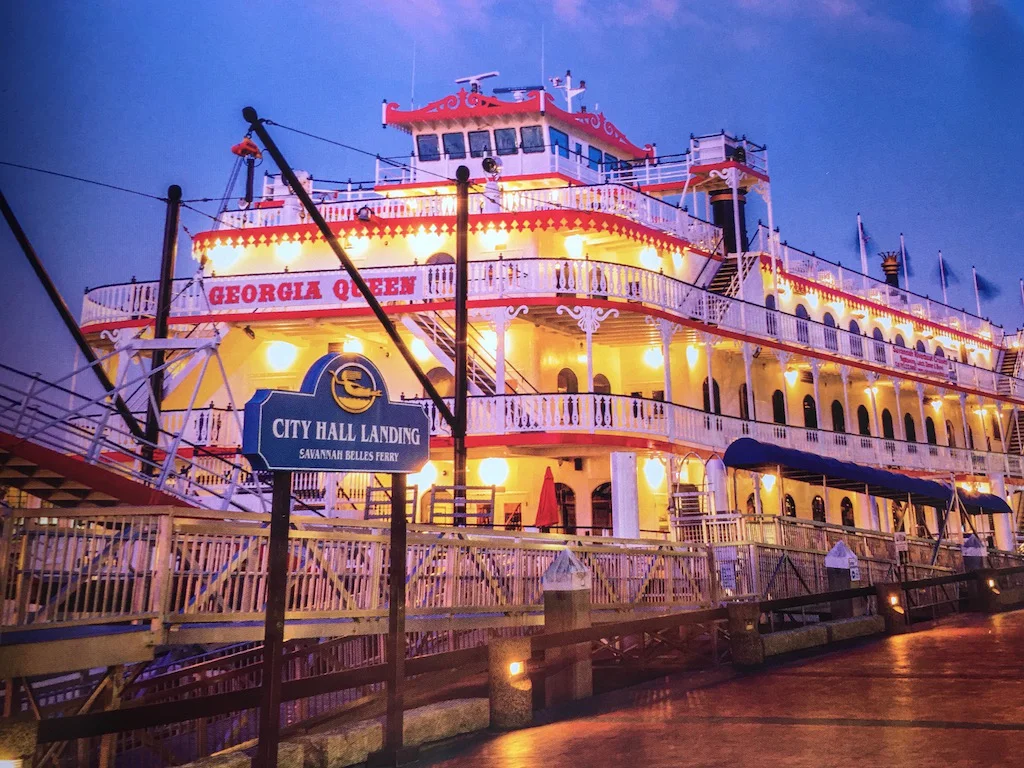 Dinner cruises have finally come to Savannah, GA. After doing his research, Captain Jonathan H. Claughton invested in the River Queen, a 400 passenger vessel. Later he added the Georga Queen in 1997 as a 550 passenger vessel. Both riverboats feature two climate-controlled dining decks and an open-air third deck. With refreshing windy breezes, you can take a sightseeing tour down the majestic Savannah River! They have everything from day cruises for lunch to seasonal and even sunset cruises.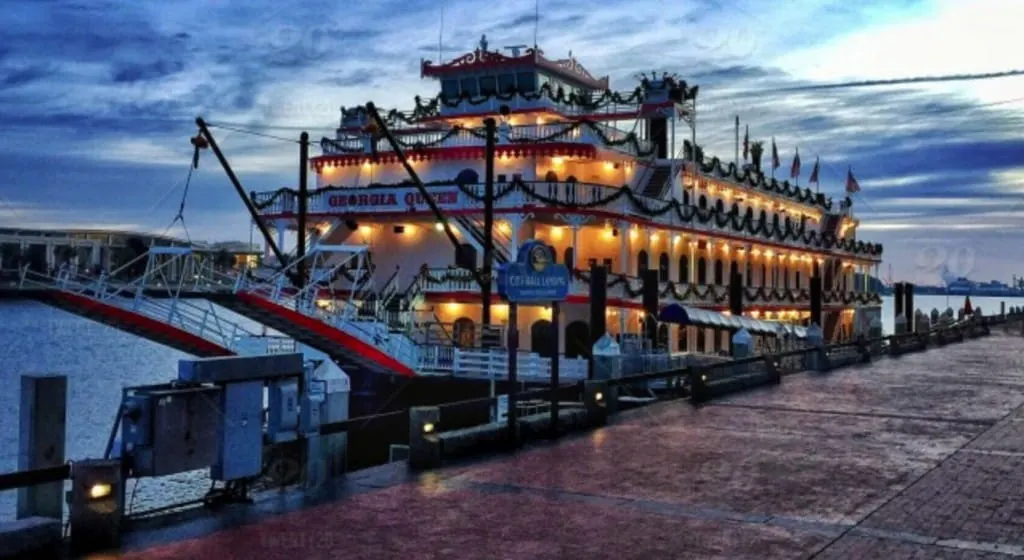 The riverboat tours leave the dock right next to the exact location where General Oglethorpe first landed on the riverfront. They then head out into the Port of Savannah and then turn around and head back under the Eugene Talmadge Memorial Bridge. Which is just past the historic riverfront.
Things to do in Savannah: Savannah, Georgia
23. Go on a Bike Tour Through Savannah
Enjoy the city as you bike around with Savannah Bike Tours. Enjoy the freedom of riding a bicycle on lesser-known and less busy streets. You can also see a lot of Savannah and get your exercise in for the day as well. A win-win situation! As I mentioned before, Savannah can be hot and so riding bikes in the area between Savannah attractions is a fun way to get around town with the breeze in your hair!
24. Things to do in Savannah: Take a Ghost Tour
How many times do you get a chance to ride in a hearse or take a haunted house ghost tour on a trolly if it is not Halloween? Well, not too many I suspect, so why not take a Savannah Ghost Tour? Since Savannah is known as one of America's most haunted cities you might as well go to some of the most haunted sites in the city. You will hear historical facts mixed in with entertaining ghost stories as you ride the haunted trolley.
How Far From the Beach is Savannah, GA? 20 minutes!
25. Have a Beach Day – Tybee Beach near Savannah
Spend the day on Tybee Island, which is only about 20 minutes (18 miles) from Savannah's Historic District. Tybee Island has five miles of beaches for you to enjoy a relaxing and fun day at the beach. A visit to Tybee Beach wouldn't be complete without exploring the island and enjoying the sunset near the ocean. While there, locate the Cockspur Lighthouse.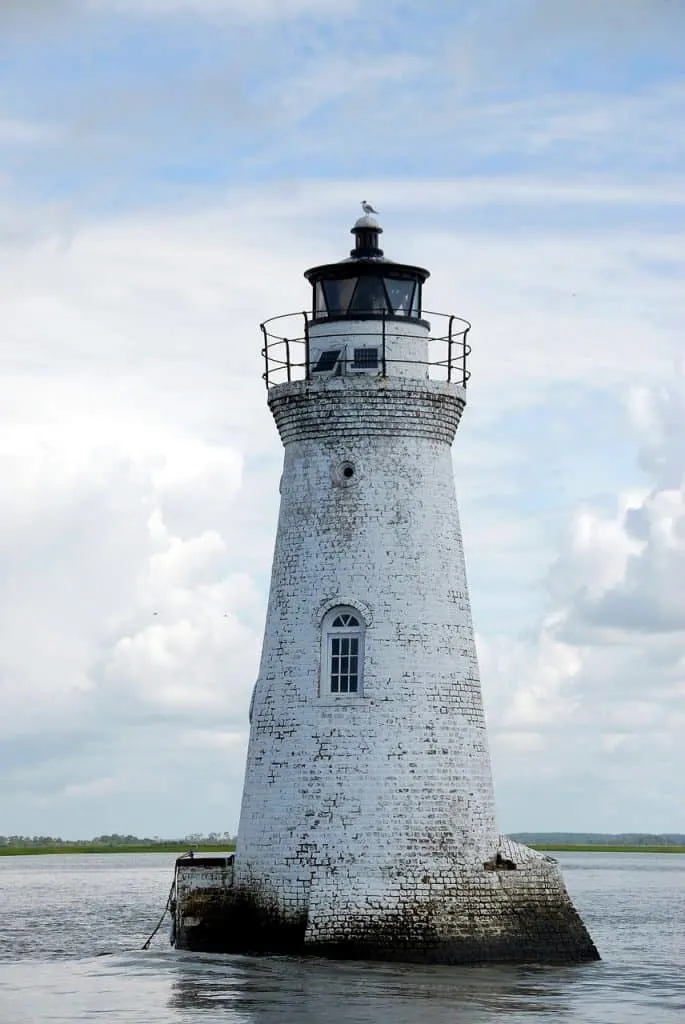 Near Tybee Island is Fort Pulaski, which is built on Cockspur Island between Tybee Island and Savannah. It was a coastal fortification built in 1812 that was destroyed during the American Civil War in 1862. It was thought to be indestructible, but the Union army rendered brick fortifications obsolete by its destruction. Today, the fort is well-preserved – not too dissimilar to Fort Jefferson that I have explored before.
26. Visit Old Fort Jackson
And while we're talking about old forts: Don't forget to visit the national historic landmark of the Old Fort Jackson built along the Savannah River in Savannah, Georgia. Again it was one of the national defense system fortifications.
Things to do in Savannah: Savannah, Georgia
The museum is located in historic downtown Savannah at 41 Martin Luther King, Jr., Boulevard, between the Holiday Inn and The Grey Restaurant (Eater's Restaurant of the Year in 2017 that is housed in a revitalized 1938 art deco Greyhound Bus Terminal!). Ships of the Sea is only one block west of City Market and a few blocks north of the Savannah Visitor Center. Founded in 1966, the Ships of the Sea Maritime Museum features memorabilia related to 18th and 19th-century ships that were displayed in the 1819 William Scarborough House and Gardens.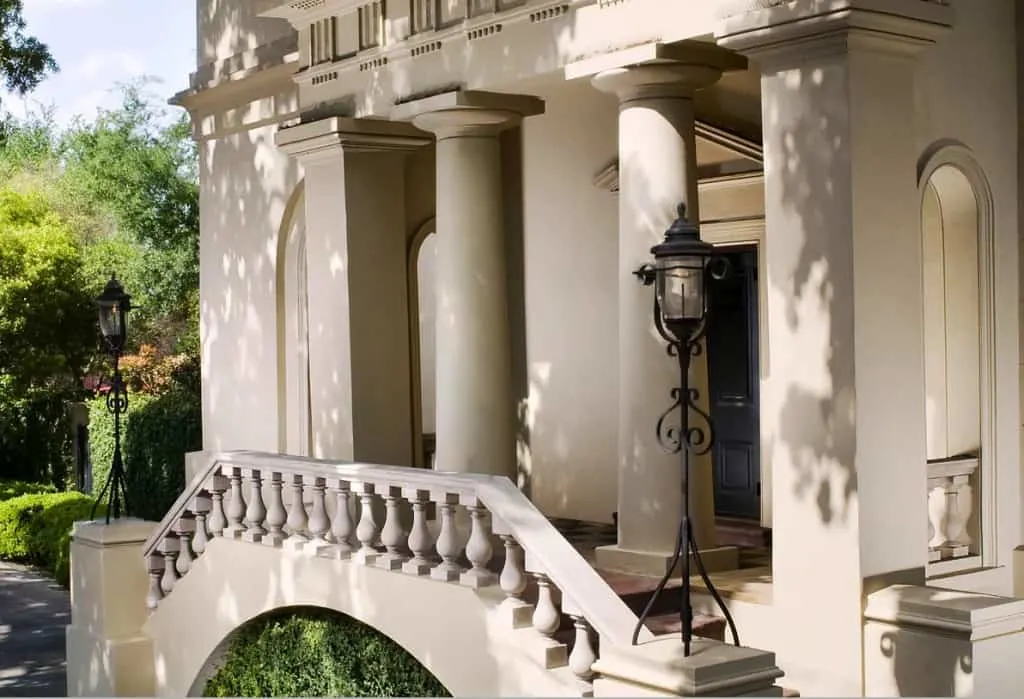 Things to do in Savannah: Savannah, Georgia
28. Admire the Fancy Fences Around Town
I have never seen so many gorgeous fences in all my life. Wrought iron or cast iron decorative gates and fences can be seen all over town. They were and continue to represent the fine craft and beauty of the golden days. In fact, Crawford Square is the only historic square in Savannah to still retain its original fence! It also still contains its original water cistern from the 19th century.
29. Check out the Savannah History Museum
This former railway shed, the Savannah History Museum has tons of information about the history of Savannah, Georgia. From the founding of the city to the American Revolution, as well as the battles of the American Civil War and the civil rights movement, they have documented it all!
29. Visit Savannah on St. Patrick's Day
Do what? It may surprise you to learn that Savannah, Georgia has one of the biggest St. Patrick's Day parades in the entire country! Almost 400,000 visitors are in attendance annually. Droves of post-parade partiers migrate from the Historic District downtown to Kevin Barry's Irish Pub. It is a famous Irish bar set in a historic 162-year-old building on the west end of River Street. Unfortunately, it has recently be closed.
More Things to do in Savannah GA: Savannah Attractions
30. Go to a Festival in Savannah
Try making your visit during one of Savannah's major local festivals.
Savannah Music Festival – Held annually at the end of March through the beginning of April. This music festival features some of the world's best musicians.
Savannah Food & Wine Festival – Held annually in November, you can explore the best in Southern cuisine at the Savannah Ga Food & Wine Festival. However be sure to get your tickets fast, as the tickets to this Savannah event sell out nearly a year in advance!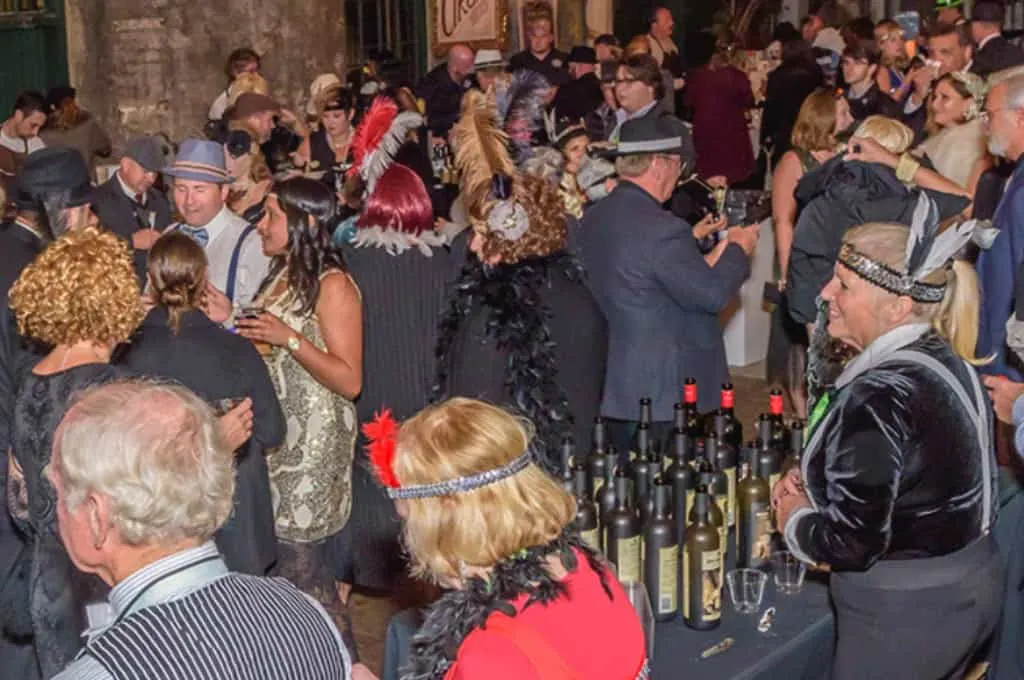 SCAD Savannah Film Festival – This festival is typically held in late October/early November. They have daily screenings of independent films and many parties.
31. Visit the Historic Savannah Theatre
Visit the historic Savannah Theatre. It opened its doors back in 1818 with a production of "The Soldier's daughter" and today it showcases many high-energy variety shows and is open three days a week.
Things to do in Savannah: Savannah, Georgia
32. Take a Coffee Break at a few Savannah coffee houses!
Do you ever feel like you need an afternoon pick-me-up when you are out trying to find things to do in Savannah? Why don't you grab a cup of Savannah-made coffee at Foxy Loxy Cafe, Blends Coffee Boutique, or even The Coffee Fox?
Do you love art and coffee?
You can admire the local art scene while sipping the latest coffee creations at Gallery Expresso. It is a Bohemian cafe with coffee and light fare foods like salads and pastries in a space with mismatched sofas!
You might even want to pick up a coffee at the Savannah Songwriter Series if you get a chance. It happens once a month at Sentient Bean Coffeehouse. It is held on the first Sunday of every month. Four local singer-songwriters take turns performing short acoustic sets.
33. Go on a Romantic Horse Drawn Carriage Ride
Take a romantic horse-drawn carriage ride through the streets of Savannah at dusk with your sweetheart after dinner! Have the Madison Tour Company pick you up from a romantic dinner at The Grey (see below in the food section on where to eat) and enjoy the cobblestone streets of historic mansions.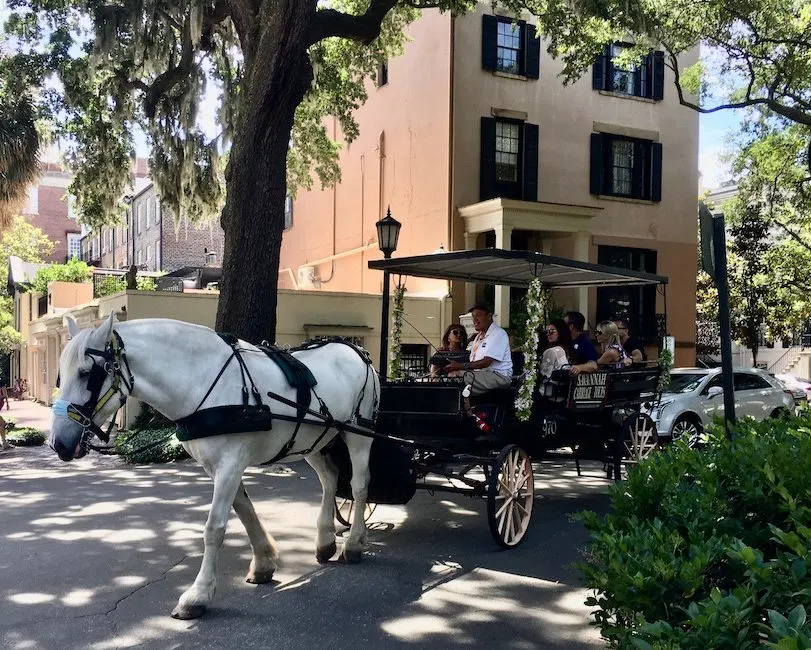 34. Meet up with a professional photographer
There is nothing quite like having your photos taken while on vacation in Savannah GA! Meet up with a local photographer through Flytographer and have your photos taken in a gorgeous setting! I did it with my husband in Monaco and we loved it!
35. While in Savannah, Take a Hike!
I actually just read about some great hikes in the Savannah, GA area. According to Visit Savannah, Savannah is better "lived outdoors" and the city offers many scenic trails. Read this article for the latest information on hiking trails in Savannah.
Things to do in Savannah:
36. Find the Coolest SpeakEasy in Town!
I don't know about you, but I love Speakeasies and I also love cocktail bars. So you can imagine how excited I was while in Savannah when I went on a quest to find Mati Hari, a hidden bar in the back of the boisterous 309 Club. But you know as a Speakeasy, you need a key or a password to get in. So be sure and check with a few of the local bartenders or maybe at your hotel concierge! It may take you a while to figure out how to get in!
Once you finally find the hidden door, the bouncer will let you know that you need a key or membership card, but if you ask nicely, I am sure he might just let you in. I highly recommend trying some of their signature drinks like the lavender lemonade.
---
And if you really want to, you can visit an alehouse that operated during the prohibition time:
---
But if you really want to visit a speakeasy city, with loads and loads of them, you must travel far far away to Lviv Ukraine! I have NEVER seen anything like the Speakeasies here!
Things to do in Savannah: Go Antiquing
37. Check out Picker Joe's
One of my favorite places to go antique hunting is Picker Joe's! And with over 10,000 square feet of space, if you can't find it here, you may not be able to find it in Savannah! And where else can you go where you can get a free vintage cup of Joe from Joe's premium select coffee while you hunt? It is located between Abercorn and Lincoln Streets at 217 East 41st in the Midtown-Historic District of Savannah, Ga. With their motto of "an experience like no other and a MUST SEE in Savannah" and I do have to agree!
38. And if Picker Joe's Isn't Enough for ya! Alex Raskin Antiques
There are four solid floors of things to look through over at Alex Raskin Antiques. Some say it is like walking back in time with time suspended! Located at 441 Bull St in Savannah Georgia, you can't go wrong spending an afternoon shopping here. This place is packed to the guilds and Savannah, Ga is lucky to have such a wonderful place for you to spend your time. The outside of this building is stunning as well!
39. Visit a Local Bookstore
E. Shaver, Bookseller
Savannah's best bookstore just happens to be E. Shaver, Bookseller, with everything from book signing authors to Indie best sellers. It is housed in an 1842 building built by a female builder over on 326 Bull Street. For the longest time, it was an antique store, when in 1975, Ed and Esther Shaver came for a visit to Savannah, Georgia. The rest, as they say, is history! Since they sold their shop in 2015 to an employee of the bookstore, it has thrived with Jessica Osborne and her three fluffy bookshop cats. Definitely worth a visit! Sure bet you can find this book there:
Things to do in Savannah: Read a Book!
And if you haven't read Midnight in the Garden of Good and Evil mentioned above, then if E.Shaver, Bookseller doesn't have it, I am sure The Book Lady will.
The Book Lady
The Book Lady is one of those charming old bookstores that you in romantic movies, but you rarely in real life. The store sells a mix of new and used titles along with rare book editions. They have many books about Savannah, Georgia, or really about any subject that you want to read about. They have books on Southern cooking, culture, and even local history. This cozy independent bookstore has everything you need to enjoy an afternoon in one of its "nooks and cranny" spaces. It is located at 6 E Liberty St, Savannah, GA, and it is definitely not a place to miss!
40. Attend a Honey Tasting
Have you ever thought about trying different kinds of honey? Me either, but Savannah Bee Company over on Broughton Street, Savannah is passionate about its honey and wants you to try (buy & taste) its delicious honey! They will teach you everything you need to know about beekeeping and the different uses of honey.
41. Check out the up and coming Starland District
Starland District has been growing quite a bit lately. It was new to me the last time I visited … It is known for its creative atmosphere, mostly from SCAD students who display their artwork. Bright murals decorate the public walls of the old Starland Dairy. You can add a bit of flavor to your trip by venturing to the east and west sides of the city and visiting immigrant-owned restaurants and bars.
With quirky gems like Graveface Records & Curiosities and biscuit havens like Back in the Day Bakery, as well as Two Tide Brewery and coffee shops, things seem to be rapidly growing. For a late-night snack… stop by Lulu's Chocolate Bar. Find this neighborhood.
42. Stop by
There is no better time to "Fall in love" with Savannah than in the FALL, from September to November. This is a great time to visit Savannah. It is not as crowded to visit during the fall months. But I do think that the best time to visit Savannah is in the Spring from March to June (except not on Saint Patty's Day weekend). It is during this season that the flowers are blooming (It is beautiful in March when the Azaleas are in bloom) and the birds are singing! There are many pink Azaleas that bloom and decorate Savannah's squares. Savannah lies along the Savannah River, approximately 20 miles upriver from the Atlantic Ocean. Really anytime is good to visit Savannah, as it is one of my favorite American cities.
✦ Savannah, Georgia: Where to stay in Savannah?
BOOK EARLY! Hotels in Savannah
Do not be tempted by the lower rates outside of the historic district, because the historic district is where you want to be and where you can walk to everything. Even though parking is limited, it is THE place to be.
✦ River Street Inn
I stayed at the River Street Inn, along River Street, and as far as location, it was perfect as it overlooks the Savannah River. It is an old restored building with brick walls, archways, and hardwood floors. The structure itself is gorgeous, but as far as the rooms go, it could be updated. However, if you are there to explore and not spend much time in the room, this will work perfectly. The west end of River Street has some great country and dance bars. The parties usually start after 10 pm, so if you want to check them out, here is the link to the "Party Barge", I mean the Savannah River Boat Cruise.
✦ Kehoe House
This four-star property located on Habersham Street, in historic Savannah, is within steps from Columbia Square and the Davenport House. It is a boutique bed and breakfast with free wifi. A stay at the Kehoe House will not disappoint!
✦ Mansion On Forsyth Park
Another gorgeous property is the Mansion On Forsyth Park. Remodeled in 2005, it provides amazing décor and amenities throughout the 125-room Victorian Romanesque property. With Versace furniture in the lobby, the Mansion on Forsyth Park provides high-end amenities in the historic district of Savannah. You should take a moment to spend some time at the gorgeous marble-framed pool and relax at the Poseidon Spa. It is sumptuous!
✦ Kimpton Brice Hotel
Known as "Savannah's Coolest Hotel" by Fodors in 2018, The Kimpton Brice Hotel has beautiful architecture yet is gorgeous on the inside. With an urban resort vibe, it is located right in the center of Savannah's National Historic Landmark District. The Kimpton Brice Hotel is centrally located and within walking distance to the City Market and near River Street.
✦ Andaz Savannah
The Andaz Savannah is always recommended for an eclectic boutique hotel located in the City Market. With an urban vibe, yet Southern sophistication, the Andaz Savannah by Hyatt delivers a modern city chic feeling to the area. Just steps from the river, trendy shopping, and awesome dining.
✦ The Westin Savannah Harbor Golf Resort & Spa
Nestled on the banks of the Savannah River and a quick ninety-second ferry ride from historic downtown is the Westin Savannah Harbor Golf Resort & Spa. Here you can play a round of golf, relax with a spa treatment or spend time at the daily venues offered. They also have a lovely pool, where you can bask in the sun all day if you like. temperate climate.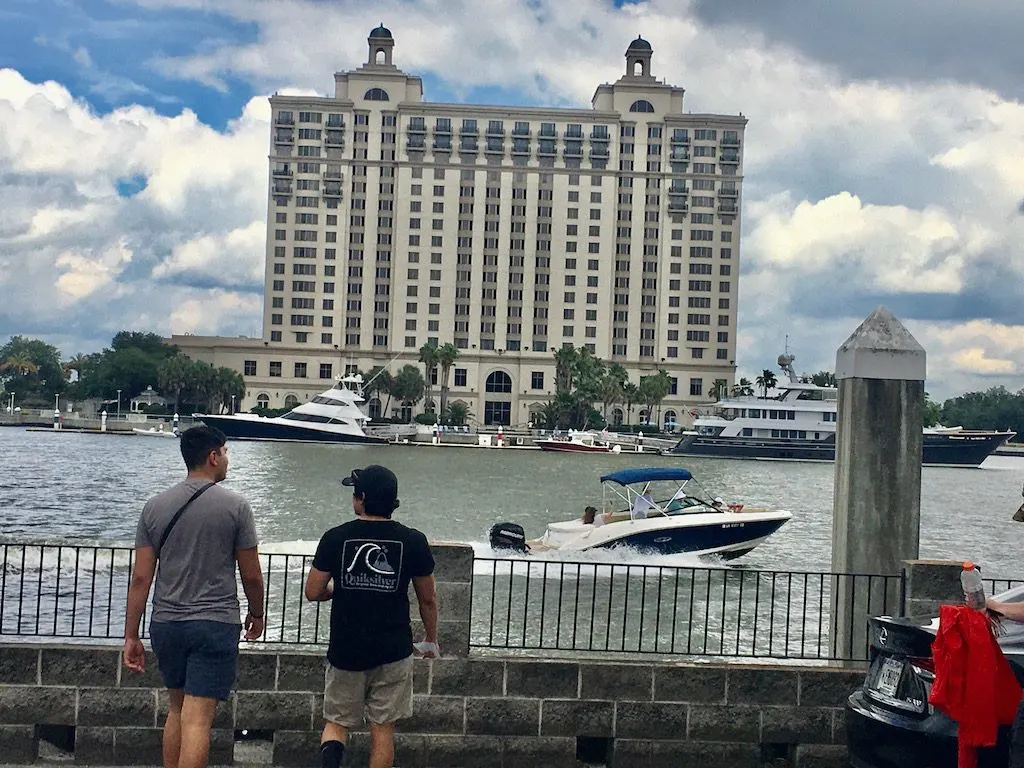 ✦ DoubleTree Savannah Historic District
Location, location, location: DoubleTree Savannah Historic District Hotel – This cozy, inviting, and the very colorful hotel is in the perfect location – right in the historic district. The staff is super friendly and always there to please. Be sure and ask for a street-side-facing room versus the park-side-facing rooms because of the noise since it is located less than two blocks from the historic district's restaurants and nightlife.
✦ Hyatt Regency Savannah
This is a nice Hyatt Regency with a cool lobby that overlooks the Savannah River. Stop by just to watch the container ships. from the floor to ceiling windows. Yearly 30,000 container ships are making their way from the port of Savannah. There are ships from all over the world and it is quite interesting to watch.
✦ The Perry Lane Hotel – Savannah
Stay at this four-star luxury hotel The Perry Lane Hotel, near SCAD (Savannah College of Art and Design) in the Historic District. It is also close to Forsyth Park. It has 167 rooms with 12 suites, so there is something for everyone! With its rooftop bar called Peregrin and 8900 square feet of event space, they have it all. The Perry Lane Hotel just steps away from the Savannah Riverwalk, numerous museums and galleries, and the shopping street Broughton.
---
Professional Tip for you: The Satchel Shopping Experience is a special treat for guests of the Perry Lane Hotel. When you stay there, you will get to meet Elizabeth Seeger Jolly, the owner of Satchel. Along with her staff, you will get to design your very own leather bag or wallet! How cool is that?
---
✦ Mirabelle Suites
Located in the heart of Savannah, Mirabelle Suites is bookable through Airbnb and Homeaway, where they only have a few suites, but from what I heard, it is pure heaven on earth to stay here! There is the Pearl Suite, the Rosemary Suite, and the Waverley Suite at this vintage Mirabelle building bookable here.
✦ Marshall House
Set in a historic hotel, the Marshall House was built in 1851. A stay here will allow you to have a true Savannah experience filled with vintage authenticity, character, and charm. Plus it is a member of the Historic Inns of Savannah and within walking distance to where you want to be.
Savannah B & B: Azalea Inn & Villas
But let's say you are more of the B & B type of person, that hotels aren't really your thing! Have I got an amazing place for you? You bet I do at Azalea Inn & Villas! In fact, you may never want to leave this history and luxurious accommodations! They have everything from individual rooms to elegant cottages and villas. And furthermore, it is located in a great place to wander around in Savannah.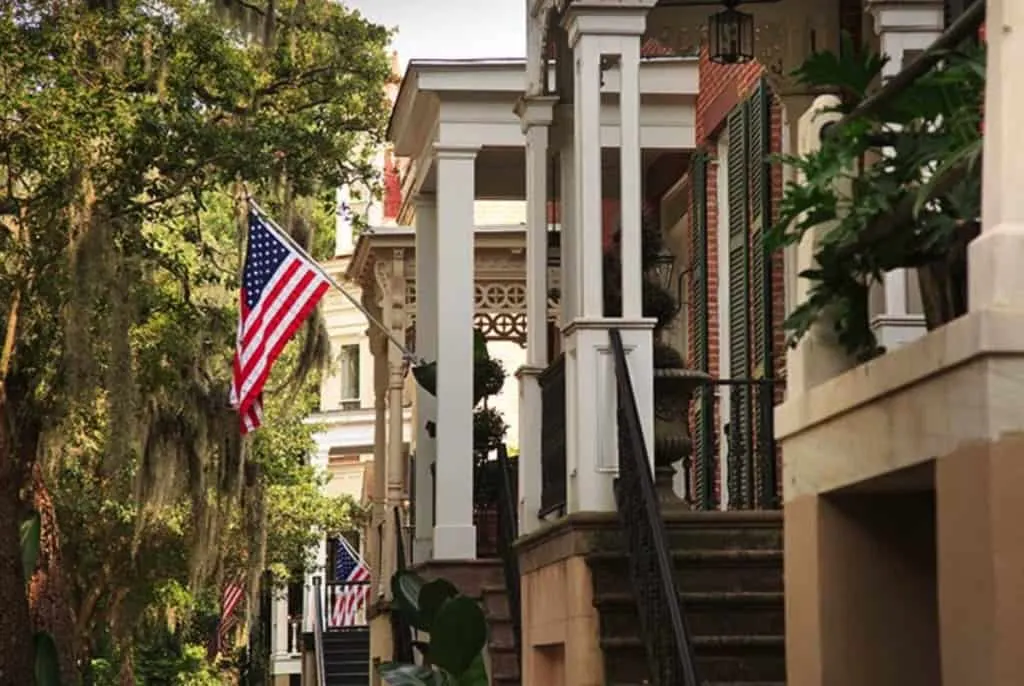 ---
✦ Savannah, Georgia Tip: Stay on or near River Street to cut back on the cost of Uber or Lyft!
There is also a free shuttle at the Savannah DOT that takes you around the Historic District.
---
✦ Savannah, Georgia: Where to have a cocktail?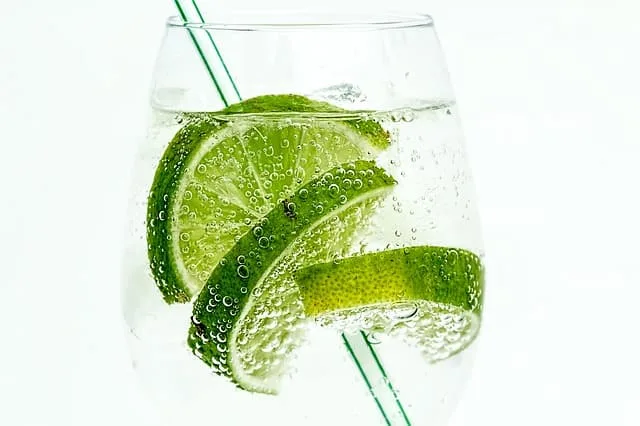 ---
---
"If you go to Atlanta, the first question people ask you is, "What's your business?" In Macon, they ask, "Where do you go to church?" In Augusta, they ask your grandmother's maiden name. But in Savannah, the first question people ask you is "What would you like to drink?"
― John Berendt, Midnight in the Garden of Good and Evil: A Savannah Story
---
---
Where should you go to get that drink?
Alley Cat Lounge
How about the Alley Cat Lounge on Broughton Street, a little basement escape where they love booze and the community! They strive to bring the highest quality and freshest ingredients possible to their customers and I can attest to that! Here they do not serve drinks… they serve people…they serve experiences =! (I love that!)
Congress Street Up
Or how about Congress Street Up, a hot "craft cocktail" bar and 1920's style speakeasy in Savannah?
El-Rocko Lounge
Are you ready for some debauchery? Then El-Rocko Lounge is the place to be! With their barrel-aged cocktails and vinyl jukebox, this lounge on Whitaker Street has some very original cocktails. Even Wes thinks the drinks make you more attractive and funnier!
The Original Pinkie Masters
Ok so don't tell anyone I told you about this place, The Original Pinkie Masters, but it is a local LEGENDARY DIVE BAR! No really, it is what I call a hole-in-the-wall, where my relative President Jimmy Carter shook hands and secured quite a few votes! (Just so you know, Jimmy Carter's grandfather and my Grandmother's grandfather were brothers.) Now, the bar still smells like a stale peanut butter and jelly sandwich – but it does have a vibe. So bring your cash, as they don't take a credit card. And say "hi" to that pot-bellied pig that hangs out there. Pinkie's is right next door to the Diplomat.
Wet Willies (mentioned before)
Try a colorful "spiked" slushy from Wet Willies! They have two locations in Savannah, GA: One over on River Street and the other on Jefferson Street in the City Market!
Artillery Bar
And I would be remiss if I didn't mention the Artillery Bar, I mean, look at this gorgeous place! Go and explore the menu!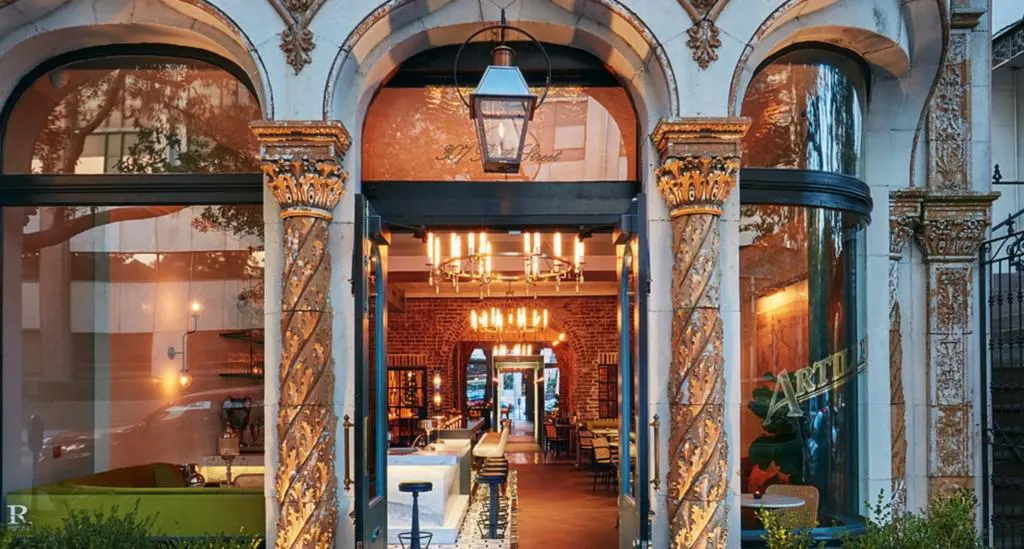 ---
Recommended reading: 7 Places to Drink in Savannah on Travelocity's Inspire Hub
---
How about the Best
Roof Top Bars

in Savannah GA?
Top Deck
So you want a cocktail and a view? Try Top Deck, A rooftop bar along the Savannah River. It has comfy couches and plenty of outdoor seating for your viewing pleasure. Plus the drinks are tasty!
The Public Rooftop and Bar
If you head on over to Liberty and Bull Streets, right on the corner you will find The Public restaurant that has a rooftop dining area that overlooks downtown Savannah. They serve trendy cocktails and eclectic food in classic Mid-century-modern decor. It certainly does elevate the casual dining experience.
Rocks on the Roof
Or how about Rocks on the Roof ?- it is hard to beat the sunset view from this rooftop bar on Bay Street. So it is at this point that you realize after reading all of this article that we are all connected somehow because of the history of Old Savannah. So grab a drink and come along for the ride.
---
✦BONUS TIP✦
Another added bonus about drinking in Savannah's Historic District: They allow you to carry up to 16 oz of liquor in an open container in hand! Say what? Yes, this is true, but only in the historic district of Savannah and only in an open plastic cup! So leave one bar for the next one while wandering the historic district with a cup in hand!
---
Perch
Let's say you are looking to go on a date or find some moonlit place quiet. Then look no further than the restored 1950's-era downtown bank house called Perch on the south end of Forsyth Park. It is on the rooftop of the Local11Ten restaurant. I think it is the quintessential southern meeting place to enjoy a specialty cocktail. Why don't you come perch for a while and order a few small plates and charcuterie boards?
Peregrin
See above located at the Perry Lane Hotel.
---
Rule Number One: "Always stick around for one more drink. That's when things happen. That's when you find out everything you want to know."
– John Berendt, Midnight in the Garden of Good and Evil
---
✦ Savannah, GA's Best Dive Bar
Original Pinkie Masters
Savannah's best dive bar is none other than the Original Pinkie Masters! Where it is CASH only! Located on Drayton Street and open Mon-Thurs 1 pm-3 am, Fri-Sat 12 pm-3 am, and closed on Sundays!
318 Drayton St, Savannah, GA 31401
---
✦ Savannah, Georgia: Where to Eat?
The Olde Pink House
Although the 247-year-old Olde Pink House restaurant had a fire due in late December 2018, the Olde Pink House in Savannah is open and ready to serve guests. It is located in an old Southern and colonial mansion off of Abercorn Street. It is THE place to go for Lowcountry cuisine. Lowcountry cuisine is cooking traditionally associated with the South Carolina Lowcountry and along the Georgia coast. But be sure and call for reservations first! Then order the Apricot Chutney flounder! IT is to die for! This 18th-century mansion restaurant is a Savannah GA tradition!
Paula Deen's Lady and Sons Restaurant
One thing that Savannah is famous for is its Southern-style cooking and who is better than Paula Deen (and Sons) to cook for you? Currently located on Congress Street, Paula Deen's Lady and Sons Restaurant began back in 1989, when Paula began cooking out of her home! Soon enough, it was a lunch delivery service, delivering lunch bags to businesses around town. As you can see, it has evolved into something way bigger than what it is now, as an institution in downtown Savannah.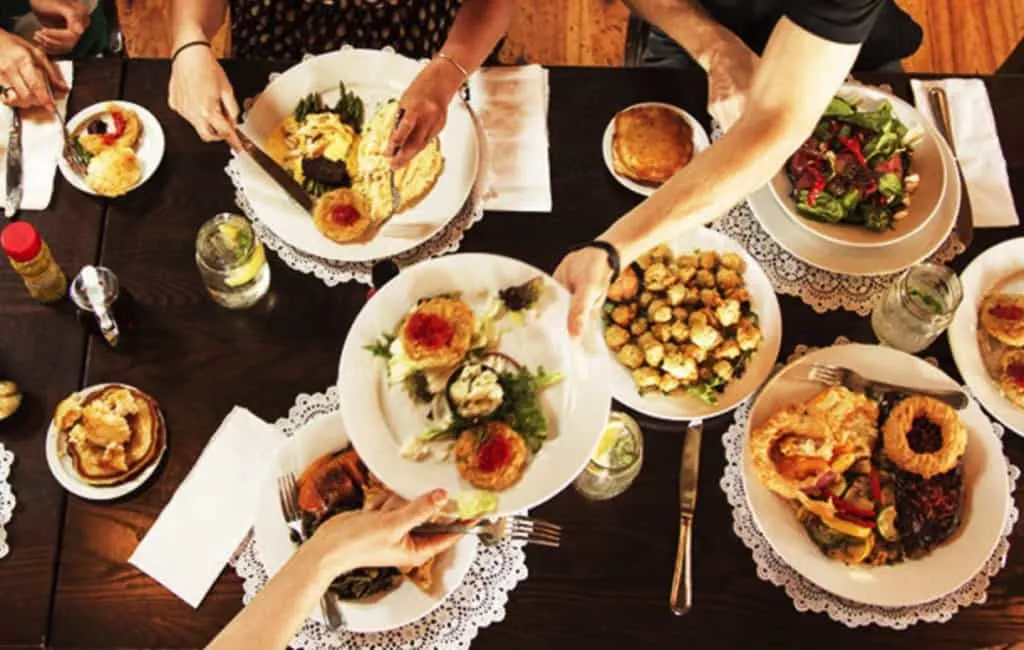 Elizabeth's on 37th
With southern hospitality, local produce, and fine coastal cuisine, Elizabeth's on 37th is a favorite destination in Savannah for the last 30 plus years… It is housed in an elegant 1900's mansion with food inspired by Chef Elizabeth Terry and her husband Michael.
And if that is not enough:
45 Bistro – History & Ghosts in Savannah!
45 Bistro: The bistro is located in the historic hotel-turned-Civil War hospital. 45 Bistro is well known for its; delicious food and for the occasional ghost sightings. So be sure and keep your eyes peeled for some citizens of Savannah's past!
Vic's on the River
And how about an order of fried green tomatoes, crawfish beignets, and spicy fried shrimp? Or how about shrimp and grits? You can try all of this at Vic's on the River. During the Civil War, General Sherman's officers used this location as a meeting and housing space. In the main dining room, there is a hand-drawn map detailing Sherman's march through Georgia.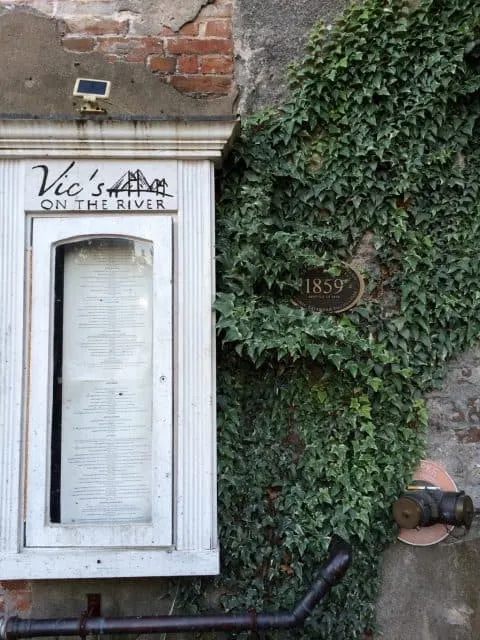 Huey's Southern Cafe
And while on River Street, you might as well check out Huey's on the River Restaurant, an authentic New Orleans cuisine on Savannah's historic River Street serving patrons from morning until night. With a historic setting, you will be eating in an 1817 cotton warehouse constructed of balastone and brick and surrounded by floor-to-ceiling windows. You will be eating a delicious blend of American, Cajun, Creole, and Southern Cuisines.
Pirate's House Restaurant
A pirate-themed restaurant is where General Oglethorpe landed in 1733 and opening 20 years later, the Pirate's House Restaurant has been serving people and pirates since then! It is widely known that real scoundrels have eaten in this establishment! Arrgh! So get on the phone and make yourself and your friends a reservation at this fun-filled restaurant on Broad Street in Savannah. Oh, and I heard it is famous for its fried green tomatoes!
Alligator Soul
I know, it sounds scary, but it's not! It is actually an elegant and downtown dining establishment in Savannah that might stretch the flavors of your typical meal! They offer unpretentious fine dining at its best and serve everything from an alligator (of course) to an ostrich, and even a kangaroo and an antelope! It was a BEST OF SAVANNAH winner in 2016 and continues to please its audience! It is a restaurant known for organic, fresh, and local, as well as regional fare, with emphasis placed on humanely treated animals. Order a cocktail or two while you are there as well, as they are delicious!
The Grey
As mentioned before, try out The Grey, as it is fast becoming one of the top dining destinations in town, located in its revitalized 1938 art deco Greyhound Bus Terminal. The Grey offers food, wine, and a service experience that brings Southern food that is soulful. The Grey continues the building's tradition of transporting people to a destination, but this one is to a whole new world.
As not to forget, the owner of The Grey left a spot where you can observe the station's previously segregated areas, the waiting room in the rear, and the separate bathrooms. When Johno Morisano bought this former Greyhound bus terminal, his hope was to give Savannah back a long-lost piece of local history. I think he certainly did that!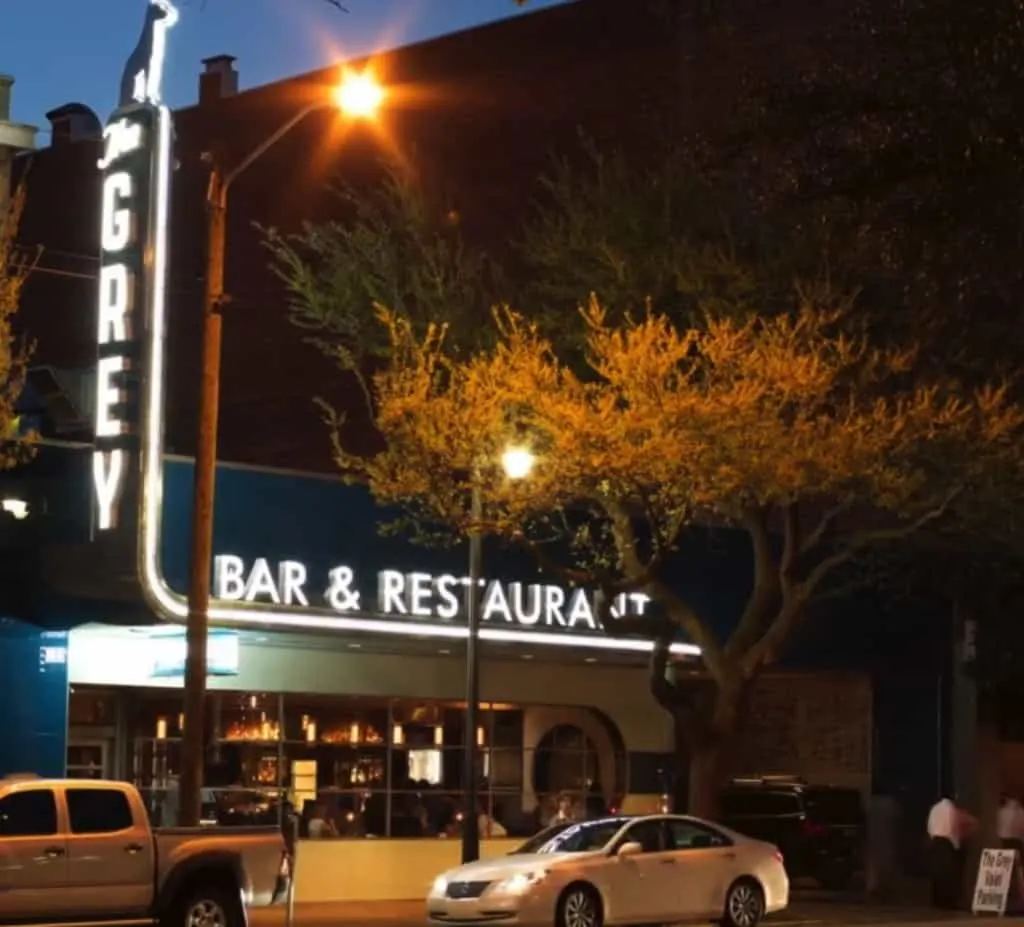 b. Matthew's Eatery
Known around town as a one-of-a-kind bistro that pretty much serves it all – breakfast, lunch, dinner, and even brunch. b.Matthew's Eatery is located in Savannah's Historic District on Bay Street. I love the exposed brick walls in the interior! They once were a casual deli and bakery, but have since evolved into a full-service establishment that uses fresh, seasonal, and high-quality ingredients. Primarily traditional and New American dishes are served!
Collins Quarter
If you get a chance, check out Collins Quarter in the historic district on Bull Street with a decadent champagne breakfast to a delicious lunch or dinner cuisine paired with fine wines and craft beers, this place is pretty awesome!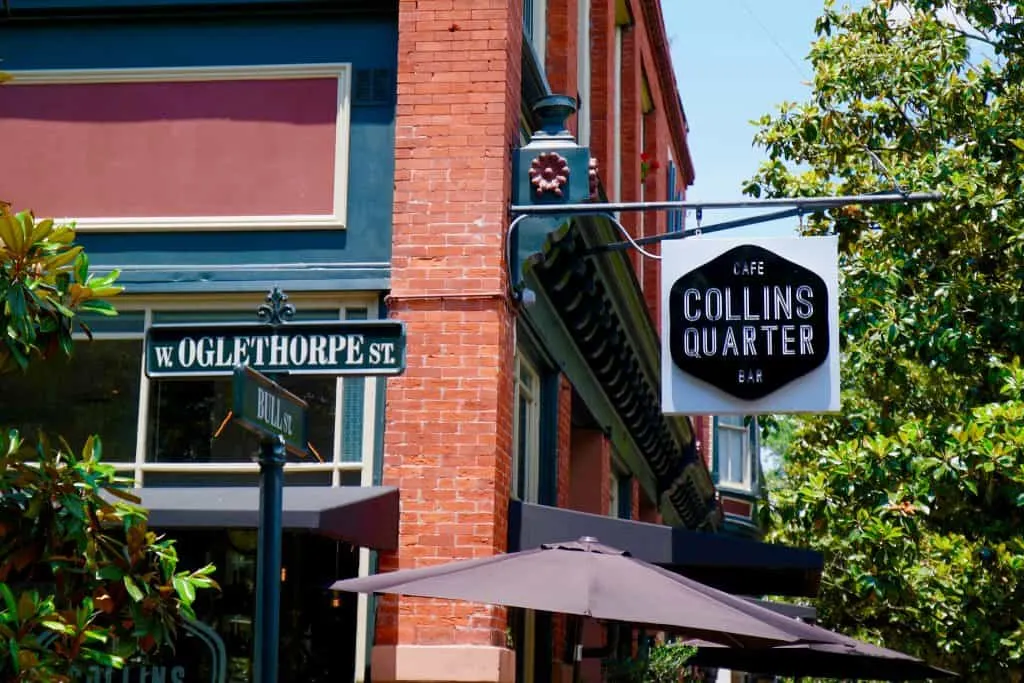 The Wilkes House
Talk about Southern Cooking, this family-style restaurant allows for everyone to pay a flat fee (cash is only accepted, no credit cards accepted here), and all can chow down on southern fried chicken, okra, sweet potatoes, gumbo, and cornbread. All the best southern cooking foods! And luckily, the menu changes daily. The location is along picturesque Jones Street in a boarding house that was taken over by Mrs. Sema Wilkes in 1943. The place is now run by her great-grandson Ryan Thompson.
Cotton & Rye
If there is one place that needs to be on your list of great restaurants in Savannah, be sure to check out Cotton & Rye! They have a cool location of a remodeled, midcentury bank on Habersham Street. They don't take reservations, so be sure to get there early or late. Either that or decide to wait in line!
Gryphon Tea Room
Gryphon Tea Room is located within SCAD's (Savannah College of Art and Design) campus, you will find an old pharmacy from the 1920s that has been redesigned into an elegant cafe. Most of the staff are SCAD students. They serve brunch, lunch, and afternoon tea! Now, how Southern is that? Ask about what is new on the menu or about the history of the building and this old pharmacy!
Wiley's Championship BBQ
Wiley and Janet McCrary moved to Savannah, GA in 2005, and out of their catering business, they started up their restaurant to eat their favorite thing: BBQ in 2008! With hundreds of accolades and features, this is THE place to get the best barbecue in town: Wiley's Championship BBQ! You can even order his BBQ sauce online to take home with you to remind you of your visit to Savannah!
Cha Bella
Cha Bella is Savannah GA's farm-to-table restaurant. Sourcing its products from within driving distance from their restaurant. They are super proud to represent the local farmers and fishermen and the use of organic products. Their focus is on American cuisine.
Husk Restaurant
Centrally located in the heart of Savannah's Landmark Historic District, Husk Restaurant transforms the essence of Southern food. With an ingredient-driven cuisine that redefines what it means to cook and eat in the South. According to their website, "Seed-saving, heirloom husbandry, and in-house pickling and charcuterie efforts by the culinary team are the basis of the cuisine at Husk." You won't be disappointed in this historic, late 19th Century home on Oglethorpe Avenue.
Just looking for a snack?
Go to Back in the Day Bakery, a James Beard nominee.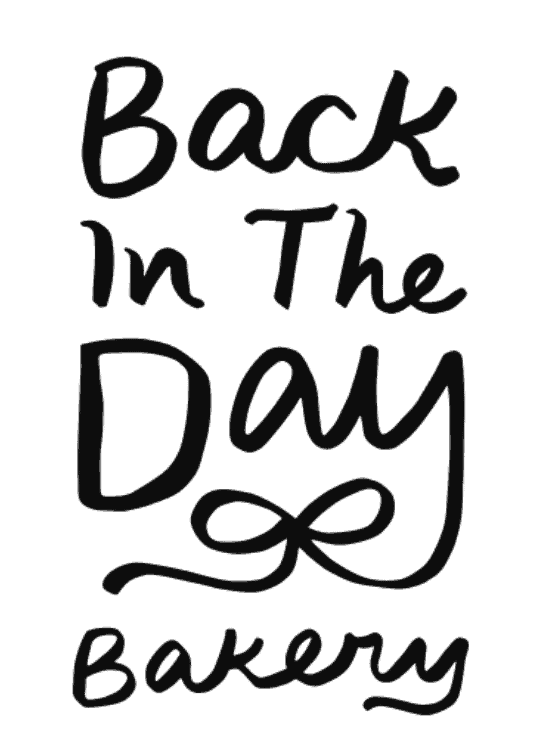 Head on over to Back in the Day Bakery, known as a gathering place for friends and family to share conversation over a cup of coffee and some of the best biscuits on that side of the Mississippi! It is located in the Starland District. They bake from scratch and use local ingredients. They serve breakfast, lunch, and desserts!
OR, how about Chocolat by Adam Turoni just the best chocolates in town! He now has two locations, one over on Broughton St. and the other on Bull St.
✦ Ok, Now That You Know Where to Eat… What Should You Order?
Since Savannah, GA is the home of great cuisine of the South, many cultures and traditions from different countries have all influenced this cuisine. Some of the traditional dishes hail from African, Spanish, French, and English cuisines. Barbecuing is a huge staple in the Southern States, especially wood-fired and deep-pitting. Let's take a look at some of the tastiest dishes that can be found in Savannah, Georgia.
✦ What to Eat in Savannah? Grits
Grits are a porridge-like dish that is made from corn, also known as maize. This mouth-watering dish originally comes from a recipe from the Native American Muskogee tribe. Grits are usually served as breakfast food along with eggs and bacon. A simple grits recipe can include the following: milk, heavy cream, butter, salt, water, and corn grits. This is a relatively easy dish for people to make, especially those who are not the best chefs. But one of the greatest places to eat grits is Narobia's Grits & Gravy located on Habersham Street in Savannah, Georgia. This restaurant is everything one would expect from the South. Friendly staff, quaint restaurant, and amazing food!
✦ What to Eat in Savannah? Mac and Cheese
Macaroni and cheese are probably the most hom-ey and comfort dishes in the entire USA. No one makes a better dish of mac and cheese than in the South. A great recipe for Southern-style mac and cheese includes butter, garlic, sharp cheddar, macaroni, eggs, and half-and-half. Located on Skidaway Road, Sisters of the New South is the perfect restaurant to eat some homemade mac and cheese!
✦ What to Eat in Savannah? Fried Green Tomatoes
Fried Green Tomatoes is not only a great movie, but it is also the name of a famous dish in the Southern United States. These fried delicacies are served as side dishes to meals like fried chicken and sandwiches. The scrumptious texture from the fried tomatoes comes from the cornmeal. The Savannah-based restaurant, Biscuits Rise Donuts serves delicious meals from country ham, Southern chicken biscuits, and their version of the famous fried green tomatoes. I heard from a good source that some of the best friend green tomatoes can be found at The Pirates' House!
✦ What to Eat in Savannah? Fried Chicken
Fried chicken is a meal that can be served hot or cold, but the best kind is served in the South (in my humble opinion!). The dish can be pan-fried, deep-fried, or pressure fried, as long as it is fried. This meal comes of Scottish descent mixed with a little African cuisine. Fried chicken is generally crunchy, crispy, tender, and juicy. It should make your taste buds water. Kennedy's Fried Chicken (not Kentucky Fried Chicken!) on Pennsylvania Ave in Savannah has everything from chicken wings, to fried chicken and hot wings.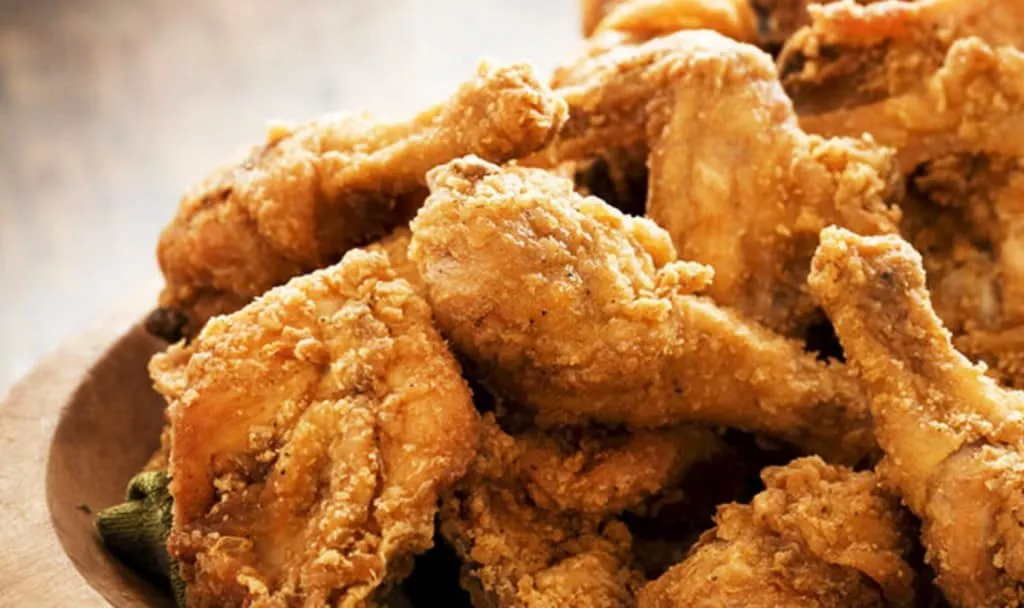 ✦ What to Eat in Savannah? Chicken Fried Steak
Is it chicken or steak? This is the question that most people ask when referring to the Southern dish, Chicken Fried Steak. Despite the name, this dish's main ingredient is steak. A mixture of Italian and Austrian cuisine, this dish is composed of flour, eggs, breadcrumbs, salt, and pepper. It is usually served with gravy and vegetables. Cotton & Rye is an American-style restaurant that serves this wonderful dish, as well as trout and beef tartare.
✦ What to Eat in Savannah? Pimento Cheese
Pimento Cheese is another staple dish from the South. Created from cheese, pimentos, and mayonnaise, this amazing spread is perfect on sandwiches. A simple recipe for pimento cheese including processed cheese, mayonnaise, pimentos, salt, and pepper. The best way to serve this relish is on crackers, tortilla chips, or in a sandwich. You don't have to be an art and design student to eat at the amazing Gryphon Café at the Savanah College of Art & Design. This sleek café makes the most scrumptious pimento cheese sandwich, complete with onions and bacon!
✦ What to Eat in Savannah? Biscuits and Gravy
Biscuits and gravy can be found around the world and they can come in different textures, tastes, and sizes. The most delicious biscuits found in Savannah are buttermilk biscuits & gravy. These fluffy biscuits made from buttermilk, butter, baking soda, salt, and flour are the perfect side dish to accompany any Southern meal. One of the best breakfast places to eat buttermilk biscuits is Narobia's Grits & Gravy. Although this restaurant has already been taken for the best grits, you cannot miss the opportunity to eat here and try the biscuits and gravy too!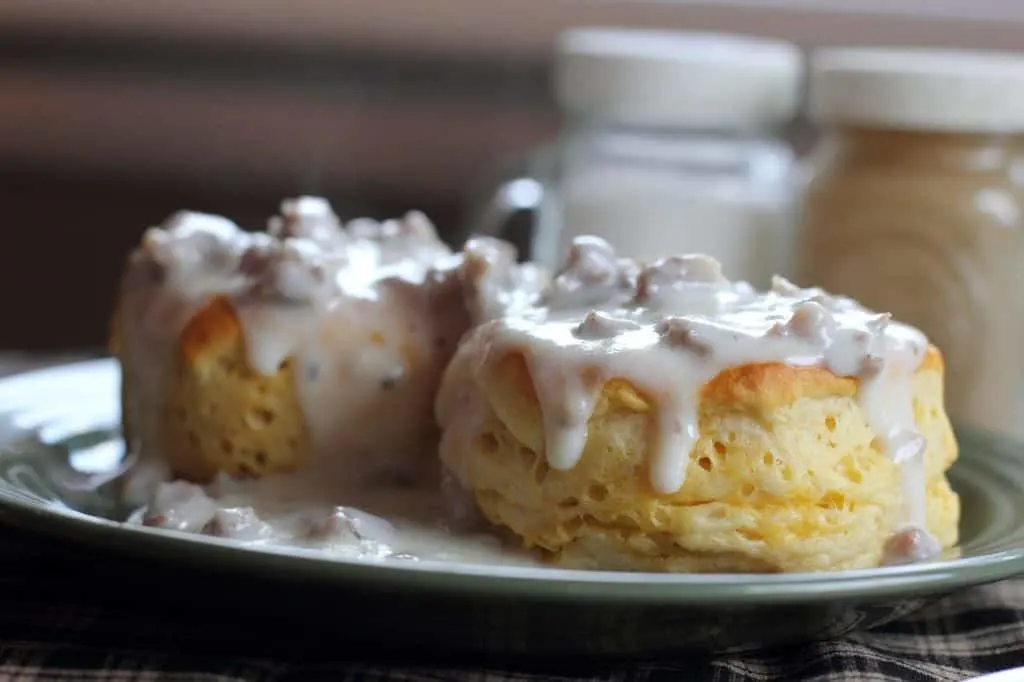 ✦ What to Eat in Savannah? Okra
Originated from South Asia and Africa, okra is a plant that has edible seeds. Okra can be cooked in many different ways, but staying true to the Southern roots, the best way is fried. Okra Panzanella is a delicious dish made from fried okra, tomatoes, onions with basil. Mrs. Wilkes Dining Room is a comfy restaurant that serves tasty okra, fried chicken, macaroni salad, and slaw.
✦ What to Eat in Savannah? BBQ
OK, so maybe Savannah isn't famous for BBQ, but it sure tastes good here! So be sure and check out all the famous BBQ places to eat in Savannah, Georgia, such as Wiley's Championship BBQ, Sandfly BBQ at the Streamliner, Walls BBQ, and B's Cracklin'BBQ.
For Desert: What to Eat in Savannah? Pecan Pie
Pecan Pie is stable in the Southern states but this dish is not for those with a peanut allergy. A mixture of pecans, sugar, molasses, honey, eggs, and butter all form together to make this scrumptious dish. It is often topped with vanilla bean ice cream, whipped cream, or a sticky caramel sauce. Pecans are grown locally among the Southern states, which makes this a great local dessert. Sweet Potatoes on Stephenson Ave is best known for its pecan pie.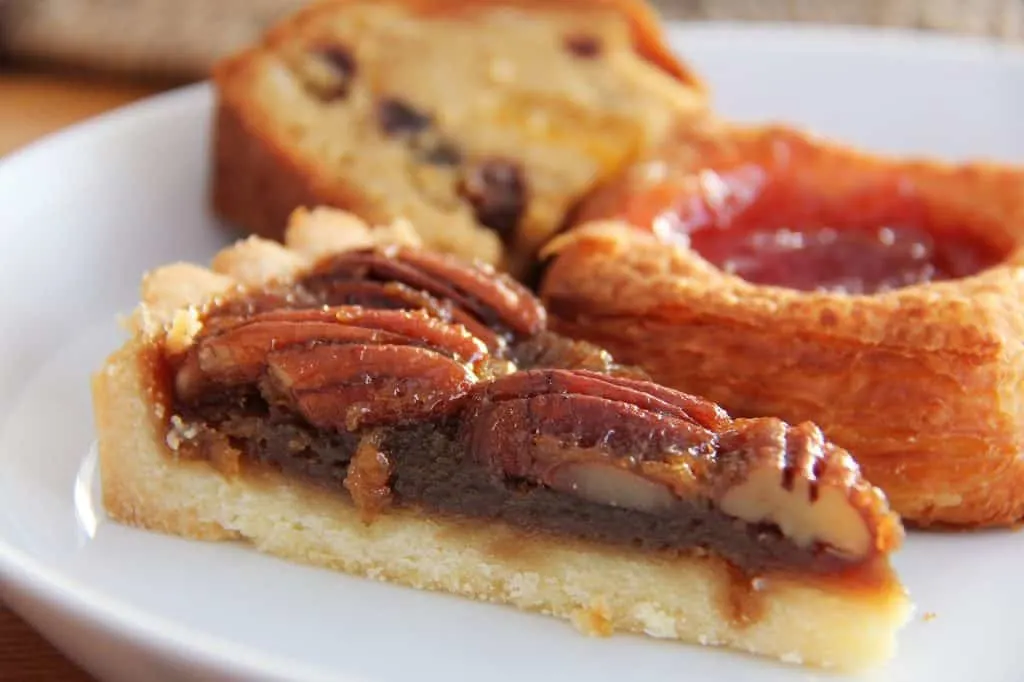 For Desert: What to Eat in Savannah? Peach Cobbler
Nothing screams Georgia like a homemade slice of Peach Cobbler. Cobbler is a pie made from a thick pie crust that was originally made in the United Kingdom. A southern tradition is to give this cobbler dessert a few scoops of vanilla ice cream. Why not pair a scrumptious slice of peach cobbler with one of the 80 beers served at Crystal Beer Parlor. This restaurant has been in Savannah since 1933 and it serves everything from salad, onion rings, crab dip, and its famous Georgia "Gawgia" Peach Cobbler!
For Desert: What to Eat in Savannah? Pralines
Hailing from a mixture of cream, sugar, and nuts, pralines are a confectionary dessert that is highly promoted in Savannah. The main types of pralines come from Europe (France and Belgium) and the USA. This French-inspired dessert is similar to fudge. Pralines can be made from chocolate and pecans or hazelnuts. Savannah's Candy Kitchen is home to the tastiest pralines in all of Georgia. This unique confectionary heaven serves original pralines, pecan pralines, praline cookies, and chocolate pralines. You can order these delicious treats online and have them delivered to you.
---
✦ Tips for a Great Tour of Savannah, Georgia
Put on a hat, sunglasses, and sunscreen to protect your skin.
Dress cool; you will be walking a lot, although the trolly tour helps.
Wear comfortable shoes, refer to #2 above
✦ Check out my note map about Savannah:
Located on Findery called: Savannah, Georgia – Love At First Sight
Recommended Reading For Your Trip to Georgia
Georgia's Golden Oldie: St. Simon Island
9 Little Known Facts About Savannah (Georgia)
---
✦ Savannah, Ga Flights and Airport (SAV)
I know after reading all the fun things to do in Savannah you have to figure out how to get here, right?! So get on the internet and look up the closest airport that serves Savannah and you will find that it is the Savannah Hilton Head International Airport (SAV). But which airlines service this airport?
American Airlines
Since I am an Advantage elite status member as a Platinum Pro with America Airlines, I have to mention them first! American Airlines has the East Coast of the USA covered with 19 flights from there! American Airlines has nine flights daily from Charlotte (CLT)!! So connecting from there is great! During the weekend, American Airlines also offers two daily flights from New York-LaGuardia (LGA). They also have two or three daily flights from Dallas/Fort Worth (DFW), so that all my Texas friends can fly direct from there. They also have two daily flights from Washington-Reagan (DCA) and Miami (MIA). They offer one daily flight from Chicago-O'Hare (ORD) and three flights per week from Philadelphia (PHL).
Delta Air Lines
Delta Air Lines, of course, has its major hub right in the Atlanta area, so of course, they have some great options as well. In total, they offer between 19-21 nonstop flights into Savannah, GA (SAV), and are most likely the best option from the East Coast of the USA. They offer 11 daily nonstop flights from Atlanta (ATL), which makes this a great hub to fly into from any international flight. Delta Air Lines offers two-three daily nonstop flights from both New York (JFK) and Laguardia (LGA). They also offer one nonstop flight from Detroit (DTW) and one nonstop flight from Boston (BOS), plus one nonstop flight from Minneapolis/St Paul (MSP). So you can see that they have the EAST COAST covered quite well!
United Airlines
United Airlines also services the Savannah Hilton Head International Airport (SAV) with its daily nonstops flights from five United States cities: Chicago-O'Hare (ORD), Denver (DEN), Houston (IAH), Newark (EWR), and Washington-Dulles (IAD). And luckily, United Airlines is one of the few airlines that offer flights from the central region of the United States like Texas and Colorado!
Other airlines that fly into Savannah, GA are: Air Canada, Allegiant, Jet Blue, Sun Country
✦ Optional Rides from SAV Airport to the Historic District
Savannah Hilton Head International Airport (SAV) is about 12 miles Northwest of Savannah and takes about 30 minutes to get from SAV to the historic district. I typically use UBER or LYFT, but taxi cabs are readily available at the airport.
CAT or Chatham Area Transit also has express buses between the airport and the historic district for only $1.50 on route 100x. You can get off in the center of town at Reynolds Square and this service runs every hour and 25 minutes daily. The last bus departs SAV at 5 pm, so keep that in mind for those late arrivals.
✦ Train Rides to Savannah, GA
And don't forget that you can even take the train into Savannah, GA by riding in on their "Silver Service" option on the Palmetto train of Amtrak that connects New York City to Savannah. The Palmetto train is a passenger train that covers the Northeast corridor of the USA, going through Washington, D.C., Richmond, Virginia, Fayetteville, North Carolina, and Charleston, South Carolina. Amtrak also offers train vacation packages connecting from many places across the United States to Savannah.
Greyhound Bus Lines also services Savannah.
Savannah Belles Ferry In case you want to get around, Savannah Belles Ferry connects downtown Savannah with nearby Hutchinson Island and the Savannah International Trade and Convention Center. Savannah's ferry ride is one of the most scenic ways to admire how gorgeous Savannah truly is. The ferry starts at 7 a.m. to 12:30 a.m. daily.
✦ Want to learn a few fun facts about Savannah?
Savannah was established in 1733 and is Georgia's oldest city.
Savannah has more than 100 neighborhoods throughout the city.
Savannah is one of the largest National Historic Districts in the United States.
Savannah is love at first sight!
✦ Movies that were filmed on location in Savannah:
The Longest Yard (1974)
Glory (1989)
Forrest Gump (1994) (of course!)
Something to Talk About (1995)
Now and Then (1995)
Midnight in the Garden of Good and Evil (1997) (of course!)
The Generals Daughter (1999)
The Last Song (2010)
The Conspirator (2010)
Magic Mike XXL (2015)
✦ What is Savannah, Georgia USA famous for?
For being one of the oldest cities in Georgia and one of the original 13 colonies!
And that sums it up! Your Comprehensive Guide to Things to do in Savannah! I hopefully have given you plenty of ideas for what to do in Savannah and the surrounding area! Have you been to Savannah? Do you have any tips on where to eat, where to stay, or what to do in Savannah? Share them in the comments below!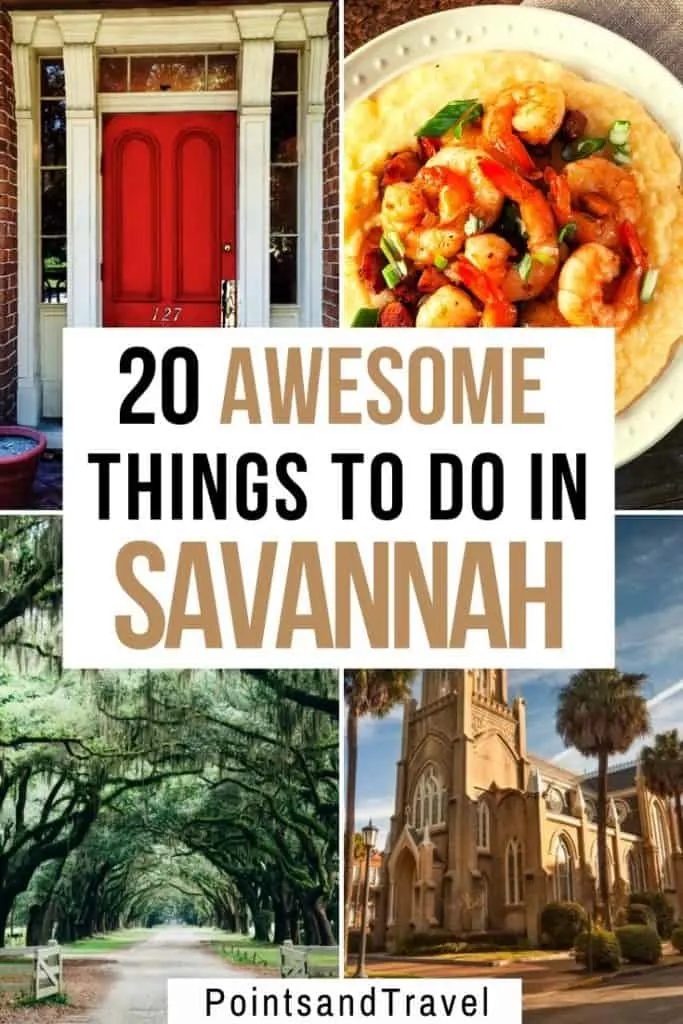 ---
Photographing Savannah GA
Are you a photography bug like me? I literally can't wait to vacation just so I can bring my camera with me to take some stunning photographs! So grab your iPhone or your DLSR and come with me as I show you the 10 most photographed places in Savannah GA according to the Savannah Tourism Board.
#1 River Street
#2 Wormsloe Historic Site
#3 Mercer Williams House
#4 Cathedral of St. John the Baptist
#5 Broughton Street
#6 Chippewa Square
#7 The Olde Pink House
#8 Bonaventure Cemetery
#9 Forsythe Park
#10 Tybee Island Lighthouse
So there you have it, the 10 most photographed places in Savannah!
---
At this point, I can't add much more than this. You will find plenty of things to do in Savannah GA on this list and many points of interest. I would spend 3-5 days there if I had the time off and was ready to enjoy a wonderful vacation.
Oops! One Last Thing: Savannah History Museum
If you want to SEE the BENCH where Tom Hanks sat (aka Forrest Gump) in Chippewa Park, you can go to the Savannah History Museum…honestly, I don't know how they acquired it, but if you look right here, you can see they have it on their list of things to see at the Savannah History Museum! As you can see, they also have Johnny Mercer's Grammy and Oscar! And you can take photographs!
Savannah, Georgia is a city of many mysteries. Spend your time walking through her winding back-alleys and you will never be bored! Experience the best meals in town with these top picks at some of Savannah's most iconic restaurants like The Olde Pink House or B&D Oyster Bar which has an extensive wine list to match their seafood menu.
You'll find yourself engaged for hours as this historic destination offers more than just good food: from museums that take up entire buildings (The Telfair Academy) to secret gardens hidden behind brick walls only accessible by foot (Monterey Square). Take walks on River Street after dark when all shops are open so it feels like you're strolling down Main Street USA but without any traffic.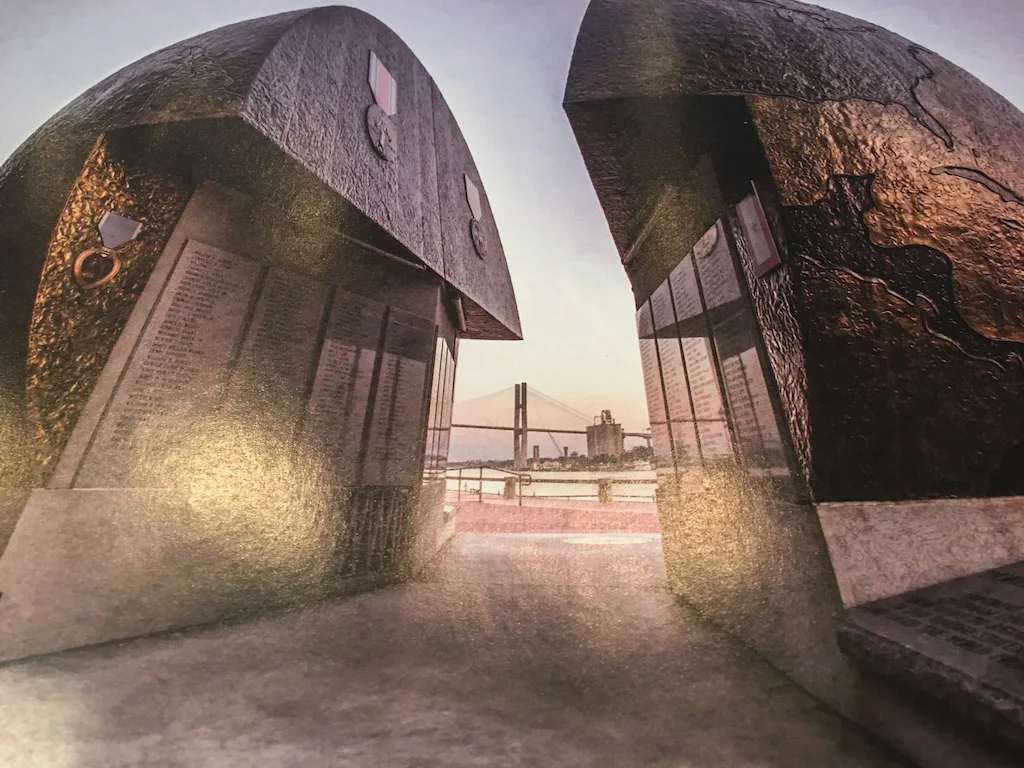 Disclosure: I was an invited guest by the Savannah Tourism Board and this article may include affiliate links. But my love of Savannah GA comes strictly from my heart.