Get yourself into that Southern mood, the sweet sickness that is Savannah's lure. I call it le mal doux, which is French for "the sweet sickness". How?  You ask? Try reading (or see the movie) Midnight in the Garden of Good and Evil before you take on the task of visiting Savannah attractions and finding things to do in Savannah, GA. This surely will put you in the Savannah state of mind.
You remember the book Midnight in the Garden of Good and Evil? It became a New York Times bestseller for 216 weeks following its debut! And later Clint Eastwood made a movie about it and featured many Savannah attractions in 1999. It is the perfect introduction to Savannah, Georgia and is atmospherically centered around the best Savannah attractions you will want to visit located around the city. Believe me, it will get you into that Southern mood!
Things to do in Savannah: Savannah Attractions
1. The Bonaventure Cemetery
I have a fascination with cemeteries; I think it is genetic, as I used to visit cemeteries with my Dad as a kid. Stepping foot in Bonaventure, with its avenues of 250-year-old live oaks and quintessentially southern gothic-look, it took my breath away. It captured me right from the moment I saw this famous Savannah attraction with its natural cathedrals, tombstones, and sculptural gardens. It transcends time, as you walk past each stone where many of the soldiers of the Civil War are buried. Singer-songwriter Johnny Mercer, who wrote "Moon River" and "That Old Black Magic" is buried here as well. This, of course, was one of my favorite things to do in Savannah GA.
Bonaventure Cemetery is just a short drive from the Historic District, another Savannah attraction. It was a hotbed of tourist activity after the book Midnight in the Garden of Good and Evil got published in 1994. The famous "bird girl" statue that was on the cover of the book was brought here and put on the Trosdal family plot. It was located by photographer Jack Leigh, hired by Random House to shoot the cover for the book and recommended by the author of the book to look here for its cover. It has since been relocated to Telfair Museum of Art, where it is on display. This is just another one of the great things to do in Savannah, GA, so go check it out!
Things to do in Savannah: Savannah Attractions
2. Look around at the Beauty
No matter how many photographs I took of Savannah, it was never enough to capture her true beauty and charm, the crown jewel of the Old South. Everywhere I turned there were cobblestoned streets, parks, fountains, Spanish moss and town squares. I knew I would find some amazing things to do in Savannah GA. I was so excited to begin my architectural tour of the most beautiful downtown area of any city in all of the United States (in my humble opinion) that I had ever seen. I don't say that lightly, as I have been to quite a few. But there is definitely something special about this one.
Things to do in Savannah: Savannah Attractions
3. Learn a Little History
As America's first planned city, the town squares are where you will want to begin in your exploration to find things to do in Savannah GA. It is also known as the best walking city in America. Savannah was founded by James Oglethorpe in 1733 and was based on a grid system with twenty-four town squares, which is a brilliant and a logical way to create a city. All the housing and public buildings are arranged in this manner. Today, there are twenty-one of the original twenty-four town squares left. Three were taken over by construction companies and demolished before the ladies of the Historic Savannah Foundation stopped this dreadful practice. One of the three has been restored to its original grandeur and rebuilt according to its original plan. I just love those southern belles of the Historic Savannah Foundation! Each of the town squares left are certainly famous Savannah attractions.
Things to do in Savannah: Savannah Attractions
4. Shop Till You Drop
Some of the most exciting shops can be found in the Downtown Design District on Whitaker Street between Charlton Lane and Gaston. This shopping area is considered to be one of Savannah's attractions for the high-end tourists. I, personally, always make time for shopping and one the best shops is One Fish, Two Fish at the corner of Whitaker and Jones. Yes, that Jones street!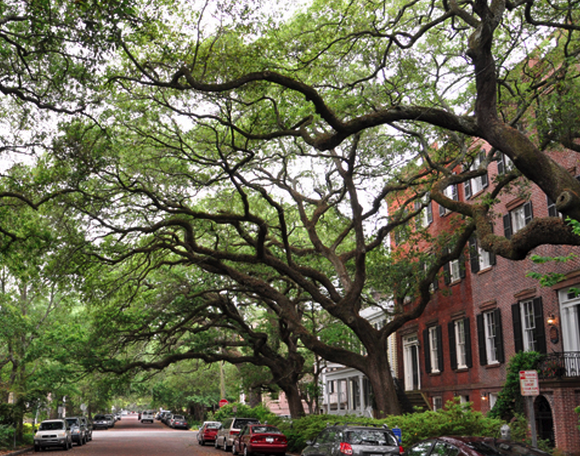 Things to do in Savannah: Savannah Attractions
5.  Admire Savannah's Planned Community
As you walk around, you can read the plaques in each square to appreciate the history of the area. Don't forget to visit Chippewa Square to say you've been to the park bench where Forrest Gump was filmed (certainly a famous Savannah attraction). In the opening scene of the film, a feather floats high above the trees, then sweeps down past the Independent Presbyterian Church. It then makes its way toward Chippewa Square. It eventually lands on this park bench. (If you take the trolly mentioned below, you will see Forrest walking by on his way to the bench.) If you are tired from walking, you can also get around town by taking any of the trolley tours that are available. I chose the Old Savannah Trolley Tours, which is a hop on/hop type of trolley system that takes you around the grid system and allows you to get on and off as you please.
Things to do in Savannah: Savannah Attractions
6. Take a Fine Home Tours: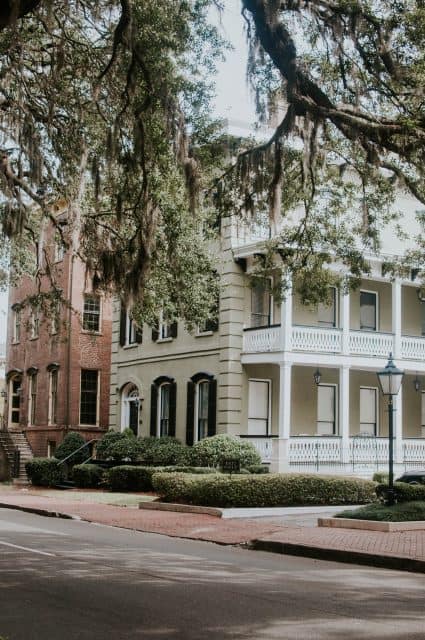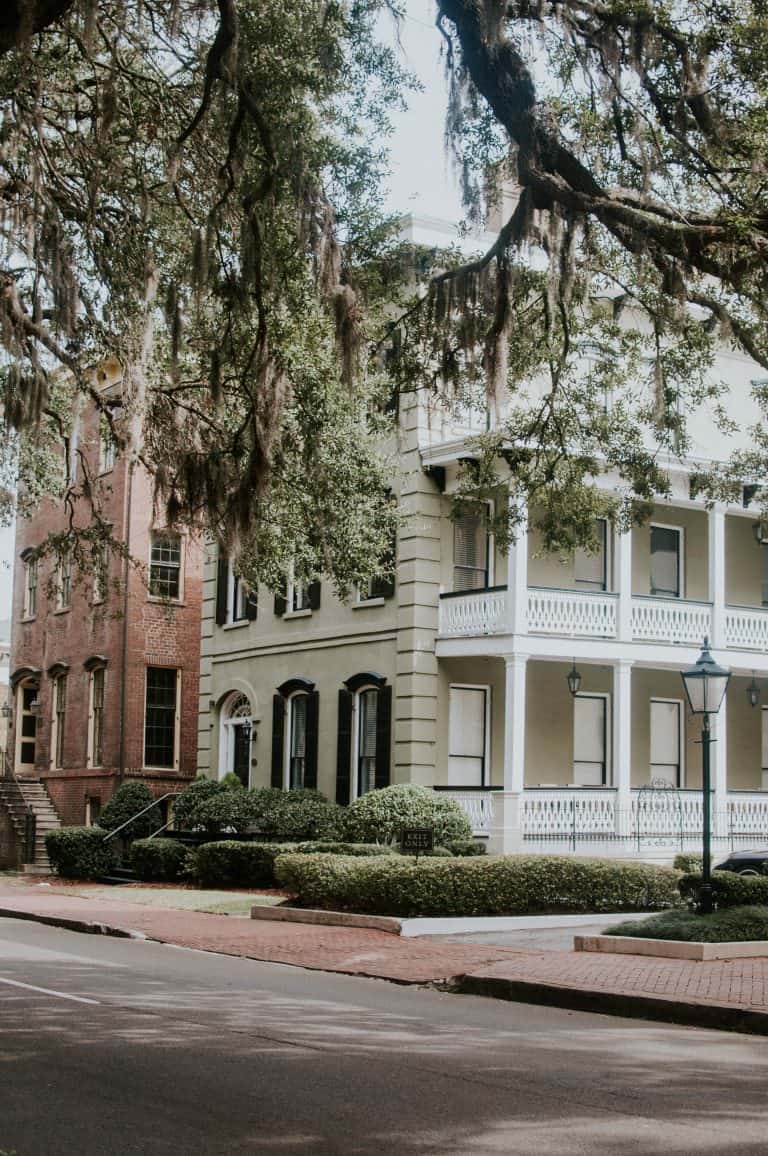 Thomas-Owens House: There are many fine homes to tour, but be sure and visit the Thomas-Owens House since it is considered one of the finest examples of English Regency architecture in America. It was built in 1819. It occupied a complete block featuring a cast iron balcony, a winding double staircase, and arched storybook windows. See what I mean when I say there are plenty of things to do in Savannah GA? This is the perfect Savannah attraction to explore.
On the tour of this Savannah attraction, you will see the indigo ceiling near the pantry/kitchen area. This was where the slaves quarters on the first floor used to be. This is the largest example of "haint" blue painting known to exist in America. The paint was created by mixing indigo, lime, and buttermilk. It was used to ward off evil spirits. The slaves put it on everything from the ceiling to the doors, the windows and even behind or underneath furnishings.
Another one of Savannah's attractions:
Juliette Gordon Low House: The founder of Girl Scouts, Juliette Gordon Low, was from Savannah, GA. You can tour a bit of Girl Scout history right here in Savannah. She founded the Girl Scouts in 1912 and there is a tour of her house most days.
Things to do in Savannah Georgia: Savannah Attractions
7. Visit Medford Square
The birthplace of "Jingle Bells" – There is a plaque on 19 High Street in the center of Medford Square that reads the "birthplace" of "Jingle Bells" in 1850. James Pierpont wrote the song at the Simpson Tavern and was inspired by the town's popular sleigh races in the 19th Century, according to the historical society.
Things to do in Savannah Georgia: Savannah Attractions
8. Take a Walk in the Park
Forsyth Park: No visit to Savannah is complete without a trip to Forsythe Park to see the most alluring water fountain. It is right dab in the center of the park. The park itself is surrounded by beautiful mansions that have been restored. They make for beautiful scenery as you stroll the park. I was there in November and so I was lucky to be able to see the amazing fall colors throughout the town. This is one of the wonderful things to do in Savannah GA probably one of the most famous Savannah attractions.
Things to do in Savannah Georgia: Savannah Attractions
9. Sit on the Forrest Gump Bench
From the critically acclaimed film Forrest Gump, some scenes were filmed right here in Savannah, Georgia! Not only that, Forrest sits and waits on the bench to tell his life story to anyone who will listen. It is located in Chippewa Square.
Things to do in Savannah: Savannah Attractions
10. Walk Down to River Street and the Waterfront
A bit "kitschy" for my liking, but still you should go down there to take a peak and walk along the riverfront. Unfortunately, the area has been taken over by tourist and touristy type establishments, but that is to be expected in a town that draws in so many tourists. And tourists find many things to do in Savannah, GA; things like haunted house tours, shopping, and lots of great restaurants.
Things to do in Savannah: Savannah Attractions
11. Visit The First African Baptist Church
A cultural treasure, this church was founded in 1777 by George Leile, the slave of a Baptist Church Deacon! The church was built by its congregation that was made up entirely of slaves. They finished it in 1859. Located on Franklin Square, it was once a stop on the Underground Railroad. Still today you can see the holes drilled into the floorboard to funnel fresh air into the tunnels below for escaped slaves.
12. Visit the Cathedral of St. John the Baptist
Take some of your wandering time to visit the Cathedral of St. John the Baptist.  Many compare it to Europe's medieval churches. Take a peek inside the cathedral as well. The Cathedral of St. John the Baptist is open weekdays from 9 a.m. to 5 p.m., but Saturdays and Sundays are reserved for religious ceremonies only. Photography is permitted inside the cathedral. You can visit the cathedral's website for more information.
Things to do in Savannah Georgia: Savannah Attractions
13. Say "Thank You" to the General
I have a big "Thank You" to say to General William T. Sherman, you know, the General in the Union Army during the American Civil War? In his famous "March to the Sea" at the end of the Civil War, he had burned down almost every plantation in the South, as well as the city of Atlanta. But he did not burn Savannah, he left it untouched as a Christmas present to President Abraham Lincoln.
Telegram sent to the Capital, December 21, 1864:
"I beg to present to you, as a Christmas gift, the city of Savannah…"
And what a Christmas gift she was!
14. Visit Jepsen Center for the Arts
The King is back in Savannah the summer of 2016 to coincide with the 60thanniversary of his first show in Savannah way back in 1956!  This was the year that Elvis became a star! Admire black and white photographs taken of Elvis, back when Elvis was 21 and trying to make it in the world.  The photographs are by Alfred Wertheimer, who then was a young freelance photojournalist. Wertheimer was able to capture images of the young superstar in his early years. You will find this cool collection of young Elvis at the Jepson Center for the Arts.
Things to do in Savannah Georgia: Savannah Attractions
15. Fall in Love with Savannah
Oh Savannah, how is it possible that I have been alive all these years and never been to you for a visit? How could I have overlooked your charms? It seems almost impossible but visiting Savannah only kindled my desire to return to her elegant architecture, her fancy ironworks, her stunning fountains and her 21 squares. Visitors from all over the world come to see Savannah and it is only now that I have finally found her. I am smitten with a passion for Savannah!
San Miguel de Allende and Vienna you have a new rival in town, let me introduce you to my new lover: Savannah GA
The way I see it, love is complicated and it is possible to have more than one great love in life!
Things to do in Savannah: Savannah Attractions
16. Take a drive under moss-covered oaks
This is something I have always wanted to do… walk or drive underneath the massive moss-covered oak trees. You can even take a drive to Wormsloe Historic Park.
Things to do in Savannah: Savannah Attractions
17. Eat ice cream at Leopold's Ice Cream Parlor
Generations of Savannahians have loved Leopold's Ice Cream since 1919. This soda fountain shop was started by the three brothers George, Peter, and Basil Leopold. They were immigrants from Greece who came to the USA and learned the art of candy and dessert making from their uncle. Their soda fountain business on the corner of Gwinnett and Habersham streets became legendary! This location was where two streetcar lines intersected and so plenty of riders would jump off the streetcar to grab a bite to eat. No trip to Savannah is complete without a stop at Leopold's. It has had a few closures and moves since then, but much of the current décor, such as the original soda fountain, the banana split boats, and the malted milk dispenser are still being used. For a bit of nostalgia, you can still see the Philco radio and the wooden interior phone booth. It is like walking back in time.
Things to do in Savannah: Savannah Attractions
18. Take a Savannah Riverboat Cruise
With refreshing windy breezes, you can take a sightseeing tour down the majestic Savannah River! They have everything from day cruises for lunch to seasonal and even sunset cruises.
Things to do in Savannah: Savannah, Georgia
19. Use Savannah's bike program called CAT BIKE
This is the first bicycle sharing program in all of Georgia and makes for an easy way to get around!  Cat Bike. As I mentioned before, Savannah can be hot and so riding the local bikes in the area between Savannah attractions is a fun way to get around town!
When is the best time to visit Savannah?
There is no better time to "Fall in love" with Savannah than in the FALL, from September to November. This is a great time to visit Savannah, GA. It is not as crowded to visit during the fall months. But I do think that the best time to visit Savannah is in the Spring from March to June. It is during this seasons that the flowers are blooming and the birds are singing! There are many pink azaleas that bloom and decorate Savannah's squares. Savannah lies on the Savannah River, approximately 20 miles upriver from the Atlantic Ocean and it is worth a visit. In fact, it is one of my favorite American cities.
Savannah, Georgia: Where to have a cocktail?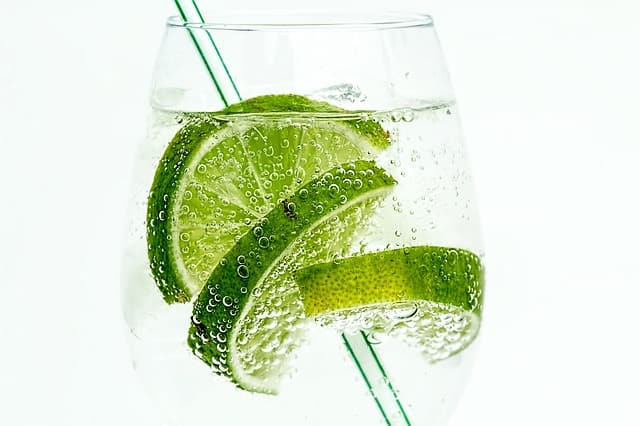 ---
"If you go to Atlanta, the first question people ask you is, "What's your business?" In Macon, they ask, "Where do you go to church?" In Augusta, they ask your grandmother's maiden name. But in Savannah, the first question people ask you is "What would you like to drink?"
― John Berendt, Midnight in the Garden of Good and Evil: A Savannah Story
---
So just where should you go to get that drink? How about Congress Street Up, a hot "craft cocktail" bar and 1920's style speakeasy in Savannah? Or how about Alley Cat Lounge, a place where they love booze and say you do too!
---
Recommended reading: 7 Places to Drink in Savannah on Travelocity's Inspire Hub
---
Savannah, Georgia: Where to Eat?
And how about an order of fried green tomatoes, crawfish beignets, and spicy fried shrimp?  You can try both at Vic's on the River. During the Civil War, General Sherman's officers used this location as a meeting and housing space. In the main dining room, there is a hand-drawn map detailing Sherman's march through Georgia.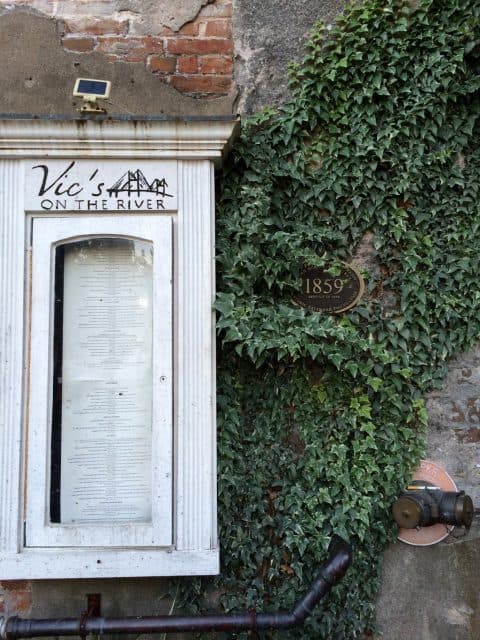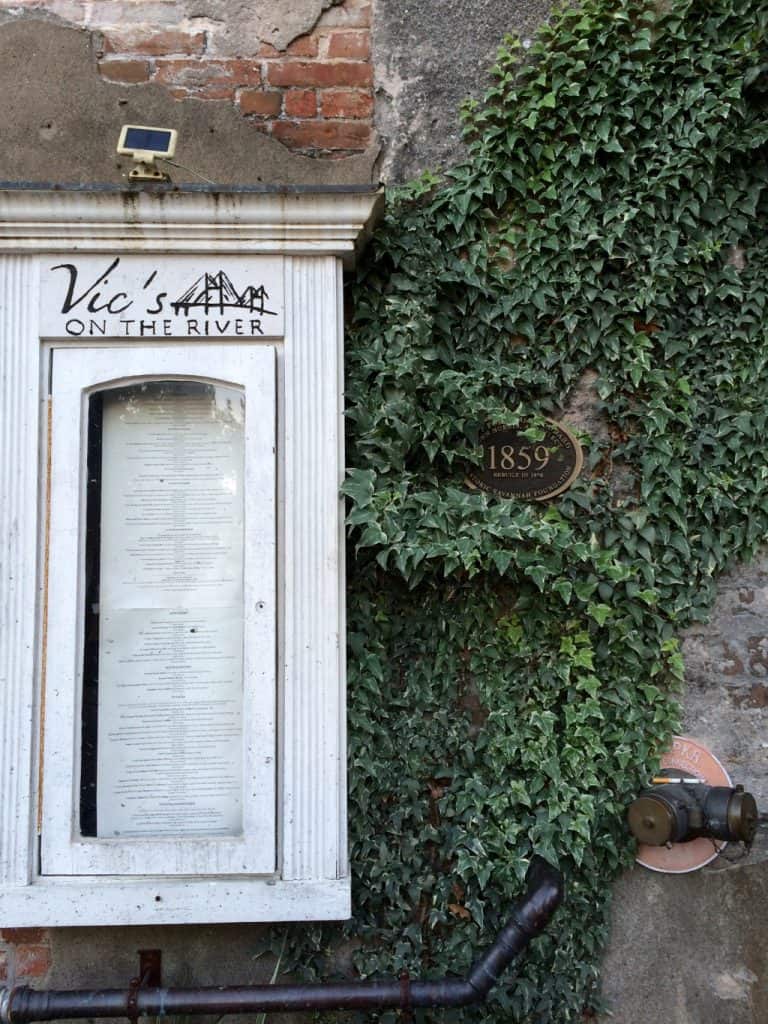 Savannah, Georgia: Where to stay?
Do not be tempted by the lower rates outside of the historic district, because the historic district is where you want to be and where you can walk to everything. Even though parking is limited, it is THE place to be.
I stayed at the River Street Inn, along River Street and as far as location, it was perfect as it overlooks the Savannah River. It is an old restored building with brick walls, archways, and hardwood floors. The structure itself is gorgeous, but as far as the rooms go, it could be updated. However, if you are there to explore and not spend much time in the room, this will work perfectly.
Tips for a Great Tour of Savannah, Georgia
Put on a hat, sunglasses, and sunscreen to protect your skin.
Dress cool; you will be walking a lot, although the trolly tour helps.
Wear comfortable shoes, refer to #2 above
Check out my note map about Savannah GA:
Located on Findery called: Savannah, Georgia – Love At First Sight
For recommendations of another place to stay and to eat: Exploring Savannah with Hotel Indigo
Also, here is another article written by my bestie: Annette Slowik White 
Want to learn some fun facts about Savannah?
Savannah was established in 1733 and is Georgia's oldest city.
Savannah has more than 100 neighborhoods throughout the city.
Savannah is one of the largest National Historic Landmark Districts in the United States.
Savannah was love at first sight!
---
Disclosure: I was an invited guest to by the Savannah Tourism Board, but my love of Savannah comes strictly from my heart.